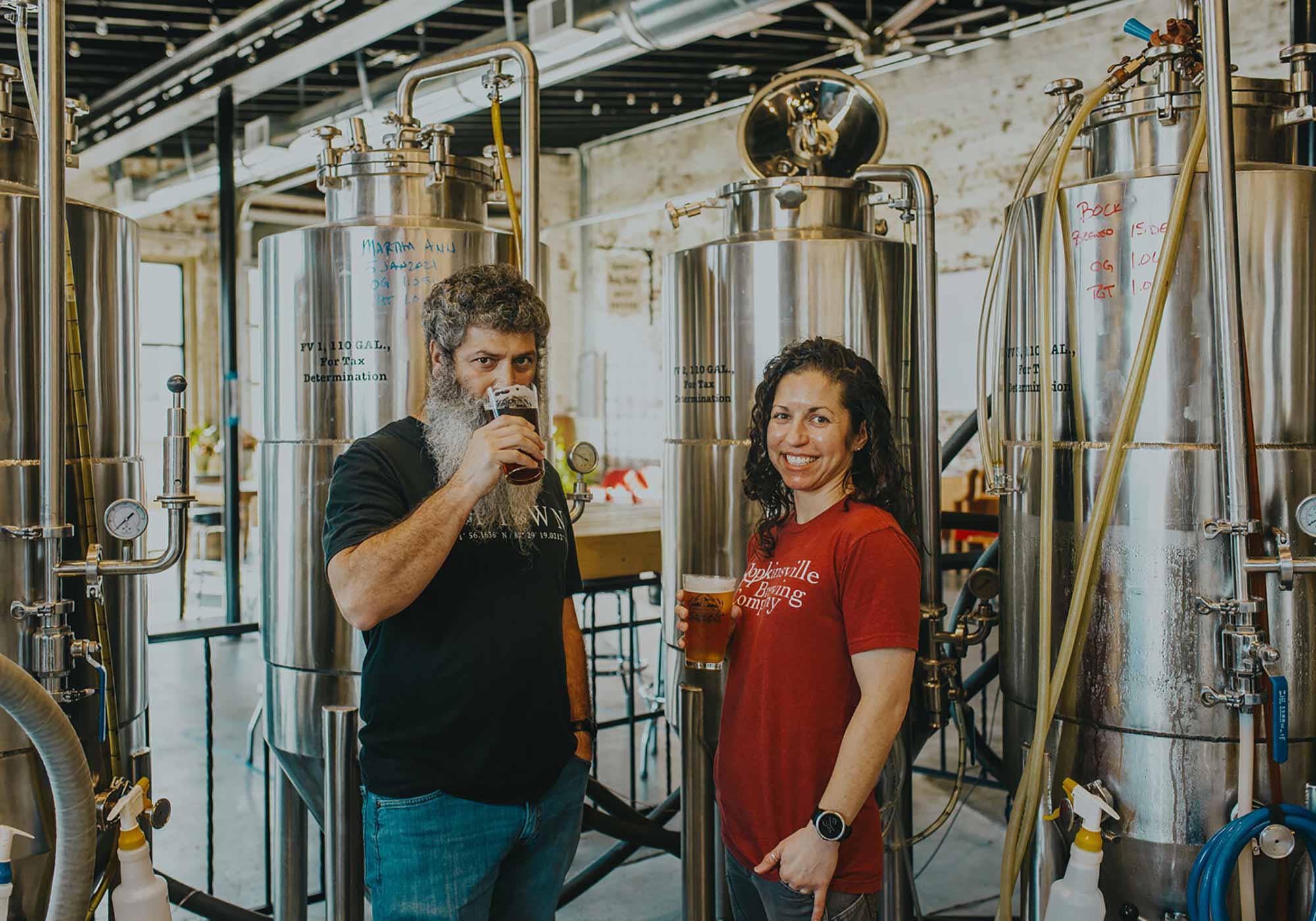 Photography courtesy of Hopkinsville Brewing Co.
On one of her worst brew days, Kate Russell, Founder and Head Brewer at Hopkinsville Brewing Co. in Hopkinsville, KY received a phone call. "I almost didn't answer it," says Russell. "The electrical panel wasn't working right, the pump wasn't working right, and everything that could go wrong was going wrong!" But the single mom and five-year brewery owner picked up. On the other end of the line was Jennifer Glanville, Brewer and Director of Partnerships at Boston Beer Co, who told Russell she'd been chosen as the eighth-ever winner of the Samuel Adams Brewing the American Dream Brewing Experienceship Program.
"If you picture a comic strip bubble over people's heads my first thought was, Wait, this sounds familiar. I remember I applied for this. This isn't funny because I never win anything," says Russell. "The whole time I was just starstruck. I didn't see it coming."
According to Glanville, "I thought the line may have dropped until she said, Can you repeat that? It made my day."
If you haven't heard of the The Samuel Adams Brewing the American Dream Program (BTAD), it was started by Boston Beer Company founder Jim Koch as a way to provide resources and coaching to small businesses. In the past thirteen years, BTAD has partnered with the Accion Opportunity Fund to provide more than 3,200 loans totaling $65 million to food and beverage businesses in thirty-nine states. Additionally, the program has helped these businesses create more than 9,000 jobs and provided free business coaching to over 12,000 entrepreneurs.
But the crown jewel of the program is The Brewing Experienceship, in which one brewer is chosen every year to learn from Samuel Adams' brewing and business experts such as Jim Koch himself. Furthermore, the winner receives financial support to check out important business building and industry networking events as well as the opportunity to brew a collaboration Beer with Samuel Adams.
And this year, Russell became the program's eighth recipient.
Brewing the American Dream Can Start on Any Given Morning
An early riser, Russell was scrolling through Facebook one morning while drinking her coffee. She saw a post about the Brewing the American Dream competition, filled out an application, and immediately forgot about it.
The story Russell told immediately impressed Samuel Adams. Russell isn't only the single mom of two kids — Bobby and Maeby, ages fifteen and soon-to-be thirteen, respectively — but a female business owner and head brewer.
Samuel Adams chose Russell over forty-nine other applicants.
"Kate's story is one that moved us in more ways than one," says Glanville. "As a single mom who overcame several challenges in her path to building what is now a successful brewery and beloved staple within her community, she is the epitome of the dreamer we aim to support with our program. Not only was she providing for her family throughout this journey, but it was incredible to hear about her evolution from someone with little knowledge of brewing who wasn't even a beer drinker herself to a passionate entrepreneur that has developed a lifelong enthusiasm for the brewing business."
It's stories of entrepreneurs like Russell that have empowered Brewing the American Dream.
What Exactly Is Samuel Adams Brewing the American Dream?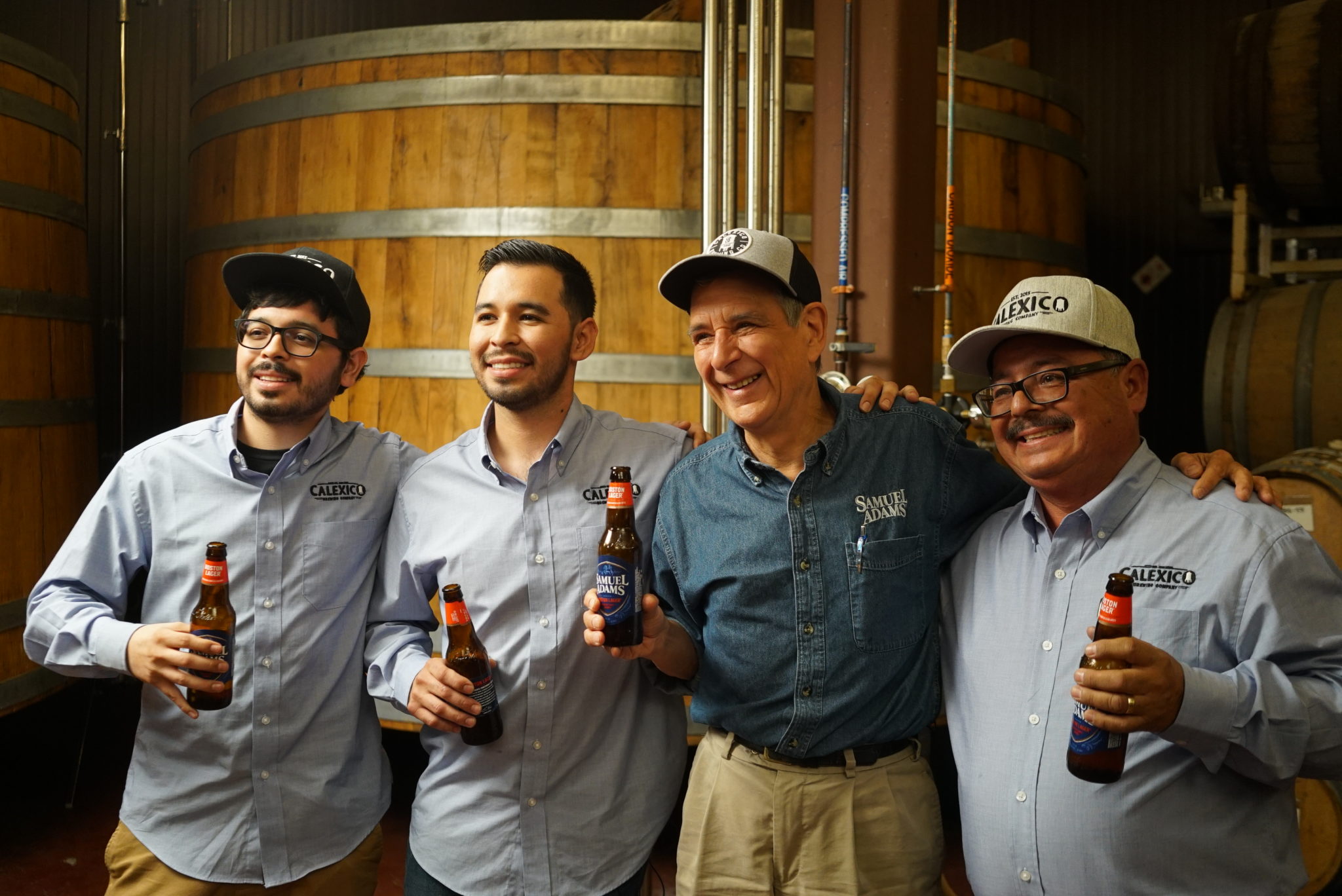 In 1984, Jim Koch started Samuel Adams. And although he was an educated white male with three degrees from Harvard, even he couldn't secure a loan from the bank. After thirty-six years of brewing success, Koch never forgot the difficulties of starting a successful small business.
Thus, Koch decided to give back to his community. In 2008, Koch started the Samuel Adams Brewing the American Dream program with two core pillars: First, he wanted to give capital to small beverage and food entrepreneurs. Second, and perhaps most importantly, he wanted to provide mentoring and coaching for business owners.
"One of the most enjoyable aspects of the Brewing the American Dream program is meeting the most incredible people and fostering genuine, longstanding connections with all those who join our family," says Glanville.
Over a decade later, BTAD continues to help entrepreneurs such as Russell gain the acumen, resources, networking, coaching, and financing to wake up every day and do what they love.
"We are so excited to be even a small part of Kate's journey and look forward to supporting her in every way we can," says Glanville.
Who Is Kate Russell and What Is Hopkinsville Brewing Co.?
Five years ago, Russell bought a run-down building in downtown Hopkinsville, a fading town in Kentucky. She wanted to start a brewery and poured her life savings into renovations. Even her parents took out a home equity loan to help her pay for the space. Additionally, she enlisted the help of her friend Jon O'Rourke, a homebrewer, who taught her how to brew, and joined Auburn University's graduate program in Brewing Science and Operations. And on Labor Day 2016, Hopkinsville Brewing Co. opened its doors.
"I didn't realize how much I would enjoy brewing and running a small business," says Russell, who calls herself a very hands-on, DIY project person. A former SIGNIT analyst (signals intelligence) in the US Army, Russell decided early on that, "If this is what I'm going to do, I want to be as good as I can be at it."
Hopkinsville Brewing Co. is a Pillar for the Community
Almost a half-decade later, Hopkinsville Brewing Co. has helped revitalize the town of Hopkinsville. As the only brewery in not only Hopkinsville but the entire Christian County, Hopkinsville Brewing Co. has become a beacon in the community.
And that's been very intentional.
"[Hopkinsville Brewing Co.] is about beer, but more so it's about creating a space where everyone in the community feels welcome," says Russell. "My goal is to create a place where if you weren't from here or if you felt different you would feel welcome. This is a place to bring your kids, your family, or, if you're a woman, to feel comfortable and safe by yourself. I'm very much about inclusion and making sure everyone feels welcome and comfortable."
Following that mantra, Russell includes small touches around the brewery such as free tampons and diapers in the gender-inclusive restrooms. It's little decisions like those that have a big impact in a craft beer industry that for so long has been predominantly dominated by men.
But the journey hasn't always been easy for this five-foot-one brewer.
Challenges as a Woman in the Beer Industry
Despite her success, Russell says she still runs into challenges because of her gender.
"I'm a small, five-foot-one woman," says Russell. "I don't look like a brewer. I don't even look like I drink beer."
A few weeks ago, Russell released an annual seasonal called Maeby A Watermelon Mint Wit. She recalls someone visiting the taproom asking for, "That girly beer."
Another time, a male keg sales rep stopped by asking to talk to the owner. "That's me," says Russell. Not believing Russell, he then asked to speak to the brewer. "Yup, that's also me," says Russell. In the end, he refused to speak to her, turning instead to one of her male servers. "It's frustrating because beer doesn't have a gender," says Russell.
However, in spite of these hurdles, Russell has persevered.
In an industry where the demographics skew male, Hopkinsville Brewing Co. trends in the other direction. Russell says her customer base is fifty-two percent women. Even on Facebook and Instagram, she has more female followers than anyone else.
A Renaissance Woman Brewing the American Dream
Russell does it all. She owns a business. Along with her partner Joey Medieros, she brews the beer. And she's a single mom.
Somehow she juggles everything. But she's clear that being a mom to Bobby and Maeby has always come first.
"If it comes down to either running the taproom or going to my son's baseball game, I'll be at the field," says Russell. "I have a very amazing partner and staff where I can walk away when I need to and be a mom. I always joke with my partner Joey when I leave the brewery that I'm going to start my second shift now. I'm going to go home and do the mom thing."
It's that tenacity that impressed the Samuel Adams team. So much so, in fact, that they created an entirely new arm of the Brewing the American Dream program.
Moms Brewing the American Dream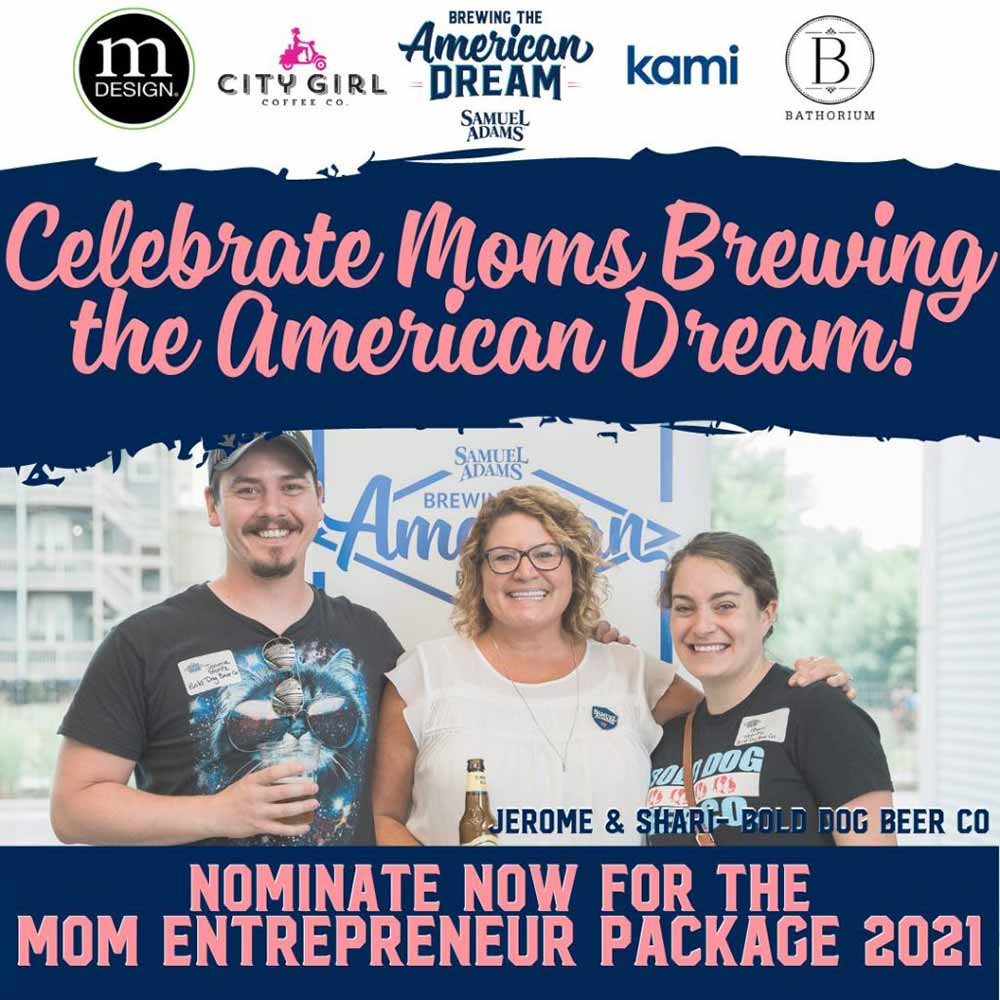 This past Mother's Day, Samuel Adams launched Moms Brewing the American Dream to highlight working moms. Fifty winners will be selected to receive mentorship and training sessions. Additionally, they'll receive a $500 check to contribute to childcare or groceries, a voucher to mDesign, a three-month subscription to City Girl Coffee, a Kami Mini camera, and a gift card to Bathorium.
"Over forty percent of our entrepreneurs are women, and in learning about Kate's story as a mom who persevered through challenging circumstances to build a successful business, we were inspired to connect more broadly with moms pursuing their dreams across the country," says Glanville. "The Brewing the American Dream program is one that Samuel Adams holds dearly as part of the business' DNA, and we're honored to be involved in the journey of inspiring entrepreneurs across the country."
For at least the foreseeable future, Russell hopes Hopkinsville Brewing Co. will be an inspiration for moms around the industry and her own community.
Hopkinsville Brewing Co. Continues to Grow and Break Barriers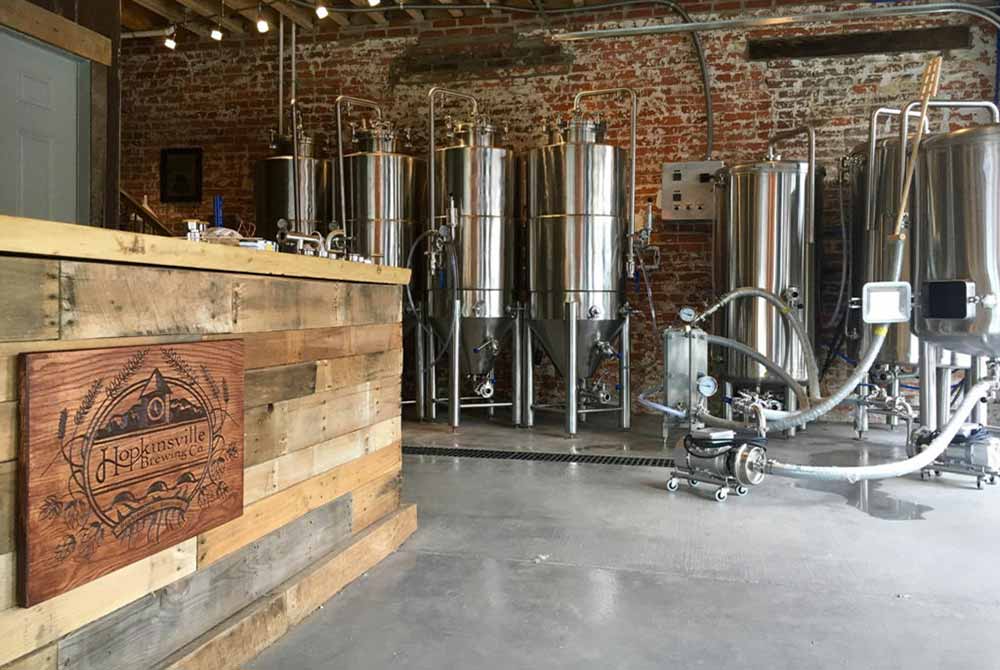 Following its success, Hopkinsville Brewing Co. expanded in 2020. Prior to the expansion, a grain room on the second level meant that Russell and her team needed to carry fifty-pound bags of grain upstairs. Additionally, since Russell brewed in the same vicinity as her taproom, Alcohol and Tobacco Tax and Trade Bureau (TTB) regulations kept her from opening seven days a week; Monday and Tuesday they had to close to brew.
Luckily, a body shop next door came on the market.
"Every six months, I'd ask the owner if he was ready to sell because he was approaching retirement age," says Russell. The owner had plans to pass the building on to his sons, but they had no interest. Finally, he agreed to sell.
"I heard through the grapevine it had been an emotionally hard decision for him," says Russell. "Owning a business now, I get it."
But this story has a happy ending. One night, Russell came to the brewery to find that the old owner had left the sign for Upton's Body Shop leaning against the brewery door. That sign is now hanging up in the taproom.
"It was really gratifying to take an old building and make it pretty to the point where the last person that inhabited it approved," says Russell.
It's one more small nod to her neighbors that will help Russell continue to grow as a brewery.
What Does the Future Look Like for Hopkinsville Brewing Co.?
On Labor Day 2021, Hopkinsville Brewing Co. celebrated its fifth anniversary. And while it's good to take time to reflect, Russell and her team are even more excited to look to the future.
Piggybacking off the expansion in 2020, Russell will be upgrading her 2.5bbl brewhouse to a 5bbl system with new fermenters. She expects that equipment to arrive soon.
Beyond those physical upgrades, Russell hopes to just continue to empower her community.
"I don't want to be the next Budweiser or even Rhinegeist. I like just making local beer that makes people happy," says Russell. "I still want to be a space that encourages people to come in and feel welcome."
Looking to hear more about BTAD and the success stories of Kate Russell, Beny Ashburn, the CEO and Founder of BIPOC-owned Crowns & Hops, and more, along with how we can continue to break through barriers for women and minorities in the craft beer industry? Tune into our Brewing the American Dream Turning Your Passion Pro panel presented by Boston Beer Co. during our women in craft beer festival, Beers With(out) Beards on Saturday, Sept. 18th.
And, check out Samuel Adams' Brewing the American Dream's website and Facebook page for more information on upcoming speed coaching events, webinars, ad hoc mentoring opportunities, Pitch Room competitions, Brewing & Business Experienceships, and more. Follow on Instagram @samadamsbtad