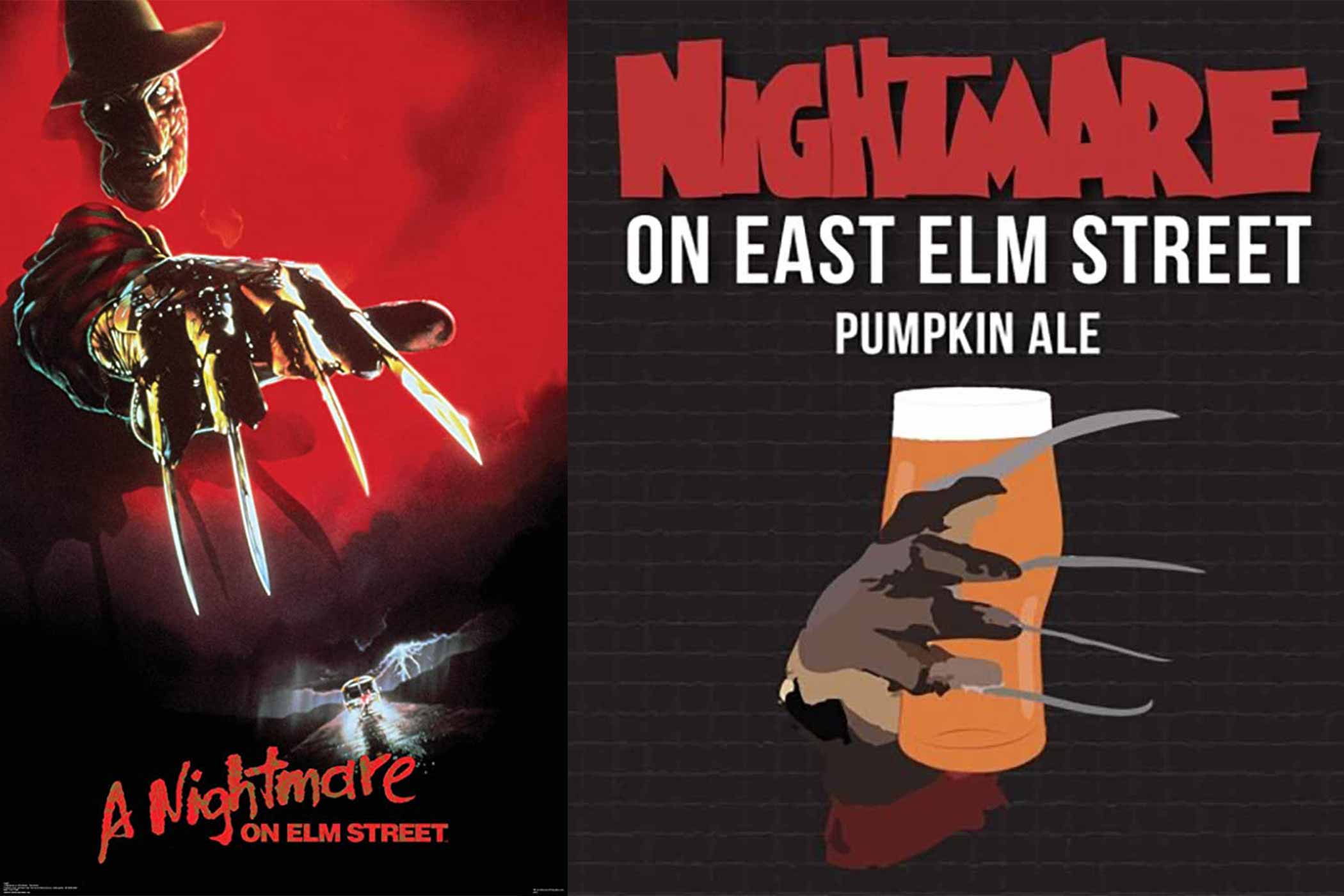 A Nightmare on Elm Street movie poster (on the left) credit Trends International on Amazon | Nightmare on East Elm Street pumpkin ale from Conshohocken Brewing, image courtesy of Conshohocken Brewing
Beer, the affable fun uncle of the alcoholic beverage world, goes well with just about anything, including experiences.
Beer and sports.
For that matter, beer and betting on sports.
Beer and fireworks.
Beer and catching up with an old acquaintance visiting from out of town.
And beer and snowboarding. (Hop Culture does not endorse drinking beer while snowboarding.)
But here's a pairing less common than the rest: Beer and stark raving terror.
A craft beer connoisseur's greatest fear is an empty drink fridge. 😱
After that shared phobia, the list of what scares us most is limitless: Spiders, snakes, bees, ghosts, redneck torture zombies, regular-strength zombies, malformed flesh-eating mutants, confrontation with the pitiless, empty void beyond life's veil.
Some of these are real-life fears. (Spiders have too many legs, man.) Some of them decidedly aren't. They provide metaphors for deep-rooted anxieties baked into social and cultural consciousness. Real or not, all things that go "bump" in the night make great fodder for horror movies, which in turn make great inspiration for beer.
Something about horror movies gels especially well with beer. Is it the shot of liquid courage to watch the two-hour ultra-gory fantasy-horror-surrealist murder clown movie butchering the box office top ten? (Seriously, buy a ticket to Terrifier 2.) Is it the simple pleasure we get from sharing a drink with friends and strangers?
Or is it something else? Something bigger than us, than beer, than horror cinema?
Misery Loves Company, And So Do Scaredy-Cats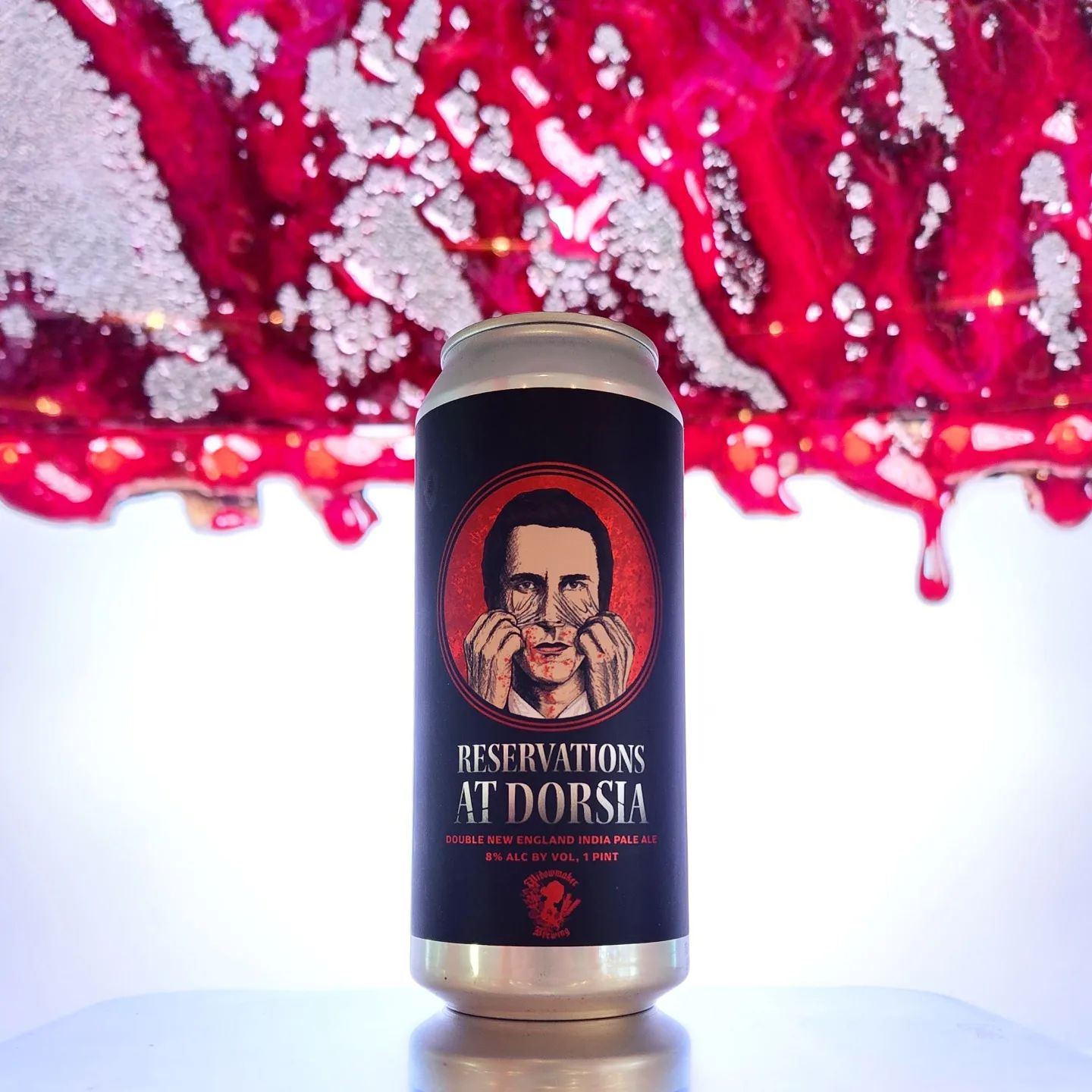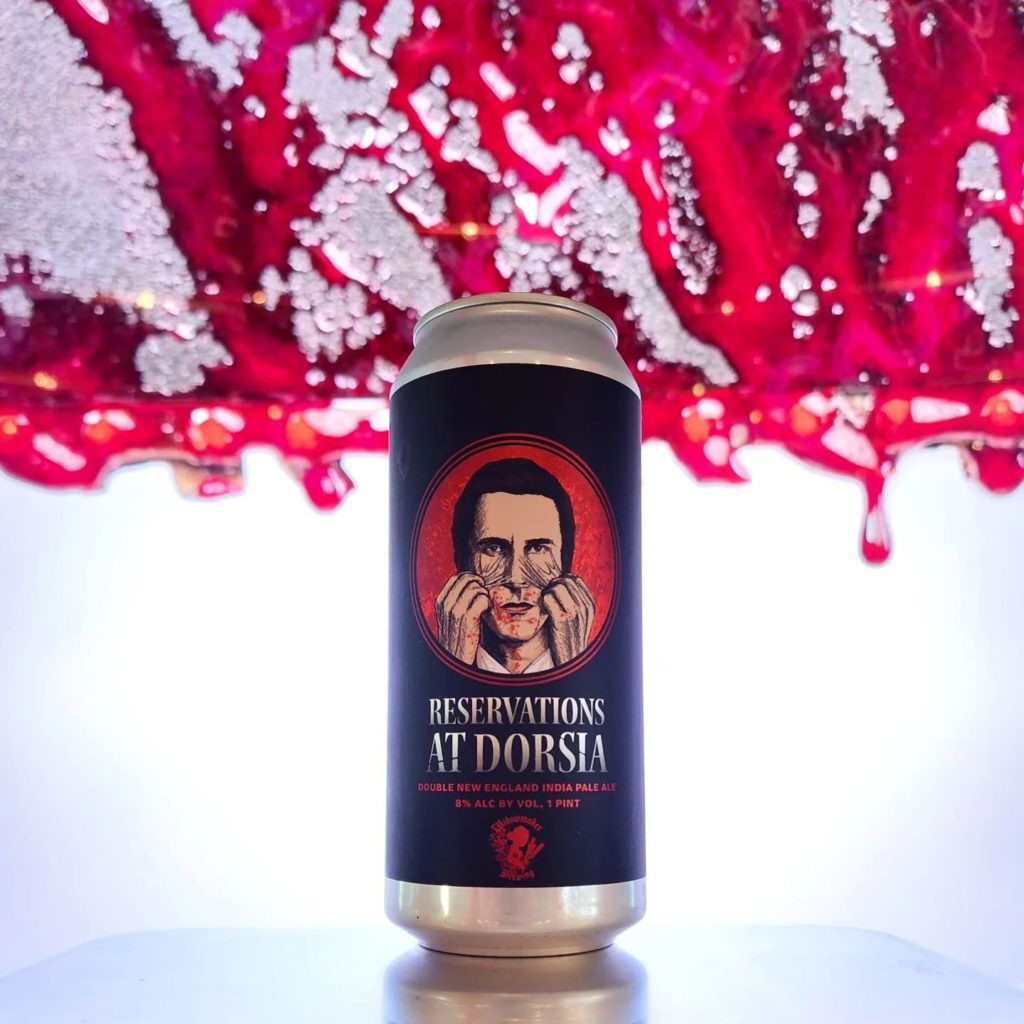 The New York Times ran a piece last June about the "horror movie friend" in your life. The benefits of having that friend are multiple. Notably, it means watching more horror movies. And watching horror movies is good for your mental health. But the point of the NYTimes article is that horror goes down better in good company.
Funny enough, that's true for beer, too.
"It's the same thing that makes barbecues and beer go hand in hand," says William Livingston, brand manager for Conshohocken Brewing Co. in Conshohocken, PA, which makes its own horror-based beer—Nightmare on East Elm Street. "I think it's the same thing that makes anything go well with beer. It's the fact that beer is about sharing experiences. It's about hanging out with friends."
Sharing Fear and a Beer
The food metaphor is apt because food, like beer, brings people together. "That's the same thing with horror movies," Livingston adds. "It makes you feel something." Just as we stop to consider textures and flavors in beers, horror movies invite us to reflect on how we feel: Scared witless, haunted and dazed, sore from laughing at Three Stooges-level yucks peppered between monster attacks. The stages of watching horror, whatever horror niche you're watching, are a specific pleasure we can appreciate alone–but it's more fun doing so with others.
"Community" is a keyword in this conversation. Horror has community. Beer has community. Is that the common thread weaving them together? "Absolutely 100%," says Pierre Alexandre, founder and managing partner of Brockton, Massachusetts' Brockton Beer Company. Over the summer, Brockton Beer Company released The Tall Man, a New England IPA kicked up several notches with Phantasm Powder, that New Zealand treasure made with Sauv Blanc grapes that, added to the whirlpool or a dry hop, makes your beer into tropical fruit ordnance.
Phantasm, of course, is the title of Don Coscarelli's 1979 sci-fi horror masterpiece, whose protagonists are menaced by an otherworldly mortician called the Tall Man. The dots connect themselves.
"The logic was, alright, we have this Phantasm product for New England IPAs and we can make this cross reference to Phantasm the horror movie," Alexandre says. "That's one of my favorite horror movies. Then our graphic designer, his main focus is horror art. So I said, 'Listen, this is an easy win right off the bat. We can do this thing and it's in everybody's vein.'"
Phantasm and Phantasm let Brockton Beer bridge their joint passions, beer and horror. "Craft is its own community," Alexandre points out. Horror is, too. Beers like Phantasm bring those communities together.
Putting Horror (Beers) In a Can, Putting History In a Beer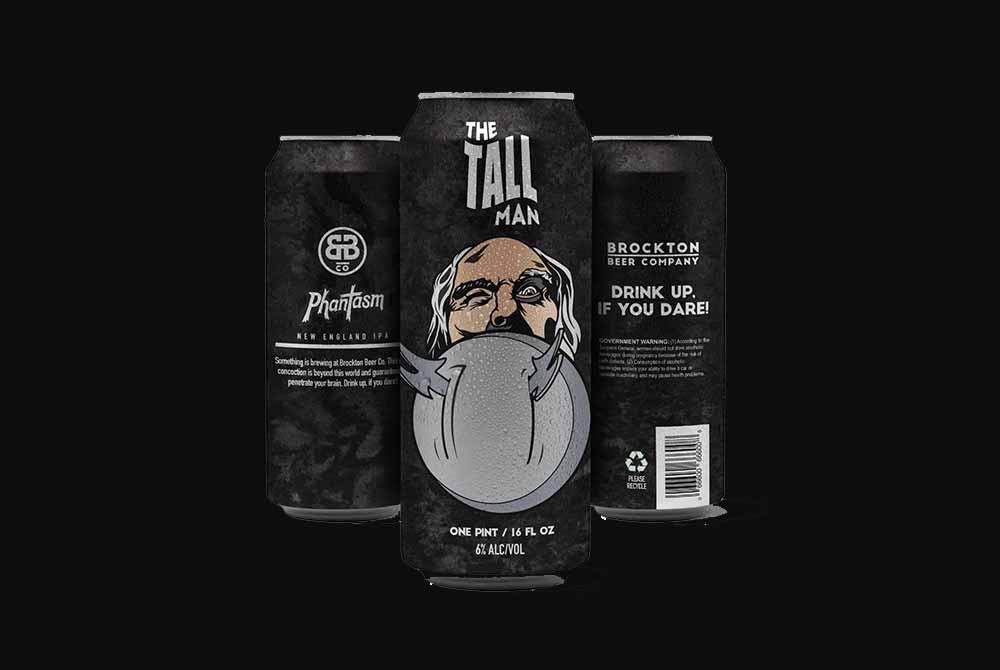 Phantasm beers already exist, but none of them are Phantasm beers. Brockton's team got there first. "It was kind of surprising that no one had done it," Julian Miller, Brockton Beer Company's brewmaster, notes. "When we discussed it, it was in regards to the ingredient that we were using. [Alexandre] said to me, 'Man, do you remember that movie?' I said, I absolutely remember that movie!' It was something of the past that I had to revisit, but I definitely remember the film."
The Tall Man cuts an unforgettable figure, but the movie is forty-three years old. In movie years, that's young. In people years, that's half a lifetime. This essential fact helps us understand the bond between beer and horror: Both of them have ties to the past—historical and personal.
"Nostalgia plays a big role," Alexandre explains. "I think a lot of horror references a lot of nostalgia, either some old history, something coming to haunt everyone, or some cultural thing that brings out a lot of feelings of being scared."
We All Remember Our First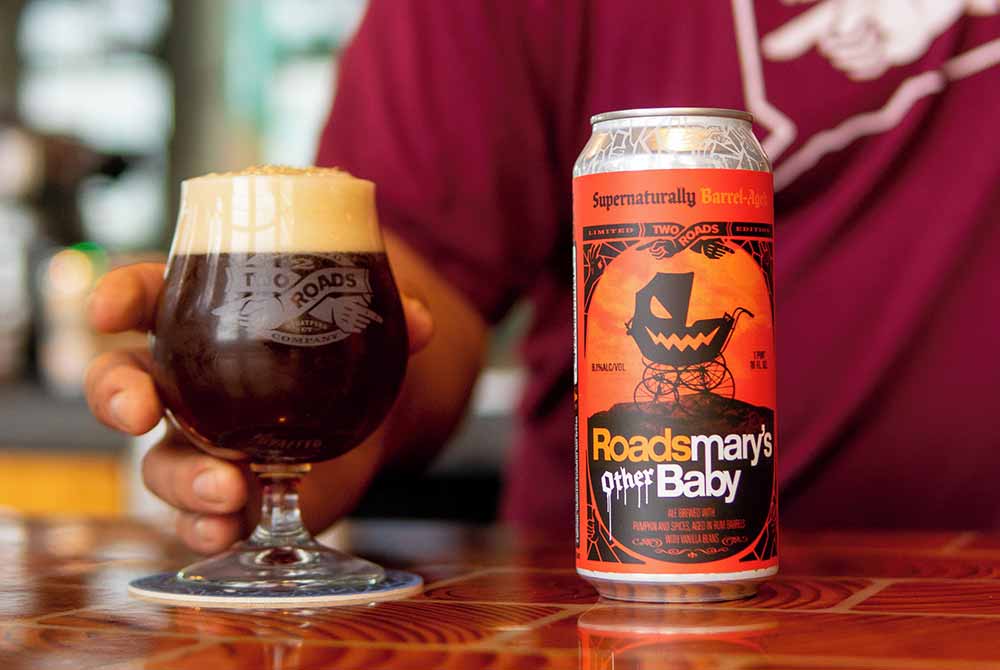 We all recognize these emotions, and we all have our memories of the first time a movie scared our pants off; some of us have two. Miller has his memories locked and loaded: "Night of the Living Dead and The People Under the Stairs." Alexandre also has two of his own: "In the Mouth of Madness and Pet Cemetery." Piggybacking off that nostalgia element, Miller says, "I named my first cat after Church in [Pet Cemetery]." (The cat lived a long, long time.)
When we combine beer and horror, we remember where we've come from as individuals and as part of a collective. Conshohocken Brewing has been making their pumpkin ale, Nightmare On East Elm Street, for about half a decade and change, but no one who works there is a bigger A Nightmare on Elm Street fanatic than the others. "It's hard to pin that on anybody," Livingston says, "because most of us are at least fans of the classics." The beer's name derives from a much more personal source: The brewery's roots.
"Our original location was in Conshohocken, and it was on East Elm Street," says Livingston. "So when it came time to do a pumpkin beer, it was very much everyone looking at each other like: 'We're calling it this, right?'" Like Phantasm and Phantasm, Nightmare On East Elm Street is a kismetic nod to A Nightmare on Elm Street. In keeping with its innate relationship to horror, Conshohocken's Phoenixville Rec Room is across the street from the Colonial Theatre–the site of a major sequence from Chuck Russell's 1988 remake of The Blob.
Some things are just meant to be. Brockton Beer and Conshohocken were meant to brew beers inspired by horror films; horror is meant to be seen with an audience; beer is meant to be drunk in congregation. That's perfect harmony.
Fears & Horror Beers For All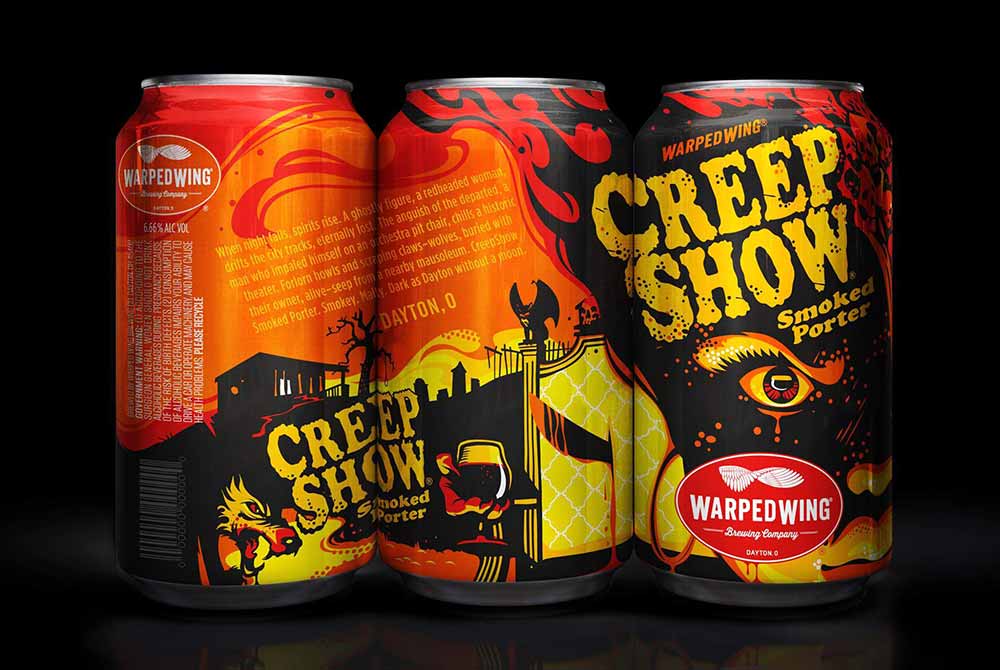 With these simpatico qualities comes a third layer to the horror beer aesthetic. If you like beer but you don't like IPAs, there's a brewery out there that has a good old fashioned lager (or porter) on the tap list. Like horror films but you can't stomach splatter flicks? There's a horror-comedy in theaters or on demand just for you.
"If you've seen our other offerings, we do a wide variety of stuff," says Livingston. "So we do have something for everybody." So does horror! That's why, when October rolls around, your rabbi and your grandma suddenly like scary movies. It's just that time of year.
"We have a month dedicated to creepy, spooky stuff," laughs Alexandre. "Everyone has an experience they can relate to when it comes to horror." And as beer and horror go through their separate pushes for inclusion in their respective industries, perceptions about who drinks craft beer and who watches horror movies are expanding to literally mean everyone.
Hop Cultures Picks for Our Scariest, Most Terrifying Horror Beers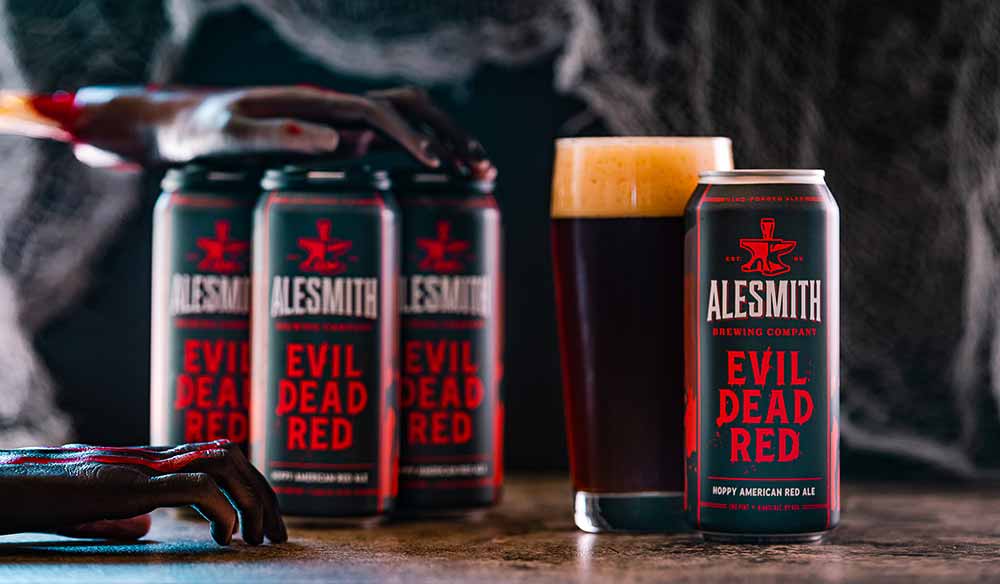 (Editor's Note: Special mention to Two Roads' Roadsmary's Baby, which would make the cut if we hadn't already given it a high-five in our pumpkin beer run-down!)
Widowmaker Brewing Co. – Reservations at Dorsia
Braintree, MA
Double New England/Hazy IPA – Widowmaker Brewing's undisputed DIPA masterpiece, a beer so luxuriously smooth and tastefully thick, most people probably don't notice the hop profile. But they should, because it's not just about notes of pineapple, orange, and yellow Gatorade; it's also a personal statement about the brewery itself.
Of course, 4-packs sold out in less than a week, so try getting Reservations at Dorsia now, you f**king stupid b*stard!
AleSmith Brewing Company – Evil Dead Red
San Diego, CA
American Amber – There are a few logical ways of emulating Sam Raimi's Evil Dead films with beer. The first, and least appealing, is to consult Necronomicon Ex-Mortis for recipes. If this sucker can wake the dead and summon demons, just imagine what kind of brewing tips lie within its flesh-bound pages. The second way is way simpler and considerably less of a hassle: Brew an American Amber redder than deadite guts. Wafting with the pine and resin scent of the North Carolina woods, Evil Dead Red is a perennial favorite among horror-beer crossovers. And not just because of the novel concept. but because it's a straightforwardly terrific Amber Ale. Even if horror isn't your thing, this beer could well be.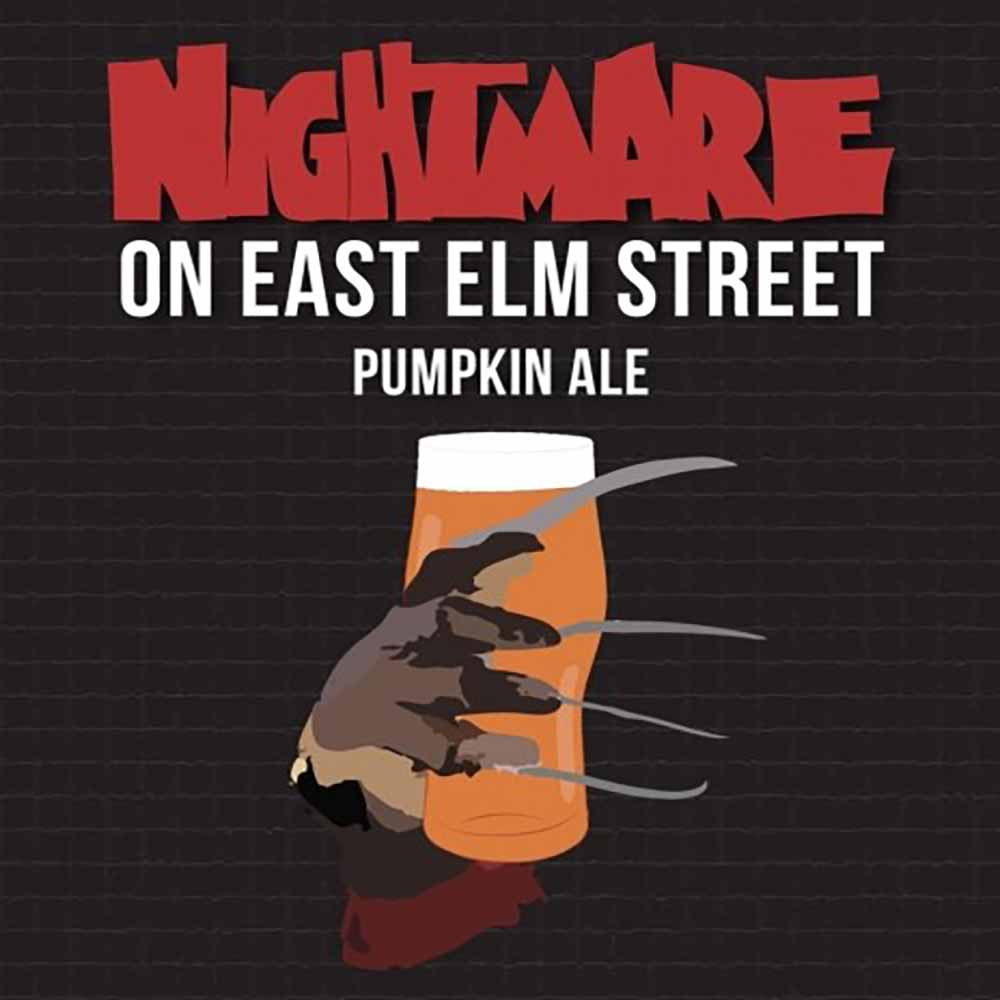 Conshohocken Brewing – Nightmare on East Elm Street
Conshohocken, PA
Pumpkin Ale – For a movie named in honor of Freddy Krueger's preferred hunting grounds, Nightmare on East Elm Street drinks like a dream. As pumpkin beers go, the pumpkin character is subtle, rather than an assertive, spiced-up squash bomb. Every town has an Elm Street; not every town has a pumpkin beer. The ones that do, don't make pumpkin beers as easy-drinking as this one.
Brockton Beer Company – The Tall Man
Brockton, MA
New England/Hazy IPA – The highest praise one can give The Tall Man is that on cracking a can open, you will not be beset on by creatures that look like crispy-fried Jawas fresh out of Hell. Or chased by voracious metal spheres bent on drilling your head full of holes. Actually: Scratch that. So as to not damn The Tall Man with faint praise, the amount of bright, fruit-forward flavor jam-packed into this beer is stunning, and a fun contrast with the eldritch dread its namesake inspires. The Brockton team knows their way around Phantasm: You don't brew a beer with it unless you want to send your customers to a tropical paradise. If this brew doesn't do that for you, you're already on one!
Warped Wing Brewing Co. – CreepShow
Dayton, OH
Smoked Porter – So, technically Warped Wing's CreepShow skirts around the horror-beer concept, as the brewery doesn't appear to have brewed this as a direct reference to the 1982 George A. Romero anthology film. For starters, the Creep, the movie's host, makes no appearance on the can art. That said, who cares, really? It's a smoked porter called CreepShow. That, for us, counts. It helps that CreepShow is a very good smoked porter. Eat a piece of chocolate cake by an autumn campfire, if you can't find cans for yourself, and you'll come close to recreating the CreepShow experience.