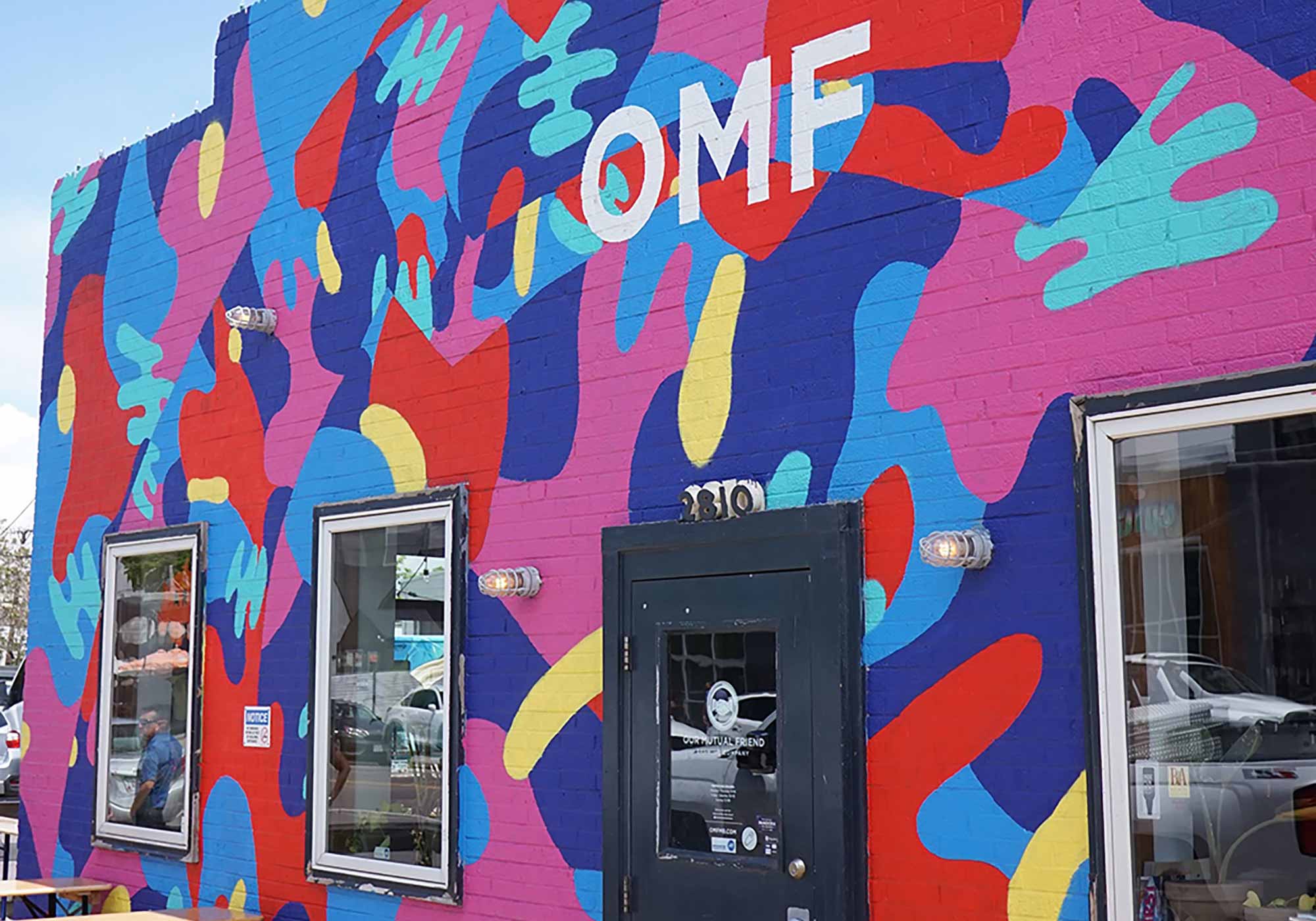 Photography courtesy of Our Mutual Friend Brewing Company
Editor's Note:
This piece was made in collaboration with our friends at Visit Denver
We thought we knew the beer scene in Denver. But two weekends ago, we traveled to Denver for the fourth time and discovered an entirely new adventure. After two Great American Beer Festivals (GABF), one Craft Brewers Conference (CBC) trip, and one Zedd's Dead concert at Red Rocks, we thought we'd seen it all.
Boy were we wrong.
This past trip we had a chance to see a new side of beer in Denver. And not new because these breweries recently opened, but new because we started to look outside of the well-known and into the more unknown.
But we also realized that Denver itself has changed a little bit.
"Denver has grown up on its own," says Ed Sealover, an almost-twenty-year beer journalist in the area and author of "Mountain Brew: A Guide to Colorado's Breweries." "It's a city that has small breweries that don't distribute to anything more than local liquor stores… It's less about 'We're a Denver brewery, hey, everyone in America, pay attention to us because we used the word Denver' and more 'we're a Denver brewery, hey, everybody in our neighborhood, come in and try beers here.,"
Which is exactly what we did!
Now, let me be very clear, we love the city's revered breweries such as Bierstadt Lagerhuas, Our Mutual Friend (OMF), Ratio Beerworks (all of which can be found in the RiNo neighborhood), and Cerebral.
But we also found breweries we'd never ventured to.
Such as one making hoppy ales and lagers that rival Bierstadt.
Or another focusing exclusively on Belgian beers—singel, dubbel, tripel, quad, and even a little-known style called brut.
To us, it couldn't have been a more perfect trip. So much so that we wanted to share it with you.
Here is how we spent four days in Denver during the GABF 2022.
You don't have to follow in our footsteps (exactly), but we highly recommend planning your own Mile High adventure around these breweries and eateries.
Editor's Note: We're going to be honest: This guide is long! We've broken every rule of digital journalism here. Instead of short, pithy paragraphs we've rambled on. But it's simply because we were so blown away by all the breweries we visited that we just couldn't help ourselves. Regardless, we promise though that reading through this mile-long guide to the Mile High city is absolutely, one-hundred percent worth it.
Wednesday: Baker, Lincoln Park, and Westside Neighborhoods
Le Méridien Denver Downtown
1475 California St, Dener, CO | (303) 893-1888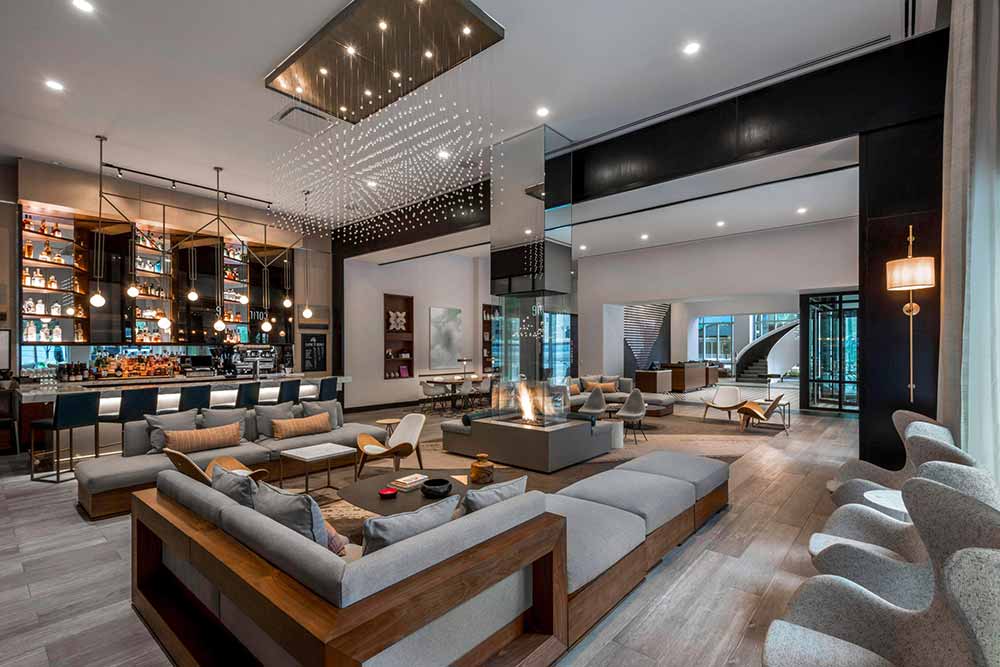 2:00 PM Check-in – As soon as we flew into Denver on a Thursday afternoon, we dropped our bags off at the gorgeous Le Méridien. Located in Downtown Denver just a block from the Convention Center the hotel's central location was perfect for our visit to GABF.
Visually stunning with wood accents and white granite, the hotel also impressed us with its service. Thoughtful little touches made this a home away from home for the very little time we actually spent in our room.
For instance, walking into the room after we first checked in to find a platter with a wine bottle, bags of popcorn, and an ice bucket full of pop and movie snacks.
Or like when housekeeping noticed that the mini travel toothpaste bottle we brought was on its last licks and left a couple extra travel Colgate packs for us.
This place feels effortlessly chic with down-home comfort. Let's just say falling into the super soft bed inbetween brewery visits across the city gave us just the power nap we needed to get back up in the afternoon and head to the convention center for GABF.
City 'O City
206 E 13th Ave, Denver, CO | (303) 831-6443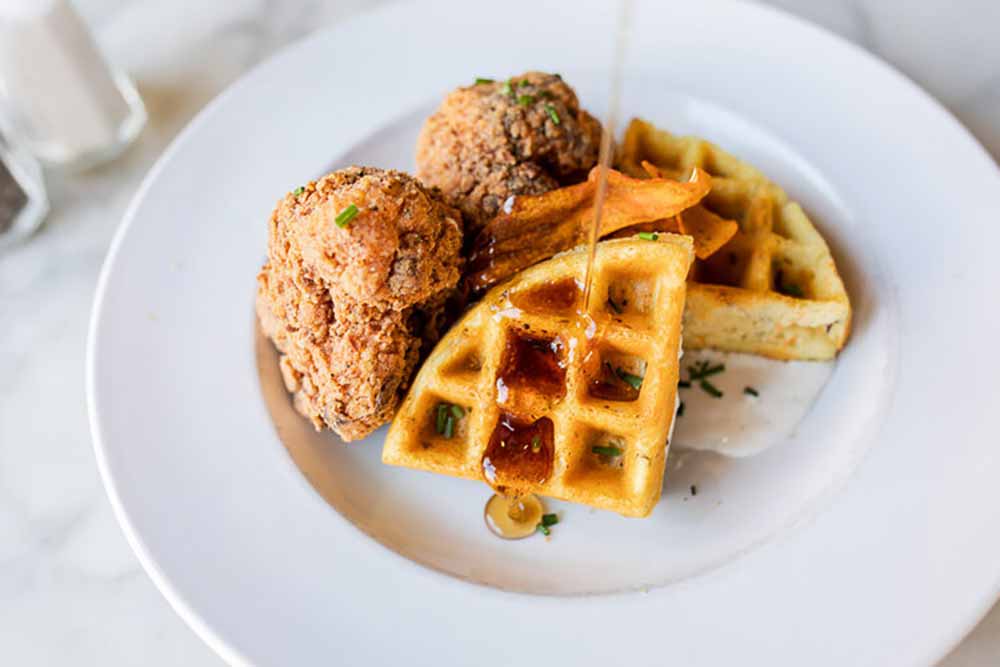 2:30 PM – Late lunch – Chances are you're probably feeling pretty hungry from the plane ride over. It's always best to fuel up before an afternoon of taproom hopping. One of our favorite spots in the city is funnily enough called City 'O City. It's a vegan spot…hold on, stay with us here…with a bit of an edge.
They bring a bohemian vibe throughout all their dishes. Loud music pumps out the front door, which is almost always open. This isn't some froo-froo healthy vegan spot. This is full-on comfort diner food with elevated twists. And all meat and dairy free!
Think chicken and waffles with bourbon-brined chicken-fried cauliflower and tacos with maple miso sweet potatoes, purple cabbage, cilantro, basil aioli, scallions, and jalapenos.
Fill up the tank and get ready to drank.
Pro Tip: If you don't stop at the vegan bakery nextdoor called Make Believe Bakery, you're missing out on one of Denver's best-kept secrets. Literally a hole in the wall big enough for maybe two people inside, Make Believe Bakery makes a slew of vegan baked goods. But we're here for the oat milk soft serve, which is luxuriously smooth with just a hint of oaty goodness.
What makes this bakery's soft serve so f***ing good is that the toppings are…capitalized T-O-P-P-I-N-G-S. For instance, huge chunks of peanut butter with slabs of chocolate and cookie dough seemingly straight from the jar literally fills up half the cup with the soft serve. This is an ultimate indulgence.
Novel Strand Brewing Company
305 W 1st Ave, Denver, CO | (720) 949-0246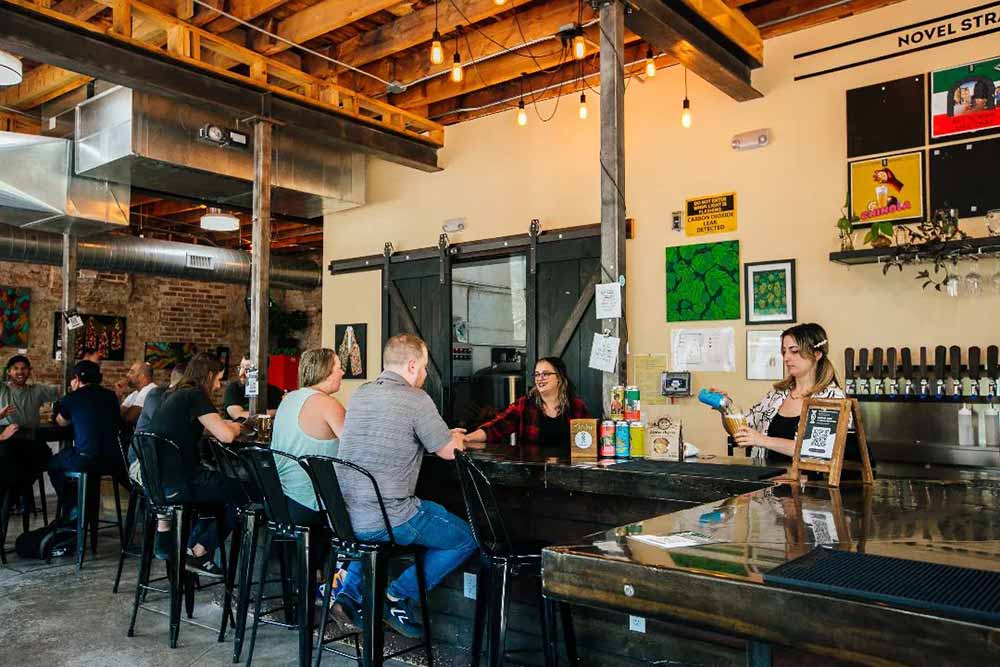 4:00PM – Lagers and hoppy ales with a side of philosophy – Fully satiated, grab a five-minute Uber to Novel Strand.
We had no idea what to expect when we walked into Novel Strand Brewing in the Baker neighborhood of Denver.
When red-bearded Novel Strand Co-Founder Tamir Danon greeted us, we knew almost right away that this place was going to be different.
An Israeli native with a graduate degree in biochemistry and biophysics, Danon's views on life are as deep and complex as the beers he's making.
You could probably spend days talking to him about both. And he encourages that.
It's how he and his co-founder and wife Chantel Columna and third business partner Ayana Coker started Novel Strand. By meeting up at a bar in Troy, NY, while studying at Rensselaer Polytechnic Institute to drink beers, talk about beers, and dream of opening a brewery.
The dream became a reality in 2018 when Danon, Columna, and Coker opened Novel Strand with an unapologetic focus on brewing lagers and hoppy ales.
For Danon, hops are the "final frontier," an ever-expanding exploration. "I don't think anyone gets hops, myself included," says Danon. "There is always…a reason to wake up at night and say, 'oh shit, what if I do this?' Hops are all about capturing fleeting moments of magic."
Which Danon does through Novel Strand's self-proclaimed "Hoppy" part of the menu, where you'll usually find two or three of the fruits of Danon's very technical research. What he calls "unfiltered hoppy beer." Not IPA, not hazy, not New England-style, not double dry-hopped this or that.
Here it's all about the hops. And just the hops.
"If I want hops, I want hops," says Danon. "I want to taste the terpenes, I want to taste the alpha acids, I want to taste all these chemicals that come from the plant itself….I want the yeast to be like shhhh and let the hops talk."
Like in Green Showers, "which we always joke is our house beer that's never home," says Danon. Meaning you might not always find it on the menu. But if you do, get it.
A beer brewed at Novel Strand from the beginning, Green Showers is perhaps one of the brewery's most popular beers and a perfect representation of the brewery. "We came in not calling anything hazy or New England or DDH or saying some weird shit," says Danon. "So it's very touching that people really loved that beer from the beginning."
With the lagers, Danon engineers those beers to be "snappy, crisp, quick, and easy on the palate because that's what will make you want more of the flavor."
You'll find lagers and a bit more on the "Classiques" side.
Like a kölsch or an altbier.
A what?
An altbier, a little-known German ale from Dusseldorf, Germany. Literally translating to "old beer" in English, an altbier is typically a malty, garnet ale made with more of a lager-like fermentation at cooler temperatures. Novel Strand's interpretation, one of the only ones we've seen in our travels, pours out a beautiful amber and knocks back so smooth with malty greatness and a bit of noble hop character.
The menu rounds out with a sour series called Vicious Delicious, always featuring real fruit, and a fun new project called Mystical Specialties that showcases a low-ABV hard black tea called Funk Shwei.
You'll be tempted to get a taste of everything, but don't go to Novel Strand expecting a flight.
Danon constructs all of the beers to be mostly sessionable, especially the Classiques. The idea is to come in and be able to knock back a couple full beers responsibly.
"The beer loves you back, it's nice to you, and we love the beer," says Danon. "To us, if people are coming here, enjoying beer and smiling, coming back and bringing new people, that's a five-star review for me."
Here Danon encourages you to put down the phone, pick up a pint, and participate in a conversation, whether about beer, the world, your views on life, your passions, or anything else.
"When we drink a beer, hopefully we can share a moment of our time together and maybe leave each other better than when we found each other and with a little bit more knowledge about someone who is not exactly the same as you," says Danon.
Let's just say, we walked out of Novel Strand two beers and over two hours later with our palate wowed and our minds blown.
Wah Gwaan Brewing Co.
925 W 8th Ave, Denver, CO | (720) 598-6964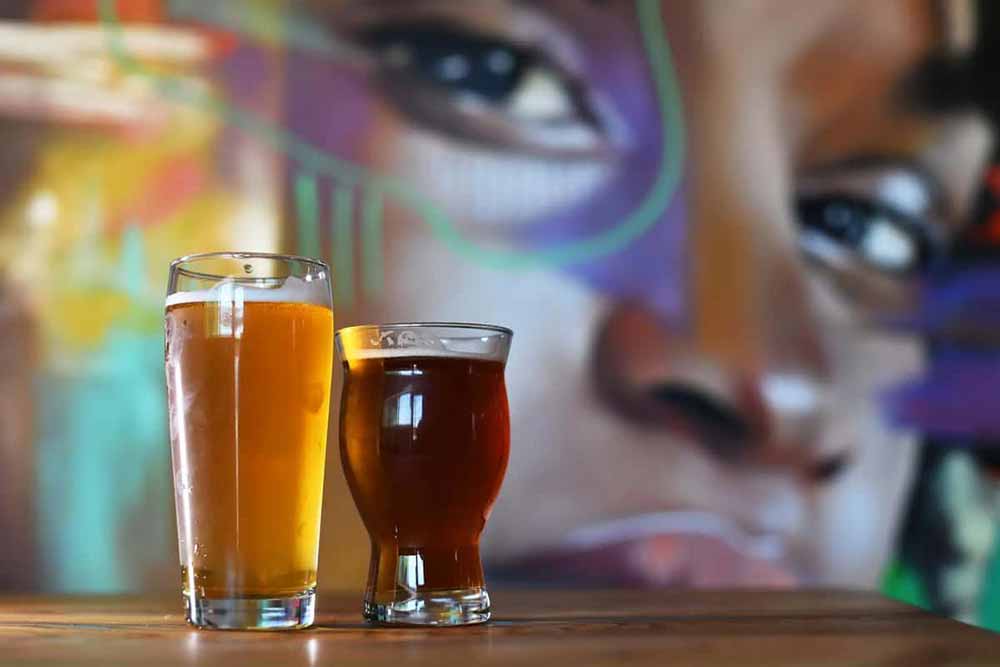 6:00 PM – Beers with Jamaican-inspired ingredients – Inspired and empowered, we decided to mull over everything on the short twenty-minute walk to Wah Gwaan (although you could easily take a five-minute Uber as well).
Just when we thought we'd brought our mind and taste buds back down to earth, we walked into this Jamaican-inspired brewery.
And were bowled over again.
Started by life and business partners Harsha Maragh and Jesse Brown, Wah Gwaan showcases both Maragh's Jamaican-Indian-American and Brown's bi-racial heritage with a specific goal in mind.
"From the very beginning, Wah Gwaan is about community," says Maragh. "Bringing together the Caribbean community, the Black community, the Queer community. It's about bringing these folks together in a space where people can feel at home, feel safe, feel included…and try different beers."
In fact, in Jamaican Patois, words that are an amalgamation of different people that have lived in Jamaica, wah gwaan means "what's going on," says Maragh. "It's a greeting you say to everybody whether you know them or don't. Just like what's up or how are you? It's an inviting phrase, and we want everyone to feel like they're at home and can be comfortable here."
Because drinking a beer provides space for conversation, and conversation can lead to change.
"Beer is broken bread," says Brown. "Breaking bread is what creates a situation where we can be more empathetic with each other. Beer is just as powerful or more powerful a platform for social change than food."
Something Brown and Maragh have experienced first hand. Growing up in the Bronx, Maragh always lived in a tight-knit, diverse community.
But after moving to Colorado, she had a hard time finding connections with her culture.
So she and Brown brought a little bit of their own to the Front Range.
Which you can find inflected throughout the brewery from the murals on the wall showcasing artists such as Chelsea Lewinski (@chelsealewinski), Austin Zucchini-Fowler (@AUSTINZART), Lindz and Lamb (@lindzandlamb), and Klone (@klonism) to rotating food trucks to, of course, the beers.
Take a quick glance at the tap list and you'll notice right away that these are beers you've never seen anywhere else. Every beer has a story. Every beer has a unique ingredient. And every beer represents either Maragh's Jamaican-American identity or Brown's African American heritage or even Head Brewer Dick Tucker's Thai background.
For instance, Don't Curry Be Happy, a mango curry blonde ale symbolizing Indian Heritage Day celebrated in Jamaica every May 10th. The holiday honors India's impact on the island. "It was really important for me to celebrate it here because it's my heritage and how my family grew up in Jamaica and how they were affected and influenced by Jamaican culture," says Maragh. Both mango and curry were brought to Jamaica by people from India, "so we wanted to put them together to make a sweet and earthy but also little lighter…blonde ale," says Maragh.
Or Sweet Chariot, a passion fruit pale ale collab between six different Black-owned breweries across the country brewed to celebrate Juneteenth. Named after a slave song called Swing Low, Sweet Chariot, this beer is "about redemption and about bringing yourself up out of slavery and emancipation," says Brown. "We thought it was a fitting name for beer because it's a representation of the freedom the African American community didn't have and is still fighting for in a lot of ways in this country."
Or Like a Boss, a hefeweizen with durian, a popular Southeast Asian fruit known for its distinct smell, that touches on Tucker's Thai culture.
And we haven't even mentioned Jamrock, a hazy IPA made with soursop, a fruit native to tropical climates that "tastes kind of like a pineapple with sweetness and acidity but smells like a strawberry," says Maragh. Or Trop Queen, a kölsch made with jackfruit that the brewery buys in cans and crushes by hand in the brewery.
Or Brown's personal favorite, Jerk, a rauchbier that includes smoked malts, jerk seasoning, allspice, fresh ginger, and scotch bonnet. "We're trying to capture the flavor of jerk chicken, jerk pork, the jerk seasoning that Jamaicans use," says Brown. "I don't like chili beers…however, this is the best chili beer I've ever had and I drink it all the time"
Oh, and look out for Three Little Birds, a sorrel tripel. Sorrel (also known as hibiscus) is a holiday drink found all over the Caribbean and West Africa similar to mulled wine. Wah Gwaan makes a really strong tripel base before adding a concentrated sorrel blend from a local friend who is a Caribbean chef. Maragh's favorite beer, Three Little Birds wasn't quite done yet for us to try while we were there, but it sounds killer.
We could just keep going. Our suggestion: Go for it all. What other time in your life will you be able to taste beers with jerk seasoning, durian, soursop, hibiscus, curry, and mango all in one sitting?
The answer: probably never, so when in Denver.
With so much going on, so far the brewery has hit home. A Jamaican-American couple even flew all the way from South Carolina during Wah Gwaan's opening weekend on Juneteenth (June 19, 2021) because they were so excited to see their culture represented in beer.
"Having the community come out for us…that's the part that keeps us going and knowing we're heading in a good direction," says Maragh.
Raíces Brewing Company
2060 W Colfax Ave, Denver, CO | (720) 324-8550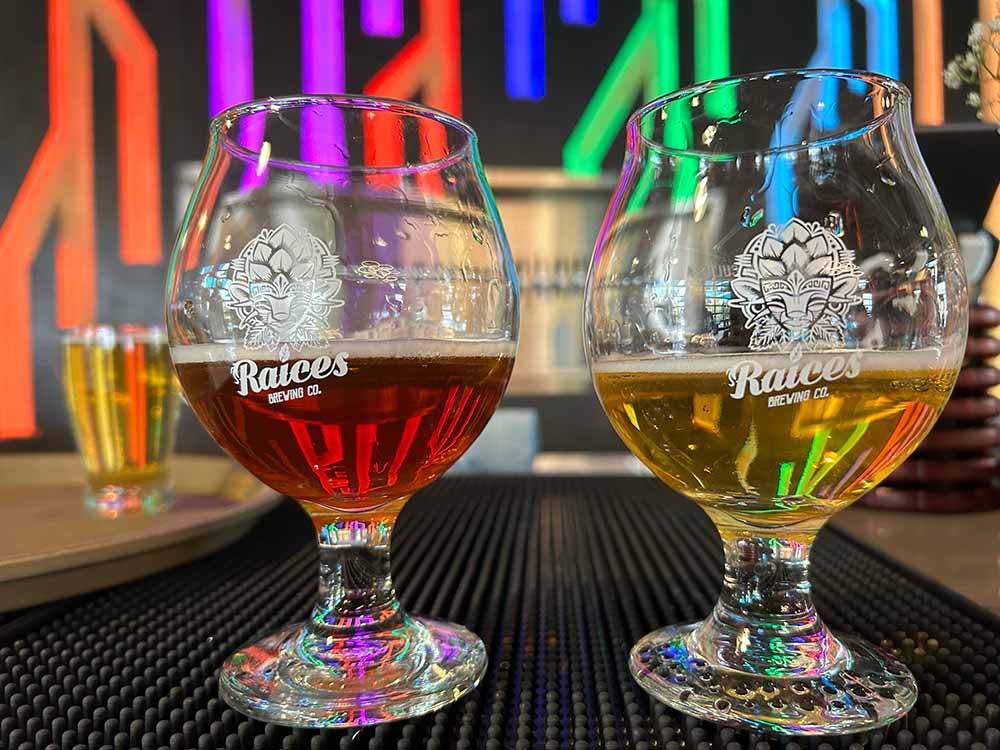 8:00 PM – Beers with flair and funk – From Jamaica to Puerto Rico and Costa Rica, Raíces is a three-year-old addition to Denver that celebrates founder Tamil Maldonado Vega and her husband Jose Betata's love of Latine culture through beer.
"Our pillars here are community, culture, and cerveza," said Maldonado Vega on our recent visit.
Before you even walk into Raíces, you'll probably notice a brilliant mural from Puerto Rican artist Luis Fernando (aka Guillo) covering the wall outside. Venture inside and you'll most likely be hit with vibrant music from a local Tejana band. And that's all before you even get to the beer.
In the beer, you'll find nods to Latine culture and ingredients everywhere. For instance, Cafecito (meaning small coffee in Spanish), a specialty coffee blonde ale featuring coffee from indienous women-owned fair-trade coffee farms in Huehuetenango, Guatemala.
According to Raíces Head Brewer Martin Vargas, he chose a blonde style for this beer because, "as a brewer and a drinker, I like playing with the appearance and experience," says Vargas. "Using something so clear that when you go close you go, 'whoa this thing is really coffee,' that is entertaining!"
Vargas also suggested we try Raíz, meaning root in English, the brewery's take on a Bohemian-style pilsner that they actually call a Mexican lager.
But ultimately for the Raíces team it's about much more than the beer. "[We're] a community center, a cultural place, a place where people will get an experience that is not the norm a lot of times in the craft beer industry."
However you choose to spend your time at Raíces and whatever you choose to drink, we guarantee you'll have a good time and probably try something new.
Thursday: Southeast Denver
For your first full day, we suggest traveling a little farther afield.
Corinne at Le Méridien
1455 California St, Denver, CO | (720) 996-1555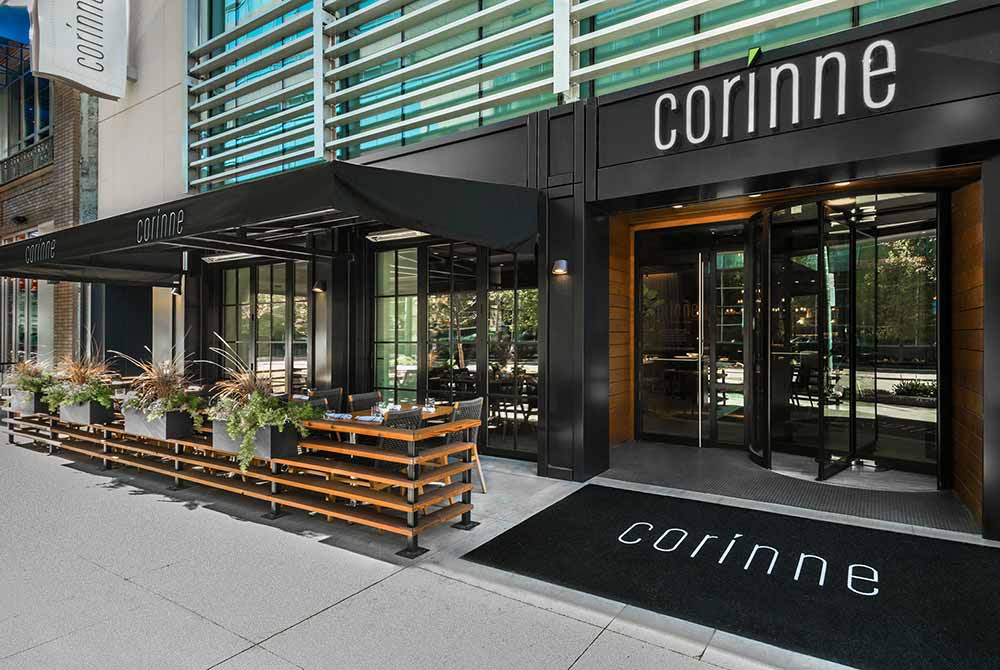 11:00 AM – Stumble out of bed and downstairs – We went pretty hard last night, so we weren't looking to travel far from the hotel for breakfast. In fact, we beelined straight downstairs to Corinne, an eatery serving classic American comfort food attached to Le Méridien.
You won't get anything crazy here, just classics like an egg white omelet with cheese, mushrooms, and spinach served with a crispy puck of hash browns and toast. But everything comes with a heaping side of warm service. And on a morning when you're stumbling around still in a fog, that can go a long way.
So do whatever you need to do to pull yourself up by your proverbial bootstraps, because today is a new day. One where we're traveling just a smooch beyond traditional downtown Denver.
Shahrazad Bakery
2603 S Parker Rd, Aurora, CO | (303) 671-2911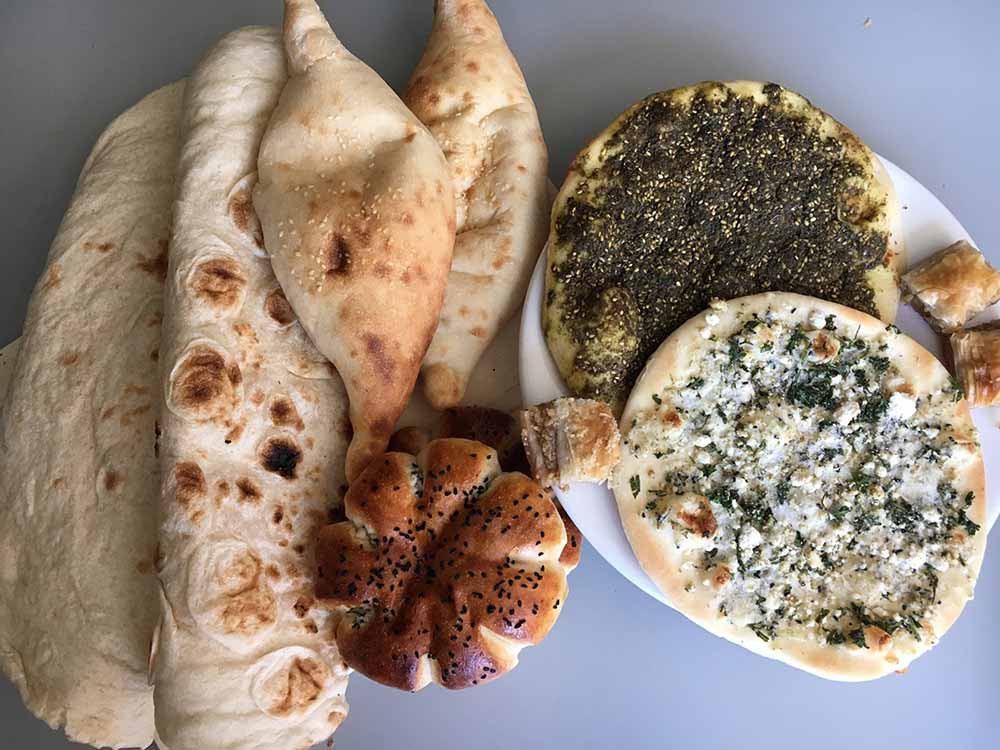 12:00 PM – Quick pit stop for some high-caliber carbs – Novel Strand brewery co-founder Tamir Danon actually turned us onto this spot. Hailing from Israel, Danon says he's had a hard time finding authentic Middle Eastern food in Denver. So while he turns to his own culinary skills to fulfill his falafel fix, for true-to-form Middle Eastern breads, he heads to Shahrazad Bakery in Aurora.
Look, this place is a bit of a trek, but you'll thank us later in the day.
A nondescript storefront in a strip mall, Shahrazad does dough, carbs, and Middle Eastern pastries very well.
Don't expect to run into folks speaking English here, and you should be comfortable with that. Just look at what's resting on the racks behind the counter and point to what you want. You'll find trays of baklava perfectly sweet, nutty, honied, and flaky. And don't forget to grab a plastic bag of bread from directly behind the counter. These plush diamond shaped mounds will come in handy when you need to refuel later.
Trust us.
Comrade Brewing Co.
7667 E Iliff Ave suite f, Denver, Co | (720) 748-0700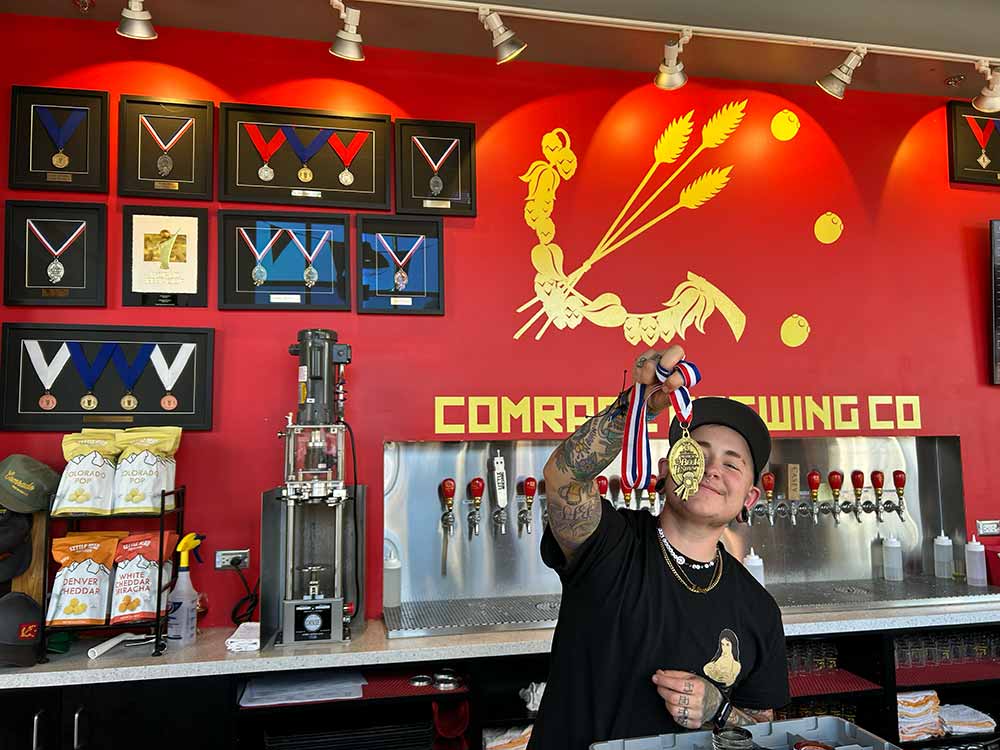 1:00 PM – Join the party! – Start your day with an IPA. And not just any IPA, but one that's won a gold medal in the American-Style Strong Pale Ale – American IPA category at GABF in 2019 and a silver in 2020.
Ask almost any brewer in Denver for their favorite IPA and probably nine times out of ten they'll name Comrade's Superpower IPA.
Comrade's flagship beer comes loaded with Pacific Northwest hops like Citra, Simcoe, and Mosaic. "It's really balanced," says Comrade Brewing Company Chairman and Founder David Lin. "It doesn't have that punishing bitterness; it's just an easy-drinking IPA. You can drink a pint and want another afterwards without getting fatigued."
Besides Superpower, Comrade just knows how to nail IPAs, recently winning a gold in the most competitive category at GABF—American Style India Pale Ale—for its More Dodge Less RAM.
It's the brewery's seventh medal at GABF, including a brewery of the year award picked up in 2019.
Obviously Lin and Co. are doing something right. "Your fruit, vegetable, herb, spice, barrel-aged, sours, we don't do those," says Lin. "We just want to brew beers we want to drink…and we happen to be really IPA focused because we just like drinking a lot of IPAs."
We think that pretty much says it all. Go to Comrade for award-winning IPAs. Leave a little happier.
Lady Justice Brewing Company
9735 E Colfax Ave, Aurora, CO | (303) 856-3809
3:00 PM – Beers with a purpose – Queer- and woman-owned and Latina-founded Lady Justice Brewing Co. in Aurora, CO, set out with the goal to make beer for a better world across all genders, nationalities, races, and sexualities. Founded in 2010 by Betsy Lay, Kate Power, and Jen Cuesta, Lady Justice holds the distinction as the world's first fully female-owned and philanthropic brewery at the time it opened.
The brewery focuses heavily on giving back, raising over $32,000 to date for over thirty organizations across the country such as Women's Wilderness, whose mission is to cultivate courage, confidence, connection, and environmental stewardship among girls, women, and the LGBTQIA+ community through year-round outdoor immersions; and The Gathering Place, the only daytime drop-in center in Denver serving transgender individuals experiencing poverty.
In addition to donations, Lady Justice employs a Queer staff, creates a safe space for Colorado's LGBTQIA+ population, and brews a Pride beer with rainbow glitter that has benefited the Transformative Freedom Fund.
Bruz Off Fax – Bruz Beers
1495 York St Suite 101, Denver, CO | (303) 997-5144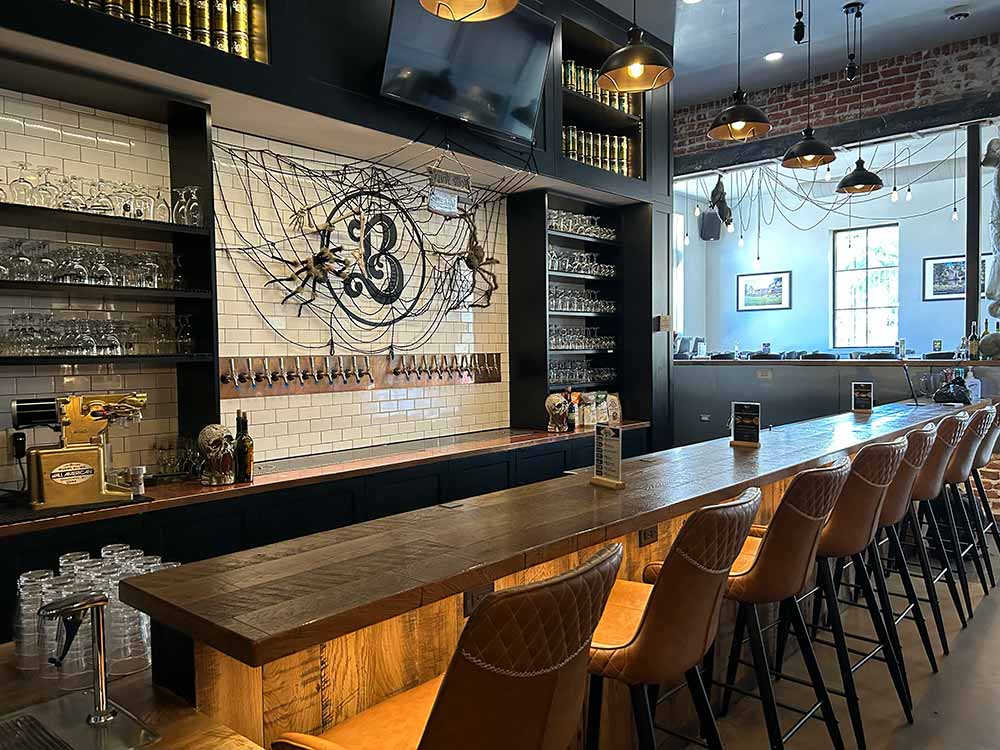 4:00 PM – Badass Belgian beers – If I told you that you could visit Belgium and all of its complex beer styles without ever leaving the city limits of Denver, would you believe me?
Walk into Bruz Off Fax (the original location is actually a bit farther north of the city in a bit more suburban setting) and it's like stumbling through the back of the wardrobe. Only instead of ending up in Narnia, you hop across the pond to Belgium.
Bruz Beers Co-Founder Ryan Evans fell in love with Belgian beers while backpacking in Europe in college. While making his way up to Amsterdam, Evans had a two-hour layover in Brussels. So he did what all good college students do: He found a pub.
"I walked in and said I'll have a beer," says Evans. "The bartender brought over a book, dropped it on the table and walked away." Perusing through all the beers, Evans couldn't find one he recognized. "The styles—dubbel, tripel, quad—I didn't know any of it," says Evans, so he asked the bartender what to drink. "He said Tripel Karameliet," Evans reminisces. "I didn't even know if he called me a bad word, but he brought this glass…and I'll never forget it. I took that first sip…what is this? I never had anything like that in my life." Evans ended up staying for four or five more beers, walking crooked back to barely make his train.
That trip he'd return time after time to Belgium, bringing more and more friends. "I just fell in love with it," says Evans.
Opened in 2016, Bruz Beers is all of Evans' life-changing, Belgian-beer-drinking experiences wrapped up into two gorgeous taprooms, gifting Americans with the deep, complex, historic beer styles of Belgium.
On the menu you'll find different sections: Sessionable Belgians, Sour Belgians, Fruited Summer Berries, and Bigger Belgians.
And all are meticulously crafted and brewed. These beers are literal labors of love.
Like Evans' favorite, Tripel.
A pale 9.5% Abbey-style with flavors of peaches, pears, and light spice, "It's drinkable, it's approachable, but a little dangerous," laughs Evans. "If I'm stuck on an island the tripel would be my choice. I just love it."
And while you can find all the well-known styles like dubbel, tripel, quad, and witbiers on the tap list, don't skip on checking out any bottles Bruz Beers might have available. That's where you'll find some truly funky gems.
For instance, Redwood Grand, a whiskey barrel-aged quad blended with a Flander sour ale from Belgian brewery Omer Vander Ghinste. It's this crazy, funky, kind of smokey firework explosion in your mouth.
Bruz Beers just does things differently. Belgian beers take time, money, and dedication to make. Whereas many breweries want to turn their tanks as quickly as possible, Bruz Beers has to keep liquid in tanks for as long as the beer takes. "Breweries are used to turning tanks in two weeks," says Evan. "Their heads would explode if they came and watched our process."
Whereas, many breweries use somewhere between one to five yeast strains, Bruz Beers can use anywhere from fifty to sixty different ones in a year.
"Yeast is everything in a Belgian beer," says Evans. "It's insane. We have some propped up and grown for us, some we brought over from Belgium they keep on file for us, we do blends…but if we used one yeast, our beers would be different colors but they would all taste the same."
Overall Evans says, "Our upfront cost was more, but our caring cost on the beers is also more."
Bruz Beers answers to no one but themselves and their own dreams. And although it costs more and takes more time, they're devoted to it.
And you can hear it so plainly as soon as Evans starts talking. He's just so giddy and humbled to be doing what he loves, what changed his life, and to be able to share that with so many people.
"Everyone told me we couldn't do it because it's too restricting or too limiting or people won't like it," says Evans. But six years later Bruz Beers has one of the most devoted followings of any brewery in Denver. "People drive two hours to come here," says Evans. "They might be passing fifty other breweries on their way to here, so that blows my mind."
He continues, "We just live, eat, and breathe it. We always joke that we're probably the luckiest people in the country because we don't have to chase trends. We don't wake up and try to figure out how to put glitter or what next cereal in our beer…we just make historically good Belgian beers. "
"We're spoiled," says Evans. "We are absolutely spoiled."
Truly, we were the ones that were spoiled. Evans dropped ten different beers in front of us and all just crushed our little craniums with their flavor, crispness, smoothness. Even 9.5% ABV and upwards beer were drinking like 4 or 5% ABV.
Safta
3330 Brighton Blvd #201, Denver, CO | (720) 408-2444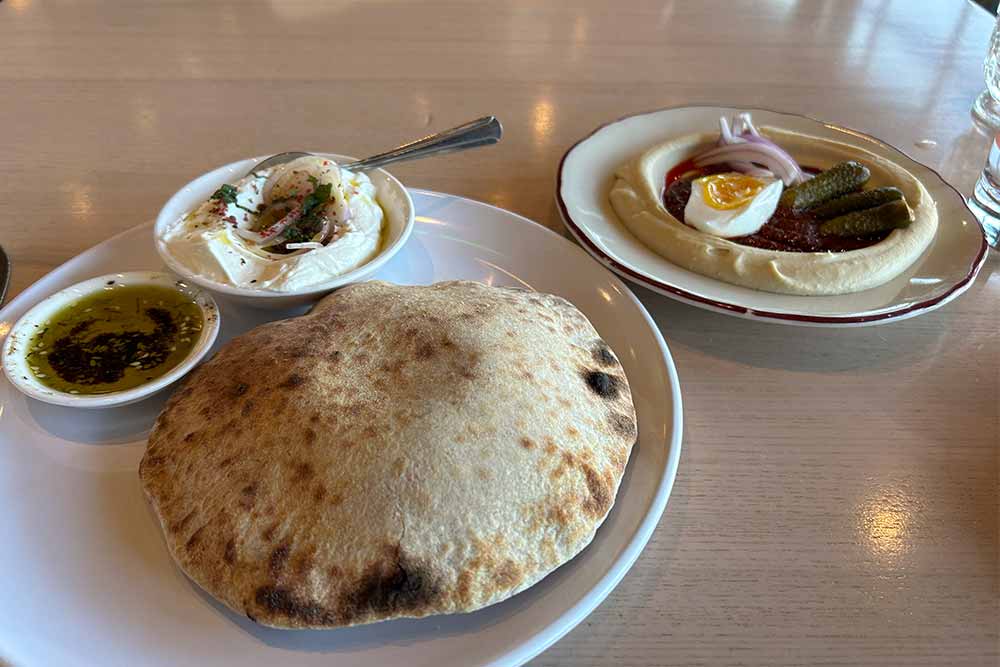 6:00 PM – Beautiful Israeli small plates – Safta is another Denver staple. A restaurant from Alon Shaya, Safta actual means "grandmother" in Hebrew, alluding to the home cooked food you'll find into this gorgeous restaurant tucked into one of the spaces in Denver's The Source, a vibrant collective of food artisans and retailers.
Broken up into several sections including "Hummus", "Salatim", and "Plates," the menu offers an array of Middle-Eastern-inspired dishes.
You definitely need to order a couple whipped hummus for the table, probably a few smaller plates (salatim) and then at least one or two bigger dishes. We recommend the Cheese Borekas, redolent with savory duqqa seasoning and cheese; the honey is a great sweet foil for this flaky pastry.
Go with a group, order a bunch, and tuck into delicious food.
Friday: RiNo Neighborhood
Short for River North Art District, RiNo goes by the mantra "where art is made." Art being a loose term for culinary arts, street art, brewing art, anything handmade by the artisans of Denver.
It's a cool, funky, eclectic neighborhood. One you can spend an entire day in just by walking around.
And we did…
Stowaway Kitchen
2528 Walnut St #104, Denver, CO | (720) 583-5481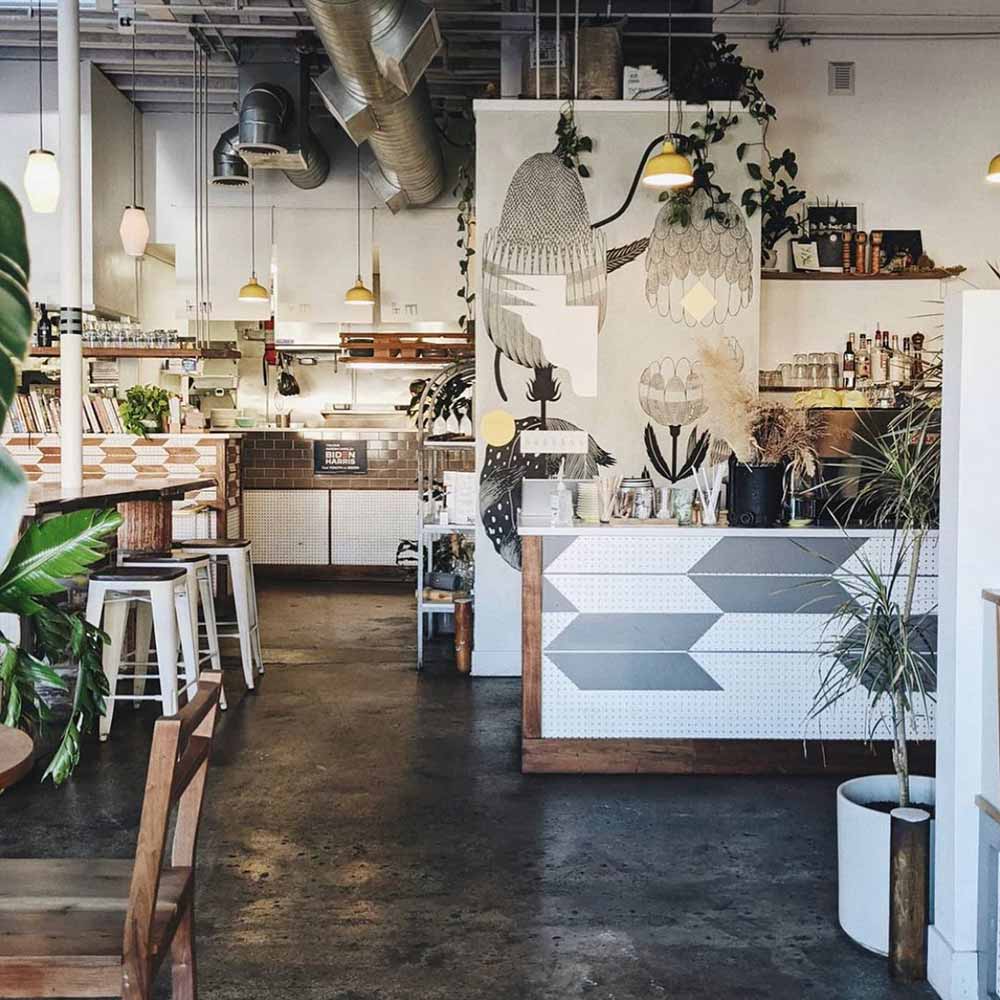 10:00 AM – Fuel up the right way – This light, airy, eclectic cafe showcases RiNo completely. But if you're not looking out for it, you just might walk by Stowaway Kitchen completely. Behind the non-descript red brick facade, walk in to find a little oasis.
Thinking this was just a coffee shop, I walked down the long hallway to discover a modern, industrial cottage-chic cafe. One where they actually seat you instead of ordering at the counter.
Where exposed air ducts and concrete floors mingle with textured white walls and long, wide, wooden picnic tables. And where a shelf of colorful cookbooks separates seating from the semi-open kitchen.
Look around and you'll find couples huddled around tables over plates of spiced kabocha and pecan waffles or bowls of "Killer Whale" granola.
No matter what, don't skip the pastry case in the front where the friendly staff will pluck a plump black pepper and cheese scone for you. These are scones on a whole other ethereal plane. Almost more like a biscuit, the pastry's flaky, creamy, buttery layers uncovered hidden pops of pepper and crunchy cheese. At one point, I actually forgot I was eating a scone (and maybe where I was).
This is a tucked-away cozy paradise pumping out next-level goods that will get your engine humming and good vibes thrumming.
Hearth
2500 Lawrence St Unit 200, Denver, CO | (781) 710-1569
11:00 AM – Morning buzz – And if breakfast didn't get you going enough, you can always take a short five-minute stroll to Hearth. As much as Stowaway Kitchen is quiet on the outside, pulsing on the inside, Hearth is bold and brash right from the get go.
Anchored by a sleek espresso machine, Hearth exudes contemporary coffee. The cortado I ordered came in a ceramic mug with a small chaser of water while I noticed espressos served with seltzer. Both came on gorgeous wooden planks.
A pastry case packs in carby goodness like croissants and morning buns.
Small and intimate on the inside but with a bigger outdoor courtyard, Hearth will get you the buzz you need to sustain you throughout the day.
Bierstadt Lagerhaus
2875 Blake St, Denver, CO | (720) 570-7824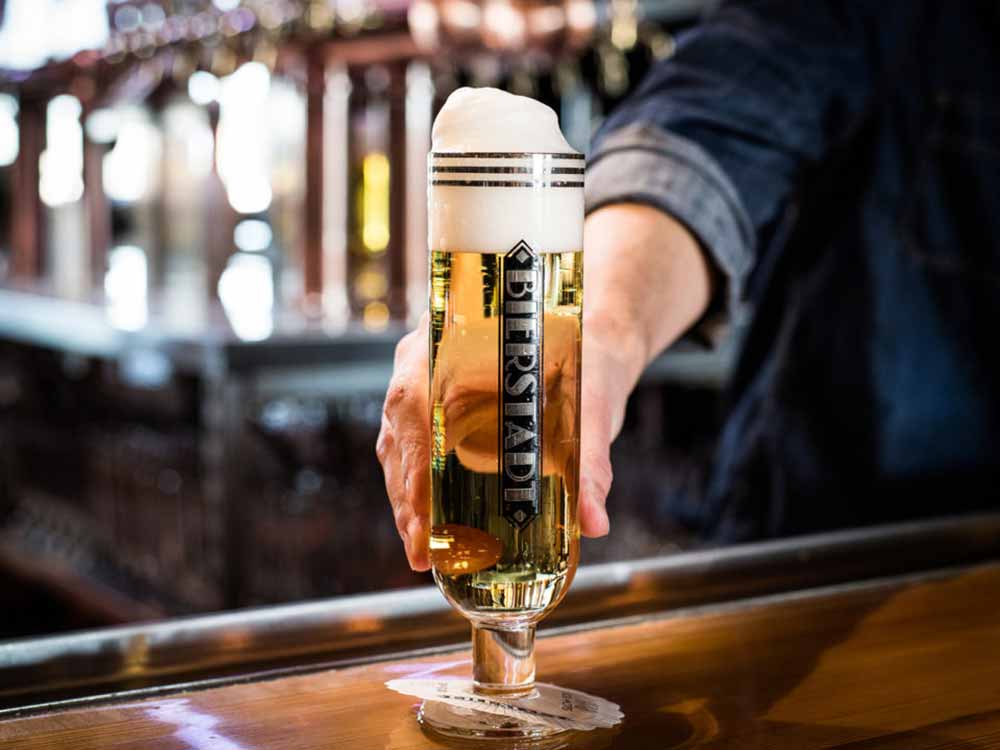 12:00 PM – Best lagers period = the best lunch period – Sufficiently caffeinated, pop over to your first brewery. RiNo is an area known for its taprooms, with over twenty to explore. So you certainly won't want for great beer drinking. But we have to start our RiNo brewery hop at perhaps one of the most distinguished breweries in the area. One that will also have one of the smallest draft lists.
Bierstadt Lagerhaus has made a name for itself by making lagers…and only lagers.
Co-owners Ashleigh Carter and Bill Eye love lagers—love making them, love drinking them. And they stuck to their guns when they opened Bierstadt in 2016.
Now the brewery is world renown for inventing beers like the Slow Pour Pils, a beer that takes seven minutes to pour (trust us, it's worth it). When we went, they had three other beers on draft including a helles, a dunkel, and an Oktoberfest.
Whatever you order, just know it's going to be made laboriously with love and it's going to be probably one of the best beers you've ever had.
Some people save the best for last. Today, we drank one from one of the best breweries first.
Shop at MATTER
2134 Market St, Denver, CO | (303) 893-0330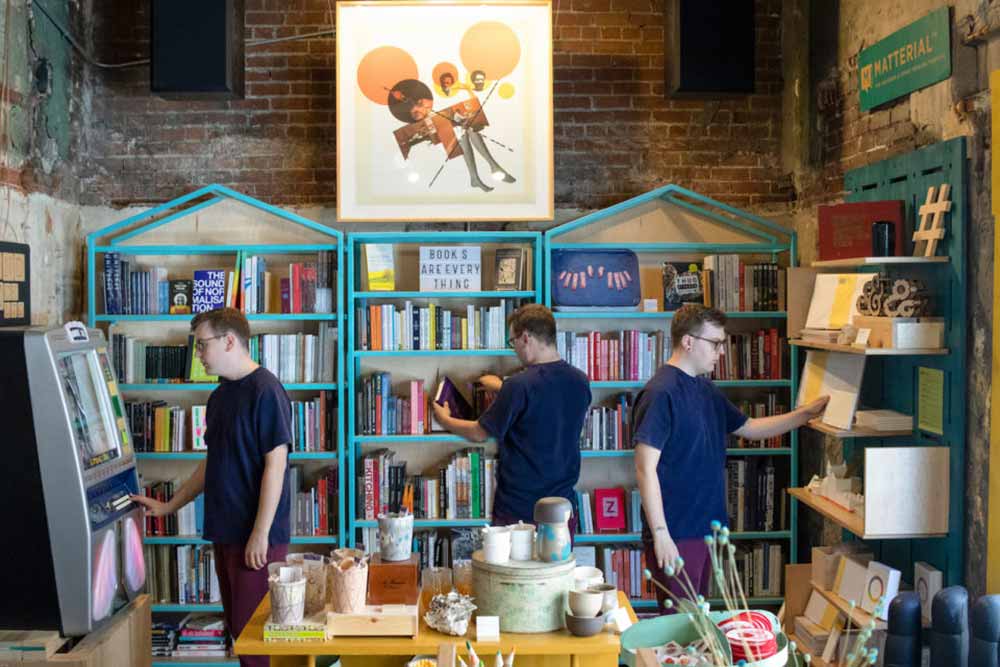 1:00 PM – A break for books – As we mentioned, RiNo is an area known for all its arts. A quick fifteen-minute jaunt southwest takes you to the Shop at MATTER.
Tucked away in an area that looks more like a series of loading docks than shops, the Shop at MATTER is actually a Black- and women-owned bookstore, printing shop, art and office supply store, and storytelling studio. All pressed into one.
I stopped in because I needed another reporter's notebook. Funny story, I'd actually bought my last top-spiral notebook from that very shop three years earlier during CBC in Denver in 2019.
This is a tiny place to browse and you'll most likely find something you'd like to pick up and take home.
Goed Zuur
2801 Welton St, Denver, CO | (720) 749-2709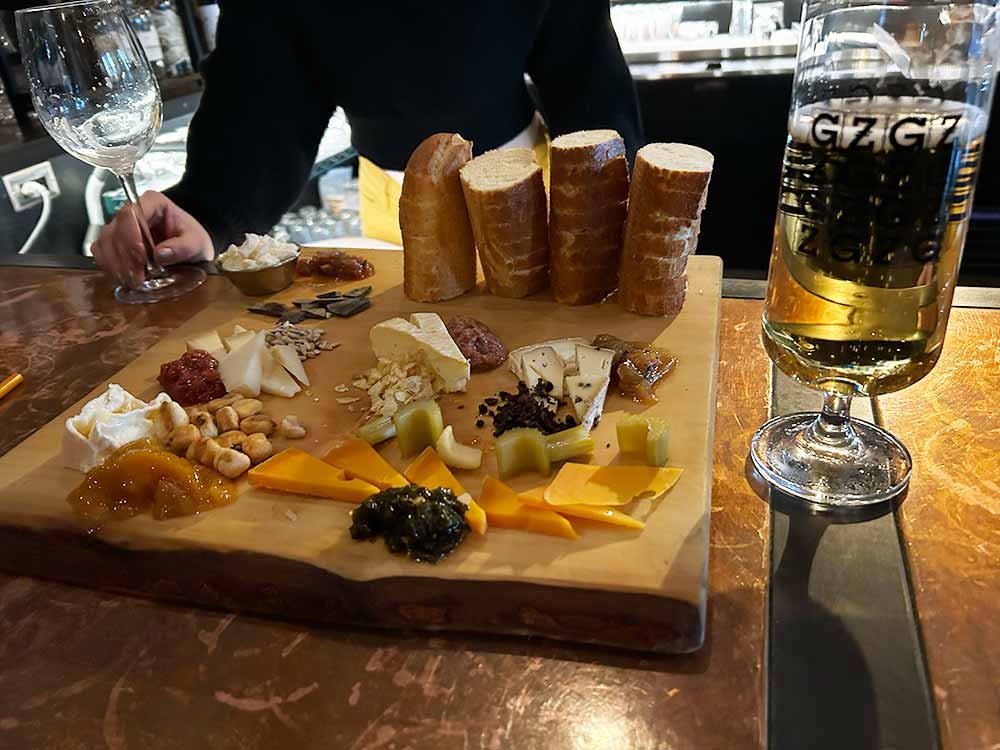 2:00PM – Load up on sour beer, bread, and cheese – If you're up for the twenty-five minute walk to Goed Zuur, you'll have time to build up an appetite.
Which you'll need when you walk into Goed Zuur.
Cheese, cured meats, and craft beer. That's the name of the game here.
If there's just a couple of you, park yourself at the island bar in the middle. Grab a Palate Cleansing Pils collab from Bierstadt or one of the other funky saisons and sours from local favorites like Westbound & Down and Crooked Stave.
Then simply check off which six cheeses and charcuterie you want on a white piece of paper and prepare to be whisked away to bliss.
Mere minutes later (or perhaps longer, we don't know. Time just seems to stand still here), someone from the kitchen gently settles a huge board in front of you.
On it you'll find each of your selections expertly paired with what the restaurant believes are the best accompaniments. I'm going to be completely honest here: I found myself in such a state of euphoria that I forgot to write down all the cheeses and components that came with them.
But in broad brushstrokes, I tried one that was earthier, studded with hemp seeds, and paired with some type of jam. Another creamier cheese almost like sweet cream sat nudged next to a swath of homemade marmalade and suggested to be topped with a chip of chocolate nearby. While orange slabs of some type of cheddar parked themselves next to pickled celery.
Crunchy, creamy, sweet, slick, this is a tale of textures that will leave you living happily ever after.
I mean, if you got stuck here for a few hours and decided to skip the rest of the afternoon, we would completely understand.
Ratio Beerworks
2920 Larimer St, Denver, CO | (303) 997-8288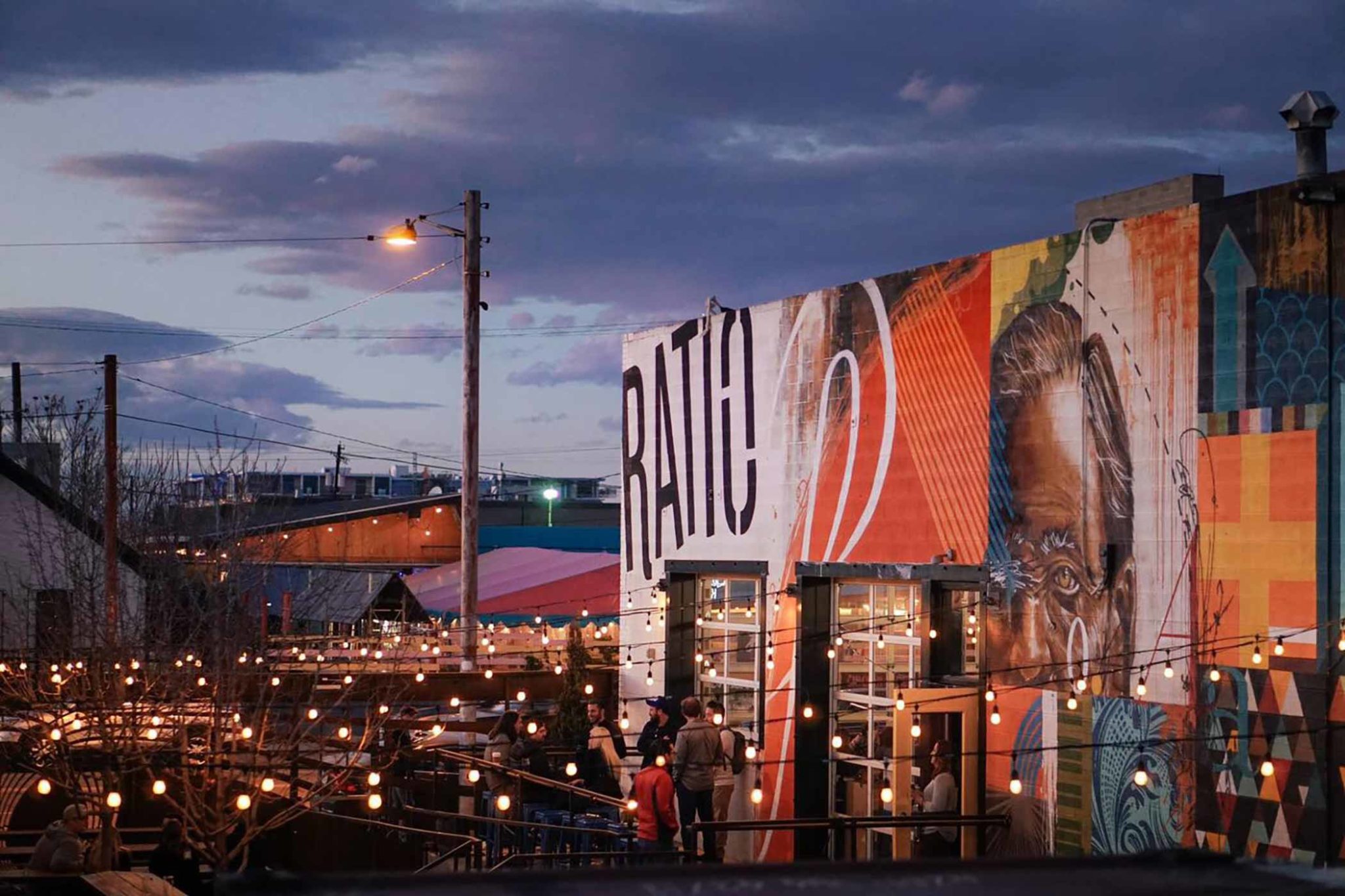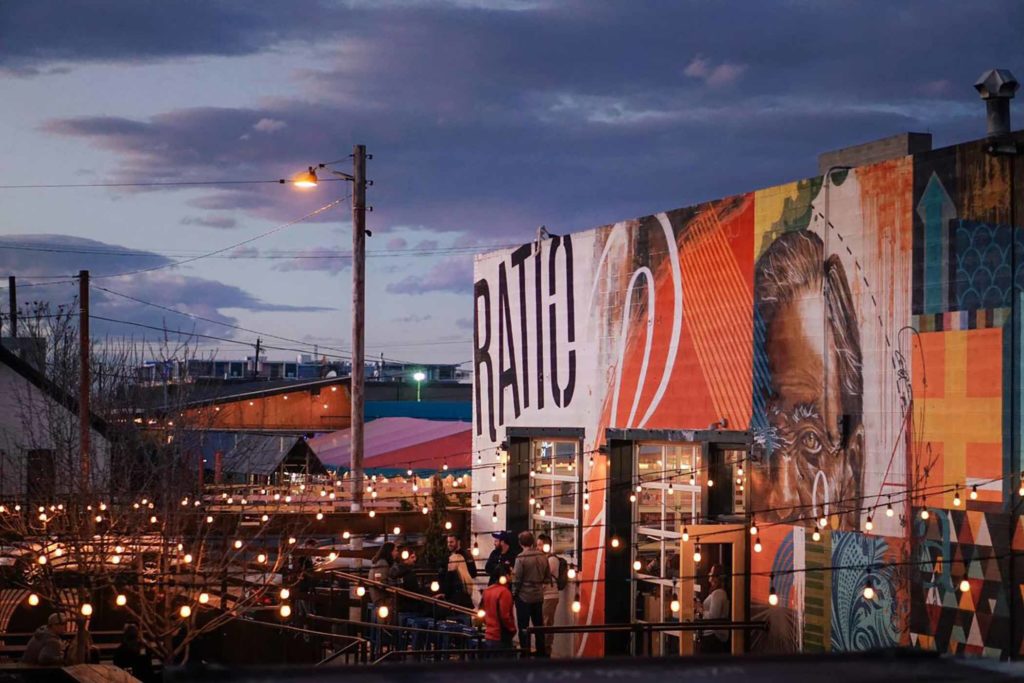 3:30PM – For the patio and the party – But if you're up for even more beer, amble on over to Ratio Beerworks on the main strip of RiNo.
Here you'll find a raucous good time. The enormous indoor and outdoor area and tap list has a little something for everyone.
Get Domestic, a standard American ale that you can crush all afternoon long.
Or sip on a chocolate rye scotch ale called Hold Steady.
Of course there's Antidote, the brewery's IPA, but don't pass up Repeater, an extra pale ale that's nestled in between a pale and IPA style for a slightly roastier yet still plenty bitter beer.
If you're in a big group, this is the place you want to be. Even if you're not with a ton of folks, this is the brewery that's always bumping. Everyone comes to hang out here, so skipping out on Ratio would probably be a…miscalculation.
Our Mutual Friend Brewing Company
2810 Larimer St, Denver, CO | (303) 296-3441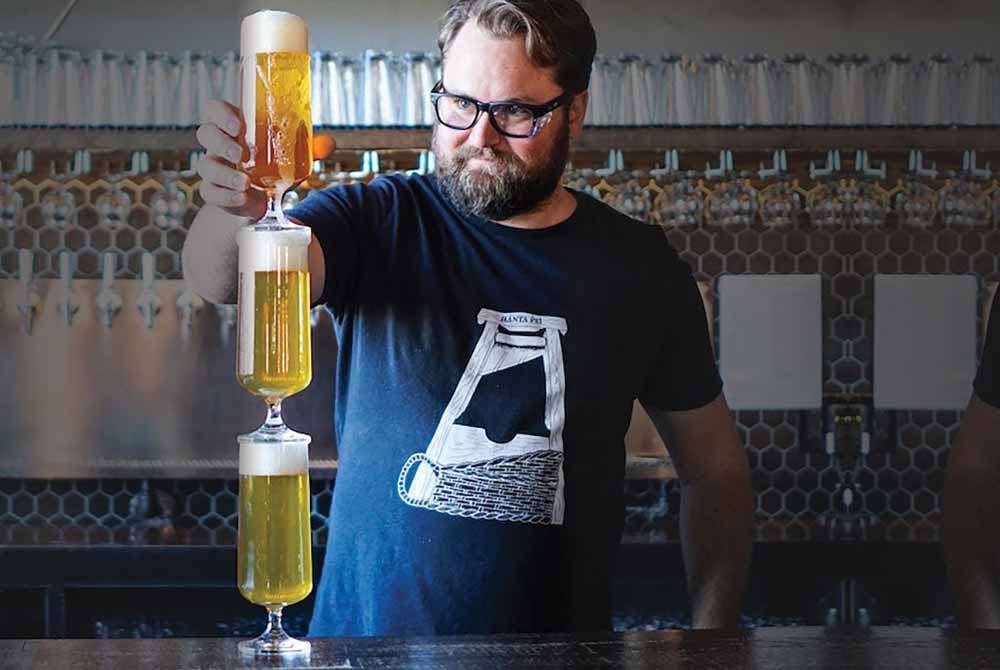 4:30PM – Where you're sure to make a friend – Started by friends Bryan Leavelle, Andrew Strasburg, and Brandon Proff in 2012, Our Mutual Friend (OMF) is the place where you drink beer with friends you've known for twenty years. Or you make friends with someone you've never met before. It's the place where the friends of your friends introduce you and you become friends.
Do you get what we mean? Probably not. Because to truly understand OMF you have to go there.
It would be hard to miss on Larimer Street. It's the building with the crazy fuschia, red, blue, teal, and yellow blobs painted on the outside inviting you to stop, stare, and come on in.
Known for their saisons and sours, OMF is a tiny operation with big brass brewing balls.
And we're not the only ones who think so. Just this past October during the Great American Beer Festival Awards Ceremony, OMF racked up a gold in the Brett Beer category for Trystero, a 6.6% ABV Brett Saison, and a silver in the Mixed-Culture Brett Beer category for Biere Ovale.
We could wax poetic about OMF for another twenty paragraphs, but instead we'll just leave you with this: This brewery is bold, this brewery is colorful, this brewery is full of characters making beer with character.
Come inside and we guarantee you you'll drink incredible beer and probably leave having made a friend or two.
That's the magic of OMF.
Dinner: Cart-Driver RiNo
2500 Larimer St #100, Denver, CO | (303) 292-3553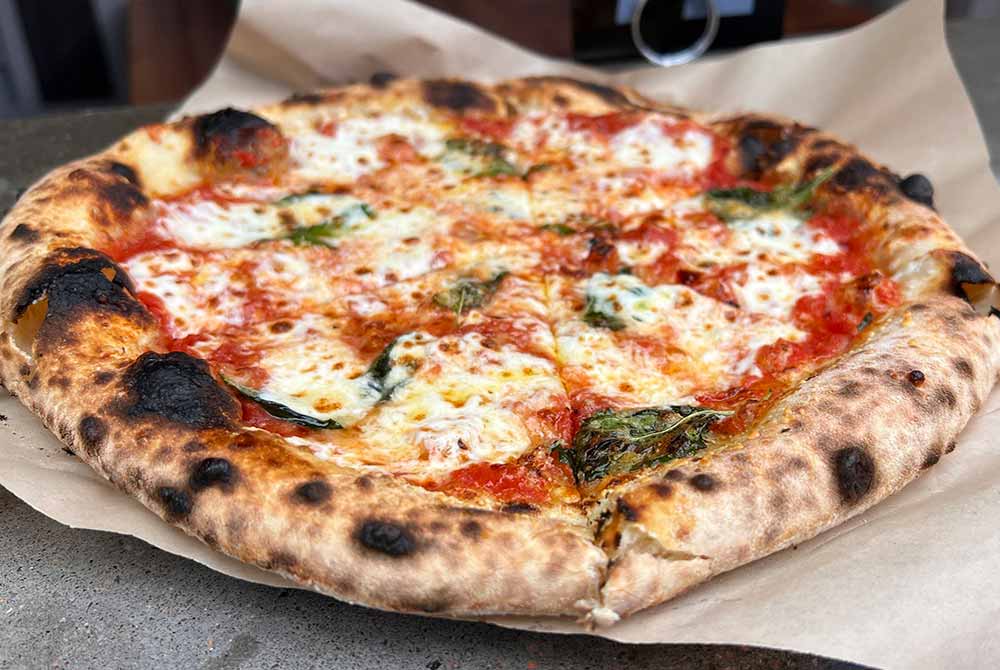 6:00pm – The best drinking food. Period. – By now we figure you need some more sustenance. Literally around the corner from OMF, you'll find a gem that's not so hidden in Colorado.
Perhaps the best-known pizza spot in the city, Cart-Driver delivers wood-fired pizza, fresh oysters on the half shell, and a small selection of seasonally inspired plates.
Start with the Bread & Butter. We don't care if you want to order pizza as well. You need to do both because this is the most pillowy soft poof you'll ever eat. Sink your teeth into the toothsome crust and they'll just keep on sinking. Don't forget to add a swath of the accompanying olive butter. Yes, it sounds crazy. But these aren't the black rings you find on top of your pizza. This is an earthy, umami spread that just adds a touch of salinity to your roll.
We also ordered oysters on the half shell along with a fall salad featuring Altius mixed greens, apples, lemon ricotta, marcona almonds, and apple cider vinegar because…greens right?
Pizza-wise you really can't go wrong with anything, but if you skip the White pizza you're driving on the wrong side of the road.
A good amount of mozzarella anchors this pie. Against all rules, I folded this Neapolitan-style slice like a New Yorker for the most delicious bite of thick creaminess. I teetered back from the brink of dairy overload when my teeth sliced through the briney Castelvetrano olives, acidic lemon, and bright basil. Perfection.
We also ordered a fall special called the…wait for it…Fall Pizza. A pureed squash base gives this circle of dough an earthy sweetness cut by piquant Calabrian chiles, sharp pecornica, and zippy chives.
This place gets packed, but you order up front, grab a beer and head to a table with a number. So while you sip on a Half Acre Daisy Cutter, you can expect your oysters or small plates to come out pretty quickly to whet your appetite.
This place is bumping, and for good reason. The pizza rocks, the atmosphere talks, and as soon as you're done you'll probably want to go for a walk.
Finn's Manor
2927 Larimer St, Denver, CO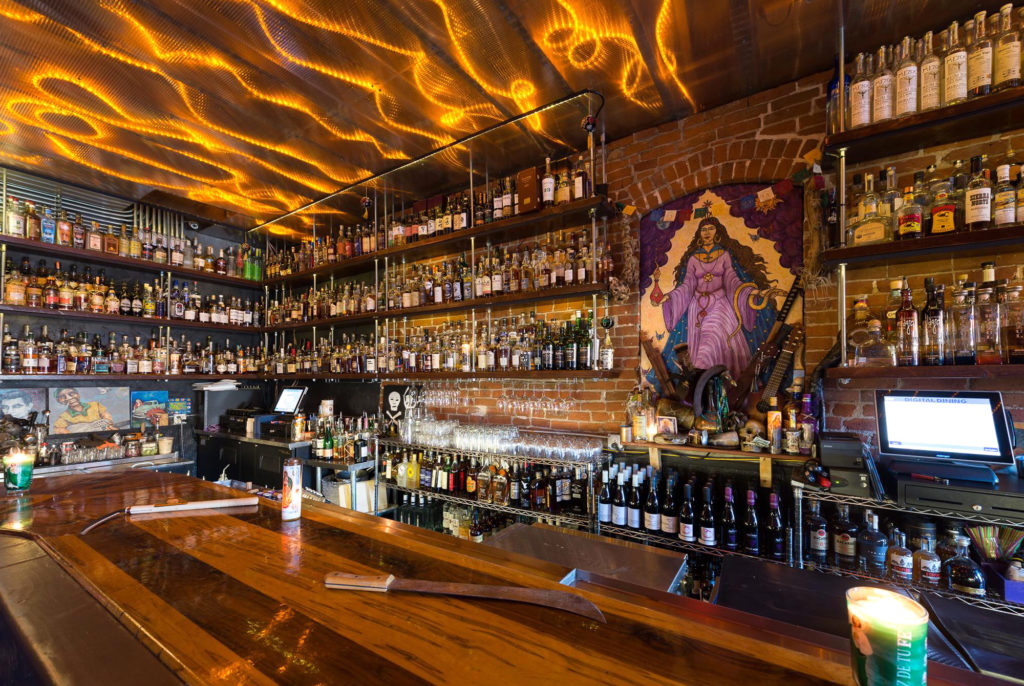 8:00PM – One last nightcap – So if you're up for one more tipple, saunter ten minutes down Larimer St. to Finn's Manor.
A cocktail bar featuring sixteen rotating taps, Finn's Manor is the place to be for some late-night reverie.
Here's the schtick: 400+ whiskies, 140+ agave spirits, 150+ rums/cachaca, 30+ gins, a bevy of cocktails, a pantheon of beers, Finn's Manor is the perfect place to end your night whether it's at 10pm or all the way until 1am on Friday and Saturday.
If you end up here, we guarantee you'll sleep well tonight.
Saturday: Northwest Denver
A day to explore Denver in the other direction.
Bodega
2651 W 38th Ave, Denver, CO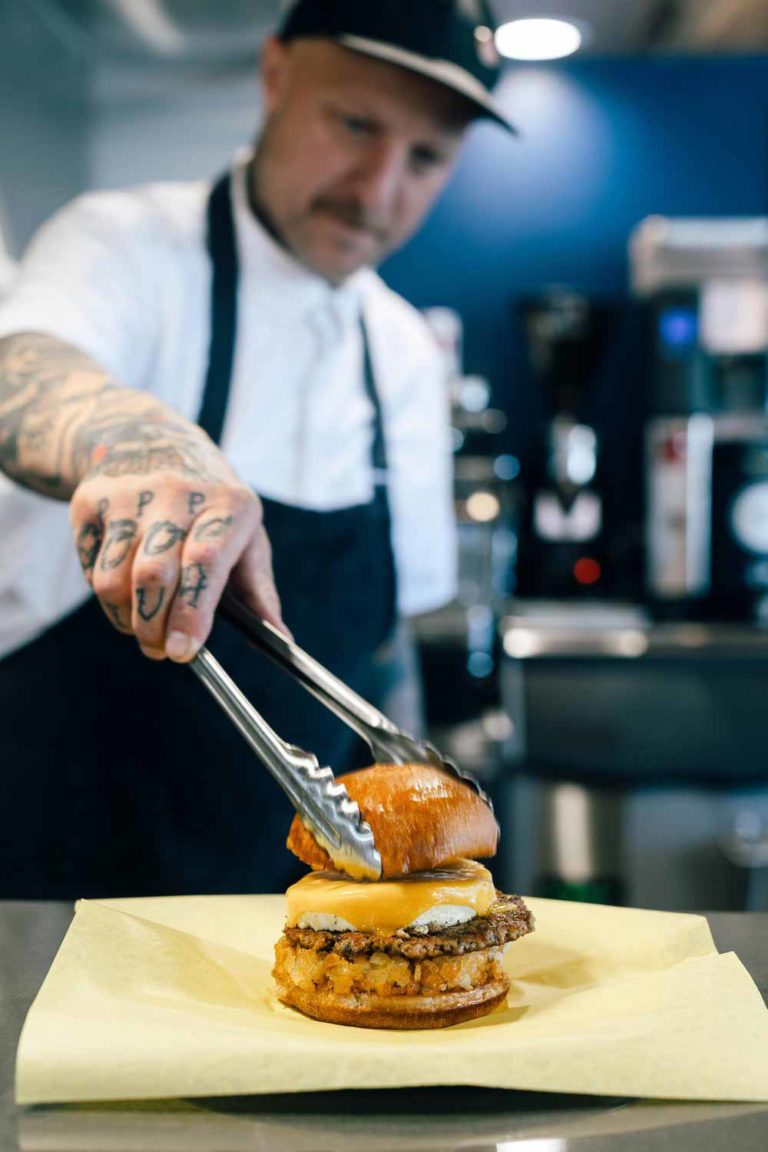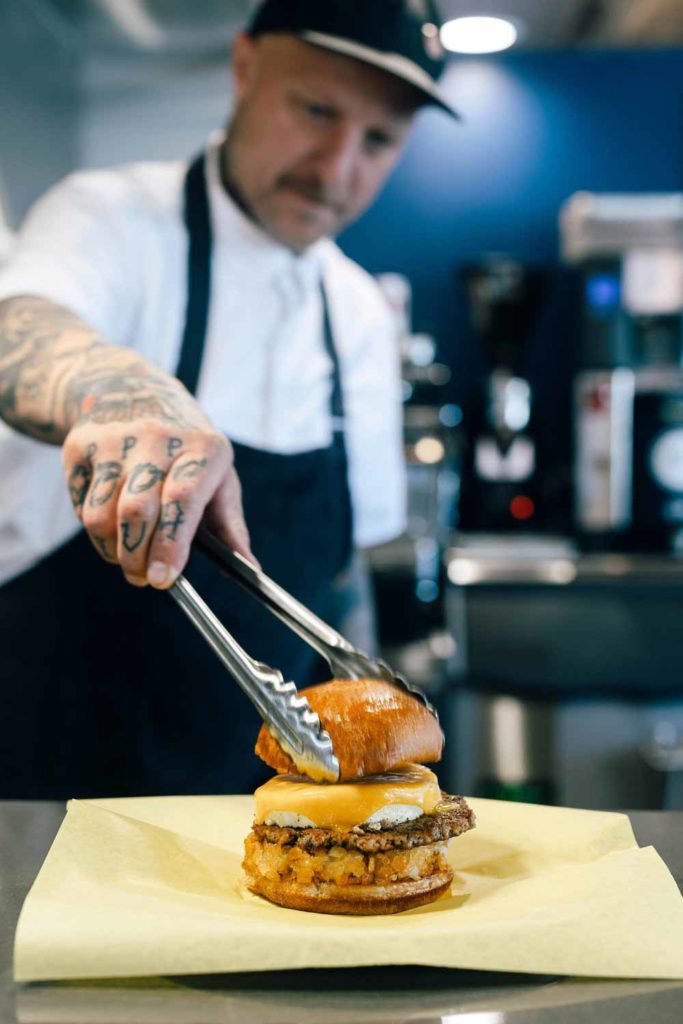 10:00 AM – Big breakfast sandwiches – We're heading northwest to start your last full day. Fill up on breakfast at this contemporary corner store that "blends scrappy nostalgia of a neighborhood joint with the quality ingredients and innovation of Denver," reads the cafe's website.
Opened in summer 2022, Bodega does two things really well—sandwiches and sandwiches. You're coming here for a perfect breakfast sandwich. Variations include your classic BEC (that's bacon, egg, and cheese for all you people who have never lived in New York City) with bacon, egg, a tater pick, and 'merican cheese on a poppy seed kaiser roll. But also a little edgier like The Boujee with egg, herby feta, goat cheese, little greens, muhammar, and za'atar on focaccia.
To be completely honest, we actually got a side of The Holla Back too. It's griddled banana bread with maple banana butter and walnut oat crumble.
This is just the kind of post-drinking food you need to mop up all of last night's liquids and prepare yourself for the final Denver excursion.
Goldspot Brewing Company
4970 Lowell Blvd, Denver, CO | (303) 955-5657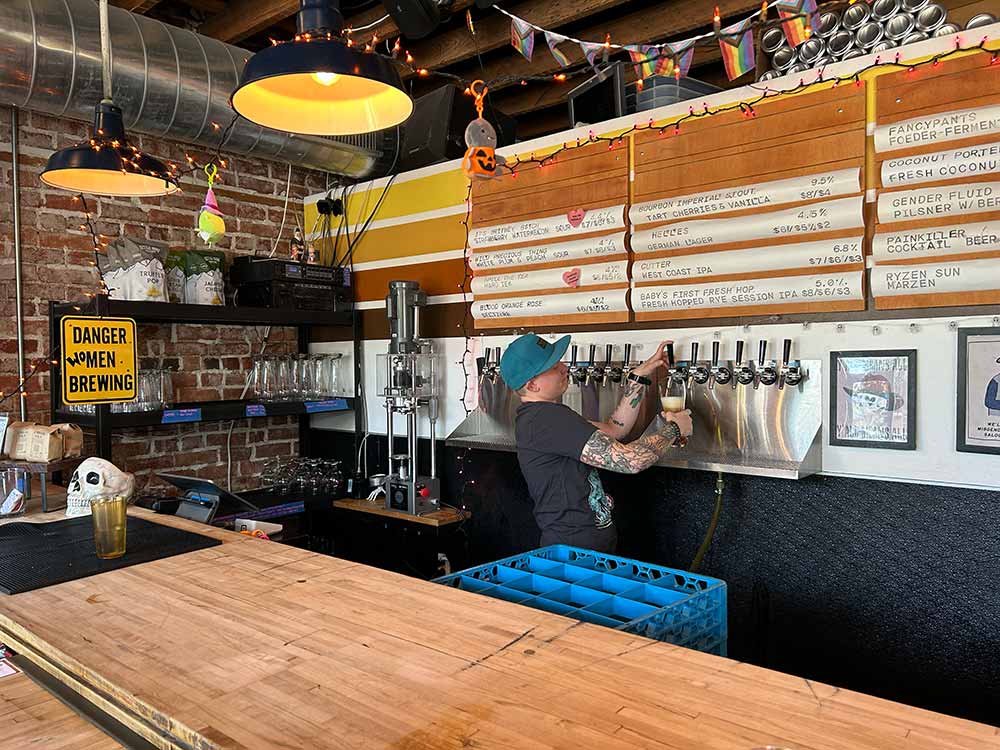 11:00 AM – Hair of the dog – A quick stop at Goldspot Brewing Company to kick off your morning. We suggest the helles for a little hair of the dog. A lot more malty than we expected, but super smooth and delicious, this is the perfect fall beer to hold in your hand.
A one hundred percent Queer- and women-owned brewery in Denver, CO, Goldspot Brewing Company has become a pillar in the community. It's a brewery with an interesting trajectory. For example, Goldspot wasn't always Queer- and women-owned. Now-owner Kelissa Heiber (who identifies as Queer) moved to Denver to attend the Applied Craft Brewing Program at Regis University in 2012. After school, a stint at TRVE Brewing led to a bartending job at Goldspot Brewing, where Heiber would move on to assistant brewer and then head brewer. At the time, Matt Hughes and Alex Sward owned the brewery. But in 2018, the duo sold to Ryan and Winnie DuBois with Heiber purchasing a thirty-percent stake. In Feburary 2021, Heiber bought out the DuBoises to assume full ownership, making Goldspot a one hundred percent Queer- and women-owned brewery.
Accordingly, Heiber has been able to lay the groundwork for the brewery as a community-driven, inclusive business. Which meant hosting the first-ever festival dedicated to LGBTQ+ causes called Big Queer Beerfest featuring Pride-focused beers last year. Or supporting projects like Making Noise Beer and organizations such as One Colorado, the state's leading advocacy group for LGBTQIA+ Coloradans and their families.
We happened to be there on a day when the brewery hosted Offbeat Market, a Denver Maker's Market showcasing Queer-, women-, trans-, non-binary-, Black-, and POC-owned businesses.
For instance, Renée Olga (they/he) (@some.art.by.me), whose art boldly seemed to capture gender dysmorphia through several different mediums.
Goldspot is more than a brewery—it's a platform for the Queer, trans, non-binary, LGBTQIA+ community, inviting folks in to drink and celebrate in a safe space.
New Image Brewing – Wheat Ridge
9505 W 44th Ave, Wheat Ridge, CO | (720) 900-5622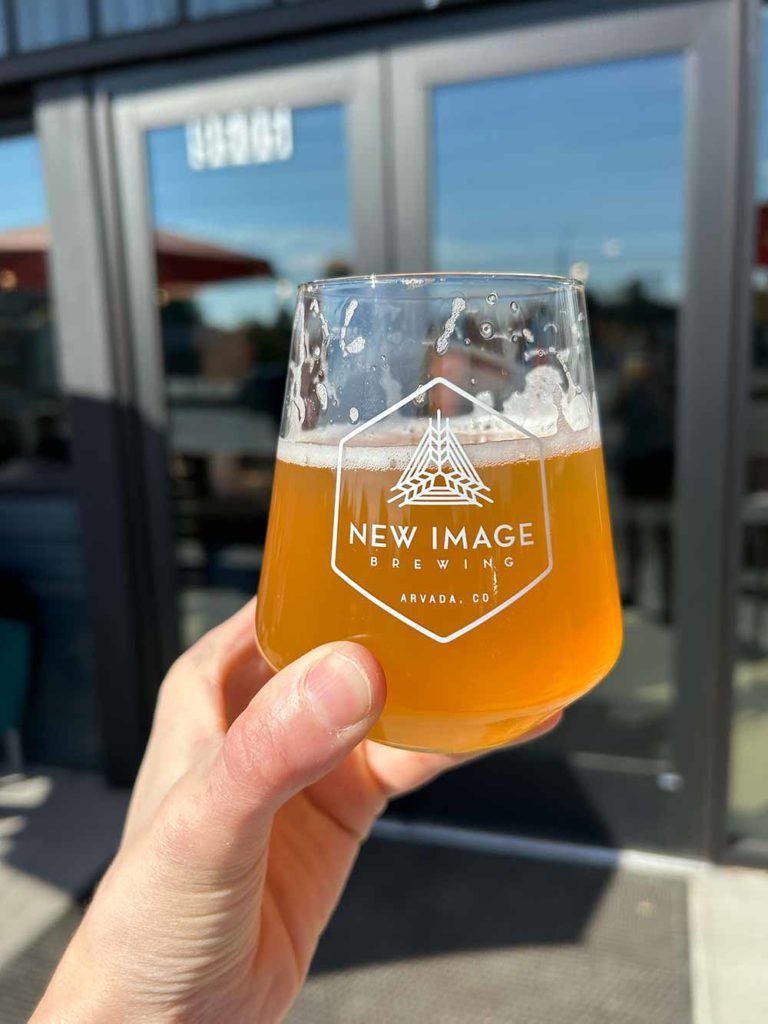 12:00 PM – Experimentation with intention – By now we've noticed a theme in Denver. Breweries have a point of view and they aren't afraid to stick to their guns and do whatever the hell they want to do.
Add New Image to that list of breweries saying IDGAF. They're just brewing the way they want to brew!
Here, New Image Founder Brandon Capps, taproom manager and now minority partner Gavin Estes, and entrepreneur, writer, brewer, and marketer-extraordinaire Ryan Pachmayer push the beer envelope in every direction possible. An intellectual, a savant, and encyclopedic fount of beer knowledge, Capps approaches beer with a mind we just really haven't seen anywhere else.
For example, finding the perfect way to add Phantasm, a freeze-dried sauvignon blanc grape powder that makes hazy IPAs even juicier, into beers.
"As a brewery, we've always been trying to create beers that are different but still sitting within a style," says Estes. "We're going to test this a little bit…then put a little more into it in the next round and continually do that over and over again." Which means New Image has pumped out on average 125 beers a year for the last four years.
"We're experimental, but we're not reckless about it," says Pachemeyer. He references the brewery's Levels series, which are variations of IPAs that Capps changes slightly every single time a new batch comes out. "We're not making ten changes with every beer because that might be to the detriment of the beer or the drinker," but instead making minute tweaks. "We're trying to innovate, but in a way where the consumer doesn't get burned," says Pachemeyer.
All in the pursuit to create this "new image." "Our brand is the constant regrowth of who we once were to who we are now…and our beers reflect that," says Estes.
For example, with Anaphora, a barrel-aged series that has no adjuncts. Just simply blended barrels from the best out of New Image's stock. "We have barrels from four years back there we might not do anything with," says Estes. "Or we might blend a 48-month [barrel] with an 18-month [barrel] and have the coolest thing ever."
It's all an experimental expedition. "I feel like we've always been a brewery trying to push the boundaries and do cool, new things," says Estes.
For example, on the day we visited, Estes and Pachemeyer gave us a sneak peek at Estufa, a macro-oxidized barley wine. What does that mean? Well, New Image keeps an English-style barleywine in a barrel at somewhere around 110 degrees for three months. The heat speeds up the aging process, meaning "a barleywine that's only a week or two old tasted like a six-month old barleywine and after one to one and half months, it started to get a raisin-like quality that could be two years into a barrel and it just went from there," says Pachemeyer.
That's New Image, a brewery constantly redefining, reshaping, and reimagining beer in ways we never thought possible before.
My wife and I once had a conversation (over beers, of course) prompted by this question: What could possibly be the new style of beer? Does one exist? Have we reached the limits of invention yet?
It's breweries like New Image that show me, no, we haven't. That tell me that, if there is a new style, a new technique, a new innovation, a new stroke of genius out there to be found, New Image is in search of it. And when they find it, they're not just going to brew it once and be done with it. They're going to perfect it and then they're going to work on it some more until this new image emerges bold, beautiful, and begging for you to drink it.
Lunch: Social Dough
9505 W 44th Ave, Wheat Ridge, CO (at New Image Wheat Ridge taproom) | (720) 900-5622
1:30PM – Soak up the suds – You don't even have to leave New Image for lunch if you're at the Wheat Ridge location. An in-house pizza food truck, Social Dough churns out a good amount of tasty pies.
On our visit we tried The Hungry Duck with pesto, shredded mozzarella, roasted yellow tomato (so succulent and sweet they tasted more like peaches), onion, and crushed red pepper. With a name like Social Dough one would expect the crust to be perfection…and it is. Super chewy and toothsome, the base was a great foil for the toppings. And these are indeed the kind of pizzas you get social with. Grab a Really Really Ridiculously Phantastic thiolized IPA with Mosaic cryo and Phantasm, slam a slice, let the oil drip down your fingers, take a sip, smile with your friends, and repeat.
Adrift
218 S Broadway, Denver, CO | (720) 784-8111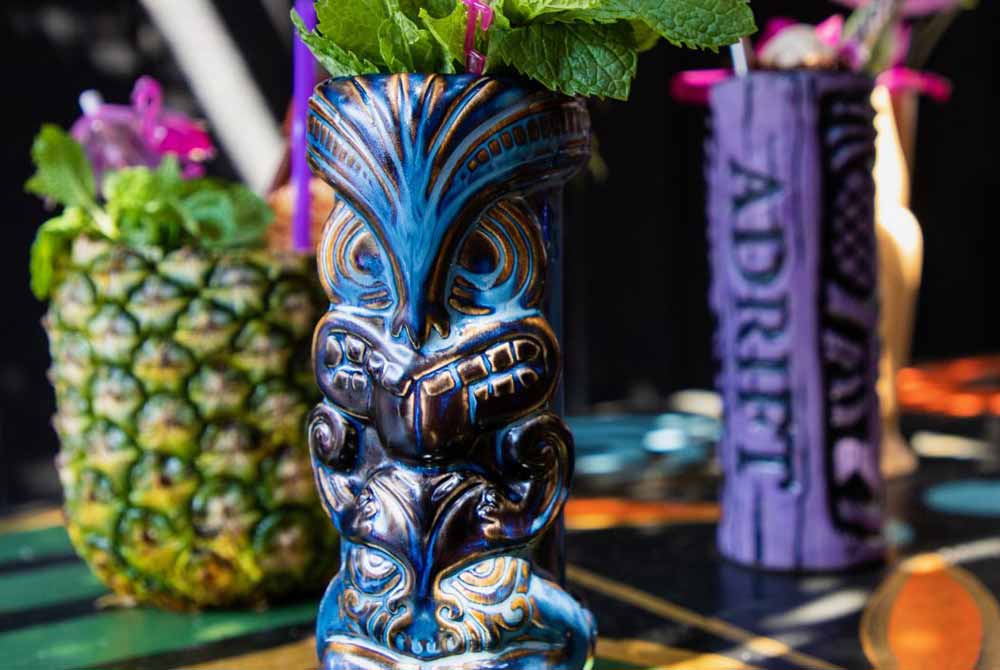 6:00 PM – Dinner and drinks and some more drinks – Look, we've been going pretty hard the last few days, so we're taking the afternoon off for a power nap back at Le Méridien.
And then for something different than beer, we learned from the locals about this Polynesian- and Caribbean-inspired tiki bar called Adrift.
Float into one of the large half-circle booths. From there, watch things being lit on fire and boards bursting with glistening hunks of pork belly, large lettuce cups, and bright pickled veggies making their way to packed tables.
A menu leaning Hawaiian with Asian inflections also features spam musubi, gochujang glazed pork belly sliders, and loco moco.
Cocktail-wise it's choose your own adventure.
We went for one of the fall-inspired grogs, Smokey the Pear, featuring mint, pineapple, pear, mezcal, honey, ginger, and a little vodka. You know, just for good measure. "The cure
for what ails you," it reads under this drink description on the menu.
And oh, this certainly cured us from the past three days of drinking.
This is the kind of place that you want to escape to on a cold Denver night. But it'll really do any day of the week.
Sunday: Detox
For your last half day give your body a break, some bread, and some love.
Rosenberg's
725 E 26th Ave, Denver, CO | (720) 440-9880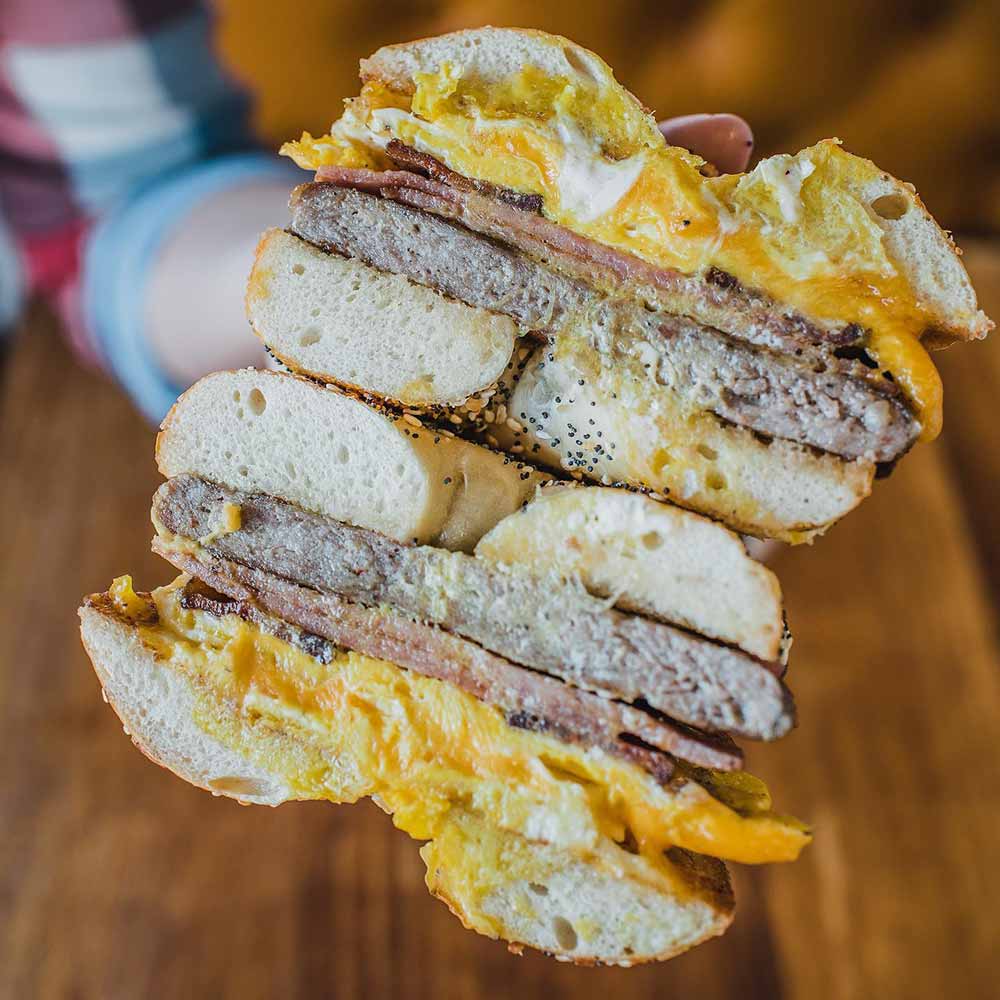 9:00 AM – Most important meal of the day – Carbs, we need carbs! Kind of Denver's go-to New York-inspired bagel spot, Rosenberg's has all of your holey dough options.
You can make your own or choose one of their breakfast sammies like The Jersey Boy with double-stacked Taylor ham, fried eggs, and American cheese on an egg bagel.
Or the Heebster, a whitefish-salad-based bagel with Wasabi Flying fish roe and scallion cream cheese.
The Beer Spa
3004 N Downing St, Denver, CO | (720) 810-1484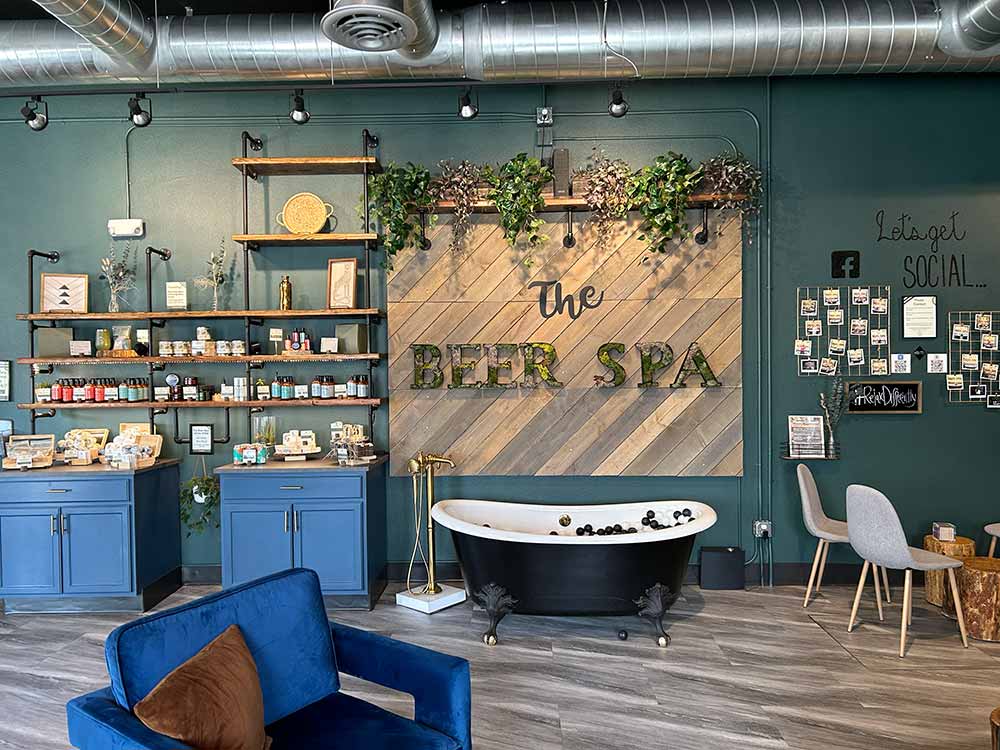 10:00 AM – Detox before takeoff – A little bit more revived, we're about to truly be brought back from the dead after a trip to The Beer Spa, a unique concept that combines a luxurious spa with the more low-key vibes of beer.
Walking in is like being transported to a tranquil taproom in the middle of an oasis.
First you'll grab a beer from their self-pour tap wall. Featuring a different brewery each month, The Beer Spa collaborated with SKA Brewing while we visited.
They even had an exclusive beer made just for their location. Reminiscent of the standard spa water with cucumber, but so much more, Spa Sidekick is a gose-style ale brewed with freshly juiced cucumber, lemon zest, coriander, and Utah rock salt.
With your personal The Beer Spa tumbler accordingly refreshed, you'll be guided to your own personal room where the true journey begins.
Here you'll head into an Infrared Therapy sauna that can reach up to 150 degrees to help you sweat out all those toxins from the past few days. After a twenty-minute schvitz, you'll get a quick dunk in a cold shower (shower beer!).
Then, head into your personal hot tub that's kept just a skoosh cooler than usual to make sure that you can thoroughly enjoy your soak without getting overheated or dehydrated. Inside you'll find an aromatic bag of malt and hops from one of the local beers on tap at the moment. This visit, it was SKA's Pin Stripe red ale featuring Columbus hops and English Caramalt plus The Beer Spa's own addition of an herb of the month, Dill Seed.
Everything has been thought out here, from the custom-made tumblers that keep your beer cold even in the 100+ degree sauna to the provided robes and slippers. You can even hit the personal bell by the door in your room to have someone drop by to top off your tumbler with more beer.
If you're up for it, add on a Zero Gravity massage where you just sit in a chair and let this amazing contraption roll, squeeze, and press your body like a ball of dough.
We admit, we weren't sure what to expect here, but we left ready to hit the airport feeling a little more rested, relaxed, and detoxed (with, of course, just a tiny hair of the dog).
Damn, Denver!
Like we said, we've been to Denver quite a few times, but this trip just seemed different. We said hello to old friends like Bierstadt, Ratio, and OMF, but we also made so many new ones like Novel Strand, Wah Gwaan, Bruz Beers, and Comrade.
And we couldn't even hit it all.
This was just our Mile High adventure, take it or leave it as much as you like. Just make sure that you stop in Denver sometime soon.