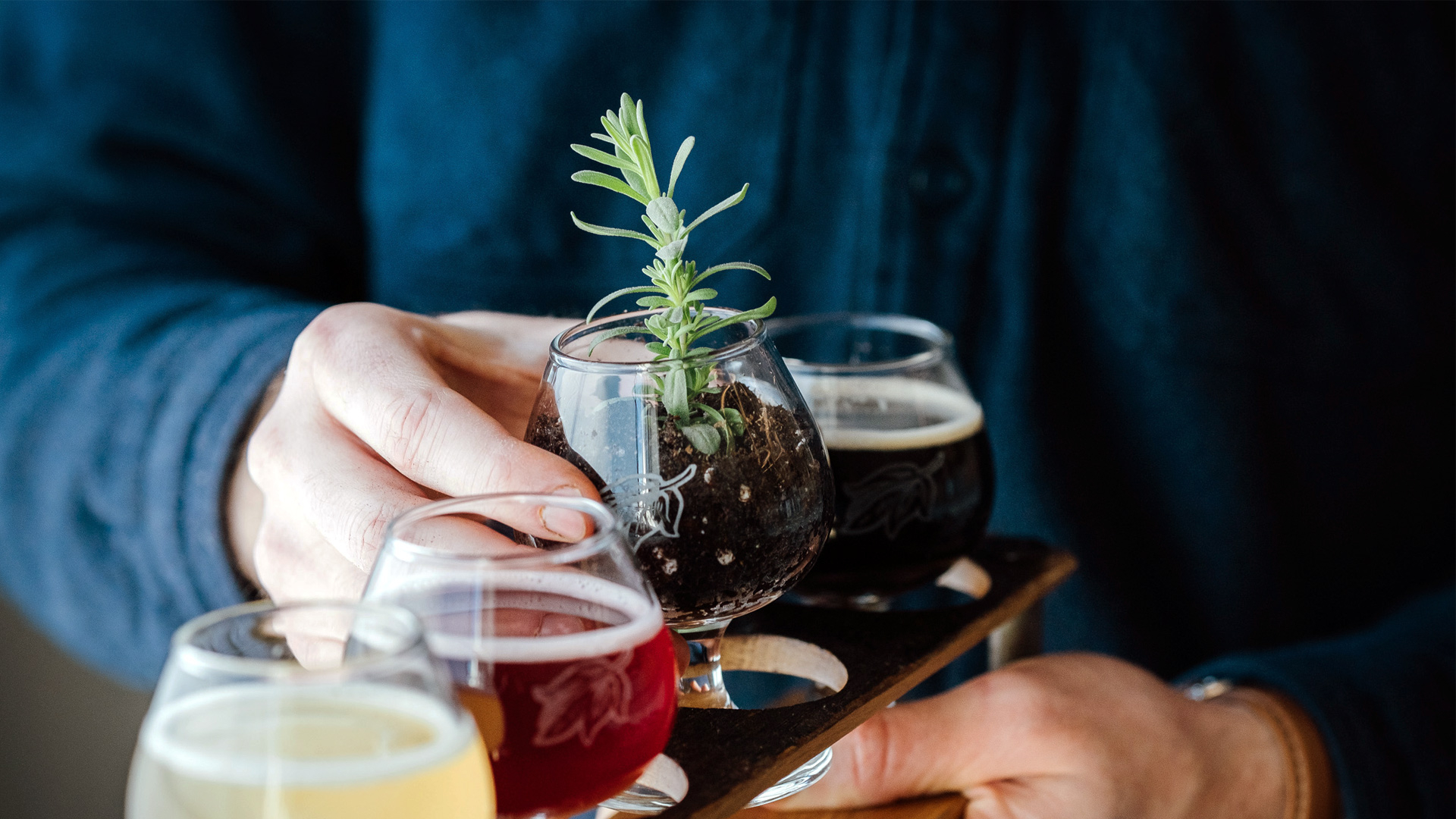 Brewing demands water, grain, and hops, and when the beer is canned, kegged, or stowed in growlers, and while consumers enjoy their favorite styles from their favorite breweries, what's left is waste: Water unfit to drink, grains and hops spent. It's the nature of the beer beast. But as demand for a greener society grows louder among the public, echoing in industry, politics, and infrastructure, independent brewers have risen to the challenge for greener beer.
"I have co-founders that were just incredibly intentional when they launched this thing as a business," says Michael Craft, Community Ambassador for the Asheville branch of Fort Collins, Colorado's New Belgium Brewing. New Belgium was founded in 1991 by Kim Jordan, then a social worker, and Jeff Lebesch, then an electrician, both humble home brewers with a vision: A brewery operating on a series of core principles, in particular a sense of duty toward nurturing the environment. Greenness is written through New Belgium's DNA.
"A lot of the people who have been attracted to this place in the 27 plus years are folks who recognize New Belgium as an environmental steward and want to be a part of something that's good for the planet," Craft points out. Beer attracts a certain type of person who, when not biking, kayaking, snowboarding, or otherwise enjoying the outdoors, probably takes steps to preserve the outdoors on their own.
Consider New Belgium's second facility, located in Asheville, North Carolina. Well aware that their beer isn't available in all 50 states, New Belgium expanded into the Northeast in 2016; as part of that effort, the company sought a brownfield, a spot of earth in need of environmental TLC. (The Fort Collins facility is built on a brownfield as well.) They fixed up land comprising the brewery's footprint, put solar panels on the tasting room, planted bushes and trees specific to migratory butterflies and bees; every piece of trim from the building came from deconstructed buildings, totaling 14 linear miles of wood spared from the dump.
"I've never used the word thoughtful more in my entire life," says Craft of the deliberate intention put into the Asheville location. Even the furniture is made from reclaimed wood, courtesy of their neighbors across the river, The Old Wood Co. And staying with that local theme, only 12 people came from Fort Collins to get the Asheville operation started; everyone else is a local hire. And all hires, at their one year anniversary, are gifted a bike to motivate them to cycle to work. It's a domino effect. Every action taken has an impact on a brewery's overall sustainability.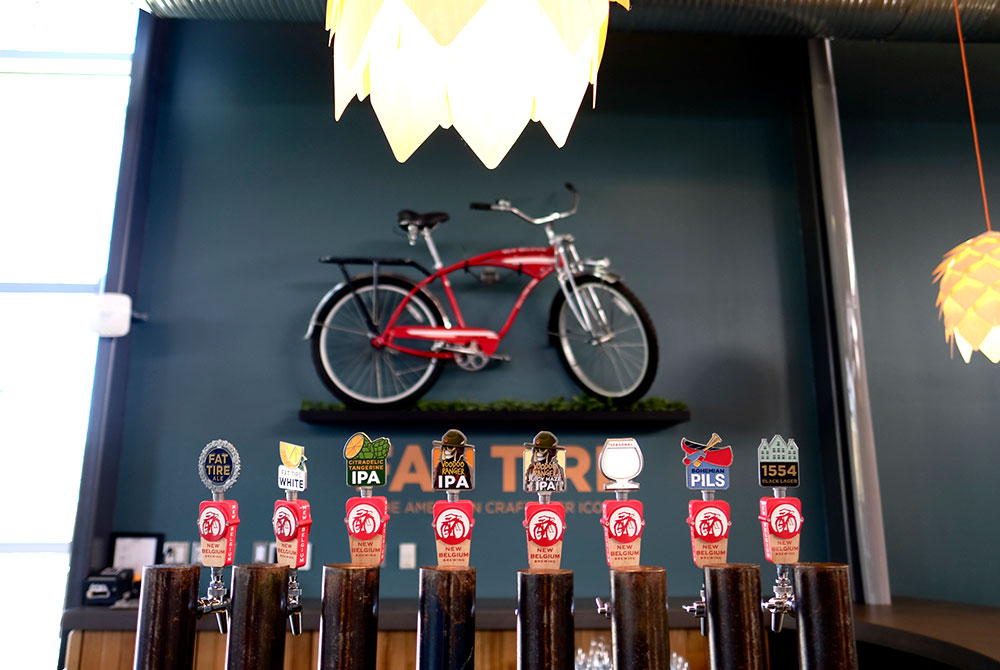 Think of sustainability apart from energy usage and waste–for many brewers, it's holistic. "We look at sustainability as more than just green or environmental issues and initiatives," says Kate Avery, Abbess of Beer at Michigan's Brewery Vivant. For Vivant, "sustainability" encompasses what Avery calls a "triple bottom line" that includes profits alongside planet and people. "We can't be a company if we don't make a profit, right?" she asks. "But we also need to branch out. We need to be sustainable for our people, our community, and our stakeholders, whether that's our customers or our suppliers or employees." Last but not least: They need to be sustainable for the planet so Earth doesn't go the way of Mad Max: Fury Road.
There are two breweries in Maine that would be quick to agree; Maine Beer Co. and Allagash Brewing both embrace ideals close to Vivant's. Anne Marisic, Events Coordinator for Maine Beer Co., cites founders Dan and David Kleban, who started the brewery a decade ago this June, as the inspiration for the company's approach to sustainability. "One of their original goals was to make a business that was different," Marisic explains. "We obviously have a huge impact on the world around us, and they started with a philosophy of 'do what's right.'" That means doing right by their staff, how they treat the world around them, and especially how they make their beer. "It goes into every decision that we make."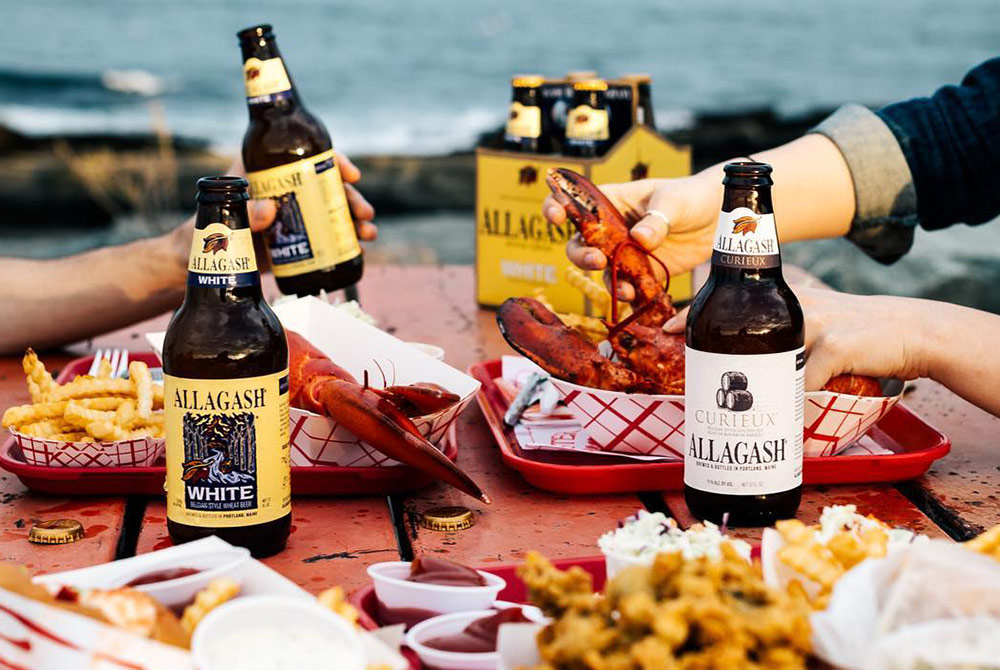 Luke Truman, Facilities Manager for Allagash, looks at sustainability through a similarly multifaceted lens. "There's the environmental and the social end of sustainability along with fiscal responsibility," he says. The brewery's philanthropic team and the green team overlap with each other and with the day to day tasks of facility management; everyone, regardless of what team they're on, plays a part in the brewery's ultimate goals of making great beer while simultaneously giving something back to the planet.
That's the goal of every brewery, of course, but Allagash knows from experience how much that goal changes the more the company expands. "It's essentially an economy of scale," says Luke, noting that "there's probably a sweet spot" regarding a brewery's ability to deal with its waste product and its scale. "At some stage, it becomes more difficult, but for us, we're able to control our practices and investments and processes through being able to invest in equipment that lets us operate more efficiently."
So the greater a brewery's financial success, the better they're able to handle waste and maintain a green operation. Not every brewery has that luxury, especially smaller breweries who don't have the resources at their disposal to isolate waste materials and properly dispose of or reuse them. In some cases, their only option is to throw that waste out. But that leads to another component of sustainability: Community. Kate Benthien, Allagash's Philanthropy Program Manager, considers that part of the company culture: By finding ways to reduce harm and increase philanthropic giving, "We can encourage and educate our staff, and therefore encourage and educate the community in general."
Encouragement is part of Brewery Vivant's legacy: They were the first microbrewery in the world to be LEED certified back in 2010. Since then, large craft breweries have taken lessons from Vivant when expanding operations, like Sierra Nevada and New Belgium. "I think we opened doors, opened the eyes of people to see how this could work for more industrial sites,"Avery observes. "That's always been a part of the thing as well. We're innovators and we're early adopters; we try to be champions of whatever we're doing on whatever scale."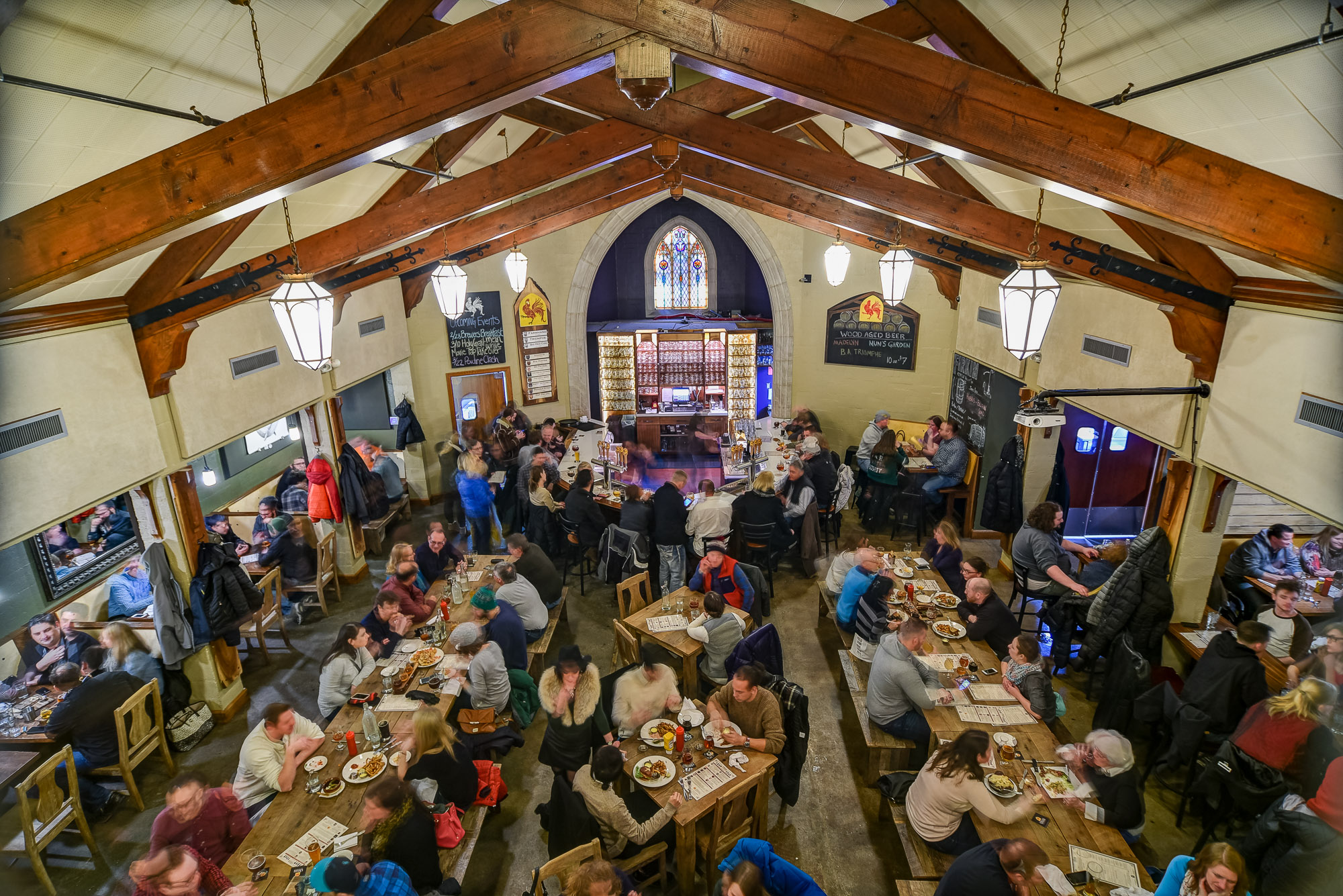 "A rising tide raises all ships," she adds. If breweries making headway with green initiatives can share their knowledge and success stories with others, all the better; the result of such cross-pollination is a web of companies each taking the same steps toward more sustainable operations, and that web can include companies other than breweries, too. "We're constantly looking for other organizations that support that environmental initiative," Marisic says of Maine Beer Company's relationships with local area vendors specializing in products—a'la dog collars and leashes—made using recycled materials. Brewery Vivant takes the same tack: "I can't in good faith and good conscience . . . buy dollar t-shirts from China to give away," says Avery, speaking to crowd expectations of giveaway swag at brewery events. "I'm thoughtful with where my dollars are spent, so I'm looking for quality producers that are local."
Listening to delegates from these breweries talk sustainability reveals one more tool for staying green: Honesty. Truth is key to maintaining a green brewery, especially as new sustainability measures and processes are introduced in the field. "We're always looking to do better, but also to acknowledge and be very transparent about doing what we can with the resources we have. But we don't have all the answers," says Sarah Fraser, the Sustainability Specialist for New Belgium. "We're just very honest about where we're doing the best we can. Here's what we're doing well; here's where our challenges are." Statistics and data, the coldest and hardest of maths, is useful for staying honest.
So's joining organizations like One Percent for the Planet, a nonprofit whose members donate at least 1% of their annual sales toward supporting environmental causes. "The idea was this will help keep us on the up and up," says Marisic of Maine Beer Company. "This is our check. This is making sure that we're making that commitment."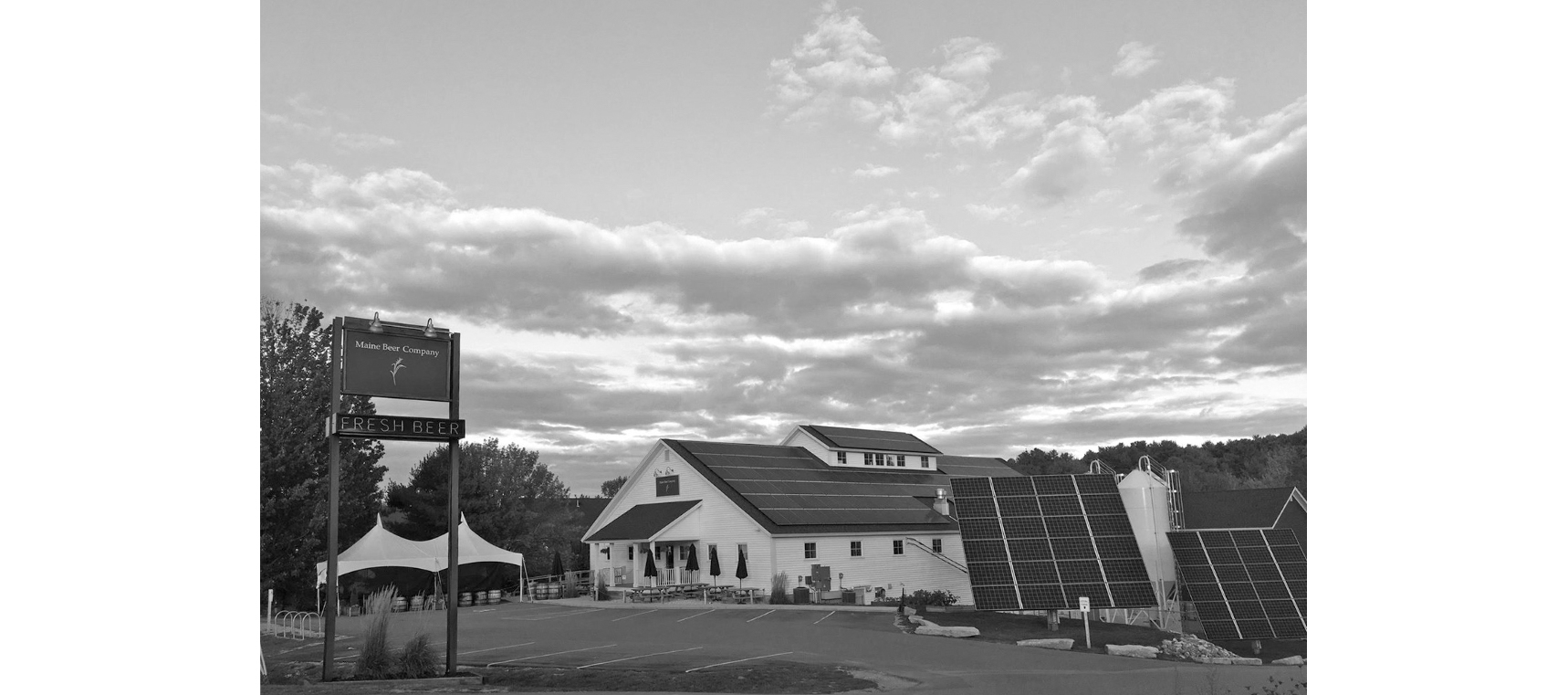 Checks are great, but as Corey Odell, the Sustainability Coordinator for Odell Brewing Company, puts it, the process of staying green is constant. "It's built into why we are, and who we are, being Odell Brewing," she says. "Why is, I suppose, the most important thing. Why are we doing this? Why are we producing this product? Why are we trying to engage everyone?" Odell's self-reflection borders on existential, and that's not only a good way to keep the brewery, and their beer, honest; it's also sage advice for brand new breweries with sustainable ambitions, too. "The best place [to start] would be to at least acknowledge pieces like evergreen companies or benefit corporations, organizations that have put the groundwork down so you at least see what is available and how you might be able to slowly integrate that into your system."
But knowing which programs, which technologies, and which certifications are worth it, and which amount to what Fraser calls "greenwashing," matters. Avery feels the same: "I do harp on that," she says. "I feel like in today's age we can get a little quick or a little fast with our interpretation of sustainability, and that 'green' or corporate responsibility piece." "Green" is indeed a buzzy term, so Brewery Vivant broadens it out to encompass its goals. Good business sense is, or at least should be, green. Turn off the lights when no one's in the room. Don't waste energy, or pay for power, when you don't have to. Sounds easy. As Odell points out, though, it's daunting. "It takes a long time to get to this point," she admits. "I wouldn't say that it was something we jumped into right at the beginning. We've probably been working on this continuously since about 2005."
That's 14 years of labor going into an increasingly crucial aspect of craft brewing. But the effort's not only worth it; it's necessary. "I think it's such an agricultural product," says Craft, "that you have to be tied into caring for the environment. Without it, you're not making beer." Nobody wants that to happen. So everybody has to work with each other to make not only better beer for people to enjoy, but a better world for them to enjoy it in. In Avery's words: "We're all in this together."
Liked this article? Sign up for our newsletter to get the best craft beer writing on the web delivered straight to your inbox.