Editor's Note:
Want to drink some great beer in North Carolina? We're throwing a beer fest in Charlotte, NC on March 23rd. Get your tickets now!
The shivering isn't a crisis yet, so I crack open a can of Beets, Rhymes, and Life. It had been one of my favorite beers during our tasting that morning, an easy saison with the color and unmistakable hint of its namesake vegetable. I'm shining my headlamp into the treetops and swirling rain. The other guys are already inside their tents, everyone sipping something different while sitting up in their sleeping bags.
It wasn't easy leaving Fonta Flora's festive warmth nine or ten hours ago to ride bicycles into the storm. Fonta was the first stop of a five day North Carolina beer tour pedaling from brewery to brewery on quiet backroads during the day, camping contentedly every night, sampling the best that the region has to offer in between.
The corridor from Morganton to Brevard is just the right mix of road and taps. We find Appalachia drivers friendly and respectful, maybe the way that one gives latitude to people who are doing harmlessly fun stupid things. Sometimes it's hours of a tree hug through the leaves that are just poised to turn color, sometimes tidy shacks with a nod or a wave from folks on the porch. We dry off for an hour inside Betsey's Ole Country Store and Trout Pond—dating back to 1924—debating with the locals various techniques for grilling clams, never mind how far we are from the ocean. Later in the darkness with our blinking red taillights, we take a break outside the closed drugstore and gun shop.
The Blue Ridge Parkway is a properly historic ribbon of road rising and falling across the texture of the Appalachians, all steep pitches up and sharp, breathless descents. We enjoy a victorious french toast brunch at Famous Louise's Rockhouse Restaurant and at our high point cinched our hoods against snow flurries.
Then into Asheville on winding dirt. We're heading into a former industrial area to find Zillicoah, a brewery that we'd heard we shouldn't miss. It's a massive warehouse sited on a river with grassy rectangles perfect for picnicking. Zillicoah's Helles on Fire is one of the best beers I drink on the whole trip. With a taco truck out back, they have figured out how to create a low key high-quality brewery experience and destination. The whole thing gives the impression of something lovingly made, a new kind of manufacturing to take over some of the old economy from forty years ago.
Bicycle culture and beer culture are ready companions. Whether it's nerding out on the deep fractal details of the equipment or the brew process, or the reverence for detail in close careful crafts, or the time spent with friends talking about the most meaningful meaningless things, the intersection of bicycles and beer is lively and vast.
At Burial head brewer Tim Gormley shows us around. Burial comfortably inhabits its legend as part of the local vanguard of funky, innovative concoctions. Tim's eyes glint risk and creativity as he shares pours of everything on the board. The beer is delicate but the aesthetic is grippingly coarse from the black metal names of the brews, the vintage workshop tools on the walls, and David Paul Seymour's can art. I'm grabbed by Machete, a tart Farmhouse, and Slaughtered Fates, a syrupy Dark Sour with hints of molasses. As a name alone, my favorite is Wrath of Cognition.
We drop in on Wicked Weed, a little self-conscious of our ripe smell as we walk through the polished and crowded restaurant space to get to the downstairs pub. Wicked was acquired by Anheuser-Busch two years ago, and that inevitably generated a mixture of envy and disdain, like when your favorite band 'sold out' and signed with a major label. The staff there are forthright about the backlash and insist that most of all the move gives them the chance to distribute beer that they're proud of far and wide. The food is amazing and you'd have to have the worst dissonance not to acknowledge that their beers are remarkable. The Recurrant sour ale, made with currants and with just the right amount of cask taste, is dry acidic perfection. Another standout for me, the Milk & Cookies Dark Imperial delivers its 11.3% with the creamy sweet aroma of port.
Asheville boasts a decent cycling infrastructure, making it easy to hit all the spots on our list. At Hi-Wire's steampunk carnival taproom there's a laid back feel, and we can easily picture it filling up with revelry. The buzzing warehouse action in the background suggests that Hi-Wire is getting plenty of well-deserved attention and selling a lot of cans. I love the superb Blueberry Basil Wild Ale.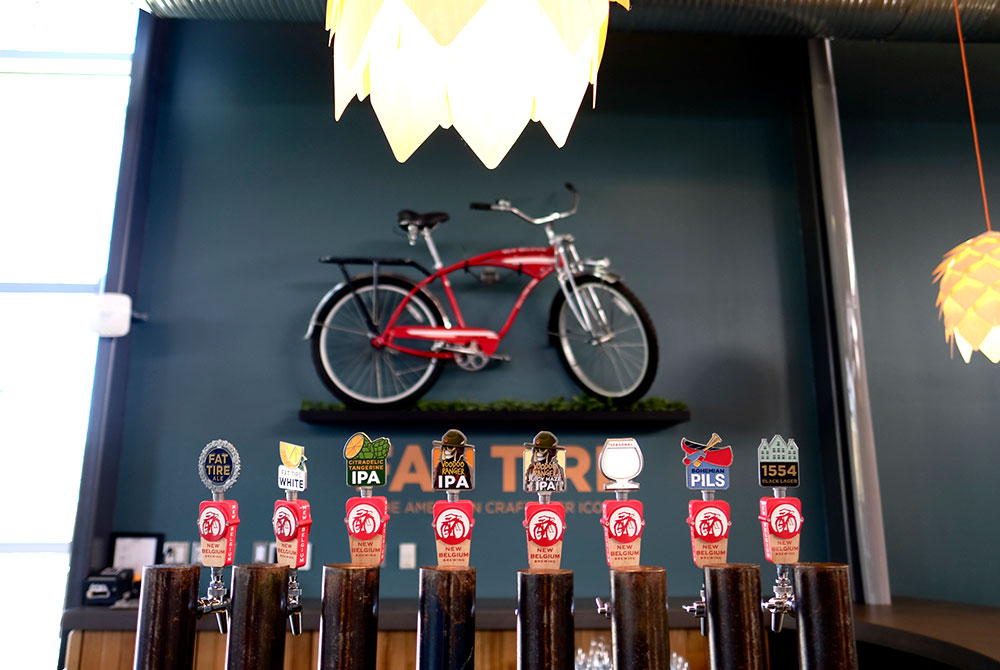 And, of course, we have to make a pedaling pilgrimage to New Belgium, a brewery that has cycling in its DNA. According to lore, Jeff Lebesch brought back the recipes and ideas for New Belgium from a 1988 bicycling trip through Europe. His Fat Tire amber was one of his first creations, and I used to drink it in Colorado after an ass-kicking mountain bike ride. The bicycle connection doesn't end there. After a year of working for the 100% employee-owned company, every employee is given a cruiser bike. The eighteen acre New Belgium campus is a model of cool industrial aesthetic and sustainability. For me the standout is Le Terroir, a dazzling dry hopped sour, bright and not far from vino. We leave much impressed by their operation and its dedication to the local community.
After a killer dinner at Limones, the sun is well set for a whoop and holler on a local stash of single track with our headlamps. We're feeling the crashing temperature by the time we reach Lake Powatan Recreation Area to put up our tents again and crack open some cans to close the day. NB's Dayblazer golden ale is just right.
There are a few peaks between us and Brevard that we make short work of on our last day, but we still pause for waterfalls and possums. We meet the joyful Tar Heel pride in their hidden woods where fishing, birding, and ATVing mix into a good life. We belly up to the tiny bar at the Pisgah Tavern housed in the Hub Bike Shop, and then coast to our final appointment at Oskar Blues, another craft OG. Dales was a staple to bring on bike tours back when it was one of the only solid refreshments found in cans. Their big outdoor space is right off of the bike path, and we find plenty to finally celebrate in Can-o-Bliss and Death by Coconut.
Five days, seven breweries, 217 miles, a few inches of pelting rain. Our legs are tired and our bodies and bikes could use a wash, but we've had some incredible beer and plenty of laughs. This is a beer region to be reckoned with.
Wanna try this tour yourself? Visit bikepacking.com for all the maps and logistical information.
Liked this article? Sign up for our newsletter to get the best craft beer writing on the web delivered straight to your inbox.