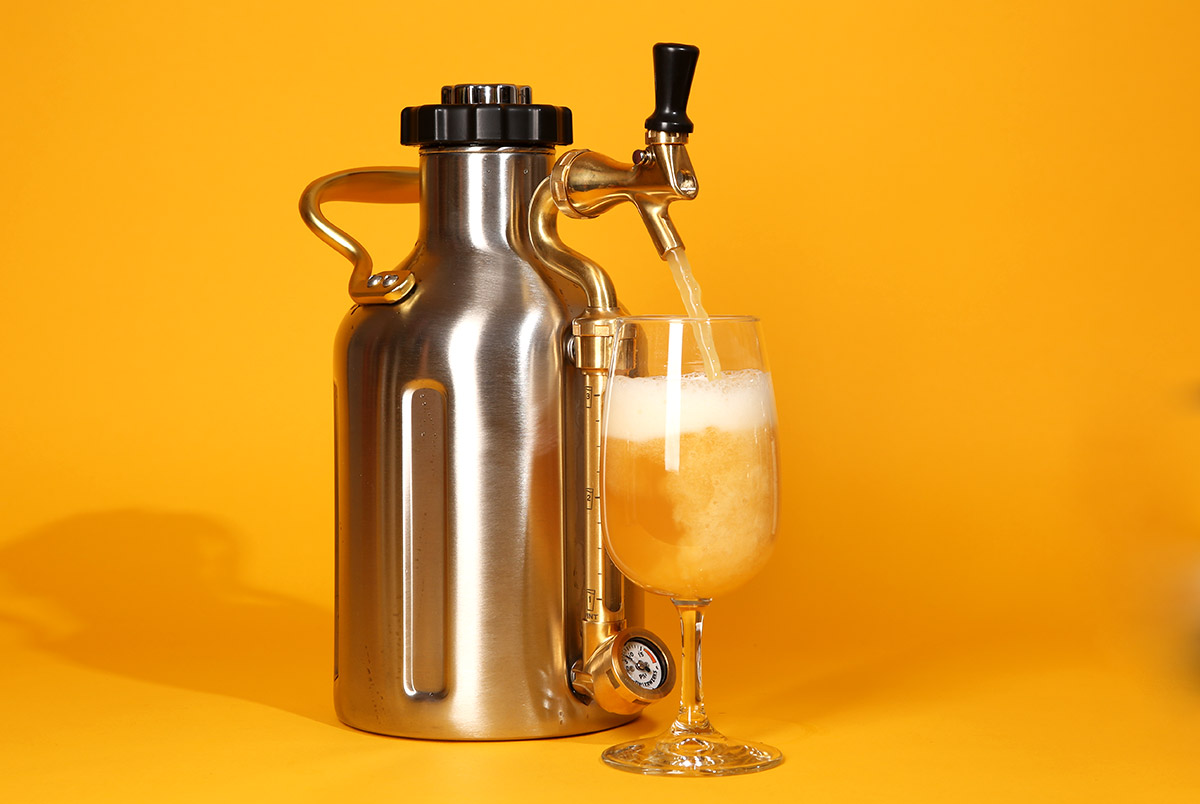 Now that most taprooms around the country have closed their doors we've had to get creative with how we pick up beer. While having beer delivered from our friends at Tavour, Saucey (Get $5 OFF your first order with code: HOPCULTURE), or Drizly (Get $5 OFF your next purchase with code DRIZLYDEAL) are great options we encourage you to safely stop by your local brewery and pick up some fresh beer to-go. You'll be supporting their small business while simultaneously getting the freshest beer possible right from the source. To make sure that beer stays as cold and crisp as can be throughout the weekend we highly recommend filling up with one of these six top-of-the-line growlers.
DrinkTanks 64oz Growler
Make an investment in this perfect mini keg. The DrinkTanks 64oz vacuum insulated beer growler keeps beer cold for over 45 hours! That's a full weekend of drinking an Almanac Bourbon Barrel Peche, Brewery Ommegang Idyll Days Pilsner, Double Nickel Weekend Warrior, or any option from our 20 Best Beers to Drink This Spring.
EcoVessel BOSS Growler
At a slightly more affordable price point, the EcoVessel BOSS Growler isn't as sleek as the DrinkTanks cooler, but it gets the job done. Keeping beer cold for 36 hours, this carrier has a bonus removable ice, fruit, and tea infuser. This is the versatile option if you can see yourself using a growler for more than just beer.
GrowlerWerks uKeg
We've waxed poetic about the GrowlerWerks uKeg many times before, calling it one of the best growlers to gift for the holidays, a top choice for the adventurous beer drinker, and a perfect gift for the homebrewer in your life. This keg is always on our radar for good reason. It's one of the only options on the market that actually keeps your beer carbonated! Its carbonation cap automatically regulates pressure (from 0-15psi) while a sight glass shows you what's inside. This is on-the-go-draft-quality experience at its absolute best.
Stanley Classic Vacuum Insulated Growler
Durable and retro are two words synonymous with Stanley. The company that made your grandpa's old thermos jumps into the 21st century with their take on the growler. The rugged handle makes this bottle easy to carry for an iconic version of a modern invention.
True Fabrications Moonshine Growler
For the design-conscious, this growler hits all the nostalgic notes. The 2-liter amber growler is imported from Germany and features a traditional yet practical composition. The long neck makes room for any unwanted foam, so you can fill 'er up with your money's worth of beer.
Man Can Mini Keg Growler
Relive your college days with this keg-inspired growler. The included gasket screw-top lid seals tight to prevent leaks or you can swap it out for the Faucet Growler Filler for that foam-free fill. So, go ahead, live a little, and throw that virtual rager.
Liked this article? Sign up for our newsletter to get the best craft beer writing on the web delivered straight to your inbox.