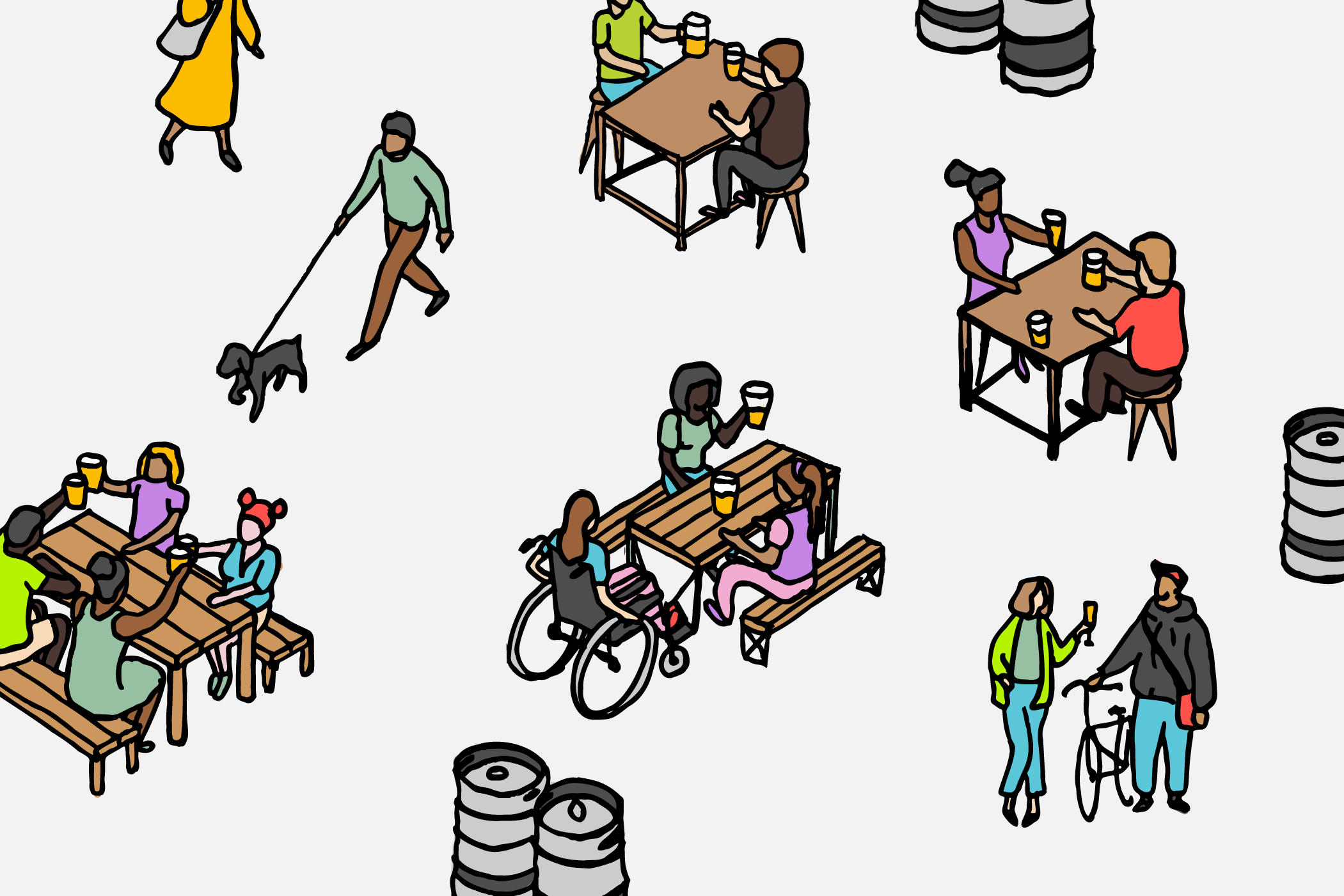 Illustration courtesy of Jake Hill
In the opening part of our series ​​[Creating Safer Spaces in Craft Beer, Part One — Why Isn't Craft Beer More Diverse?] we explained why the craft beer industry became homogenous. And why the industry might not always feel safe for underrepresented groups.
As someone who identifies as a Queer cis-woman but is more male presenting, I can tell you countless uncomfortable stories about public bathrooms. I've been the butt end of muffled laughs and unstifled scoffs, yelled or cursed at, and even asked to use the men's room. Even today, public bathrooms are my public enemy. Visiting a brewery with a gender-neutral bathroom immediately makes me feel safe.
Although that's a personal story unique to me, it does bring up a bigger question: What does a safe space look like in a brewery?
The best way we can answer that is to show you what some breweries in the community—those you know and recognize and where you drink—are doing.
But we will say that creating a safe space in a brewery starts from the top down.
​​[Creating Safer Spaces in Craft Beer, Part One — Why Isn't Craft Beer More Diverse?]
"Creating Safer Spaces in Craft Beer" is an in-depth, ten-part series examining why it's important to embrace diversity, equity, and inclusion in craft beer. Every Monday for the next ten weeks, we'll be releasing a new part to the series.
A Diverse Brewery Needs Diverse Management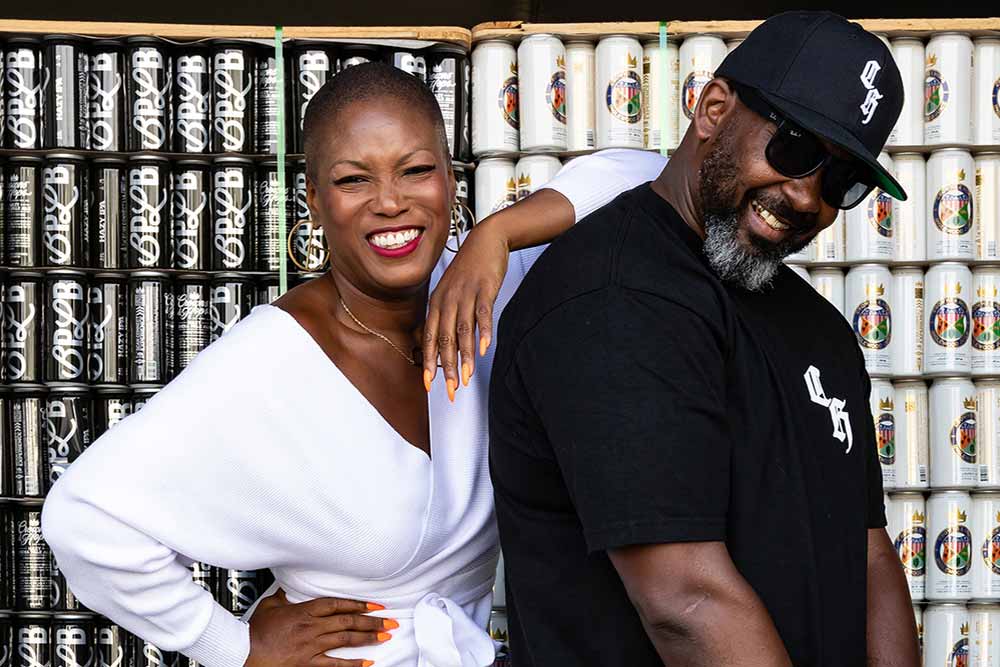 A few months ago, I attended a tap talk on diversity at the California Craft Beer Summit hosted by Three Weavers Co-Founder Lynne Weaver, Crowns & Hops Co-Founder Teo Hunter, and Pangaea Bier Cafe and Urban Roots Brewing & Smokehouse Co-Owner Rob Archie.
All three say change starts with leadership.
"It's important for people that look like me to make decisions in business models to make sure everyone feels included," says Archie. "How am I representing that community? A lot of time that isn't staying in your comfort zone… Our fiduciary responsibility is understanding the community we serve."
In Pittsburgh, Trace Brewing has become known locally and nationally for its inclusive practices. But even though Trace Brewing Co-Founder Dave Kushner identifies as a cis-white man, he expressed similar sentiments.
"The more diverse that can be, the more likely that we can make sure we're listening to as many voices and making the space as welcoming and safe as possible," says Kushner.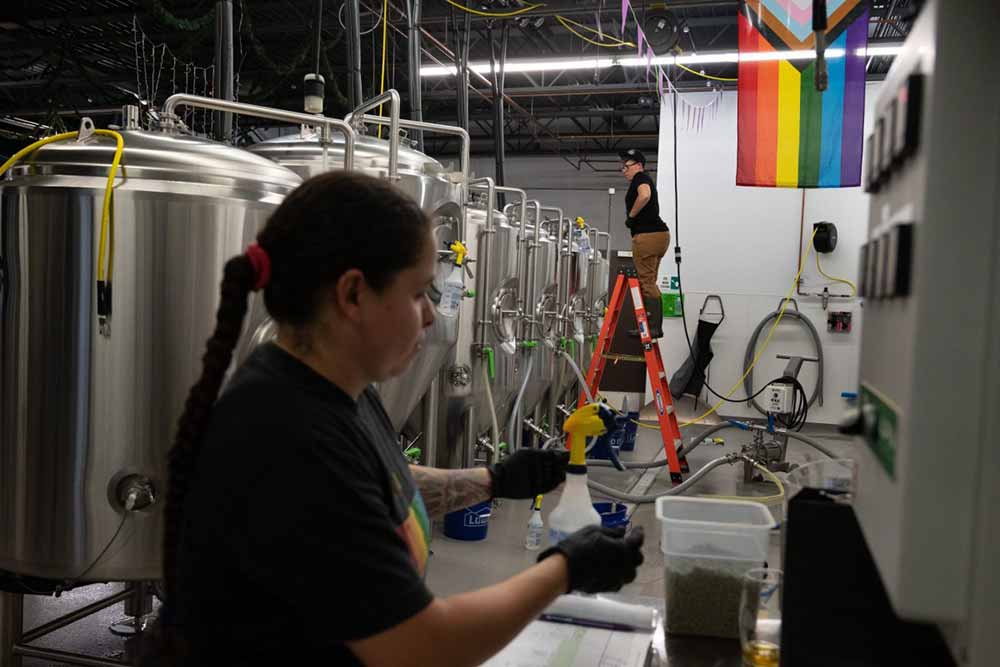 At the neighboring Necromancer Brewing Co., diverse management has been a lynchpin for Head Brewer Lauren Hughes. The Queer, female-identifying brewer says Necromancer has been the first brewery where she has felt safe being herself.
"I've worked at many breweries, and while they're good companies to work for, you still have this wall or guard up," says Hughes, "[But at Necromancer], you can completely be yourself and not worry about it."
Hughes says that feeling starts with representation. At Necromancer, the entire production team identifies as Queer, along with half of the taproom staff.
Much like at Trace, Necromancer is owned by a white, straight, cis-gendered man, but that hasn't stopped founder Ben Butler from understanding the importance of creating a safe environment for the team.
"A core component of our culture is the intentionality of diversity, equity, and inclusion," says Butler, acknowledging that his team of two Queer, female-identifying brewers has guided him along the way. "As a cis-white guy, I wouldn't have the credibility to do this all by myself, nor should I without the right advisors in my life."
Seen as a safe place to work, Queer applicants bombarded Necromancer.
"People have seen us not only talk the talk but walk the walk, go toe to toe with people who have made remarks and done things that we've taken stands against," says Butler. "People feel like… they can be safe working here, and they'll know that from a leadership perspective, we'll protect them."
A Diverse Brewery Needs Representation in Back-of-House and Front-of-House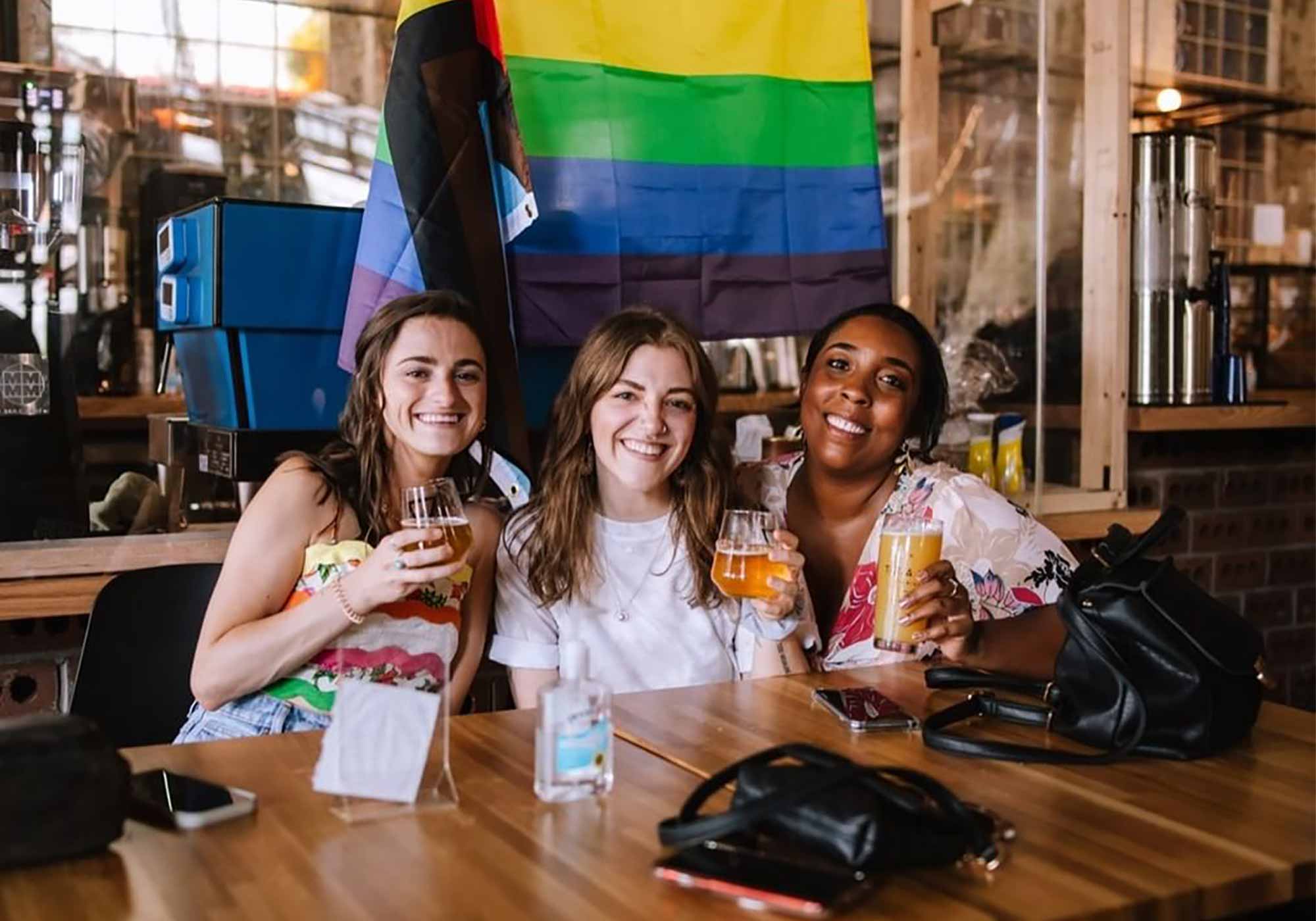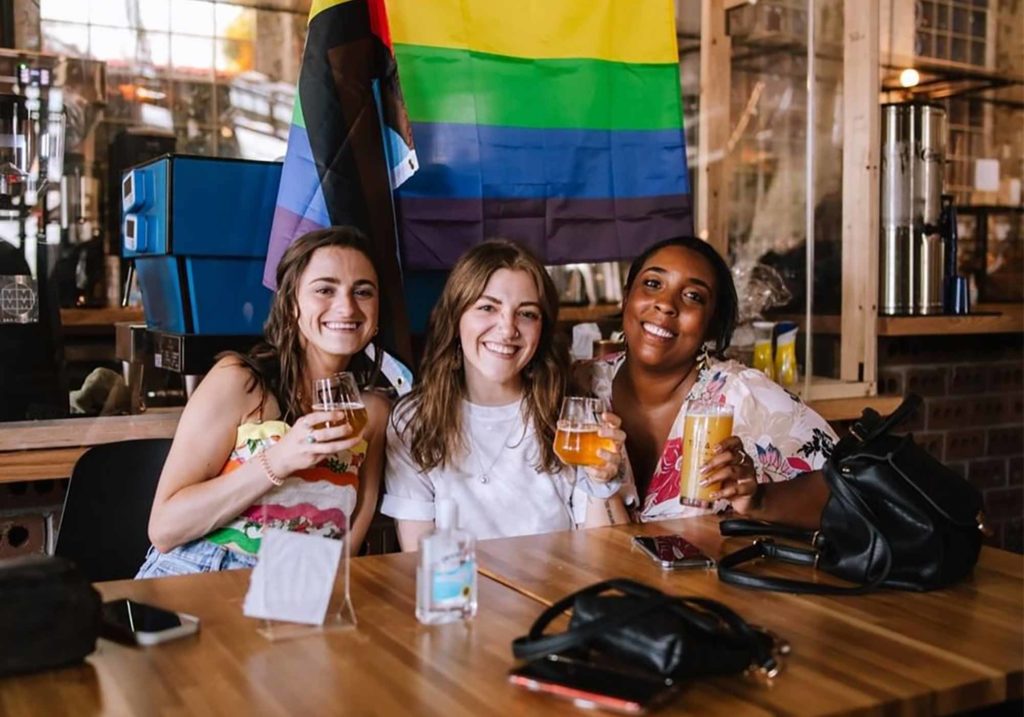 A more diverse management team has a trickle-down effect in a brewery, leading to a staff of people from all different backgrounds. And for consumers thinking of patronizing a brewery, seeing diversified back-of-house and front-of-house employees makes a difference.
"As a father of a two-and-a-half-year-old girl, I want her to walk into a brewery and see herself up there on the brew deck," says Kushner. "Our guests will feel more comfortable and safer when people who work there look like them."
At Necromancer, Hughes says you'll see a diverse group of drinkers on any given day when you walk in.
"It's great to see and hear from customers: 'Thanks so much for making this a safe space because I've never felt comfortable going to other breweries, but I can come here and not worry," says Hughes. "To us, that means more than something like, 'Hey, you make great beer.'"
For New Belgium, diversity, equity, and inclusion have been top of mind since former social worker Kim Jordan co-founded the brewery in 1991. Even back then, Jordan offered health benefits to domestic partners and gifted coworkers shares in the company. That standard set the culture at New Belgium for years.
Today, New Belgium serves as a paragon of how breweries can be more inclusive, especially from the perspective of a bigger national brewery.
New Belgium's former Director of Diversity, Equity, and Inclusion Courtney Simmons* believes the essential tenets of a successful DEI program start within.
"I feel strongly that certainly there can be differentiated programs for diversity, equity, and inclusion, and marginalized members or underrepresented members of the community, but ideally, we have programs that work for everyone, and then we ask the question: Who is left behind in this work?" she says.
*Editor's Note: While putting together this piece Simmons left New Belgium to start her own DEI Consultancy and refocus on her work with Equality Michigan. Chief ESG Officer Katie Wallace will be stepping in during the interim to continue running the DEI team at New Belgium.
A Diverse Brewery Creates a Safe Physical Space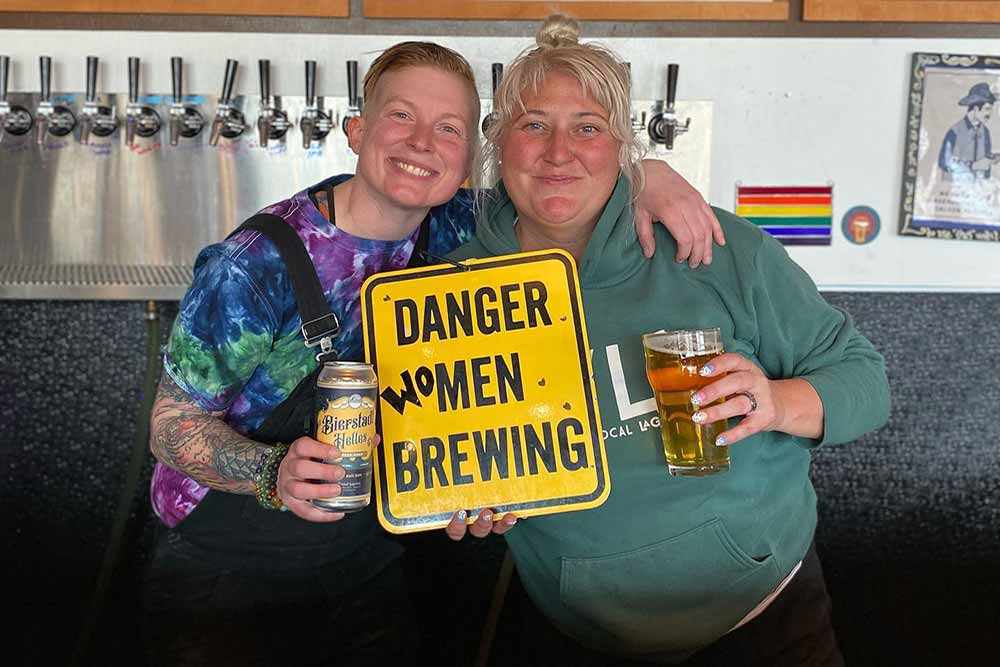 Besides inclusive and diverse brewery teams, Kushner says breweries can design more inclusive taproom spaces.
"It's one thing to fly the Pride or rainbow flag…but you have to look at the entire space and make sure it' as welcoming as possible to everyone," says Kushner, who built gender-neutral bathrooms at Trace even though Allegheny County technically didn't allow them. "From a design perspective, when someone comes into the space, do they feel [safe]? They may not know why, but do they feel welcome here?"
At Goldspot Brewing Company in Denver, CO, Queer owner Kelissa Hieber–who employs an entirely Queer staff–has signs posted everywhere saying racism and homophobia won't stand. And she hosts a wide array of events throughout the week from a Queer Dungeons & Dragons night along with craft markets featuring Queer-owned businesses, open mic nights with Queer performers, and gay dance parties.
These are just a couple of examples, but seemingly small design choices can signify inclusivity and make a taproom more accessible to all.
A Diverse Brewery Collaborates With Diverse Vendors and Partners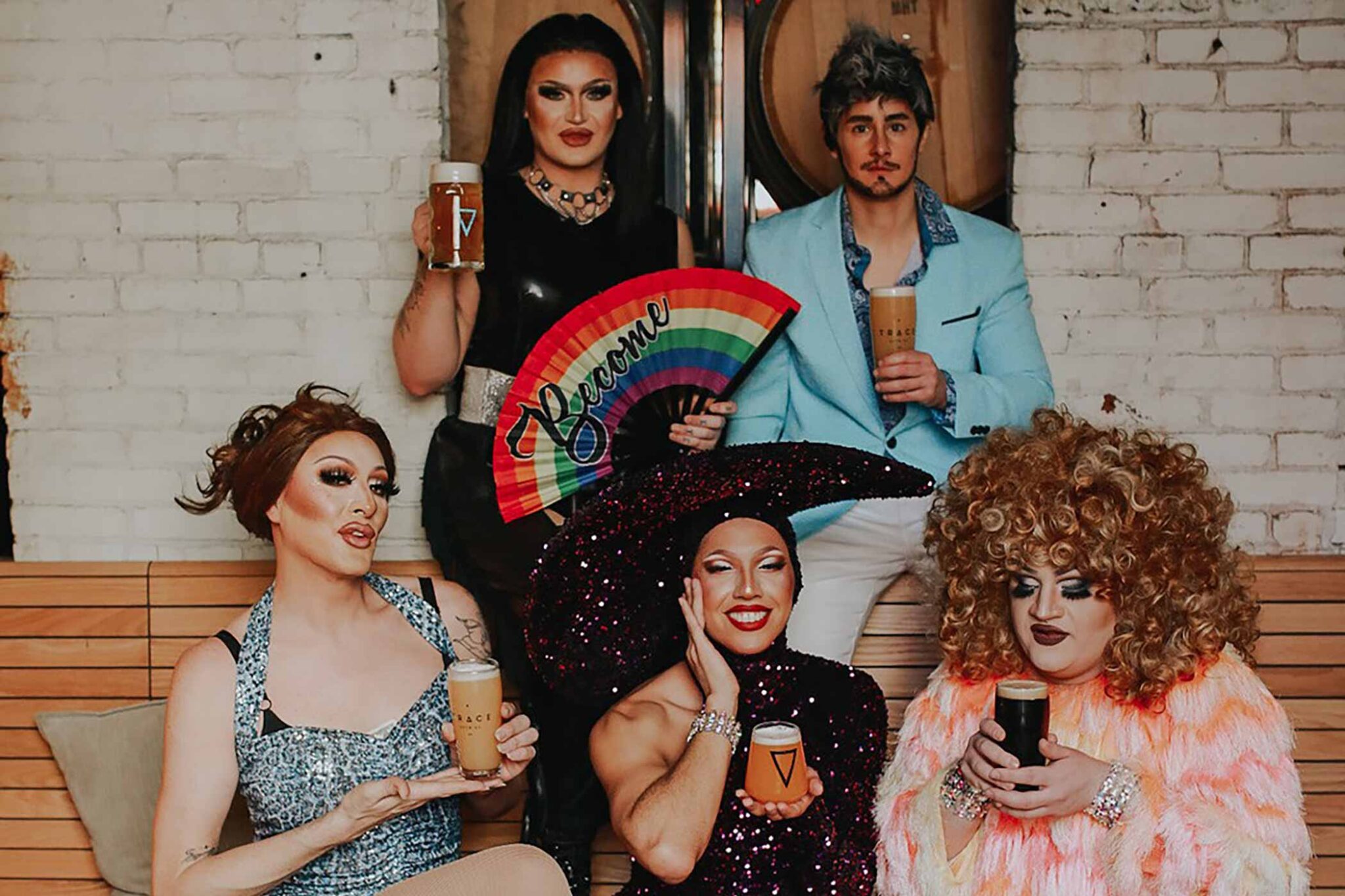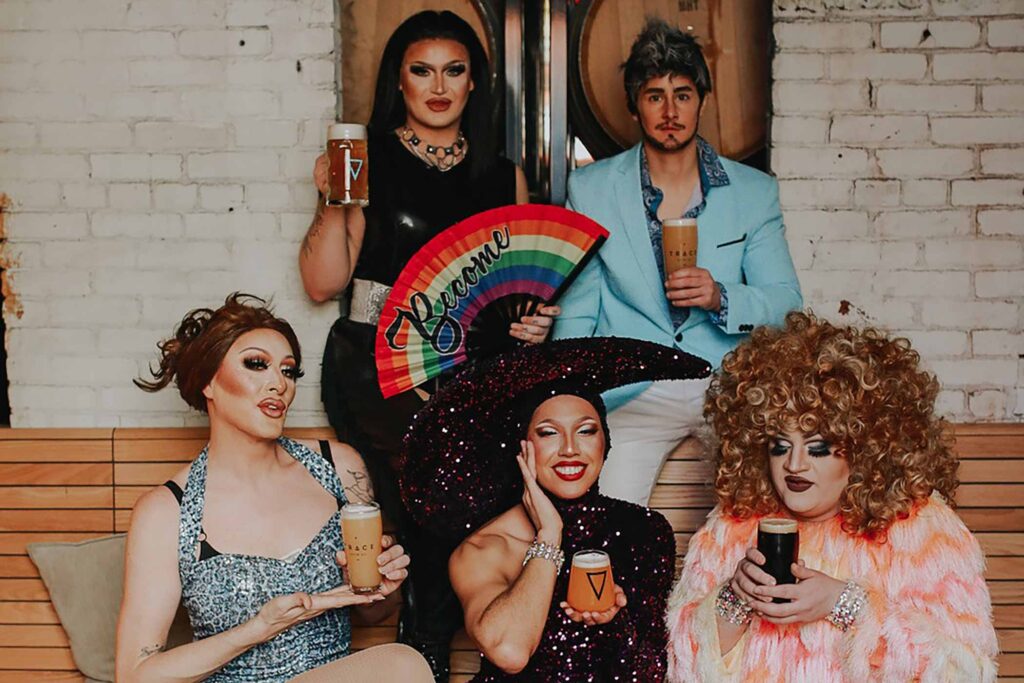 At Trace, Kushner says they consciously work with diverse vendors—artists, food truck owners, musicians, and "people who have normally not been invited into the American taproom experience."
"Giving everyone a foot in the door will create a warm and welcoming space and bring in a diverse group of people," Kushner says.
Historically,, Trace has partnered with local drag queens for a brunch show and a DJ group that plays Southern trap music–experiences you rarely get in an American taproom in 2023.
"We found those have been some of our busiest, most-well-attended days," says Kushner. "It speaks to a large part of the community that would normally see a DJ set somewhere else and not in a taproom."
These four pillars—diverse management, representation in all areas of the business, safe physical spaces, and working with diverse partners—can help create safer spaces in beer.
But they're just the foundation.
Up next on Monday 6/26: Creating Safer Spaces in Craft Beer, Part Three — Does Every Brewery Needs a Code of Conduct?