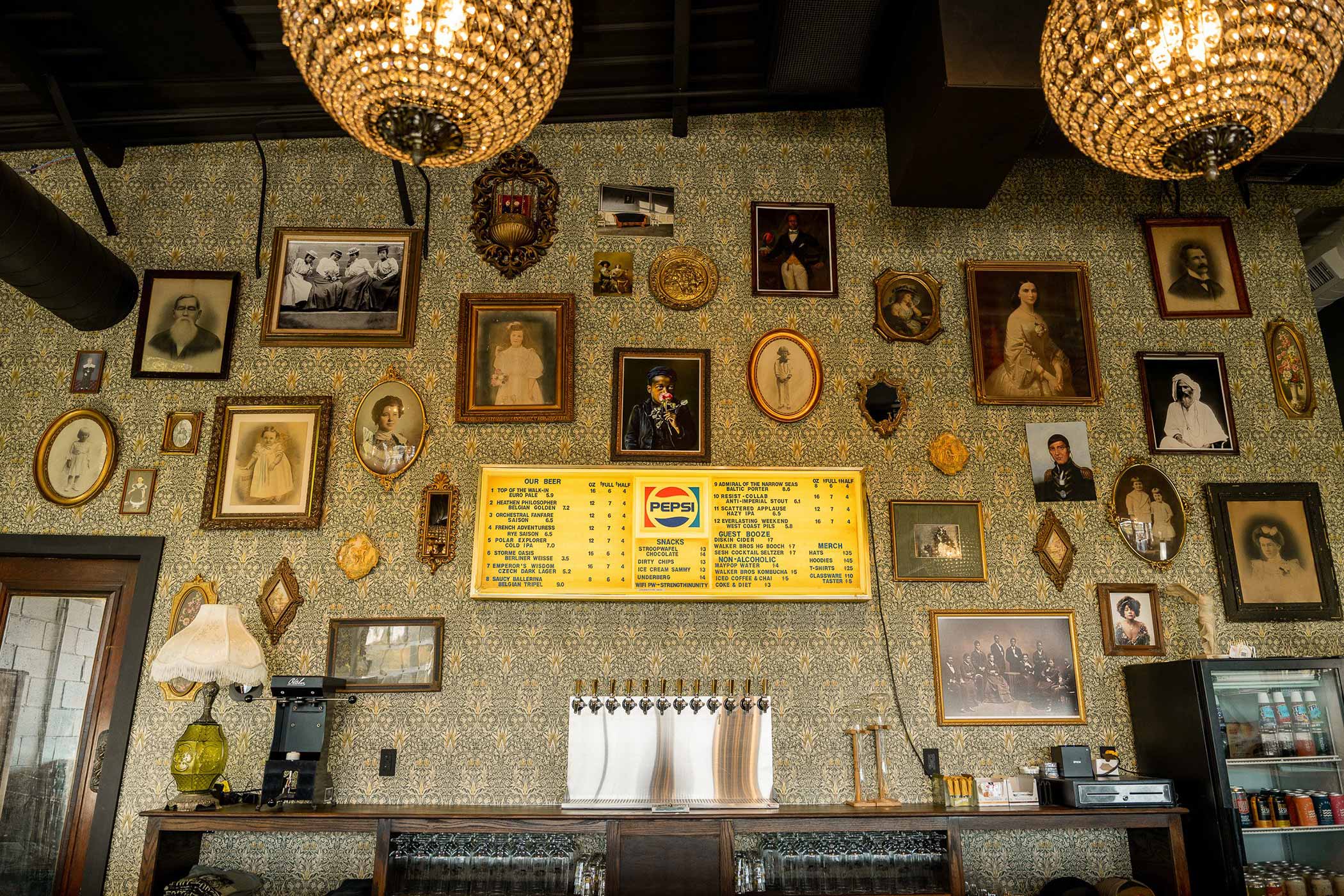 Photography courtesy of Fait La Force Brewing
Faces stared back at me from their Victorian frames. People of all shapes, sizes, ages, genders, and races dotted the wall. In the middle, an old Pepsi deli menu board touting the taps, everything from a European pale ale to a Czech dark lager to a saison to a Belgian tripel to a Belgian dark strong ale to a witbier and more.
A statement piece for the one-year-old Fait La Force Brewing, this wall, almost like an album of representation, symbolizes the brewery's approach to brewing, but more importantly, its vibe.
One meant to be inviting and welcoming to all, an approach Co-Founders Parker Loudermilk and Zachary Sowada—two white dudes, one with a beard—wanted to be at the forefront of their brewery from the very beginning in everything from their beers to their taproom to their name.
Part of the national motto of Belgium, Fait La Force stands for strength in unity.
And it's a saying Loudermilk and Sowada have taken to heart, with the brewery quickly becoming a community favorite for its Belgian beers, European-leaning lagers, and safe and welcoming space.
If you can manage to tear your eyes away from the Victorian wall, order a couple of beers (definitely the Orchestral Fanfare saison), play a round of NBA Jam on the old arcade game, and enjoy a brewery unlike any Nashville has seen before.
Fait La Force: From Cars to Craft Beers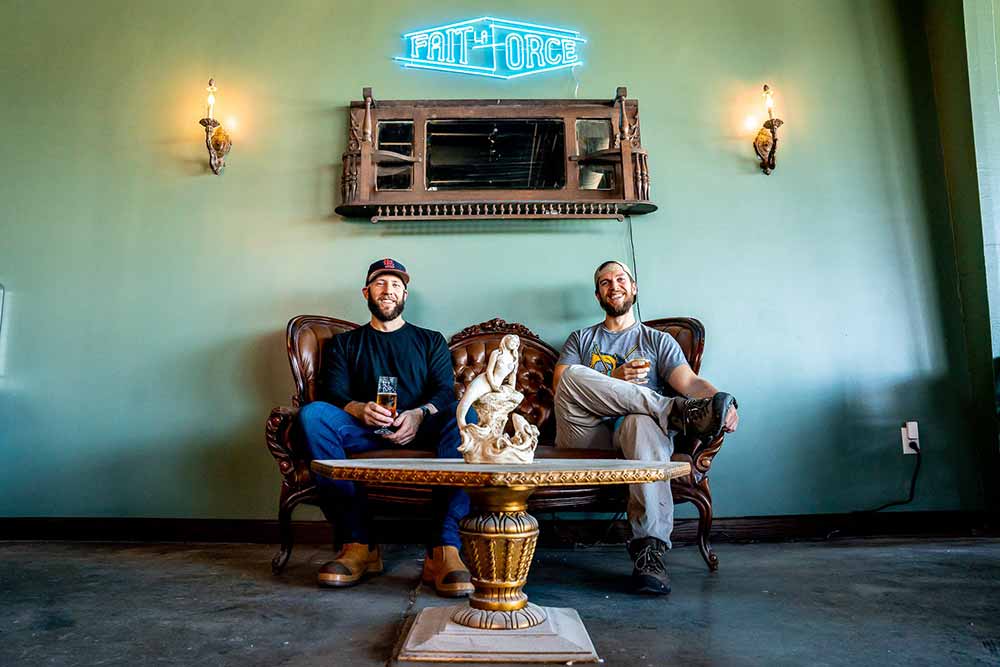 Although Fait La Force officially opened its doors in February 2022, the brewery's co-founders found a love of craft beer over a decade earlier.
Working on a blog in college called "The Guide to Imbibe," Loudermilk covered beer, eventually homebrewing on his own.
For Sowada, homebrewing started as a challenge. While on a ski trip with friends eleven years ago, someone told him they wanted to start homebrewing. "For some reason, I wanted to do it better than him," recalls Sowada.
That passion immediately bonded the two when they met while working at Nissan.
Working on the same team meant traveling, grabbing beers, and bringing back more to try together.
"Parker always said, 'Let's forget this Nissan job and open up a brewery,'" jokes Sowada. "I was like, hell no."
But Loudermilk's plan planted an incessantly spinning top in Sowada's mind, who eventually caved. In 2018, the two put together a business plan and started looking for space, signing one in July 2019 with the contingency that they wouldn't move in or pay rent until their landlord had it ready to go on January 1, 2020.
Unforeseeable to them at the time, Loudermilk and Sowada wouldn't open the brewery's front door for another two and a half years.
How Fait La Force Survived the Global Pandemic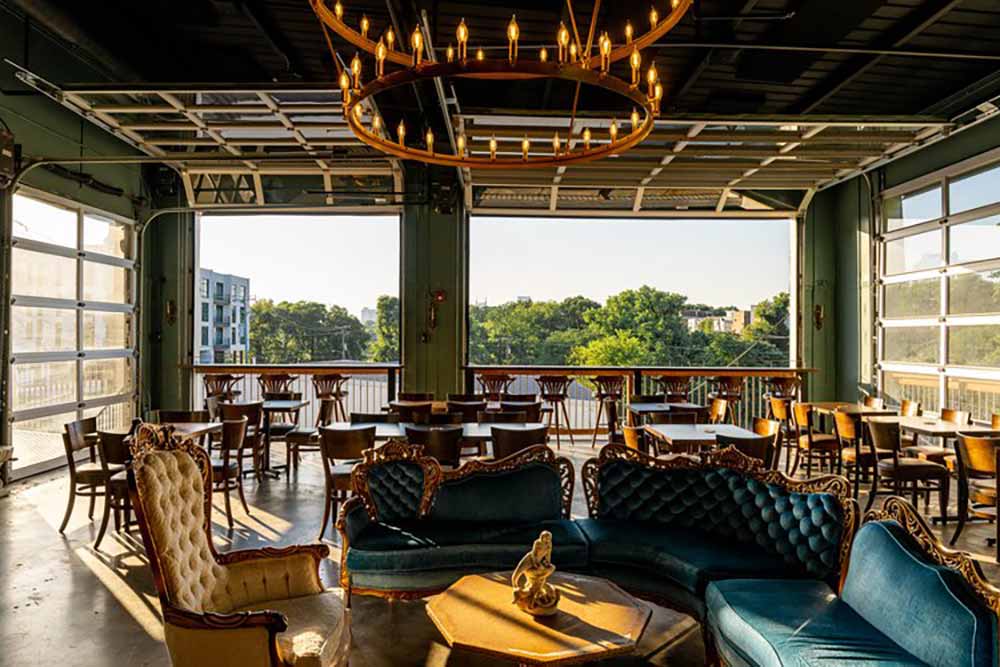 By the first month of 2020, the landlord still hadn't handed Loudermilk and Sowada the keys, and February flew by without any changes. Going into March, the two began to get restless.
"We were like, dude, you're way behind, hurry up!" says Loudermilk.
And then the global pandemic hit.
"We went, you know what, take your time, no problem," says Loudermilk.
For the next two years, the pair honed in on their concept, their brewing style and skills, and how they wanted to design the space.
In some ways, the extra time may have been a blessing in disguise.
Originally, Loudermilk and Sowada wanted Fait La Force to focus on Brett-based beers and wild fermentation—something the Nashville craft beer scene didn't have. But then Barrique Brewing and Blending opened up a taproom in 2021 with a focus on…oak-aged, wild, and sour beers; they knew they needed to switch gears.
Taking a look at the landscape in Nashville and having both spent time in Belgium, the next logical step seemed to be Belgian- and European-influenced beers.
Nashville Welcomes the Belgian-Inspired Fait La Force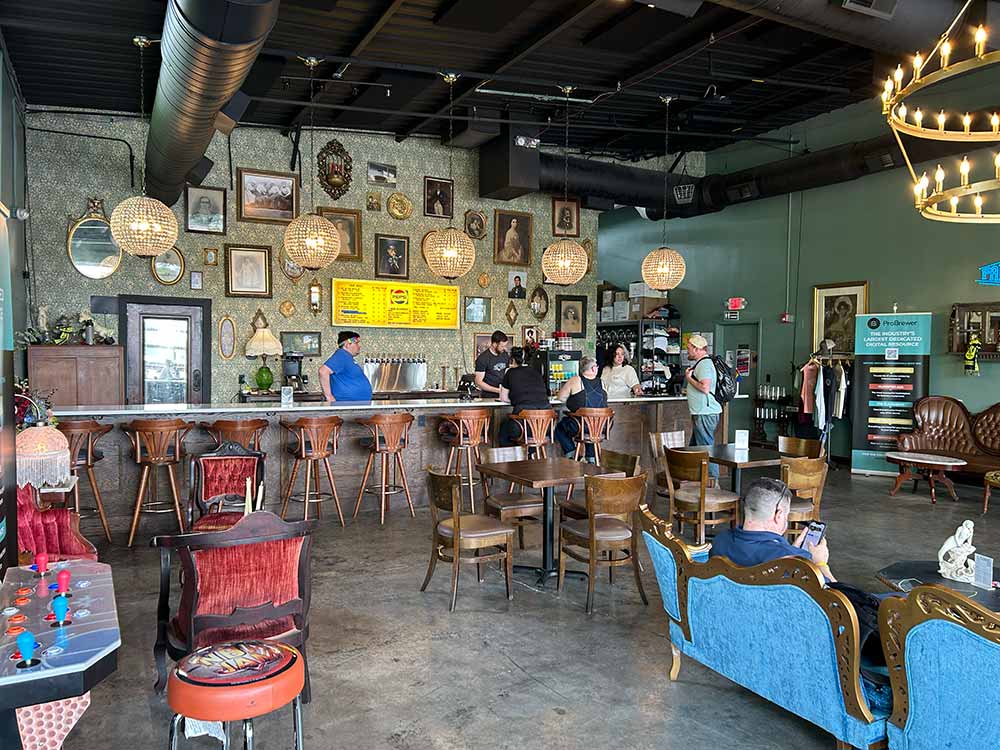 The trajectory of beer in Nashville can be nailed down into three phases.
The old guard—breweries like Blackstone, Yazoo, and Black Abbey—focused on traditional American styles—pale ales, amber ales, brown ales, stouts, porters, and maybe an IPA or two.
Then, seven years ago, two breweries popped up on the map, initiating Nashville's second wave.
Southern Grist and Bearded Iris pushed the new frontier of beer in the Music City, brewing crazy fruited sours, hazies, and pastry stouts for the former and mainly double IPAs and IPAs for the latter.
Both paved the way for this new third wave: Breweries specializing and focusing on one beer style or theme.
For instance, the aforementioned Barrique Brewing and Blending.
And Fait La Force.
"We're in this third wave … where a lot of breweries are really small, a little bit more nimble, and trying to do some more classic styles in a craft way," says Loudermilk.
For the pair, that meant showcasing Trappist beers, saisons, lagers, pilsners (or "things brewers like to drink," says Loudermilk), and more traditional Belgian classics and European styles.
After years of the old-guard breweries and almost a decade of the second-wave ones, "We felt like there was a place for us to do that in Nashville," shared Loudermilk.
So far, the two seem to be right.
Always One Saison on at All Times!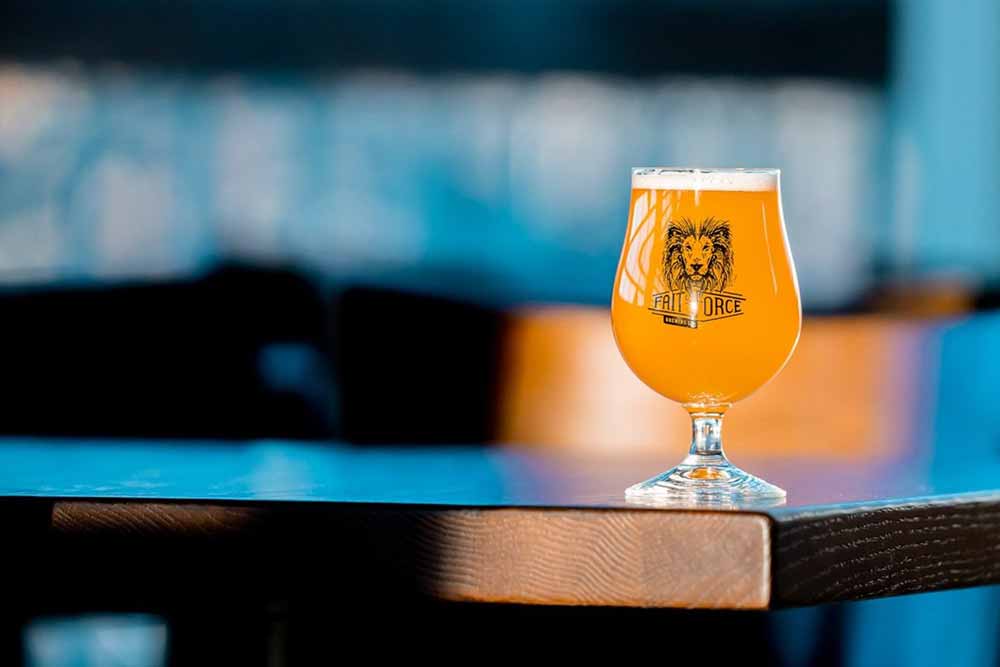 Although not their top-selling beer, the European pale ale Top of the Walk In is the beer Sowada makes the most while the Belgian golden ale Heathen Philosopher and saison called Orchestral Fanfare are pretty much the only two beers that have stayed on the menu since the brewery officially opened about a year and a half ago.
"The goal is always to have at least one saison on at all times," says Sowada, who fell in love with Belgian beer when he traveled to the country on a beer pilgrimage for his honeymoon.
"Regardless of if people are buying them or not, we're going to have a saison on," shares Loudermilk, who fondly recalls a life-changing experience drinking a Tripel Karmeliet from a roadside gas station in Belgium. "We went back to this trash Airbnb … but oh my god, that beer was so good!"
Inspired by their travels, Sowada and Loudermilk stuck to their guns, brewing mostly Belgian-inspired beers and European lagers at Fait La Force (although when I visited, they did have one West Coast IPA on tap, too).
You can taste the pride in the glass.
Sowada worked incredibly hard to perfect Fait La Force's saison Orchestral Fanfare, tweaking this and twisting that while experimenting during the global pandemic. "I kept trying to do it, and it would come out and be plain and boring," says Sowada, who didn't give up until he achieved the perfect saison. "It's a recipe that has evolved over time, trying to figure out yeast strains, malt, and what temperature to ferment at because it's such a yeast-focused beer that getting yeast to express itself right is a challenge."
Over time, Sowada landed on what he calls the brewery's "house saison yeast" strain, which is essentially two different strains he spliced together.
The result?
"A very classic saison with bubblegum, citrus pith, and black pepper," says Sowada, noting he actually gives the beer a modern twist by adding a big dry hop with New Zealand hops. "Those hops emphasize and bring out the saison yeast character. … It's a bit hidden in there, but some people find it."
Perhaps this saison is a perfect metaphor for the brewery itself. One that brews old-world styles but in a new-world way; in a taproom that has Victorian influence but with pops of modern culture; from founders who identify as two white dudes but work consciously to create a welcoming and inviting space for all.
Strength in Unity at Fait La Force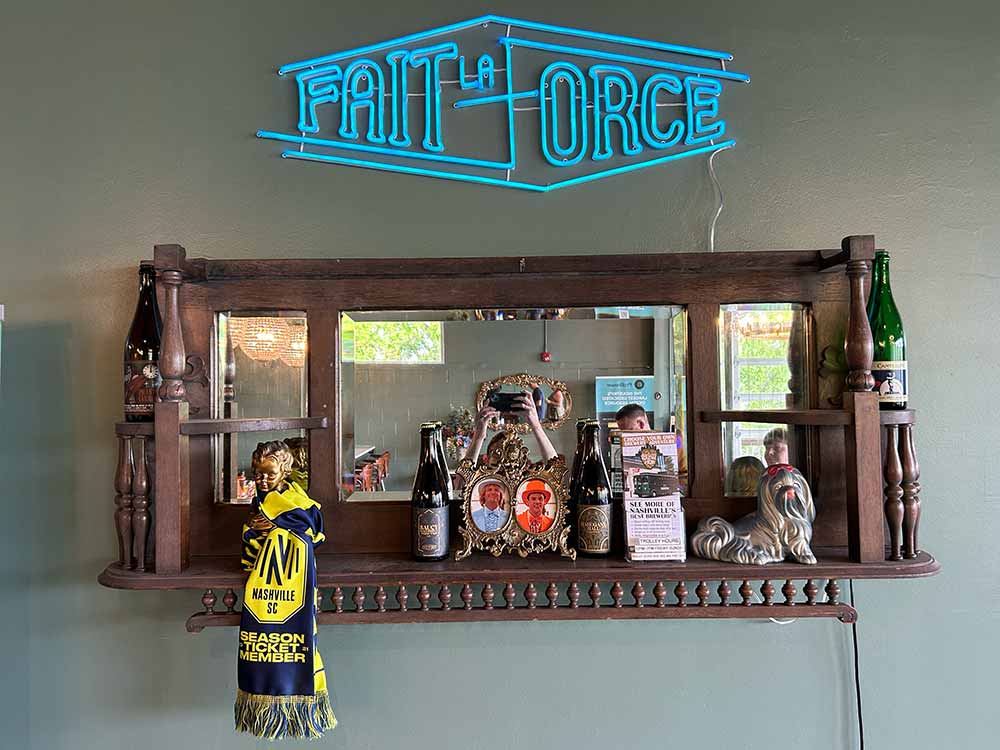 Fait La Force stands for the Belgian motto "L'Union Fait La Force," which essentially translates to strength in unity. When Loudermilk and Sowada opened the Belgian- and European-focused brewery after a four-year journey, they wanted to ensure that the taproom felt like a place for everyone—regardless of their background, gender, or sexuality.
"We were very aware of the fact of what Zack and I look like—just another couple of bearded white guys in the beer industry," says Loudermilk. "How can we be a force for change, creating a seat at the table for people of all races, all genders, all sexualities? No matter who you are, we want to be a place you're welcome to come to."
For that reason, the two actually made a pact at the beginning that they wouldn't use French beer names because, "to American consumers, it's very intimidating," says Sowada.
Loudermilk continues. "They can be pretentious and intimidating. We wanted to be intentionally welcoming, so the one rule for the name: No French"
But the duo quickly broke their rule.
Googling Belgian things to get inspiration, Loudermilk came across the country's motto Fait La Force. "It's snappy, but seeing the meaning of strength and unity … our brand infuses old-world and new-world but also the idea of being a more inclusive place," says Loudermilk.
The name fits perfectly and carries over into the vibe.
An Inclusive Victorian Castle With an NBA Jam Machine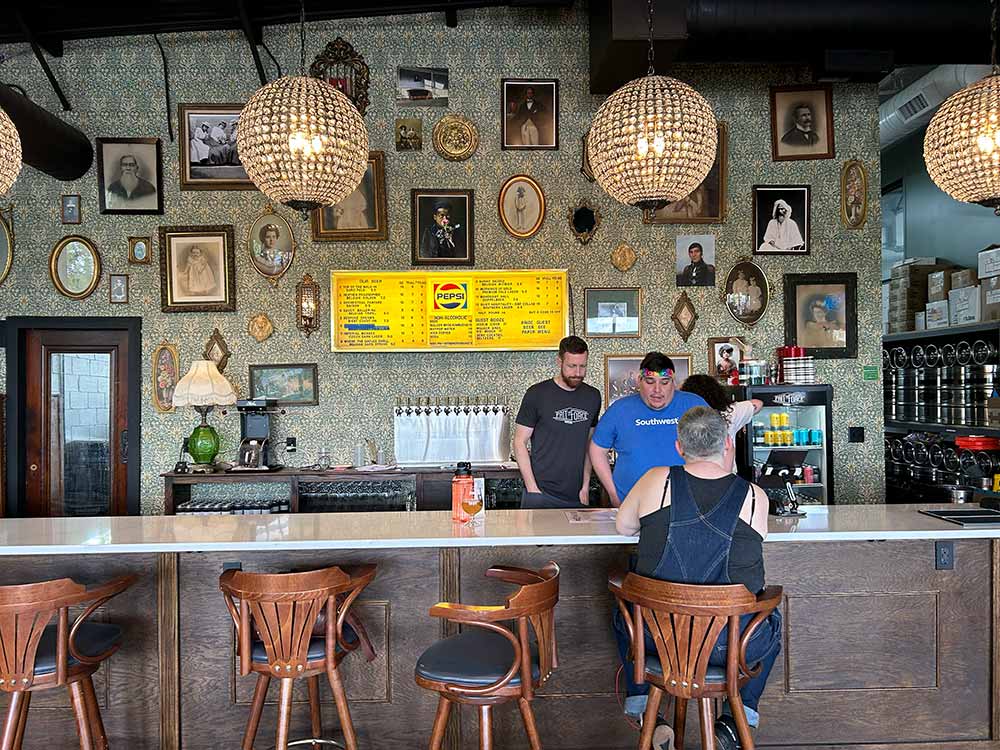 As soon as you walk in, like me, you'll notice that wall of vintage Victorian photos behind the bar. But look closely, and you won't just see white-bearded men in between the frames. You'll see a Black child holding a rose, a portrait of four working women, and more.
That's all intentionally designed with the idea that representation matters.
Sowada says the compilation started with good ol' fashioned antique hunting, with a few more donated and others found through research.
"The way I always describe it is to imagine an old Victorian castle was abandoned and an urban core developed around it, and some people came over and turned it into a cool hangout spot … with an NBA Jam machine and neon signs," says Loudermilk, "We wanted to be intentional about the portrait wall in terms of representation and inclusion but also wanted it to be … a casual, warm, cozy place where you can hang out, but also a place putting out beer at a high level."
The wall has hit home, but Loudermilk and Sowada didn't stop there.
Hosts of a Pride night during the Craft Brewers Conference (CBC) and a ceremony for the Michael James Jackson Foundation (MJF), Fait La Force, is living up to its name.
"Having customers come up and say it feels so good to come into a place and see representation, every time I hear that, it feels amazing," says Loudermilk.
A Tap List of Beers as Colorful as Their Victorian Wall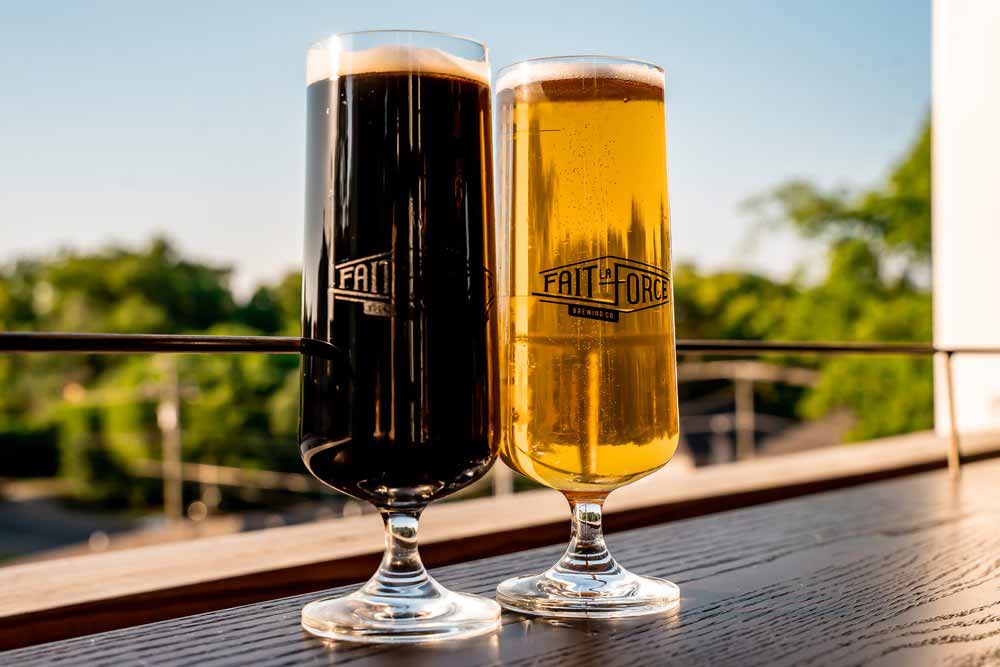 While Orchestral Fanfare, Top of the Walk In, and Heathen Philosopher are best sellers, Loudermilk says it's actually a helles Sowada made around Octoberfest that "haunts my dreams."
Although Sowada wants to keep that beer as a seasonal, Loudermilk says people come in all the time asking, "When is the helles coming back?"
Stay tuned, but no plans to make that beer year round just yet.
I was lucky enough to stop by while spending 48 hours in Nashville to attend the CBC. Fait La Force's Czech dark lager Imperial Menace was the first beer I put to my lips in Tennessee. And one of the best I tried all weekend.
According to Loudermilk and Sowada, Imperial Menace had been a weekend hit amongst industry folks.
And I see why.
Elegant is the word that comes to mind. Light notes of roast, coffee, and bitter dark chocolate smoothly slid down, dry enough that I wanted to take another sip as soon as I finished the first.
Another beer that impressed, Quiet Hospitality, is a collab with Our Mutual Friend in Denver, CO.
Featuring pilsner malt from Riverbend Malt, Crystal hops, and yeast from local Bootleg Biology, this Southern lager (as the brewery calls it) drinks dry and crisp thanks to a four-week cold fermentation.
I picked up hints of corn in the back and a pleasant, almost spicy, earthy floralness.
"We wanted to be serious about our beer, making it as high quality as we can," says Loudermilk. "But in a way that's very inviting and welcoming and not intimidating or pretentious."
Mission accomplished.
If this old-world-meets-new-world brewery is the contemporary wave of breweries sweeping through Nashville, all we can say is, go ride it together.
After all, strength comes in unity, right?