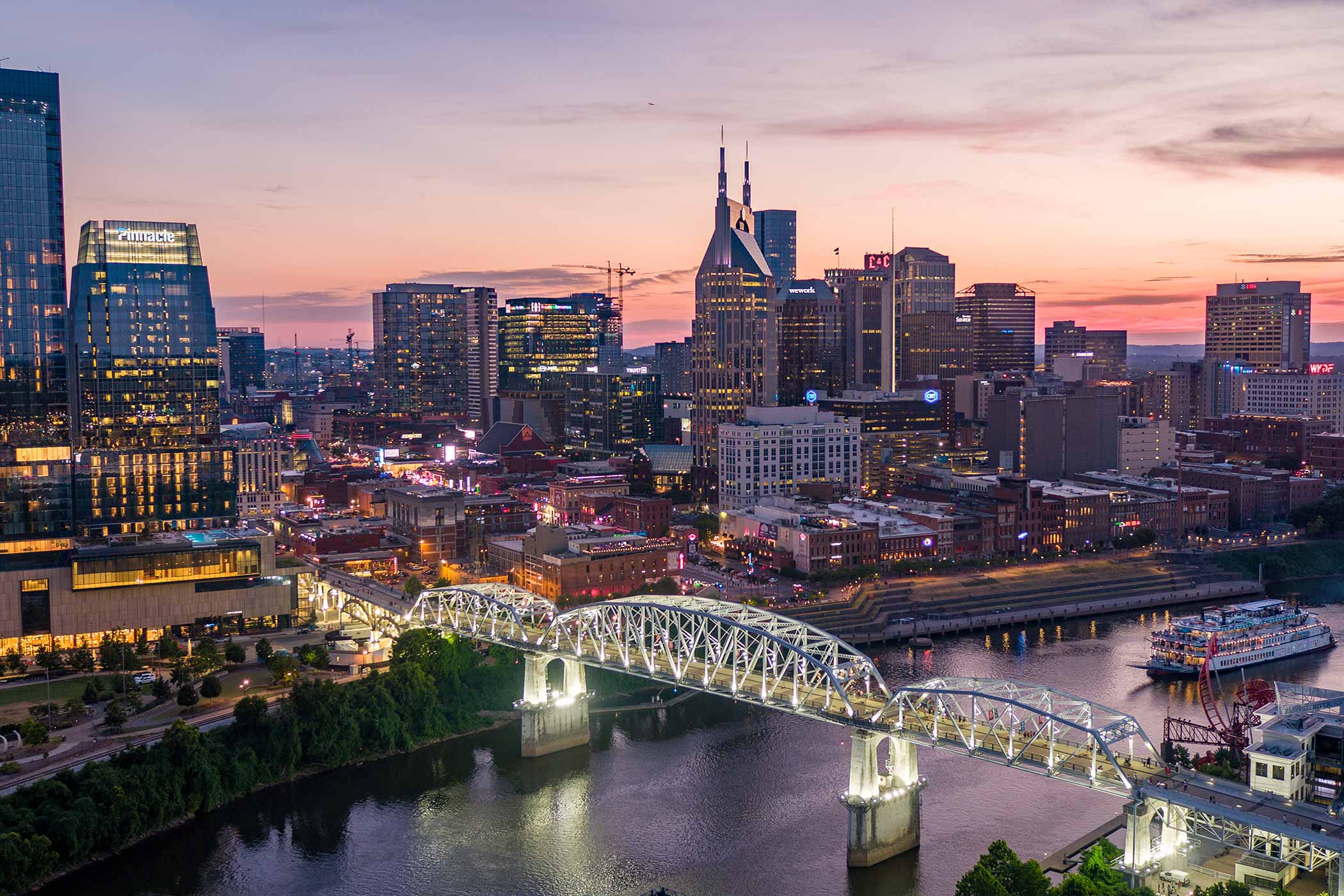 Photography courtesy of Nashville Convention Visitors Corp.
Check Out More 48-Hour Guides:
After a red-eye flight halfway across the country, I touched down in Nashville, TN, for the first time at 5:30 am.
In town for my first Craft Brewers Conference since the global pandemic, I felt excited and exhausted and needed some hot chicken to wake me up. Just kidding, I'm a vegetarian, but hey, the mind-numbing, sinus-clearing spice of this local favorite would have done the trick to kick me. I settled for an iced coffee instead.
I'd heard a lot about Nashville before arriving, so as a first-timer, I came with eyes wide open but also a little leary.
As someone who identifies as Queer, the state of Tennessee isn't too friendly right now. Earlier this year, Tennessee Governor Lee signed two anti-LGBTQ+ bills into law—one essentially criminalizing drag performances and another banning gender-affirming care for trans youth. Most recently, a new bill prohibits transgender students from playing on a team matching their gender identity, bringing the anti-LGBTQ+ laws up to fifteen, the highest in the country.
So yes, I was excited but also a little apprehensive. Still, some of my favorite breweries in the country that I'd never had a chance to visit call Nashville home—Southern Grist and Bearded Iris, both of which just celebrated their seventh anniversary mere weeks apart.
Plus, I'd heard about a new crop riding a third wave around the city touting everything from wild and mixed-culture programs to Belgian and European-leaning styles.
And I wanted to say hello to so many people I'd only had the chance to chat with via Zoom for the last three years.
Nashville beer at least is thriving, so while a bit wary, I felt ready to step to the tune of the Music City.
You don't have to follow in our footsteps (exactly), but here are our suggestions for how to drink and eat around Nashville in just forty-eight hours.
Friday: Welcome to Nashville – Music, Beer, Hot Chicken
Embassy Suites by Hilton Nashville Downtown
708 Demonbreun St, Nashville, TN 37203 | (615) 736-7100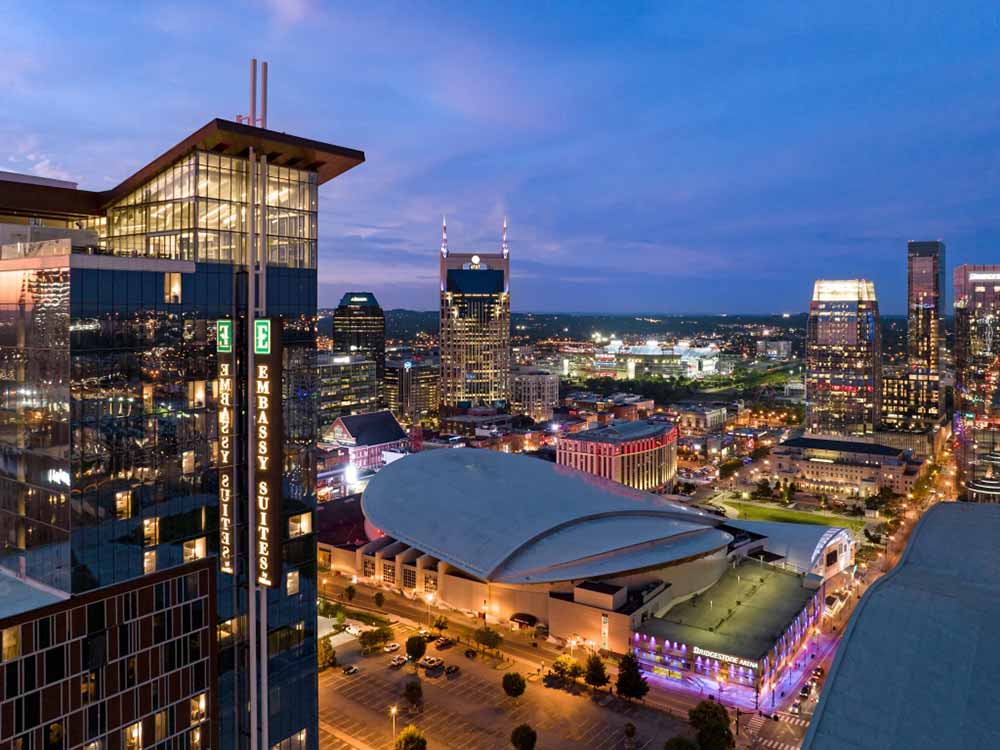 6:30 AM Not your grandma's Embassy Suites – Landing so early in Nashville, I was unsure where to go, but I thought I'd just give the hotel a shot. Glad I did, because the extremely friendly front desk clerk checked me in despite the early hour. Opening the door to the spacious suite, I was greeted with gorgeous floor-to-ceiling windows wrapping from the lounge area down the hallway into the bedroom. Hello, 360-degree views of Nashville as the sun rose, and goodbye, 360-degree views of Nashville as I flopped onto the bed for a quick power nap.
Waking an hour later in the plush bed, I realized this didn't look or feel like the Embassy Suites of old. Growing up playing competitive soccer and traveling the country for tournaments, I've stayed in many an Embassy Suites, where you'd walk into the hotel met by its iconic towering atrium and glass elevators thrumming up and down for all to see. And much like folks know the DoubleTree for its free warm cookies, Embassy Suites made a name for itself with happy hours, providing complimentary snacks and drinks to patrons in the late afternoon.
Good news—this Embassy Suites by Hilton Nashville Downtown still has a Manager's Reception daily with all the goodies. But beyond that, everything is different from bottom to top, including the swanky lobby, with its mural of Johnny Cash, Dolly Parton, and Bob Dylan, and the city's highest rooftop bar (on the thirty-fourth floor), The Overlook.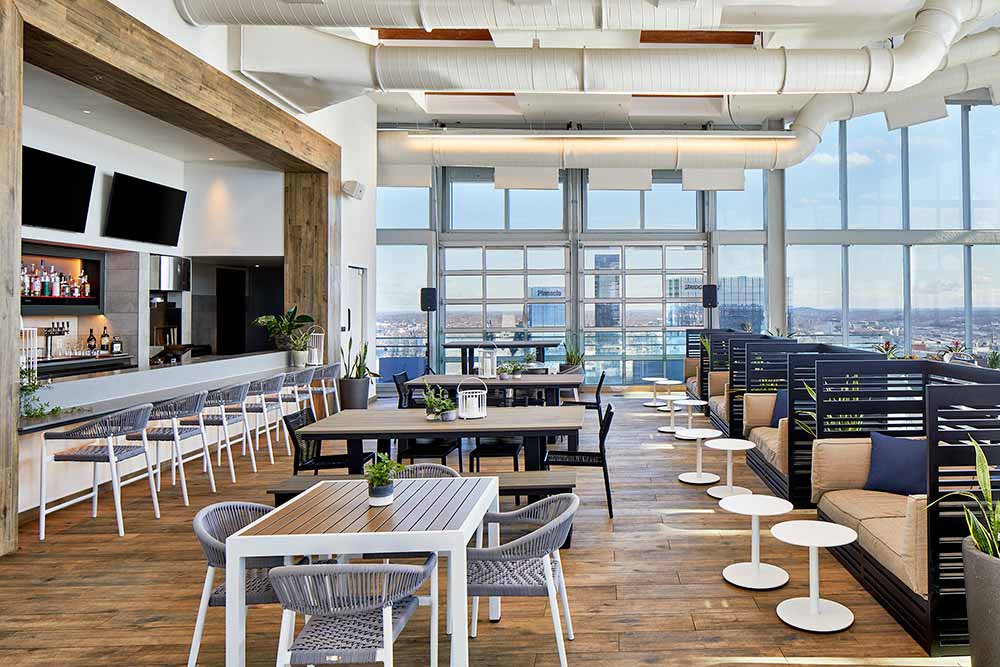 As I looked over the skyline, I saw an eclectic mix of new and old. If I did a full spin, everywhere I looked buildings sprung to life. In front of me sat the Gibson Garage, manufacturer of the famous guitars; behind me, you could hear and see the throbbing lights of Broadway Street, a perennial haunt for bachelorette parties and honky tonk lovers alike; below me, all crowded in next to each other, the eco-green roof of the Music City Center; Bridgestone arena, the home of the NHL Nashville Predators; and the Country Music Hall of Fame.
"There are always at least ten cranes in Downtown Nashville," joked Embassy Suites Marketing Manager Tony Stogsdill as he showed me around, taking me from the Hand Cut Chophouse x Bar (which Stogsdill told me had an excellent Old Fashioned. Spoiler alert: It did) to Harmony, where you'll enjoy your complimentary breakfast and that Manager's Hour, and Good Citizen Coffee Co., the local, independent coffeehouse setting up shop on the ground floor.
Whatever you come to Nashville to do, whether to attend a Taylor Swift concert, visit the National Museum of African American Music, bar hop up and down Broadway Street, or check out all the local breweries (like I did), Embassy Suites is the perfect place to lie your dog-tired body at the end of the night.
Lucky for me, my day was just beginning.
Crema Coffee Roasters
15 Hermitage Ave, Nashville, TN 37210 | (615) 255-8311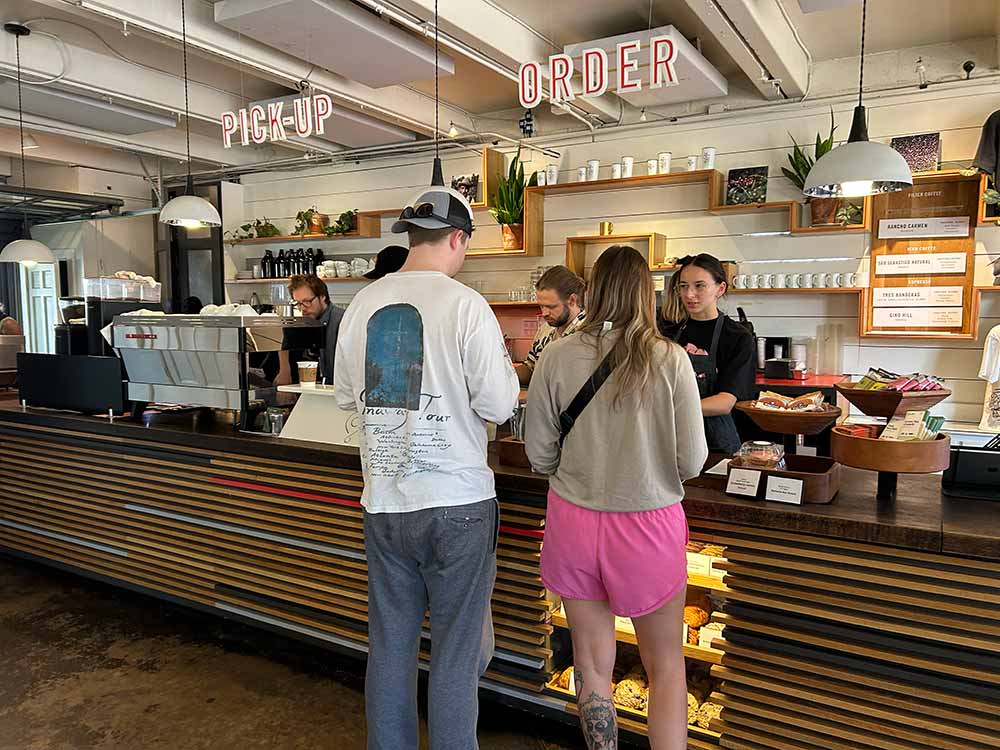 10:00 AM Start your day with a buzz – Despite the power nap, I still needed a strong shot of caffeine. I strolled ten blocks over towards the waterfront to Crema Coffee Roasters, a carbon-neutral, zero-waste coffee shop transparently sourcing coffee and cranking out simple, but delicious eats.
It's always a sign of a good coffee spot when you walk in and it's a packed house with a line out the door. Couples lounged on the sunlit patio outside with froth-filled cappuccinos, munching on vibrant avocado toasts.
A perky iced coffee paired wonderfully with that aforementioned avo toast with locally made sourdough, Noble Springs goat cheese, smashed avocado, red pepper flakes, and a squeeze of lemon.
Refreshed, refueled, and ready for a pretty packed day.
Visit the National Museum of African American Music
510 Broadway, Nashville, TN 37203 | (615) 301-8724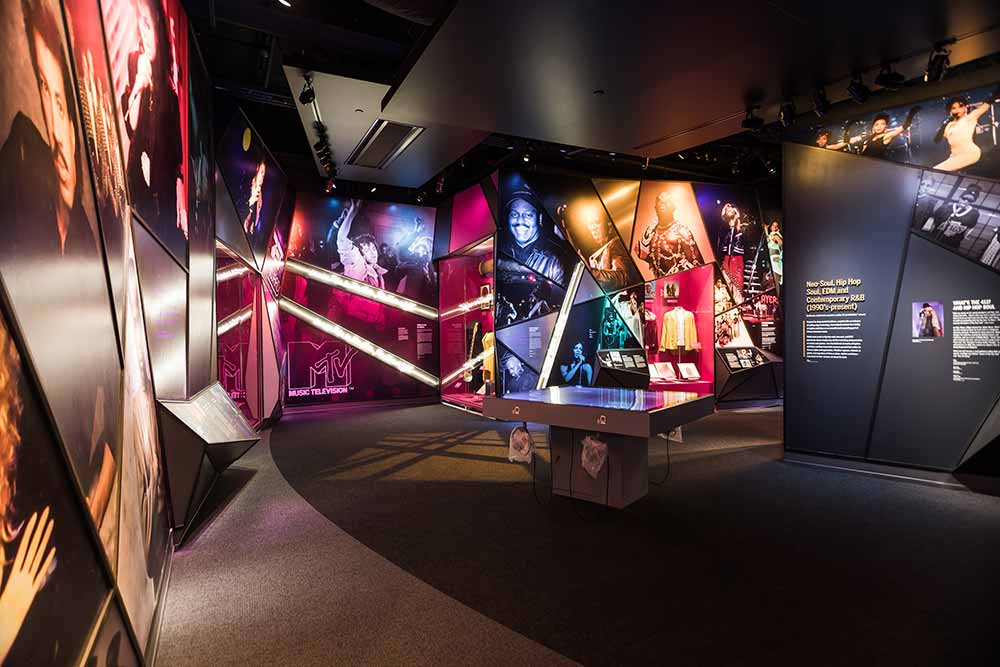 11:00 AM One Nation under a groove – Now your day will differ slightly from mine. Since I was in town for CBC, there were trade show booths to visit, people to see over coffee, seminars to attend, and beers to drink. All told, I didn't have a ton of time for sightseeing. But both Edie Emery, senior director of public relations at the Nashville Convention & Visitors Corp, and Stogsdill gave me great suggestions for things to do. If I had time, this would have been at the top of the list.
The only museum dedicated to preserving and celebrating African American music's history, culture, and tradition, the National Museum of African American Music has to be a must-stop in Nashville. Yes, more than honky-tonk bar-hopping down Broadway Street, and yes, more than the Country Music Hall of Fame.
The museum's interactive exhibits take visitors on a journey through the pivotal role African Americans played in what they call the "American soundtrack."
If you're looking for a true understanding of the history of sound in this country, from jazz, blues, R&B, hip hop, and so much more, this museum will take you through our country's iconic music moments.
Assembly Food Hall
5055 Broadway, Nashville, TN 37203 | (615) 800-5395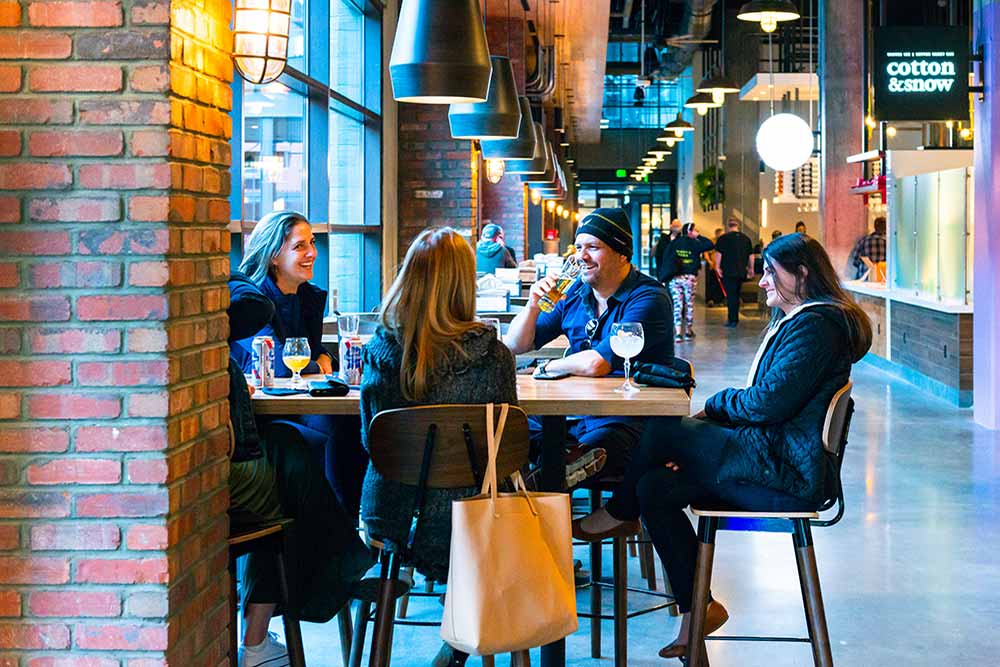 12:00 PM Pit stop – Every time my wife and I travel together, we constantly seek out the local food hall. We love strolling through the aisles, checking out all the vendors, ordering a bunch of food, and plopping down at a long table to share everything. To us, it's one of the easiest ways to try a lot of what a particular city offers in one place. Plus, we both like different things, so we can keep everyone happy and fed.
In Nashville, Assembly Food Hall features thirty-plus eateries and bars, including some of the city's icons.
For instance, The Pharmacy Burger Parlor & Beer Garden, a local cult favorite for hand-smashed burgers and an outpost of Prince's Hot Chicken, the self-proclaimed original and gold standard of Nashville Hot Chicken.
As the story goes, the father of Nashville's hot chicken, Thorton Prince, had a reputation around town for being a ladies' man—something his current girlfriend didn't take kindly to. So one morning, unbeknownst to him, she whipped up his favorite meal—fried chicken—with a bit of a kick. Although instead of tearing up from the pain, Prince liked the hotly, spiced chicken so much that a legendary new dish was born.
If eating a legend isn't your fancy, you'll also find many other eateries featuring foods from around the globe, including shawarma, tacos, shaved ice, pizza, banh mi, pho, donuts, sushi, poke, biryani, samosa, and more.
Whatever you choose, cure all your cravings because we've got quite a bit of beer for you to drink this afternoon and tomorrow.
Jackalope Brewing
429B Houston St, Nashville, TN 37203 | (615) 873-4313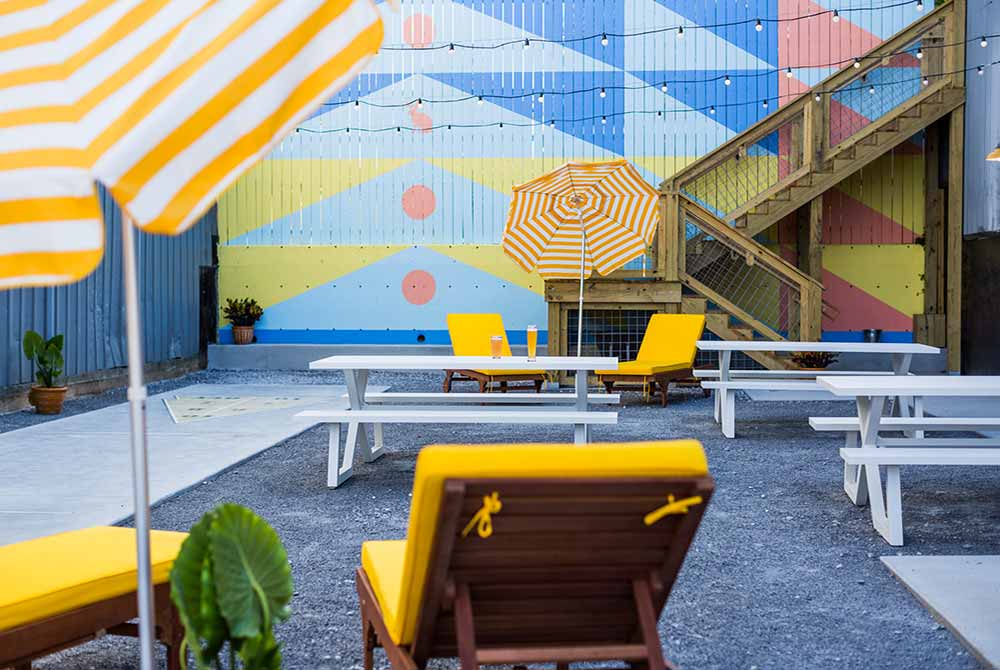 12:00 PM First beer of the day! – In February 2021, Jackalope Brewing announced that it would be moving its operations to a new Wedgewood-Houston neighborhood spot lovingly dubbed The Ranch. Fittingly, this is a terrific stopping place for drinks that lives up to its pastoral name.
In the sunny, colorful space, you'll find Jackalope's four year-round beers, two seasonals, and limited releases on tap to enjoy.
For example, Jackalope's core Bear Walker, a maple brown ale, and Thunder Ann, an American pale ale. (Insider secret: Ask the bartender to mix Thunder Ann with Lovebird, the brewery's seasonal strawberry raspberry wheat.)
This gorgeous location with a dog-friendly patio begs folks to stop by on a hot summer's day, soak in the chill vibes, and enjoy a beer or two.
Fait La Force Brewing
1414 3rd Ave S St101, Nashville, TN 37210 | (615) 915-0059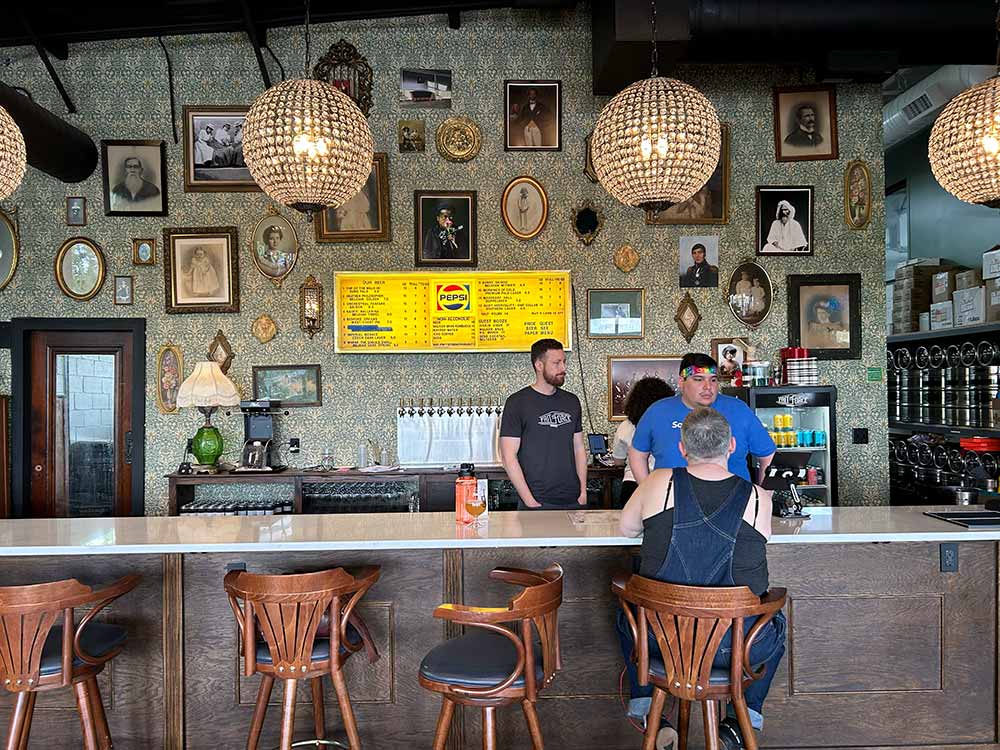 4:00 PM Strength in unity – Take a six-minute walk east to newcomers Fait La Force Brewing.
Started by Parker Loudermilk and Zachary Sowada, Fait La Force stands for the Belgian motto "L'Union Fait La Force," which essentially translates to strength in unity. When Loudermilk and Sowada opened the Belgian- and European-focused brewery after a five-year journey, they wanted to ensure that the taproom felt like a place for everyone—regardless of their background, gender, or sexuality.
"We were very aware of the fact of what Zack and I look like—just another couple of bearded white guys in the beer industry," says Loudermilk. "How can we be a force for change, creating a seat at the table for people of all races, all genders, all sexualities? No matter who you are, we want to be a place you're welcome to come to."
Hosts of a Pride night during CBC and a ceremony for the Michael James Jackson Foundation (MJF), Fait La Force, is living up to its name, brewing a wide variety of beers for everyone.
Walk up to the bar to order, and you'll notice a wall full of old Victorian portraits showcasing all races and genders. That's intentional. "Our brand infuses old-world and new-world but also the idea of being a more inclusive and welcoming place," says Loudermilk, who describes the taproom as an old Victorian castle that was abandoned and became a cool spot to hang out with an old-school NBA Jam arcade game, for example. "We wanted to be intentional about the portrait wall in terms of representation and inclusion…but in a way, that's very inviting and welcoming and not intimidating or pretentious. Want to be a casual, warm, cozy place where people can hang out, but also a place putting out beer at a high level."
Spoiler alert: They are.
Ask Sowada, who handles all of the brewing on Fait La Force's tiny 5-bbl system, the beer he's most proud of, and he'll tell you Orchestral Fanfare, a Belgian-style saison he's been working on since first picking up homebrewing.
"The goal is always to have at least one saison on at all times," Sowada told me, noting Orchestral Fanfare hits all the right notes he's looking for in the style—bubblegum, citrus pith, and black pepper, with a hidden line of New Zealand hops that's his twist.
"Regardless of people buying them or not, we're going to have a saison on," chimes in Loudermilk.
"Well, we had three on at [once], and that was too many," laughs Sowada.
The brewery's Belgian influence comes from seeing an opportunity for a hyper-focused Belgian brewery in Nashville. And their love of Belgium and its beers. Sowada even spent his honeymoon there.
In addition to Belgian styles, you'll also find many European-leaning ones.
Such as Imperial Menace, the Czech-style dark lager I tried after hearing it had been a crowd favorite of the weekend.
Elegant and lithe, Imperial Menace drank with the perfect amount of roast coffee, and dark chocolate.
Although Fait La Force only officially opened in February 2022, they are already a force to be reckoned with in the burgeoning beer scene in Nashville.
Dinner: Hattie B's Hot Chicken – Melrose
2222 8th Ave S, Nashville, TN 37204 | (615) 722-4700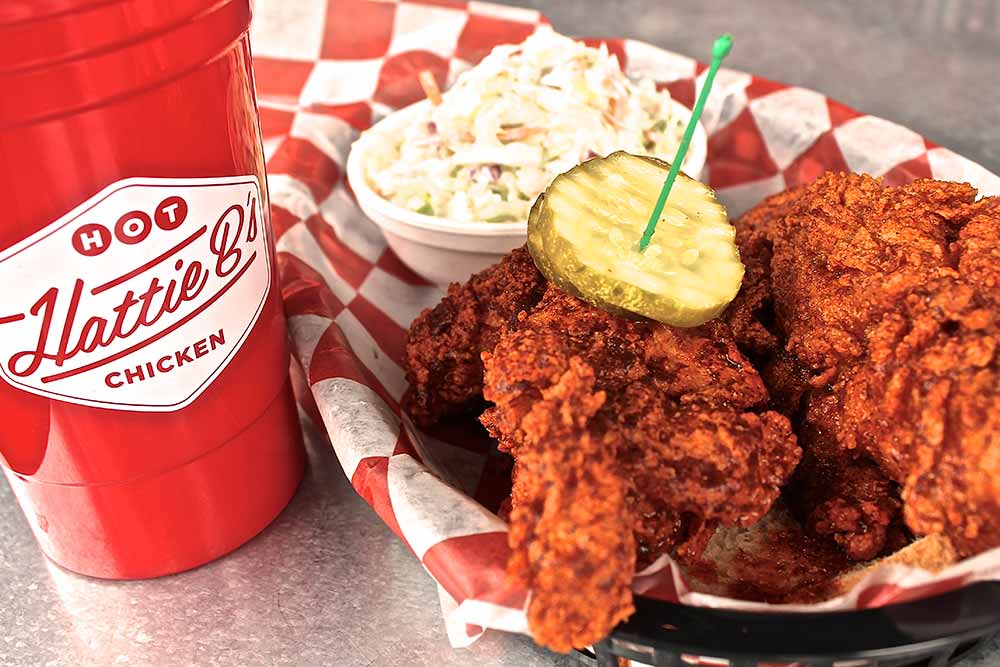 6:00 PM Feel the birds burn – Look, going to Nashville and skipping out on hot chicken would be like visiting New York without eating a dollar slice of pizza or hanging out in Key West without eating a piece of key lime pie. There are just some things you need to do when you're in certain places.
Feeling your sinus and tear ducts unclog while eating a fiery spiced chicken sandwich is just a right of passage in Nashville.
Of course, like the Buffalo wing debate in upstate New York or the Juicy Lucy dispute in Minneapolis, who makes the best Nashville Hot Chicken differs per person. Typically, two establishments top the best-of lists: Prince's Hot Chicken and Hattie B's Hot Chicken.
So with the utmost journalistic integrity and because I'm a vegetarian myself, I turned to an undisputable judge in these matters: my Uber driver.
Billy, a born and bred Nashville native with a lovely Southern twang and a white five o'clock shadow, shared Hattie B's as his favorite with me pretty eloquently.
"It's juicy," he laughed as if stating the obvious. "It ain't as dry as Prince's."
You'll all have to take his word for it, but when a local Uber driver says something is good, they're usually right.
At Hattie B's, you can get your hot chicken sandwich grilled or fried at Hattie B's with spice levels ranging from Southern (aka no heat) to Shut The Cluck Up!!! (aka burn notice) and one side. Choose from southern staples like red-skin potato salad and pimento mac and cheese to black-eyed pea salad and creamy coleslaw.
Feel the burn, and then get ready to wash it down with some cold, cold beer and honky tonk music.
The Valentine
312 Broadway, Nashville, TN 37201 | (629) 202-6979
8:00 PM Honky tonk – If you do want to check out Broadway Street and its plethora of honky tonk bars, you really can't go wrong wherever you end up. But for Bearded Iris Field Marketing Manager Ryan Barrett, who is a Nashville native, he suggests The Valentine. "That's my hidden gem because it is between Tin Roof and Maranda Lamberts, a whole run of bars owned by country singers," he says. "There is this little bar in the middle that isn't as tourist-heavy, so you can listen to music on two or three floors, and you won't be packed in like sardines."
Sounds more like my jam.
Saturday: Beer, Beer, Beer
In truth, CBC meant I spent Monday through Thursday in Nashville, but I'd recommend going during a weekend if you can. If you travel during the week, just be aware that Thursday is considered prime bachelorette party night, so Broadway Street will be packed.
If that's not your thing, avoid Broadway Street or fly in on a Friday and out on a Sunday.
After a whole night's rest, we're gearing up to take you through your beery paces today, traipsing around Nashville to drink at some of our favorite breweries.
Biscuit Love Gulch or Big Al's Deli & Catering
316 11th Ave S, Nashville, TN 37203 | (615) 490-9584
1828 4th Ave N, Nashville, TN 37208 | (615) 242-8118
9:30 AM When in Nashville – Flaky, buttery biscuits! Is there a better way to wake up after a day and night of drinking? I'll admit, I'm a little torn here between a more modern biscuit bakery and an old-school local affair.
But hey, I'm writing this darn thing, so I'll list both and let you decide:
Biscuit Love Gulch – Light, bright, and airy, just like its biscuits, Biscuit Love Gulch is an ode to the flaky dough. Owned by a local family, this eatery serves award-winning biscuits all day. Favorites include the Princess, a buttermilk biscuit topped with Nashville-style spicy boneless hot chicken thighs, pickles, mustard, and honey. Or the East Nasty, a towering behemoth of a buttermilk biscuit topped with fried boneless chicken thigh, aged cheddar, and sausage gravy. Joy and community are two words they believe in very strongly here, and they believe that biscuits are the beautiful road to anyone's heart.
Big Al's Deli & Catering – If you know, then you know. Named after local legend and chef Big Al, this no-frills diner almost looks more like a home than a restaurant. Feels that way too. Down home and dirty (and we mean that in the best way), Big Al's serves up big breakfast plates with some bangin' biscuits (some might argue they're the best in town). You can feel the soul oozing out of Big Al's, from the food to the simple decor to the biscuits. Simply get one on the side by itself or dress it up with either bacon or a sausage patty and even some eggs and cheese. However you take yours, it'll be, as Big Al's likes to say, "Food so good you'll slap your mamma!"
Gibson Garage
209 10th Ave S #209, Nashville, TN 37203 | (615) 933-6000
11 AM Strike the right chord – If you love guitars, you must stop by the Gibson Garage. Guitars are being made here! Not only can you try out a handful of Gibsons, but you can also check out historic ones handcrafted by founder Orville Gibson or maybe even catch a live performance if you're lucky. A musician's playground, Gibson Garage is like a hidden music gem in Nashville. You could spend hours here plucking on chords and listening to the sounds of these historic instruments.
Barrique Brewing and Blending
30 Oldham St, Nashville, TN 37213 | (615) 678-8535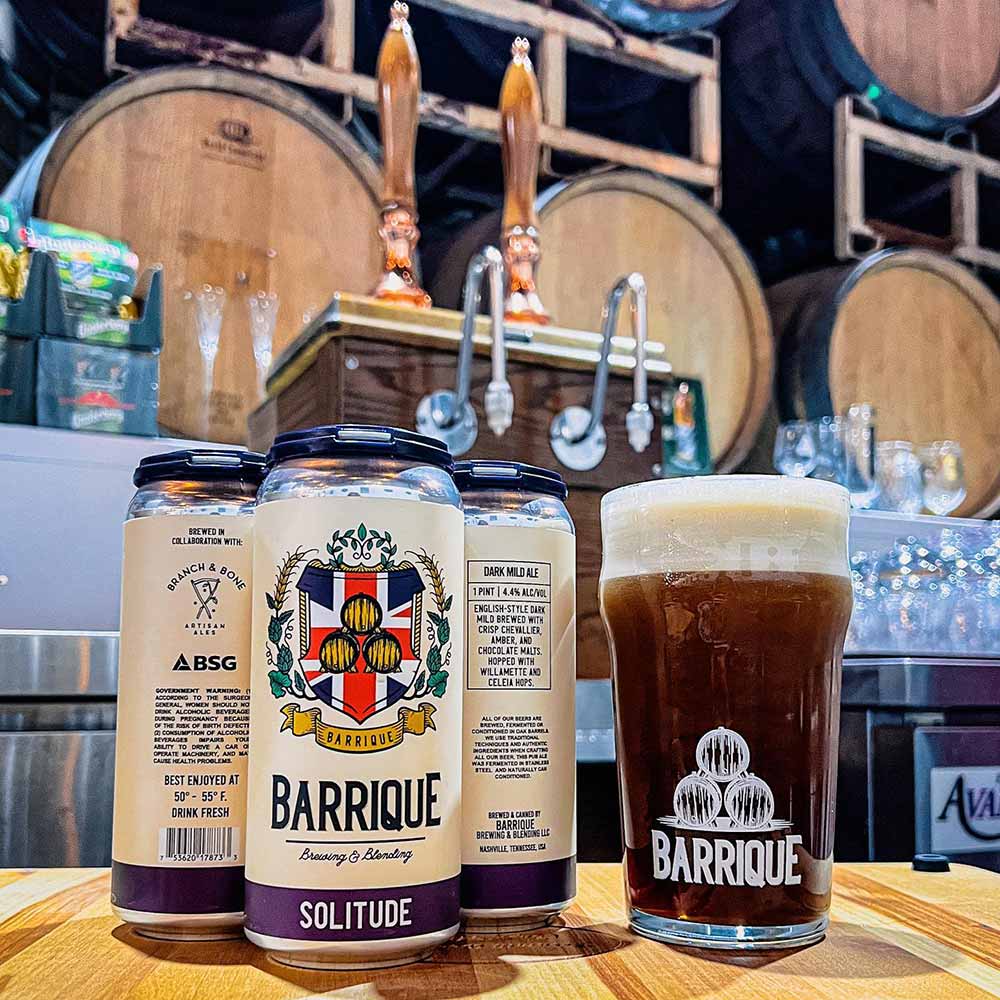 12:00 PM Fruited Sours, Clean Lagers, English Cask Ales – Launched in early 2018 with its first beer released nearly a year later in January 2019, Barrique Brewing and Blending has made a name for itself in Nashville for its focus on brewing beers with local ingredients.
A name for a French oak wine barrel, Barrique loves to include Tennessee-grown grain and local Southeastern fruit in its specialty wild ales. For example, Vitis Cerevisiae, a beer-wine hybrid collab with Monday Night, blends four unique casks, each matured on the best estate-grown Chambourcin grapes from two local Tennessee vineyards.
Since moving to its current location in the old Little Harpeth space, Barrique Founder Joel Stickrod has also branched out into continental lagers and pub ales. Such as his Pecan Smoked Lager featuring 100 percent Appalachian Winter Wheat from Riverbend Malt in Asheville, NC, smoked over pecan wood, hopped with German-grown Saaz, and fermented with German lager yeast.
Or Solitude, the brewery's English dark mild fermented in their custom-built Burton Union system with Chevallier, amber, and chocolate malts from Crisp Malting in the U.K. and Styrian, Celeia, and Willamette hops. In the Real Ale tradition, Barrique hand pulls this dark mild from their Mason's beer engine.
Patience and practice shine through at Barrique, showcasing a new wave of breweries popping up throughout Nashville. Ones like Barrique, dedicated and committed to certain styles, be that wild ales, cask ale, or lagers.
You'll probably want to spend a couple of hours here, and that's encouraged.
Southern Grist Brewing Company – East Nashville Taproom
754 Douglas Ave, Nashville, TN 37207 | (629) 203-7159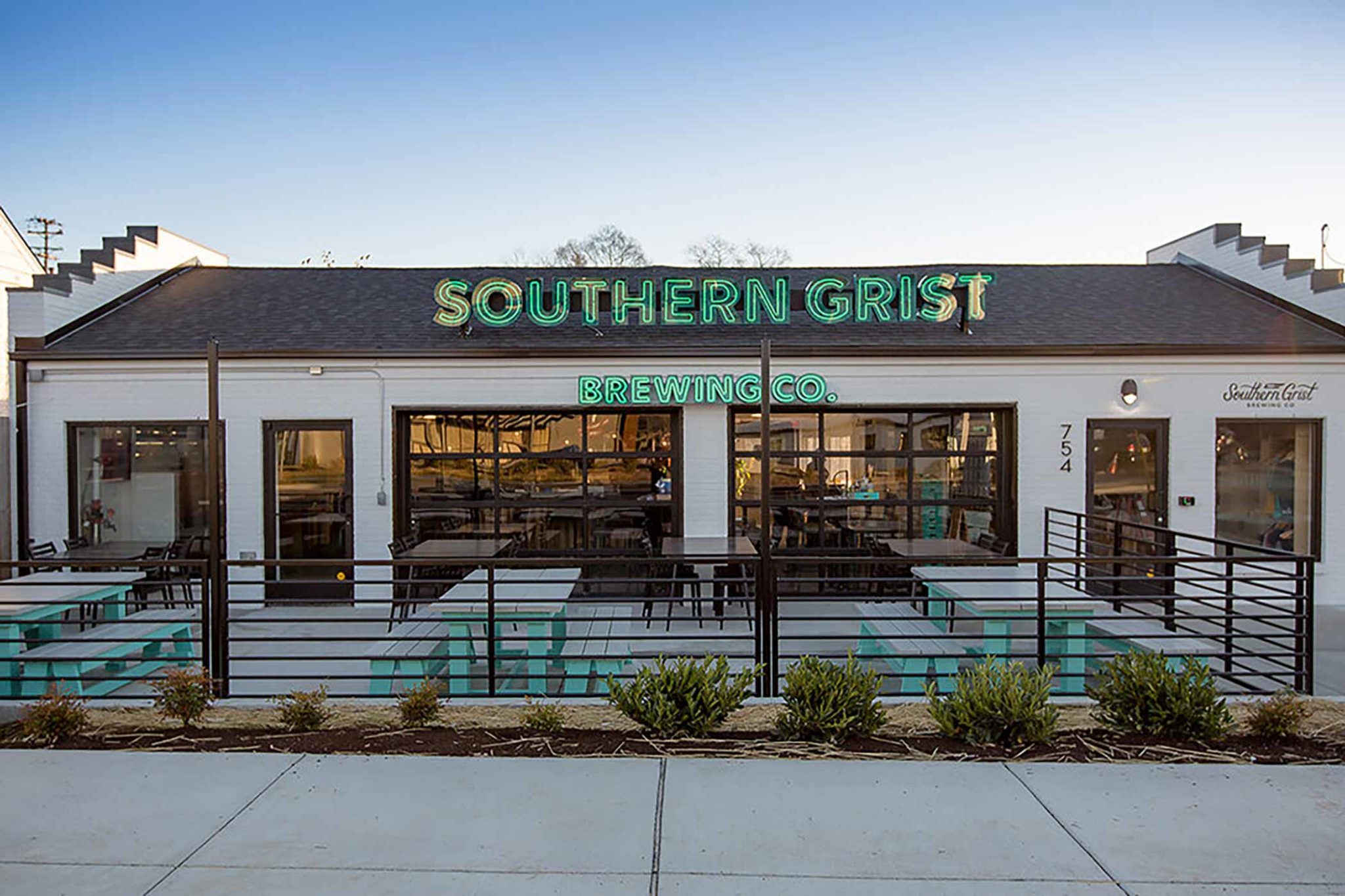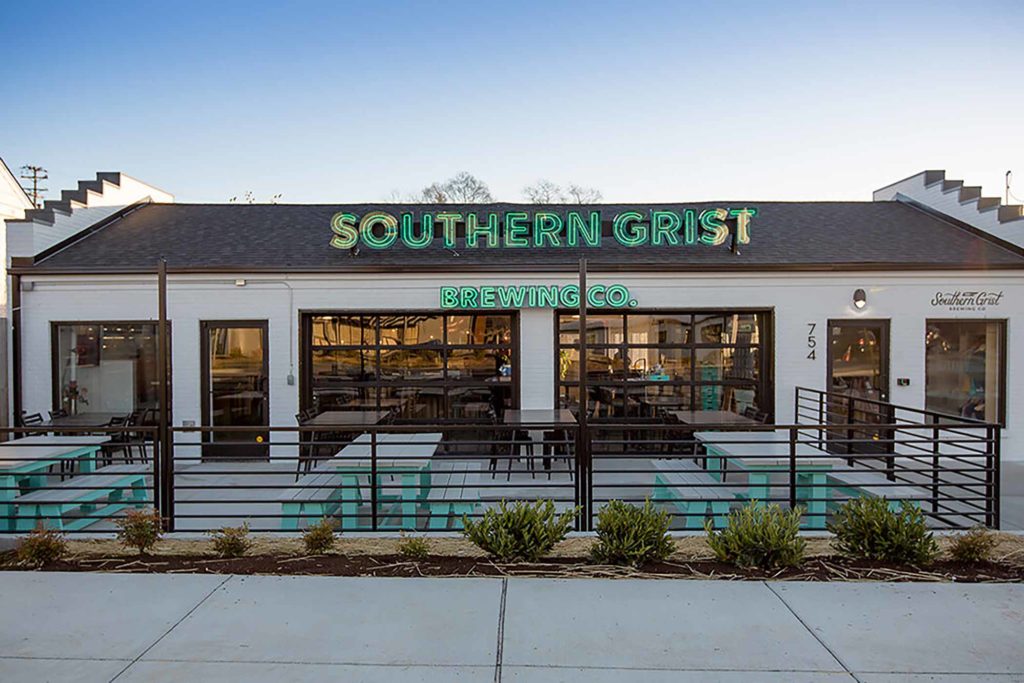 2:30 PM Seven years and over 1,000+ beers strong – Southern Grist celebrated its seventh anniversary a few weeks ago. When the brewery first opened in 2016, the beer landscape in Nashville looked very different. Old-guard breweries like Yazoo and Blackstone offered classics like pale ales, porters, and even amber. But the beers Southern Grist started bringing to the bar, well, they'd never been seen before.
Clearly, because when Southern Grist Co-Founder Kevin Antoon recounts serving the brewery's first hazy IPA, he says half the folks sent the beers back, indicating something was wrong with the beer.
"People thought we were crazy," he laughs, remembering that the brewery also opened with a fruited sour. "They were like, you guys really think people are going to drink a red beer in Nashville."
Turns out they did.
Now that fruited sour and hazy IPA are the two beers Southern Grist became known for.
Well, actually, way more than just those two beers at this point.
Over the past seven years, Southern Grist Co-Founder and Head Brewer Jared Welch has made a whopping 1,067 different beers.
And innovation has always been the key.
A part of what is now considered the second wave of beer in Nashville, Southern Grist made its mark by sticking to its guns, brewing whatever the f**k it wanted.
People got on board, not just in Nashville but also across the country. The first year, Antoon, Welch, and their third business partner Jamie Lee planned to measure success by whether they sold 1,000 beers a month (so 12,000 the entire year, for all you nerds out there).
"We sold 1,000 beers the first Saturday we were open," laughs Antoon. "I remember that just being like a light bulb. Can I quit my job now!?"
That first year, Southern Grist sold 125,000 beers!
All the rules the brewery set down for themselves in year one eventually went out the door.
"I'm super freaking proud of what we've done over the last seven years," says Antoon. "I realized that most of our change was getting out of our own way. When we opened, we said we'd never do a flagship. We have three flagships now. We won't do lagers. We have a whole lager program now. We'll never distribute. We're in twenty-one states. So we ripped up our business plan, and now it's all about…adaptation."
Thank god they did because that meant I could enjoy beers like Transcontinental Crisp, an unfiltered pilsner-style lager with Canada Malting EuroPils Malt and hopped with Michigan-grown Zuper Saazer. A light touch of toasted character drinks easy with a pleasant floral finish.
The best part about stopping at Southern Grist next today is that you can grab lunch at Lauter (the trio said they'd never venture into food when they first opened, too!).
Executive Chef Andrew Coins and Chef De Cuisine Kenji Nakagawa craft beer-drinking food, some with a Japanese twist, a nod to Nakagawa's background. All paired to go with Southern Grist's beers. For instance, Coins and Nakagawa barrel-age pecans for a salad (yes, a salad) in one of the brewery's stouts and braise chicken with Southern Crisp lager.
If you are looking for a true taste of Nashville, from the hoppy stuff to the fruited sours to the lagers to the food, there is no better place to visit than Southern Grist.
Lyra
935 W Eastland Ave, Nashville, TN 37206 | (615) 928-8040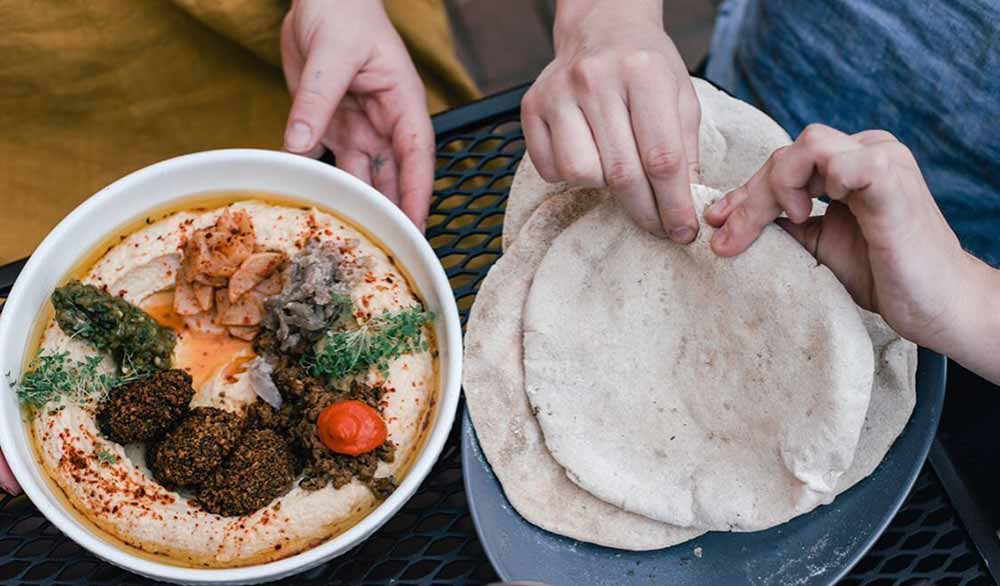 5:00 PM Modern Middle Eastern – If you didn't fill up on snacks and grub at Southern Grist, park yourself at one of the tables on the lovely outdoor patio at Lyra, a modern Middle Eastern restaurant in East Nashville. We recommend making a reservation beforehand as this place fills up pretty quickly, even early in the evening.
Why Lyra? This story may help. Both I and our Next Glass VP of Engineering made separate reservations to this restaurant after heavily researching the best restaurants in Nashville. Once we discovered this fact, we, of course, combined plans and ate together.
Good thing we did because, as our server explained, sharing is caring at Lyra. Built off mezze—kind of like Middle Eastern small plates—dishes are meant to be shared here.
Whatever you do, order the Hummus Collective first (although, fair warning, this does include meat, so if you have vegetarians in your party it may not work). A large bowl will come swathed in creamy, dreamy, ethereal smashed chickpeas. Accompanying on top: pickled chili roasted turnips (an acidic foil to the almost indulgent hummus), jalapeno relish, lamb with a sweet pepper puree, and a bonus ingredient you won't find listed anywhere on the menu—falafel!
Steaming ovals of pita bread as big as your face will be whisked out on a large plate next to the bowl: Tear, dip, swipe, chew. Repeat. Repeat. Repeat. I could have eaten this bowl for my entire meal.
But we had more small plates to share, including our server's favorite Imam Bayildia, a chickpea tomato jam-stuffed eggplant, Kuhdar Platter full of fresh veggies like asparagus and snap peas and the crowning buttermilk pistachio labneh, and Dere Salatsai, a fresh salad with arugula, strawberries, and pomegranate gazpacho.
And yes, they will oblige if you ask nicely for an extra pita to swab up that last bit of hummus.
Warm, comforting, and delicious, I can see why many list this as their favorite restaurant in Nashville. It was undoubtedly one of mine.
Bearded Iris
935 W Eastland Ave, Nashville, TN 37206 | (770) 727-0009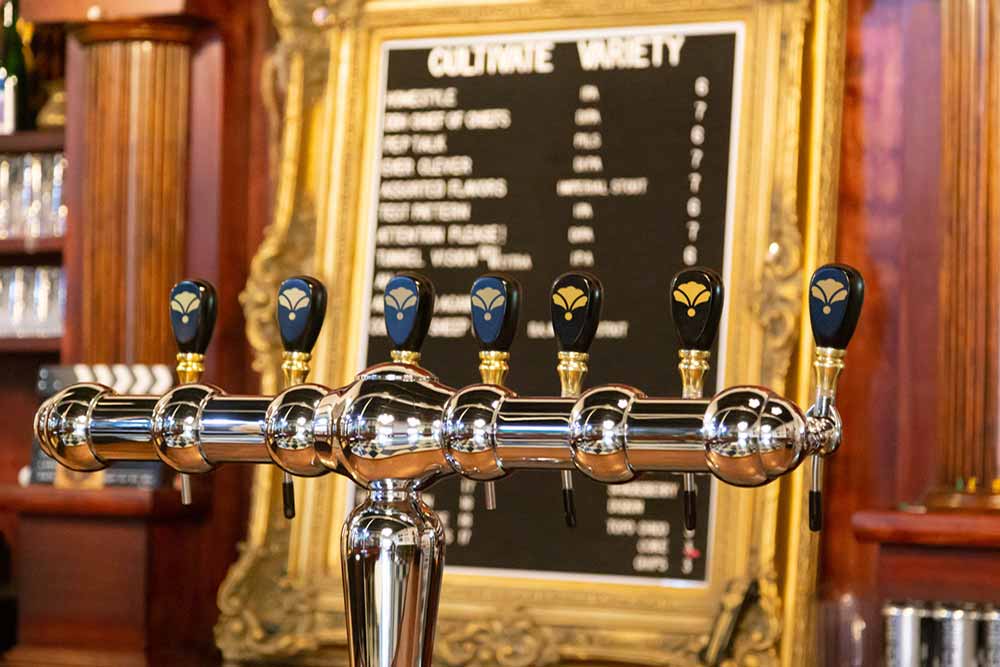 7:00 PM IPA, DIPA, DIPA, but also a lager – Perhaps it's best to knock back all that food with something hop-forward. For the last seven years, if you looked for something hoppy in Nashville, one brewery came top of mind—Bearded Iris.
Opened in 2016 by Kavon Togrye and Paul Vaughn, Bearded Iris excelled at IPAs and double IPAs. Like their flagship Homestyle, an oated 6% ABV IPA hopped with Mosaic. A study in Mosaic, the luxuriously smooth IPA (thanks oats!) perfectly foils this Pacific Northwest hop's bright tropical, fruity characteristics. "Our Homestyle IPA is always hop-forward, always big fruit flavor," Barrett told me. "It's always what we're known for." We have and will always love this beer.
Barrett's favorite is Queen Bee, an IPA fit for royalty featuring local bee-foraged honey.
But much like Southern Grist, Bearded Iris found itself needing to change with the climate.
"Our initial menu of ten taps was an IPA and eight double IPAs. The whole menu seven years ago was very focused, and that's why we grew because we were in the hop-forward era when everyone wanted an IPA," says Barrett. "We know our IPAs are good. We know people love them. When they go to the store, they can find four or five of our flagships, including Homestyle, and have a great time with them. But now it's like, where can we continue to expand in new markets?"
So while you'll still find four or five DIPAs on the menu along with a couple of fruited IPAs and that aforementioned Homestyle, you'll also find a new line of seltzers called Neon Cowboy (all real fruit juice, real fruit, and real agave). Plus, a pilsner!
Bearded Iris teamed up with local burger favorite Pharmacy Burger Parlor & Beer Garden to create Pharmacy Pils. "It's a great easy-drinking pils drink on a hot day," Barrett told me. And I can confirm he is correct.
Unafraid of change, Bearded Iris is still the place in town for a hophead, but if you're looking for something else, chances are now they probably have that too.
Monday Night Preservation Co.
1308 Adams St, Nashville, TN 37208 | (615) 819-2622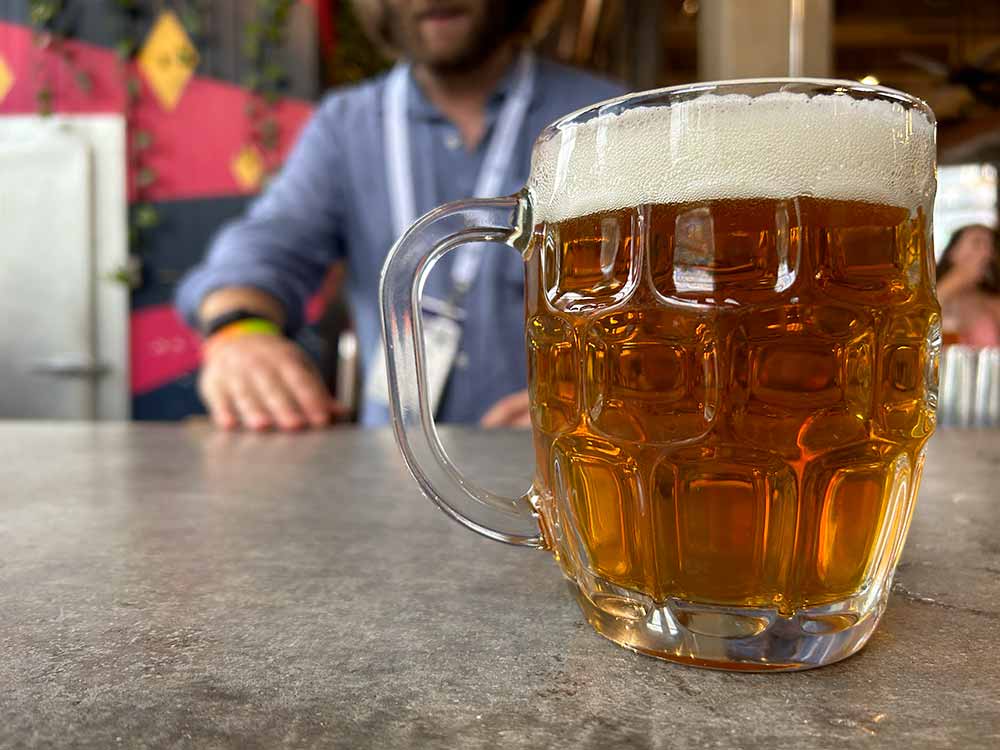 8:30 PM Great any day of the week – Monday Night's Nashville outpost doesn't close until 10 pm, so if you have the energy to keep the party going, this is the place to end the night. Tucked away in an old meat-packing facility, you may be dubious as your Uber navigates through some unused buildings and up a gravel parking lot. You might think to yourself, "There can't possibly be a brewery hidden away here."
Trust us, there is, and you want to take this ride to the end.
The beautiful, rustic red-brick building belies a contemporary cavernous taproom inside. Belly up to the bar and find your eyes crossing themselves, and look up at the menu board with twenty-four different offerings.
Our team loved this taproom so much that we returned every night we stayed in Nashville for CBC. We loved the breadth of beer. One night included the release of the brewery's epic six-way Czech-style pale lager collab called Bus Beer and a host of other Czech-inspired beers from breweries such as Halfway Crooks, Cohesion, and Green Bench. And another night, hops were a feature of the menu.
But anytime you visit, you can be sure you'll find just an epic amount of beers to enjoy. If Bus Beer is still on, grab it in your dimpled Czech mug, venture out onto the deck, sit at a picnic table, drink under the string lights, and revel in a great day in Nashville.
Sunday: Beers & Breakfast
Time to soak up your forty-eight-hour festivities, languish on a lavish weekend and prepare your body for recovery. The best way I know how to do that is with crazy amounts of carbs.
The Butter Milk Ranch
2407 12th Ave S, Nashville, TN 37204 | (615) 465-8300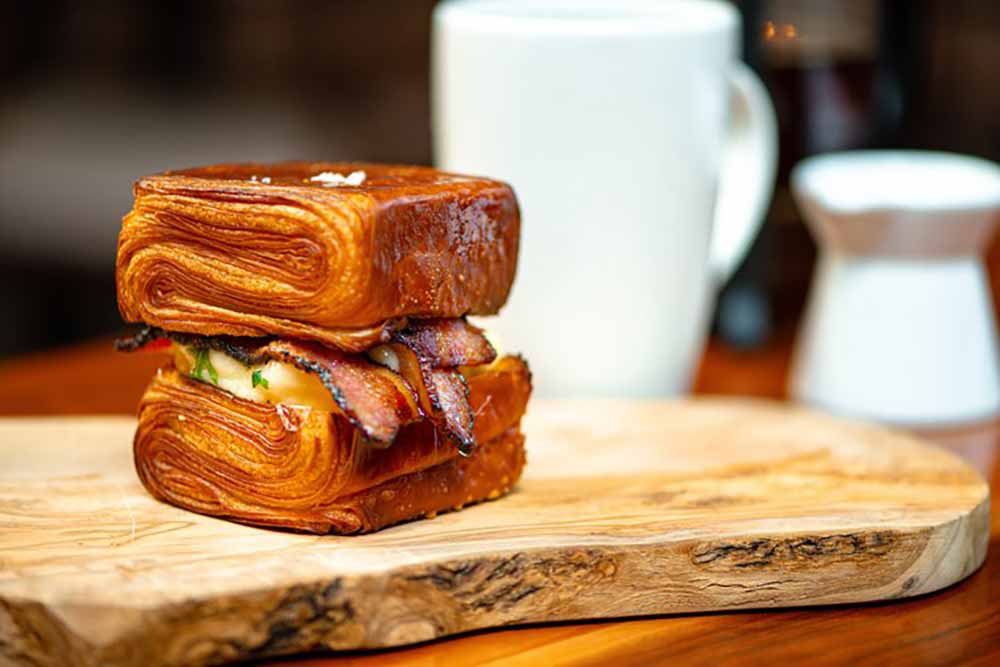 10:00 AM Hangover cure – There's no such thing! But if a hangover cure existed, The Butter Milk Ranch comes close. There's a place I used to love for hangover brunch in college called Clarke's Diner. Epically big scrambles packed with eggs, potato, cheese, and grilled vegetables mopped up the remains of any indulgent night.
The Butter Milk Ranch is like the Clarkes of adulthood—i.e., way more sophisticated, but still with that down-home food that will be the fuel you need to get you to the airport.
A counter bakery upfront serves lots of baked goodies (hello, salted caramel croissant) and a limited to-go menu, but we highly recommend sitting down. First, I didn't have the strength to stand for long periods. And second, a leisurely brunch is the way to end any 48-hour-bender (unless you're in Denver and have access to a Beer Spa).
Try the Ricotta Scramble Croissant with silky cheese, a fresh herb soft scramble, and chili crunch, all on a classic croissant. Or go for the Instagrammable Cube Benny with a patty of croissants shaped like cubes bookending all the breakfast meats, a poached egg, and Hollandaise.
Whatever you get will warm your belly and put a smile on your face as you hail your Uber to head out to the airport.
Don't forget to ask your Uber driver about their favorite Nashville hot chicken place. You know, just for kicks.