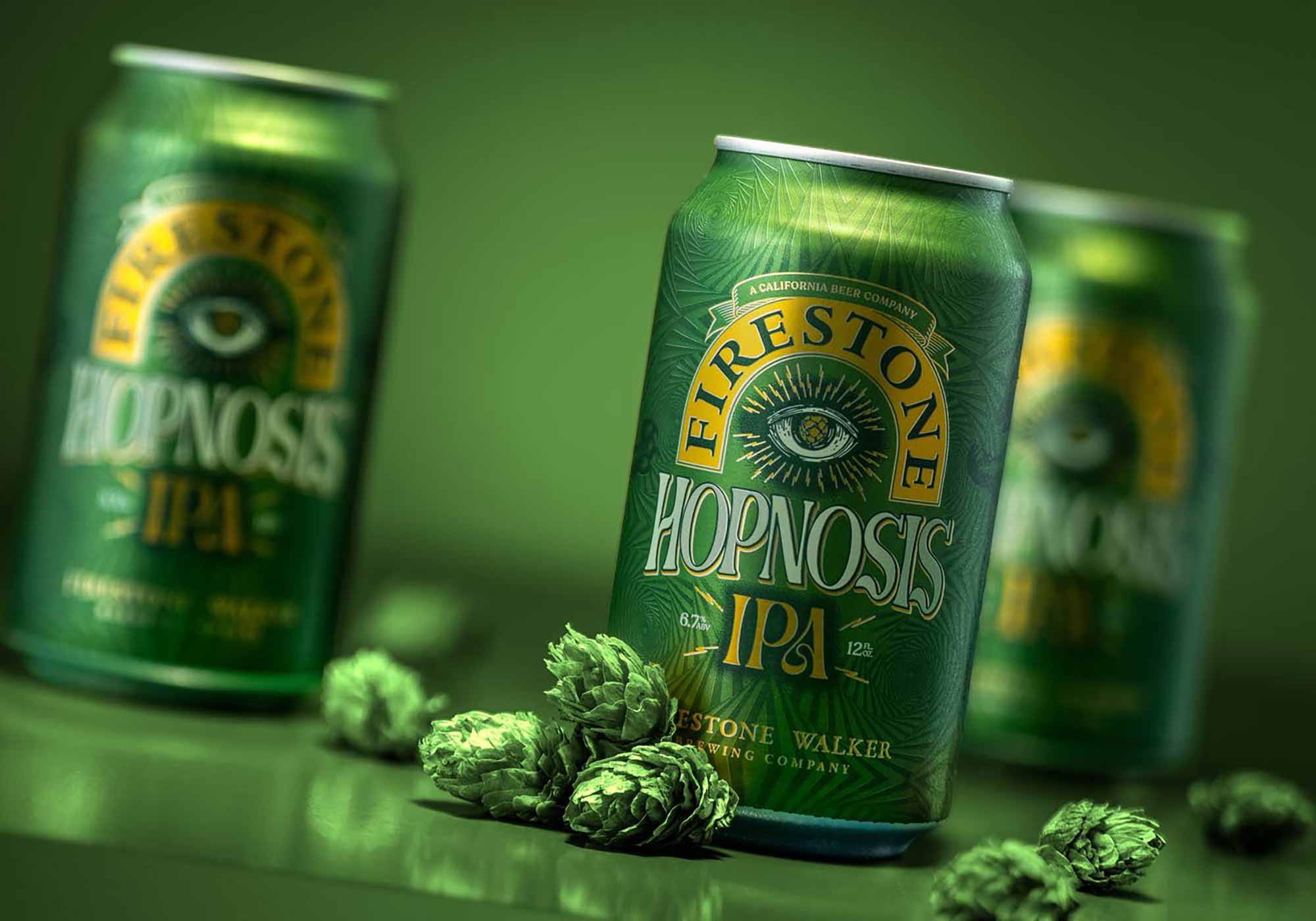 Photography courtesy of Firestone Walker
As American IPAs, hazies, and double dry-hopped beers have grown ever more popular, hop technology has made similar strides. For instance, cryo hopping, a process where farmers extract and pelletize lupulin using extremely cold temperatures. It's a technique Firestone Walker recently leveraged in its new IPA called Hopnosis. You'll find a bouquet of hops in this beer including: Mosaic Cryo, Idaho 7, El Dorado, Cashmere, Nelson Sauvin, Riwaka, Simcoe, Talus, and Callista.
Perfectly balancing new-school hops and techniques—such as cryo hopping—with the old-school West Coast IPA style, Hopnosis seems poised to poetically represent what the future of beer looks like in 2022.
The New School: Cryo Hopping

To understand Hopnosis you need to understand the innovative technology in this beer. Mainly, cryo hopping.
Breaking it down plainly: Cryo hopping includes a "deep cooling of a hop that hardens the lupulin gland and makes it easier to separate plant material away from the part of the hop that contains brewers' value," says Matt Brynildson, brewmaster at Firestone Walker in Paso Robles, CA.
Brynildson refers to the essential oils and terpenes that gives beer its signature aroma and flavor.
Cryo hopping allows a brewer to access the best part of the hop without all that vegetative plant material getting in the way. Aka the mic drop part of the hop.
It's a new-school hop technology in America that has actually been around in Europe for a while.
A Short History of Cryo Hopping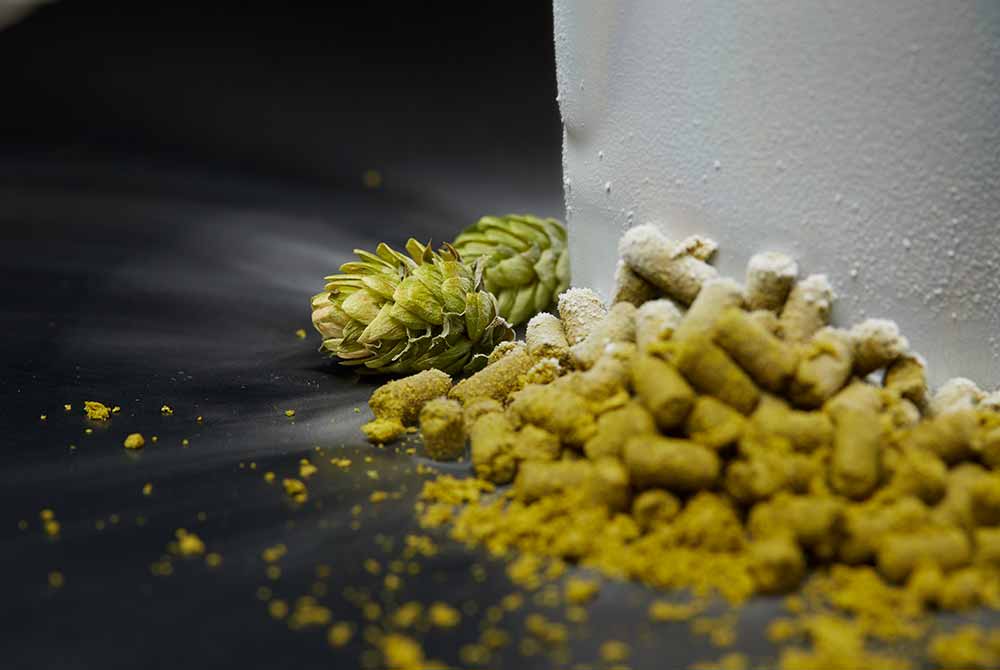 Referred to in the industry as T45, cryo hops have been around in Europe for quite some time.
According to Brynildson, if you go back to the early-to-mid twentieth century, all the major breweries brewed with the famous German-grown aroma hops. For instance, Hallertau Mittelfrüh, Saaz, and Styrian Golding.
Because brewers around the world requested these products, German hop producers needed to ship hops long distances. The T45 process or cryo hopping allowed them to easily concentrate those low alpha noble hops and ship them to faraway markets like the United States.
Even close to home, the T45 process has distinct advantages. In the United States 100 percent of hops are maintained under man-made irrigation. On the other hand, in Germany and a lot of Europe, Brynildson says that about fifty percent of hop crops rely heavily on mother nature for moisture, meaning changing climate and weather patterns can greatly affect a crop year.
So much so that most breweries typically contract hops for a specific number of kilos per alpha. For example, a brewery can request six percent Styrian Golding and, no matter what happens with the hops that year, the T45 process will ensure that a hop producer can reach that percentage. Even if the crop comes in at only five percent, they can use this concentration process to raise the alpha acids to six percent.
It's an innovative solution, but one that never caught on in the United States.
Until recently
Cryo Hopping in the United States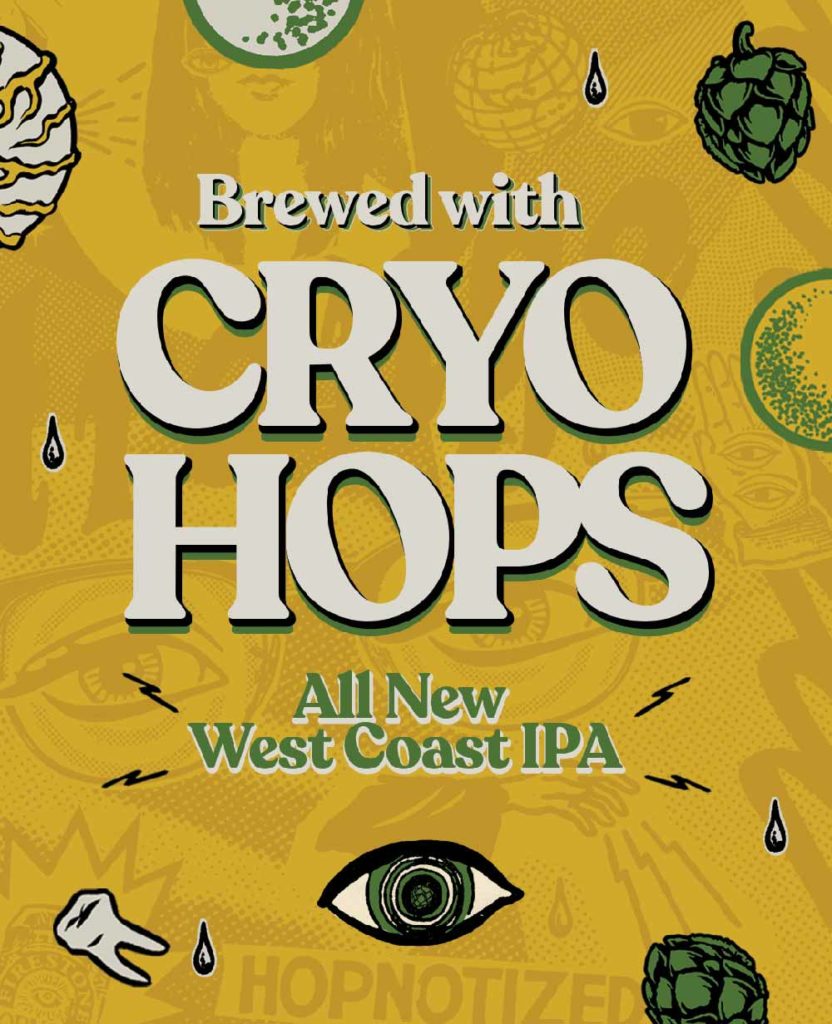 Brynildson says American hop producers never cryo hopped because there wasn't a good reason for it. "A lot of the most popular cultivars in the U.S. already have a high alpha concentration," says Brynildson. In other words these hops are packed with those essential oils and terpenes.
But roll the clocks forward and Yakima Chief Hops started looking at the T45 technology in a different way. They asked: "How can we use it to the advantage of brewers doing a lot of dry hopping and using aromatic hops?" says Brynildson. "The concept now is to focus on concentrating flavor and aroma elements and using that T45 process for the purpose of creating flavor-forward hops that are cleaner, more potent, but still very user-friendly for dry hopping and all the reasons IPA brewers use them."
So when Brynildson had a chance to play around with what he calls "a brilliant technology", he became hooked.
How Did Hopnosis Start?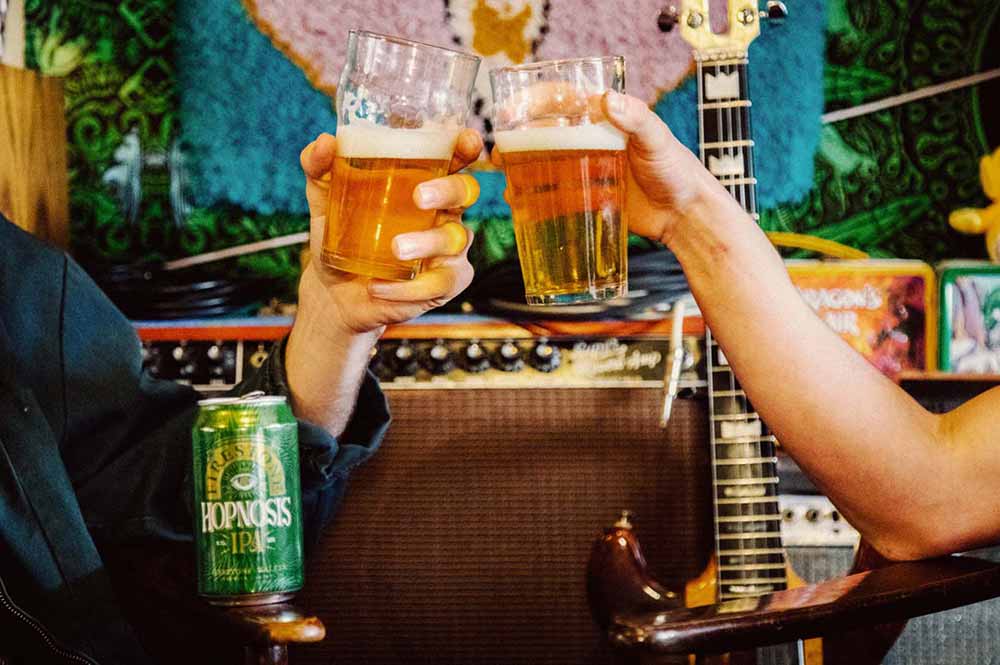 Joe Mohrfeld, brewmaster at Pinthouse Pizza in Austin, TX, turned Brynildson and the Firestone Walker team onto cryo hops. While collabing on a beer called Electric Union (a mashup of Firestone Walker's iconic West Coast IPA, Union Jack, and Pint House's New England-style IPA, Electric Jellyfish), Mohrfeld suggested using cryo hops.
And he showed Brynildson a crucial trick.
"He added the cryo hops in mid-fermentation," says Brynildson. "Since you've taken away a lot of the plant material, you can add cryo hops earlier…because you're not mixing all that plant material in but just delivering the goods like essential oils and terpenes."
Brynildson and his team loved Electric Union. When the idea for Hopnosis started to form, it seemed like the perfect opportunity to integrate cryo hops into a beer.
But Firestone Walker wanted to do it their own way. And that meant starting with the familiar, the old school.
The Old School: Hopnosis Brewed As a West Coast IPA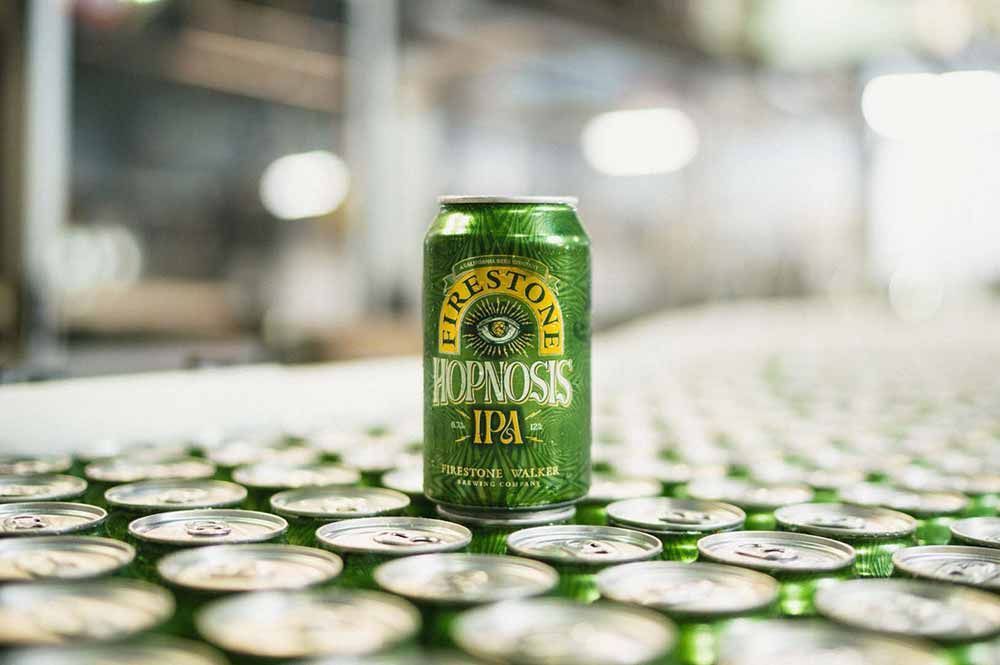 At its core, Hopnosis is a West Coast IPA. But it's a West Coast IPA for a new generation of drinkers, a taste of the future to where this iconic style is heading.
Beginning with a very simple malt bill of 2-Row, Carapils, wheat, and Munich malt, Hopnosis' grains create a great canvas for the hops.
Brynildson starts with Simcoe to build that classic West Coast IPA. "I really like Simcoe on the hot side," says Brynildson. "It tends to give a harmonious bitterness and to have all the Pacific Northwest flavor profiles and flavor notes that are familiar with some of my favorite West Coast IPAs."
From that baseline, Brynildson includes a few crucial tweaks to bring this beer into the twenty-first century.
Hopnosis and New-School Hops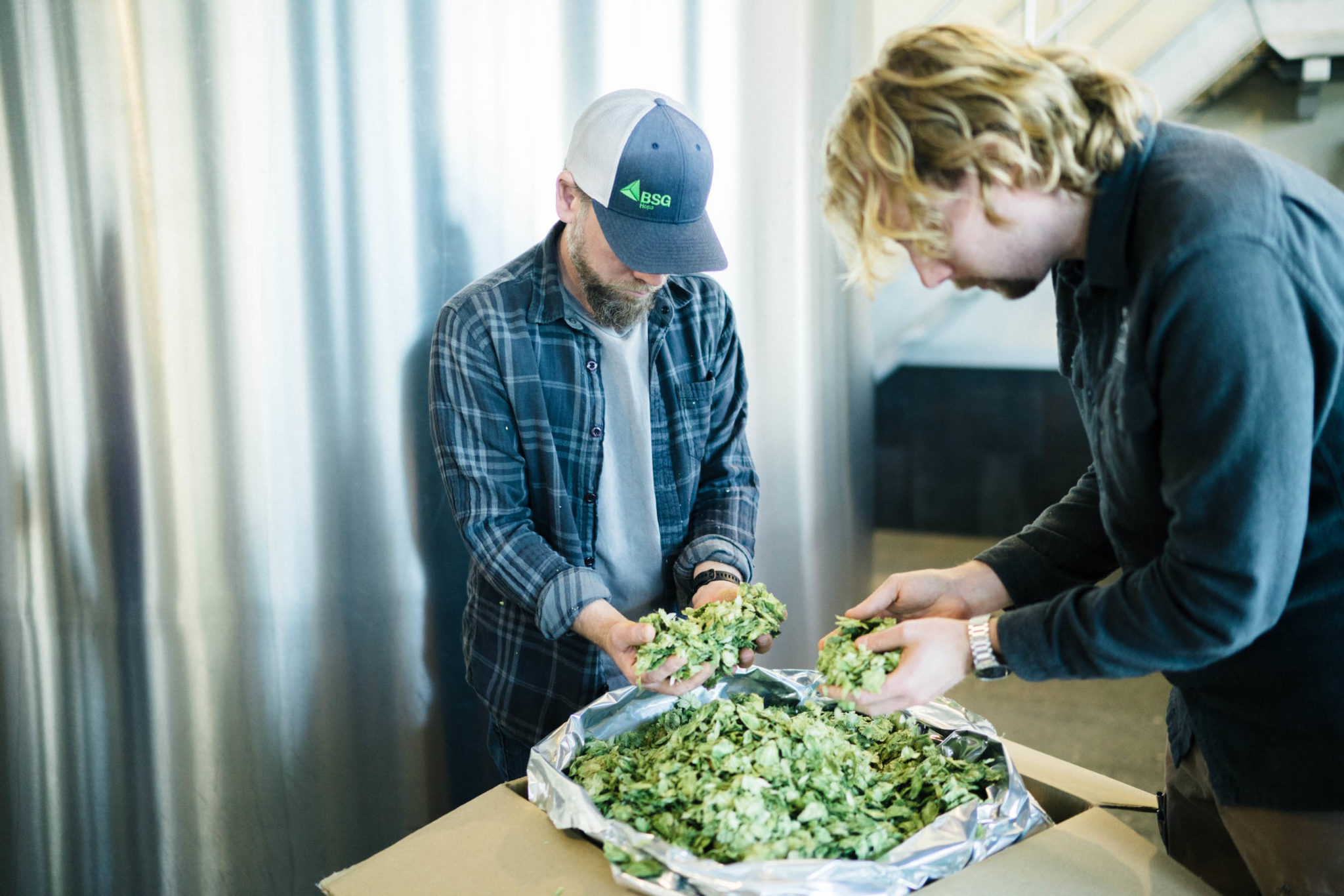 Hops, hops, and more hops. Brynildson added a plethora of new-school Pacific Northwest and New Zealand hops into Hopnosis. But he carefully chose each one for a specific purpose.
On the hot side Brynildson uses that aforementioned traditional Simcoe, but also Talus and Callista.
"We can load those up on the hot side without bringing too much bitterness," says Brynildson. Plus, they bring all this "new-world peachy, cool aroma that begs to go into an IPA," Brynildson notes.
You'll find more new school additions with the Mosaic Cryo, which comes in mid fermentation, "to bring some new-school flavors that everyone is starting to associate with IPA in general whether it's hazy or West Coast," says Brynildson.
It's a staple flavor that has become synonymous with IPAs in California.
Brynildson decided to brew with Mosaic Cryo, but he didn't want to make an exclusively Mosaic-forward IPA. Despite the fact that everyone loves them.
"It was a refusal to do whatever everyone else is doing and play the easy card," says Brynildson. Many great breweries, especially in California, have nailed IPAs with Mosaic. For instance, Alvarado Street Brewery right up the road from Firestone Walker uses Mosaic in its flagship IPA. "People talk a lot about it, it wins a lot of awards, it's a beautiful beer," says Brynildson, "[An all-Mosaic IPA] would be a crowd pleaser, but we're trying to find new and interesting blends of hops that deliver."
To finish up, Brynildson dry hops with a blend of new-school Pacific Northwest and New Zealand hops including: Idaho 7, El Dorado, Cashmere, Nelson Sauvin, and Riwaka.
But these specific hops aren't the only innovation in this beer.
Last But Not Least…Hopnosis and the Yeast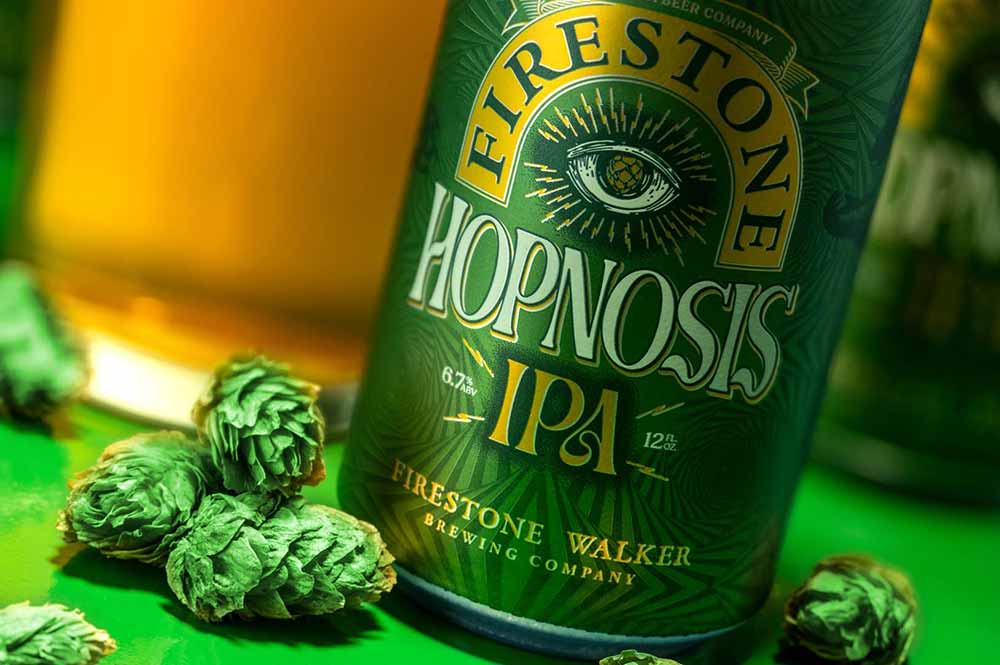 Hops are certainly the focus of Hopnosis. Afterall, it's in the name. But one of the most unique parts of Hopnosis has nothing to do with the hops.
Brynildson forgoes using Firestone Walker's house ale yeast and hazy IPA yeast for a lager yeast. The purpose here is two-fold.
Firstly, a lager yeast expresses a different character than Firestone Walker's traditional British ale yeast.
"We've been making Union Jack for so long at this same alcohol level and not quite as high hop intensity that I wanted to try something different yeast wise," says Brynildson. "[Plus], I really like the challenge of getting the lager yeast to do what we want to do in a beer like this."
Which is perhaps the most important part. If all goes according to plan, the lager yeast will actually build in a longer-term shelf stability.
"In a way it's a little bit of an experiment," says Brynildson. "Regardless, I'm happy with the end results."
What Is the Verdict on Hopnosis?
Colorwise, Hopnosis pours a pretty pale golden. That's thanks to the grain bill, which is "right in the sweet spot in my mind to keep the beer interesting, but pretty dry and crisp," says Brynildson.
Since the lager yeast is neutral, it "allows the most hop expression," says Brynildson.
And make no mistake, Hopnosis is all about the hops. "The flavor of the beer is what I'm most excited about," says Brynildson, "It's very aromatic, but when I taste it, it's saturated with that Simcoe blended with the Mosaic [Cryo] that I love so much."
Brynildson continues, "It's mixing all the things I love in an IPA: new-school hops with a little bit of that OG saturating flavoring character in the middle."
Plus, it doesn't hurt that Hopnosis drinks super easy for a 6.7% ABV beer.
Overall, consumers have loved Hopnosis. Many local beer bars and restaurants are already carrying the beer. "I went down to my favorite sandwich shop in San Luis Obispo and they had Hopnosis pouring right next to There Does Not Exist, the cool kids in town," says Brynildson.
Is Hopnosis Giving Us a Glimpse into the Future of IPAs?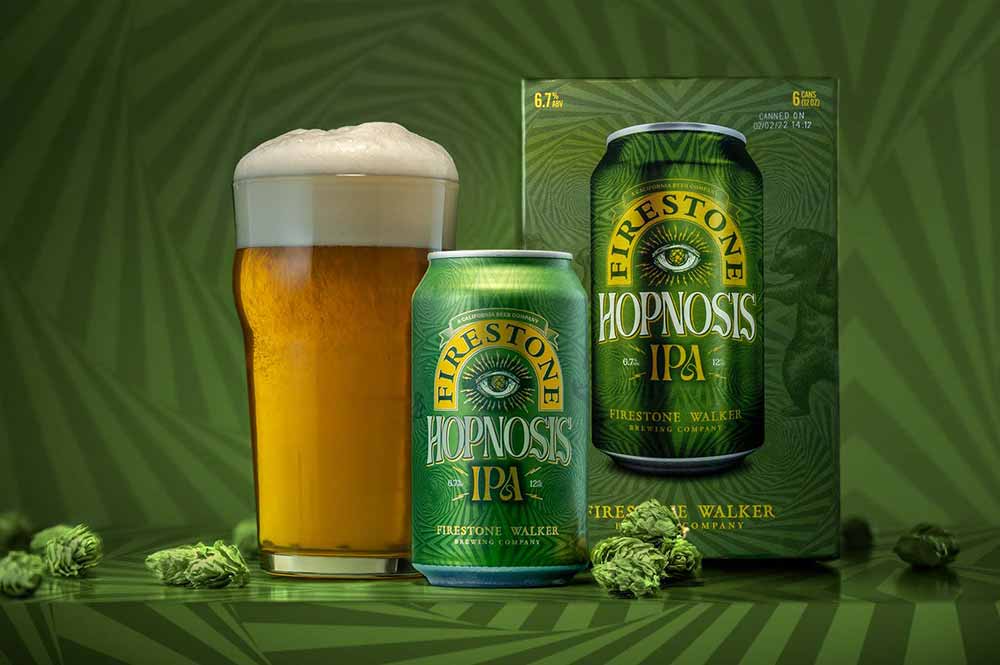 Possibly! We're predicting that we might see a return to the West Coast IPA in 2022. (Spoiler alert: we'll be coming out with a piece about this very topic next month).
"I don't know if the pendulum will swing all the way back to West Coast IPAs for everyone," says Brynildson, "but I'm really happy that everyone agreed our big play for 2022 would be the West Coast style versus another hazy."
Make no mistake, Firestone Walker's hazy IPA, Mind Haze, still makes up the biggest chunk of their total IPA bucket, but "we keep innovating on the West Coast IPA side and are keeping the dream alive," says Brynildson.
Though Brynildson says he's the first to admit that he's thankful hazy came into Firestone Walker's portfolio. "We learned about all these new fruit-forward hops and cool techniques…that work great for hazies and can be applied to the West Coast," says Brynildson. "At the end of the day the drinker wins because they get the fun elements of hazy IPAs, lower bitterness and all these things, applied to cleaner beer with more long-term drinkability."
And in general, if you're familiar with Firestone Walker's IPA portfolio, Brynildson sees Hopnosis as the perfect transition and the next step beyond the brewery's Luponic Distortion series.
"It's a progressive story," says Brynildson. If Union Jack serves as the original baseline IPA, Luponic was an opportunity for Firestone Walker to experiment even more.
And now Hopnosis seems almost like a Ph.D. in hops. Brynildson and his team have taken all the knowledge they've gleaned over the years from brewing traditional West Coast IPAs and hazies, added in a dash of modern hop technology and a handful of new-school Pacific Northwest and New Zealand hops, and brewed a beer setting the standard for IPAs in 2022.
Where Can I Find Firestone Walker's Hopnosis?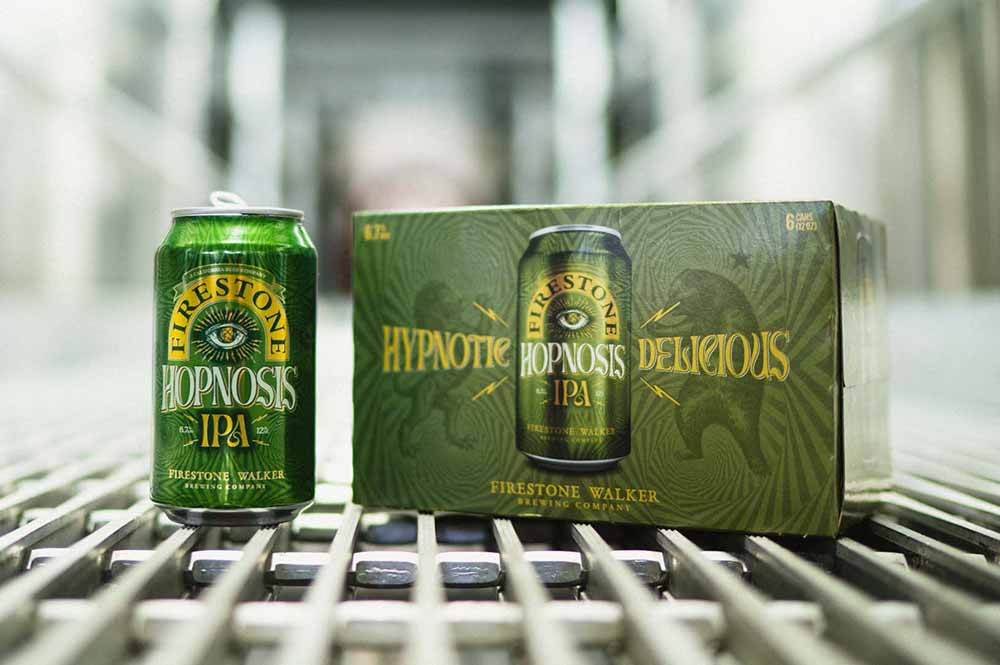 Hopnosis IPA is rolling out in 12oz 6-pack and 12-pack cans, and on draft to all Firestone Walker markets. Use the Firestone Walker Beer Finder to locate near you or learn more here.
Keep a look out on Untappd for a limited release Hopnosis badge, available March 1st-31st, 2022.