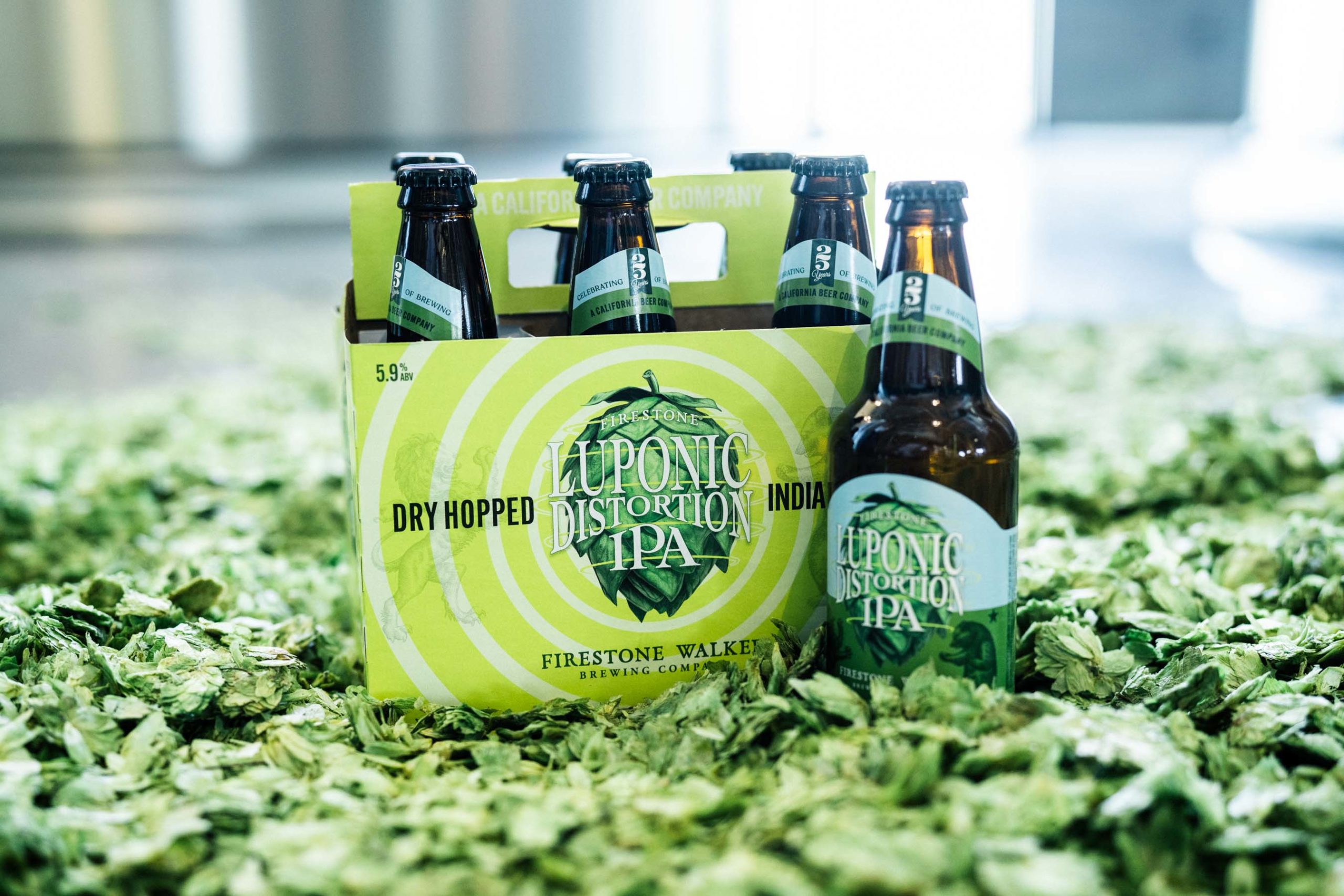 Photography courtesy of Firestone Walker
The idea for Luponic Distortion, a rotating beer series from Firestone Walker, started in Germany.
Since, it's made a pit stop in South Africa.
Even hit Michigan.
And, passed through so many places in between.
Most recently, it traveled to New Zealand.
Now, Paso Robles-based Firestone Walker is getting set to launch its 18th revolution (a moniker the brewery uses to describe each iteration) of Luponic Distortion, a series of beers that keep the same base, but feature a different hop blend with each cycle. Focusing on new and experimental hops, each version of Luponic Distortion can use a single hop or a variety, often incorporating those from a certain region or area that are new to American palates such as Germany, South Africa, and New Zealand.
Designed specifically to showcase the beauty of a specific hop and the possibilities of hop aromas and flavors, Luponic Distortion is like a study in the hop universe.
And if Luponic Distortion is a study in hops, then Firestone Walker Brewmaster Matt Brynildson must have his Ph.D.
Brynildson first formed the idea for Luponic Distortion as he traveled around the world hunting for new hops.
It's a journey that's taken him not only to the heart of American hop-growing country, championing best practices for hops in his own backyard, but also to the farthest corners of the planet. All with one goal in mind. To source and showcase the best, sometimes experimental hops, while supporting and developing relationships with hop growers and farmers and simultaneously bringing new flavors and aromas to people's palates.
How Did Luponic Distortion Start?
It actually all started with a completely different beer.
In 2014 Brynildson went out hop hunting for a new beer to add to Firestone Walker's portfolio called Easy Jack. He wanted to try some new cultivars he'd seen out in the wild, but hadn't had the opportunity to integrate into Firestone's existing portfolio.
Taking a trip to Germany, he found beautiful flavors in hops such as Mandarina Bavaria, Hull Melon, and Hallertau Blanc. "Gosh, where could we use these hops?," reminisces Brynildson, who says that at the time Firestone Walker wasn't considered a hop-forward brewery and launched maybe one new beer a year while staying locked in on mostly just the core beers in its portfolio. The brewery just wasn't focused on experimenting with hops.
But, given the freedom to develop Easy Jack as a specifically low-ABV session IPA, Brynildson finally had the chance to experiment.
Simultaneously, the hop industry in Yakima had still been reeling from the effects of a massive shift in the industry. In 2008 Belgian beer conglomerate InBev took over Anheuser-Busch, forming ABInbev. Prior to the takeover, Anheuser-Busch had a massive focus on the quality of its hops, using whole leaf hops (as opposed to the pellets they brew with today) and even owning a few of their own hop farms. Additionally, the macrobrewery employed its own Chief Scientist in charge of hop quality, Val Peacock, along with a small team of agronomists and scientists dedicated to setting sanitation standards on farms and developing best practices for hop growing in the U.S.
After the merger?
AB InBev disbanded the hop quality team, consequently leaving a gaping question mark around industry best practices and relationships between the hop growers and brewers.
"We all had the same fear," says Brynildson. "Who was the watchdog now?" By we, Brynildson is referring to a bunch of well-known craft brewers and brewery owners across the country from Russian River Brewing in Santa Rosa, CA and Sierra Nevada in Chico, CA to Bell's Brewery in Kalamazoo, MI and New Glarus Brewing Co. in New Glarus, WI, among others. These big craft players worried that no one would be watching and communicating with growers, no one would be building relationships with farmers, and no one would be maintaining a pulse on such an integral part of making their beer.
So, Brynildson joined forces with Vinnie Cilurzo, Owner and Brewer of Russian River; John Mallett, Vice President of Bell's; Larry Sidor, at the time Brewmaster with Deschutes (today the Founder and Brewmaster of Crux Fermentation Project); Dan Cary, Co-founder of New Glarus; and Ken Grossman, Founder of Sierra Nevada, to start the Hop Quality Group.
What's the Hop Quality Group?
Designed to build a bridge between grower and brewer the Hop Quality Group launched to fill that hole in the industry. Brynildson helped cultivate those relationships, often hosting picnics on hop farms for growers and brewers or renting a hotel suite and "filling up a bathtub of beer from all these breweries to try and spread some goodwill amongst brewers and growers," during the Hop Growers of America USA annual American Hop Convention.
Roll the clock forward 10 years and past all the picnics and bathtubs of beer the group has really established itself, developing and supporting hop education, building out standard practice, and becoming the advocate for healthy relationships between craft brewers and hop growers.
"All roads led to the farms," says Brynildson. Whether to American breeders who created Citra and private varieties or American farms focusing on public hops to places with Hull Melon Hops in Germany or even to Hop Products Australia (HPA), Aussie's largest hop grower, all roads led to these farms. "We learned what was going on in breeding programs and what was coming up," says Brynildson. "We found so many new and exciting hops. [I kept asking myself] where are we going to stick all these hops?"
Luponic Distortion became the answer to Brynildson's question.
And while creating beers for the Winter Ale Festival in Portland, OR he finally had the chance to go live. The event insisted that brewers only pour one-offs or new creations. "I was perplexed and not sure what to do. Mike Clark, our Pacific Northwest Sales Manager at the time said, 'take on of your IPAs and just get distorted.' The resulting beer became Luponic Distortion and the journey began," says Brynildson.
What is Luponic Distortion?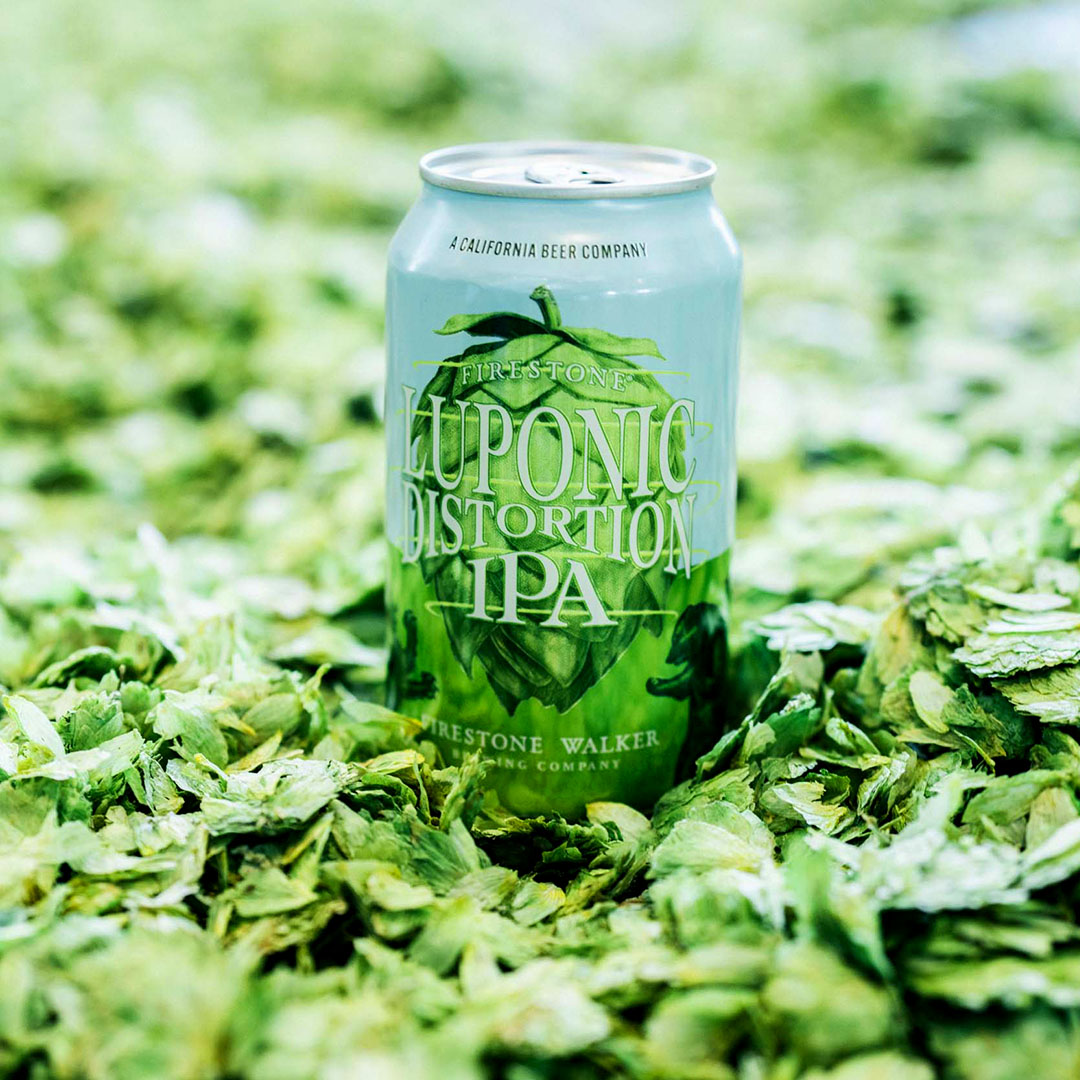 Conceived as a proper strong pale ale or IPA set at around 5.9 percent to six percent ABV, all beers in the Luponic Distortion series include the exact same toned down malt base (no specialty malts here) to really make the rotating hop or hop blend shine through.
Additionally, Brynildson notes that through each iteration he brews with the same hotside hop program and targets the same IBUs (the unit that measures bitterness in a beer). The only variable that changes is the dry-hop addition, even here he tries to keep the timing of the dry hopping the same to provide the most consistency. Again, all with the goal to highlight the single hop or hop blend.
After brewing the base, the beer goes into eight single barrel fermenters, which the Firestone team affectionately calls "MFers" or mini fermenters. From here the brewing team can add a single specific hop or a myriad of hops to each fermenter, tasting through a few variations and executing sensory trials before deciding on the final, new revolution.
Originally, the plan was to release a beer in the series quarterly to showcase three to four different hop blends every year. But, just like hops are a living, breathing entity the program has taken legs of its own, growing in popularity every year.
Some years Firestone Walker has released three variants of Luponic Distortion with three to four hops and other years there have been four beers some with eight to nine hops.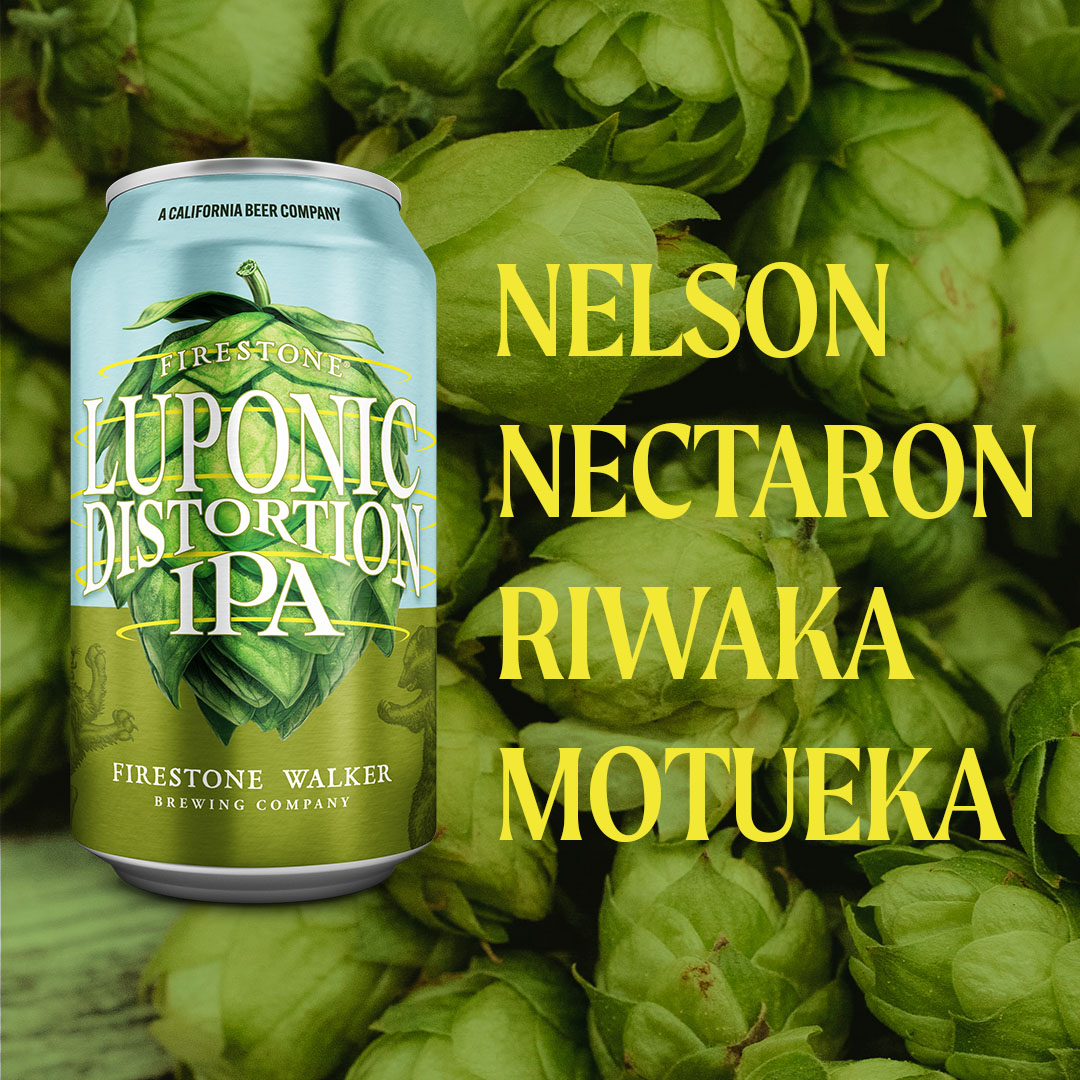 The marketing approach has also changed. In the early day's Firestone wouldn't talk about the specific hops in each beer, choosing instead to focus on the region they came from, the farm the brewery worked with, or the flavors the hops expressed in the beer.
"To me, it was really cool because we had a little mist of mystery surrounding [the beer]," laughs Brynidlson. "But as the revolutions kept going, brewers said that's bullshit you need to tell us the hops!"
With the release of Luponic Distortion #018 this will be the first beer in the series that Firestone Walker will divulge the blend in its entirety and talk more specifically about the exact hops they're using.
So, what hops did Brynildson find for this 18th revolution?
All New Zealand hops – Nelson, Motueka, Riwaka, and a completely new cultivar called Nectaron.
New Zealand Grows Hops?
Five years ago Brynidlson went down to New Zealand just to judge a beer competition. He left a believer in, or at least intrigued by, New Zealand hops.
Some of the brewers Brynildson met while judging took him up to the Nelson region and brought him to Plant & Food Research, a government-owned center focused on creating a better future for New Zealand through finding smarter, greener options for farmers to grow, fish, harvest, and share food. One of their projects includes leading New Zealand's public hop breeding program. Here in the heart of the Nelson region Brynildson befriended Dr. Ron Beatson, a hop geneticist with the Plant & Food Research public breeding program and Brent McGlashen, a multigenerational hop farmer and proprietor of MAC Farms.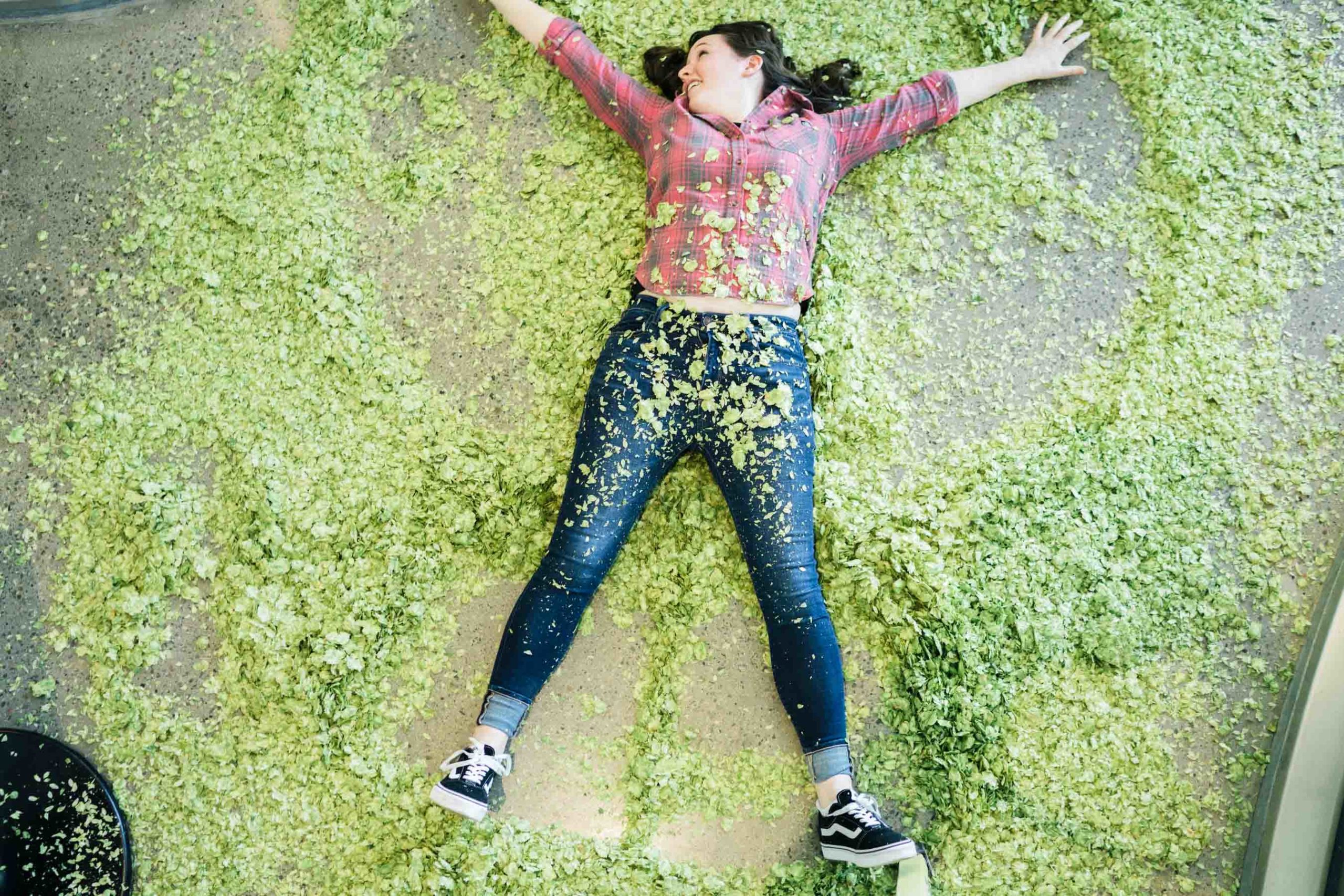 He became enamored with not only the hop varietals, but also the farmers' passion.
For years in New Zealand 100 percent of all hop growers have banded together in a co-operative called New Zealand Hops (now known as NZ Hops Ltd). Similar to Yakima Chief Hops here in the United States, NZ Hops is owned by a number of growers who all grow and sell hops through the same merchant storefront per se. More recently, some of these growers have struck out on their own, building their own farms from the ground up, processing, and selling independently — such as Clayton Hops and Hop Revolution.
But, whether a part of the co-operative like McGlashen's MAC Farms or an independent business, all these growers have one thing in common. They're one hundred percent in love with New Zealand hops and committed to galvanizing their country's stunning products. Perhaps, no one more so than McGlashen. "He is the most passionate, enthusiastic, high energy hop grower," says Brynildson. "I've never seen anyone so crazy and passionate about hop growing."
Although on that trip Brynildson didn't return with any hops, his nose, palate, and interest had been awakened by rubbing new hops and meeting hop fanatics like Dr. Beatson and McGlashen.
Three years later Brynildson visited Dr. Beatson in New Zealand once again. Dr. Beatson showed Brynildson one special experimental hop — then called Hort 4337 and now known as Nectaron, a combination of "Nectar of the Gods" and Dr. Beatson's first name, Ron.
Brynildson must have shown a keen interest because as soon as he returned home to Southern California the phone rang. "They were trying to commercialize Hort 4337 and asked if I wanted to contract some volume for a production brew," says Brynildson. "I jumped all over that."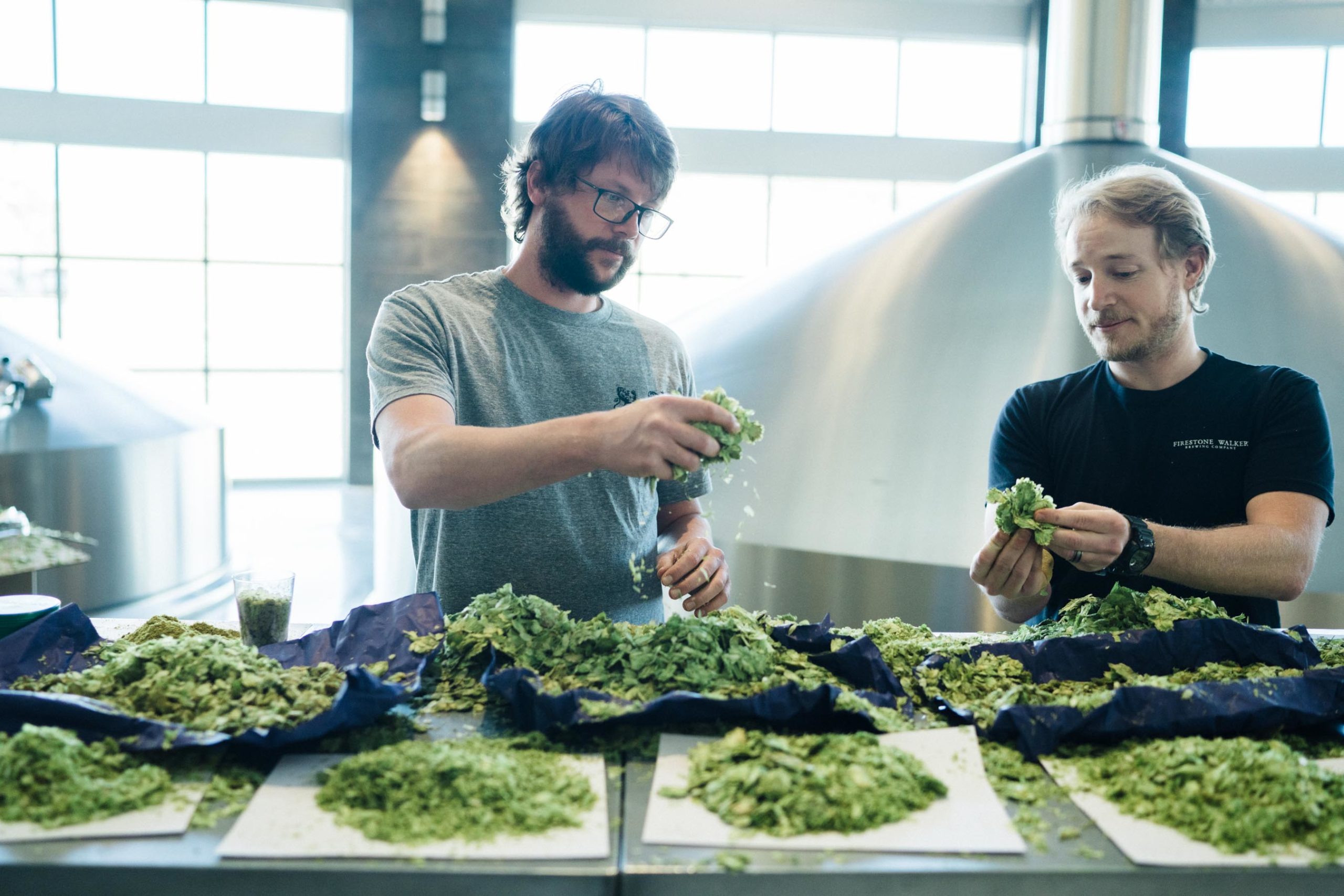 Two years later and Brynildson finally had enough supply to create a 100 percent New Zealand-gown hop blend for Luponic Distortion #018. The beer captures the beauty of not only Nectaron, but three other of New Zealand's distinctive hops – Nelson, Riwaka, and Motueka.
Perhaps, there has been no better time for a beer to champion these Southern Hemisphere varieties. For most New Zealand hop growers, 2020 has been a challenging year.
In addition to the global effects of the COVID-19 pandemic New Zealand hop farms had to survive a series of weather events including a freak hailstorm that sent golf ball-sized pellets of ice pelting and stripping many hop bines, an earthquake, and persistent rains during the middle of harvest. Through it all McGlashen stayed optimistic, often calling up Brynildson to show him the harvest. "He'd WhatsApp me and take me on an hour-long tour walking through the hop fields saying, 'Mate look at this hop, look at the green on that hop,' and he'd walk into the kiln saying, 'It smells so amazing mate we picked this hop at the perfect time!'"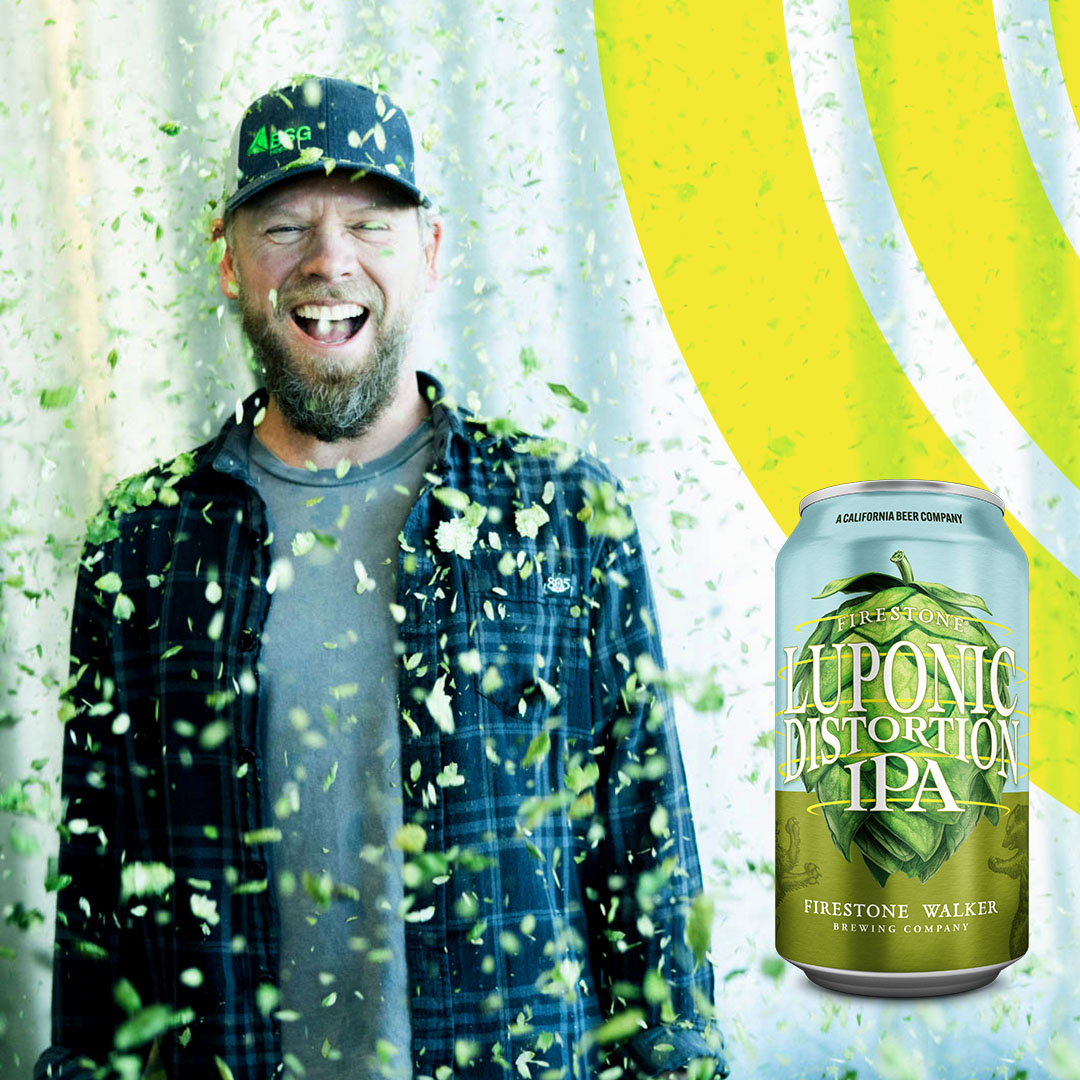 McGlashen and other New Zealand hop growers hard work has paid off with MAC Farms' Nectaron and Riwaka hops alongside Clayton Hops and Hop Revolution's Nelson and Motueka beautifully showcased in Luponic Distortion #018.
What Is the Verdict on Luponic Distortion #018?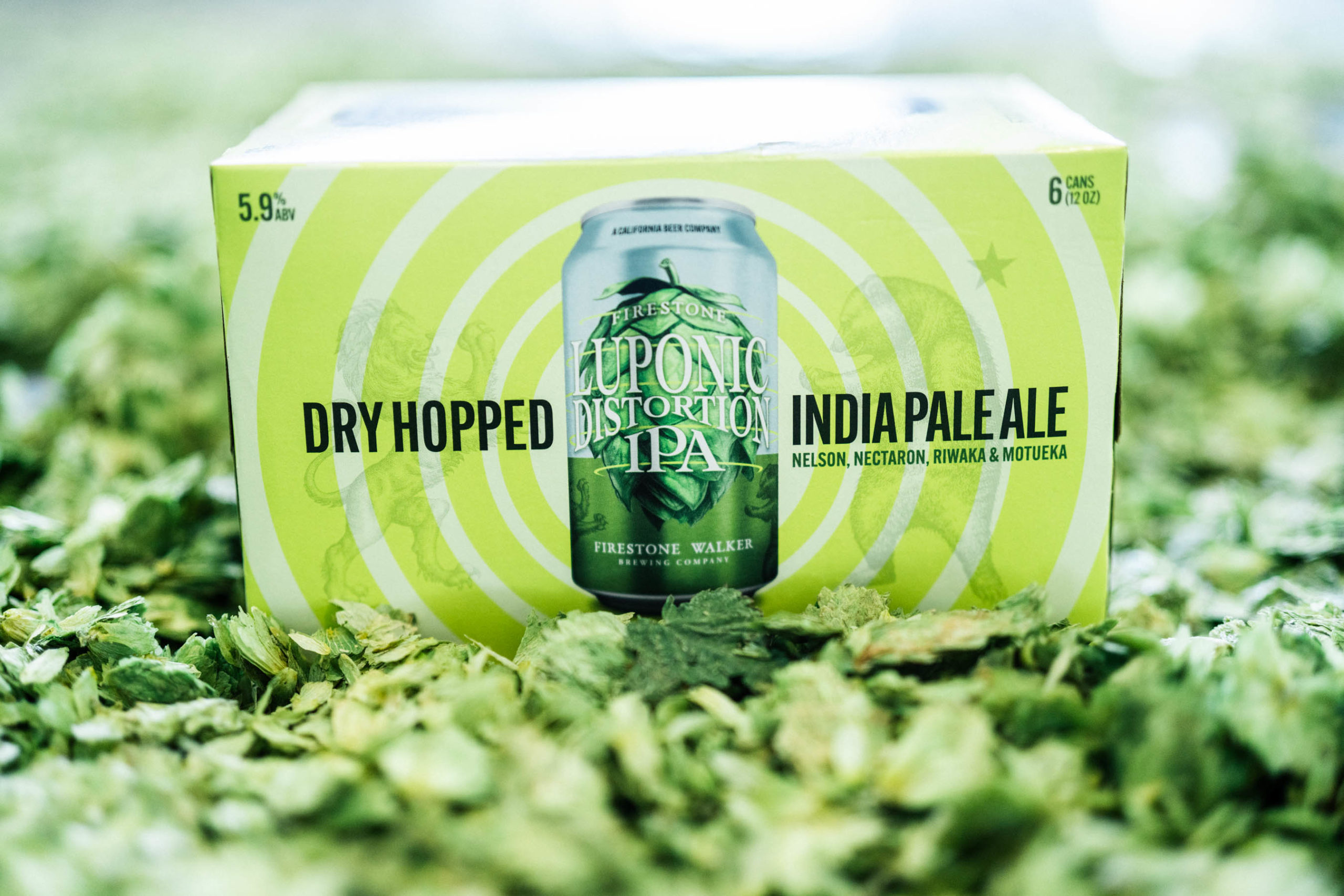 Featuring Nelson, Motueka, Riwaka, and the new Nectaron, Luponic Distortion #018 delivers bold tropical fruit aromas and flavors of white grape, passionfruit, peach, and pink grapefruit.
For this revolution Brynildson wanted to build out a profile exhibiting a myriad of the great Southern Hemisphere hops from the most well known to the experimental and those in between.
Perhaps the most well known New Zealand hop, Nelson emits those familiar soft white grape characters – what Brynildson calls a, "Sauvignon Blanc-y character." It's actually one of the harder hops for a brewer to get their hands on. Brynildson likens finding this hop to an East Coaster nabbing a Russian River Pliny the Elder, the coveted DIPA that is only distributed on the West Coast, "When you finally get your hands on these hops it's so precious. It's one of the best experiences."
From coveted to conventional, Motueka is one of New Zealand's most ubiquitous hops. Brynildson hypothesized that Motueka must be the most agronomically strong of the New Zealand hops because "everyone seems to grow [this hop] and grow it well." Whereas Riwaka is the exact opposite. The hardest to cultivate "it's one of those white whale hops. It's not easy to get your hands on an appreciable volume because growers have a hard time with it."
But, without a doubt the star of the show in this Luponic Distortion cycle is the wildy new Nectaron. The hop is crammed with "cannabis dankness that you don't get from Nelson, Riwaka, or Motueka," says Brynidlson. "It's quite unique that way and packs plenty of citrusy character."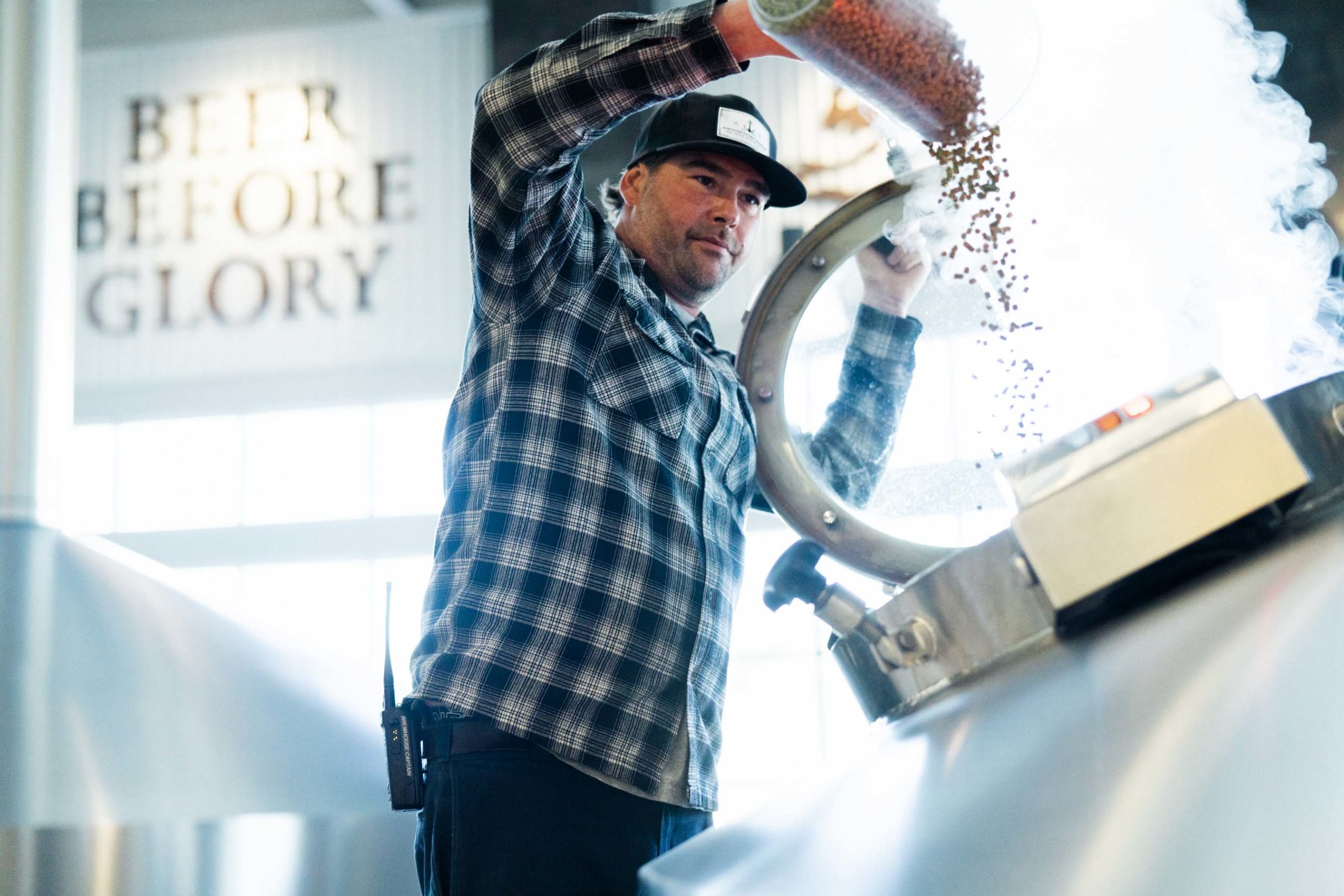 All in all, Brynildson is happy with his latest hop experiment. "I love this beer. I think it turned out really nice," notes Brynildson. But, it's the chance to champion these unique Southern Hemisphere cultivars from some fantastic hop growers during one of the most challenging harvest years in New Zealand's recent history that really hits home for Brynildson. "To get on the phone with [McGlashen] and tell him we're brewing with his hops and the beer is turning out awesome is a way to keep people's spirits up. It makes you appreciate the farmers…down there on the corner of the planet."
What's Next for the Luponic Distortion Series?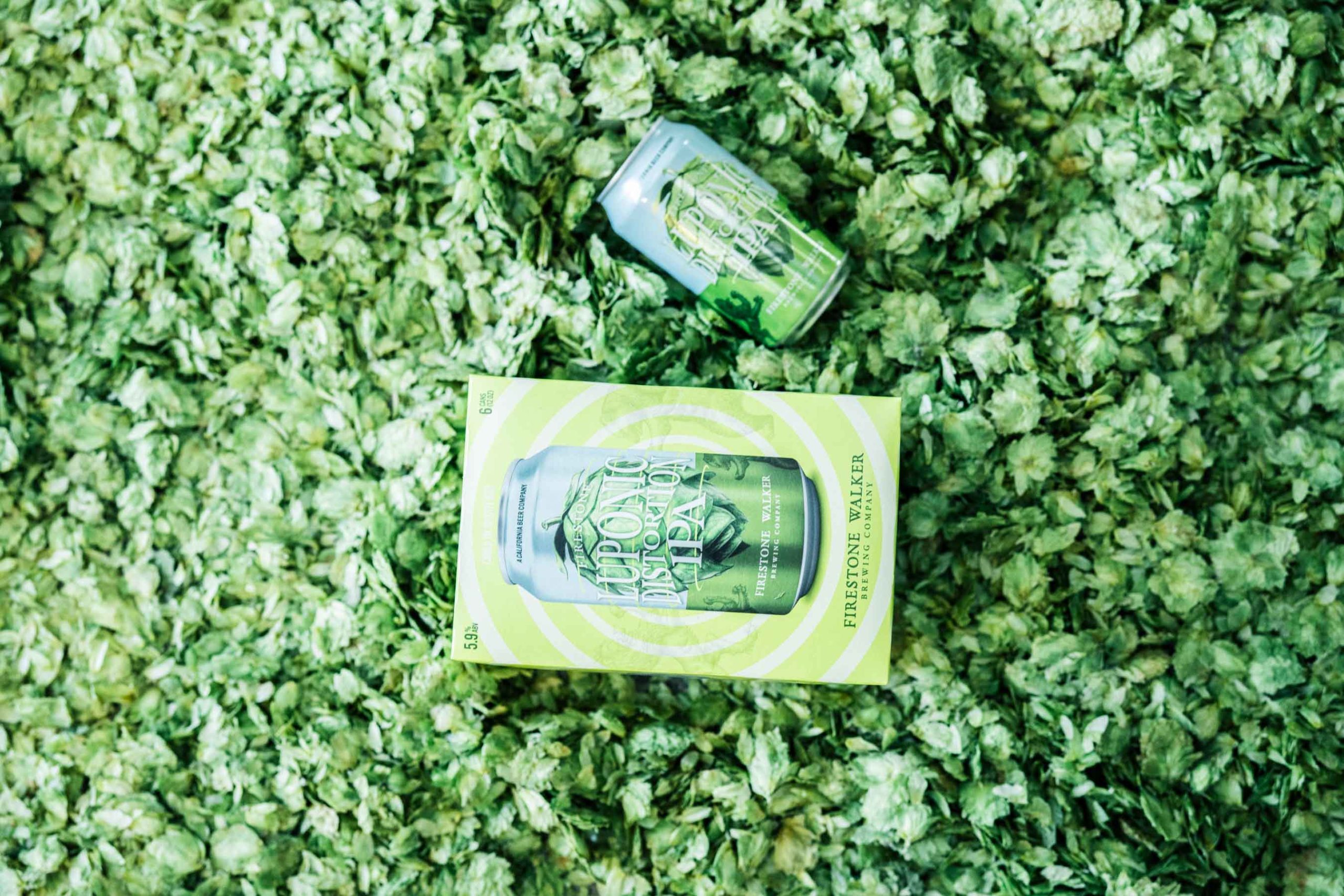 To understand the future of Luponic Distortion one has to recognize the tendencies of American craft beer consumers' palates.
As a style, IPAs aren't going anywhere. Simply put: people just love drinking them.
About 15 years ago Firestone Walker hadn't even brewed an IPA yet, debuting Union Jack in 2006.
Even just six years ago IPAs still weren't a core focus for the brewery. Easy Jack, which appeared as session IPA in 2014 and sparked Brynildson's interest in hop hunting, was a rare, new IPA release for the brewery at the time.
But, just two years later Luponic Distortion launched. And today, the brewery's two-year-old Mind Haze hazy IPA is the number one selling IPA by a long shot in its portfolio. Brynildson says that beer sells more than threefold any of Firestone Walker's previous IPA beers, attributing its success to the popularity of hazy IPAs, "they're like IPAs with training wheels," says Brynildson. It's an IPA style that's fruity, low in bitterness, and has a beautiful soft mouthfeel. It ticks all the boxes.
In fact there has even been talk around developing a similar hop exploration program like Luponic Distortion that focuses on a hazy IPA base. But, that's still only chatter for now.
Moving forward with a larger IPA portfolio and a now quarterly series focused just on displaying the pureness and essence of one of IPAs core ingredients – hops – Firestone Walker understands the importance of IPAs.
Just like consumer's adoration for IPAs will continue to grow, Brynildson doesn't see his exploration of hops slowing down anytime soon.
"We'll continue to explore and push the boundaries with new hop cultivars," says Brynildson. "Creatively, there is a constant flow of experimental and new hops. There will always be new avenues and new flavor profiles to chase." Whether his travels take him to the "corner of the planet" in New Zealand, hop farms in Michigan, or even to Argentina one day, Luponic Distortion will continue to do what it does best. Showcase the beauty and variety of the humble hop.
This is a paid, sponsored post presented by Firestone Walker.
Liked this article? Sign up for our newsletter to get the best craft beer writing on the web delivered straight to your inbox.