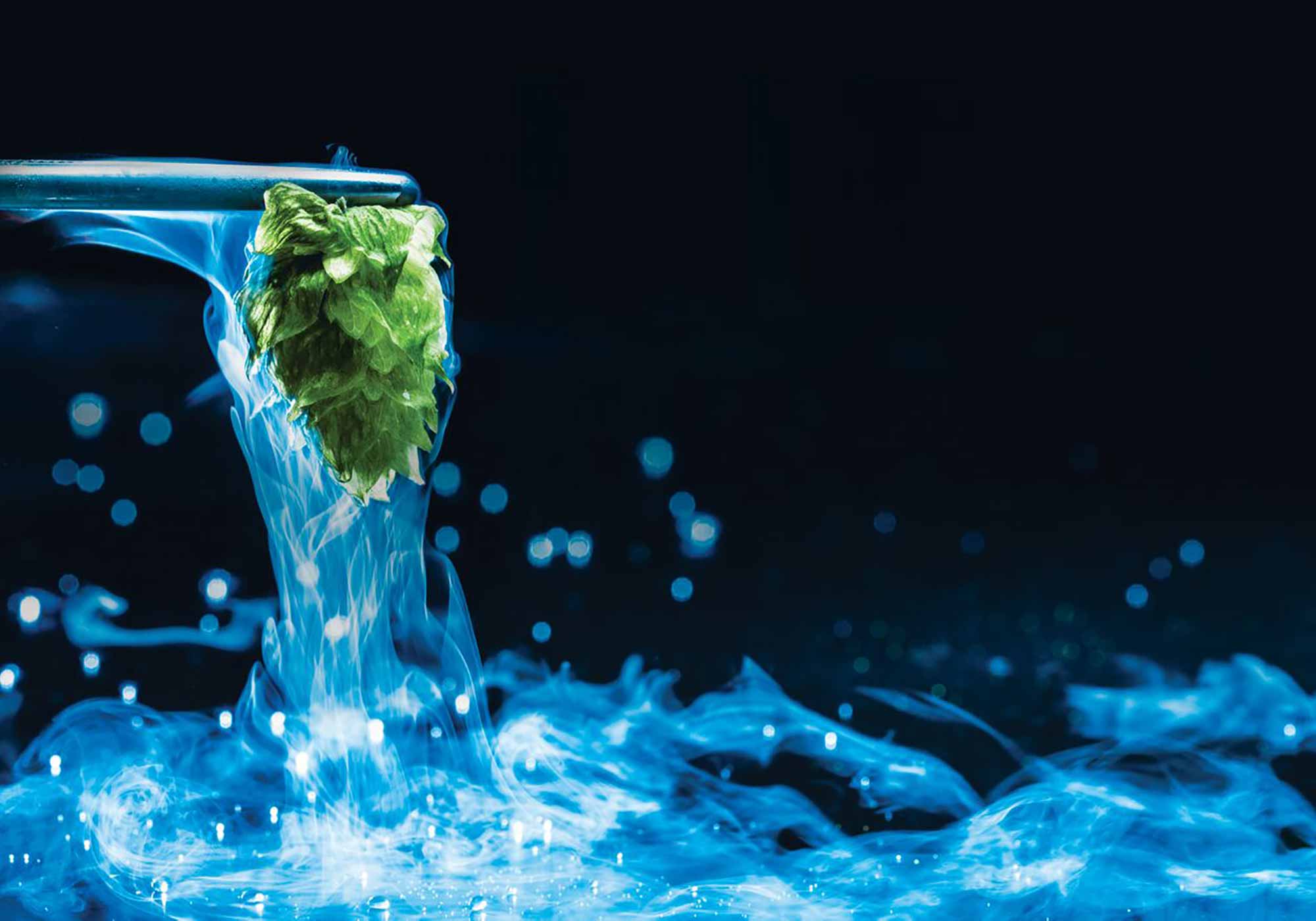 Photography courtesy of Yakima Chief Hops
Over the past few years, heavily-hopped hazy IPAs have exploded in popularity. Simultaneously, brewers have been demanding American hop varietals such as Amarillo, Cascade, and Citra. More specifically, they're after lupulin, an oil inside the hop that creates the expressive flavors and aromas we've all come to love.
With the increased demand for hops, farmers have looked for more efficient ways to distribute their products. One of these is cryo hopping, where farmers extract and pelletize the lupulin. Because cryo hops are so concentrated, they've become an essential tool in a brewer's arsenal, especially for anyone making New England-style double, triple, or milkshake IPAs.
What Exactly Are Cryo Hops?
To understand Cryo Hops, you first need to understand hops.
Hops are one of the four main ingredients in beer. Typically, they arrive at breweries in whole cone format or packaged as T-90 pellets. Perhaps you've seen the words "T-90" on a hop packet or heard brewers use that language. But, what does T-90 actually mean?
"T-90" stands for "Type 90," indicating that the hop pellet is made up of 90 percent green matter by weight, with the other 10 percent coming from lupulin. When farmers refer to "green matter," they're specifically talking about the outside leafage of the hop cone, often called bract.
"Hop cones are made up of green stuff and if you rip it open the yellow stuff in the middle that looks like pollen are the lupulin glands, where all things we care about live," says Eric Sannerud, Hop Brand Manager at BSG, one of the major beer industry suppliers.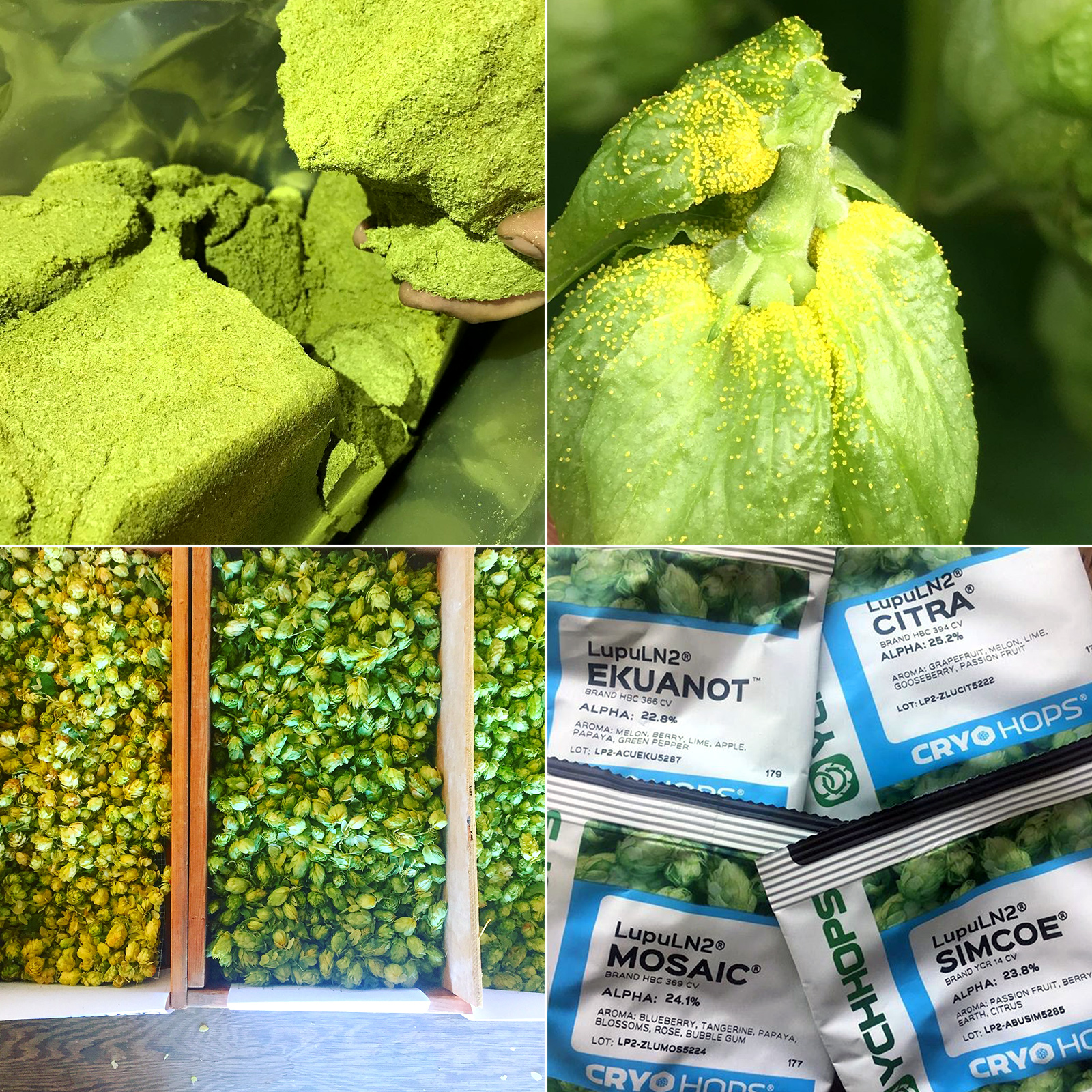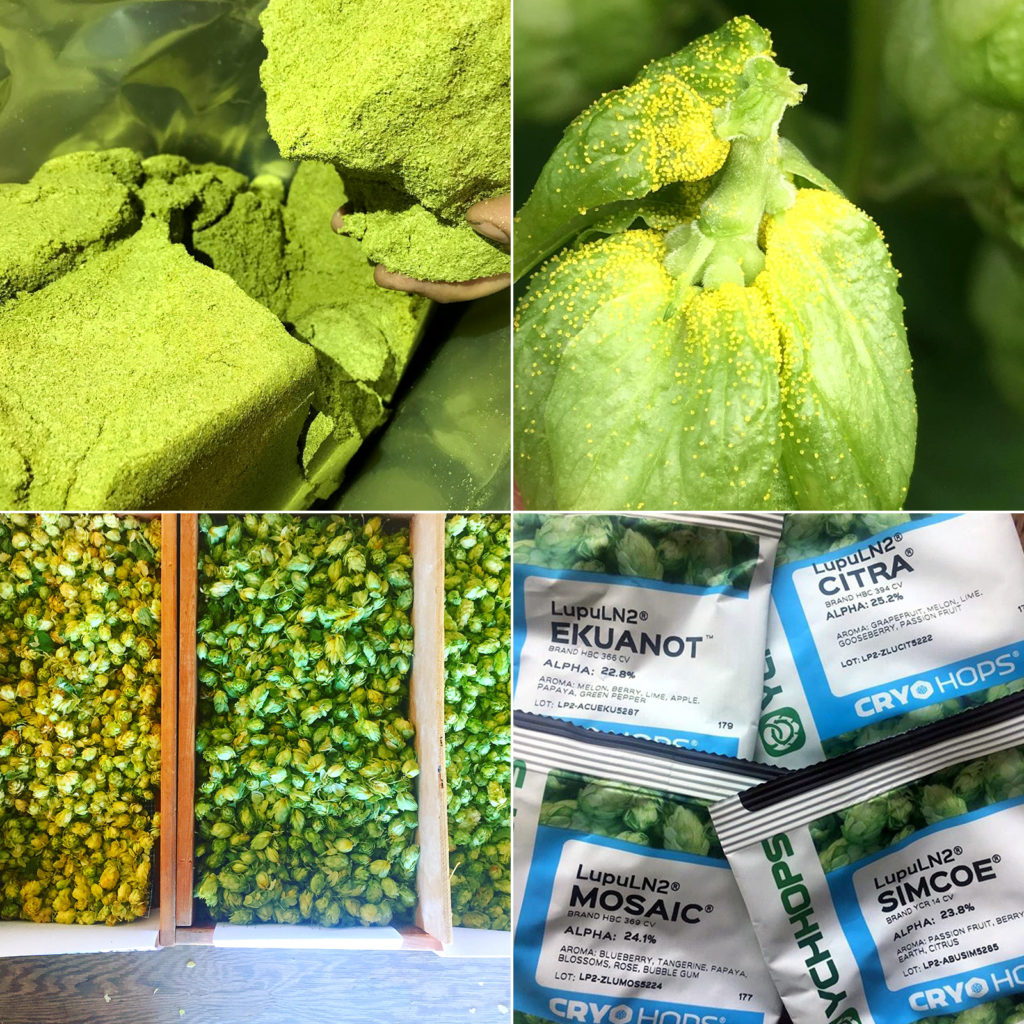 To take advantage of that coveted lupulin, some hop pellets are packaged with more lupulin than green material. For instance, T-45 hop pellets contain 45 percent green matter and 55 percent lupulin. Often, T-45 hop pellets are considered "lupulin-enriched." Think of "lupulin-enriched products" like a generic brand term for any pellet that contains more lupulin material than green matter.
Now, different hop companies have proprietary ways of creating these lupulin-enriched products. For example, Hopsteiner makes its Lupulin Pellet line while John I. Haas has a series called LUPOMAX. And Yakima Chief (YCH) makes Cryo Hops.
"All these offerings are more or less the same product with a different brand name," says Sannerud. "It's like Kleenex is a brand name for tissue."
Who Invented Cryo Hops?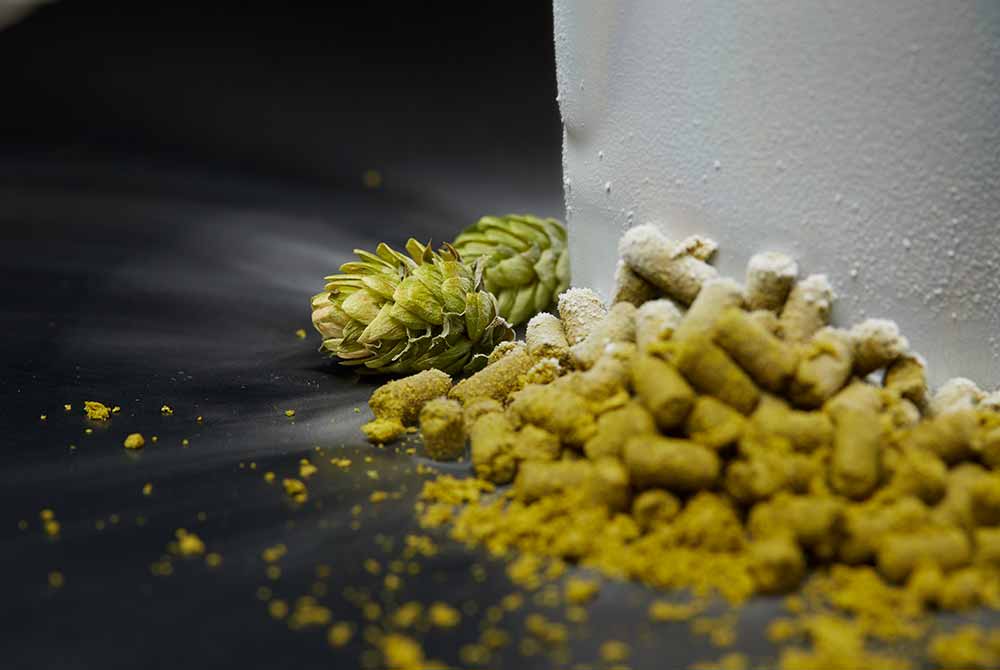 Although lupulin-enriched products have been around for quite a while, it was YCH that specifically coined the term "Cryo Hop." Derived from the Greek word "kryos," meaning "frost," YCH first started considering a new lupulin-enriched product in 2014.
"With the advent of New England IPAs and higher hopping rates, we tended to see in the market that brewers were suffering hard from heavy yield loss," says Spencer Tielkemeier, East Division Lead and Brewing Innovations at YCH. "We thought, how can we produce a product designed to yield efficient and extremely high-quality, aromatic beers?"
The process started with prototypes developed on a pilot system in YCH HOPS production facility in Sunnyside, Washington. In the first year, the grower-owned company only produced several thousand pounds of the product. But by 2016, YCH had expanded its facility, named the line Cryo Hops, and started to see demand in the market. Last year, YCH produced six million pounds of Cryo Hops. Now, the company has its own standalone building and a separate plant all designed to pump out the brand.
"Cryo is designed from the ground up to be the most aromatic and oil-rich pellet we can provide," says Tielkemeier. "Unlike other concentrated pellet formats, we don't hunt for specific alpha or oil specifications. We just want to capture as much lupulin in the pellet as we can."
How Do You Make Cryo Hops?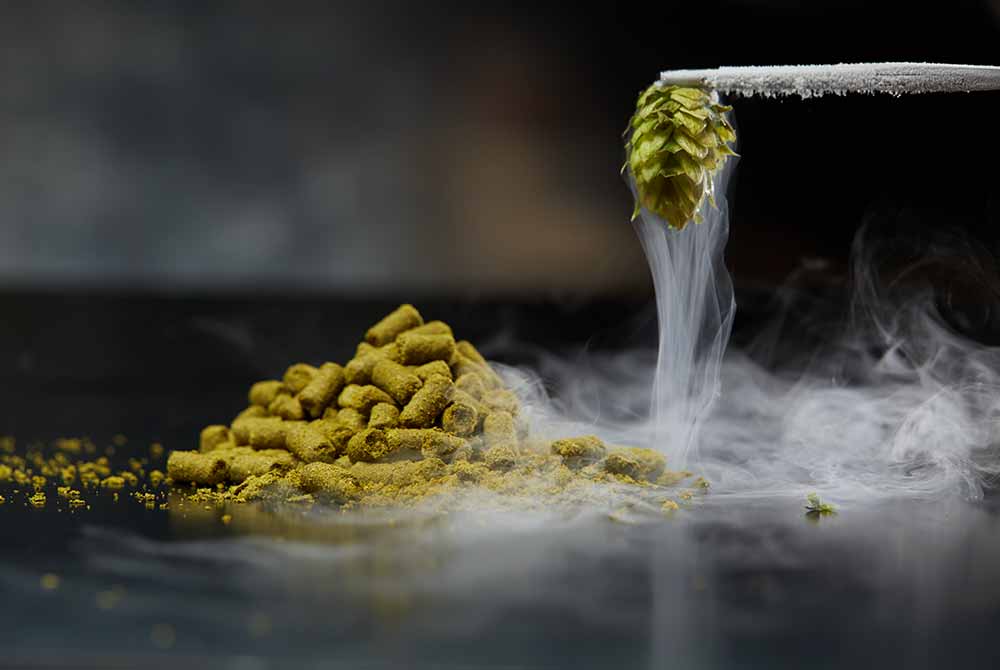 While the process of making lupulin-enriched products differs slightly for each company, YCH makes its Cryo Hops by starting with the fresh hop bales. Using liquid nitrogen, YCH quickly chills the raw hop to sub-zero temperatures — hence the Greek influence on the name Cryo. After that, they shatter it.
"The separate glands are like sand at this point," says Tielkemeier. "They maintain structure and are very hard."
YCH then sifts through this "sand," separating the leaf material from the lupulin. At this point, the lupulin gets pressed into cryo hop pellets, while the extraneous material gets used in other products.
Regardless of the name or exact process for separating green stuff from the yellow stuff, the benefits of lupulin-enriched products remain the same.
What Do Cryo Hops Do?
Cryo Hops have two distinct advantages over whole cone or pelletized hops. For one, they enhance the actual flavor and aroma of a beer. And second, they improve the brewing process.
Generally, lupulin-enriched products create a more intense hop aroma and flavor experience, as a more concentrated dose of lupulin builds a higher flavor profile in the final beer.
"I describe Cryo Hops as a high note, like an alto," says Matt Speckenbach, Head Brewer at Hopworks Urban Brewery in Portland, Oregon. Speckenback uses YCH Cryo Hops in the brewery's flagship Powell Cryo IPA. "It punches and cuts through everything else and it shines."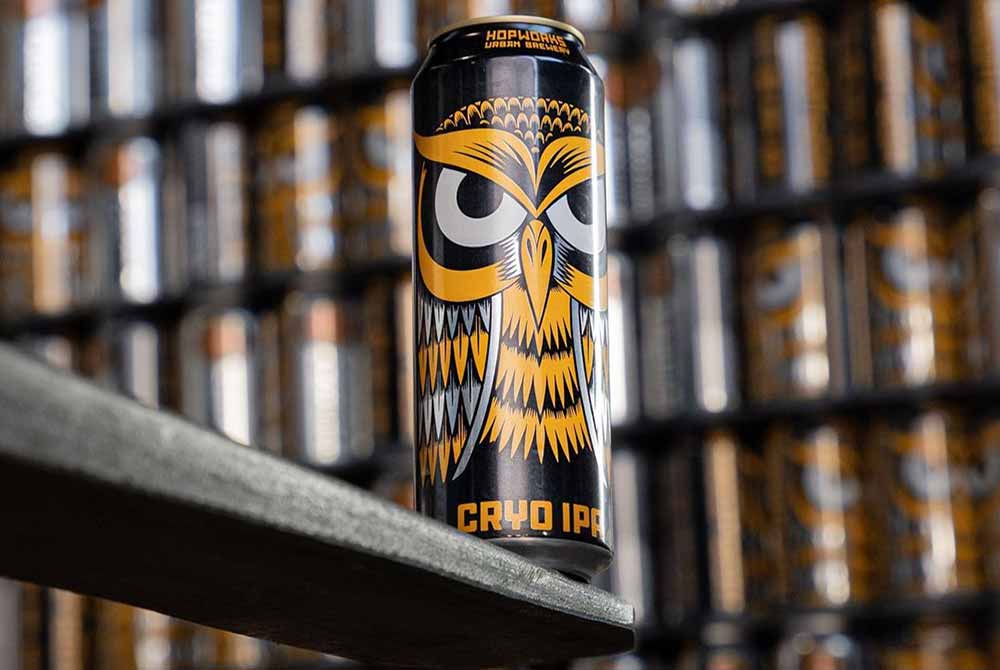 Because the concentrated lupulin pellets accentuate the hop flavor and aroma, they're best used in hoppy beers like IPAs.
"Generally, in hoppy beers, brewers are dry hopping the F out of a beer… so [Cryo Hops] perform great there," says Sannerud.
Beyond boosting the final flavor, Cryo Hops also save brewers from losing beer. During the brewing process, green matter acts like tiny sponges, often soaking up liquid. But the yellow stuff doesn't.
"With Cryo Hops, you're not sponging up so much liquid in the bottom of the fermenter," says Tielkemeier. "Brewers can create heavily hopped, super aromatic beers without losing yield."
When Speckenbach uses Cryo Hops in his recipes, he's seen anywhere from a five to ten percent increase in the yields of his beers. While that may seem small, the savings make a huge difference.
"Even if we're only able to squeeze out an extra barrel or two, that can be pretty significant to keeping down the cost of goods," says Speckenbach.
For instance, Speckenbach experimented with Cryo Hops in Hopworks Urban Brewery's gold-medal-winning Ace of Spades Imperial IPA.
"I've been hitting a wall with the cost of that beer," says Speckenbach. "We put a ridiculous amount of hops in there — over 100 pounds for a 20-barrel batch. It's massive. We saw our yield drop super low, so I'm hoping to pull it back and make the beer punchier than it was before."
According to Tielkemeier, a brewer only needs to add half as many Cryo Hops into their recipe as pelletized hops. For example, if their original recipe called for ten pounds of T-90 Citra pellets, a brewer only needs to use five pounds of Cryo Citra pellets.
What Is the Future of Cryo Hops?
One great advantage of Cryo Hops is that they can be used anywhere a brewer might use a more traditional T-90 pellet would be.
"It's a very user-friendly product," says Tielkemeier. "Cryo Hops don't require any special skill, process, or system. They can be used in any brewery."
Sannerud believes that every brewer should experiment with lupulin enriched pellets at least once. And many already have. Last year, YCH generated six million pounds of Cryo Hops, which makes them an extremely popular product.
"At this point, it's not a fluke," says Tielkemeier. "It's a product we see having a long-term fit in a brewer's toolbox."
Still, YCH continues to innovate. Last month, the company released Cryo Pop Original Blend, the newest product in its Cryo Hop line. Rather than taking the lupulin from a single hop, the Cryo Pop product is a blend of lupulin from different hop varietals.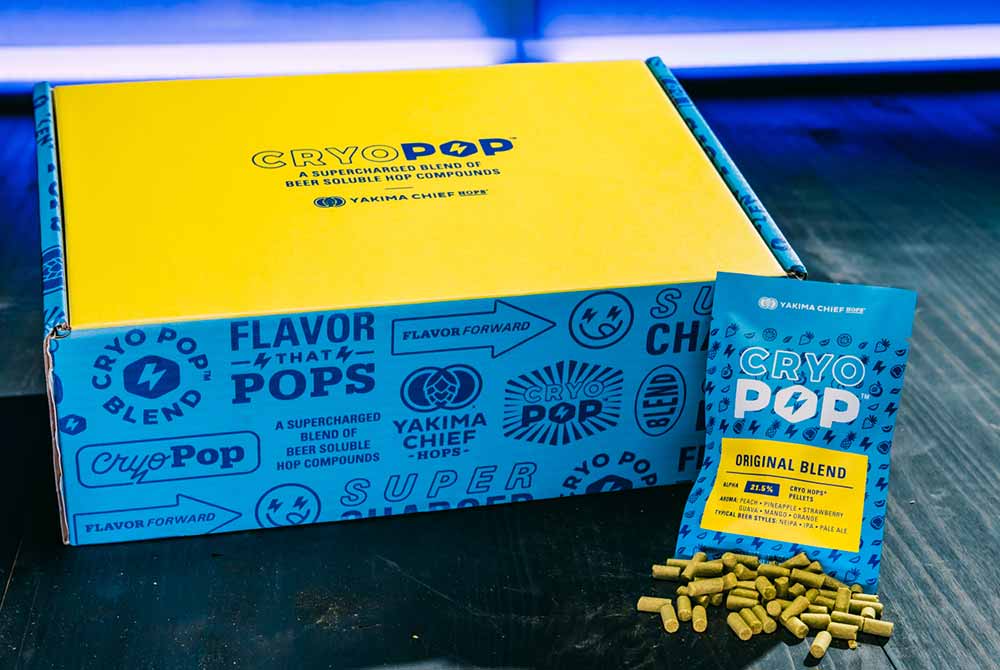 "It's one of my favorite projects I've ever worked on in my whole life," says Tielkemeier. "Cryo Pop quickly went from an internal pet project to something that is going to be significant and make an impact on our industry. And it's just the tip of the iceberg. We've unlocked so many things to explore from here."
What Are Some Beers That Use Cryo Hops?
You can find Cryo Hop beers all over the United States. Here are a few we recommend: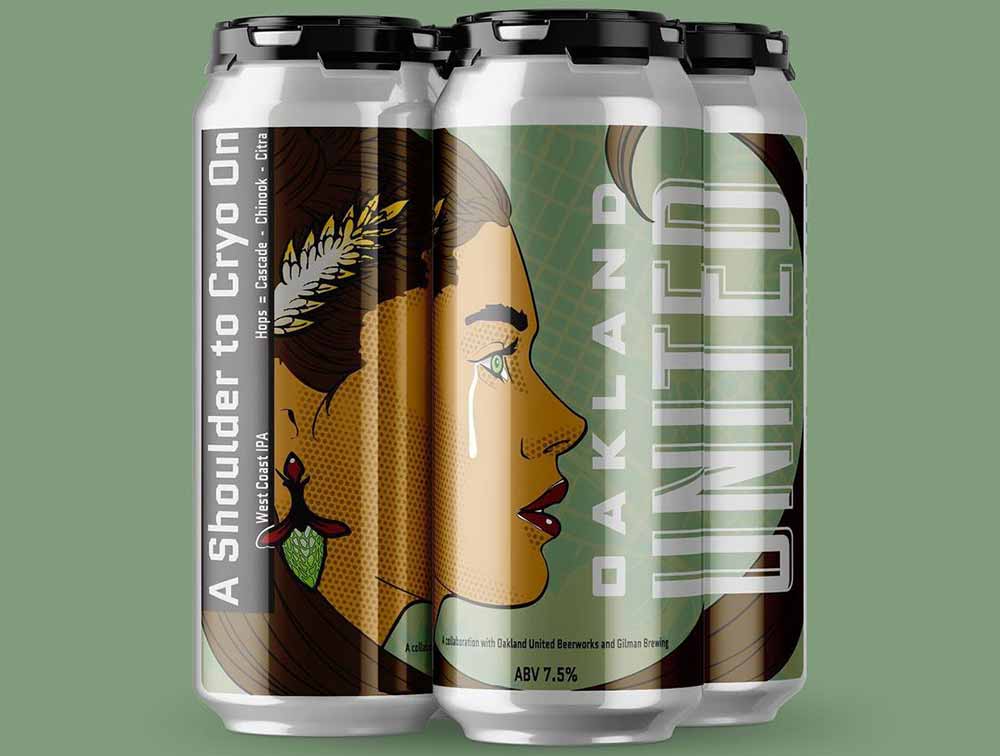 A Shoulder to Cryo On
Oakland United Beerworks — Oakland, CA x Gilman Brewing Co, Berkeley, CA
Using a full slate of Cascade, Chinook, and Citra Cryo Hops, A Shoulder to Cryo On is a West Coast IPA with intense hop flavor and aroma. Pouring a light orange with a light, frothy head, this 7.5% ABV IPA utilizes a strong malt base as a foundation to the bitterness, pine, and citrus from the Cryo Hops.
Powell Cryo IPA
Hopworks Urban Brewery — Portland, OR
Featuring Cryo Idaho-7, Cryo Amarillo, Cryo Azacca, and Cryo Chinook, this beer is a very classic West Coast IPA.
"This beer has a nice piney, grapefruit thing with Amarillo and Chinook while Azacca brings a light tropical element and Idaho-7 brings a rich, rounder fruitiness," says Speckenbach.
When Doves Cryo
Alvarado Street Brewery — Monterey, CA x Cellarmaker Brewing Co — San Francisco, CA
Leveraging Mosaic cryo powder, When Doves Cryo was a collab between two hop-forward California breweries: Alvarado Street and Cellarmaker. The Cryo Mosaic gives this beer tropical fruit notes that complement its pillowy mouthfeel.
Beautiful Tropical Fish Hazy IPA
Pinthouse Pizza — Austin, TX
The Austin-based taphouse uses Cryo throughout many of its beers. Beautiful Tropical Fish is a real hop-head banger. Mosaic Cryo joins a hop bill of Lotus, Galaxy, Strata, Cashmere, and Mosaic for a medley of Meyer Lemon, citrus, and young sweet coconut notes.