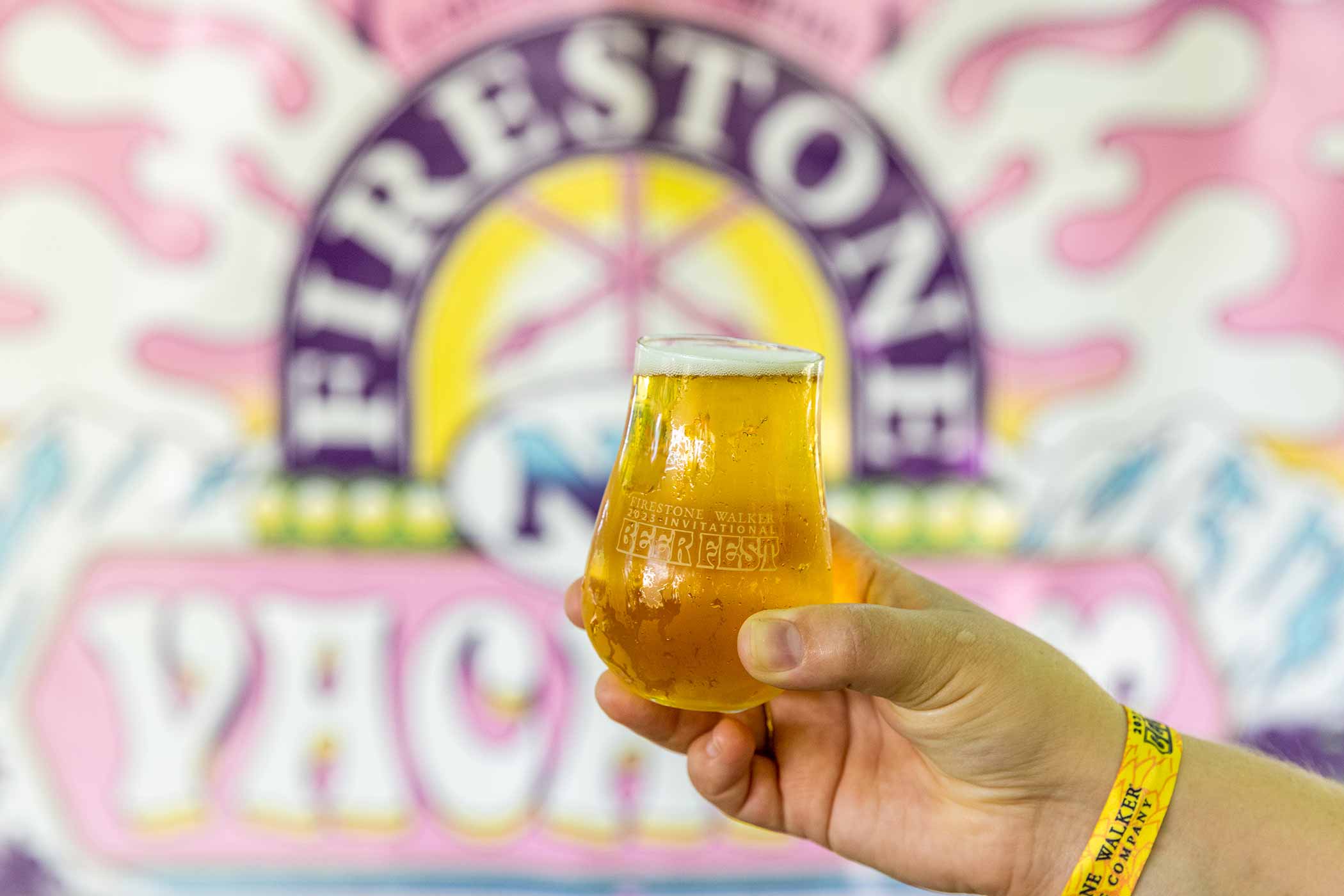 Photography courtesy of Firestone Walker Brewing Company
Check Out More From Firestone Walker
One of the best beer festivals in the country, the 2023 Firestone Walker Invitational showcased various worldwide beer riches available at every corner. "The original concept for the fest was to bring the best brewers from around the world to Paso Robles and showcase their beer to our Firestone Walker fans," says Firestone Walker Brewmaster Matt Brynildson.
Sounds simple, but the challenge? Convincing brewers from all over the globe to come out for the weekend and to find a way to get fresh beer to Paso Robles, located about halfway between the Bay Area and Los Angeles.
In its tenth year, the festival has hit its stride and continues delivering on the original goal, bringing in world-class beer and brewers from all corners of the map.
International Brewers Highlight the Firestone Walker Invitational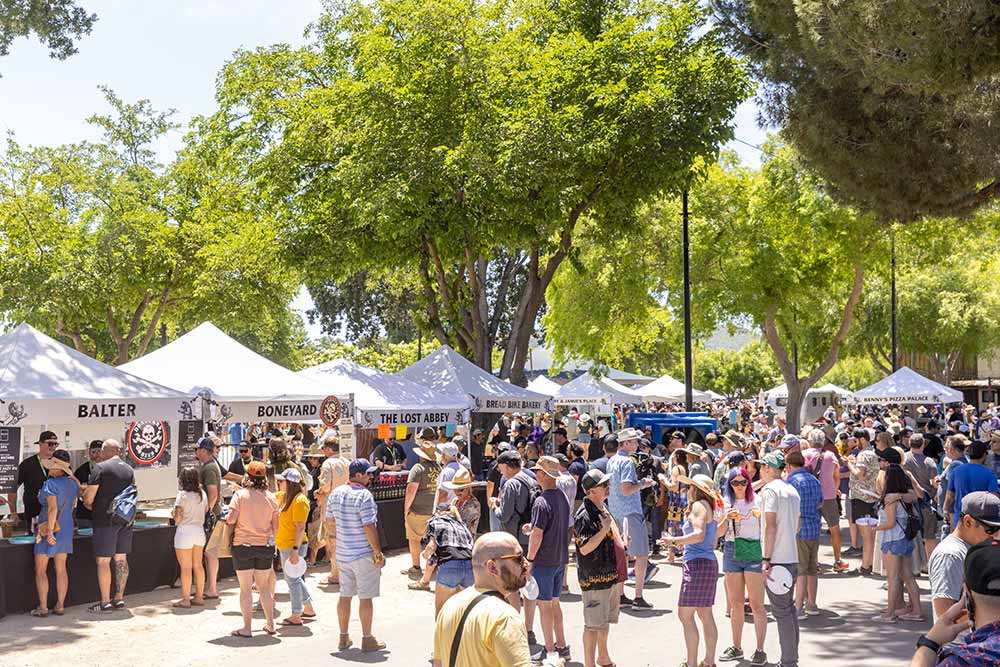 The fest featured several international brewers that drew quite a bit of attention from attendees.
While breweries like Omnipollo and Garage Project saw predictably long lines, there was a consistent trickle of attendees visiting breweries like Birrificio Italiano and Mahrs Brau from Bamberg, Bayern, Germany.
The Mahrs Brau "aU," an unfiltered amber kellerbier, tasted the same as it did during my trip to Bamberg last fall, a testament to the care and attention that both Mahrs Brau and Firestone pays in air shipping these beers fresh before the event and handling them once landed.
Between the Italian breweries, I found a bit of competition. While sipping Viaemilia at the Birrificio del Ducato booth, an herbal, grassy beer with a distinct honeyed note, I listened to the brewer tell everyone within earshot that this was "the original Italian pils." It seemed like an odd statement to make. Ducato appears to have started in 2007, and Tipopils, the famous Italian pilsner that inspired Brynildson to create Pivo, has been made by Birrificio Italiano for far longer than that. I went to the Italiano booth to get their take (and drink some more delicious Tipopils). The brewer listened as he poured my glass and smirked as he handed it back to me. "First? Original?" he repeated back. "Do you enjoy the beer?" As I nodded, he left me with a smile and some parting words: "Don't worry about all that other stuff."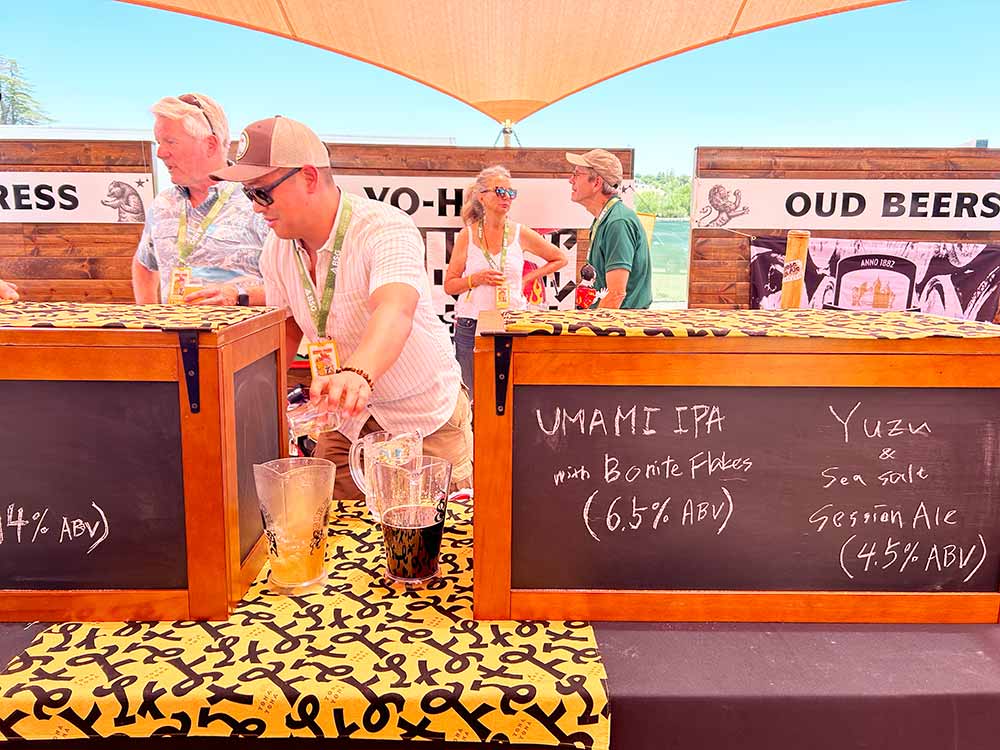 One of the more surprising lines was the queue for the Japanese brewery Yo-Ho Brewing Company. Yo-Ho didn't have the typical line-forming beers—Umami IPA with bonito flakes and 4.5% ABV Yuzu & Sea Salt Session Ale. When asking patrons who stood and waited about the brewery, the responses ranged from "I saw a line, so I jumped in" to "They're from Japan and seemed cool." Pleasantly surprised by the attention, the brewery enthusiastically poured beers and engaged with customers.
Less surprised at some of the attention, Brynildson said, "The FW Invitational is stacked with amazing brewers and discovering new beers, and the brewers who make them at the event are the real treasure," he says. "I'm so happy to see Mori at Yo-Ho get a long queue at his booth and equally happy to see Enzo from [Germany's] Frau Gruber get stacked up with folks wanting to taste his Helles. It shows a serious group of beer lovers who know and appreciate well-made beers of all styles and are eager to taste them fresh and meet the brewers who make them."
A Lineup of Lagers at the Firestone Walker Invitational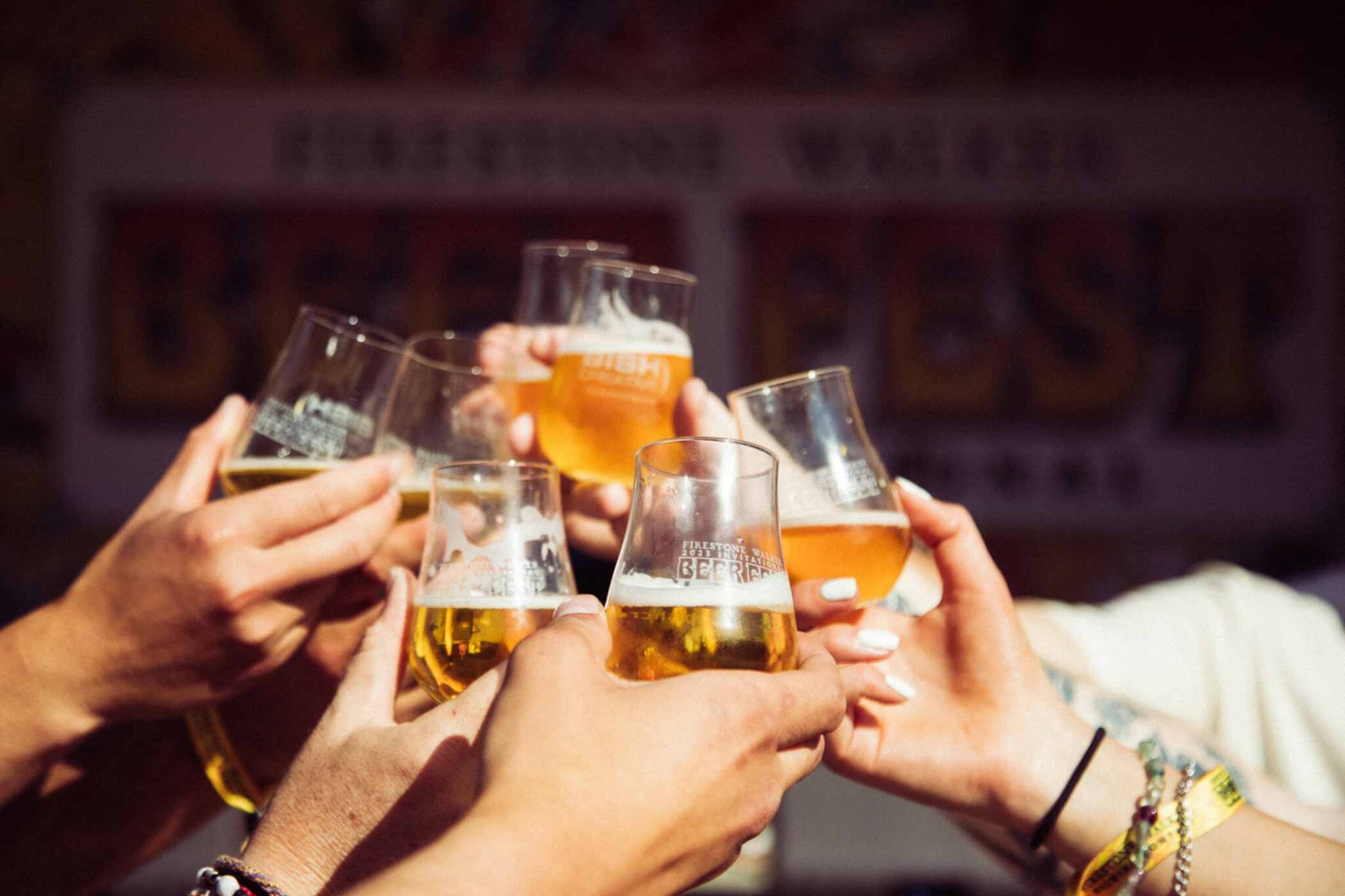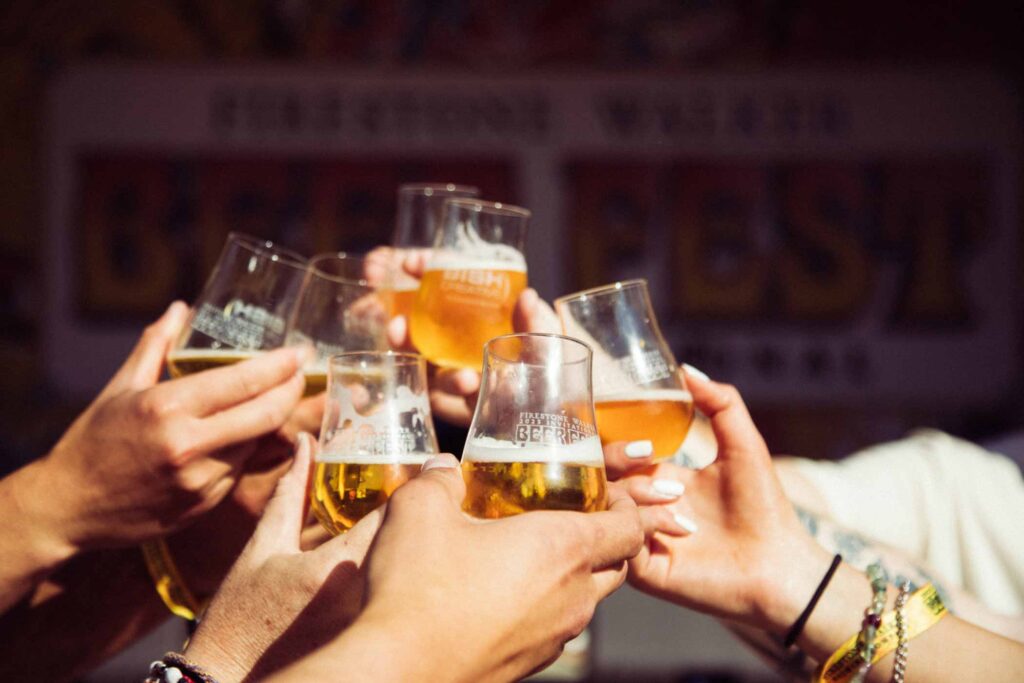 Speaking of bottom-fermented beers, the uptick in lagers offered at high-end festivals continues, with the invitational no exception to this movement towards high-quality, clean, sessionable beer.
Among the highlights: a new brewery Gold Dot, a partnership between Lisa Allen from Heater Allen and Kevin Davey, formerly of Wayfinder and Cold IPA fame. The Red Draught 14 stood out in particular. This Czech amber-style beer may not have had the light buttery diacetyl that many Czech drinkers are used to, but it had a soft malt sweetness and noble bitterness that felt very polotmavy.
Bierstadt Lagerhaus poured its infamous Slow Pour Pils (not so slowly) and one of its most celebrated seasonal beers, Heirloom Corn Lager, to a steady stream of beer drinkers throughout the fest.
Another booth with good traffic, though rarely a large line, Highland Park makes fantastic hoppy lagers—like Immense World and Timbo Pils—accessible to attendees.
Turning Wine Country Into Beer + Food Paradise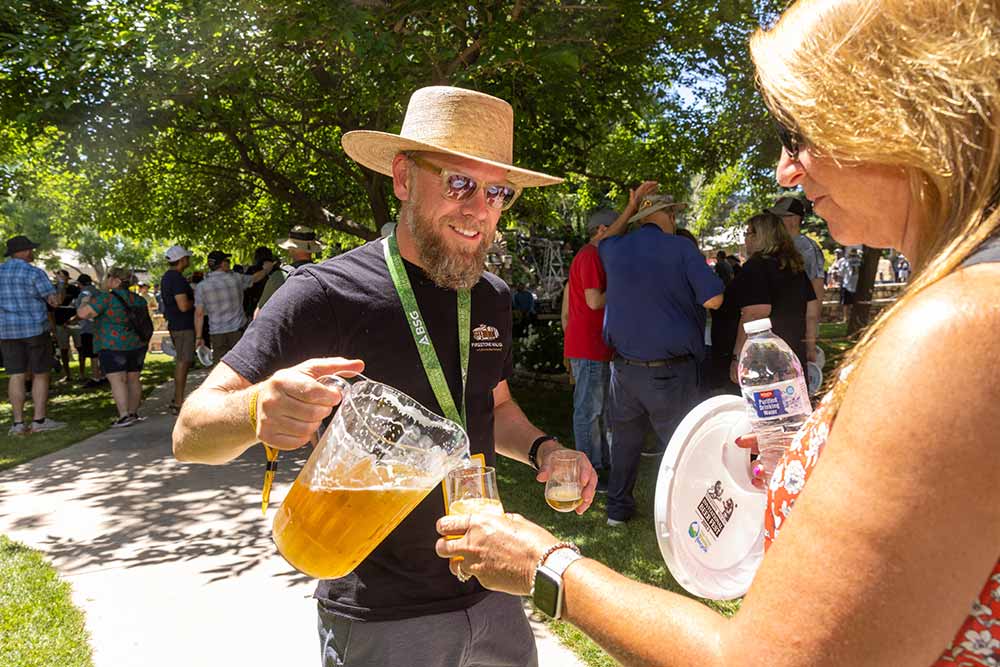 As you walk around the festival, Brynildson's vision of luring brewers far away to a small town in wine country comes into focus. The venue, Paso Robles Event Center, has gorgeous mature trees throughout its expansive footprint. Where there weren't trees for shade, tents weren't far away.
Another aspect of the festival that stood out? The immense food options. Roughly thirty different local restaurants served food at the fest—free to all ticket holders.
From quesadillas to elaborate cheese selections, seafood dishes, and buttered baguettes, the food was a fantastic asset to the festival.
The food also helped attendees stay full and responsible during the festival.
The Winners of the Firestone Walker Invitational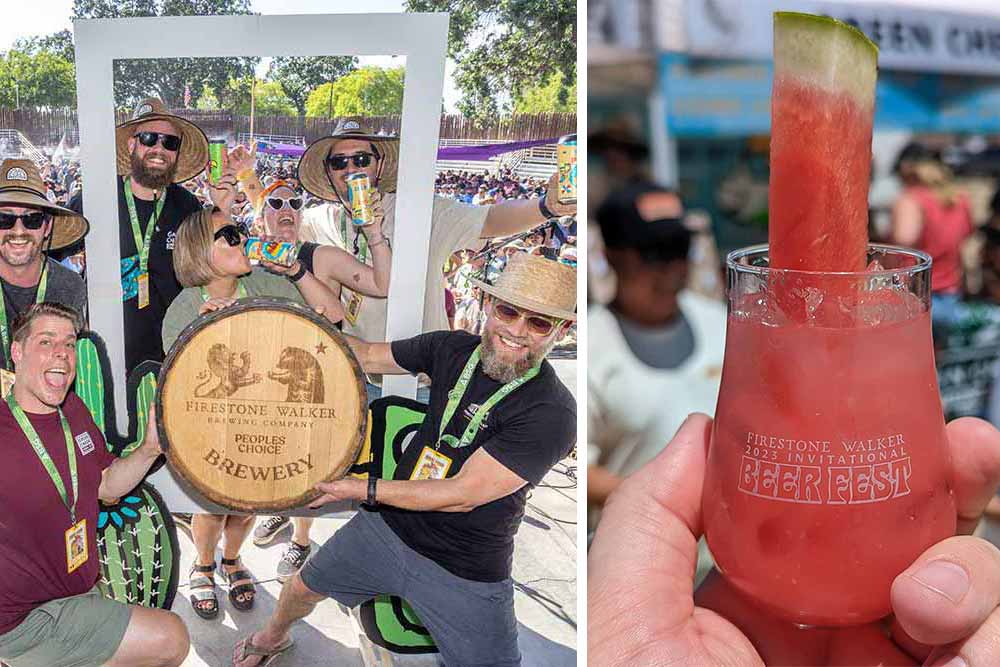 To close out an incredible day of drinking and eating, Firestone Walker hosts an awards ceremony celebrating the best eatery and brewery of the day. People vote through an app for their favorites.
San Luis Obispo-based Benny's Pizza Palace and Social Club, a booth that had a busy line all day, won for its Detroit-style pizza,
On the beer end, Green Cheek won the People's Choice Award. Fresh off its impressive four medals at the 2023 World Beer Cup, the line at Green Cheek was one of the longest of the day. Green Cheek clearly went all out to win this award, with a well-decorated booth, by pouring a beer halfway through the line for weary drinkers with empty glasses, and also with Hard Agua Fresca!, a watermelon seltzer served with a strikingly long watermelon spear in the glass.
But the real winners are the brewers and guests who traveled far and wide to attend a festival filled with phenomenal beer and food in Paso Robles. The town itself is perhaps the biggest winner of all, with Firestone Walker donating proceeds to the town's Pioneer Day nonprofit, ensuring that this charming little town retains its magic for years to come.