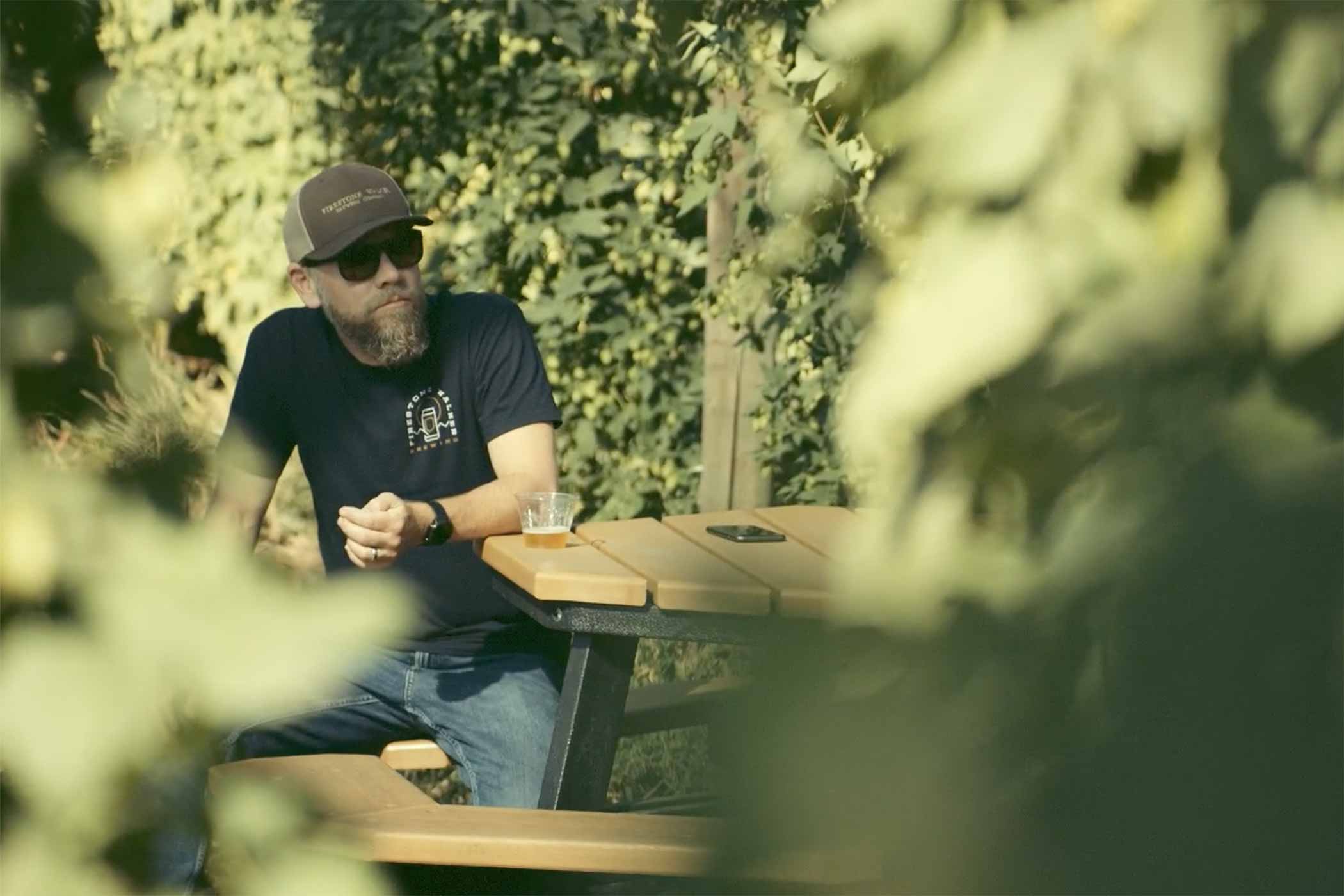 Photography courtesy of Firestone Walker
"The next great IPA is hanging above us," muses Firestone Walker Brewmaster Matt Brynildson as he looks up amongst towering green bines of hops. All around Brynildson a beer waits to be born for "a brewer in search of the next great IPA," he says.
This may seem like a bold statement, but considering that Brynildson stands in Yakima Valley, one of the most prolific hop growing regions in the world, he's right on the money.
That green, green money. And if hops are the green then Yakima Valley in Washington state must be like the best beer bank.
Every September, hundreds of brewers from across the country descend on this verdant valley for one important reason: to select their hop lots for the year.
For Brynildson and Sam Tierney, brewer at The Propagator, Firestone Walker's R&D brewhouse in Venice, CA, hop harvest is arguably the best time of the year.
A chance to make a pilgrimage to the place that produced seventy-three percent of hops in the United States in 2021.
A time to not only walk through the bines and smell hops in places like an old redwood-framed warehouse, but to hike with growers and eat tacos with hop farmers.
"Bottom line: No farmers, no beer," says Brynildson in Firestone Walker's new short film Hop Dreams: A Brewery's Journey, which followed the Firestone Walker crew during the hop harvest in 2021. "[So] It's an honor to be here where these hops are being born."
What Does Hop Harvest Mean to Brewers?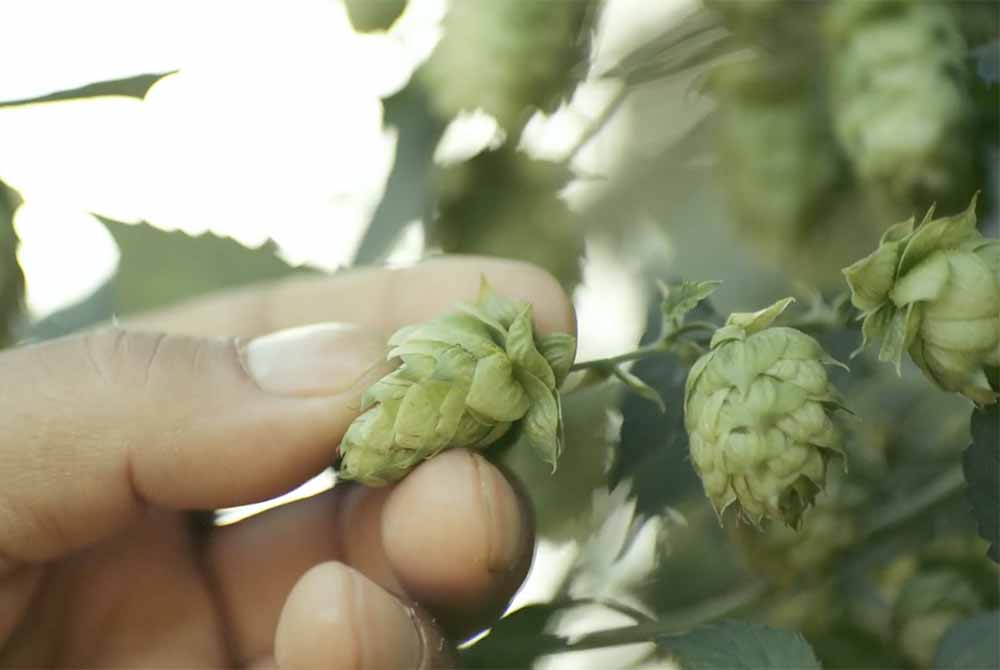 Today, you'd be hard pressed not to find a brewer from any big- or small-name brewery camping out for anywhere from two to six weeks (for the most extreme) to pick their lots.
Better than the Great American Beer Festival and Craft Brewers Conference, hop harvest represents a time for folks in the industry to come together.
"It's cool because you almost mark your calendar for when you head out," says Brynildson, who speculates he's been making the pilgrimage to Yakima since early 1997 or 1998 while working at Goose Island. "I've actually lost count myself!"
Make no mistake, Brynildson, Tierney, and the rest of the Firestone Walker team are there to work but also to connect with the land, the farmers, and other brewers.
"When we go up for harvest these days we commune with our brewery friends from around the country," says Brynildson. "Now we show up in Yakima around harvest and everyone's there."
Accordingly, Firestone Walker takes its hop harvest very seriously. But not too seriously.
How Firestone Walker Honors Hop Harvest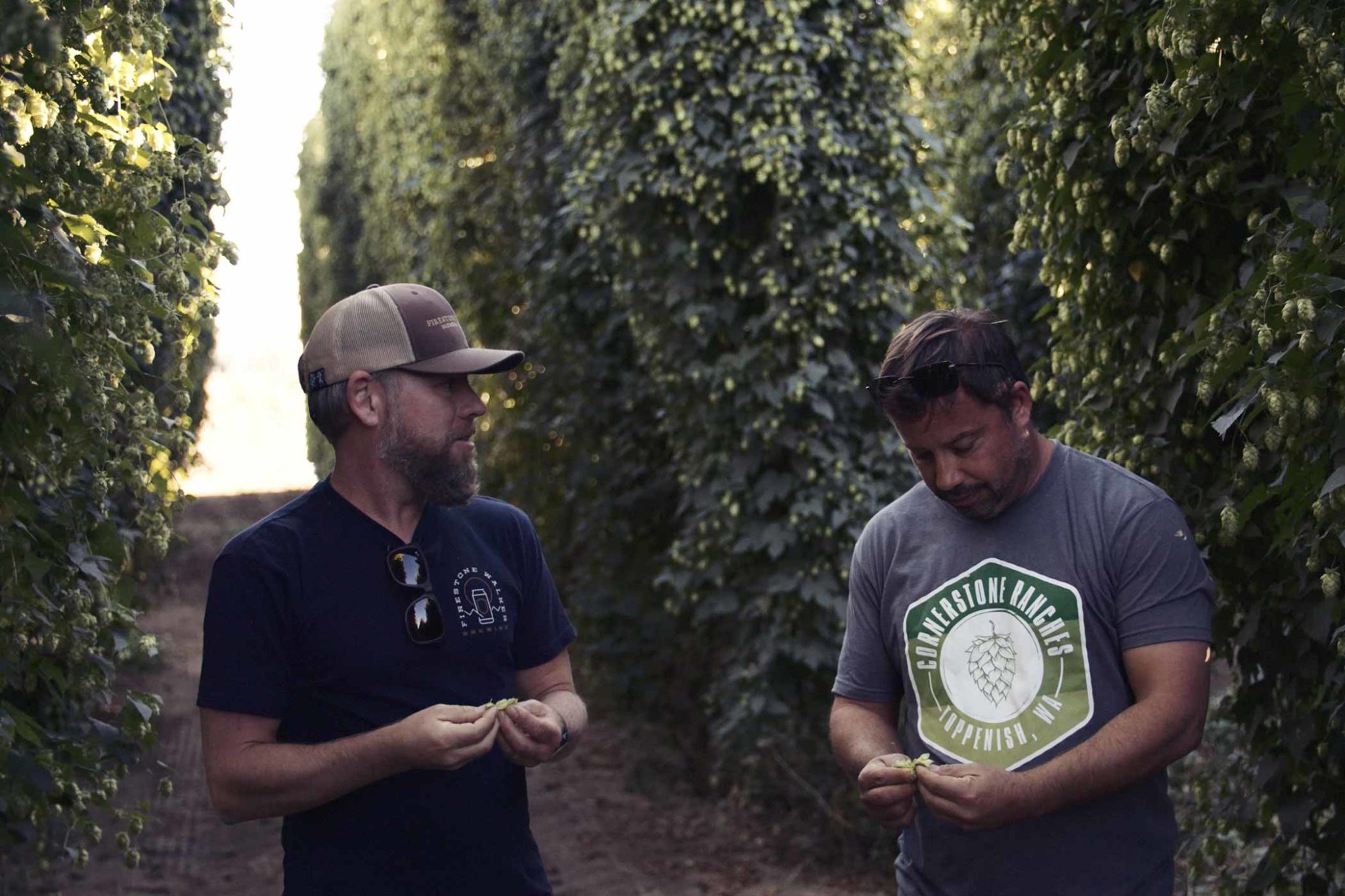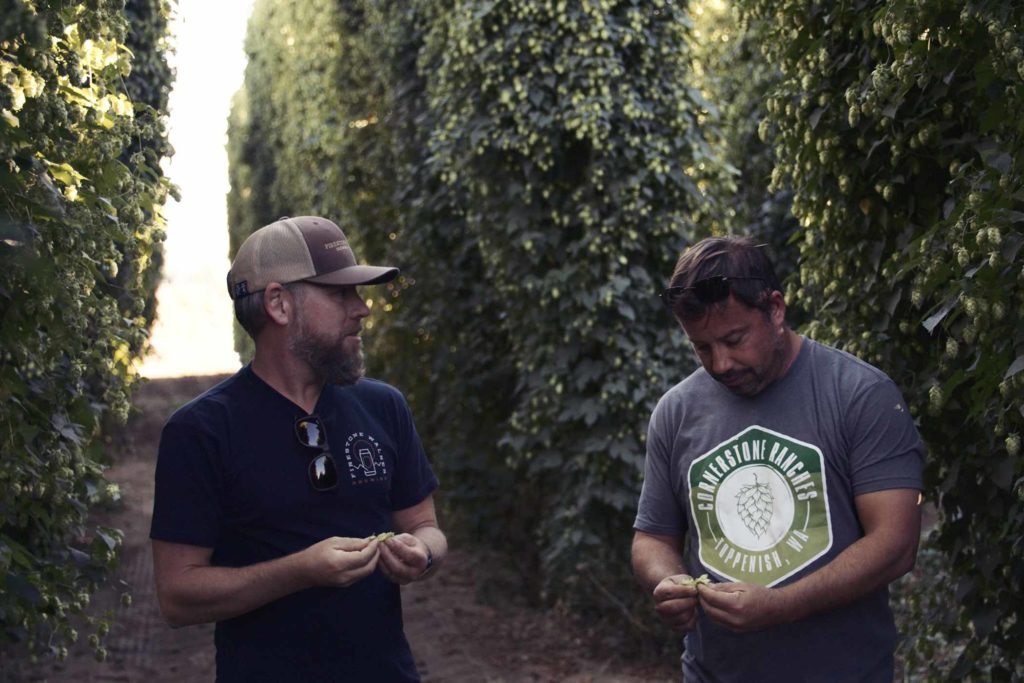 Talk to ten different brewers about their hop harvest philosophy and you'll get ten different answers.
Some want to spend every waking moment in Yakima Valley during the harvest, from the first hop off the bine to the last one.
For Firestone Walker, they have a more relaxed but still precisely planned approach. "For those of us who have gone year after year, we are all laser-focused and locked in," says Brynildson.
Accordingly, Brynildson will roll into town with Tierney and two or three others, hitting half a dozen key farms over the course of two to three weeks to select lots for the year. Plus, they'll typically throw in stops to a couple new farms just to keep the pulse fresh. Last year, that included: Cornerstone Ranches owned by Graham Gamache; Green Acre Ranch, a John I. Haas farm owned by David and Carolyn Smith that harvests a lot of experimental varieties; Roy Farms; CLS Farms; Haas Yakima Golding Hop Farm; Perrault Farms; and Hollingbery & Son.
It's a process that has been refined over the years and includes a certain component of trust. "We all think alike and pick hops that are very similar to previous years' selection that will fit into our beers and perform well for our brewery," says Brynildson.
Because Picking Hops Can't be Phone in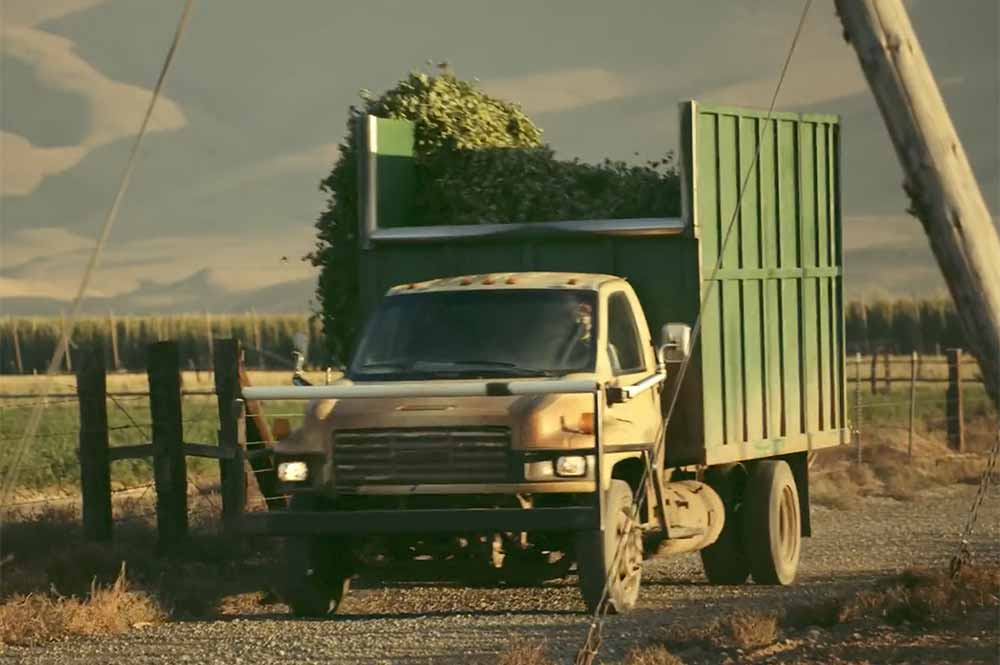 Regardless of where they go, getting out and walking through the fields is crucial. The team never really knows what the hops are like that year until they spend some time on the farm talking directly with the farmers.
"Seeing everything on the table is a great opportunity to plan out for next year and see what's interesting," says Tierney. "It's good to check in with other people, get direct feedback from farms, visit hop suppliers…look at experimental varieties, and see how the harvest is coming in [that year]."
After all, picking hops can't be phoned in. These are living, breathing organisms that change from year to year depending on a whole host of external factors from seasonal storms to yearly wildfire smoke.
"You can't just pick a date on the calendar and say give me the Mosaics from September 19th," says Brynildson. "You have to actually go out there to rub and smell those hops."
Spending time with the hops, touching, feeling, and smelling them guides Firestone Walker's hop harvest.
But Firestone Walker approaches it with a bit of a twist.
The Hop Rub: Eliminating and Blending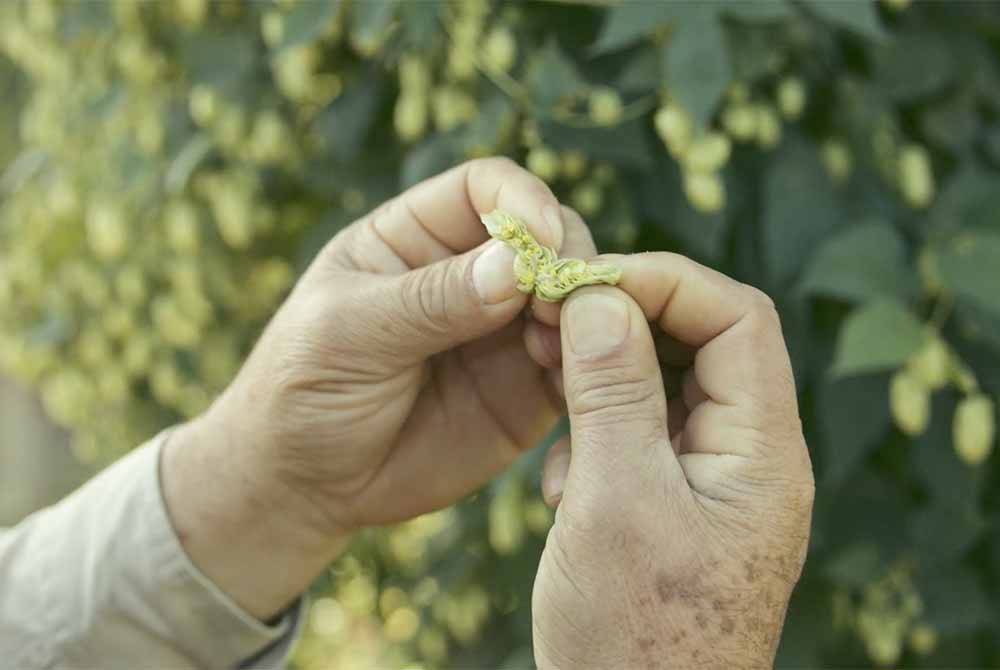 At first glance, Firestone Walker's approach to selecting hops may seem backward. Oftentimes instead of picking the lots they think work best, they'll eliminate those they know won't work.
But we assure you there is a method to the madness. Trust us—Brynildson, Tierney, and the rest of the crew have been doing this for a while.
"We say it all the time, but oftentimes it's an exercise of selecting away from the lots that won't work for us more than finding that perfect lot," says Brynildson. "We'll sit around a table and be like, yup those two lots would never work for us, but any of these three would be fine. In fact, let's blend them together and that increases our chances to get that perfect balancing point rather than trying to find the triple gold medal hop every single time. There are not enough hours in the day or days in the month of September for us to work on that level."
For a brewery of Firestone Walker's size, blending can be an important tactic because they're purchasing a large amount of hops for their bigger brands.
Meaning blending helps them find that sweet spot. "Sometimes it comes back to saying we really like something out of this hop and something out of this hop over here," says Tierney. "Both exemplify what we think of in this certain variety but in a slightly different way. That's a good way to keep a high quality standard because it allows you to mitigate against going a little too far in any direction."
So, What Hops Excited Firestone Walker Last Year?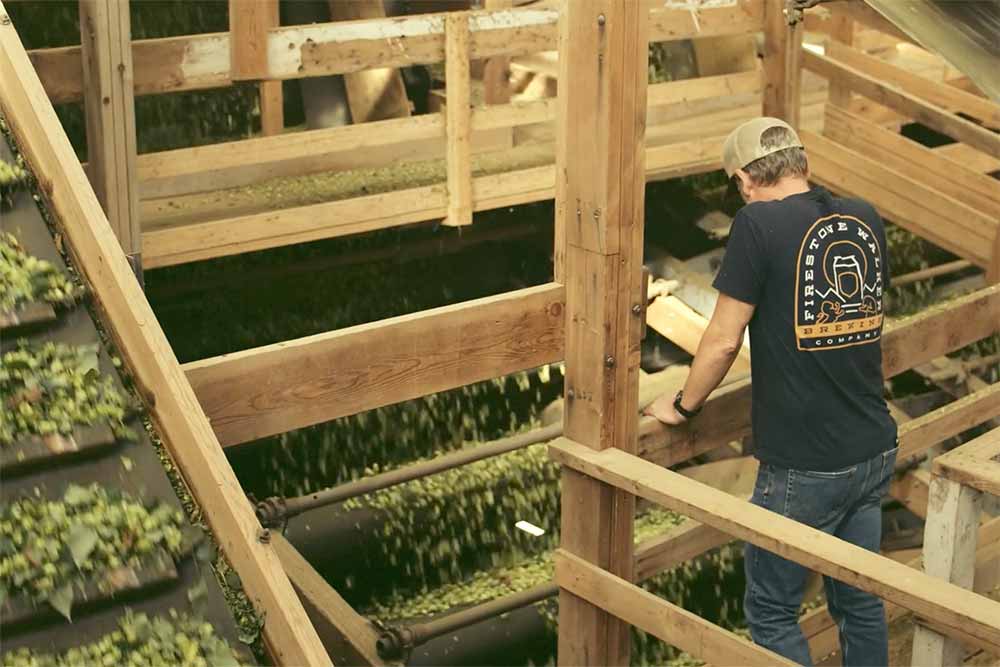 As we all know, there's much ado about hops over the past couple of decades. What's the hottest hop in a given year? What new varieties might be coming on to the scene? Or just what are the good ol' popular varieties that still entice folks' palates?
For every brewery, the answers here will be different.
Of course, Firestone Walker needs to target the hops at the heart of their core brands. For instance, Cascade, Azacca, Mosaic, and Chinook, four of the nine hops going into Mind Haze, the brewery's hazy IPA that has exploded off the shelves.
Or Centennial, Simcoe, Citra, Chinook, El Dorado, and Amarillo, all of which you'll find in the brewery's iconic West Coast IPA, Union Jack, along with Mandarina.
But Brynildson and Tierney are also looking for a few curveballs.
"I've always tried to flow against the stream and find other hop varieties that give us unique characteristics or are equally as fun," says Brynildson.
Consider Cashmere One of Brynildson's New Favorites
In 2021, Bynildson took a good hard look at Cashmere (which also ended up in Mind Haze), spending time at Cornerstone Ranches, a fifth generation farm where Gamache has been growing some of the best Cashmere in the region in Firestone Walker's opinion.
"It is one of my favorite hops of all time," says Brynildson in the film. "The first time I rubbed Cashmere it instantly took me there—this is a juicy IPA hop period." Brynildson couldn't believe that other brewers hadn't discovered Cashmere yet. While others focused their attention on Citra or Mosaic, Brynildson rubbed Cashmere with Gamache.
"One of the unique properties of this hop that makes it a little different from other varieties is how fluffy it is," says Gamache in the film. "It always feels like it's just ready to fall apart in your hands."
Accordingly, Gamache treats this hop with the utmost care, picking the hops with an antique piece of machinery called a Fontaine that his grandfather first used in the 1950s. It's what Gamache calls "a gentle pick." And probably one of the differentiating factors that makes Brynildson proclaim Cornerstone Ranches "produces some of the best Cashmere for our beers Mind Haze and now Hopnosis."
Romantically, it's also a gentle reminder of the importance of walking through the hop fields with the very folks who have been growing hops themselves for generations, whether tried-and-true ones or even something more experimental.
Experimenting with New Techniques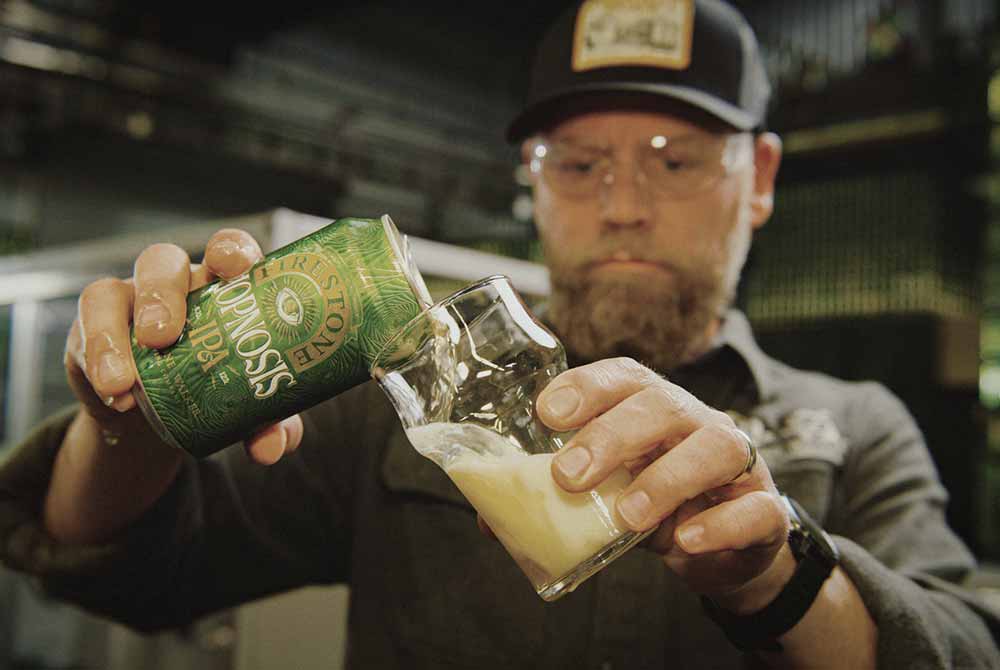 Getting the right lots of foundational hops are important, but hop harvest also presents an opportunity to check out some experimental varieties and techniques.
Especially for Tierney, who helms Firestone Walker's R&D brewhouse, playing around with new processes has a particular shine.
For example, last year Tierney and the Firestone Walker team toured Yakima Chief's Cryo plant.
Cryo hopping has become an innovative new process utilizing extremely cold temperatures to extract and pelletize lupulin (goodies within the hop that contain all the essential alpha acids and oils contributing to aroma and flavor).
"Essentially Cryo is getting into the heart of the hop where all the lupulin lives; it's all the essential oils, terpenes, all the good stuff," says Brynildson in the film "You're able to free it, separate it from the plant matter…concentrate it…and apply it to the brewing process with all the bang, all the best stuff."
Although not entirely new anymore, Cryo Hops hadn't been something Firestone Walker deployed in their beers. Seeing YCH's proprietary process helped demystify the technique.
"For us, that was our first year to take a good look at it, see how everything was made, learn as much as possible about the whole fascinating process…and get into what differentiates Cryo as a part of the frontier of hop products," says Tierney.
The result of that journey?
Hopnosis, an incredible take on an old-school West Coast IPA utilizing new-school hops and techniques—such as cryo hopping. The beer includes Mosaic Cryo Hops®, Idaho 7, El Dorado, Cashmere, Nelson Sauvin, Riwaka, Simcoe, Talus, and Callista, almost poetically representing what the future of beer might look like in 2022 and beyond.
Experimenting with Experimentals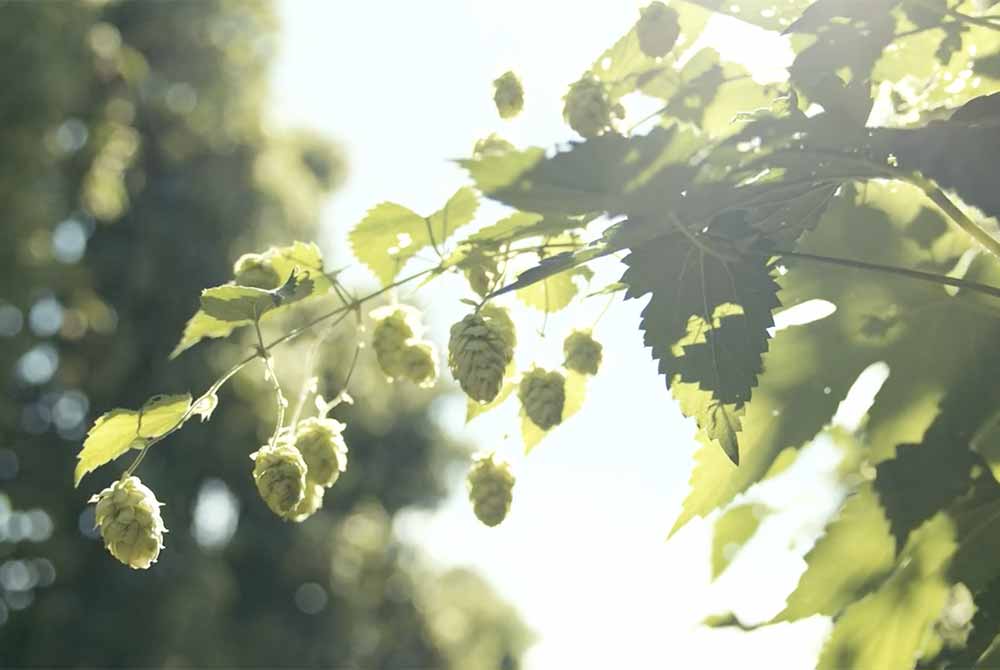 Beyond new processes, there are usually experimental hop varieties to explore.
Last year, Brynildson and Tierney tested out HBC 1019 and HBC 586 from the Hop Breeding Company, a joint venture between YCH and John I. Haas, Inc., whose mission is "to develop pest-resistant and disease-resistant hop varieties with strong commercial qualities."
"We were really jazzed on those," says Tierney.
Accordingly, Tierney brewed a few beers last year with those two hops.
For instance, Gen 6, a double IPA anniversary beer that included HBC 1019 in a dry hop. For that beer, Firestone Walker collabed with El Segundo, with each brewery picking what they thought was the most compelling hop from the 2021 harvest. El Segundo chose Vista while Firestone Walker chose HBC 1019. "It's really interesting because [that hop] adds almost a creamy, slightly coconutty stone fruit-y quality," says Tierney. "That's why it's exciting, because it has an interesting creaminess in the mouthfeel."
Additionally, Tierney collabed with Yakima Chief on a beer called Order of the Hop, a double dry-hopped pale ale that included their first trial with HBC 586.
Ready in time for the harvest, Firestone Walker brought that beer to share with friends in the industry at Bale Breaker. "We had a ceremony where we cracked the beer; it was actually pretty magical for me," recalls Brynildson.
Why?
Because he had a chance to share something Firestone Walker made with the very hops these growers, merchants, farmers, and friends had grown.
It was an eloquent reminder of the elaborate ecosystem between the farmers and the brewers.
Hop Harvest: Where Brewers and Hop Farmers Become Friends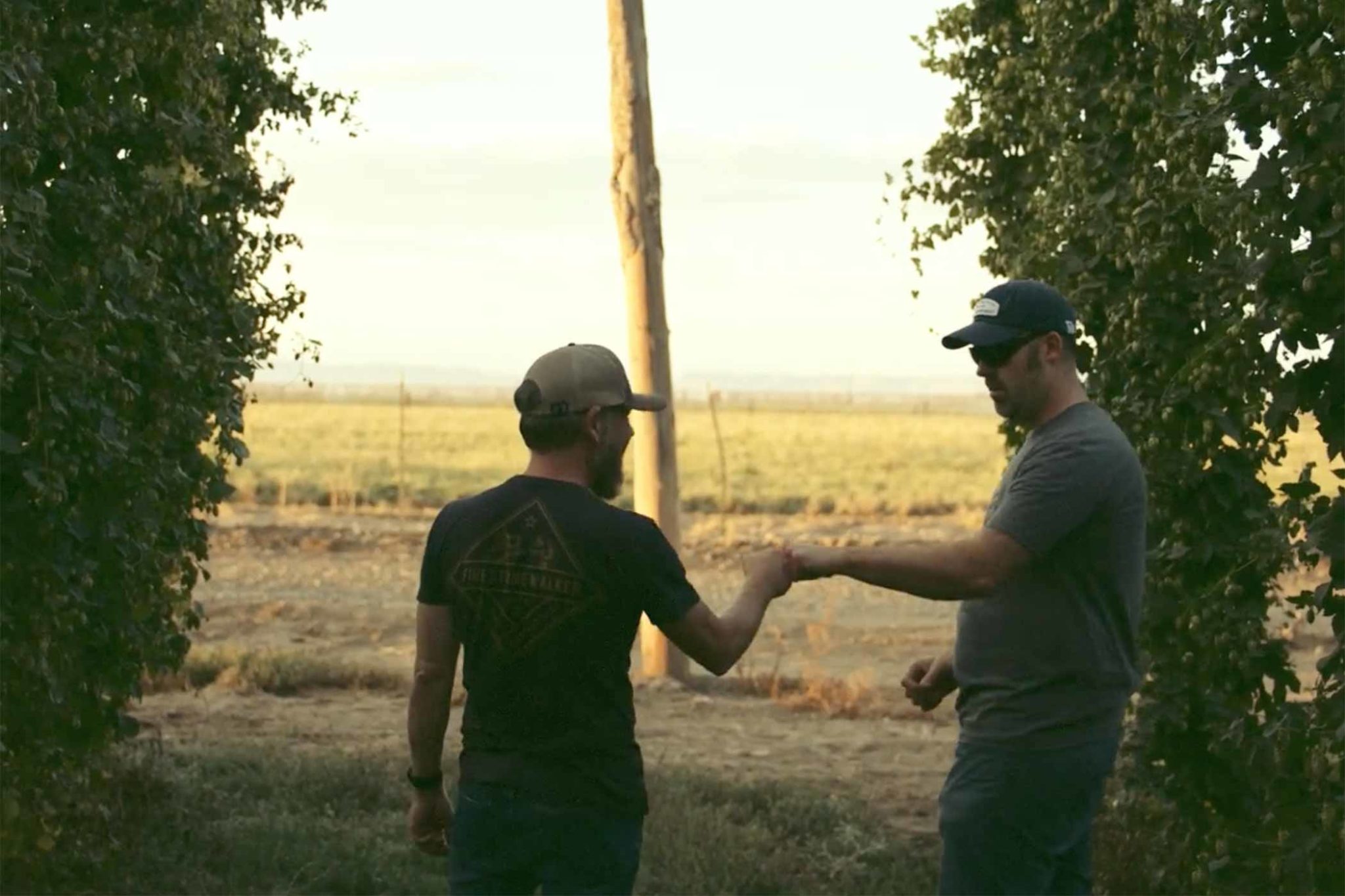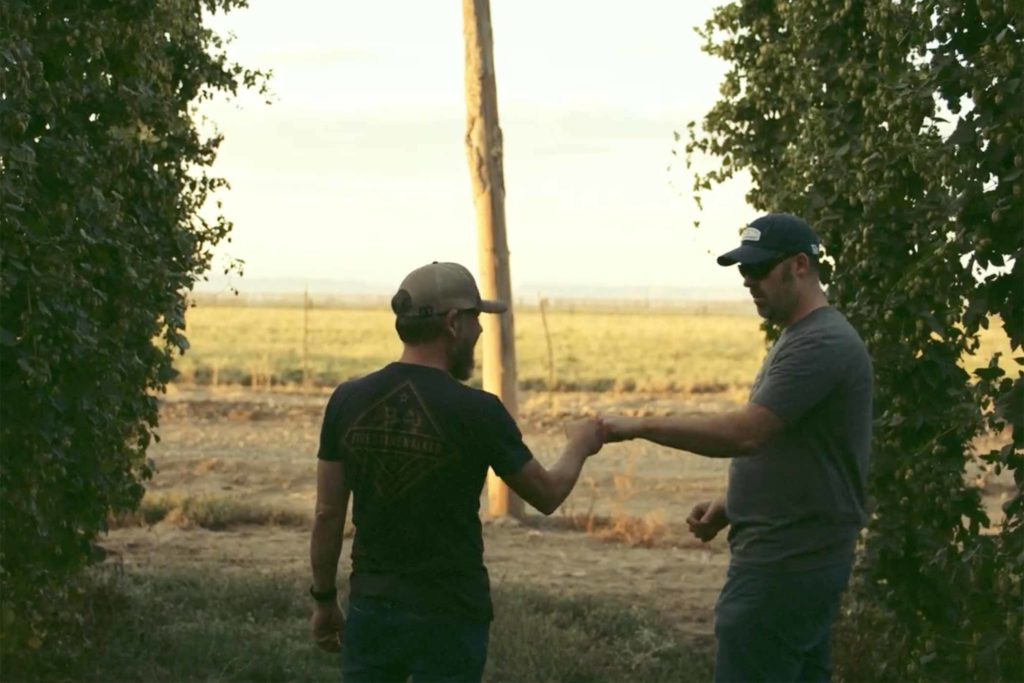 Locking down hops is crucial. But just as important to Firestone Walker are the relationships they've developed with these hop growers over the years.
Stopping by these hop farms isn't all business. It's an opportunity for Brynildson and Tierney to spend time with the very people providing the beating heart of a beer.
"I always get a little starstruck when I meet some of these growers," says Brynildson. Some of these farms are multigeneration with over 1,000 planted acres of hops.
He continues, "I have a hard enough time with my four tomato plants and a couple zucchinis in my backyard. I can't even imagine thousands of acres of hop yards and how they manage it…the symphony of orchestrating this living, growing thing. To meet the masters behind it is pretty cool."
For example, Pete Flores, the Assistant Farm Manager & Supply Chain Management at Haas Yakima Golding Farms. His dad came to the farm in 1959 and brought Pete and his family in 1970. "I grew here with the hops," says Flores in Hop Dreams: A Brewery's Journey. "It's everything to me…Hops are in my blood."
Hop Harvest: Where Brewers and Hop Farmers…Share Tacos
Brynildson recounts certain moments shared with a twinkle in his eye.
Especially when he speaks of Bud and Matt Hollingbery, the multigenerational owners of Hollingbery & Son.
Back in 2007 and 2008, the Hollingberys had a hand in keeping many breweries afloat during the "hop crisis." At the time, a huge influx of new breweries caused a shortage in hops. Small craft breweries that didn't hold contracts on hops found themselves up a creek without a paddle. And those that found hops paid double or triple from the year prior.
That year, Brynildson met Bud Hollingbery, who wasn't a grower or a merchant, but "a hired assassin," laughs Brynildson. "If a brewery needed an inside track on who was growing what, what was available, and what wasn't contracted…Bud Hollingbery knew."
Having worked in the Yakima Valley for decades, Holllingberry "had his ear to the rail," says Brynildson. Hollingbery's dad had started a hop trading business, selling old hops to other industries like baking. It was a weird side business that afforded Hollingbery the opportunity to make connections in the industry.
During the hop crisis, Hollingbery lined up Firestone Walker with direct grower contracts. "He really saved us," says Brynildson. "We've been doing business with the Hollingbery family ever since…they've really become family." So every hop harvest, Brynildson makes it a point to spend time with the Hollingberys.
"We buy a ton of hops from them, but we also eat a lot of tacos, drink a lot of beers, and hang out with them because they're salt of the earth great people," says Brynildson. "These are some of the lesser-sung heroes of the brewing industry that have managed to put some of these hops where they are today."
Why the Hop Harvest Is the Best Time of the Year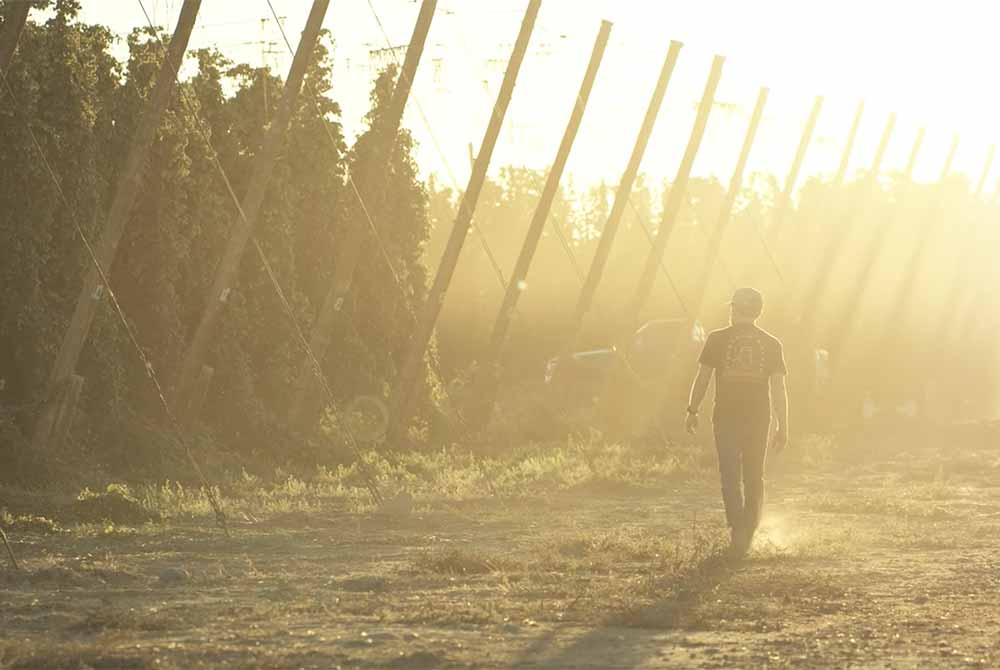 The words "hop harvest" have so much meaning to Firestone Walker.
Brynildson and Tierney make the pilgrimage to the Yakima Valley to pick hops. But also to commune with the people and the plants growing their life's work.
"Hops are a perennial plant; we cut the entire vine—all the vegetative material—down every year, but what's left are the roots in the ground and they're going to come back even stronger," says Brynildson in the film.
From traveling around to different farms to rubbing hops and elbows with growers to even sharing meals together, "It's never a dull moment; it's always fun," says Brynildson.