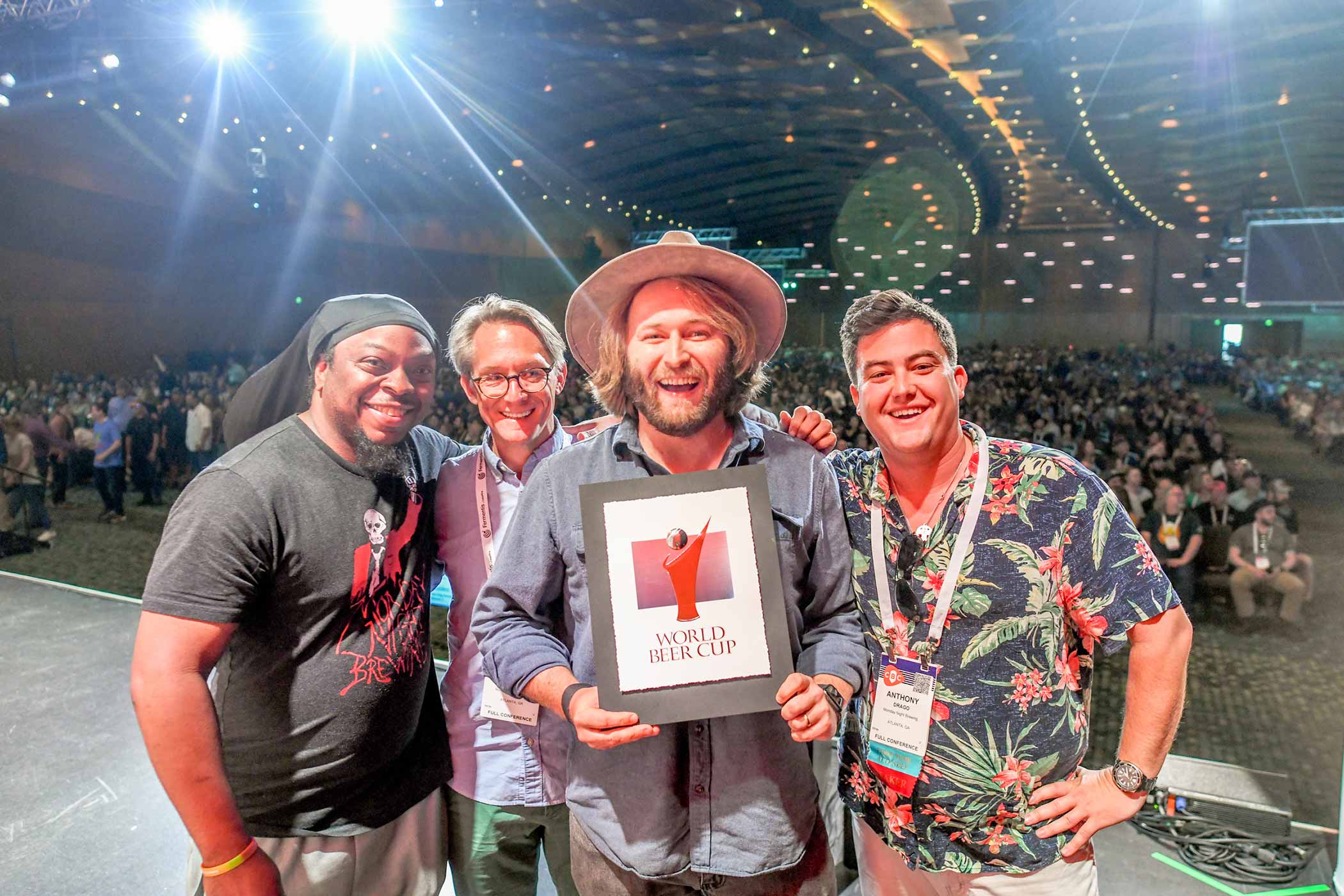 Monday Night Brewing picks up an award at the World Beer Cup awards ceremony in Nashville, TN | Photography courtesy of the Brewers Association
See the Winners at Other Competitions:
Started by the Brewers Association in 1996, the World Beer Cup celebrates the pinnacle of global craft beer. This year, an international panel of 272 judges tasted 10,213 beers in 103 categories from 2,376 breweries in 51 countries.
"The World Beer Cup is the largest and most prestigious beer competition in the world," said Chris Williams, Competition Director at the Brewers Association, during his opening remarks at the 2023 World Beer Cup Awards Ceremony. "Any brewery who hears their named called should take heavy satisfaction in knowing their award-winning beer is not only marked as a world-class example by our judge panel but represents the ideal example brewed in its given style."
Let's take a peek at who won all the marbles this year.
World Beer Cup 2023 Awards Ceremony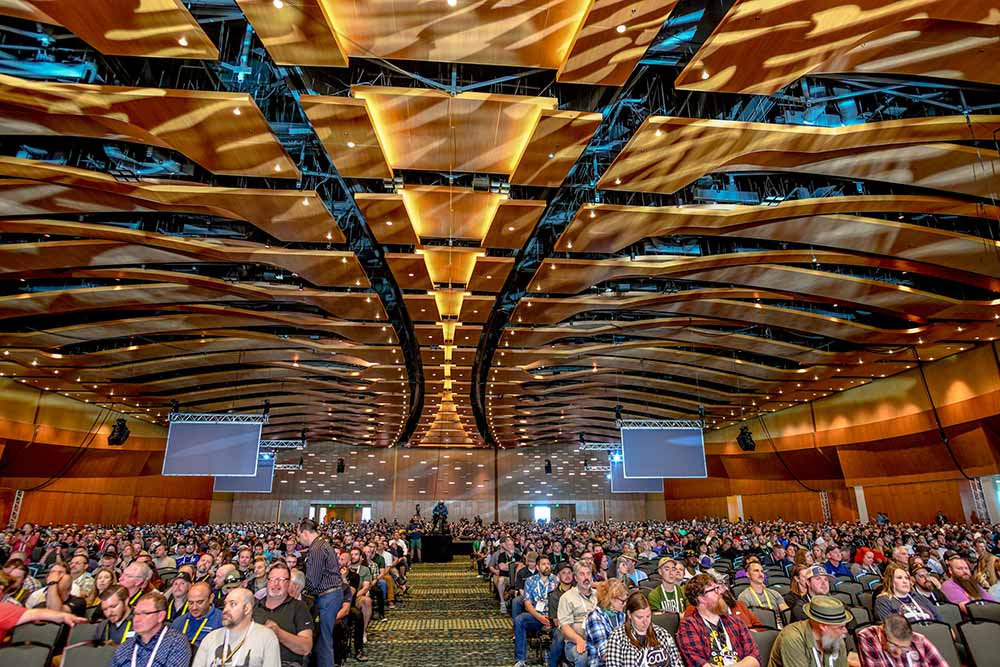 Undoubtedly, the World Beer Cup has become one of the most distinguished competitions around the globe. Breweries packed into the Karl Dean Ballroom at the Music City Center, holding bated breath to hear their name called up to the podium.
"These competitions are so fun, and it's really cool to have a place to celebrate what we do, which is make delicious beer," says Juile Veratti, co-founder of Denizens Brewing, whose golden ale Glow won a gold medal last year.
In 2023, Denizens entered five beers into the competition, and while they didn't win, Veratti says the competition is still very valuable.
"We get all this great feedback from certified experts on beer, telling you what worked and what didn't, whether you win or lose," she says.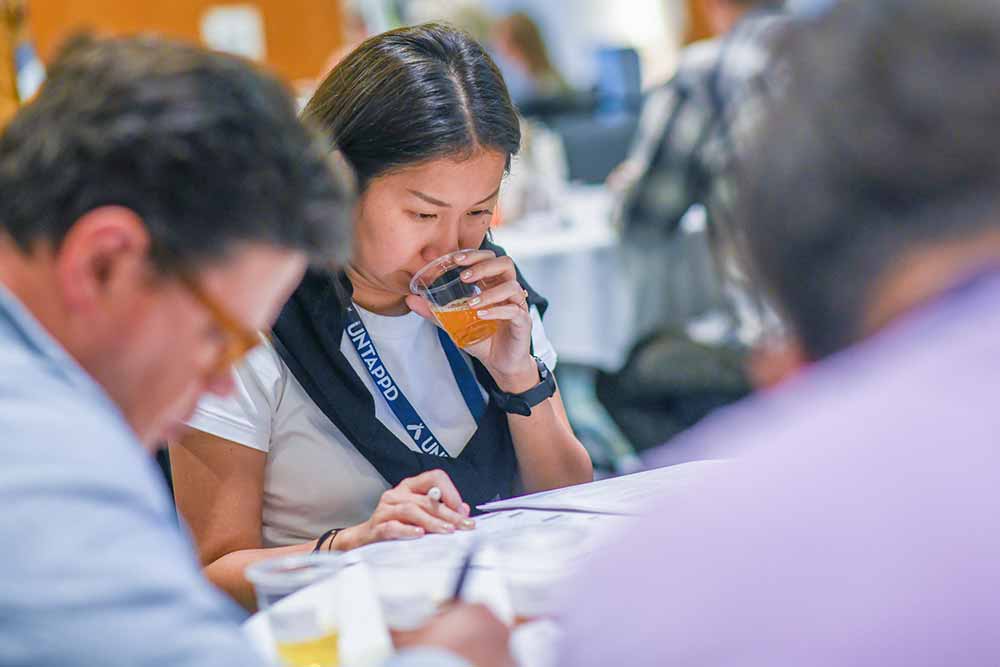 A similar vibe can be felt around the room. In front of us sat a contingent from Saint Arnold's Brewing Co. The brewery took home two medals—a bronze for its Amber Ale in the English Mild or Bitter category and a silver for Pumpkinator in the Pumpkin Beer category.
Yet every time another Texas brewery won, you could bet their cheers were the loudest in the room.
Whenever a Colorado brewery placed, huge hoots and hollers erupted from a section towards the front right of the stage full of Coloradans.
Colorado Brewers Guild Executive Director Shawnee Adelson had told us earlier that the Colorado teams always sit together during these awards ceremonies, loudly celebrating a win from any of its breweries.
At this year's World Beer Cup, those folks stayed pretty loud.
Colorado breweries cleaned up, with nineteen breweries winning twenty-four awards, including six golds.
"Colorado brewers continue to prove that they brew world-class beers through their consistency and diversity in beer styles," says Adelson in a press release. "This is demonstrated by the number of repeat winners and new winners that took home hardware this year."
And American breweries weren't the only ones to nab awards. This is a global competition, after all.
Fourteen Canadian, seven Japanese, five German, four Dutch, two Belgian, two United Kingdom, two Argentinian, one New Zealand, one Australian, one Italian, one Mexican, one Thai, and one Korean brewery all medaled.
Perhaps the most claps and whistles actually came for the Argentinian Juguetes Perdidos, which picked up a gold in the Experimental Beer category for its Abrette Sésamo #1. The team ran through the auditorium halls with a vast blue and white Argentinian flag, high-fiving folks along the way. Their smiles could not have been bigger on stage when they received their award.
These are just a few small examples of the power of the World Beer Cup to unite breweries from around the world.
"In the end, it's not only about the awards we give but about the global brewing community as a whole to continue to raise the standards for the quality of beer they brew," says Williams.
A Quick Glance at the Winners of the 2023 World Beer Cup Awards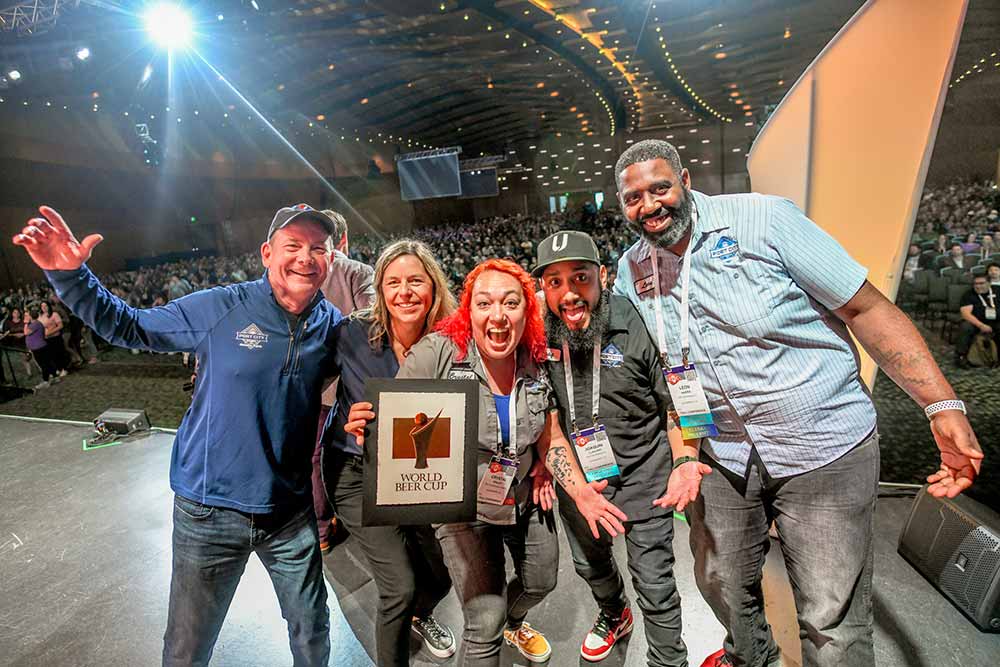 Here are the winners in the top five most-entered categories.
You can find the entire list of 2023 winners here.
American Style India Pale Ale (412 entries)
GOLD: Head Hunter | Fat Head's Brewery & Saloon | Middleburg Heights, OH
SILVER: Applied Science | Sunriver Brewing Co. | Sunriver, OR
BRONZE: Old West | Craft Coast Beer & Tacos | Oceanside, CA
Juicy or Hazy India Pale Ale (374 entries)
GOLD: Wherever You Go | Green Cheek Beer Co. – Costa Mesa | Costa Mesa, CA
SILVER: Nectaronus Prime | Moksa Brewing Co. | Rocklin, CA
BRONZE: Nelson | Prison Pals Brewing Co. | Doral, FL
German-Style PIlsener (233 entries)
GOLD: Pils | Von Ebert Brewing – Pearl | Portland, OR
SILVER: Dollar Pils Y'all | Holler Brewing Co. | Houston, TX
BRONZE: Bibo | Creature Comforts Brewing Co. – Southern Mills | Athens, GA
International Light Lager (220 entries)
GOLD: Anne Bonny | Le Corsaire Miscrobrasserie – Pirate | Levis, QC Canada
SILVER: 3 Speed | Amsterdam Brewing Co. | Toronto, ON Canda
BRONZE: Ultra Secret Enigma | Liability Brewing Co. | Greenville, SC
Wood- and Barrel-Aged Strong Stout (202 entries)
GOLD: Big Mistake | 11 Below Brewing Co. | Houston, TX
SILVER: Bourbon Barrel Aged Sexual Chocolate | Foothills Brewing | Winston-Salem, NC
BRONZE: Vladislav | Diebolt Brewing Co. | Denver, CO