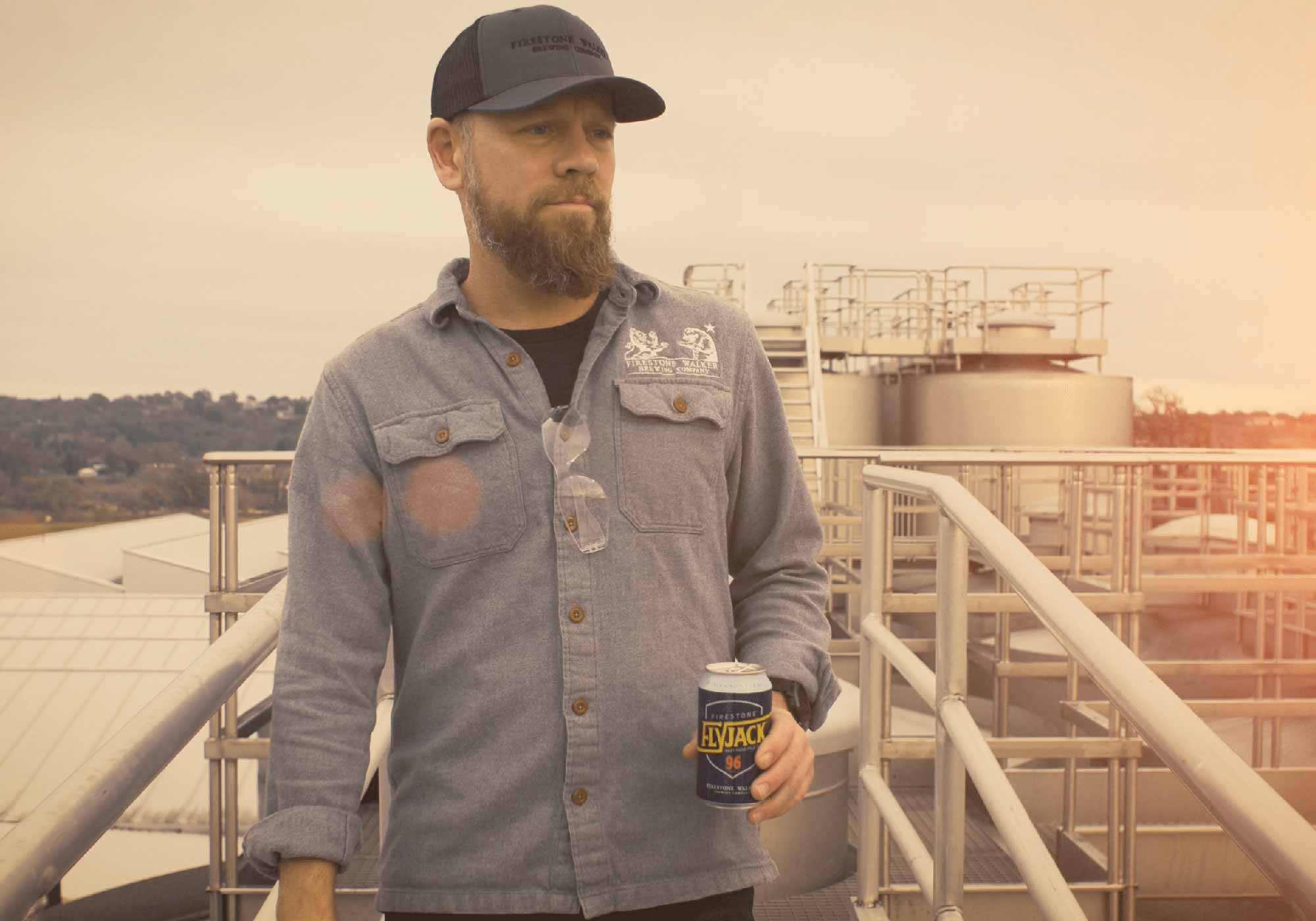 Photography courtesy of Firestone Walker
Over the last 25 years, California's Firestone Walker Brewing Company has made a name for itself by driving innovation in craft beer. Starting as an exclusively barrel-fermented brewery, Firestone Walker has since expanded its portfolio. In 2000, they released the craft lager Firestone Lager; with Union Jack, they helped drive the West Coast IPA movement; several years later, they trailblazed a path for American craft pilsners with Pivo Pils. In 2012, the brewery launched Barrelworks, an entire facility dedicated just to sours.
When the time came to craft a recipe for a lower-calorie, lower-carb, lower-alcohol hazy IPA called Flyjack, Firestone Walker Brewmaster Matt Brynildson was up to the challenge. And, it was a challenge. But the result? A crisp, creamy, better-for-you IPA with a ton of citrusy, juicy flavor.
Firestone Walker Brewing Company and the West Coast IPA
Although California is known for innovation in beer, Firestone Walker didn't actually brew an IPA until 2006. By this point, hop-forward beers had become popular across the country, but especially on the West Coast, where the beer scene was dominated by the style.
The release of Firestone Walker's first IPA, Union Jack, helped continue the popularity of the West Coast style. Over the next decade, Firestone Walker would build out its portfolio with a bevy of IPAs including Easy Jack, a lower-ABV version of their original classic, and Mind Haze, a shelf-stable hazy IPA. And starting the Luponic Distortion series gave Firestone Walker Brewmaster Matt Brynildson a chance to play with hops from around the world.
In 2019, Flyjack IPA became the brewery's first foray into lower-calorie beers.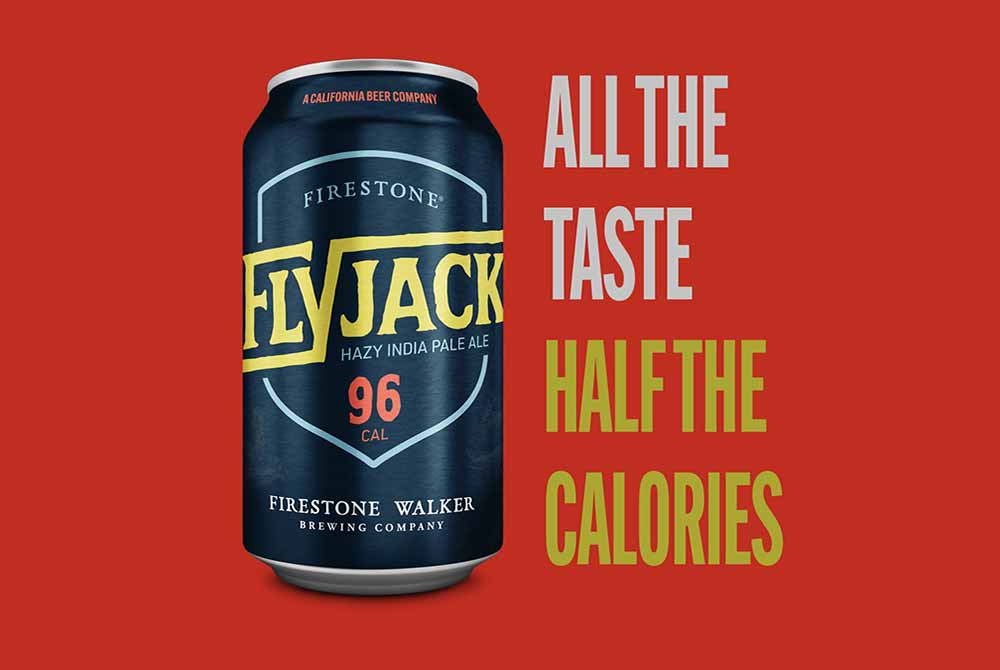 What Is Firestone Walker's Flyjack IPA?
Clocking in at 96 calories, five carbs, and just 4% ABV, Flyjack qualifies as a session IPA. According to the brand, it's "everything you want from a hazy IPA with nothing to weigh you down."
Demand for a "better-for-you" IPA started internally from the Firestone Walker team. An avid runner, brewery co-founder David Walker often averages 25 miles a week on the pavement. Head Brewer Matt Brynildson says he picked up the jogging habit a couple of years ago.
"As a lot of us on the team have gotten older we've become more health-conscious," says Brynildson. "Whenever we would formulate new beers inevitably in our brainstorming sessions everyone would get most excited about a low-alcohol beer."
So Brynildson set out to craft a beverage the team could enjoy after a run or a workout or even just a long day at work.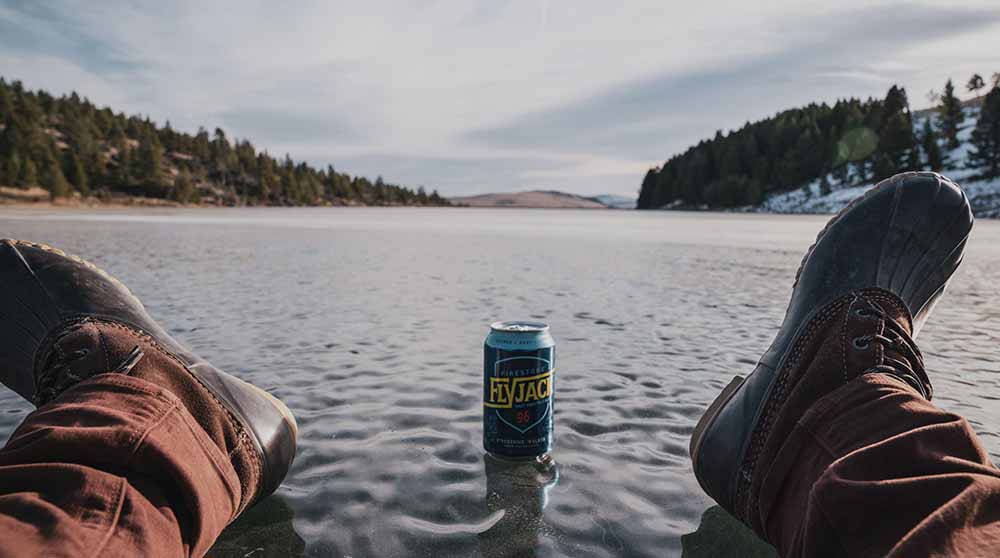 Why Is Flyjack IPA So Challenging to Brew?
It seems like a paradox — shouldn't a lighter beer be easier to brew? But, as any brewer will tell you, the opposite, is true. For example, lighter lagers such as Pilsners are often some of the most complex, finicky beers to make. Likewise, lower-calorie, carb, and alcohol beers can be quite tough to brew.
"I've always been fascinated with sessionable lower alcohol beer because of the challenge of making the flavor balance out nicely," says Brynildson.
According to Brynildson, the trick to creating lower-alcohol and lower-calorie beers is to ferment the heck out of them to eliminate as much residual sugar as possible, as added sugar contributes to a higher calorie count. At the same time, you need to keep the ABV to reasonable levels.
With Flyjack IPA, Brynildson also had to find a way to maintain the flavor and expectations around a hazy beer.
How To Brew Firestone Walker's Flyjack IPA
Between crafting the malt bill, hop profile, and yeast strains and honing in on the brewing process, Flyjack's recipe took over a year to perfect.
"This was a real head-scratcher," says Brynildson. "I can't remember how long and how many test brews we did, but we kept tweaking and tweaking before Flyjack was ready for production. When people see a hazy beer, it gives them a sense that the beer will have more texture and mouthfeel, whether that's true or not."
To hit this perception, Brynildson says the team layered in hops they knew would lend good mouthfeel and pack in tons of juicy character: Strata, Sabro, Idaho 7, El Dorado, Mosaic, and Chinook.
"It's a pretty crazy blend," says Brynildson. "All the hops we chose are ones we felt were in that bucket of tropical, or what I always call 'sweet fruit'."
Interestingly enough, Brynildson brews Flyjack with more pounds per barrel in the dryhop than Mind Haze, Firestone Walker's original hazy IPA. Flyjack receives a dose of four pounds per barrel of hops.
Complementing the cluster of hops is a cornucopia of malt. Brynildson adds Two Row and Munich malt, oats and blonde roast oats, and regular wheat and toasted unmalted wheat to create a distinctive chewy texture you often find in hazy IPAs.
"We threw in all the things we knew would add to the full mouthfeel, but also end up fermenting out pretty dry," says Brynildson.
To help with the fermentation, Brynildson leverages an expressive yeast. Referred to by most brewers as London Ale III, but named "Juice" by Firestone Walker's supplier, this yeast strain lends a fruity expression to its beers.
Lastly, Brynildson added a bit of orange peel into the beer.
"We threw a few Belgian toolbox tricks at this beer to see if we could check all the boxes," he says. In conversation, Brynildson draws a lot of parallels between light hazy IPAs and Belgian witbiers. "The best examples of Belgian witbiers such as Hoegaarden and St. Bernardus Wit are dry beers with fruity expressions, hazy wheat protein, and a nice mouthfeel."
What Is the Verdict on Firestone Walker's Flyjack IPA?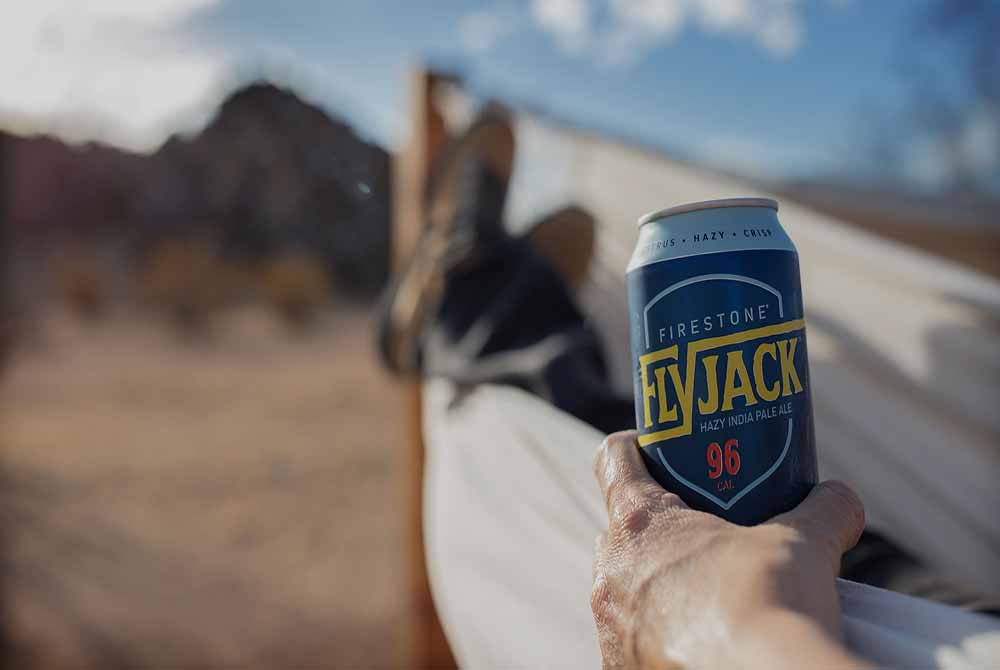 Although the final recipe took over twelve months to develop, the juice has been worth the squeeze.
Flyjack pours a beautiful, soft, hazy golden hue with a nice head of creamy foam. The aroma hits tropical while the first taste does indeed remind us of more of that classic wheat beer. However, it finishes with just a sliver of dank pungency.
"When you take a sip, it's super fresh, really drinkable and refreshing," says Brynildson. "Using hops for mouthfeel and roundness as opposed to just driving over-the-top hop character creates this notion of balance and drinkability."
Many brewers talk about "balance" and "drinkability," but few actually hit those qualities. But with Flyjack, Brynildson nails it. Immediately after you drink one, you want another. And then you contemplate popping the tab on a third. But with Flyjack, you can.
Juicy and full of flavor, but without the weight of the extra calories, carbs, and alcohol, this is a terrific IPA for the health-conscious crowd.
The Trend of Session Beers
IPAs — and especially hazy IPAs — aren't going anywhere. The hazy IPA is an approachable style, with a lower level of bitterness than its West Coast counterpart that offers mass appeal. And, the juicy hops and expressive yeast appeal to the sweet, fruity flavors that humans naturally crave.
So what's next for Firestone Walker? At the time of publication, Brynildson hinted that he's playing around with a recipe for a low-alcohol, low-calorie shandy or radler. But for now, Flyjack will round out Firestone Walker's hop-forward portfolio as a functional and flavorful hazy IPA.
"It's fine to have a whack at an extreme beer or an over-the-top sour, but those beers won't propel a brewery forward," says Brynidlson. "Beer is a cyclical thing. Brewers always find themselves gravitating back to sensible, drinkable beers. And nine times out of ten, it's those beers [like Flyjack] that carry breweries forward and help them continue to grow."
This is a paid, sponsored post presented by Firestone Walker.
Liked this article? Sign up for our newsletter to get the best craft beer writing on the web delivered straight to your inbox.