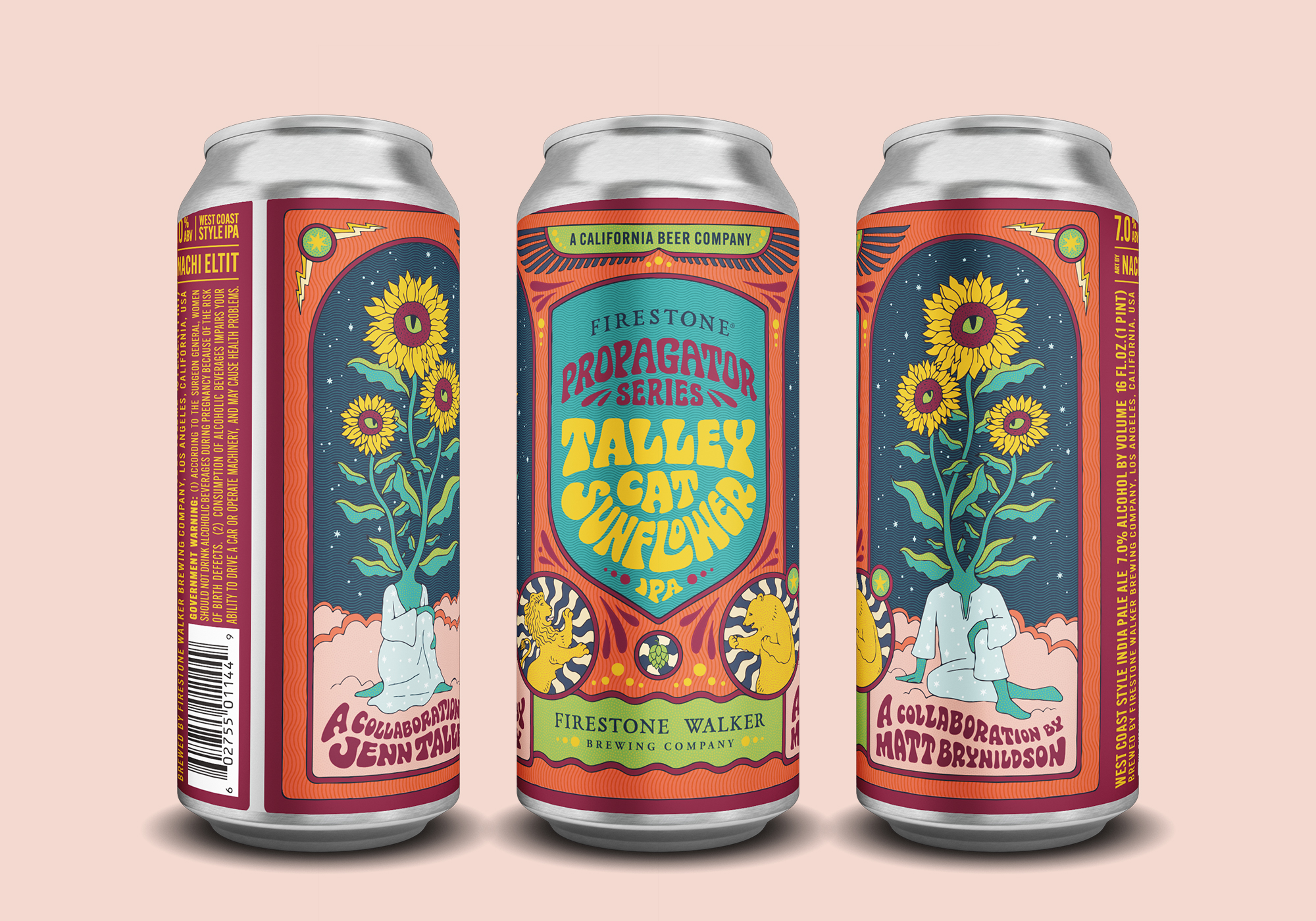 Photography and images courtesy of Firestone Walker Brewing Co.
For the last twenty years, Jennifer Talley and Matt Brynildson have accomplished a lot.
Now, for the first time, the two brewers and longtime friends have teamed up to brew a beer. Bringing a wealth of brewing knowledge and friendship to their collaboration, Talley and Brynildson's Talley Cat Sunflower, on the surface, is a groovy West Coast IPA. But, pop the tab and dig into the story behind this camaraderie and you'll find a history as colorful as the psychedelic Grateful Dead-inspired label. Brewed at Firestone Walker's Propagator R&D brewhouse in Venice, California, Talley Cat Sunflower is now available at all Firestone Walker locations as well as online at FirestoneBeer.com.
The story of this beer, however, begins with a friendship formed long ago by this duo of accomplished brewers.
Talley developed a pedigree in the industry through 20 years at Utah's Squatters Pub and Craft Beers and honed her brewing skills at a variety of other well-known breweries such as Salt Lake Brewing Co., Redhook Brewery, Russian River Brewing Co., and Auburn Alehouse. She is also part of the Bespoke Brewing Solutions team helping support equipment design and sales and harnessing Talley Fermentation's in offering consulting services to their client network worldwide. Through her time in the industry she has won more than 20 awards at the Great American Beer Festival (GABF) and the World Beer Cup, and published a book Session Beers: Brewing for Flavor and Balance.
Similarly, Brynildson—Firestone Walker's brewmaster since 2001—built his career by cutting his teeth in positions in top-notch breweries including as head brewer at Goose Island Beer Company's Chicago Fulton Street production facility. In 2007 he won the Brewers Association Russell Scherer Award for Innovation in Brewing and he's been named Champion Brewmaster four times at the World Beer Cup and Brewer of the Year six times at GABF.
But, despite all the awards, jobs, and accomplishments, spend a little bit of time with both Talley and Brynildson and you'll walk away with a treasure trove of shared memories and stories.
Perhaps most importantly, it's the bond these two brewing behemoths share that stands out the most.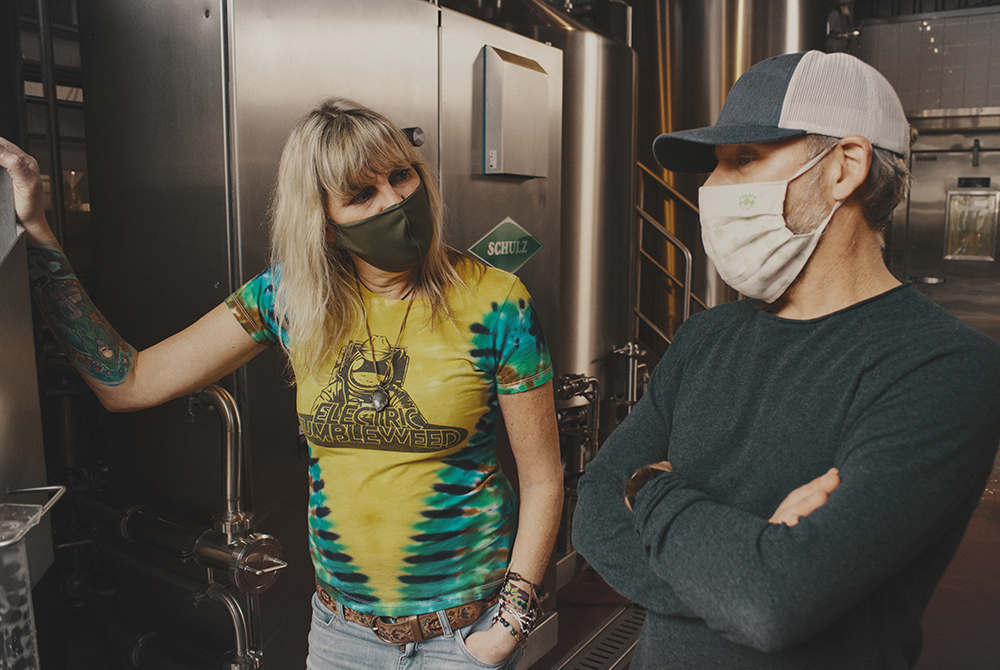 We wanted to learn more about the journey of both of these industry titans and why they waited until now to brew their first collaboration beer.
From Shakedown Street to Session Beers
Jennifer Talley's path to craft beer started on Shakedown Street. Known as the parking lots outside of Grateful Dead concerts, Shakedown Street was a place where vendors would sell food, clothing, jewelry, and beer. And, not just any old beer. Good craft beer. Talley tasted her first craft beer on these rhythmic pavements.
"I'd come out of shows supers excited and invigorated to find these ice chests full of Samuel Smith Oatmeal Stout and Sierra Nevada Pale Pale. I'd scoop one up," says Talley, a self-proclaimed hippie. "The beer really resonated with my taste buds. All these flavors of malt and hops weren't like a Budweiser or Coors; it was incredibly tasty."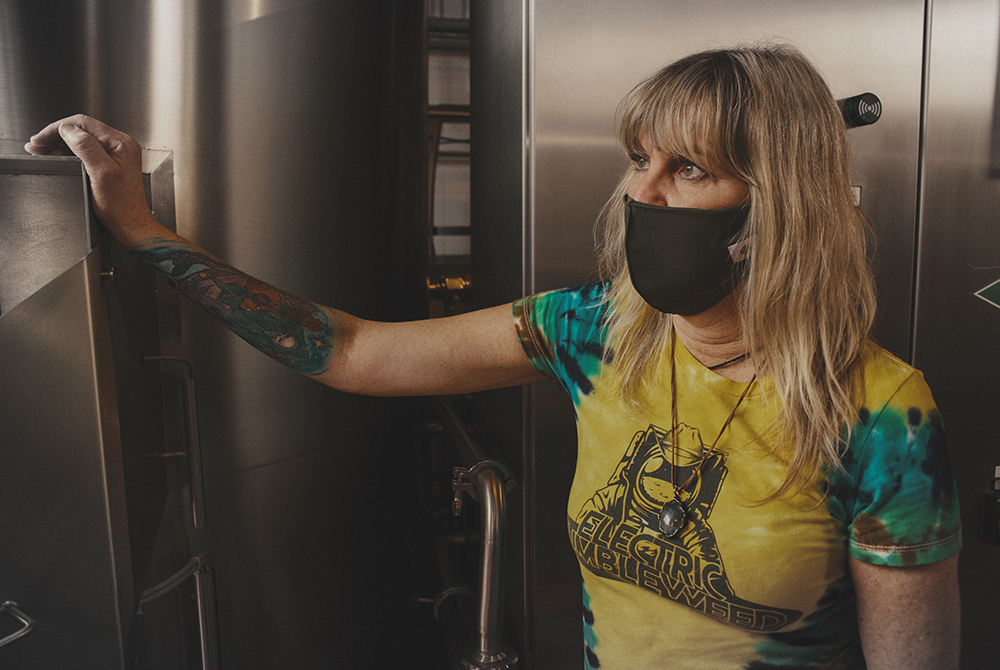 A couple years later in college at the University of Utah, Talley tasted a homebrew from one of her friends at a party. He told her he made it in his kitchen. "I thought this was the coolest thing in the world that you could make a beer in your kitchen, put it in a bottle, and drink it," says Talley. Fascinated and interested, Talley bought The Complete Joy of Homebrewing, a homebrewing pantheon authored by Charlie Papazian, the pioneering founder of the Brewers Association.
After brewing a Toad Spit Stout, one of Papazian's highlighted homebrewing recipes, Talley was hooked.
As luck would have it in 1991 Squatters Pub and Craft Beers posted a job at the brewery. Following her newfound passion, Talley hopped on her Rockhopper bike and pedaled over for an interview. She snagged the job, starting work at the pub for a four-month unpaid stint. With no previous brewing experience outside of the eight batches of homebrew she'd made in her kitchen, Talley set out to prove herself. Things didn't start out quite as she planned.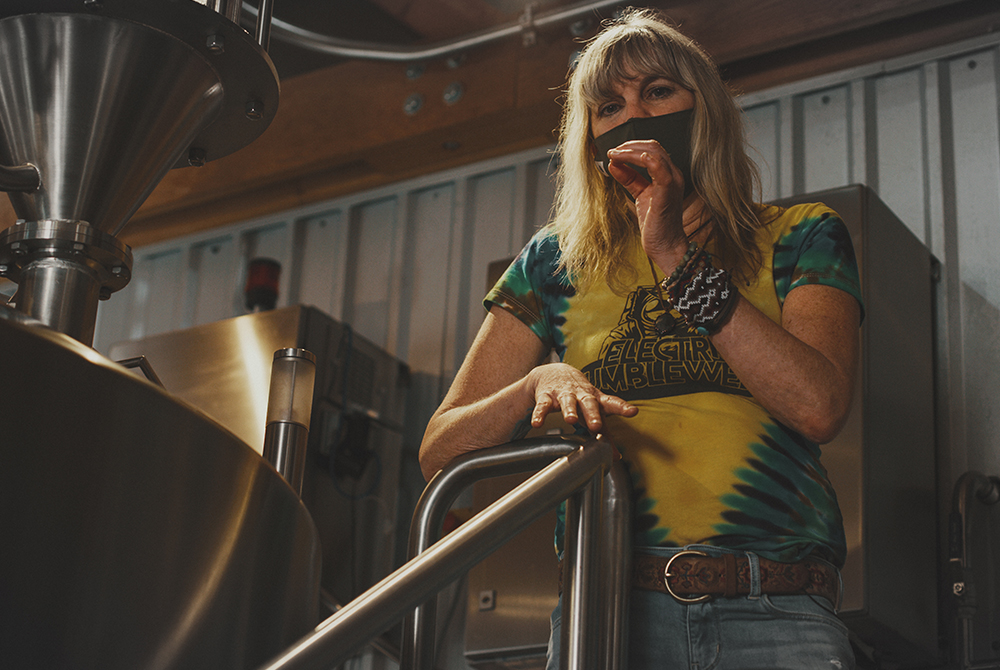 Stepping onto the brewery floor for the first time to clean the floors, Talley sprayed the hose directly into her face instead. But, slowly and surely she acclimated to the ins and outs of the brewery. Her daily duties included hand pulling five-pound buckets of hot water up to pour into the kettle. Once she became known for her tenacity, Talley flourished.
Working her way up to Head Brewer at Squatters, Talley spent the next 20 years learning and sharpening her professional brewing skills. But, she also sought a professional education. She sought an alumni scholarship to Siebel Institute of Technology, a vocational school in Chicago focusing on brewing education. She applied five times before being accepted. And, in 1995 headed off to Chicago for a two-week brewing course.
There, she met Brynildson for the first time.
From Hops to Head Brewer
Similar to Talley, Matt Brynildson found his passion for homebrewing in college. A student at Kalamazoo College in Kalamazoo, MI, Brynildson worked as a Hop Chemist in the hops lab at KALSEC (Kalamazoo Spice Extraction Company), a company that has provided the brewing industry with hop extracts for more than 30 years.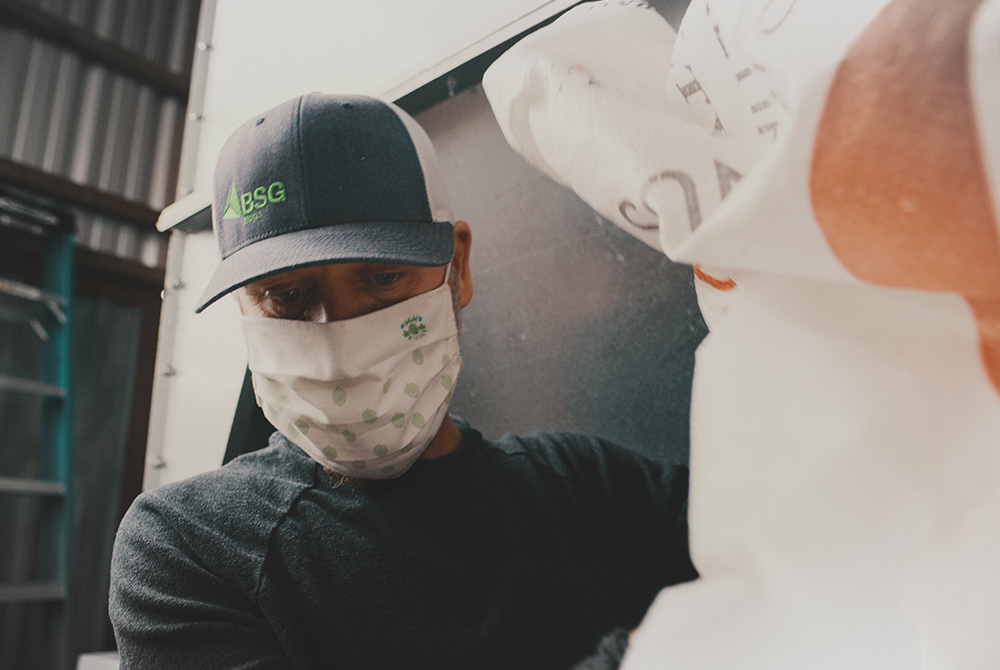 Plus, it helped that Brynildson lived in a town with well-established spots like Bell's Brewery. "I was living in Kalamazoo when Two Hearted first came out. I tasted the very first batch," says Brynildson, who spent a lot of time hanging out with Bell's brewers; they would often pass him jars of yeast to use in his homebrewing.
Eventually, Brynildson decided to take his homebrewing passion to a professional level. "Working in a hops lab opened up an amazing universe I didn't know existed," says Brynildson. "I didn't know you could be gainfully employed as a brewer." In 1995 KALSEC sent Brynildson to a two-week course at Siebel Institute of Technology.
From Two Weeks at Brewing School to Two Decades of Friendship
Despite different introductions to homebrewing in different parts of the country, Talley and Brynildson's paths finally crossed for the first time at the country's premier brewing school.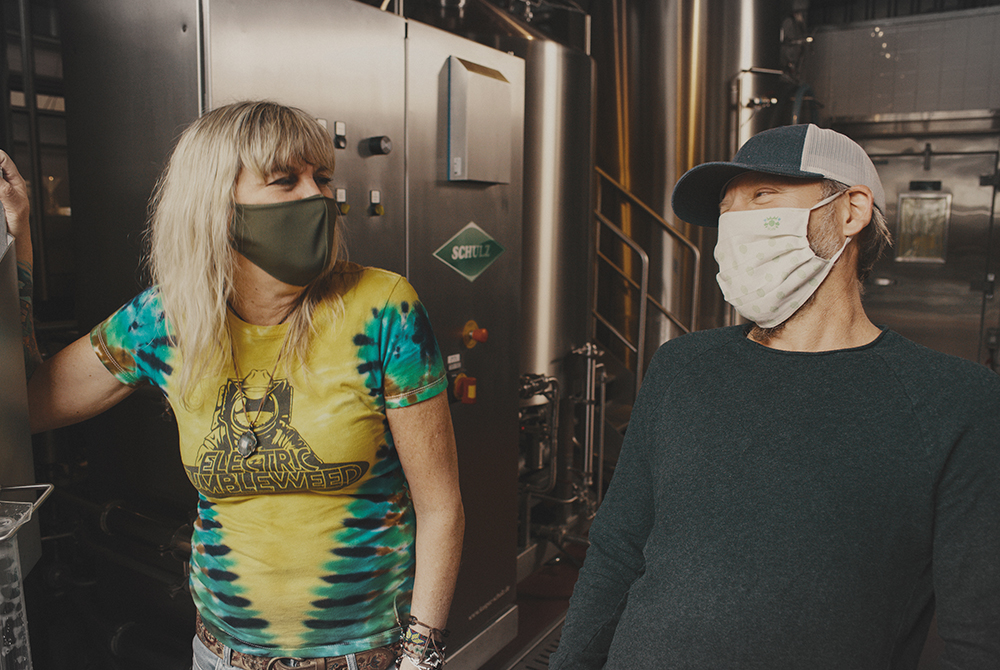 Meeting on the bus that took students from the Siebel classrooms to the Hilton they stayed at for the duration of the session, Talley and Brynildson became instant friends. "Matt is a sweetheart and humble, so we instantly hit it off," says Talley.
"I was starstruck," says Brynildson, "I just wanted to meet all these famous brewmasters."
At this point, Talley had been brewing professionally for about four years while Brynildson hadn't held a professional brewing job yet in the industry.
During the two week course Talley and Brynildson had access to a full-blown laboratory and education sessions from famous industry brewers the likes of Klaus Zastro, former Anehsuer Busch Brewmaster; Mary Palleteri, Quality Manager at Goose Island and Miller Brewing; Jim Helmke, former Canadian Leagues Brewmaster who later became the Brewmaster and COO of Yuengling; and David Ryder, Vice President of Brewing at Miller Brewing.
Located in Chicago, IL Siebel sat at the intersection of big brewing towns such as Milwaukee, WI, home of Pabst and St. Louis, MO, home of Budweiser. In the mid-nineties Chicago hadn't yet become a craft brewing mecca, acting more as a battleground between all these major macro brewing cities.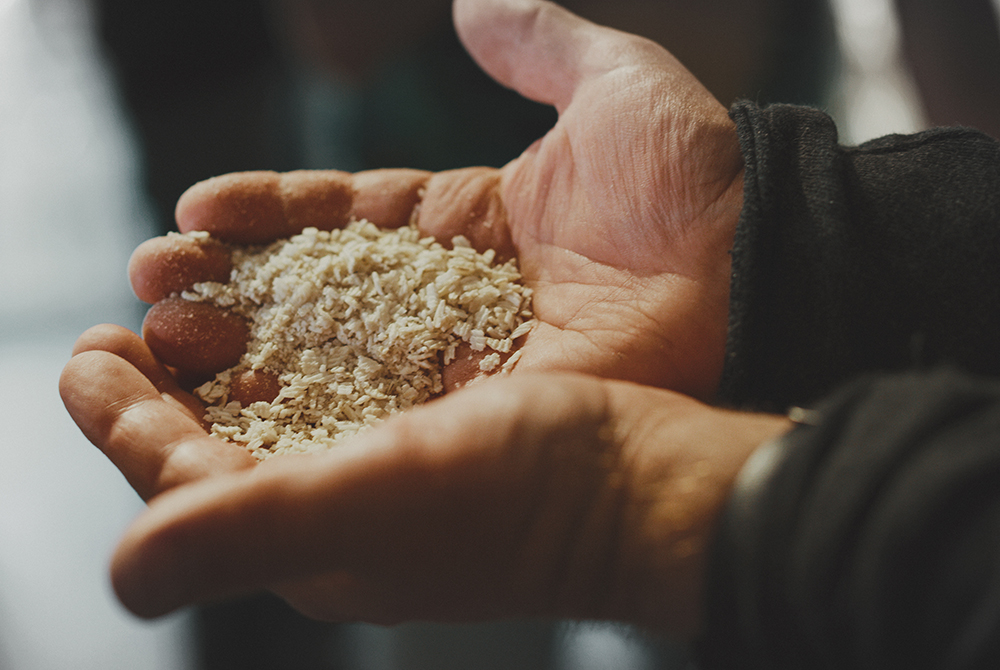 Talley points out that learning from these master macro brewers drove home two fundamental principles of brewing: 1) Adhering to strict safety protocols and processes and 2) Making consistent high-quality beer, "which no one knows better than macro brewers," says Talley. "Our fundamental training was perfect. We took that back to our small craft breweries and used that as a jumping block to make different interesting beers that weren't the same as industrial lagers."
Beyond the brewing education, both Brynildson and Talley fondly recount the camaraderie that developed between their coterie. "Everyone in class just bonded," says Brynildson, who remembers Christopher Bird, an instructor at Siebel and Head Brewer at Goose Island, taking the students to a different dive bar, pub, or Irish bar all over Chicago every night.
With the opportunity to learn from veteran brewers, both Talley and Brynildson were profoundly changed from their experience at Siebel.
"Jen and I walked into an environment with all these amazing pros telling their stories," says Brynildson. "I walked away from that experience as a changed person. There was no way I wasn't going to try and get into the brewing industry [full-time] after that [course]."
Towards the end of the course, Greg Hall, brewmaster at Goose Island from 1995-2011, came to Siebel. About to open Goose Island's Fulton Street production brewery, Hall was looking for brewers. Brynildson turned in his resume and went to work for Goose Island as his first full-time brewing gig. He started at $9 an hour.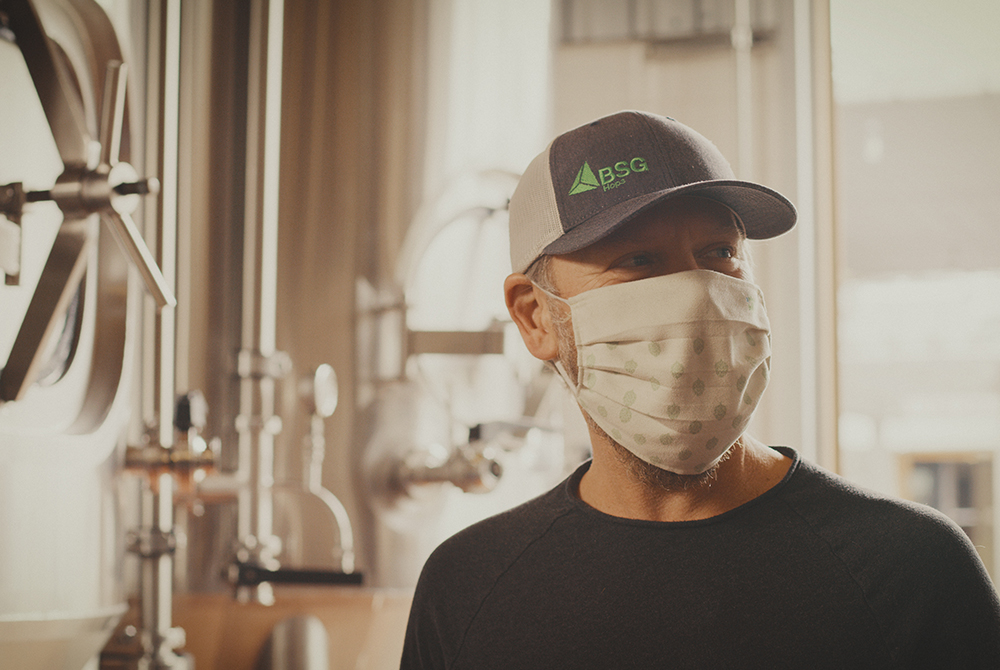 Talley went back to Squatters, where she brewed until 2011 before leaving for a position as Brewing Operations Manager at the Craft Brew Alliance. She continued to build her pedigree as Lead Brewer at Russian River and Brewery Development at Auburn Alehouse before branching out on her own.
While each separated to follow their respective successful careers, the connection Talley and Brynildson built during those two weeks at Siebel blossomed into a friendship that would span across the next two-plus decades.
Over Twenty-Five Years and One Collaboration Beer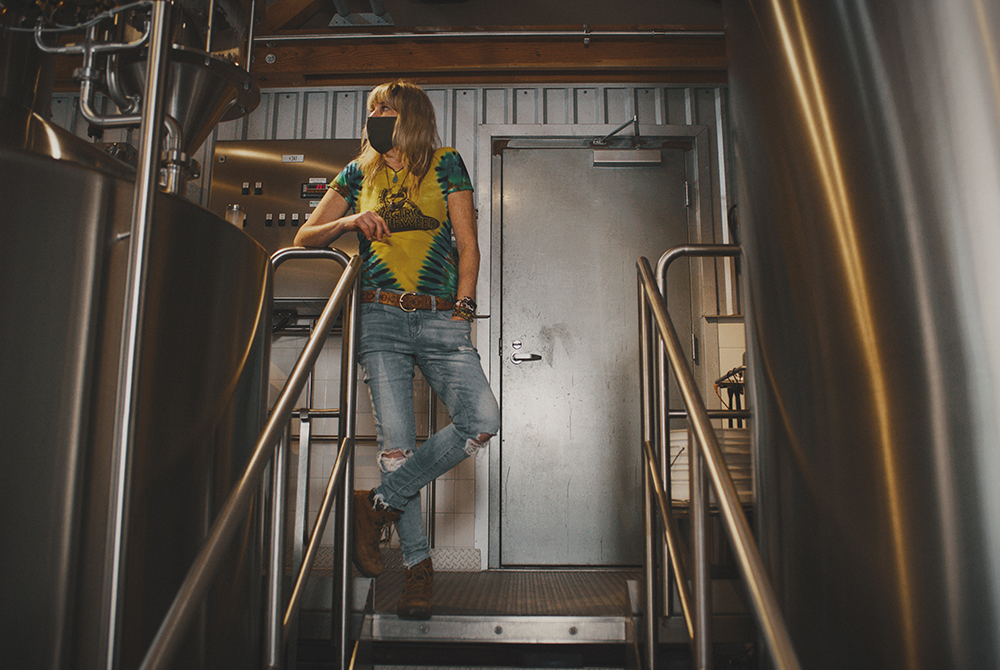 Still, it wasn't until over 25 years later that Brynildson and Talley would actually brew a collaboration beer together.
"I have a theory," says Brynildson. "It's funny, Jen and I have this close-knit group of friends we met at Siebel who have been brewing over the years, but we never reached out to each other to collaborate. I think we're such good friends…that this idea of commercializing our friendship never crossed our minds."
Talley agrees noting that their friendship group would often get together to drink and share ideas, but just never had the desire to officially make a beer together. "We're collaborating every single minute we had a conversation and we're learning together," says Talley.
Perhaps, a beer Talley actually brewed in 2007 captures this collaborative spirit perfectly. Called the Fifth Element, this Squatter's farmhouse ale was designed to encapsulate the notion of teamwork in the industry. "There are four main ingredients in beer, but the fifth element is the community of brewers," says Talley. The beer didn't physically involve a bunch of brewers getting together to brew, but highlighted different contributions from all these community connections.
For example, Talley called up Garrett Oliver to ask him for tips on bottle conditioning; asked John Mallett, then the Director of Operations at Bell's Brewery, for sugar calculators; rang Dick Cantwell, co-founder of Elysian Brewing for advice on saison yeast; and noodled through ideas with Josh Pfriem, now founder of pFriem Family Brewers, who at the time was just starting out and training with Talley in Salt Lake City.
Talley even pinged Brynildson to use some of Firestone Walker's DBA medium toast neutral wooden oak barrels for barrel aging; it just so happened 2006 was the first year Firestone Walker started its barrel-aging program.
Poetically, The Fifth Element represented collaboration at its finest, but technically it wasn't a collaboration beer as we know it by its definition today. It wouldn't be until 2021 that Talley and Brynidlson officially teamed up to combine their two to three decades of amassed brewing knowledge on a tangible collaboration beer.
"The long and short of it we've always been collaborating, but this is the first time where we actually brewed a beer together, packaged it, and came up with a name collectively," says Brynildson.
Introducing: Talley Cat Sunflower IPA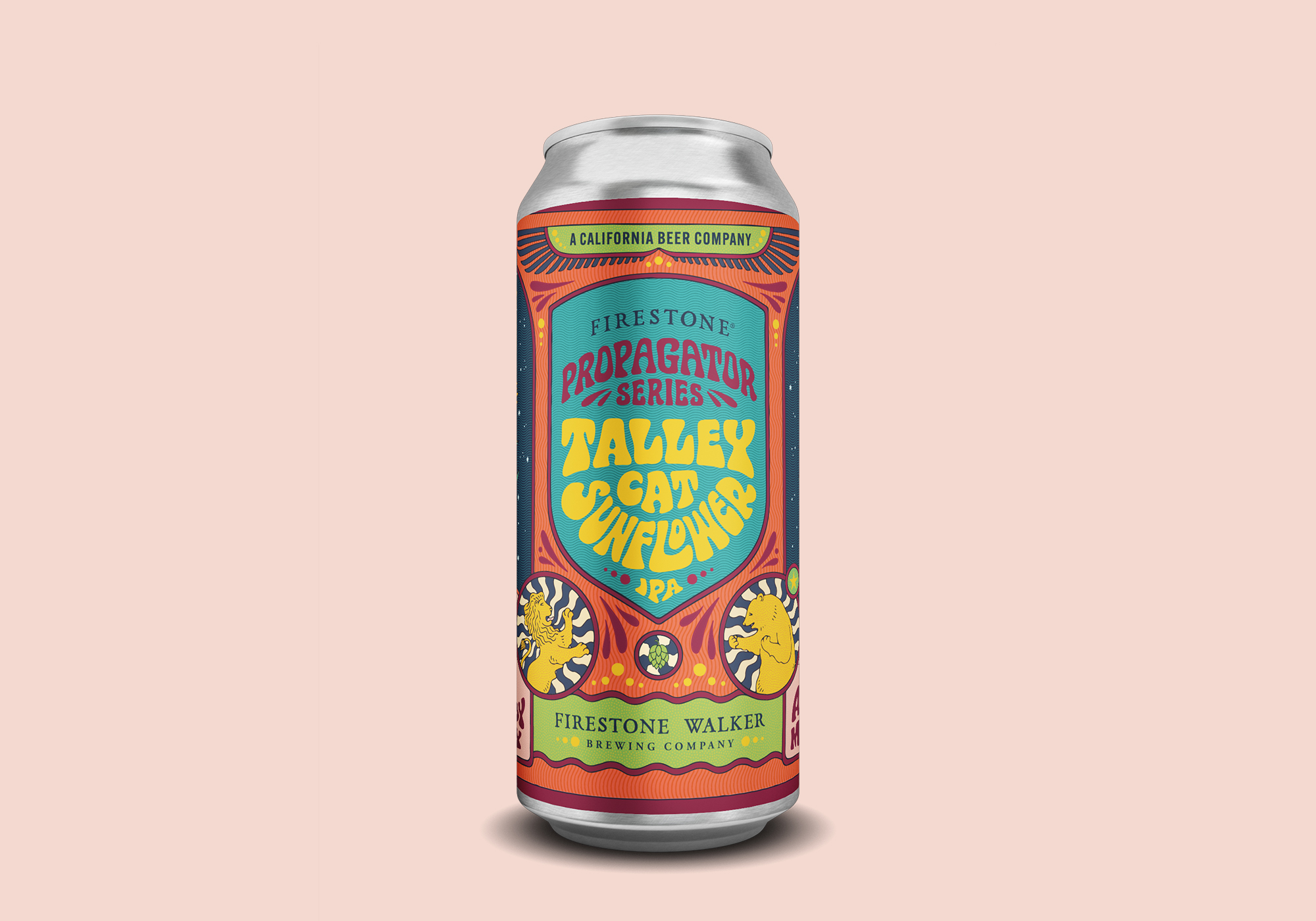 On the surface, Talley Cat Sunflower is a West Coast IPA. When first talking about the type of beer they wanted to brew together Talley and Brynildson felt it would be natural for them to focus on this West Coast style. They both lived in California. Plus, Talley had spent time brewing at the acclaimed IPA-focused Santa Rosa-based brewery Russian River, and she was a part of a team at Auburn Alehouse that took home a silver in the American IPA category at GABF.
Additionally, Talley and Brynildson wanted to stray away from beers they had become well known for in the industry. Brewing for 20 years at Squatters in Utah, Talley carved out a niche for herself as a master at session beers, a drink that contains no higher than five percent ABV. Why? Well, in Utah it was at the time and still is illegal to brew draft beer over four percent, meaning Talley spent plenty of time developing recipes for low-abv beers. In fact, the Brewers Association tapped Talley to literally write the book on this type of brewing called Session Beers: Brewing for Flavor and Balance.
Likewise, Brynildson has become a paragon of pilsner brewing. "For some reason, I'm Mr. Pilsner," said Brynildson. "Everyone wants to do a pilsner collab with me. I love that style, but it doesn't draw the same attention with beer lovers as a West Coast IPA. This beer seemed like the perfect thing."
The formulation just fell into place after that. Featuring a dash of Munich malt along with rice to bring body to the beer without weighing down the actual flavor, Talley Cat Sunflower hits right around the 7% ABV mark, squarely above a typical session beer or even Pilsner.
Of course, you can't brew a West Coast-style IPA without hops. And, after a careful hop selection Talley and Brynildson developed a fantastic bill for Talley Cat Sunflower.
"I don't like to pick the hops [for a collab] unless people can rub and smell them," says Brynildson. "So we spread six to eight hops on a table, rubbed through them, and decided what smelled best and would go together."
The result? German noble hops for the bitterness. Plus, Simcoe, Idaho 7, and Riwaka, a New Zealand hop known for its gooseberry, tropical fruit, and Sauvignon Blanc notes, for aroma and flavor.
"We're making a West Coast IPA with a hop from New Zealand, a hop that's grown in North America, but is a descendant of German hops, and a [straight up] North American hop," says Talley. It's a pretty cool amalgamation of hop genetics, flavors, and aromas.
Which happens to be a pretty perfect metaphor for this beer, bringing together friends from different backgrounds, but similar paths to create one flavorful can of liquid.
It's this colorful history that spills over into the rock theme of Talley Cat Sunflower.
A Collaboration Beer That Took Two Decades
Fashioned from the Grateful Dead's iconic song "China Cat Sunflower," Talley Cat Sunflower honors the synergy of Talley and Brynildson's friendship.
The groovy artwork is a natural reflection of Talley's Grateful Dead roots and Brynildson's equal love of the 1960's American rock band.
"When I first met Jen we started talking about music and the Grateful Dead came up. I've seen 25-30 shows, so I was pretty proud of myself," says Brynildson. "Jen, just laughed at me and said you call yourself a Deadhead?"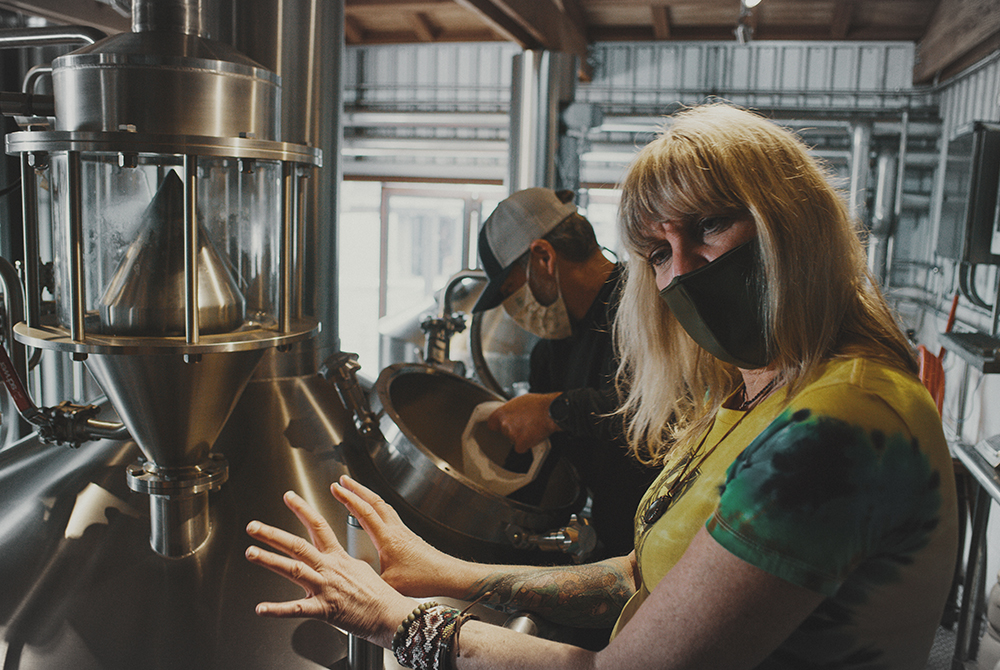 Living on Shakedown Street from 1983-1995, Talley muses that she's seen over a hundred shows. Talley once even hitchhiked from Kearney, NE to Wisconsin after her VW bus broke down on a way to see a Grateful Dead concert. "No Dead Head would go home, so I walked onto the on ramp and stuck out my thumb," says Talley. She rode with a bible thumper in a Ford Econoline, hitched a ride on a big rig from a truck stop, and slept under trees and underpasses in rain all to see her favorite band.
"You can see why the Grateful Dead theme was appropriate," laughs Brynidlson. "I thought I was dedicated to brewing, but I don't have a story like that. Although, I have slept on bags of grains in the brewery so I could mash in in the morning."
The pair's love of music and beer permeated their friendship. Whether traveling together to Craft Brewers Conferences around the country or GABF in Denver, CO Brynildson always found a great music event for the two to attend. From Lukas Nelson and As the Crow Flies in Nashville, TN to the Drive-By Truckers in Chicago, IL to the Widespread Panic in Austin, the two friends made it to music shows anywhere beer took them too.
It's this harmonious blend of beer and brewing, music and concerts, and memories and friendship that makes Talley Cat Sunflower truly unique and special.
Foam Fades, but Friendship Is Forever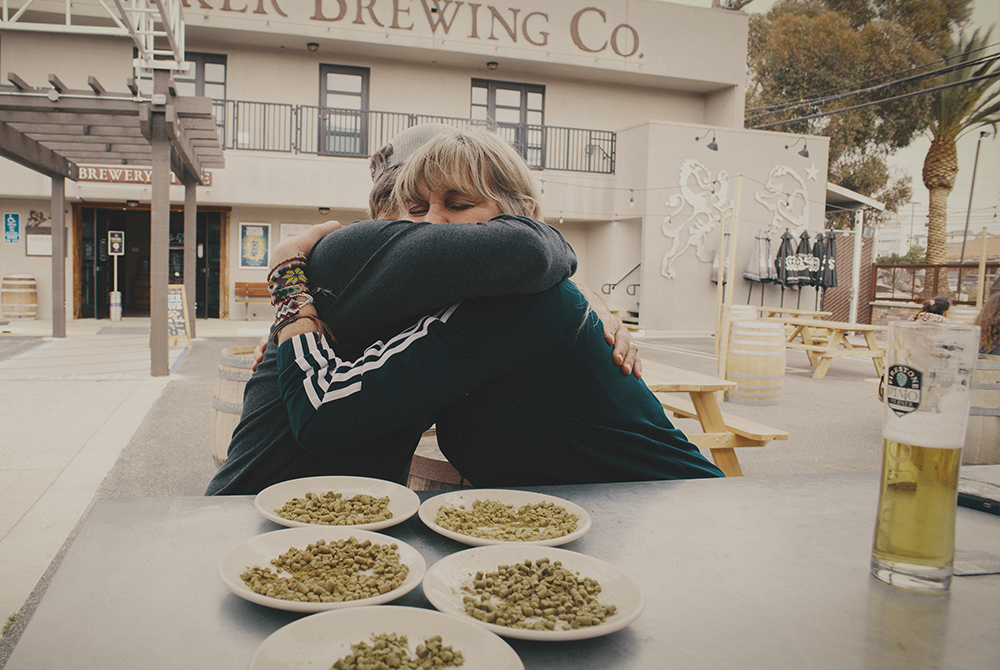 "This beer means friendship to me," says Talley. "It sounds corny, but Matt is one of my best friends. We've known each other for 27 years. I love brewing, but the camaraderie we have, the sharing of ideas and the love of beer…we're extraordinarily lucky this beer encompasses all of that."
Brynildson agrees, "That's perfectly said. I don't know what took so long, but this beer is a natural extension of our friendship."
From a chance meeting at Siebel to today Talley and Brynildson have poured the culmination of their brewing careers and stories into Talley Cat Sunflower. Equally parts precision brewing, passionate exploration of music and beer, and pondering the past, this beer magically personifies two brewers, two friends, and two decades of brewing and friendship. To take a sip is not just to enjoy a fantastic, juicy West Coast IPA, but also to take a step back in time and experience the camaraderie and community of craft beer lovers.
"Brewing this beer has been a lot of reminiscing, but also making new memories," says Talley. "I can tell we're not slowing down."
This is a paid, sponsored post presented by Firestone Walker Brewing Co.
Liked this article? Sign up for our newsletter to get the best craft beer writing on the web delivered straight to your inbox.