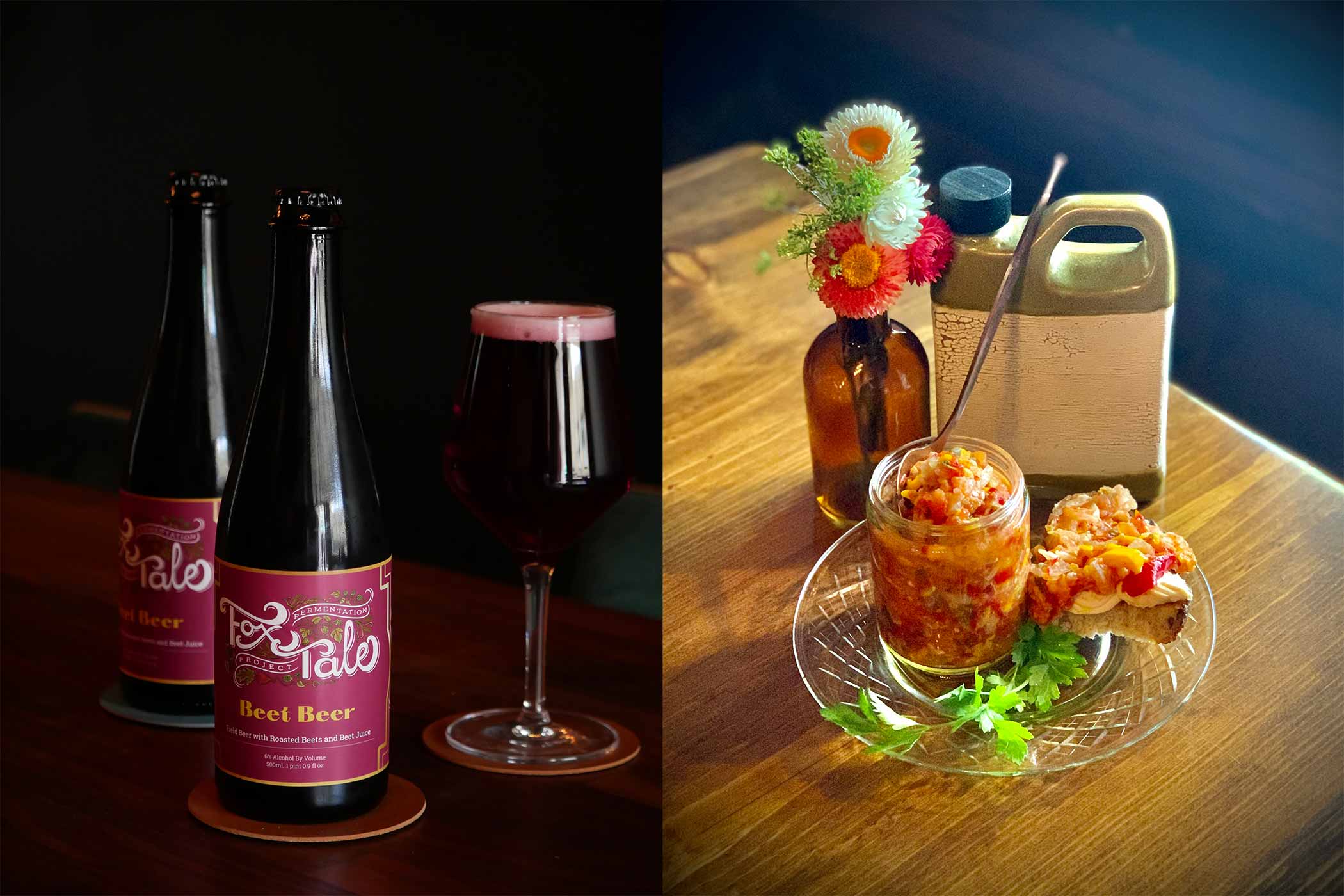 Photography courtesy of Fox Tale Fermentation Project
"What Is Your Favorite Brewery of the Year?" When we posted that question on Instagram a couple months ago, we had no idea what to expect. We just wanted to hear more from all of you about the breweries you loved in 2022. We certainly didn't think one name—Fox Tale Fermentation Project—to pop up again…and again…and again.
"Hmm, never heard of them," I thought to myself. So I did what all good journalists do nowadays.
I Googled them.
Imagine my surprise when I discovered Fox Tale Fermentation had set up shop in San Jose, a mere forty-five-minute drive from me. So I reached out to co-founders Wendy Neff and Felipe Bravo and started planning a trip down to the South Bay.
Which is why my wife and I found ourselves tucked into a tiny storefront on San Jose's mainstrip the day before Christmas Eve, sipping on beers like a golden ale with macadamia nuts conditioned on toasted coconut and pandan leaves. Or a saison with candy cap mushrooms that smelled like maple syrup 🤷‍♀️ (trust us, it's so cool).
And wolfing down dishes like sweet potatoes caressed with heat from the oven and habanero peppers. Or a kimchi bowl brimming with black garlic white kimchi, heirloom black rice, mixed salad greens, rainbow carrots, and watermelon and purple daikon radish.
"This is the most colorful table I've ever seen," my wife gleefully remarked before shoveling in a forkful of fermented cabbage.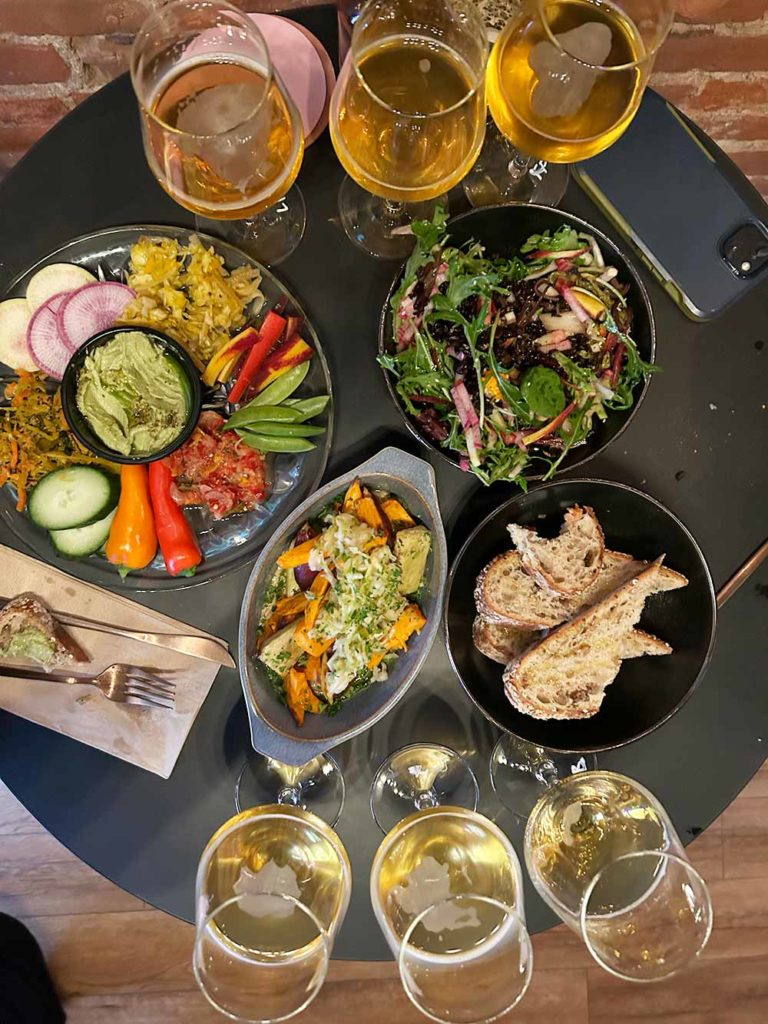 As always, my wife was right.
But it wasn't just the beers and food that exploded across a fantastical spectrum.
Spend any amount of time talking with Neff and Bravo and you're enrobed in a rainbow of richly hued passion. Their frenetic energy and imagination permeate everything from the air to the food to the beer.
Walk inside Fox Tale's tiny shotgun-style shop and you'll be magically transported down a rabbit hole.
One you'll want to get lost in and probably never leave.
Down the Rabbit Hole with Fox Tale Fermentation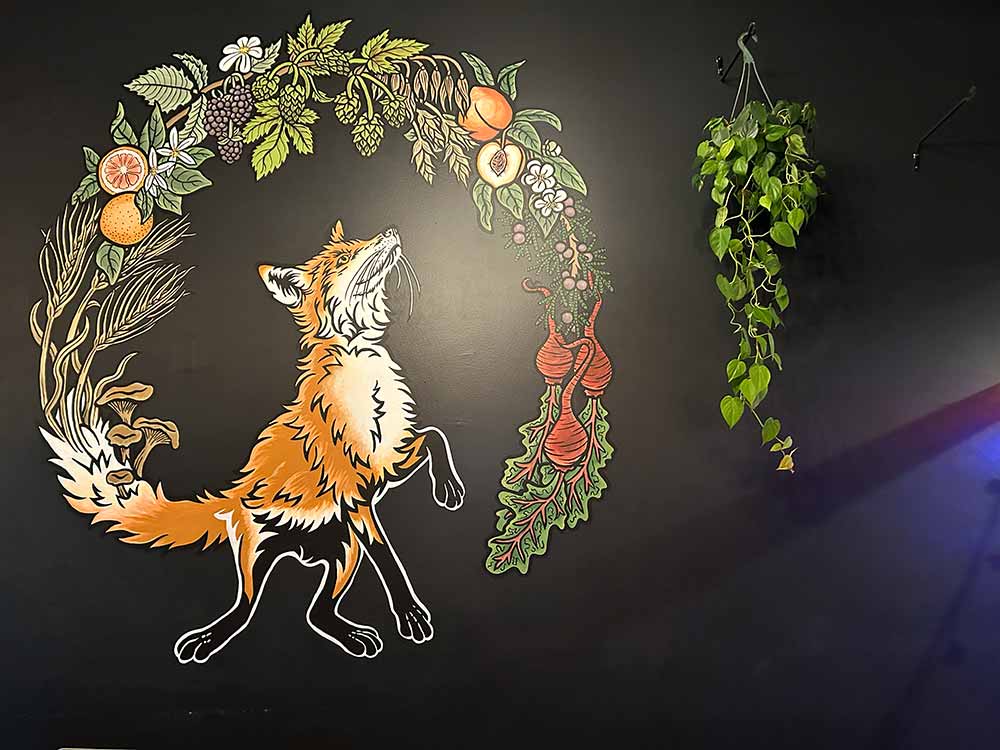 Still not sure what walking into Fox Tale Fermentation is like?
"We've been told by multiple people it feels like a tavern in Harry Potter," laughs Neff. "It's cozy, it's home, it's inspired by our own home in a lot of ways."
Walk in and you'll immediately notice a gorgeous wall mural by artist Brittni Paul with a cornucopia of produce erupting out of its tale.
See, Neff left out that Fox Tale Fermentation is also magical. Inside the brewery there is an air that anything can happen.
Or to put it more succinctly, Neff and Bravo are "creating an environment where culture can grow," according to their tagline.
Which means conventional rules need not apply.
Fox Tale Fermentation isn't just a place making beer. Far from it.
"We're an all-inclusive brewery and food cafe that uses local ingredients, supports the community, and is a space for everyone to come in and be a part of it," says Bravo.
Over the two hours my wife and I sat in Fox Tale Fermentation, Neff and Bravo probably knew at least seventy-five percent of the folks that came in, giving them a hug or a high five, saying hello, and striking up a conversation.
"Versus your typical brewery that's very cold, industrial and huge…we wanted to create a space in which people felt invited and in a good, safe, comfortable place where they can relax," says Neff. "We're the antithesis in a lot of ways."
Instead of being minimalist, "it's maximalist," jokes Neff.
Because at Fox Tale Fermentation they're big on forming a space for all; big on fantastical fermentations; big on fomenting flavor.
Candy Cap Mushrooms, Lacto-Fermented Lemons, Hojicha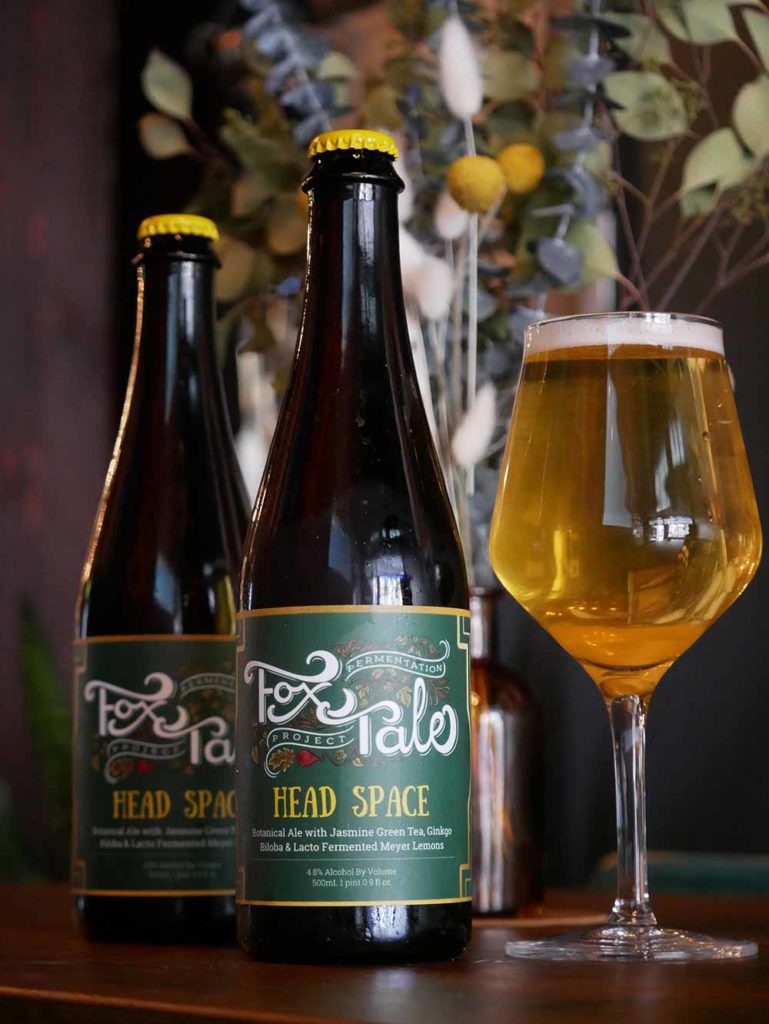 On Fox Tale Fermentation's tiny Blichmann 2.5-bbl electric system* stuffed into the back corner, Bravo has been whipping up beguiling beers with ingredients like candy cap mushrooms, lacto-fermented lemons, or hojicha.
For example, a light rice-based beer called Head Space includes those aforementioned lacto-fermented lemons, green tea, and locally foraged leaves from a Ginkgo biloba tree in the neighborhood. "You have tartness from the lemon rind, fruity aromatics from the jasmine green tea, and herbalism from the Gingko biloba," says Bravo, noting this is his favorite beer he's made this year.
"We're trying to use all these ingredients to create something special…to get people to understand we are experimental, doing different things," says Bravo.
With a background in engineering and math, Bravo has worked mostly in large-scale production breweries. Most recently as the former production manager at Fort Point Beer Co., one of our favorite San Francisco breweries.
Since 2014, Bravo learned the ins and outs of iterating on the same high-quality recipes and brewing processes, making basically the same four beers every week.
And while the recent recipient of a brewing scholarship from The Michael James Jackson Foundation for Brewing & Distilling enjoyed this clinical approach, he also wanted to rebel a bit, learning to let out some of his creative passions.
Given the freedom to change the tap list at Fox Tale Fermentation based simply on what's in season and what local producers have to offer, Bravo can let his imagination once again run down the rabbit hole.
My wife and I didn't have the chance to try Head Space when we visited, but we found a slew of other enchanting tipples on tap.
Like Fung Shui, a farmhouse ale aged on candy cap mushrooms that magically smelled like maple syrup. Seriously. You hear the word mushroom and expect savory, but in a Jedi mind trick, Fung Shui actually has a very pleasant sweetness on the nose.
"Upon reading the ingredients people see mushrooms and think, 'I don't like mushrooms,'" says Bravo. "Well, you don't understand that these are candy caps that have a very maple, cinnamon, and sweet aroma."
But this beer is a surprise within a surprise because take that first sip and you'll be pleasantly surprised to find that you're not drinking a jug of sap. "You smell that beer and it smells very sweet and people think it's going to be very sweet…then you try [the beer] and it's very earthy, funky, and dry," says Bravo. "It has all the playfulness of a clean saison but smells very sweet."
If you are looking for something a bit sweeter, try Faux Paus, a sour farmhouse ale with carbonic macerated pawpaw fruit hopped with Nelson Sauvin and Lachancea Thermotolerans.
That last mouthful is a saccharomyces yeast that creates lactic acid from the glucose in the wort, as Bravo explained it to me. "We don't have to use lactobacillus, pediococcus, or brett to get these complex sour flavors because we're still doing another stage of fermentation with the fruit to give us that sourness from the fruit puree instead."
Basically, Bravo takes the fruit, throws it into a fermenter, seals it up with CO2 for a couple of months and lets it completely ferment on its own. "It's just getting weird in its own skin," says Neff. "We're getting this new flavor out of the fruit on its own. You didn't know a peach [for example] could taste this way, but you ferment it on its own for a couple of months and all of a sudden you have this wild, funky, complex flavor that we get to add to create a completely different beer."
Meaning in Faux Paux you taste this super tropical cocktail that punches you in the mouth with hues of passion fruit, pomegranate, and dragon fruit.
The straightforward, straightlaced rules simply don't apply at Fox Tale Fermentation.
"The fun part is deciding whatever rules were made before we have no obligation to follow them and we can create our own way of doing new things," says Neff. "We're coming up with things we've never had before. This is our way of doing it!"
Suffice it to say that when you step into Fox Tale Fermentation, I guarantee you that by the time you step out you will have tasted something you've never tasted before.
Whether that's from sipping the beers or digging into the food.
*Editor's Note: according to Bravo since they high gravity brew all their batches they actually end up with closer to three barrels in the fermenter
Fermented Ratatouille, Avocado Toast, Black Garlic Kimchi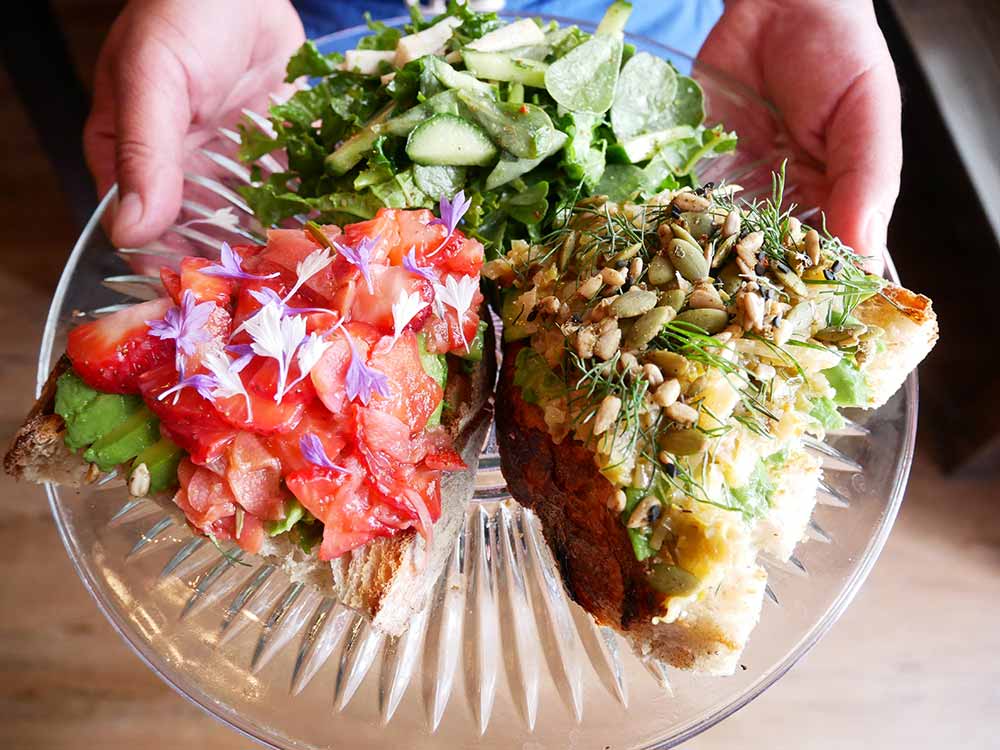 Meanwhile in the kitchen, Neff oversees the fermented foods. Leveraging her background leading the Superfoods program at Facebook Headquarters, she creates dishes that engender exploration and nourishment. "I want people to walk away having tried something they've never tried before and learn about something they would have never eaten before," she says.
For example, an avocado toast. Ubiquitous, right? Not at Fox Tale Fermentation. Something you think you've seen in every form transforms under Neff's wizardry.
Firebrand sourdough gets topped with California avocado: One gets pickled beets, Guindilla peppers, and sage cream. While the other includes cultured seed and a fermented ratatouille "chopenade."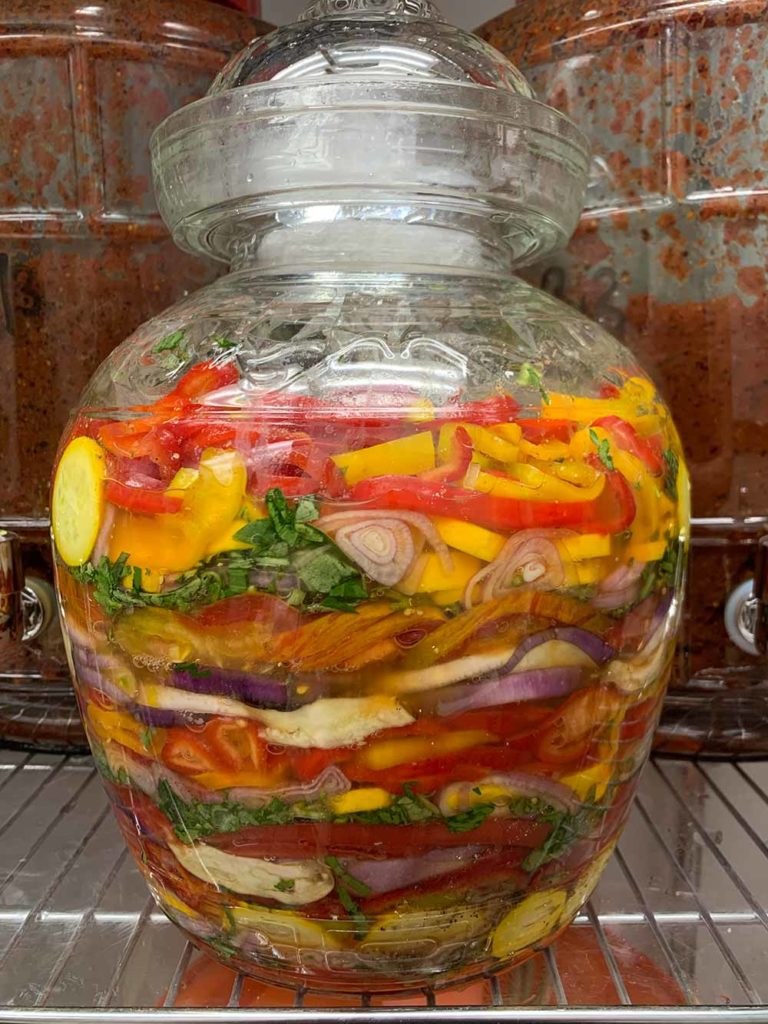 "It's easily one of my favorite things I've ever made," says Neff, who takes tomatoes, eggplant, zucchini, peppers, and basil from a Portuguese and Spanish family farm and ferments them all together. "It turns into this very cool, colorful, rich, flavorful spread," she says. "These are flavors everyone knows but in a way they've never had."
Such as preserved lemons. Something you've seen on almost any menu within the last ten years or so, right?
Well, at Fox Tale Fermentation, Neff takes this humble citrus beyond. She picks Meyer lemons from a friend's tree and literally just packs them with salt into a fermenter for a solid month. "Preserved lemons are a very old dish. It's a very old concept," she says. "But it's fun to take them and find new ways to use them."
Like in beer! Remember, you'll find those lacto-fermented Meyer lemons in Fox Tale Fermentation's Head Space botanical ale.
Or sweet potatoes. A seemingly timid tuber gets sensationally spiked at Fox Tale Fermentation.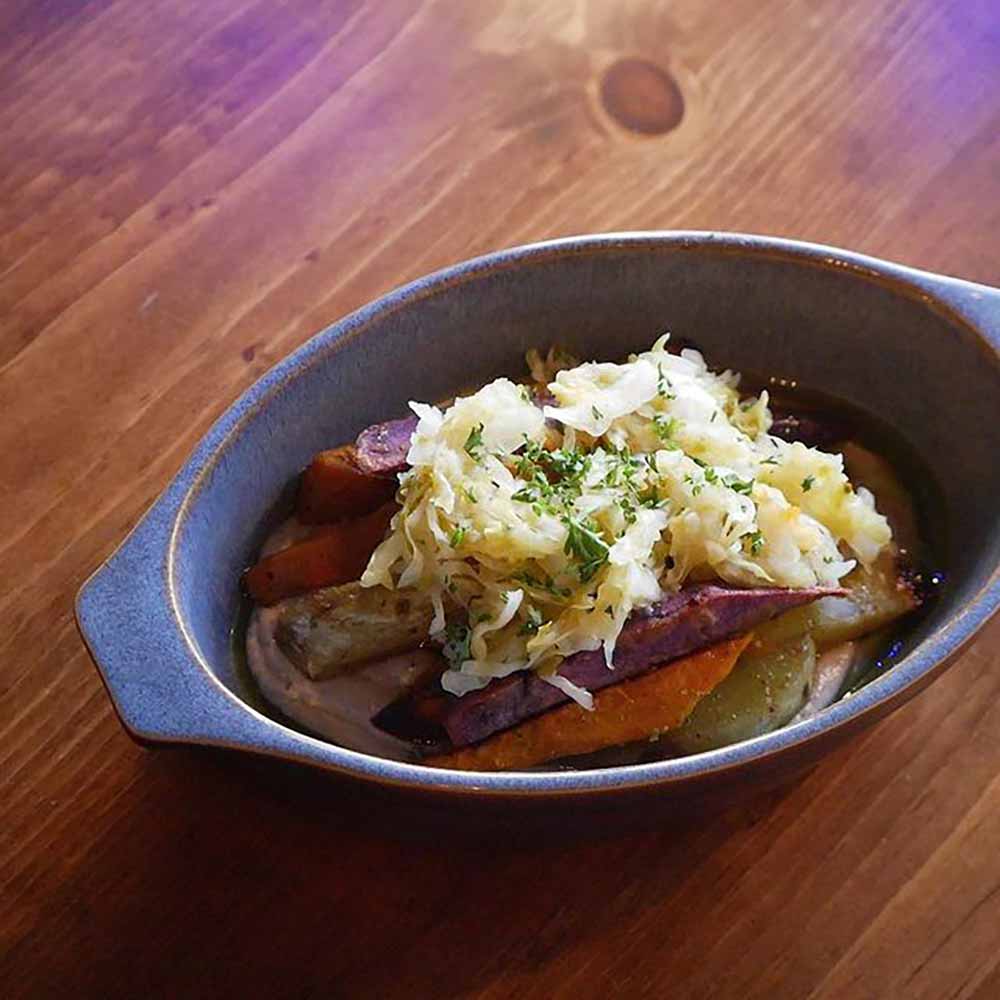 A surprise favorite dish when we visited, the "Roasted Mixed Sweet Potatoes" featured Georgia, Jet, Muraski, and Okinawan Purple Sweet Potatoes from Borba Family Farms in Aromas, CA. Along with habanero peppers from Fox Tale Fermentation Chef Jorge Adams' own backyard fermented in sugar instead of salt. A crunchy topping of Sweet Cone cabbage and cipollini onions (also from Borba Family Farms) foil an unctuous sage crema and parsley oil underneath.
Everything comes together in such harmony. "So so so mmm mmm good," I wrote in my notes. Creamy, plush, sweet spuds gave way to snappy, zippy sauerkraut with a slightly numbing tingle from the peppers. All made for an intriguing contrast in flavors and textures.
And don't leave Fox Tale Fermentation without ordering "The Full Spread." It is quite simply the ultimate Fox Tale tasting experience. Almost like a crudite-plate-cum-charcuterie-board, only instead of meats you get all kinds of tasty fermented things.
Each plate comes with a Spring Sunflower Spread, Firebrand bread, and fresh veggies like mini peppers, sliced cucumbers, and radish. But from there it's a choose-your-own-fermented expedition. Pick three from around fifteen different ferments. All handmade by Neff.
When we went she had five different sauerkrauts, three different kimchis (we tried the Fire Belly with habaneros, cipollini onion, orange zest, and sea salt and the Farfetch'd with carrots, ginger, turmeric, wakame seaweed, and black sesame seeds), a seasonal stuffing, those preserved Meyer lemons, the Ratatouille Chopenade, and several others on hand.
The fermentation doesn't stop at just food and beer. Neff even makes fermented syrups to go into an incredible lineup of mocktails.
The Prettiest Mocktails You Ever Did See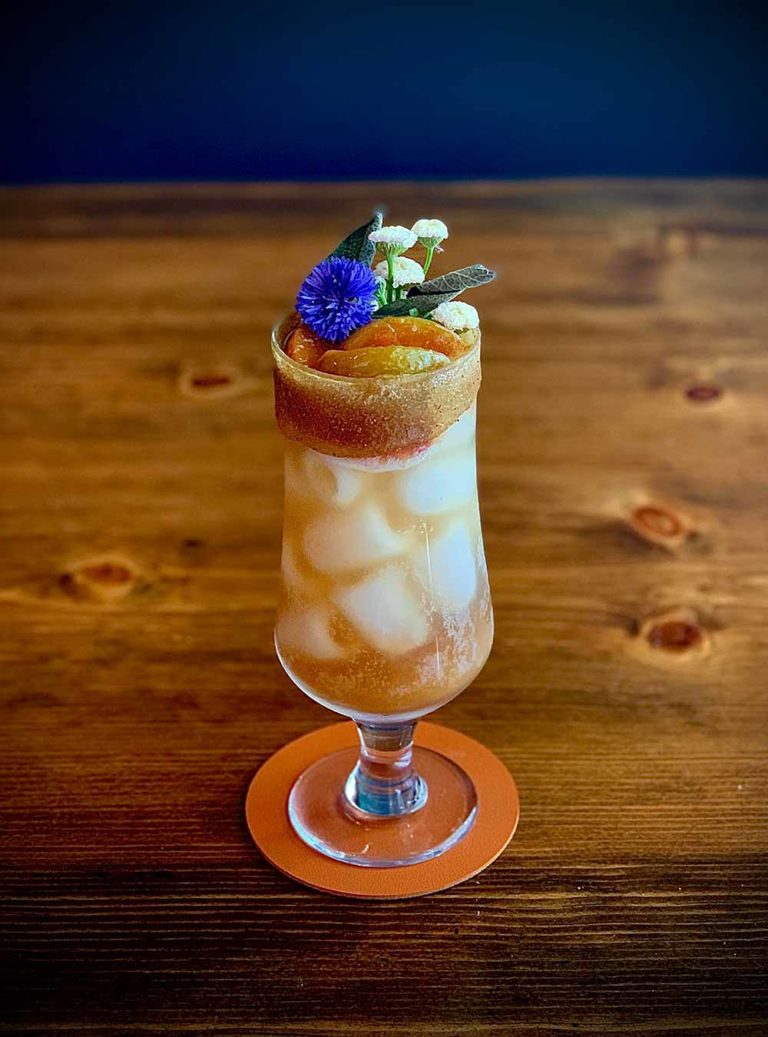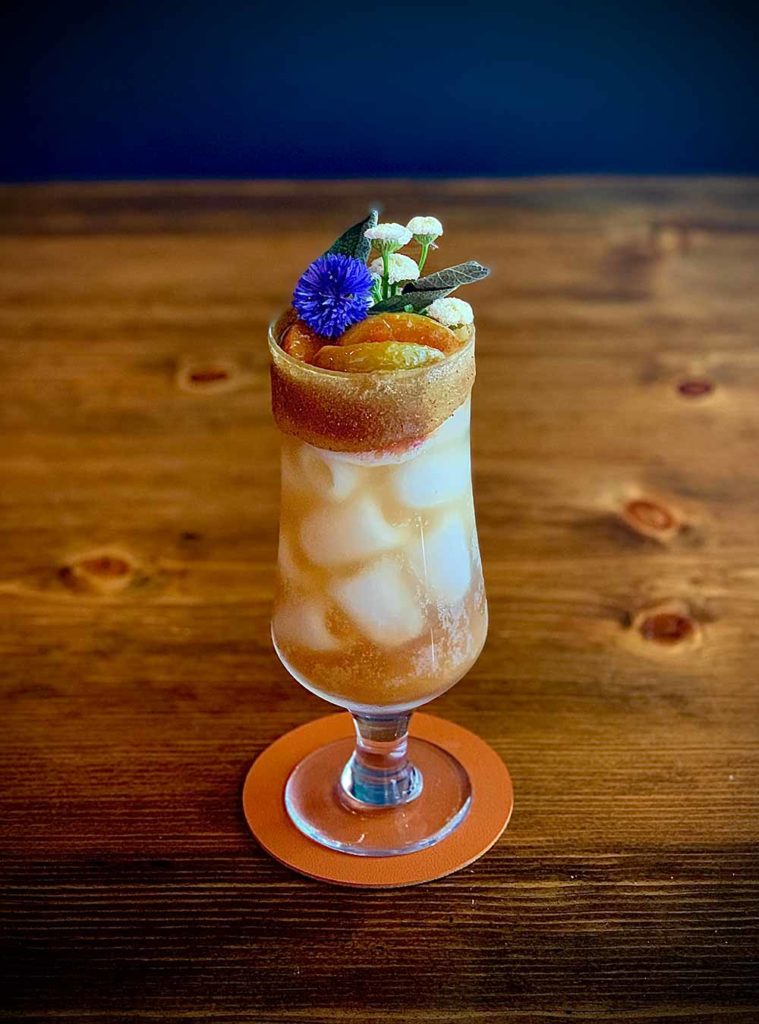 Personally, I've never seen someone go to such lengths to make a non-alcoholic drink.
Neff's process for one drink often includes creating a fermented syrup, making a fermented tea, and adding a whimsical rim with ingredients like toasted coconut sugar.
The most popular, according to Neff, is a fermented strawberry lemon verbena syrup mixed with butterfly pea flower rose hips and violet. It comes with a rim of lemon paste and sugar infused with rose hibiscus and damiana, an herb known as a powerful aphrodisiac. Neff calls it her "love potion."
"It's a deep dark purple base that's sparkling with a super beautiful hot pink syrup," says Neff. "It is so refreshing and decadent at the same time."
Now, Neff and Bravo try to make a corresponding mocktail for every alcoholic beer they brew "so if people don't drink, they can drink the flavors," says Bravo.
For instance, to complement Legend of Pandan, a golden ale with roasted macadamia nuts conditioned on toasted coconut and pandan leaves, Neff created this extraordinary mocktail.
She started with a sparkling tea base of lemongrass and dried Strata hops that were soaked in vinegar before being pickled and dehydrated. She then added a fermented pandan, macadamia, and coconut syrup and gave the whole shebang a toasted coconut sugar rim.
That's a lot of work going into one drink that doesn't even have alcohol in it. But it's paying off.
"The amount of people that thank us for having [mocktails] or come here because we have them is so special," she says. "We're giving people space where they don't feel like they're missing out on drinking."
That's just the ethos at Fox Tale.
Breaking Rules, Fermenting Freedom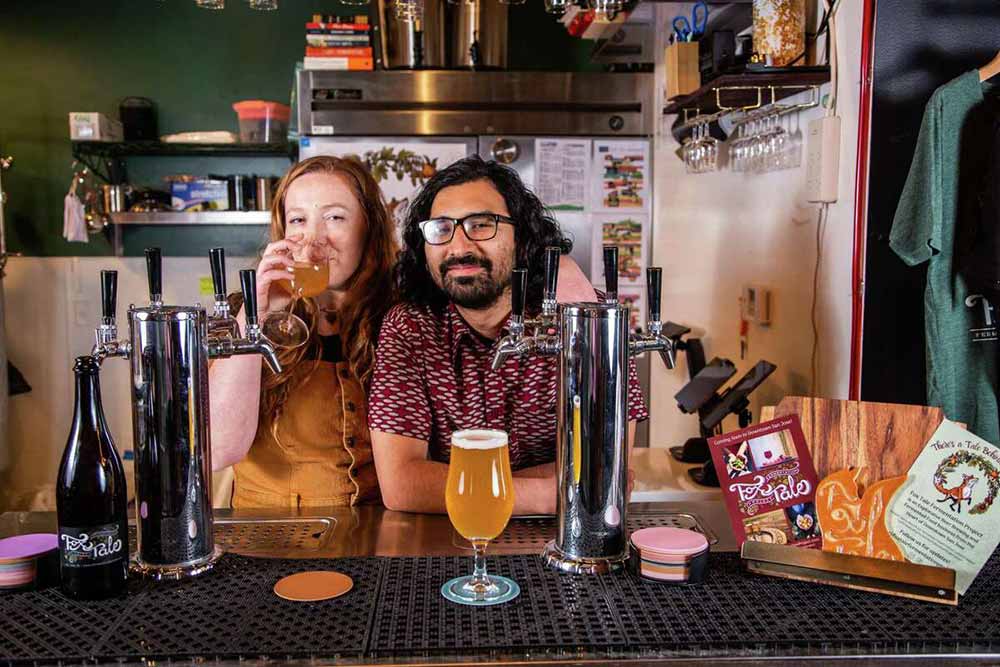 Although Fox Tale Fermentation has only been open for just shy of a year, Neff and Bravo already have big plans for the future.
They've talked about canning their mocktails and shipping across the state so more people can try their creations.
Locally, they're looking to host more events in the San Jose taproom to continue creating that community.
When it comes to the beverages and food, ultimately the possibilities are as endless as this duo's imagination. "There is just so much we can do," says Bravo excitedly.
Considering all the buzz our fans brewed up on Instagram, it looks like Bravo and Neff aren't the only ones excited about Fox Tale Fermentation's future.
"Seeing all the comments for us was super heartwarming and super exciting," says Neff. "This is really hard to do and it's all worth it but you have to take every little thing on every day to keep you going, so…being noticed…means the world and helps us get through literally the hardest thing we've ever done."
Fox Tale Fermentation isn't just breaking the rules, they're fermenting them.