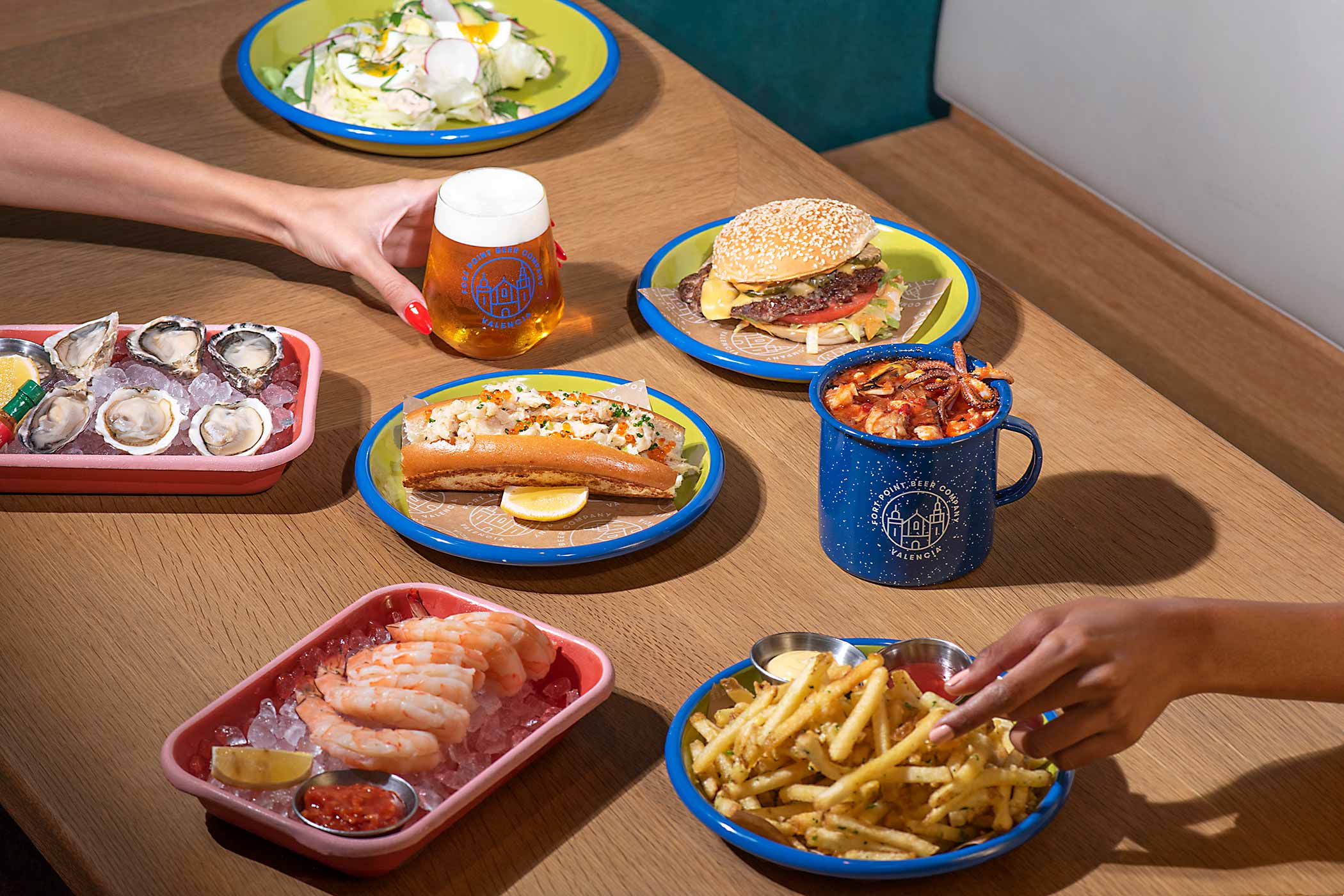 Photography courtesy of Sasha Netchaev | Fort Point Beer Company
Fort Point Beer Company in San Francisco, CA, has always wowed us with their eye for style, architectural branding, clean concepts, and equally balanced, easy-drinking beers.
Founded by Dina Dobkin (Chief Brand Officer) and her husband Justin Catalana (CEO), Fort Point Beer Co. is a San Francisco brewery through and through. One focused on representing and symbolizing the unique aspects of this iconic West Coast city.
You can see nods to San Francisco woven everywhere. From the name—inspired by historic Fort Point masonry below the Golden Gate—to the branding and marketing, where simple illustrations and sketches evoke the city in their subtlety.
For example, on their cans of Sfizio Italian pilsner, you'll find outlines of common San Francisco landmarks like The Sentinel Building (aka Columbus Tower).
Or KSA, the brewery's best-selling classic kölsch, which features illustrations of the Grace Cathedral.
That same terroir, if you will, winds its way into the beers.
That light crisp kölsch-style ale? Fort Point considers it "a modern SF classic," featuring a blend of German malts and American hops.
While Villager is a San Francisco-style IPA "inspired by SF's love of great food."
Accordingly, Fort Point has now channeled that same pride for its hometown into a new seafood-based menu.
One that has "a little bit of surprise and delight," says Dobkin, while staying true to some of the iconic dishes of San Francisco. "Our strength is being this San Francisco brewery and really repping our town. We're going all in with…creating this legacy brand that is part of the city."
Fort Point Introduces a New San Francisco-Inspired Food Concept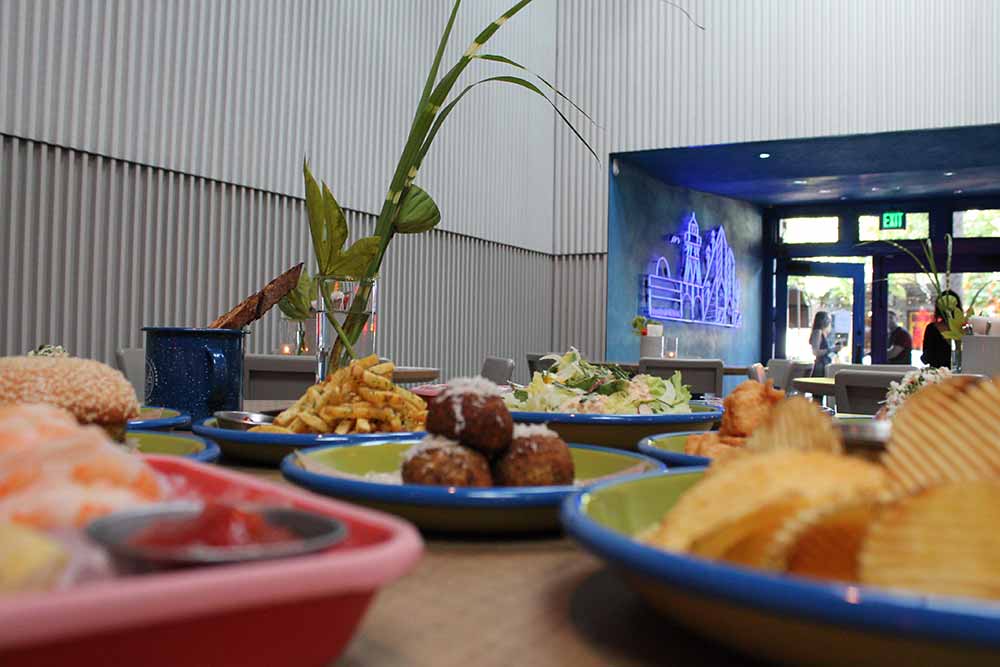 Back in 2019, Fort Point opened a 3,000-sqft taproom on Valencia Street in San Francisco's modern Mission District. For that, along with the aforementioned reasons, we named them one of our "10 Hidden Gem Breweries to Watch in 2020."
At the time, Fort Point's previous Culinary Director, Eric Ehler, had developed a menu very personal to him full of beer-friendly food.
Little did anyone know that a couple of months later the global pandemic would shut down breweries all across the country.
Fort Point itself did not fully welcome people back until February of this year. And while they reopened with the same menu, Ehler had moved on, opening up a new pizza concept called Outta Sight Pizza.
So with the changes came an opportunity for Dobkin and Catalana to reinvent their menu, crafting one that could truly bring the fabric of San Francisco inside their kitchen.
"Often you pair beer with burgers, wings, and fried things," says Dobkin. "We had that, but it didn't tell much of a story."
So after a lot of thinking, deliberating, and eating at restaurants across the city, Dobkin and Catalana realized that they "needed to connect the food back to San Francisco because all of our beers are very much inspired by the city," says Dobkin.
Armed with a new mission, Dobkin and Catalana set out to answer the question: What is the classic food of the city? What dishes were invented in San Francisco?
The answer overwhelmingly came back to seafood.
Dishes like cioppino, Louie salad (a salad featuring crab), Dungeness crab rolls, and even green goddess dressing.
"The concept of SF seafood came about pretty seamlessly," says Dobkin.
But in true Fort Point fashion, the brewery didn't just want to recreate the classics, they wanted to refresh them.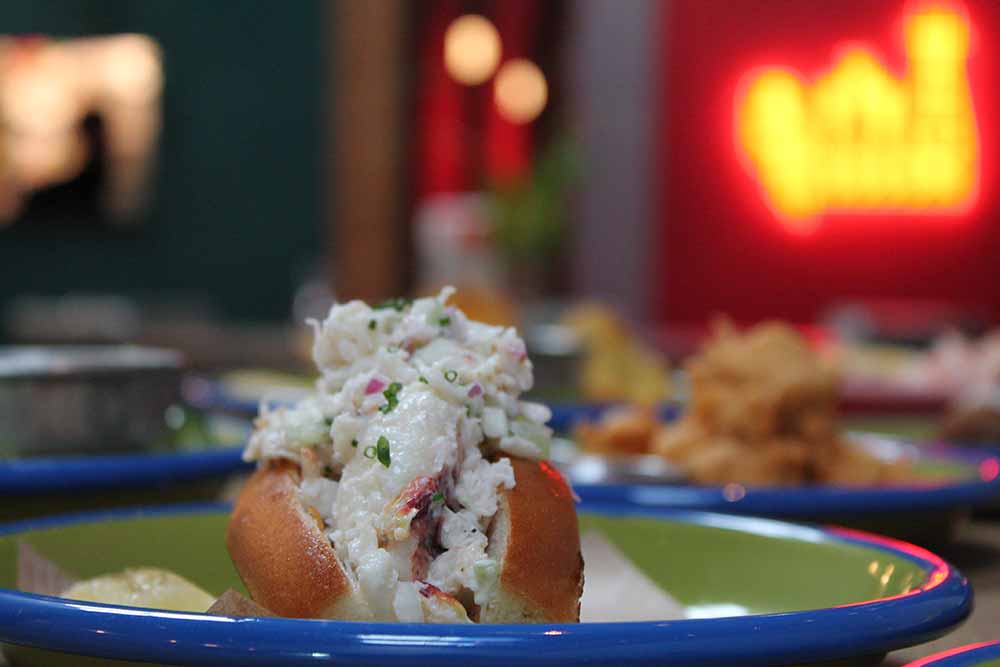 Fort Point Refreshes Menu with New Culinary Director
To help execute their vision Dobkin and Catalana hired a new culinary director. Cecile Macasero joined the team back in May after stints as Chef de Cuisine at The Whale Wins, a Seattle-based seafood restaurant run by James Beard award-winning Chef Renee Erickson.
Macasero's love of seafood stretches all the way back to his childhood growing up on a small island in the Philippines, where his cousins and uncles used to cook whole fish on the beach.
It's that old fire for seafood that Macasero brings to Fort Point's new concept with updated twists.
"I wanted to capture the spirit of classic dishes, while making them fresh and new," says Macasero in a press release, who notes those "twists" could be through sustainable sourcing, creative cooking, or artful plating. "It was also a really fun challenge to create food that is both approachable and really exciting."
Classic San Francisco Seafood with Subtle Fort Point Flourishes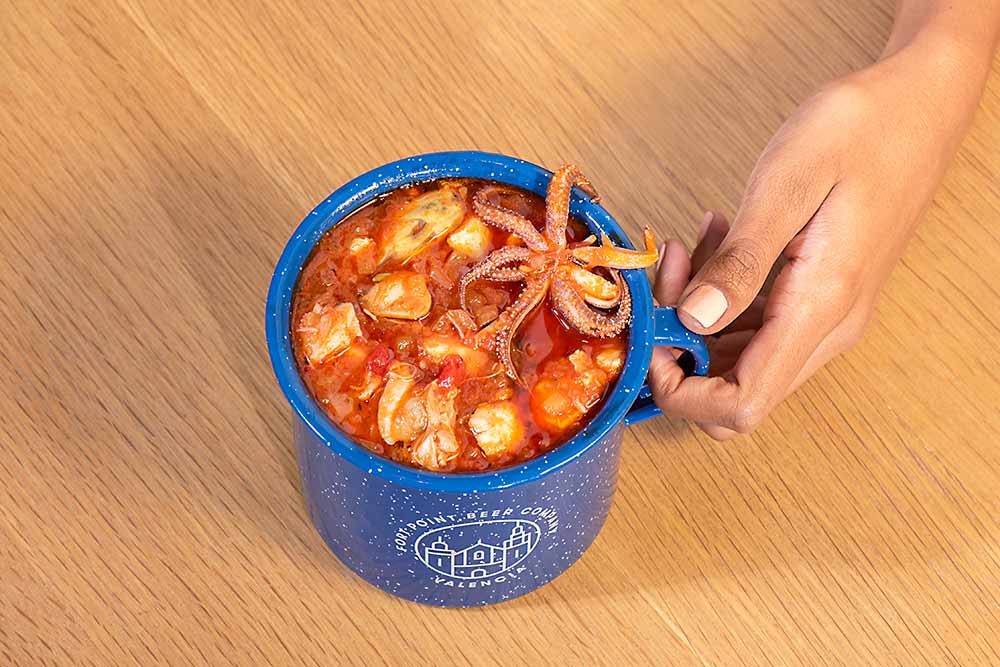 Take a gander at the menu and you'll notice little Fort Point flourishes everywhere.
For example, the Dungeness Crab Roll piled high with a quarter pound of fresh-picked crab on a butter-toasted bun.
"We want to have the best crab roll in the city," says Dobkin. "And we think we can do it!"
Accordingly, this fruit-of-the-Pacific-Ocean-packed sandwich gets a lift from sustainable sourcing.
Dobkin and Catalana buy their Dungeness crab (which you can only find in the Pacific Ocean) from a Fathom's Seafood fisherman who travels from Bolinas, CA, up to Alaska throughout the year.
The brewery can literally trace the crab right back to the boat.
It's an ethos you'll find across the board with Fort Point bringing wild-caught, sustainable seafood to the table from local partnerships with notable SF-based companies such as TwoxSea, Aloha Seafood, and Water2Table.
Another dish that promises to be a top contender: the New England-Style Clam Chowder Roll. Actually a dish native to San Francisco, clam chowder can most often be found around the city plopped into huge bread bowls. So Fort Point zigzagged, turning this old-fashioned soup into a contemporary sloppy joe. "It's really rich, very bacon-y, and super satisfying," says Dobkin. "It feels like a guilty pleasure."
Of course, when considering iconic San Francisco dishes, cioppino always comes to mind. The Italian American stew made with seafood, tomatoes, and wine represents San Francisco to a "C."
Traditionally served in big cauldrons, cioppino gets a modern refresh at Fort Point where they bring the simmering stew to you in a big enamel mug so "you can double fist your cioppino and beer," laughs Dobkin.
Other highlights include:
● Swan-Style Sashimi — inspired by Swan Oyster Depot with yuzu-citronette, red onion, and capers.
● Rice-a-Roni Arancini — inspired by the San Francisco treat.
● "Not-Exactly-It" — based on hometown favorite It's-It with tahini oat cookies, vanilla bean ice cream, and Dandelion chocolate.
Everything goes back to the original mission of Fort Point: to create beers that pair really well with food.
"First and foremost, our locations are places to enjoy our beer, so while the food is going to be really good, it's also our take on bar food," says Catalana in a press release. "It's meant to be fun and playful."
Plenty of Beers to Pair With Fort Point's New Fare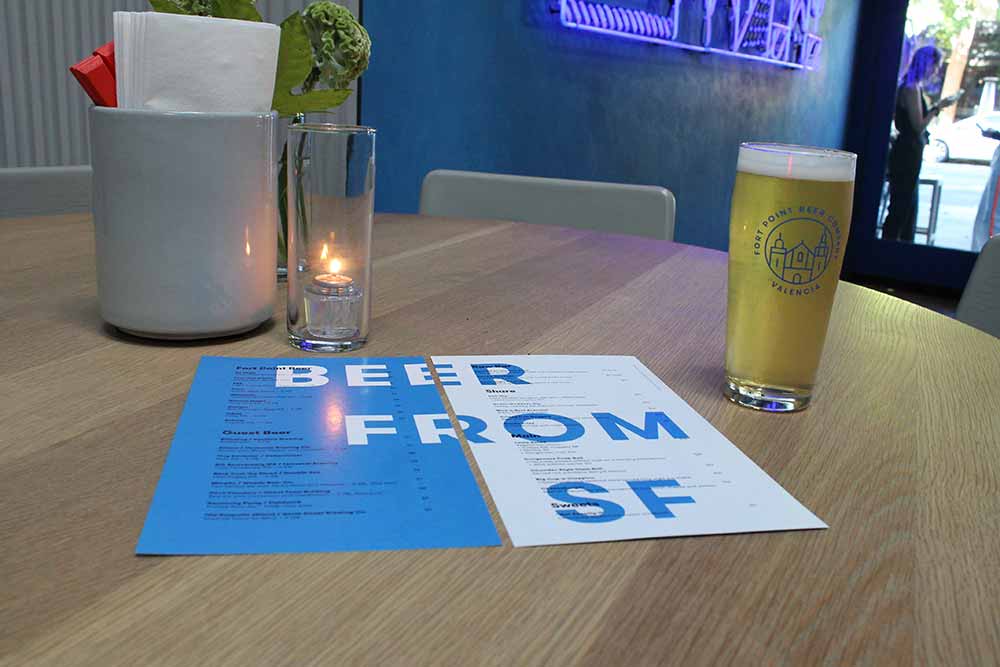 As Catalana said, at Fort Point everything starts with the beer.
And while the menu is designed to pair with many of the brewery's beers, Dobkin has a few of her favorite recommendations.
For instance, Sfizio, Fort Point's version of an Italian pilsner, with 100 percent house Pilsner malt and Hallertau Mittelfrüh and Aurora hops.
Sfizio's light, refreshing body serves as a great compliment to the brinier dishes. "It's effervescent, so I can see it being a really nice choice," says Dobkin.
Or Coven, a spritzy Japanese rice lager the women of Fort Point brewed with sage, lavender, and citrus peel to celebrate International Women's Day back in March. Although the beer isn't currently available, Dobkin says the brewery has plans to bring it back.
Coven overall represents a new approach at the Valencia taproom which will feature more limited-series beer and pilot batches released as a part of Fort Point's innovation program.
You can also enjoy a new beer cocktail list featuring a Sfizio Italian-style Pilsner Spritz and a Cioppino-inspired Michelada featuring Yuzu KSA Radler, to name a few.
Bottom line: If you travel to Fort Point's taproom*, you'll have plenty of opportunities to enjoy the fruits of the sea with their new menu and the fruits of their labor with classic Fort Point beers and new limited-edition releases.
From the branding to the beers to the grub, Fort Point continues to impress us with its dedication to being a true San Francisco brewery
"We think of ourselves as SF's hometown brewery," says Dobkin. "I'm really here for people who are excited to be here and to look at the things that are unique about San Francisco; I hope we do that with Fort Point."
Sounds like a fresh catch to us!
*Editor's Note: Fort Point has two taprooms—one on Valencia St. and a smaller location in the Ferry Building. The taproom in the Ferry Building will serve a more concise version of the new menu, including the Dungeness Crab Roll, Louie Salad, and a Ferry Building hot dog.