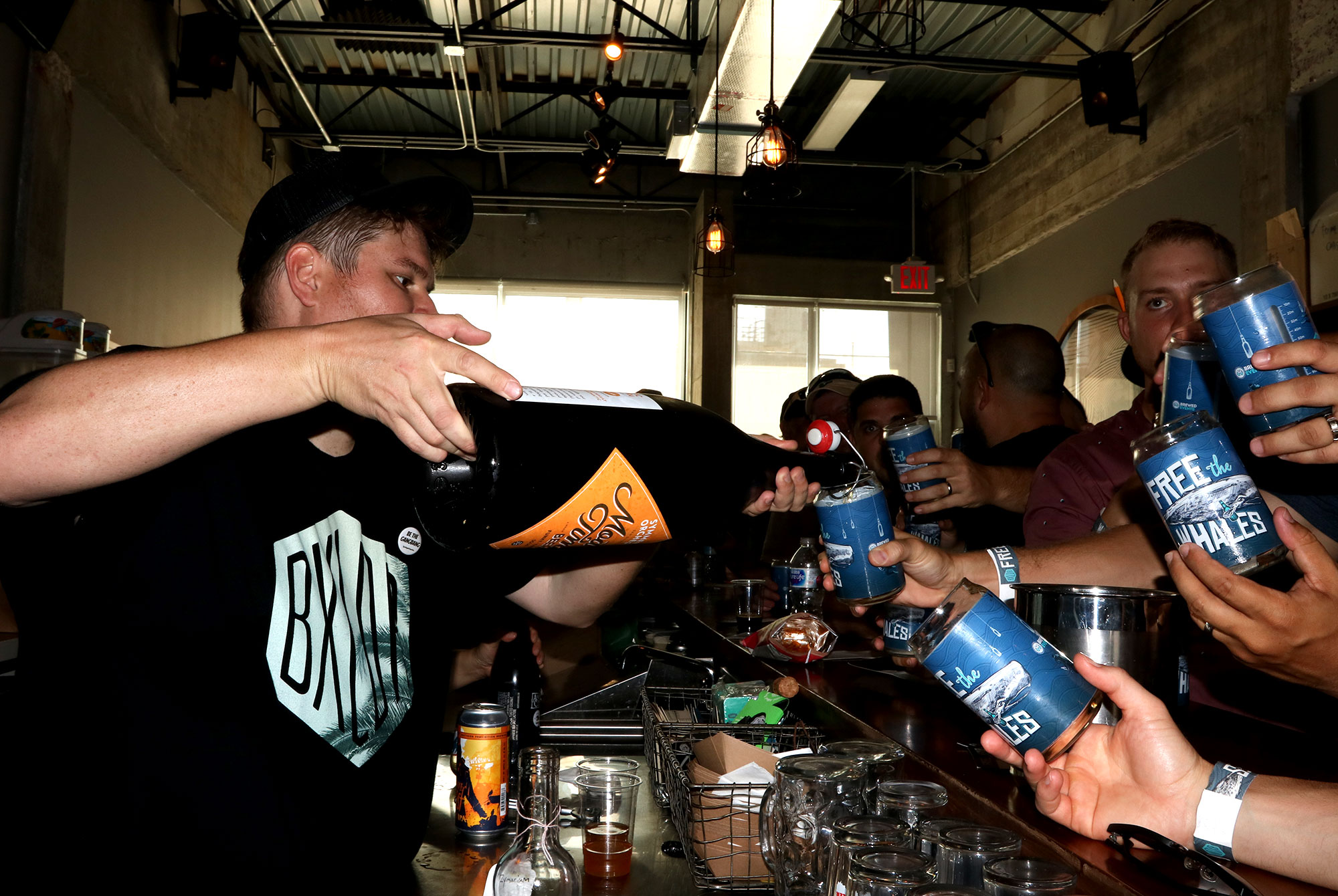 Photography by Jose Gregory Alfonso @beerjezus
You're not dreaming.
Cantillon, 3 Sons, Moksa, and Bottle Logic are on draft. Cans of Other Half, Calusa, and Equilibrium sit in basins on the bar and outside–take a pour from them as you please. When you get hungry, grab a fried chicken sandwich or Neapolitan-style pizza from some of the city's best chefs. Go back for seconds.
If it all sounds too good to be true, that's because it almost was. Miami's best beer party wasn't supposed to happen. "The first 'Free the Whales' was not meant to be an event. I just wanted to have a badass birthday party," organizer Kris Marino laughs. "I was like minus four grand the first year."
Turns out, that's about how much it will run you to pay for a food truck and supply a lot of the beer for 75 of your closest friends. Held at J. Wakefield Brewery, the first unofficial incarnation of Free the Whales only featured one brewery–J. Wakefield–and the majority of the beer was supplied from the cellars of Marino and Jonathan Wakefield.
When Marino started getting calls, texts, and messages about when the next one would take place, he reached out to Adam Darnell, owner of Miami's original craft beer bar Boxelder, about hosting the event in the future. For Darnell, it was an easy decision.
In addition to its outstanding beer selection, Boxelder has recently grown into a mini-food incubator, and Darnell has developed relationships with standout chefs like Steve Santana of Taquiza and Matteson Koche of El Bagel. He knew he could provide both the space and the added bonus of great food. For this year's event, Darnell and Marino have brought on other chefs who pop up regularly at Boxelder–Michael Ombria of United States Burger Service, as well as Los Carreras and Nayra Serrano of Masa Craft Croquettes.
"They have a good time, so it's a win-win on all sides," Darnell explains. "It's better than providing a random food truck. You're getting actual chefs cooking top-notch food."
And, of course, everyone in attendance is getting top-notch beer.
To source it, the duo work with boutique distributors and make sure to hold onto rarer shipments that might come in throughout the year. That leads to the jaw-dropping list of brewers mentioned above, as well as others like Southern Grist, Dancing Gnome, Angry Chair, The Answer, and J. Wakefield.
"Not to toot our own horn, but this year's lineup is better than 95% of the beer festivals in the country," says Marino. "The fact that neither Adam nor I own a brewery and we are able to pull these brands is substantial."
As a supplement to this year's event on June 29th, there will also be a special beer that will only be available to those at Free the Whales, courtesy of Hidden Springs. It will be on draft and packaged in bottles as a special release.
"It's an imperial stout with coconut, macadamia, and vanilla. It's called 'Whale Batter,'" shares Marino with a smile. "This is probably going to be the biggest stout that they've ever put out."
One of the hardest aspects of putting on Free the Whales–now in its fourth official year–is space. The first time Boxelder was involved in the festival, 140 people showed up, and last year, more than 280 people attended. With a desire to keep the same relaxed setting as the original, Darnell and Marino have sought a bigger venue this year. Through mutual friends, they landed on Barter, a bar near Boxelder.
"Last year's event was awesome, but we were packed," said Darnell. "We could pack more people in, but you'd lose some of the experience."
That "experience" is key to Free the Whales. There aren't any lines. No one is trying to check off miniscule pours of must-have beers on Untappd. And attendees will actually bring their own beer to share with others.
It all leads to the same convivial spirit that Marino created at the first event. And these days, he wants to share that with the friends with whom he spends so much time working festivals around the country.
"This sounds kind of hokey, but to me, [Free the Whales] is a thank you to our friends," he explains. "If you notice, a lot of the brewers aren't pouring; they're there partying. I wanted to do an event for them that was fun. That's really what we are trying to do."
And based on the response from all corners of the beer industry, that's not such a bad way to say thank you.
Liked this article? Sign up for our newsletter to get the best craft beer writing on the web delivered straight to your inbox.