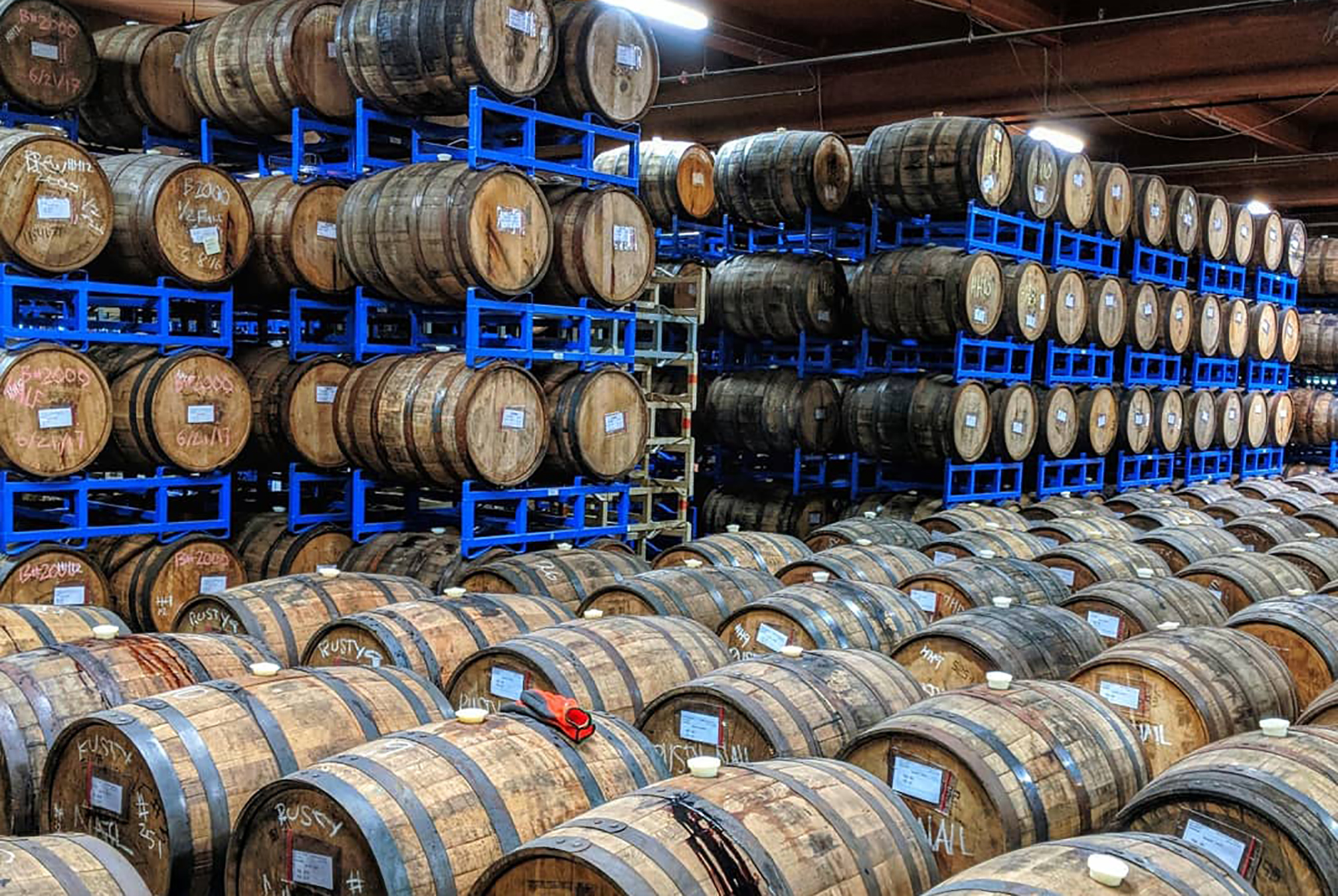 Photography courtesy of Fremont Brewing
Once you know the aroma it's unmistakable. Pungent alcohol, hot and heady, greets your nose first. Followed by a smoky sweetness that mingles with spice, coconut, leather, and old wood. It's the product of time and temperature with the power to summon excitement. And for Fremont Brewing's Matt Lincecum, there's nothing quite like the smell of a freshly emptied bourbon barrel.
Almost 10 years ago now, Lincecum, Fremont's co-founder and co-owner, bottled and sold his first batch of bourbon barrel-aged beer, a strong, roasty winter ale then called Abominable. A decade later, this experimental annual release has grown into a full-fledged barrel-aging program that has earned Fremont Brewing as many accolades as it has acolytes. It's also resulted in a much larger collection of oak barrels–somewhere in the neighborhood of 1,400 at last count.
"The idea was to understand how barrels and the aging process changed beer," Lincecum says. "Every year we would buy as many barrels as we could afford. It grew pretty organically, but it also grew pretty fast."
The Story Behind Fremont's The Rusty Nail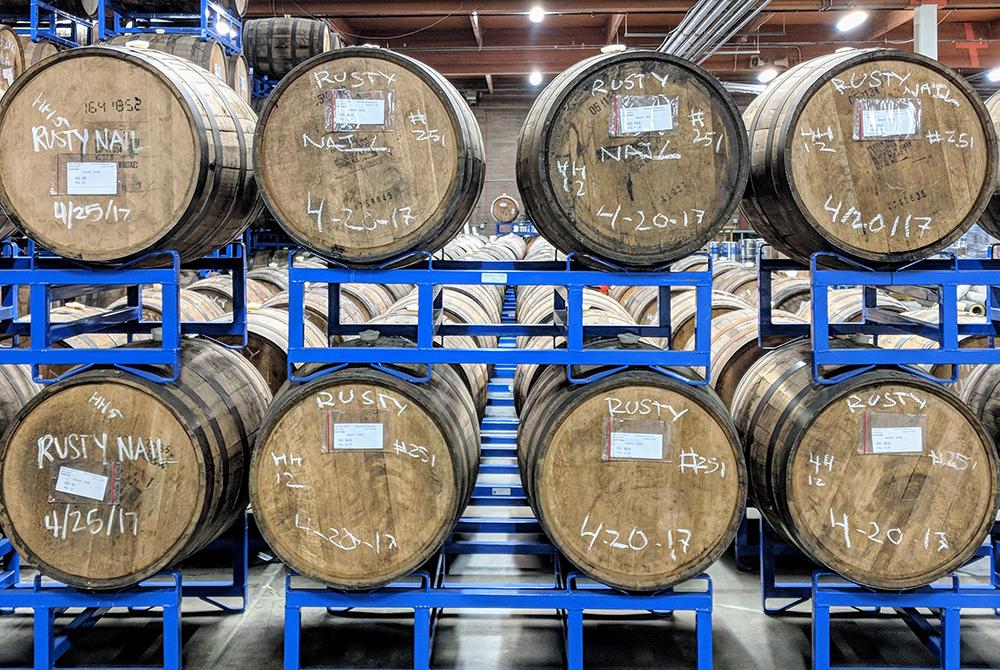 Bourbon Abominable, or B-Bomb as it's now known, is the whiskey-soaked beer that initially reached a thousand lips. But another stout with origins as a one-off for a local bar's anniversary celebration has quietly become a popular mainstay in Fremont's formidable barrel-aged lineup.
"We were working on a beer to do with the Pine Box," explains Matt Lincoln, director of brewery operations. "It started off as this giant oatmeal stout, but Lincecum has always been a big fan of brewer's licorice, and we decided to also add cinnamon."
They ended up with a recipe that included an obscene amount of malted and roasted barley, flaked oats, midnight wheat, brewer's licorice, cassia cinnamon, and generous doses of bitter hops to help balance the sweetness of a big beer loaded with fermentable sugars. After sending part of the batch to the anniversary party in March 2013, there was only enough beer remaining to fill two freshly emptied Heaven Hill barrels, a tiny amount that Lincoln and Lincecum planned to age for about a year. But 12 months later the massive stout still tasted too sweet to their trained palates, so they gave it extra time. Another 90 days went by before the pair ended up with something they liked. But it wasn't just good, Lincecum and Lincoln agreed it was even better than the anniversary beer.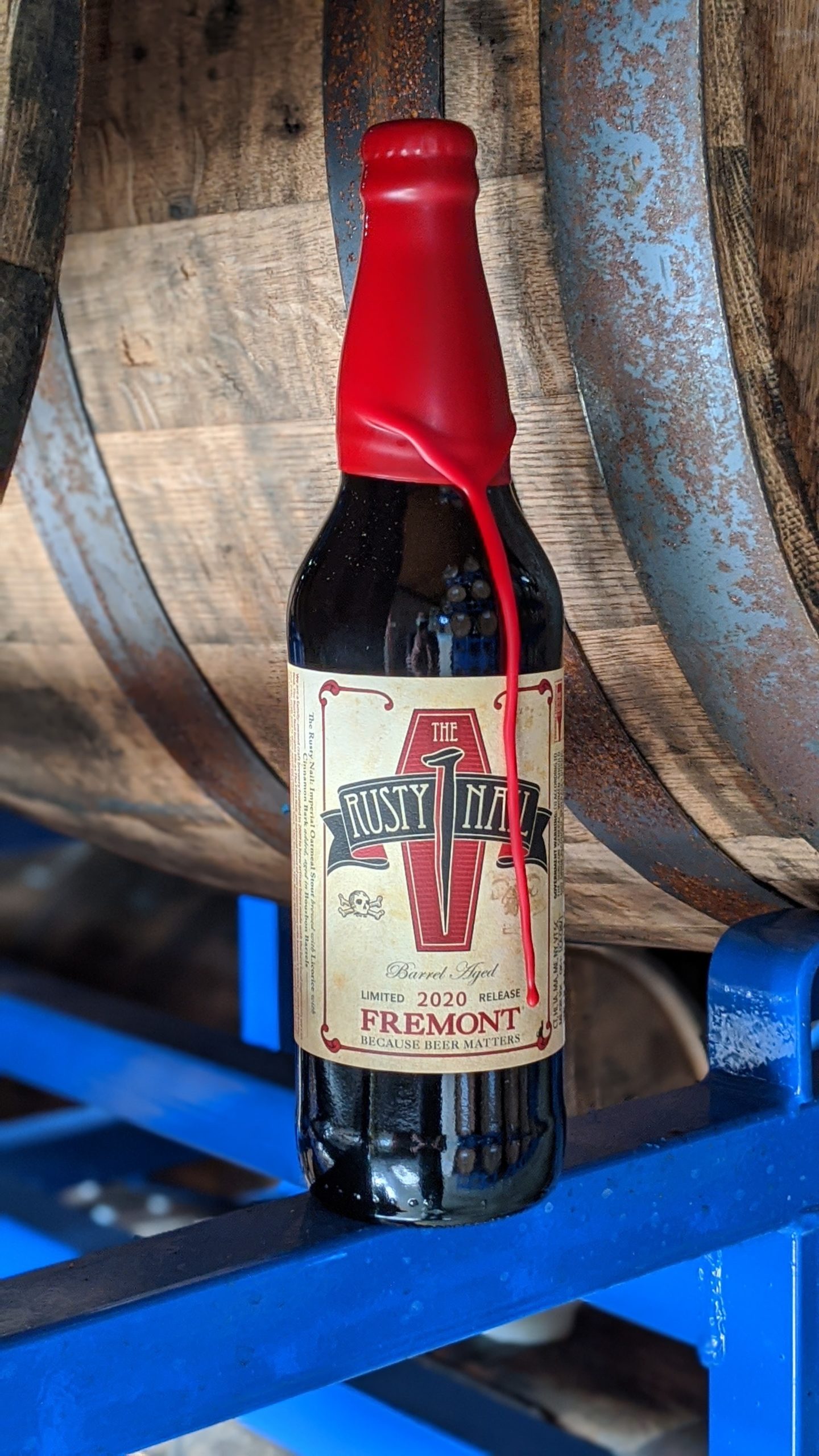 And so, The Rusty Nail was born. According to Lincoln, that first batch yielded about 60 cases of beer, and it went fast when we first offered bottles for sale in 2014. Fremont had another hit. To date, only five other imperial oatmeal stouts rank higher on the Untappd social networking app, none of which have more ratings.
Two years later, the popular rating website RateBeer declared The Rusty Nail the best beer in Washington. Meanwhile, users of BeerAdvocate have ranked it the second-best English oatmeal stout in the world. And in 2018, The Rusty Nail took home a silver medal from the largest, most prestigious barrel-aged beer festival in the country. Its fan base had grown well beyond Seattle.
To keep up with demand, Fremont has steadily increased the production volume of this dark delight. That is despite the fact that in the beginning, as Lincecum admits, "We never really figured out if we were making money." This year's release of The Rusty Nail filled roughly 200 bourbon barrels.
"The passion is still there," Lincecum says. "It should be about the adventure of working with wood. There's something deeply romantic about that."
Patience and Promise: The Costs of Barrel-Aging Beer
It wasn't long before Fremont ran out of room for barrels at their original facility. A series of off-site warehouses couldn't keep up with the rapid expansion of the oak-aging program, either. So when Fremont finally outgrew its space and began to plan for a much larger, 80-barrel brewhouse, Lincecum knew he also had to pick a spot with plenty of breathing room. Today, the barrel cellar occupies a sizable footprint inside an 80,000 square foot building emblazoned with the Fremont heron.
"We've been spending a bunch of time building a barrel library with different vintages," says Lincoln, who previously worked at Chicago's Goose Island Beer Company, renowned for its Bourbon County Stout, a modern touchstone for many brewers. "There are maybe 50 different barrel types from different producers. We're kind of curious to see how these barrels change the beer [in them]."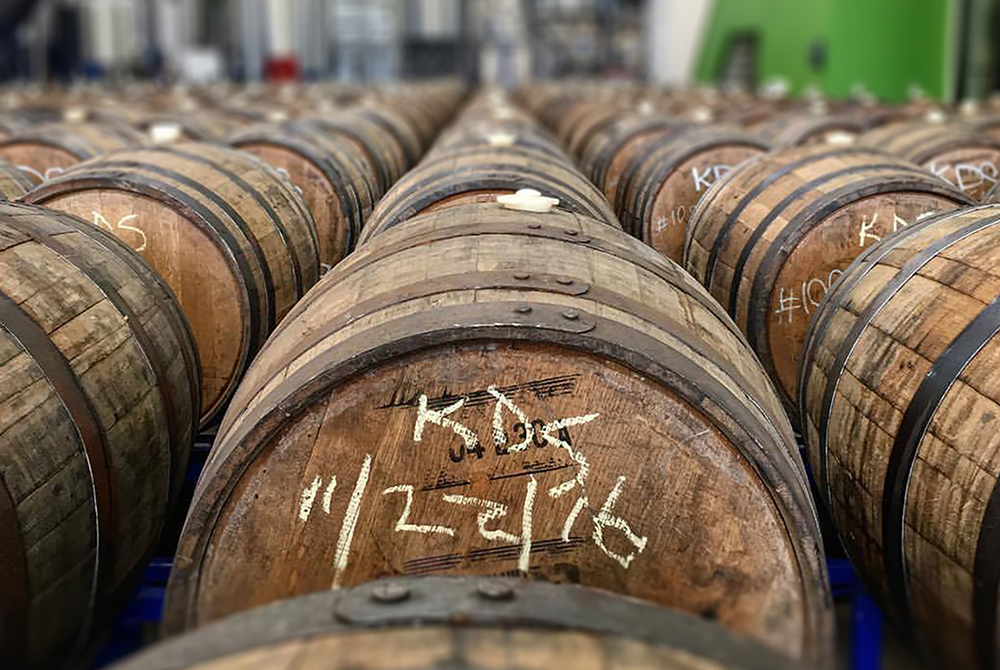 Three Fremont beers currently see a wide release in draft and bottles: The Rusty Nail, B-Bomb, and BBADS, or bourbon barrel-aged Dark Star (an imperial oatmeal stout). Depending on the brand, these ales will spend anywhere from nine to 24 months in lightless oak containers, gradually extracting tannins from the wood and absorbing tiny amounts of oxygen that create flavor- and aroma-producing chemical reactions. When they're finally deemed ready by an experienced sensory panel, the Fremont team blends together the contents of the 200 to 300 barrels that pass the taste test. After blending, the beer gets carbonated, packaged, and flash pasteurized. And finally, each bottle receives a label and a quick dunk in bottle-sealing decorative wax. In 2019, members of Fremont's brewing team hand-dipped approximately 125,000 22-ounce bottles.
"That whole waxing process will take several weeks," says Lincoln. "Four people working eight hours a day."
Robert Fulwiler has been with Fremont for 10 years, working his way from washing kegs to his current role: Quality Manager. He remembers the initial bottling run of B-Bomb and learned to brew on the company's original 15-barrel system before starting Fremont's extensive lab about five years ago. His chemistry degree comes in handy in this role, which he describes as both "a lot of maintenance" and "a fun job." In addition to running the lab, Fulwiler also oversees the quality assurance sensory panels.
"We put lots of time into making sure these are good beers," he says. "Part of the point is to keep our eyes open and to keep turning over stones. We have a lot of historical data and have built a lot of systems around here to continually get better."
It's Always Barrel-Aging Season at Fremont Brewing
Over the past decade, Lincecum, Lincoln, and Fulwiler have tasted a tremendous amount of barrel-aged beer. They've also followed their senses in a number of different directions, continually learning and exploring the bounds of what is possible with wood, aging, and a plethora of brewing ingredients. Variations on B-Bomb and BBADS including a coffee edition, a spiced edition, and a coconut edition. A version of BBADS dubbed Ancient One that matured in 35-year-old Heaven Hill casks (most of the other barrels are 7–12 years old). In 2015 a bourbon barrel-aged barleywine joined the lineup.
"We've always liked that heavy, intense wood and vanilla character [that comes from barrels]," says Lincecum. "You can't rush it, you can't cut corners, and you've got to think long term."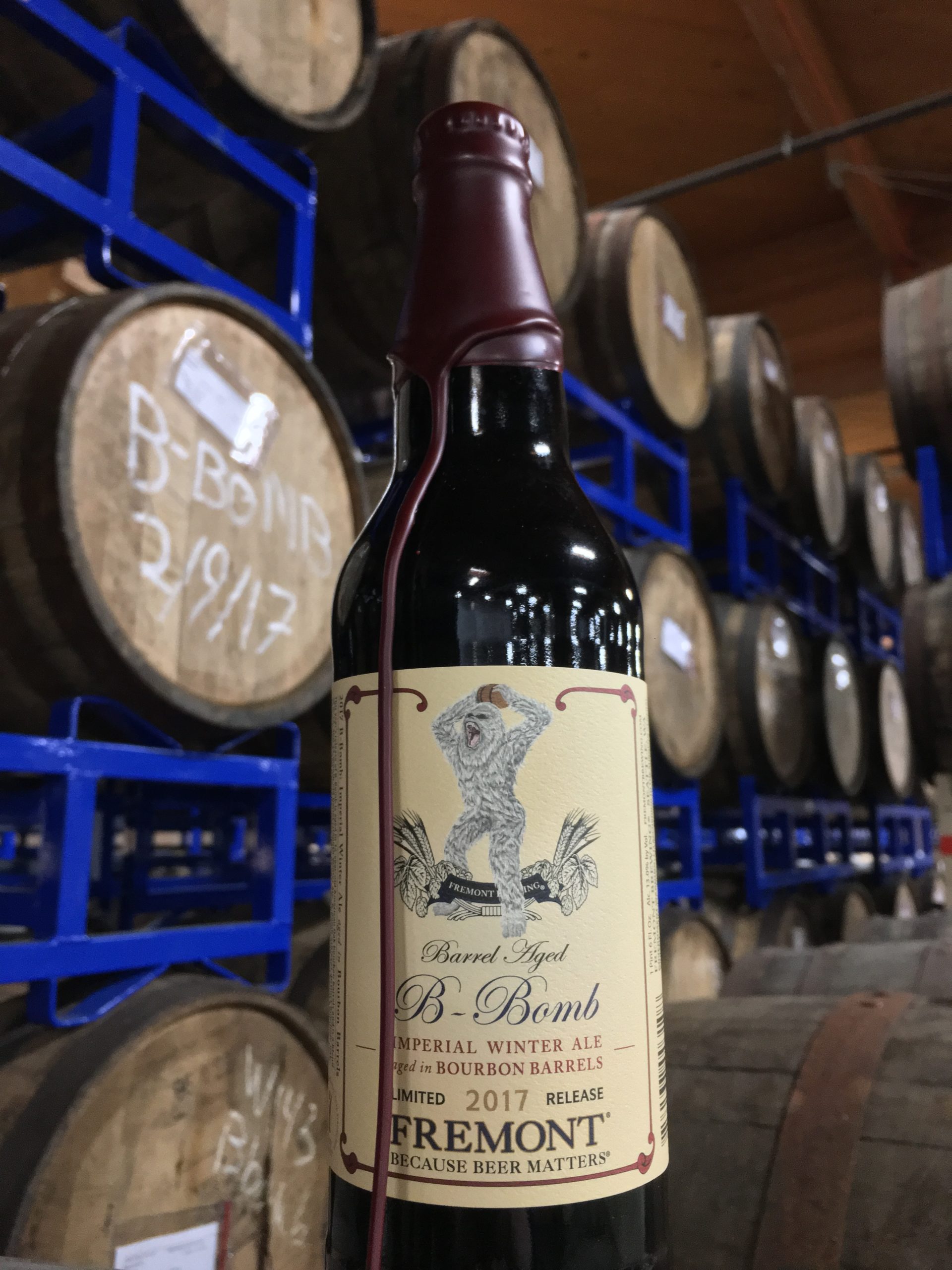 Having set out with B-Bomb to brew a beer that would be as good in 10 years as it is on release day, Fremont is looking ahead to the next decade. Because while beers from the barrel program collectively represent less than five percent of Fremont's total output, the team continues to innovate, learn, and improve. They're blending stouts made with sherry barrels, rum barrels, and rye barrels, and they've got a line on some Scotch casks that could also turn into something interesting. A few years ago a collaboration with Missouri's Perennial Artisan Ales brought the use of fruit—namely three types of cherries—into our practice of sustained experimentation. And somewhere in the cellar, an unnamed Russian imperial stout is aging, awaiting its release.
"The idea is that every beer will be better than last year," says Fulwiler. "We'll taste the past three years [of B-Bomb, The Rusty Nail, or BBADS] and take notes."
The Future of Barrel-Aging: Fremont Brewing Dark Star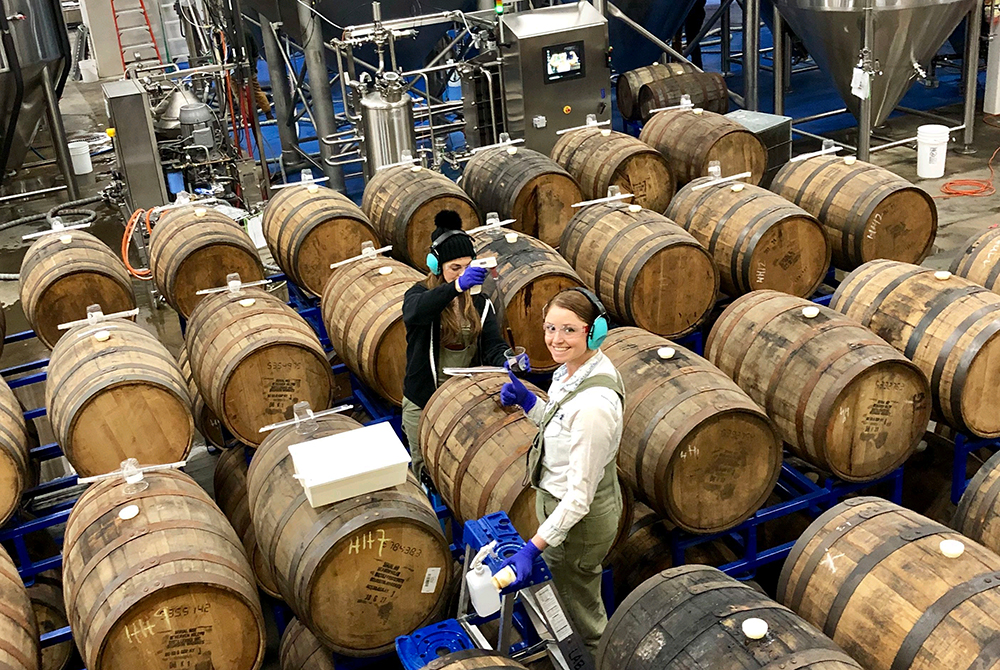 Those notes come in handy, especially as Fremont carries on in its pursuit of the next great barrel-aged beer. This month, that journey leads them to their latest wax-dipped release: an imperial stout celebrating Fremont's 11th anniversary. To create it, Fremont aged the base beer in three different types of vessels: vanilla barrels (which previously held bourbon), bourbon barrels filled with dark tart and Montmorency cherries, and freshly emptied Heaven Hill and Buffalo Trace barrels. Blending all three produced a sweet, complex, and creamy stout with just enough bitterness to keep everything in harmony. The brewery is very excited to see this heron leave the nest.
Cherries and dried fruit join sweet aromatics like cocoa and brown sugar, greeting your nose once you pry the cap from its perch. Notes of bourbon, roasted malt, and oak will flutter by as you fill your glass with this rich, inky black ale. Full-bodied and silky smooth with a warming booziness and a decadent flavor that recalls chocolate-covered cherries, 11th Anniversary Stout is a culmination of Fremont Brewing's efforts with the barrel-aging program.
And that's just how it tastes now. After another year, or ten, those characteristics will have evolved in ways we can't fully predict. But no matter where time takes Fremont's newest special release, they do have confidence in one thing. This bird will sing.
This article is written and presented by Fremont Brewing.
Liked this article? Sign up for our newsletter to get the best craft beer writing on the web delivered straight to your inbox.