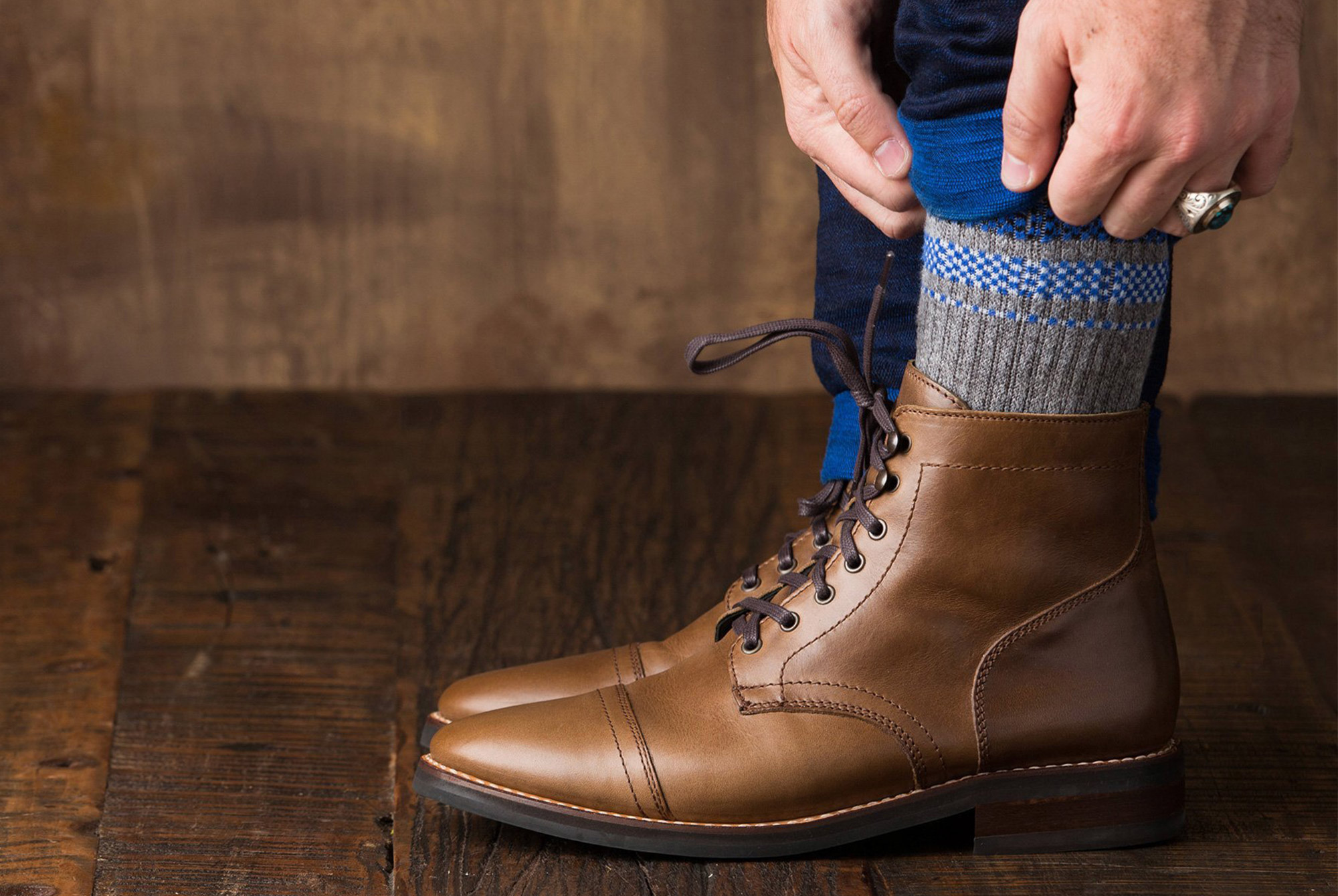 With the holidays are right around the corner, now is the best time to grab some gifts for your favorite stylish beer snob! Or that one guy in the can release line that looks like he could use some help. We don't judge. Our selections are designed to help elevate any wardrobe, regardless of how much you love or hate fashion. Below you'll find a mix of general fashion products we thought our readers would appreciate, in addition to some beer specific items.
Soxy Beer Socks
Yep, a great gift can be this simple and this reasonably priced. This gift is especially great when you don't feel like trying to figure out someone's size or when you don't want to spend a lot. The beer socks are a classic and not-so-subtle way to let everyone know you love beer.
Tie Bar Holiday Knit Tie
The holidays are around the corner and a holiday tie is a must for any event. The tacky ties aren't for you this year. Instead, we're recommending an ugly and trendy holiday tie. This tie reminds us exactly of the pattern on an ugly sweater.
Nordstrom Beer Deer Graphic T
While we personally never endorse the graphic T, this shirt did make us laugh just enough to make the list. Rock this at your favorite brewery, not at your family party.
Fidelo Wallet
Do you want to really help organize someone's life? Especially if their life consists of having 40000 cards in their wallet? Okay, that's a slight exaggeration… but this wallet holds a ton of cards, has space for keys, and looks great! The more casual look and feel will stand out next to the sea of standard bi-fold leather wallets at the bar.
Anson Belt
Belts with holes are so early 2000's. It's time to step into 2017 in style and get rid of those awful belts that are about to break in half. A belt without holes has several advantages: easily mix and match buckles and straps, the belt will last longer, and as you gain/lose weight the belt always fits perfectly.
Chilling Coasters
Elevate your hospitality with these chilling coasters. They have that rustic feel that's perfect for sitting next to the fireplace with your favorite six-pack.
Luigi Bormioli Birrateque Tester
There comes a point in every beer drinker's life when it is finally time to buy the right glassware for your favorite hobby. Yes, you can finally return those awful glasses you 'borrowed' from some bar in college. Snag these classed-up tekus as a great first step toward building your adult collection.
Seiko 5 Automatic Watch
We have personally given this gift several times to family and friends. For those who are not familiar with horology (watchmaking), an automatic watch charges itself through movement. There are no batteries for this watch! It's the best value automatic watch on the market. The standard strap can be swapped out for a 'nato' strap and after you change the band once you won't want to stop customizing!
eBags Professional Slim Backpack
eBags hit the nail on the head with the design and functionality of this backpack. It's perfect for the working professional but is also constructed to take a beating on the weekends. It fits a ton of stuff but is made to remain slim regardless of what you stuff in there. Pack all your favorite beers when you're heading to your relatives for the holidays or on your way home from the neighborhood bottle shop.
Cathy's Concepts Beer Cooler
Instead of stuffing your beers into the backpack mentioned above, you could transport them in this classy six-pack cooler. Pack it with beer for a weekend game, and pack it with juice boxes for a weekday field trip.
Mugsy Jeans
What guy doesn't want a pair of jeans that feel like his sweatpants? Mugsy Jeans have an incredible amount of stretch and ample room in the crotch. This denim also features an eye-catching electric blue inseam. It looks great when you cuff your jeans! These jeans will have you feeling comfy even after 6 hours in line at Tree House, or with the inlaws.
Nifty Genius Jacket
A Nifty Genius piece will be your go-to item for layering this fall and winter and is the perfect weight to keep you warm, but not too hot.
Thursday Boots
A guy who wears an incredible pair of boots instantly receives a promotion. (Disclaimer: that last statement wasn't true, but hey it could happen!) These boots will last you through endless fall/winter seasons and are the essential items missing from your wardrobe. You won't regret gifting (or getting) a pair of these.
EdgeStar KC1000SS Craft Brew Kegerator
We're including the obligatory kegorator on this gift this partially because what's a beer gift list without one? This kegerator is specifically designed to hold craft beer's favorite keg: the sixtel. Get it for your next party, and then use it more than you probably should.
Tailor Store Custom Suit
The ultimate gift for any beer drinking snob is a bespoke suit that he can wear while drinking his expensive pilsner. Tailor Store has proven over and over again that they're the company for customized menswear. Their website instructions provide videos for how to measure and their algorithm does the rest. If it doesn't fit right, then you send it back and they fix it at no charge.
This article was written by Benjamin Rascoe, AKA @DapperProfessional. Ben has a following of over 100,000 on Instagram and is posting new content daily. He also produces content for his website, www.DapperProfessional.com. Ben is our style guru here at Hop Culture.