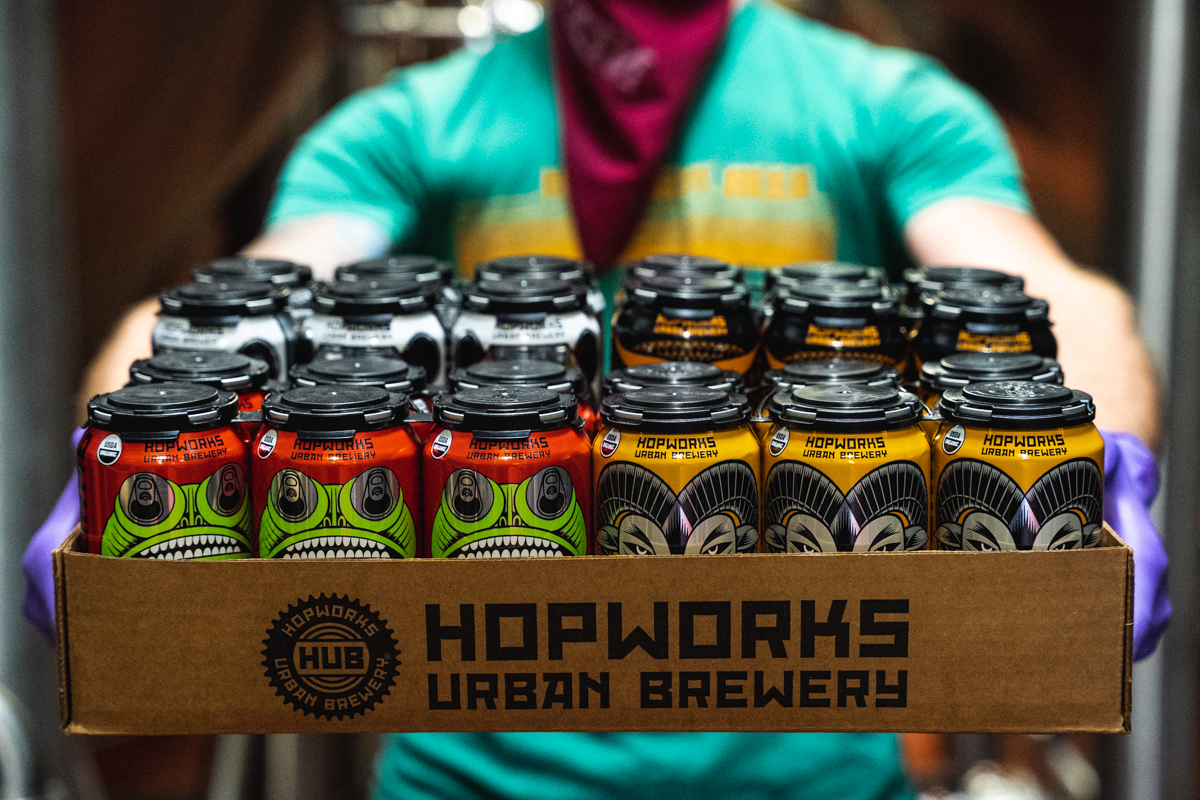 Photography courtesy of Hopworks Urban Brewery
Editor's Note:
This story is part of our #brewwhatsright campaign, an effort to feature people, businesses, and communities actively helping others by doing what's right.
Adapting to a new lifestyle in the midst of a pandemic has meant taking extra precautions to stay safe. Washing your hands for 20 seconds under hot water. Staying six feet apart from the people around you. Working from home. Wearing a face mask when you do venture out. These have all become normal protocols.
One of the safest and simplest ways we can protect ourselves and our communities during coronavirus is by wearing a face mask.
While they may be relatively easy for some people to purchase, it can be a lot more difficult for someone experiencing homelessness to properly protect themselves. Due to close living quarters and lack of proper testing COVID-19 has flourished amongst people experiencing homelessness. And it's a social issue that Hopworks Urban Brewery (HUB) in Portland, OR found a solution for in its community by doing what it does best. That is, making beer.
What Is the Homebound Hero 24 Pack?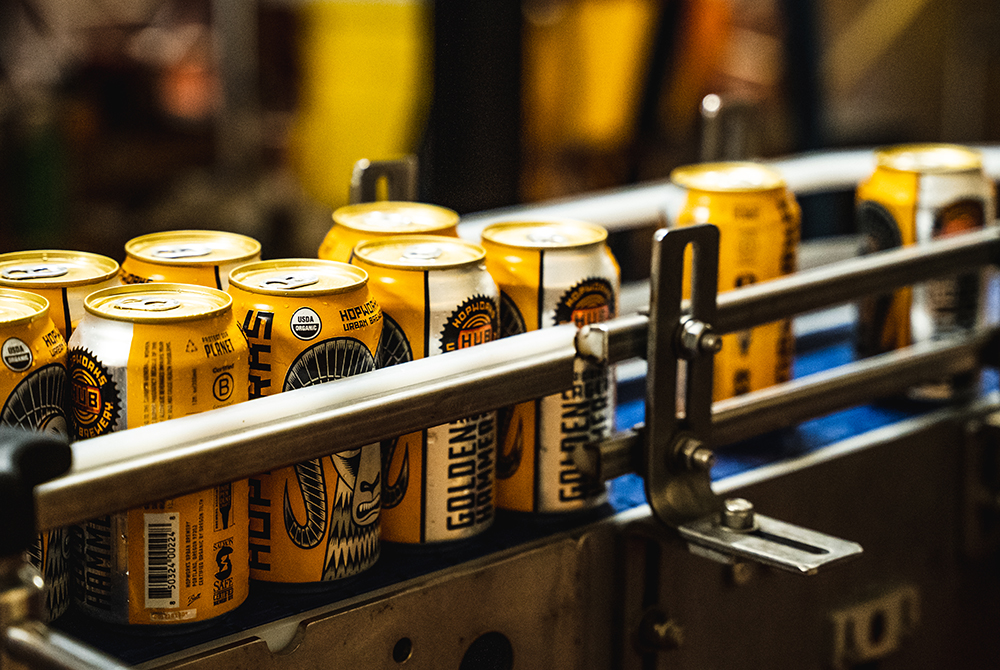 On April 21st, HUB released the Homebound Hero 24 Pack in collaboration with the Looptworks Foundation. Looptworks is a company dedicated to upcycling recycled or wasteful materials into new products. The goal: To raise money for Looptworks to produce face masks for Central City Concern, a non-profit organization that runs the majority of services for people experiencing homelessness in Portland.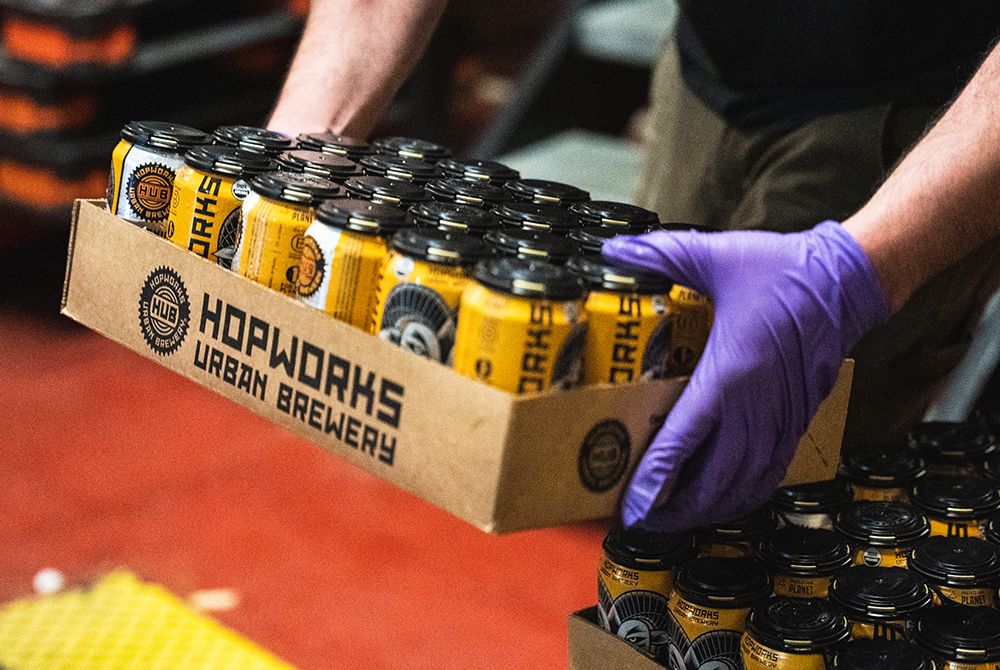 Featuring the brewery's four core beers – Golden Hammer Organic Lager, Tree Frog Organic Pale Ale, Powell IPA, and Robot Panda Hazy IPA, the Homebound Hero 24 Pack sold for $40 with $5 from each sale donated to Looptworks. And in just under two weeks donations from the beer bundle exceeded $1,500, allowing Looptworks to produce over 450 masks.
"It's the simplest thing and only thing that we as citizens can do within our power — stay socially distant and wear a mask," says Clare Healy, the Director of Digital and Brand Marketing at Looptworks. It's a concept that Looptworks realized right away. In March, the foundation started a project called Hometown Hero. The mission was to help fund and donate materials for DIY mask kits that they could send out to volunteer sewers. Within a week between 100-150 people had volunteered to make masks for their communities.
Several weeks later when HUB reached out about a collaboration, it seemed like a natural fit.
What Is Hopworks Urban Brewery?
Like most hospitality businesses, HUB felt the immediate impact of taproom closures due to coronavirus. "Imagine your revenue drops by 85 percent overnight and you have to lay off 133 people," explains Christian Ettinger, the Founder and Brewmaster of HUB. "It was one of the worst days as an entrepreneur in my business life and career."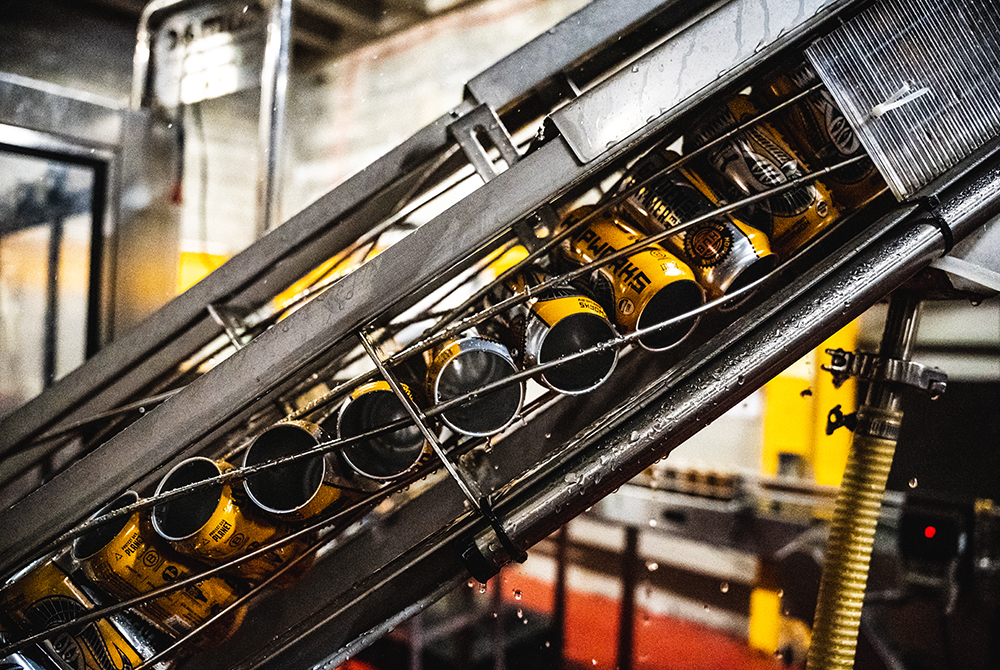 Within a couple of days, HUB had adapted, starting a delivery service and offering beer to-go. The community immediately responded.
"What we found is this really awesome generosity amongst our customers," says Ettinger. "We always knew it existed, but our community clearly showed that they wanted to support us."
Buoyed by his city's hospitality Ettinger saw an opportunity for his business to give back. HUB is a Certified B Corporation, meaning the business meets the highest standards of verified social and environmental performance. With this designation, HUB holds itself to certain environmental and social standards even during a global pandemic. "If we're in an economic crisis with people clearly losing their jobs yet still buying our beer, this is our time to up our social game and find a way to make a difference," says Ettinger.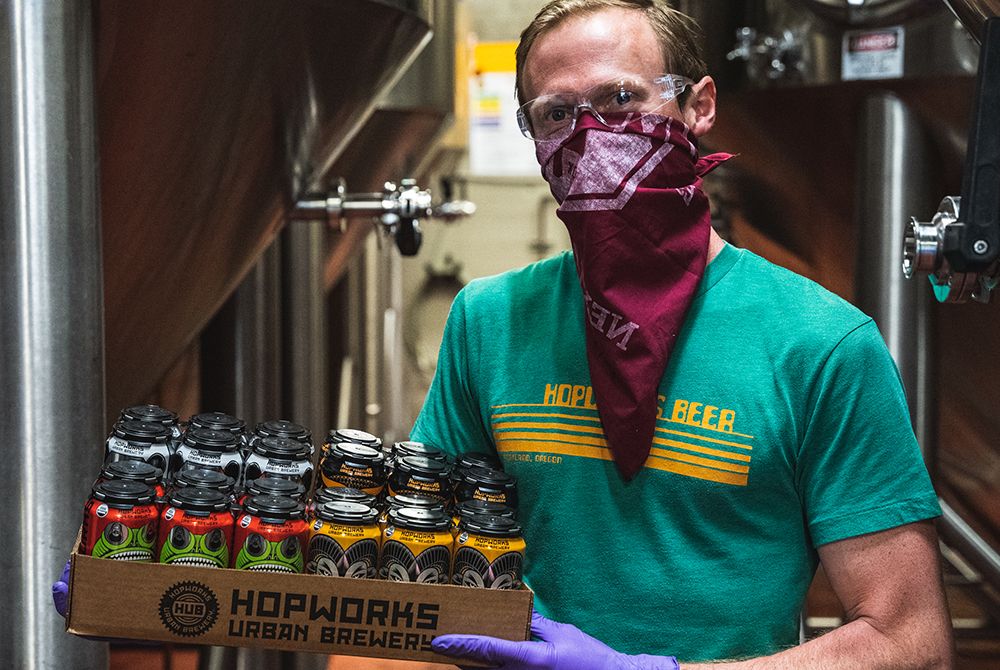 His team began brainstorming and, within a half-hour, they had an idea. The brewery already had plans to release a case with a 4-pack of each of its new rebranded Core Fore beers. And so this bundle seemed like the perfect opportunity to, "leverage beer into creating money and awareness for an awesome project," says Ettinger.
While HUB has always advocated for environmental solutions it's been harder for the brewery to pinpoint social issues. "As hippies, environmentalism is easy to get our head around and to measure in volumes and weight, but looking at social issues is more nebulous for us," shares Ettinger. The brewery had been working on identifying projects that would keep the business more socially conscious. So when COVID-19 hit, Ettinger and his team saw the Homebound Hero 24 Pack as the perfect opportunity to collaborate with a company focused on social responsibility.
What is Looptworks?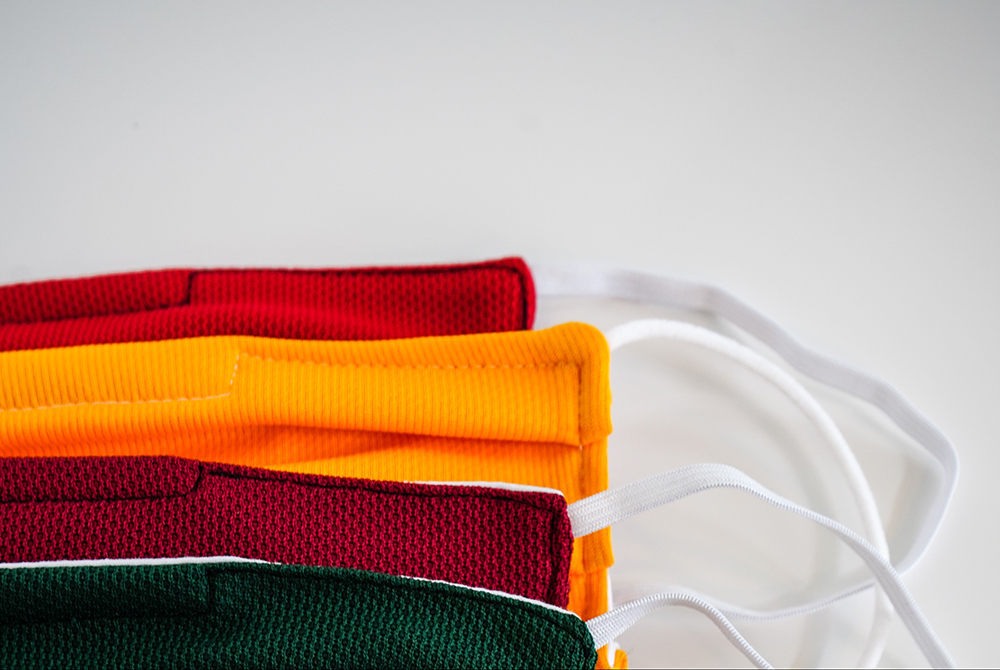 As a foundation rooted in creating closed-looped solutions in manufacturing, Looptworks has always advocated for social issues. When it came to creating face masks the organization attacked the project in an equally conscientious fashion. But Looptworks isn't making just any old regular masks. Using excess materials from the apparel industry, Looptworks' masks go beyond the CDC's standard with two layers of 3-play high-knit cotton and an outer-shell of polyester. Beyond that Looptworks found a local manufacturer to make recycled aluminium noses pieces that were sewn into the masks, allowing them to mold to your face. Designed to withstand over 100 washes, these masks are strong, durable, and protective.
Much like the Portland community, who has shown strong support for the collaboration.
How the Homebound Hero Is Helping the Community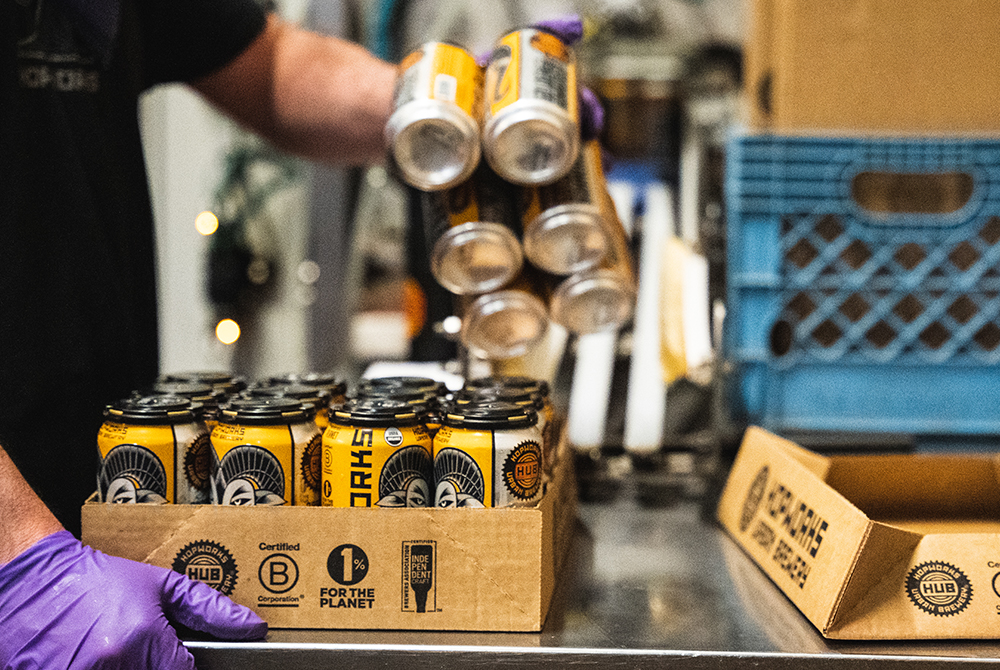 "What I love most about Portland is the support for local business and partnerships. HUB has always done such a good job pinpointing and collaborating with partners with similar values. That was picked up [by the community] and seen quickly," says Healy. "If I go buy beer why not buy beer from a brewery that I like that's partnering with another company that I know is also doing good within Portland."
So between HUB, Looptworks, and the people of Portland, the city has taken a simple drink like beer and turned it into a platform for change.
Liked this article? Sign up for our newsletter to get the best craft beer writing on the web delivered straight to your inbox.