Bad news: summer is coming to a close. Good news? That means Halloween — and, more importantly, Spooky Brews Halloween Party — is just around the corner! What better way to celebrate fall than with your favorite scary movie?
Above all other film genres, horror — which itself is a pretty broad category — seems to elicit the sharpest responses. There's no in-between; you either love scary movies or you hate them. Scary movie buffs revel in the calculated tension of a thriller or the weird and wonderful moments of a low-brow horror flick. Everyone else is terrified by the thought of a jump scare.
Whether you're watching alone (brave) or with a group, a beer can perfectly complement the viewing experience. With Spooky Brews only a few weeks days away, we thought it was the perfect time to share our ideal beer and horror movie pairings.
Alien (1979)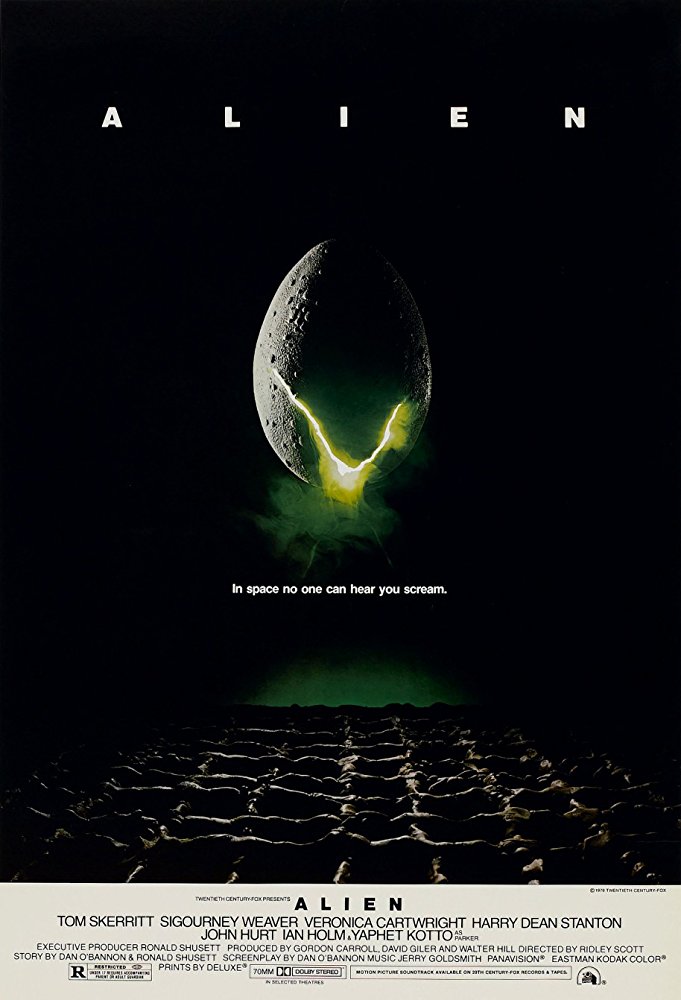 Beer: Ninkasi Brewing Co. Ground Control
Film: After much consideration, I've come to the conclusion that some other form of life must exist in our ever-expanding universe. Is that such a scary thought? Well, space with all its undiscovered dark corners does seem terrifying, especially when you plunge headfirst into the breeding grounds of the grotesque, vengeful spawns of Alien. This 1979 classic expertly blends science fiction, horror, and human naïveté into one darkly twisted plot, incessantly reminding us that in space, no one can hear you scream. Plus, who doesn't love Sigourney Weaver's androgynous, aggressive, and intelligent portrayal of protagonist Ellen Ripley?
It seems only fitting to watch this movie with an actual beer from space! The dark-as-an-alien-planet imperial stout features Oregon hazelnuts, star anise, and cocoa nibs, and is fermented with an ale yeast that survived a trip outside our atmosphere. Now, whether you believe this beer is a feat of astronomical engineering or a plot from aliens of a distant galaxy to take over the world is up to you. At least on Earth, in the comfort of your den, someone can hear you scream. Right?
-Grace Weitz, Marketing Manager
Drag Me to Hell (2009)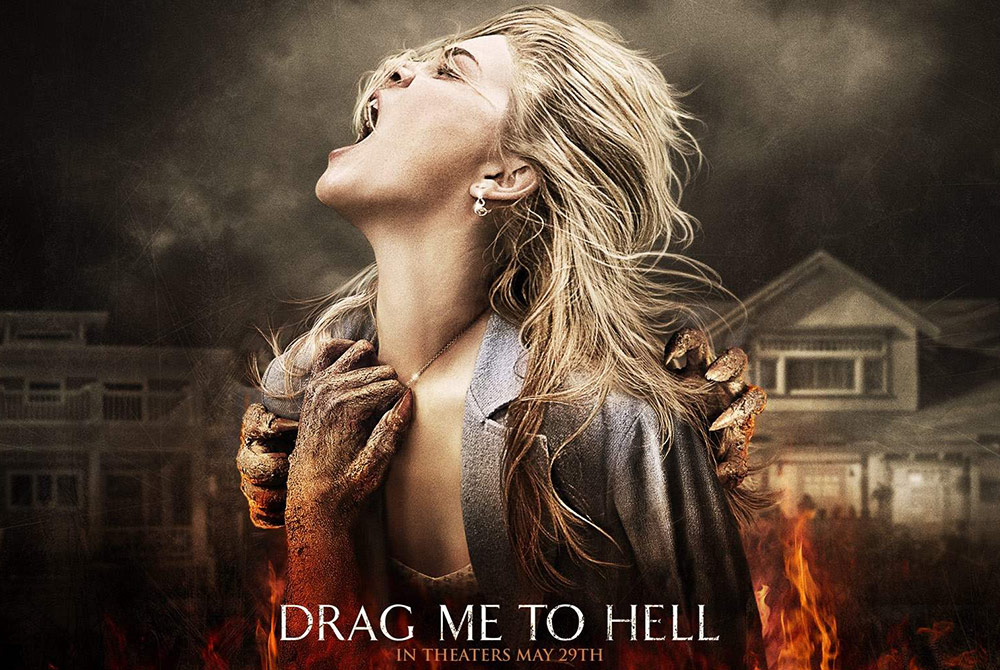 Beer: Perennial Artisan Ales Abraxas
Film: For what it's worth, I don't group Halloween and horror movies into the same category. Halloween films are for tropes and watch parties; horror movies are for the worst version of yourself.
Films like Alien, Poltergeist, and Nightmare on Elm Street were the first classically spooky films to scare the shit out of me. Then I saw the Blaire Witch Project, and went heavy into found footage films. I needed to see what people do when "no one is watching." These survival/isolation thrillers blossomed into an unhealthy affinity for gore, because when the videotape cuts to black on the floor of the creepy guy's garden shed, it probably isn't for lack of batteries. First, it was Saw in theaters, then it was Hostel. Then it was harder psychological stuff, like Eden Lake or Martyrs, which left me feeling like I was officially on some "list." So the short answer is, my favorite horror movies typically have a 20% on Rotten Tomatoes, zero budget, and lots of blood. Currently, I'm into flicks where desperate strangers play "games" for lots of cash. (If you want to see what I mean, check out Cheap Thrills.)
Halloween movies need to be different. They're crowd pleasers. Mix together nostalgia, a few jumps scares, some light gore, and go on the roller coaster ride. So this Halloween, I'm picking a meta-film like Cabin in the Woods, or a dark genre-blender from Sam Raimi. This year it'll be Drag Me to Hell, a Raimi film that pulls off legitimate scares inside a plot that doesn't take itself too seriously.
And for the beer, I'm going with a big bottle of a high ABV stout. Something like Perennial's Abraxas or Oskar's Ten Fidy that you can share over the course of the film. Then, by the end, you're drunk and not as afraid of demons and mortgage payments.
-J. Travis Smith, Co-Founder
A Girl Walks Home Alone at Night (2014)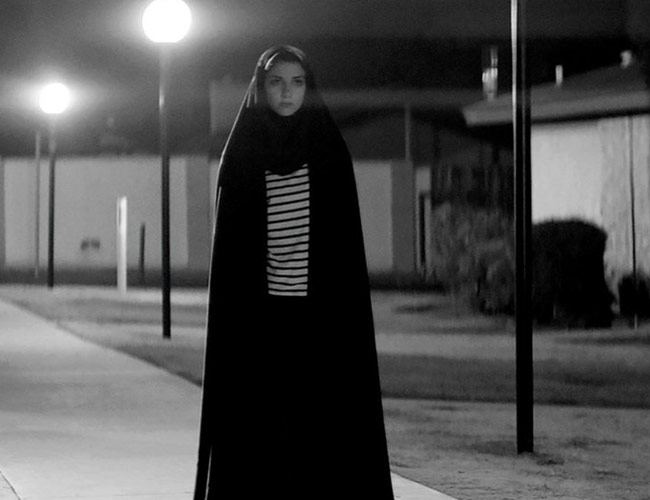 Beer: Hudson Valley Brewery Ultrasphere
Film: The black and white, Persian-language debut from Ana Lily Amirpour is just fucking cool. It's been dubbed an "Iranian Vampire Spaghetti Western" and I wouldn't disagree. Cinematographer Lyle Vincent lingers on expansive landscape shots and pulls in close to his main characters, evocative of the work of Sergio Leone. The movie's not scary as much as eerie and suspenseful. Arash (Arash Marandi), a young Iranian man dealing with his father's heroin addiction, meets a mysterious woman (Sheila Vand), a vampire who prowls the streets at night dishing out her brand of justice. There's romance, revenge, and a skateboarding vampire. How rad is that? Plus the soundtrack is killer.
The style blending Hudson Valley Ultrasphere — a Sour IPA — is perfect for the genre-bending A Girl Walks Home Alone at Night. Brewed with raspberries, Hudson Valley's Ultrasphere pours blood red (vampires, amiright?) and is seductively delicious.
-John A. Paradiso, Assistant Editor
Young Frankenstein (1974)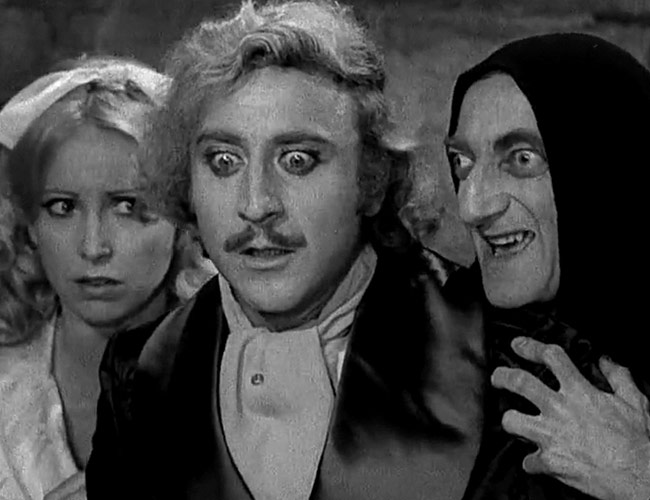 Beer: Resident Culture Finer Things Helles Lager
Film: I suppose it's not really horror. But when I'm throwing on a flick, I prefer it to be one I can laugh at. Written by the iconic Mel Brooks and Gene Wilder, Young Frank is a true comedic masterpiece that I keep in heavy rotation. It's also one of the few DVDs I personally own, if anyone wants to borrow. I've read that Igor's famous "walk this way" limp gag was actually what inspired Aerosmith's smash hit Walk This Way, after Steven Tyler saw the movie in theaters and got a huge kick out of it. But don't quote me on that.
I tried to find some Transylvanian beer to enjoy with this one, but I don't think you can get Csiki Sor in the US. That being said, I feel like Dr. Frederick Frankenstein would probably be a Helles lager kind of guy, so crack open one of those why don't you.
-Olivia Hurley, Operations Manager
The Shining (1980)
Beer: Bourbon Barrel Aged Imperial Stout
Film: At its core, The Shining is a story of alcoholism and the horrors of domesticity. Jack Torrance is an alcoholic who has repeatedly acted violently towards his family, even breaking his son's arm in a drunken rage. In one famous bar scene, Jack hallucinates ordering a bottle of bourbon and a glass of ice from the Outlook Hotel's abandoned bar, telling Lloyd, the ghost-bartender, "You set 'em up, and I'll knock 'em back!"
To pay tribute to Torrance, I would enjoy The Shining with a nice 750 ml of BBA Stout taken down solo. Set 'em up and knock 'em back! The booze and heat from the bourbon barrels will make you feel warm and toasty just in time for the climactic snowy maze chase.
-Benjamin Pratt, Photography Manager
Coraline (2009)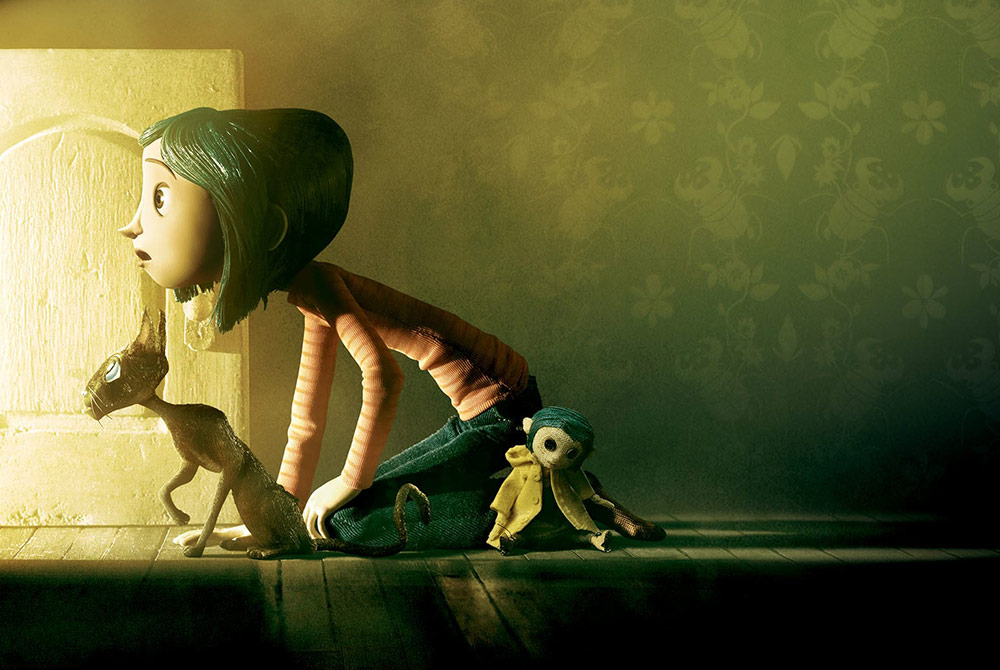 Beer: New England Brewing Company Fuzzy Baby Ducks
Film: I'm soft. Whatever. I absolutely loved the Neil Gaiman book on which this movie was based, and I was a huge fan of the stop motion art direction. The movie tells the story of Coraline, a young girl who moves into a new home and discovers a hidden door that leads to an alternate universe where everyone has buttons for eyes. Apparently, the shoot lasted 18 months and took two years of pre-production. The snow is made from glue and baking soda. The trees are painted popcorn. To construct a single Coraline puppet, 10 individuals had to work 3 to 4 months. An entire crew member was hired just to knit tiny clothing.
Sounds like horror to me.
Appropriately, I'm pairing this teddy bear choice of a movie with Fuzzy Baby Ducks, a 6.2% American IPA made by New England Brewing Company. I'm a big fan of Citra hops, and this beer is bursting with them. It reminds me of what IPAs tasted like before the haze craze. You've got to try it fresh.
-Kenny Gould, Co-Founder
Liked this article? Sign up for our newsletter to get the best craft beer writing on the web delivered straight to your inbox.