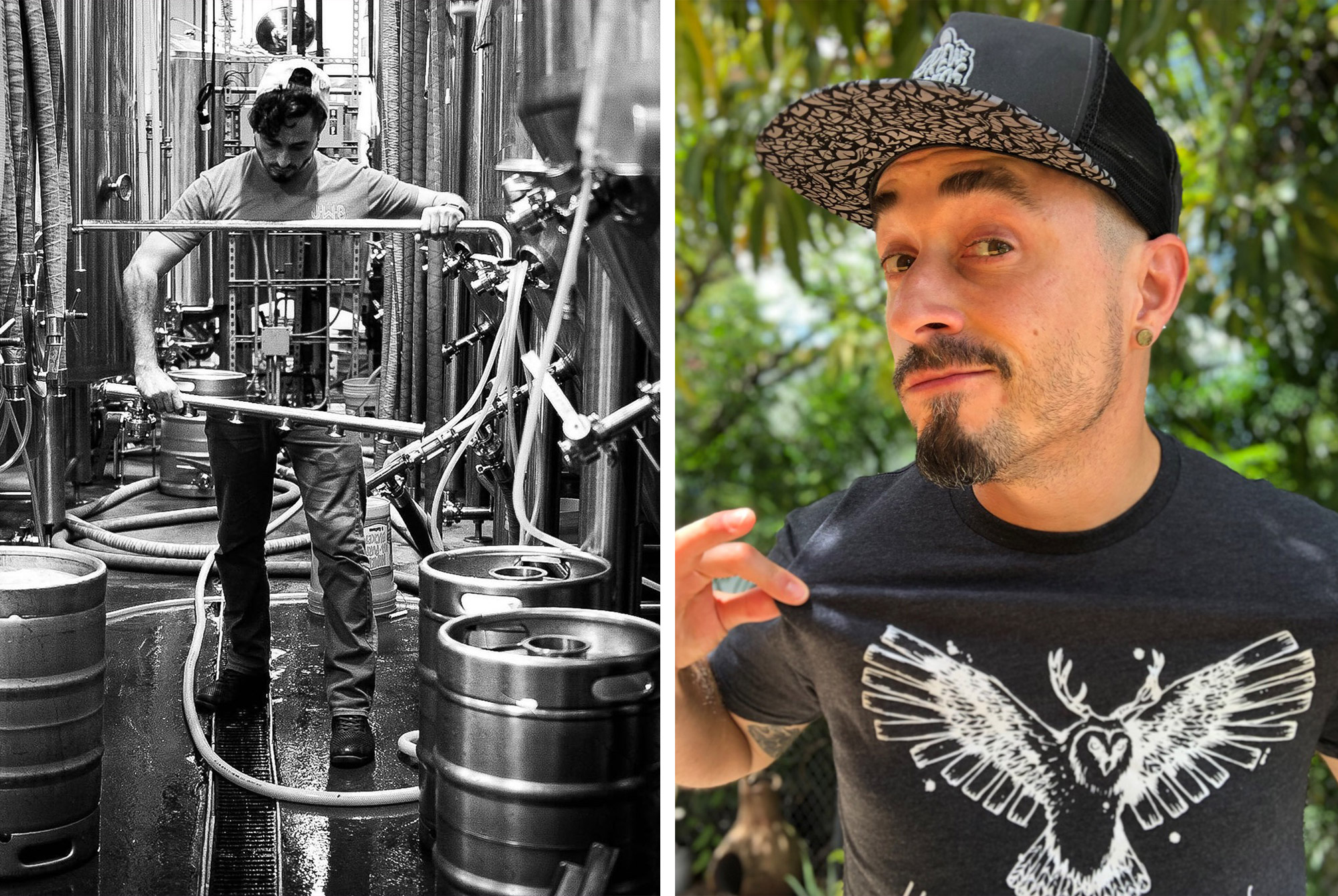 If you've followed the growth of craft beer on Instagram, you've probably interacted with Alex Gutierrez, aka "The Man Behind J. Wakefield's Posts." The enthusiastic Miamian joined the J. Wakefield family in 2015, before the brewery had even opened, and worked his way from keg washer to Taproom Manager and eventually Digital Media Manager.
Last week, he shocked the brewing community with an announcement–after several years helping grow J. Wakefield into one of the country's most hyped breweries, he was leaving to work on a new project. On Sunday, September 1st, Gutierrez will start his new job as the Taproom Manager for Unseen Creatures Brewing and Blending, Florida's newest brewery and one of only two in the southern part of the state that brews and blends aged product.
Kenny Gould: How'd you get started at J. Wakefield?
Alex Gutierrez: I actually got the opportunity to join the J. Wakefield family back in 2015, before the brewery had opened. I'd run into John Wakefield at local beer events, and he was also hosting beer dinners at local restaurants. We'd chat. Fast forward, his brewery is up and running and I joined the team as a keg cleaner for six months. That's usually where a lot of us tend to start. You work your way up the ropes. From the keg washer, I became the taproom manager. But after a while — and this is what was so cool about John — I expressed that I didn't want to get stuck in the tasting room. I wanted to keep pushing boundaries. We had a timeframe where we could bring in someone else and I could just focus on digital branding. My last three years were just focused on digital marketing, social media management. From sales to brand ambassador to helping out in the back to assistant brewer to mashing in, to palletizing kegs for distribution…it was a fun opportunity for me to wear many hats. I think I was the only employee who got to try every single department. The joke was, I was the hop of all trades for J. Wakefield.
KG: And when did you decide you wanted another change?
AG: I've known Marco at Unseen Creatures for many years now. Back when he'd just kicked off the Craft Commander series–have you heard of that? He'd go on Facebook Live or Youtube, and you could watch while he asked questions of people who were making big moves in the industry. I don't know if that's how Marco got started off, but that was even before my Wakefield days. We had a great relationship from that because I'd become a big supporter of what he was doing. We kept in good contact. He started Unseen Creatures, he started appearing at local bars. I always made sure to support. I was always very impressed with him and his philosophy behind the beers, and I was excited for him to finally open.
Present day, he's been in the process of building out for I don't know how long. With this opportunity, we kind of danced around a little bit. I wasn't aggressively seeking out anything, but he was looking for a management team to get open for the public. We sat down, we had a few beers, we had a great discussion, and that got me to thinking. As a father and a new family man, I wanted to push my boundaries professionally within the industry, I wanted to take the next step in providing for my family.
KG: As such a big part of the Wakefield family, I imagine it was a difficult conversation.
AG: That was very difficult. It really struck a chord in my heart. I'd been there since the very beginning. I was one of the last original team members besides Maria, who is still holding down the fort. You work day in, day out, put in your blood, sweat, and tears with people for so long… it's kinda like a breakup. I really didn't know how to approach John, who has been so wonderful to me. How do I say, "Thank you, farewell, I'm moving on?" Sometimes I steer away from things when I'm talking, so I wrote something down. I wrote a couple sentences because I wanted to make sure I did it right. I came into work and asked John for a moment of time. Very respectfully and graciously, he heard me out. We had a great conversation and it was like a weight was lifted off my shoulders. He was very understanding and grateful. We shook hands and he wished me all the best.
KG: When was your last day at J. Wakefield?
AG:
This past Friday, August 23rd. I have one week off to enjoy some family time, and my first official day with Unseen Creatures will be Sunday, September 1st. I'm starting there as Tasting Room Manager — and, as Marco likes to say, his right-hand man.
KG: What has the response been from the community?
AG: It was a very overwhelming, humbling experience. For years, I added a personal touch to every specific comment and DM. Nothing went untouched. I got to know thousands of people digitally. It wasn't just J. Wakefield anymore–I really felt like I carried the voice of the brand. When this transition was announced, I received hundreds and hundreds of new followers on my personal Instagram account, probably from people who thought, "we're not going to hear this guy's one-liners from the Wakefield account anymore, but let's keep seeing what he's up to." I easily got over 100 DMs. This is from absolute strangers.
KG: That's amazing. And what are you most excited about at Unseen Creatures?
AG: Man, I'm excited about a whole bunch of things right now. I'm excited to explore a whole new opportunity, I'm excited to be a part of a company that's entrusting me to start from the ground up. I'm excited to push boundaries together as a company for the first time. The neighborhood is also really cool–it's known as the Bird Road Arts District. There's already a brewery there, Lincoln's Beard, that has brought in a great craft beer scene. We want to join forces to create block parties. But I think another one of the cool things about Unseen Creatures is Marco's philosophy on the brewery and brand. Besides Odd Breed Wild Ales, we're going to be South Florida's only brewery and blending facility. We're doing a lot of farmhouse-inspired ales with beers that have been aging in barrels for years. We'll then find different blends with different liquids, and hopefully find some interesting yeast and bacteria–hence the name, Unseen Creatures.
KG: Congrats again. And when will the new brewery open?
AG: We're actually in buildout right now. The taproom is almost complete. If everything goes through with permitting, we'll be done by the end of the week or next week. We're tentatively set for a soft opening in late September. We don't have a set date but let's see how it goes. Ideally, we want to be able to open up with our liquid ready to consume on-site. Once we feel out the soft opening, we'll set a date for a grand opening and go out with a bang.
Liked this article? Sign up for our newsletter to get the best craft beer writing on the web delivered straight to your inbox.