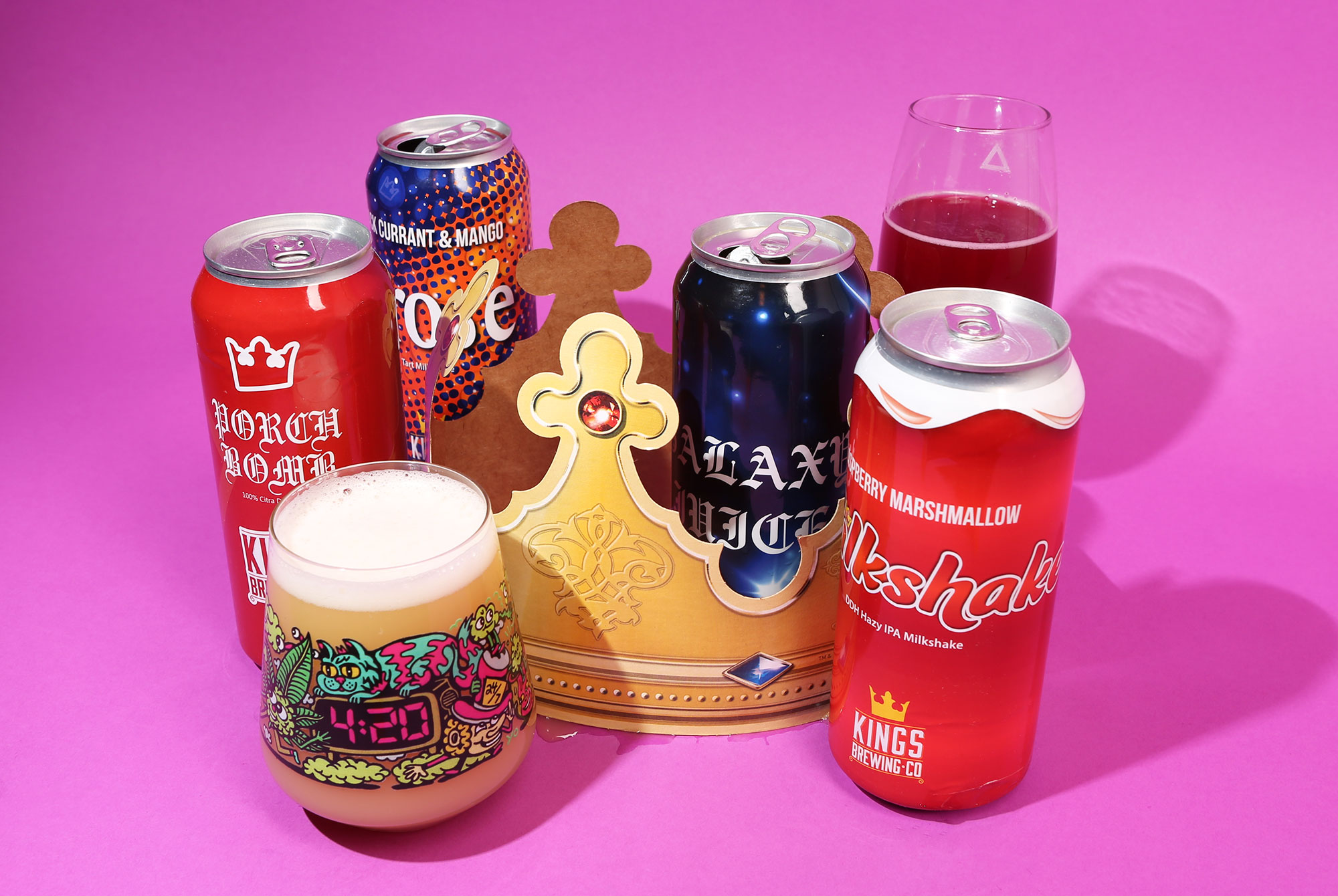 Editor's Note:
Kings Brewing Co will be attending Juicy Brews WestFest in Oakland, CA on Saturday, April 20. Get your tickets here.
As the saying goes, it's good to be King. But in the beer world, it's good to be Kings—Kings Brewing Company, a highly regarded and popular brewery in Rancho Cucamonga, California, that is.
Now, for those who haven't had the pleasure, we're here to tell you how good it is to be drinking Kings, and that's exactly what you'll be doing if you join us for what could be the cloudiest beer event ever: our second-annual Juicy Brews WestFest!
While the hazy IPA was born and began trending in the Northeast, West Coast brewers are now producing some of the breakout style's best versions. Among the region's first and still one of its standout purveyors is Kings, which was founded in 2015 by two brothers, Demetrius and Jeremiah Cooper, who sold their family home to start the business.
With the number of hazy and hop-loaded beers the Coopers make, it's pretty tough to give the turbid trophy to just one. We love the crazy creamy mouthfeel and fresh, vibrant tropical fruit flavors of Juicy B, which the brewery served at our March Madness festival at Resident Culture a few weeks back. And since the event had a basketball theme, we might've also slammed down a can or three of Porch Bomb, a triple dry-hopped double IPA.
Perhaps the most significant is Sippin' On Dank, a cloudy pale ale that is brewed and double-dry hopped with Citra and Galaxy hops. Last year, it won the silver medal at the Great American Beer Festival in the Juicy or Hazy Pale Ale category, the first time these kinds of beers were recognized in the competition. Whatever the hop-forward offering is, customers begin lining up outside Kings hours before new releases and cans sell out quickly. Limited in quantity, they're also rabidly traded online among aficionados.
In addition to an array of coveted hazy IPAs, the brewery also makes stellar pastry stouts that sell like hotcakes. For those not in the dough—err, know, pastry stouts are big, bold dark beers fashioned after desserts, flavored to taste like liquid versions of cake, cookies, and candy bars. They are oily and thick in texture, high in alcohol and sweetness, and heavy on adjuncts. The combinations of such ingredients will differ, but you can always expect a confection-inspired brew as the end result, achieved with unapologetically large additions of food items like cinnamon, maple syrup, marshmallows, vanilla, almonds, coffee, cacao nibs, lactose, coconut, and chocolate.
Imperial stouts have incorporated these ingredients for years, but typically as accents, their notes balanced with the flavors inherent in the style. The plunge into pastrydom, however, means swatting away all subtlety and pushing the flavor envelope full throttle, while also exuding a sense of fun and creativity and experimentation. These tradition-bending brews often carry names proudly boasting of their over-the-top, dessert-like composition. Standouts from Kings include All The Cookies (chocolate chip cookies, gingerbread cookies, sugar cookies, and espresso), Baklava (cinnamon, toasted walnuts and pistachios, lemon zest, lactose, honey, and maple syrup), Dia Noche (blueberries, cinnamon, cacao nibs, coffee, and lactose), and Field of Kings (churros, cinnamon, coffee, marshmallow, and lactose).
Along the same lines of creativity and imagination, of pushing the boundaries of what a beer can be, the brewery has an adored rotating series of sour ales made with massive amounts of fruits (enough to make a "Supermarket Sweep" contestant weep in envy!) and lactose, called Cali Tarts, which closely resemble smoothies (and, in cases of extreme viscosity, slushies) thanks to their vibrant colors, luxuriously creamy texture, and notable sweetness. Incredibly refreshing and absolutely addicting, you might be tempted to suck one up with a straw—only after capturing a photo to post on your Instagram page. A recent version incorporated pink guava, passion fruit, cranberries, lemons, lactose, and marshmallows.
With less than a week until WestFest, we felt it was a good time to chat with Jeremiah, who is also the brewmaster. In a phone interview, he spoke about the first hazy IPA he tasted, what he thinks of West Coast IPAs today, and the brewery's big plans for expansion in the next year. These are edited excerpts from the conversation.
Niko Krommydas: You were one of the first breweries on the West Coast to start brewing hazy IPAs. What did you like most about the wildly popular style that inspired you to do so, and, given how polarizing these kinds of IPAs have also been in their short existence, did it prompt any reactions that were less than favorable from customers or otherwise?
Jeremiah Cooper: I started trading for beers about the time Tree House and Trillium were being traded for. I remember getting Trillium in bottles and I wanted to brew that style of beer for myself at home, as it was a much cheaper way of getting the beer I enjoyed trading for. Although it took quite some time to learn the style–and I'm still toying with it to this day. I feel that we have come a long way from that small kitchen we started in six years ago. I remember when we opened the brewery and started making hazy IPAs, Monkish hadn't even brewed First Things First yet. People were making fun of us, calling these beers "lazy not hazy." So many local breweries said it would not last and they would never brew one. Funny thing is they all brew them now.
NK: What was the first hazy IPA you ever tasted?
JC: It was one of the Street beers from Trillium–I want to say Congress. Or it might've been Tree House's Julius.
NK: What are some of your favorite producers of the style?
JC: Equilibrium, Triple Crossing, Monkish, and Tree House, to name a few.
NK: In essence, the hazy IPA was created as a counter to the West Coast style. As a beer lover, but more so as a Californian, how do you feel about classic West Coast IPAs now compared to, say, five years ago? Do you find yourself drinking them as much?
JC: No, I don't drink them nearly as much and have noticed that making hazy IPAs has even altered my West Coast IPA recipes.
NK: How so?
JC: I find myself using some of the same processes when it comes to hop additions, dry hopping and even grain bills on West Coast IPAs as on hazy IPAs. One huge thing is we don't use crystal malts anymore, when before we did.
NK: Like the debate on hazy IPAs, you've no doubt heard a similar contempt for pastry stouts and heavily fruited sours, primarily a questioning of the purpose of these new-age takes and a decrying that these kinds of beers don't really taste like beer. But, as you can attest, their popularity is unquestionable. What is it about hazy IPAs, pastry stouts, and the like that has caused such a sharp divide among beer fans? It seems like you're either obsessed with them and willing to wait on line for hours to land as little as a few ounces, or you're utterly perplexed about their existence and can't fathom why anyone would want to drink them.
JC: I have to be quite honest, I have a great time making them and they sell extremely well! But, most likely, you will still catch me drinking a good lager or a pilsner over a diabetes stout any day of the year.
NK: Sour ales inspired by smoothies and, in cases of extreme viscosity, slushies, like The Veil's Tastees, like Burley Oak's J.R.E.A.M.s, like your Cali Tarts, really push the boundaries of what a beer can look and taste like, while also being a lot of fun. How much thought and recipe testing goes into a new Cali Tart before it's released? You've done how many different kinds now?
JC: Lots of thought and testing, but not on the recipes. We do more testing of how they hold up in the sun or how they taste after two months. Although they are not meant to be stored for long periods of time we know by now people don't listen to keep them cold and drink fresh. I believe we have done about 50 of them, but we have between 15 and 20 that we rotate through for the most part now, Fluffernutter being one of the most popular due to the marshmallow and peanut butter in that Cali Tart.
NK: Like many of the country's hottest hazy-IPA producers, you focus on own-premise sales. How has the model impacted your brewery specifically, and will you continue to focus on it as the business grows?
JC: Yes, that will be our primary focus. We did do some limited local releases but found it just left us without beer to sell in the taproom. So we stopped that pretty quickly. We do very limited overseas distribution at this time but plan to grow that by at least tenfold over the next year or so.
NK: Drinkers are increasingly seeking beer at the source. What do you want the experience to be for customers coming to the taproom, and how do you try to achieve that?
JC: I want to blow minds with flavors and treat customers like royalty. I want them to walk away not wanting to leave, talking about the next time they're coming back before even getting to their cars.
NK: "Treat customers like royalty": Is that where the Kings name comes from?
JC: Our motto is "Craft Beer Fit For Royalty," so I'd have to say yes on that one.
NK: The story goes that you sold your family's home to start the brewery. Take us back to the early days of the company.
JC: It seems like almost nothing has changed from those days except the beer has continued to evolve into what we now call our recipes. I still work seven days a week and at least 80 hours a week for about four years now and I wouldn't change it for the world.
NK: The event celebrating the brewery's first anniversary, in 2017, was also a fundraiser for your daughter, who was battling cancer. How was the turnout, and how is she doing now?
JC: That day we were able to raise over $15,000 for Darlene, who has finally gone back to school after two years. She started school about two months ago and is cancer free for now and we pray it stays that way. She has definitely taught our family a lot.
NK: The brewery's third-anniversary party is later this month. What do you have planned for it?
JC: This anniversary is going to be the best one yet. We'll close down the parking lot, bring in a DJ, food trucks, vendors, and games. We'll do raffles all day long of all kinds of cool stuff, like three-liter bottles of pastry stouts, and sell old bottles that we saved a few cases of. We will have 10 releases this year, including six pastry stouts in bottles, one barrel-aged sour in bottles, and three can releases. One can will also be a six-way collaboration of a Cali Tart. We have never released a Cali Tart in cans before. We'll have over 35 beers on tap that day, including new Milkshakes, Smoothies, hazy IPAs, pastry stouts, and Cali Tarts.
NK: What are your future plans for the brewery?
JC: I went from a homebrewer brewing in his kitchen to opening a taproom that was 2,000 square feet to now expanding and building a production facility that will put us at 7,500 square feet. We now have 10 employees and are looking to open a second tasting room over the course of the next year. We just started construction on doubling the size of our current taproom as well. Then hopefully a restaurant and lastly a small hotel with a brewery and a restaurant inside.
NK: Last question: What will you be serving at Juicy Brews WestFest?
<: Pineapple Snapple, a hazy IPA with pineapple and vanilla; Mosaic & Peach, a hazy IPA with peach and vanilla; and Mallow Yellow, one of our Cali Tarts with a bunch of fruits, marshmallow, and vanilla.
Tickets are available for Juicy Brews WestFest here.
Liked this article? Sign up for our newsletter to get the best craft beer writing on the web delivered straight to your inbox.