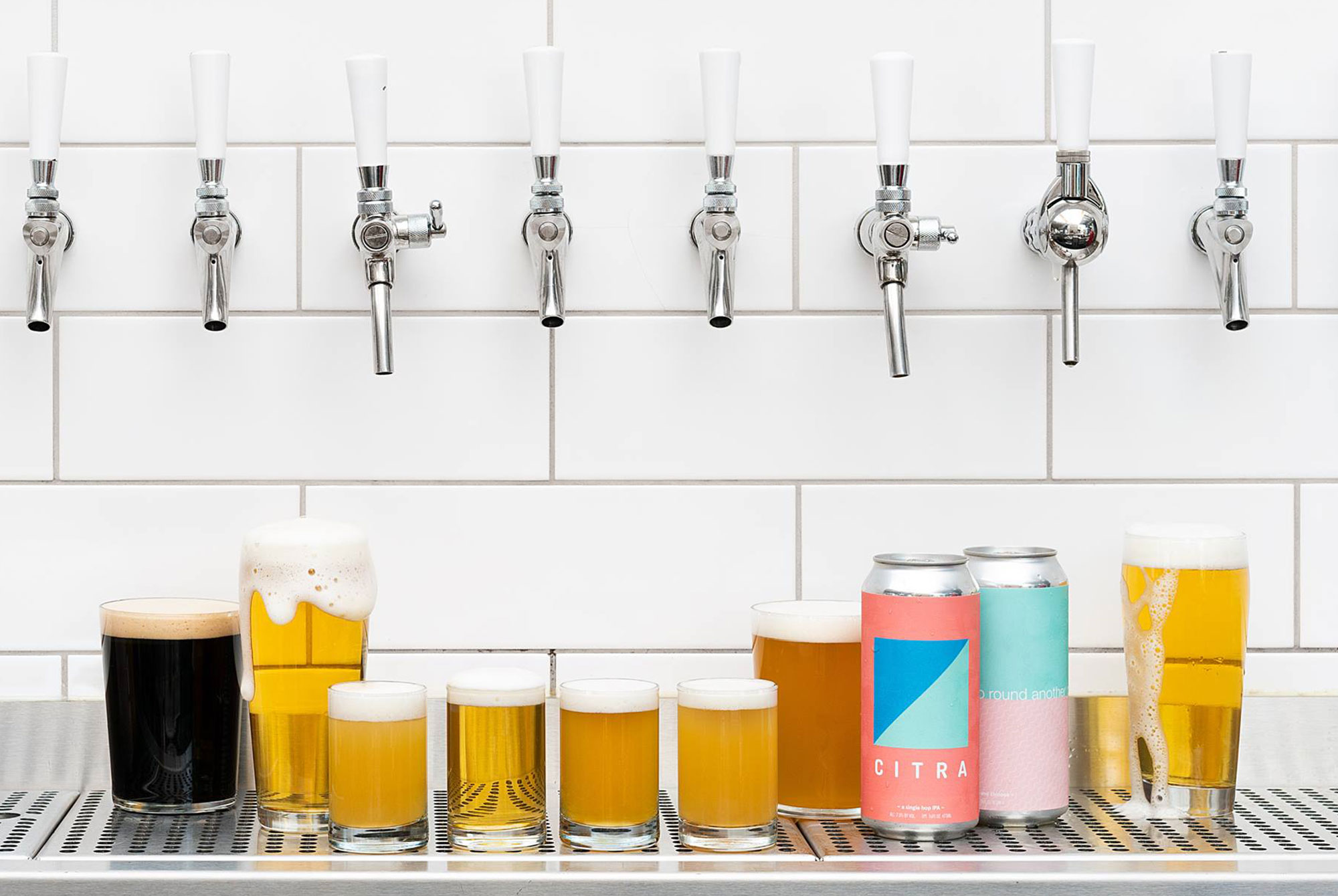 The most difficult part of finding a good beer in Oakland is deciding which of the area's myriad breweries you want to try. Each major city in the Bay Area has a unique foodie identity and beer is very much becoming intertwined with Oakland's burgeoning culinary scene. Cheaper business costs have driven major brewing talent to the city and proliferated a sense of craft beer of the people, by the people, and for the people.
Read on to see our choices for the five best breweries in Oakland.
Drake's Brewing
1933 Davis St Ste 177, San Leandro | (510) 568-2739
It's practically illegal (or should be, at least) to talk about the East Bay brewing scene without honoring Drake's. This icon of craft-brewing began slinging brews way back in 1989, and has steadily grown ever since. Their renowned IPAs are the stuff of legend, including their ubiquitous Best Coast label and their infamous Denogginizer. Drake's flagship brewpub in San Leandro, which abuts Oakland from the south, has food so good that it's almost worth the trip alone. But, if you can't make the trip, swing by Drake's Dealership right here in Oakland. You'll find amazing food, great beer, and the perfect vibes in the outdoor beer garden.
Editor's Note: Drake's is hosting Juicy Brews WestFest on April 20 at Drake's Dealership.
Temescal Brewing
4115 Telegraph Ave, Oakland | (510) 899-5628
There's a lot to love about Temescal Brewing. To start with, they offer an appreciable mix of flawlessly executed classic styles, like their altbier and the silky smooth coffee porter, coexisting with recipes that exhibit a lot of taste and a lot of personality. Their blonde ale with apricot and tangerine, AKA the Forever Sun, is an exercise in tension and balance. Each sip packs on more and more complexity as the components linger and lounge on your palate. While they're strictly a brewery, at least one food truck is on hand every day to feed your beast. If the food truck doesn't show then Temescal offers free freshly-popped popcorn. No growlers, please, as crowlers are available.
Editor's Note: Temescal is attending Juicy Brews WestFest on April 20 at Drake's Dealership.
Ale Industries
3096 E 10th St, Oakland | (510) 479-3185
Ale Industries has been making some of Oakland's best beers for over a decade. Their guiding principle remains the same over that timespan: to show people all the different things that beer can mean. They've got plenty of hoppy stuff, and crisp/clean stuff for the conventionally minded. But it's when you start getting into their weird stuff, or "Uniquities" as AI calls it, that you start to see that this place is something special. For instance, their raw ale that's brewed with gin-inspired flavors. It's herbal and unexpected and perfectly encapsulates what makes this brewery unique.
Ghost Town Brewing
1960 Adeline St, Oakland | (510) 926-6728
West Oakland isn't exactly popping, which might be where Ghost Town is coming from with their name. With fifteen taps available, there's an entire afterlife's worth of beer to try. The Cat Hoarder nitro milk stout is smooth and chocolatey, while the Locrian is one of the best pale ales in all of the San Francisco Bay Area. If they have the four pack of the latter in the fridge, grab it (to-go only). If you're a ghoul looking for a good time, Ghost Town is your haunt.
Original Pattern Brewing Company
292 4th St Oakland | (510) 844-4833
While their trippy taps will leave you wondering if you were abducted by aliens, the beer at Original Pattern Brewing Company will bring you back to earth. The barleywine is like drinking a cookie. The smoked coffee porter will have you considering whether beer is a breakfast food. For those with no time to waste on foolishness, Original Pattern lets patrons reserve cans online. That system is also convenient since this popular establishment frequently runs out of stock as soon as it's released.
Liked this article? Sign up for our newsletter to get the best craft beer writing on the web delivered straight to your inbox.