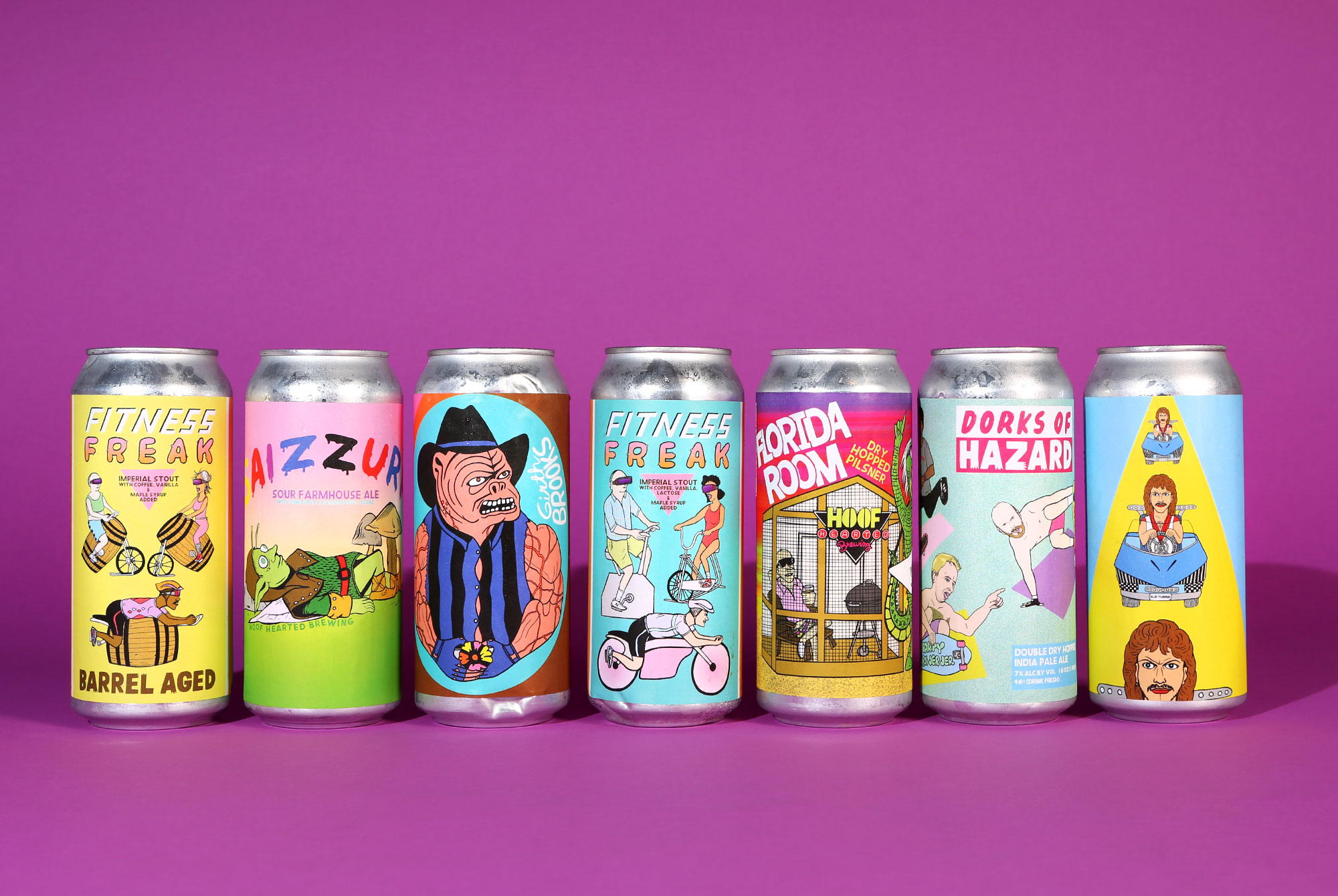 Photography by John A. Paradiso
Editor's Note:
Catch Hoof Hearted and Thom Lessner at Juicy Brews Art Gallery in Chicago, IL on July 20. Get your tickets here.
The rise of craft beer Instagram culture has put a significant focus on craft beer aesthetics. Gone are the days of unappealing stickers slapped on 12 oz. amber bottles. The 16 oz. aluminum can has become the new canvas, and the successful breweries have used it to great effect.
While breweries like Foam and Brouwerij West have used a rotating cast to design their cans, others have chosen to make their brands synonymous with a single artist. For instance, the work of Keith Shore helped define Mikkeller, and Evan M. Cohen's art is immediately recognizable at Hudson Valley. While compelling can art doesn't necessarily guarantee great beer, we've found that a brewery that's concerned with its visual identity is likely to put that same level of attention into making great beer.
Another example of this is Hoof Hearted Brewing, founded in Marengo, Ohio. Their creative program is led by legendary Philly artist Thom Lessner, who has helped build the brewery's brand with his hilarious, stylish designs.
At first glance, it seems Hoof Hearted eschews "seriousness" and favors fart jokes and chaos. But look more closely and there's a method to the Hoofy madness. The brewery takes fun seriously and Lessner's artwork is an authentic representation of the brand. Crazy, colorful, and full of surprises. And beneath the incredible artwork is genuinely fantastic beer.
About a year and a half ago, we threw a festival in Columbus and I chatted with Hoof Hearted's Operations Manager Brayden Volk about the Hoofy identity and Lessner's artwork. I suggested that Lessner was bringing to life the Hoof Hearted brand and Volk stopped me. It's even more natural than that: "It's just Thom doing Thom."
There's no gap between where Hoof Hearted ends and Thom Lessner begins; Lessner is just as much a part of the Hoof Hearted identity as any other employee. The beer would be just as delicious, the trip to the Hoof Hearted would be just as memorable, but Lessner's goofy art ties the experience together. We chatted with Thom Lessner ahead of Juicy Brews Art Gallery in Chicago, Illinois.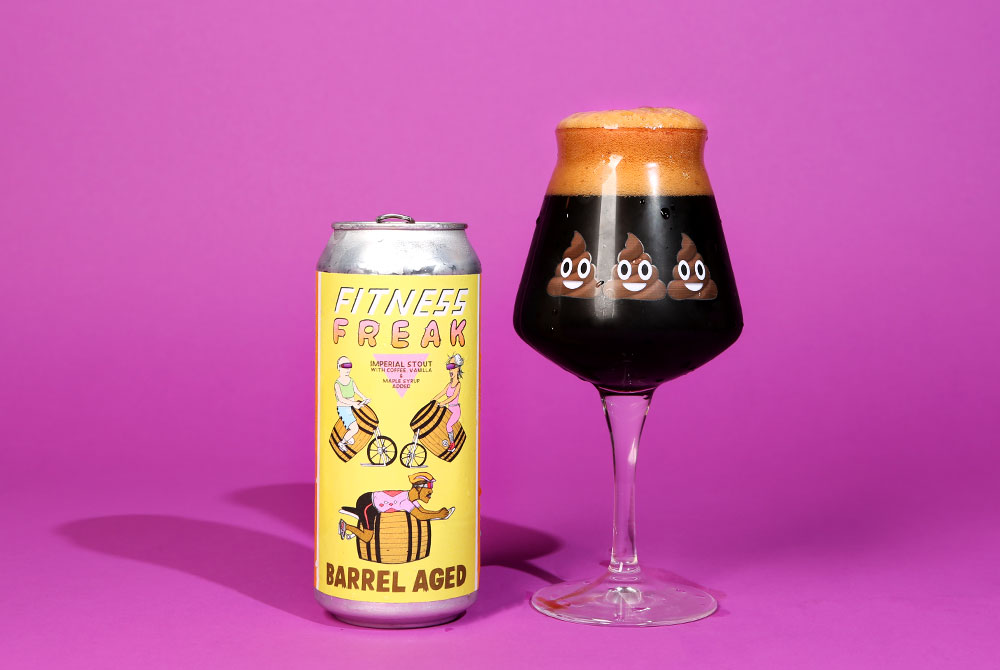 John A. Paradiso: How did you start working with Hoof Hearted?
Thom Lessner: Let's get metaphysical and say I started at Hoofy in second grade when I met Trebag (Trevor), the main brewer. I met Jarrod a few years later and I think all those years growing up together laid the blueprint of how it works now. At some point, Jarrod, Trebag, and Ryan (Jarrod's brother) got the idea to make beer and asked me to be the art guy. And here we are.
JP: And 'Hoof Hearted'? Who came up with the name?
TL: Not sure who to credit, but I think, if you asked any of them, they'd say, 'It wasn't me.'
JP: What is the can design process like? Do you get direction on how the design should look?
TL: Typically, the way the Hoof Hearted creative oven cooks is Trevor hits me with a deep and meaningful beer title and leaves me naked with only an apron, then locks the kitchen door. Usually, I have some semblance of what the name means or is referencing but sometimes I have no idea and that can be really cool, so I don't have to make the art so obvious or literal. Almost like an exquisite corpse vibe where it starts somewhere and ends up somewhere totally different.
JP: Can you give me an example?
TL: We just put out the 'Brandon's Minnesota Girlfriend' can. When I got the note to draw it, I assumed it was a play on a fake girlfriend like Anthony Michael Hall's character's, 'Canadian Girlfriend' he talks about in the Breakfast Club. After it was printed, I was pumped to find out it was based on Brandon Walsh's hometown girlfriend from Beverly Hills 90210. Season 1 Episode 4, if you're curious.
JP: Beer buying is becoming increasingly more visual. In a lot of cases, consumers purchase beer based on how cool the label is. Do you have any thoughts on this?
TL:
Yes. I'll say this — I have so many amazing art friends that have never worked with beer. If you're a brewer and need branding, I'd be happy to matchmake you with someone that could do you wonders. You guys at Hop Culture are great at bringing all that together and I appreciate it. Looking good is feeling good, uh huh.
JP: What's your favorite beer label you've made?
TL: The Holdin' Heavy can always makes me proud.
JP: What does a typical day in the life of Thom Lessner look like?
TL: I've been traveling a lot so that always changes things up but I usually start with coffee, get a run in, organize whatever projects I'm working on, work on them, cook something, play some records, and hang with the cat and my wife.
JP: Do you have a dream art project? Like maybe designing a virtual reality Hoof Hearted drinking experience? Or painting the Hoofy pool and hosting an old-school pool skate sesh?
TL: Yeah, Hoofy needs a bigger VR presence — I should think about that more actually. Hoofy 80's skate jam Hazard 2 is coming August 31 which has been really fun planning so far, as well as Dragonsaddle Day on September 21st. Both of those feel like dreams in progress.
I think when I dream of art stuff, it's more about things I haven't done before so they're new. I just built a real sexy pergola in my backyard in Philly so now I gotta learn about plants.
Say hi to Thom and teach him about plants in Chicago at Juicy Brews Art Gallery on July 20th. Get your tickets here.