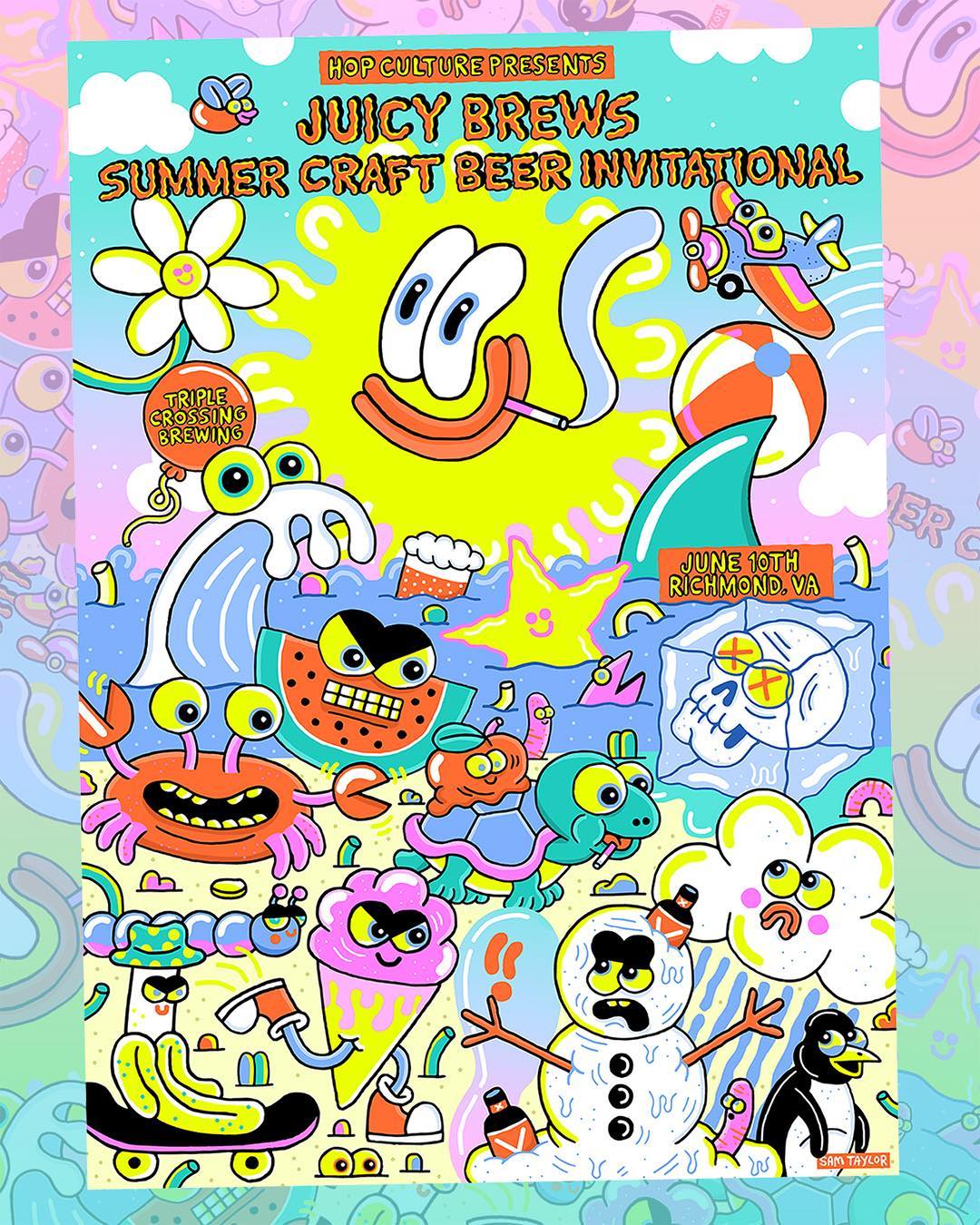 Illustration by Sam Taylor
If Richmond, Virginia isn't on your radar as a craft beer destination, it needs to be. The city has a diverse, outsized scene, with breweries pumping out everything from hazy juice bombs to decadent stouts to classic farmhouse ales.
We named Richmond one of our 5 cities to watch in 2018 and — after fests in New York City, Pittsburgh, Columbus, Tucson, and Oakland — we're bringing our Juicy Brews craft beer festival to RVA on June 10 for the first Juicy Brews Summer Craft Beer Invitational. We'll have 33 breweries serving up unlimited pours at Triple Crossing's Fulton location in two sessions: the first from 11:00 am to 2:30 pm and the second 4:00 pm to 7:30 pm. A few Virginia breweries will be pouring at the festival — Aslin, Hardywood, Commonwealth, Triple Crossing, and The Answer, among others — and some of our favorite breweries will be flying in from out of town, like Outer Range (Frisco, CO), Foam (Burlington, VT), and Hoof Hearted (Columbus, OH).
"This is our seventh festival, and I think it'll be our best yet," said Kenny Gould, Founder of Hop Culture. "It's the first time that many of these breweries will be pouring in Virginia, and the list is absolutely nuts."
If you're thirsty for some juicy brews before the festival, hit Triple Crossing on June 8th for their can release, which includes our collab beer: Soldiers of Summer, a tasty Raspberry Berliner Weisse. We'll be slinging some merch, including a limited edition tumbler glass designed by Killer Acid.
We'll also be hosting a Beer Yoga class at Hardywood Park the day before the fest, on June 9. Stop by for a beer from Hardywood, a 40-minute yoga class taught by Amie DiTomasso from Epic Yoga in Washington, D.C., and some tasty brunch offerings from a few RVA foodtrucks. The class size is limited to 60 people so pick up your tickets soon!
At the festival, you'll get unlimited pours from attending breweries, as well as some very danceable music, food from Triple Crossing's kitchen and local food trucks, and Hop Culture's collectible merch, designed by British artist Sam Taylor.
The General Admission ticket ($62.50) gets you access to the festival for one session. Upon entering, you'll receive a limited-edition taster designed by Sam Taylor and a brochure that includes a map of the festival.
The VIP add-on ($30) gets you 30 minutes of early access to the festival, as well as a festival poster, koozie, teku, hat, and tote.
The Designated Driver ($20) ticket gets you access to the festival for one session, but you won't be able to drink. Upon entering, you'll receive a ticket that's redeemable for a meal.
See below for the full list of breweries and find more info about the festival at hopculture.com/summer. We'll be announcing the beer list in the days leading up to the festival.
Stay juicy,
The Hop Culture Team
Schedule of Events:
Friday, June 8th @ 12pm – Triple Crossing X Hop Culture Collab Can Release "Soldiers of Summer"
Learn More
Saturday, June 9th @ 12pm – Beer/Brunch/Yoga at Hardywood Park Craft Brewery
Learn More
Sunday, June 10th @ 11am & 4pm – Juicy Brews Summer Craft Beer Invitational at Triple Crossing's Fulton location
Buy Tickets: $62.50
Brewery List:
Aslin Beer Company
Barreled Souls Brewing
Bond Brothers Beer Company
Burley Oak Brewing Company
Brewery Bhavana
Brix City Brewing
Casa Agria Specialty Ales
Casita Cerveceria
Cellador Ales
Charles Towne Fermentory
Commonwealth Brewing
Dancing Gnome Beer
District 96 Beer Factory
Foam Brewers
Hardywood Park Craft Brewing
Hoof Hearted Brewery and Kitchen
HopFly Brewing Co.
Horus Aged Ales
Imprint Beer Co.
Kent Falls Brewing Co.
Magnify Brewing
Mast Landing Brewing Co.
New Park Brewing
Ocelot Brewing Company
Outer Range Brewing Co.
Red Dragon Brewing Company
Resident Culture Brewing Company
Salud Cerveceria
Southern Grist Brewing
Superstition Meadery
The Answer Brewpub
Triple Crossing Beer
Wren House Brewing Company