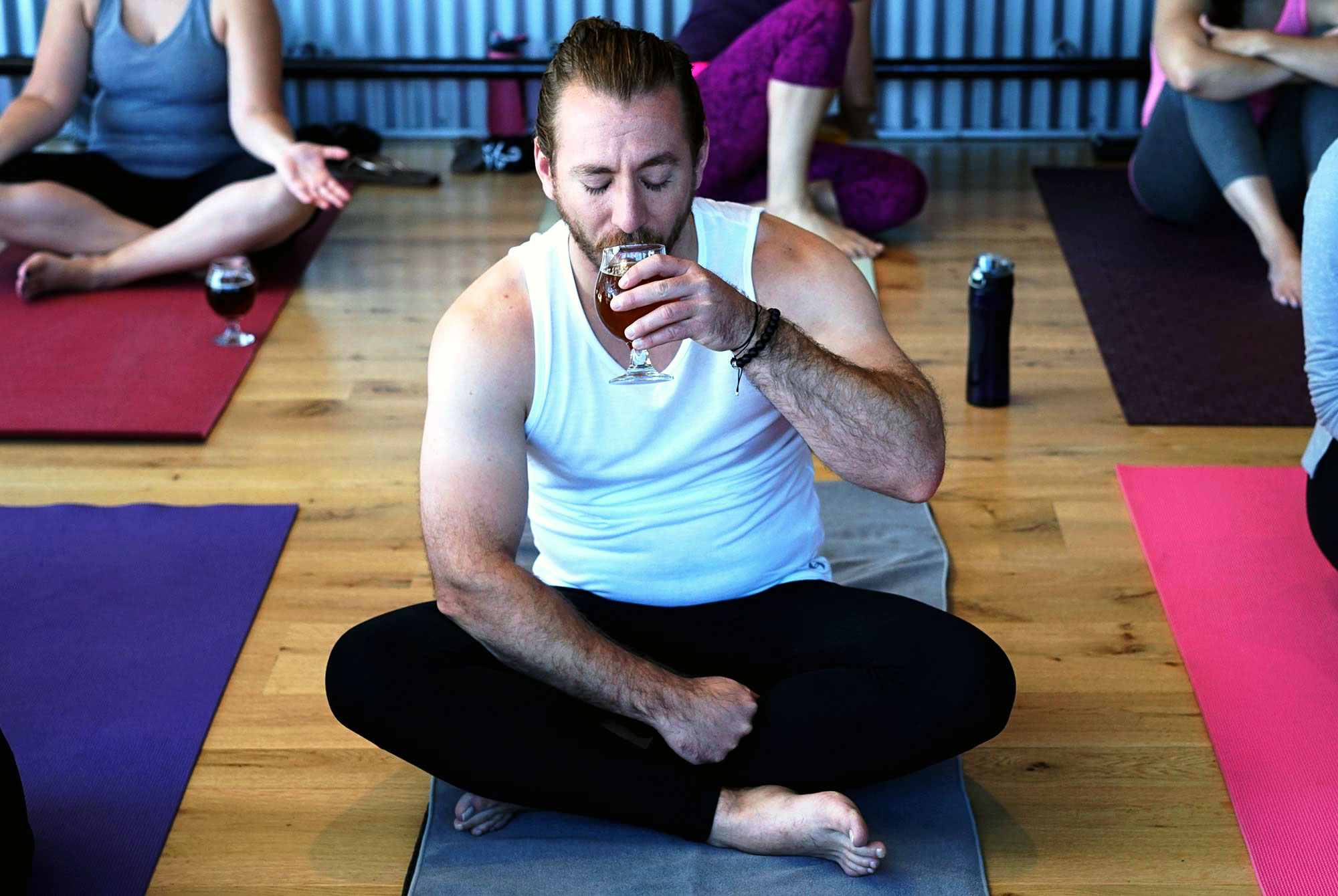 I can't remember when I first heard about people teaching yoga at breweries. Sometime last year, probably. I'd just completed my own 200-hour yoga teacher training course and was teaching a weekly class at Pittsburgh's best vinyasa studio, Yoga Flow.
I thought brewery yoga might be a fun way to combine two of my favorite interests. (Plus, it's quickly gaining popularity in the yoga community.) So I teamed up with Suzanne Nagel, one of the studio's most experienced teachers, to launch a traveling brewery yoga class called Ales and Oms.
Earlier in the year, we taught our first class at Dancing Gnome, a new brewery in Pittsburgh that's already making a name for themselves as one of the region's best producers of hazy IPAs. For our second, we visited East End, a beloved local classic that basically set the scene for Pittsburgh craft. Most recently, we took a trip to Mindful Brewing, a beautiful brewpub and bottle shop in Pittsburgh's South Hills.
After three sold-out events, I feel like I have a good handle on how to run a successful brewery yoga event.
1. Travel
From the start, Suzanne and I wanted our class to be different than what was already offered. We researched different brewery yoga classes and found that many instructors lay claim to specific breweries, which serve as a weekly or monthly "home base." That is, every time an instructor runs the class, he or she returns to the same venue. That's great for brewery super fans, but one of my favorite parts about the craft beer community is the sheer number of different breweries (5,300 in the US and counting!), and we wanted our class to reflect this diversity. Instead of picking one location, we settled on a traveling class — come to every session and you'll get a tour of Pittsburgh's brewing scene through yoga. If your city has more than a few breweries, consider traveling.
2. Keep it light
Nobody wants to drink a beer and learn parsva bakasana (side crow). Nobody comes to brewery yoga for enlightenment — though it could happen. In our experience, people come to relax, to meet new people, to try new beers, and to enjoy themselves. Make sure your classes stay true to the spirit of imbibing by creating a fun, all-levels routine.
3. Make a killer playlist
Per point 2, when you're teaching brewery yoga, you're bringing people together to have a good time. Few things set the mood quite like music. Pro tip — you can never go wrong building a playlist around "I Want You Back" by The Jackson 5. Just make sure that the brewery has an auxiliary hookup before you visit.
4. Incorporate the beer
During our first two classes, we waited until after we taught before letting our students hit the bar. For our third class, we actually incorporated the beer into the flow. It was what we should've been doing all along. It's almost impossible not to smile while trying to sip a beer in paripurna navasana (boat pose).
5. Price accordingly
At the studio, we charge $14 for a class, so we made our brewery yoga classes $20: $14 for the class plus a $6 beer. In markets like New York and Los Angeles, we've paid upward of $30 for just the yoga classes, but the lower price point makes brewery yoga accessible to more people and relieves the pressure to "get something" out of the class.
Stay strong, stay true, stay fresh, stay fly,
Kenny Gould
Editor in Chief
What We're Reading
"You give but little when you give of your possessions. It is when you give of yourself that you truly give."
— The Prophet, by Khalil Gibran