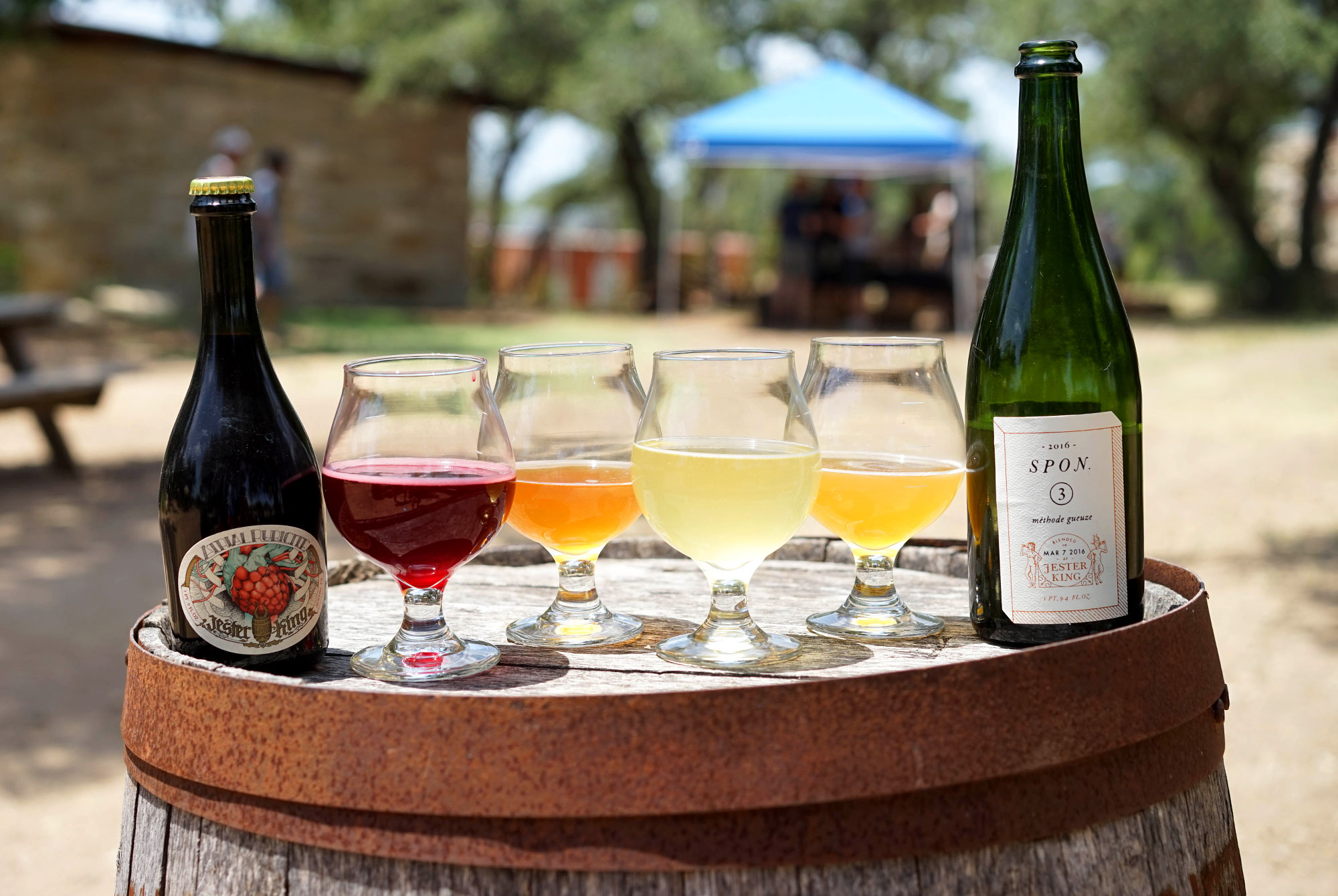 This weekend, I visited Jester King Brewery outside Austin, Texas, which marks my third trip to Hill Country. Barring the 100+ degree weather, it was a perfect experience.
I don't say that often. In my entire drinking career, I may have only used the word "perfect" four or five times: once at Allagash (which has some of the best damn beer in the country), once at Oxbow's Newcastle location (a farmhouse brewery in the middle of an actual farm), once at Hoof Hearted (everyone had mullets and the TV played Mortal Kombat), and once in Rouen, France (where I tried my first Westvleteren 12).
If any brewery-owners are looking to provide a perfect experience for their customers, Jester King offers a compelling case study. Obviously there are a lot of factors (and even some intangibles) that go into creating something "perfect," but we wanted to highlight five areas that made the experience great.
1. Ambience
Few things are more idyllic than a picturesque farm. Jester King isn't in downtown Austin, but about 30 minutes away, on a 60+ acre piece of farmland. Although there are a few covered picnic tables, most of the seating is open to the elements, shaded only by the beautiful trees. It's easy to post up at a picnic table with friends and dogs, breathe clean air, and enjoy a few beers.
2. Selection
When Jester King switched their license from a production brewery to a brewpub, they gained the ability to sell beer for off-premise consumption. In addition to the ten or so of their own options, they also offer a bottle list that rivals the great "beer menus" found in bars across Belgium. They carry local favorites like Live Oak, Last Stand, Blue Owl, and Zilker, but also personal favorites like Michigan's Jolly Pumpkin, Fort Collins' Funkwerks, and Denmark's Mikkeller. For those who want something other than beer, there's a carefully curated list of ciders and wines. You'd be hard pressed to find a better selection in the state.
3. Quality
Earlier this year, I interviewed Jester King co-founder Jeffrey Stuffings, and we spent a good bit of time talking about the Jester King secret recipe. The brewery uses water pulled from the local Trinity Aquifer, and they work with local farmers to grow wheat and barley that gets malted at Blacklands Malt, one of the only micro-maltsters in Texas. They use local peaches, grapes, plums, loquats, strawberries, and blueberries. They cultured their yeast from different spots around the farm. Their commitment to using high quality and locally-sourced ingredients stands in stark contrast to bigger breweries that source ingredients from all over the world, and the taste comes through in every beer.
4. Community
Jester King's open-seating plan often forces visitors to sit with strangers, but it's a great way to make new friends. But even if you don't talk to anyone outside your group, there's something comforting about watching a bunch of people have an awesome time.
5. Commitment
When Wicked Weed abandoned the craft community by selling to AB-InBev, Jester King owner Jeffrey Stuffings was one of their most vocal critics. Maybe they have their sights on expansion, but for now they're comfortable making great beer and creating an experience for everyone who visits.