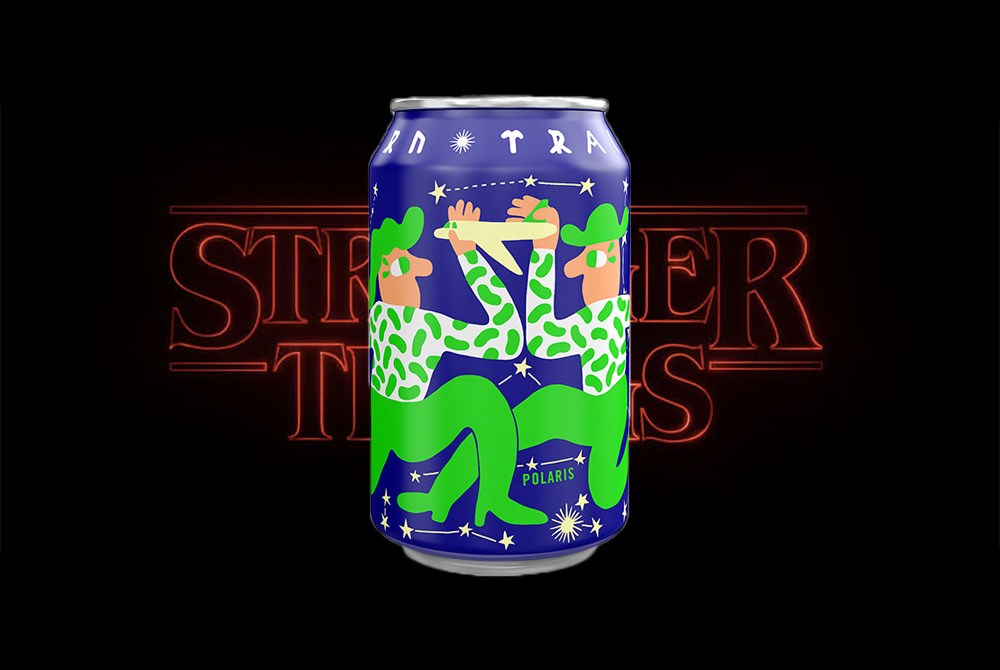 We've played with green glowing Yo-Yo's. We've captured luminescent fireflies in a jar. We've even plastered phosphorescent plastic stars to our bedroom ceiling. But, drinking from a glow-in-the-dark beer can 35,000 feet in the air? Have we seen stranger things?
Born in the space between land and sky, Northern Trails, the newest collaboration beer between Mikkeller and Scandinavian Airlines (SAS) is served up in a can that's out of this world… literally.
Sporting the iconic Mikkeller characters holding a plane as it flies across a star-filled sky, this delicately balanced IPA can radiates an eerie emerald light when the lights go out.
The lustrous idea came from the mind of Scandinavian Airlines (SAS) Head Chef, Peter Lawrance, who drew inspiration from his new favorite TV show, Stranger Things.
"What if these cans went through the twilight zone?" said Lawrance. "Let's make them glow in the dark!" A trip into uncharted territory for an otherwise classic bright, grassy, and citrusy ale meant riffing on the very rift the American sci-fi sensation exposed in its eight episode debut last year.
"My wish was to take Cloud Hopper and Plane Ale [two previous Mikkeller/SAS collaborations] and have them meet in The Upside Down," said Lawrance, referring to the mythical tear scientific research company Hawkins National Laboratory rips open during their supernatural experiments in the hit Netflix original series.
Developed exclusively for SAS travellers, Northern Trails will be the 16th beer the Swedish-based airline and Danish brewery have teamed up on. The partnership began back in 2014 when Lawrance decided the airline needed better beers on board. Joining forces with Mikkeller seemed like a logical pairing and Mikkeller founder Mikkel Borg Bjergsø agreed.
"My wish was to take Cloud Hopper and Plane Ale [two previous Mikkeller/SAS collaborations] and have them meet in The Upside Down."
"SAS is in my opinion one of the most iconic Scandinavian brands. It's something I grew up with and something that I've used since I was born," said Borg Bjergsø in a video on the Scandinavian Traveller's website. "When I was asked to do the first beer for SAS it was a no brainer because [SAS] is something that I'm proud of as a Scandinavian and that I use a lot. Plus, now I can get good beer on Scandinavian Airlines." Three years later, and with 15 Mikkeller beers — 5 bottle and 10 cans — already available in the sky, Lawrance wanted to take this new brew to new heights.
To make this 6.6% IPA — dry-hopped with Polaris, Mosaic and Amarillo — shine brighter than a string of Christmas lights in a dark living room, Lawrance enlisted the expertise of Mikkeller artist and can designer, Keith Shore. The result is the most interactive can to take to the air.
While Northern Trails would make the perfect companion during the premiere of Stranger Things season 2 on Friday, Oct. 27th, unfortunately for now, you'll only be able to drink this beer on-board an SAS flight. If you're able to make it into the sky in the next two weeks, we dare you to drink this beer in the dark. Just be warned if your beer can starts to flicker you might want to chug and run.