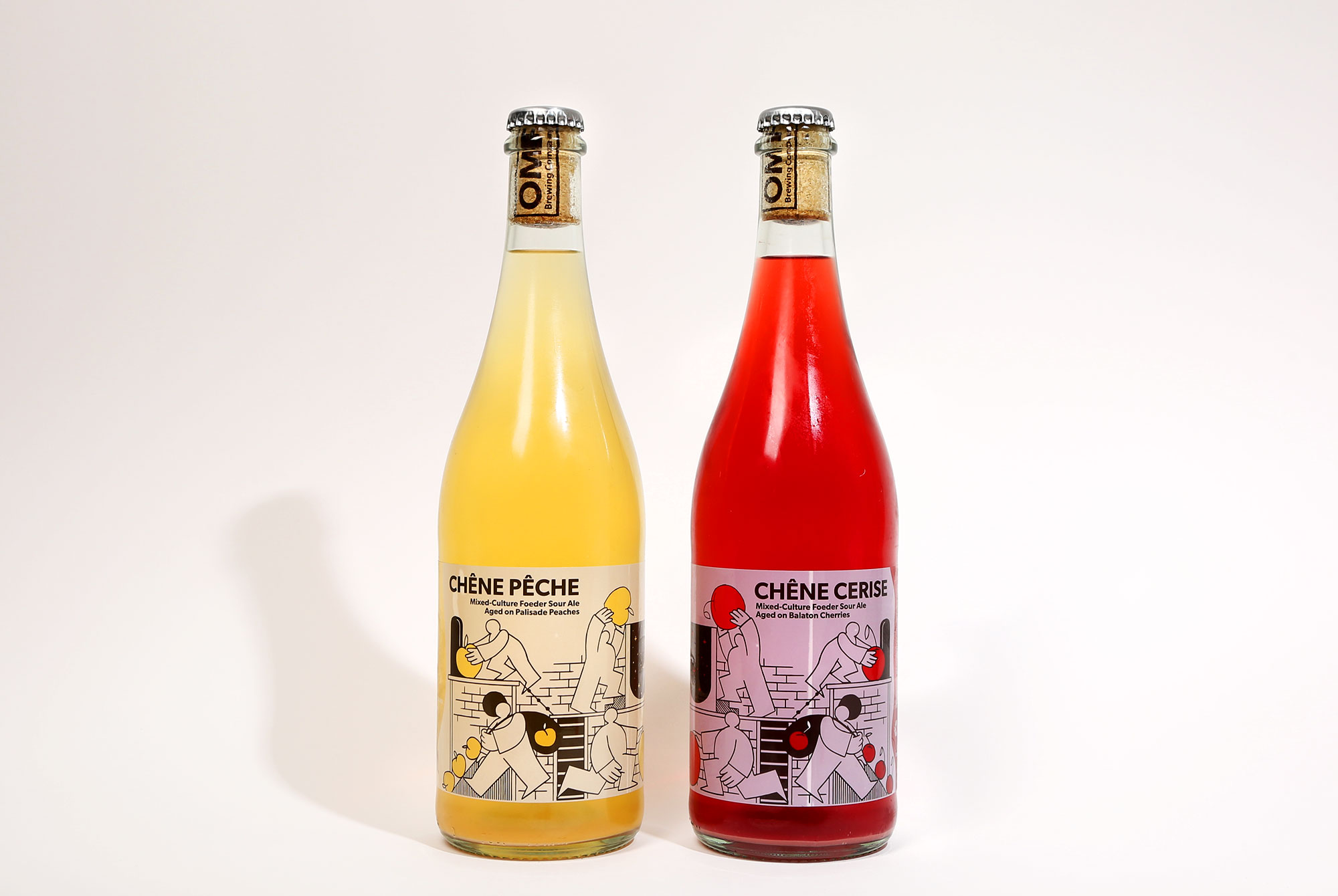 Editor's Note:
Want to try some Our Mutual Friend beer? Catch them at Juicy Brews March Madness on March 23rd at Resident Culture in Charlotte, NC.
Our Mutual Friend at a glance:
Our Mutual Friend (OMF) is a brewery based in Denver, Colorado. It was founded in December 2012.
Chéne Cerise is a 6% ABV Foeder sour ale aged on Balaton cherries.
Chéne Péche is a 6.3% ABV Foeder sour ale aged on Palisade peaches.
Both Chéne bottles were released for OMF's 6th anniversary this past December.
Why you should care:
As more and more breweries make lactose-filled fruited sours that explode in your mouth like dollar-store candy, finding delicate and evocative sour ales aged on fruits feels like hitting the jackpot. When it comes to traditional fruited sours and rustic saisons, the state of Colorado is spoiled for choice. Just look at Casey, Black Project, and Amalgam. Now you can add Our Mutual Friend to the list. The Denver-based brewery has made a name for itself by producing carefully constructed beers that blur the lines between traditional and modern ales. You'll find balanced and juicy IPAs and Pale Ales, soft pilsners, and complex sours.
For its 6th anniversary, OMF released a slew of fascinating beers including a smoked strong ale and a juicy Double IPA. Both were delicious, but Chéne Cerise and Chéne Péche immediately stood out. The labels were designed by Justin Pervorse, who does most of OMF's artwork, and reminded us of vintage comic books, or the more recent work of Ben Sears.
"We were inspired by old 60s french acid-trip type posters and comics we found while researching music and art," co-founder Brandon Proff explained. "I decided to keep the labels super simple black and white to let the color of the beer reign supreme."
Whereas breweries like The Referend (whose artwork we adore) feature engaging but serious-leaning labels, Our Mutual Friend's art direction favors the irreverent. That's not to say they made frivolous decisions; the packaging on the Chéne bottles was clearly deliberate. We'll call them intelligent and fun.
"We decided to use clear bottles since there is only a minimal amount of aged hops in the base beer and light-strike would not be an issue," Proff shared. "Clear bottles are slowly making their way into the world of wine hybrid/mixed-culture sour beers, and we just knew the sight of cherry and peach hue blasting from the bottles would really catch the eye. Punching out the color of the fruit seemed like a cool chance to do some visual trickery. It's my favorite bottle we've ever designed."
While the packaging might be playful, the beer is all business. The color alone signals an exciting beer. The Chéne beers recall old-world lambic styles like Kriek and Pêche. The Péche is lively and youthful with a delicate effervescence and pleasant funky peach flavor. The Cerise is deep and dark. And although the color is vibrant, the flavor is moody and savory. Tart cherry notes take control, though not in the effortless way the peach leads your tastebuds in the Péche. The Cerise demands consideration.
We've found that our favorite sours are food-forward; combine them with appetizers, balance out a hearty entree, or enjoy a sweeter sour with dessert. The Chéne beers are worthwhile on their own but Proff suggests pairing with funky, soft cheeses.
"We are all about the charcuterie and the acidity of the beers balances out the fat and salt," Proff recommends.
Proff admitted that these beers weren't initially intended as anniversary releases, though the timing was opportune.
"We've spent the last 3 years growing our foeder collection at the brewery, and really love whole cherry and peach beers," Proff said. "When the time came to decide what we wanted to release for our 6th anniversary, it all lined up well. We think they're a great example of where OMF's mixed-culture program is going in the future."
I'd take that a step further and say these beers are helping define the future of sours.
What Chéne Peche tastes like:
Pours a beautiful golden yellow and has a funky, overripe peach smell.
Effervescent with a head that disapates quickly.
Bright peach taste with a funky farmhouse note.
What Chéne Cerise tastes like:
Savory, dark cherry taste with a slightly sweet flavor that cuts through the tartness.
I described it as "moody." I stand by that.
The head dissipates on this one, too.
Where to get it:
At the time of publication, there's a limited supply of bottles in the OMF taproom, and some bottles might be floating around in distribution. Proff suggested that these beers might return in the future and with different fruit variations. The best way to stay up to date is to follow Our Mutual Friend on social media.
Bottom line:
Colorado has a competitive sour market but very few breweries are balancing the fun hype with old-world quality. Our Mutual Friend's peers in The Centennial State are making fantastic, world-class beers but not many have invested in the type of art direction as Proff. If the Chéne beers are any indication of the future of OMF's beers, we're on board. Consider us best friends.
Catch Our Mutual Friend at the Juicy Brews March Madness Festival in Charlotte, NC on March 23rd.
Liked this article? Sign up for our newsletter to get the best craft beer writing on the web delivered straight to your inbox.