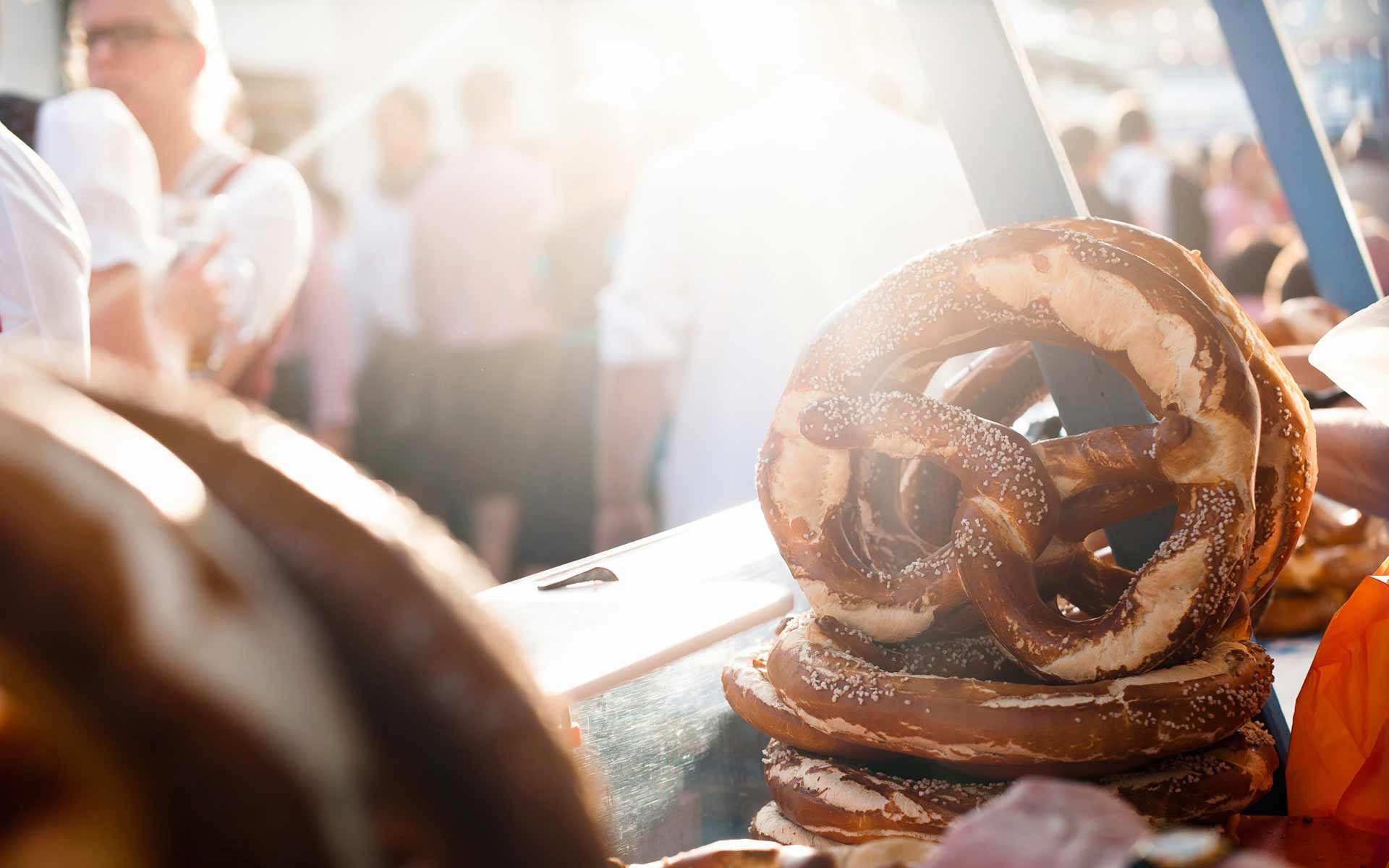 Sixteen straight days of partying. 1.5 million gallons of beer. 200,000 links of pork sausage. 480,000 spit-roasted chickens. It's Oktoberfest. Held in Munich, Germany, the world's largest beer festival celebrates with traditional folk music, plenty of beer, and even stein races. Due to the COVID-19 pandemic, Bavarian Minister President Markus Söder and the mayor of Munich, Dieter Reiter canceled the popular German party for 2020. But, that doesn't have to stop you from throwing your very own Oktoberfest.
What You Need to Throw the Perfect Oktoberfest

Pitcher Perfect
Beer Steins: Emulate the traditional Oktoberfest beverage with the perfect glass for it. In fact, this two-pack of one-liter beer steins will quickly transport you to the magical Bavarian countryside. Rejoice in true German culture by starting to drink at 8 AM.
Recommended Beer to Put in Your Stein: It seems like Oktoberfests, marzens, amber ales, and Festbiers pop-up earlier and earlier each year. These malty, caramel-tinged creations evoke fall, reminding us of bonfires, campouts, and of course Oktoberfest celebrations. And, while many great varieties of Oktoberfest exist we're returning to one of our old favorites. Jack's Abby's Copper Legend is a standout Märzen, boasting strong copper hues and frothy fall flavors.
Get the Perfect Beer Stein
Drink the Perfect Märzen
Hold Onto Your Lederhosen
Lederhosen: The perfect Oktoberfest is not complete without the outfit. Purchase some lederhosen (or a dirndl for women) and be the most stylish person at the party. Dancing the Schuhplattler (traditional German dance) in your lederhosen is encouraged, in fact.
Recommended Beer to Drink in Your Lederhosen: If you're dressing in traditional garb then you need to drink a traditional beer. Ayinger Oktoberfest represents the classic style with its amber tint, malty nose, and big caramel body.
Get the Outfit
Drink the Perfect Oktoberfest
A Brewtiful Background
Banner: To embody the true Bavarian setting of Oktoberfest, purchase this banner background. Great for an Oktoberfest photoshoot, an authentic German backdrop will create a fun atmosphere as you sip on beer and eat German delicacies, like bratwurst and pretzels.
Recommended Beer to Drink in Front of Your Brewtiful Background: New England knows how to celebrate fall, especially Northeastern breweries. Castle Island in Norwood, MA makes a beautiful Festbier that pairs perfectly with cool autumn evenings, football tailgates, and backyard bonfires. Raise a glass of this light, nutty, slightly floral beer. Prost!
Get the Background
Drink the Perfect Festbier
Brew, Enjoy, Empty, Repeat
Oktoberfest Homebrewing Kit: You can't throw an Oktoberfest bash without the most essential item of the party: beer. Whether you want to pick up craft beer from your favorite brewery, or take a stab at brewing your own ale, you're guaranteed to have a good time. With a subtle bitterness, caramel sweetness, and a clean dry finish you can enjoy this hearty malty beer just like they do in old Bavaria.
Don't be a Brat
Sausage Making Kit: Every stein of beer needs an awesome meal to go along with it. So, use this extensive sausage cookbook to learn the definitive steps on how to make sausage — almost as good as the bratwurst served in Germany. Perfect for all sausage making skill levels, this book will guide you to cooking an epic Oktoberfest meal for your party.
Recommended Beer for Your Homemade Sausage: Juicy, salty, and fatty sausage needs a crisp, clean beer to complement those heavy flavors. Night Shift's Pfaffenheck German-style Pilsner delivers notes of soft biscuit and honey complemented by those traditional mineral spicy hops you find in a classic Pilsner.
Get the Book on Sausage Making
Drink the Perfect Pilsner
Gluten Tag
Pretzel kit: An ideal pairing. Pretzels and beer. With this German pretzel mix, you'll be able to make eight to ten pretzels. In fact, it's guaranteed to be better than Auntie Anne's pretzels (and more authentic).
Recommended Beer for Your Pretzels: Nothing pairs better with a large, bready hot pretzel (or says Oktoberfest) than a large stein of hefeweizen. Live Oak, a Texas brewery known for its authentic lagers, makes a crips, class version of this wheat beer modeled off the wheat beers of Bavaria, Germany. Cloudy, golden and pulsing with luscious lemon, clove, banana, and vanilla Live Oak's Hefeweizen just absolutely nails this style.
Get the Pretzel Kit
Drink the Perfect Hefeweizen
Folk Music
German Drinking & Beer Garden Songs: Every party needs a little music. So, jam out to some German Drinking and Bier Garden songs. Or play some popular German artists like Herbert Grönemeyer or Nena.
Recommended Beer to Drink While Listening: Let's be honest if you really want to get the party started and get everyone dancing then you'll need a boozy beer. Two Roads Roadsmary's Baby takes the traditional pumpkin ale and carves it up, aging in rum barrels for a smooth brew full of pumpkin, spices, vanilla, and oak.
Listen to the German Music
Drink the Perfect Imperial Pumpkin Beer
Unless otherwise noted, all of the products featured on Hop Culture are independently chosen by our editorial team. However, Hop Culture may earn a commission from purchases made through affiliate links on the site.
Liked this article? Sign up for our newsletter to get the best craft beer writing on the web delivered straight to your inbox.