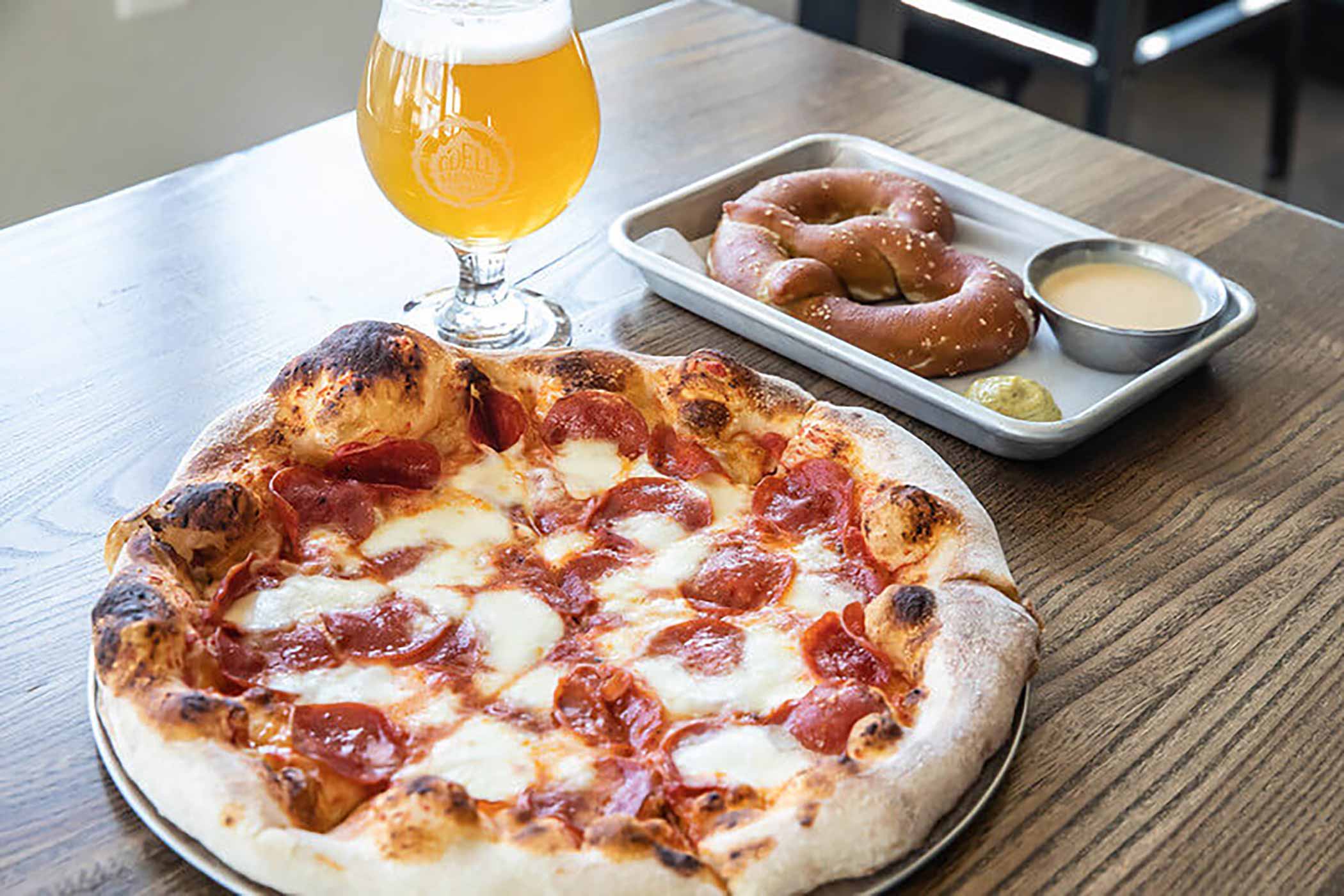 Photography courtesy of Odell Brewing Sloan's Lake
If you're like us, two of your favorite things in life probably start with pizza and end with beer. Grab a slice, take a bite, grab your pint, take a sip, and repeat. There is no greater pleasure in our opinion.
And while you really can't go wrong pairing any pizza with any beer, we spoke to a few beer and pizza aficionados for their advice on the best ways to harmonize the two.
Since we're celebrating International Pizza and Beer Day on Sunday, Oct. 9, 2022, what better time to grab your NY-style foldable slice, Detroit-style slab, Chicago-style pie, Neapolitan-style floppy disc, or whatever combination of dough, cheese, and sauce you love best, alongside a full glass of beer.
What Makes Pizza and Beer a Match Made in Heaven?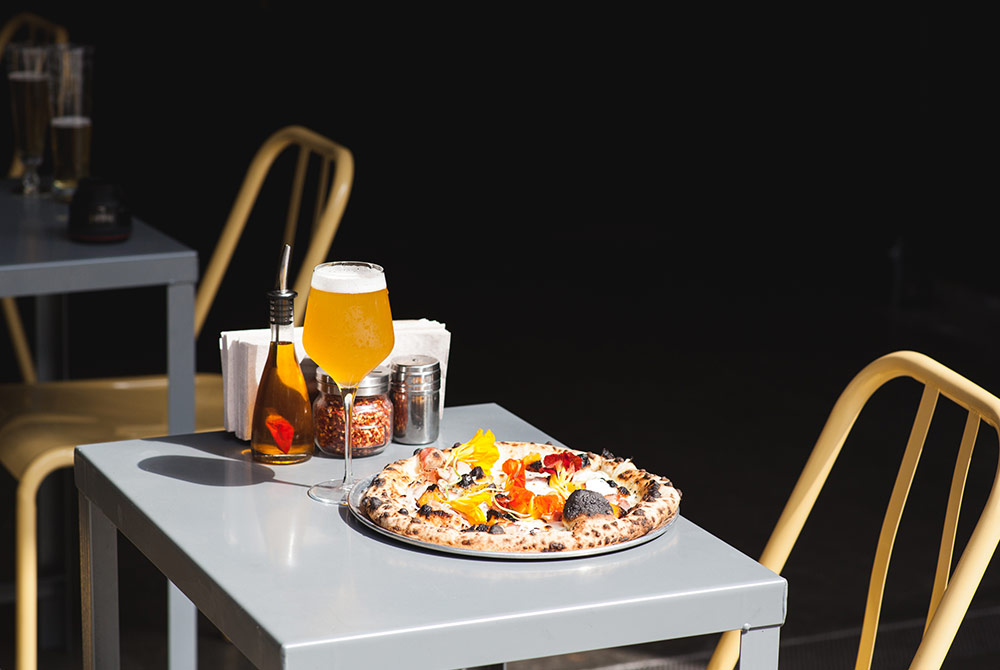 Well, pizza and beer actually have a lot in common.
"Both share the art of fermentation," says Marni Wahlquist, head brewer at Odell Brewing Sloan's Lake, which opened with a pizza kitchen to pair with their suds. Just think about it: Pizza dough requires yeast in order to rise. Similarly, beer needs yeast to create alcohol and carbonation.
In her mind, pizza and beer are a "match made in heaven."
But beyond ingredients, "they're also both very social," says Wahlquist. "Going out having beers with friends and family over pizza, together [with beer], magnifies it all."
Something you'll find on full display at Fieldwork Brewing's new taproom in San Leandro, CA, which opened with a pizza-focused kitchen right in-house.
There, in the enormous 7,800 sqft taproom and beer garden you'll find families, folks with dogs, older and younger people all crowded around tables, hugging pints and reaching for slices of pizza. "We created these convivial spaces—comfortable, nice, lots of space and seating for pretty much all demographics," says Fieldwork Brewing CEO and Co-Founder Barry Braden. "And we just thought [pizza] was the best accompaniment for beer and what we're trying to do."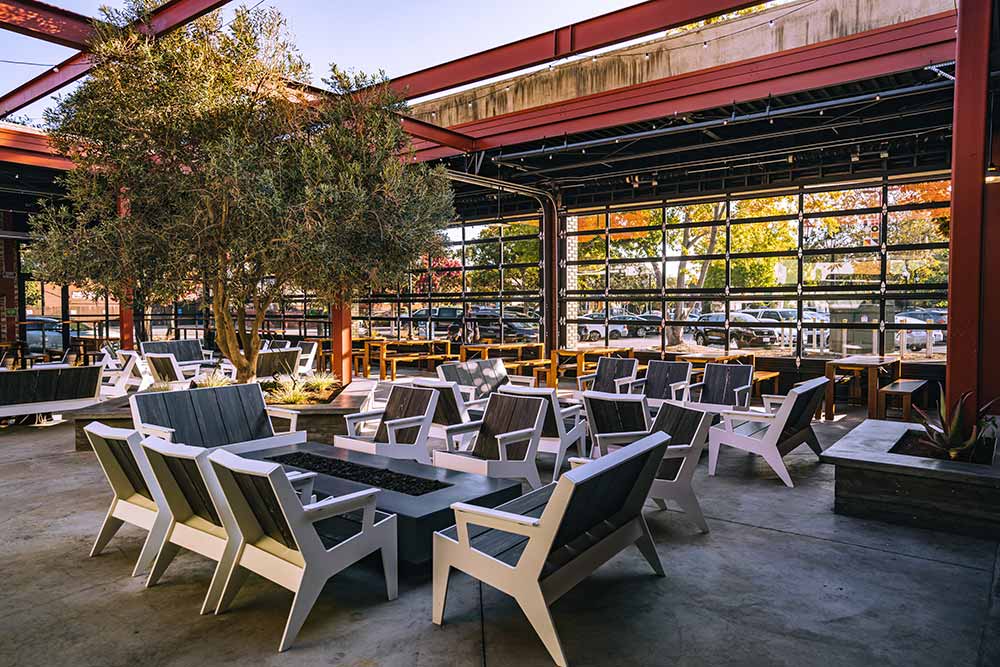 Plus, Braden admits, "I'm a huge pizza-nut; it's my favorite beer food!"
And Fieldwork's not the only taproom opening with a pizza kitchen inside.
Westbound & Down launched its Mill location in December 2021 with general manager and chef Casey Taylor at the helm. Under his care, the brewery uses the highest-quality processes and locally sourced ingredients to dish out incredible pizzas.
In fact, Taylor actually uses different Westbound & Down beers in the pizza dough, mixing beer, water, yeast, and flour to create a poolish (pre-fermented yeast-cultured dough), that sits for twelve hours. He then bulk ferments the dough for twenty-four hours before balling it and letting it sit an additional day.
"It's definitely a love and passion," says Taylor. "We love pizza and we love beer…I can't think of too many things that go better together, so I absolutely love delivering that to people on a really high level."
A sentiment familiar with Our Mutual Friend, Head Brewer Jan Chodkowski, who calls himself a self-proclaimed beer and pizza aficionado, gorging on East Coast-style pizza in upstate New York as a kid; he even specifically planned a trip to Naples for his honeymoon just to eat good pizza.
And just last year the brewery collabed with famed Denver pizza institution Cart Driver to create a special saison to pair with their pizzas.
In all his years of "experience," i.e. eating and drinking, Chodkowski says for him pairing pizza and beer starts with a really good crust.
Find Your Foil: Crust, Sauce, or Toppings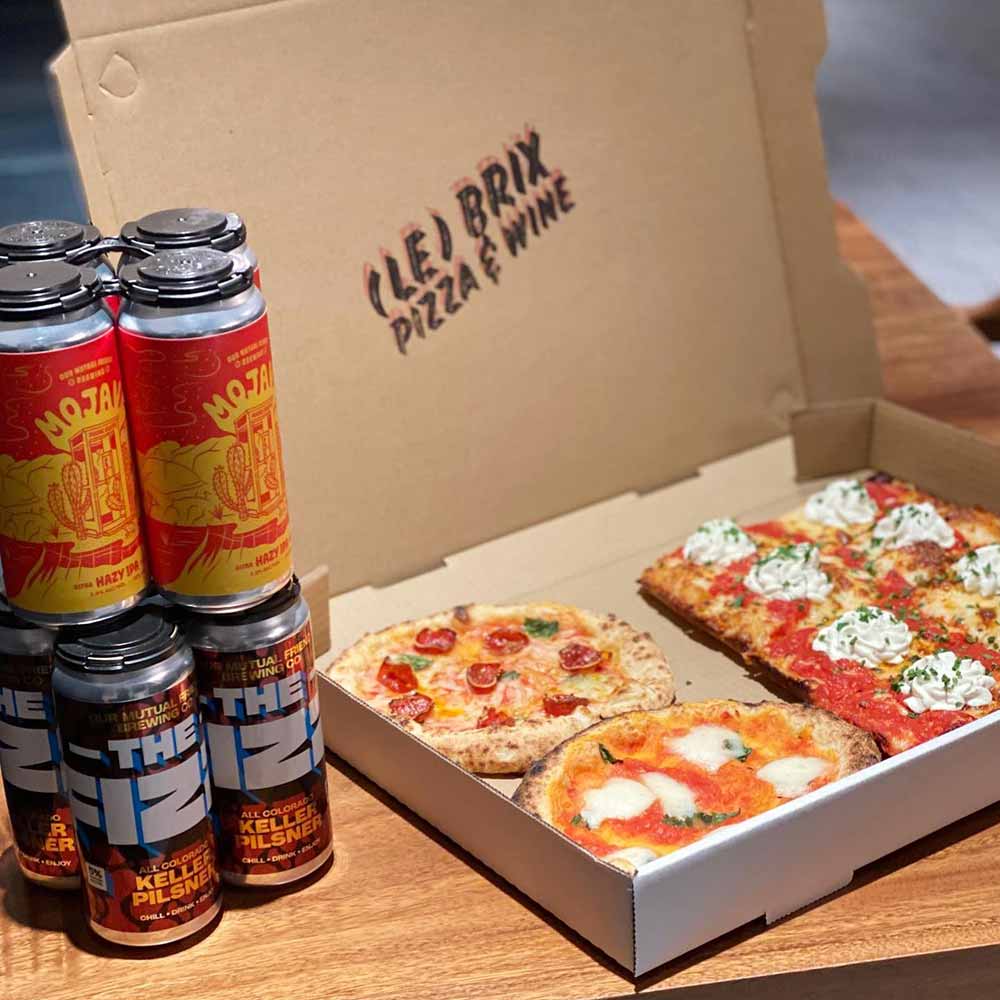 Pull apart the anatomy of pizza and you'll find three major components: the crust, the sauce, and the toppings.
You can use any of these as the foundation for your pairing.
In Crust We Trust
Kinds of crusts vary widely, but essentially you're looking at flour, yeast, water, salt, and oil.
"The crust is the starting point for sure," says Chodkowski.
For example, Chodkowski likes to pair a New York-style slice with an IPA because "a New York slice is thin, crispy, but still chewy with not much sauce and a thin amount of cheese; it's cooked in a utilitarian way, which an IPA is utilitarian these days too.
Whereas a "Neapolitan-style crust is a little more work to cook, a little more finicky, a little more elevated," says Chodkowski, who suggests a more elevated beer like a saison.
Or with a Detroit-style dough that has more oil, Chodkowski cautions you'll need "something with acid to cut that oil." Like a sour beer.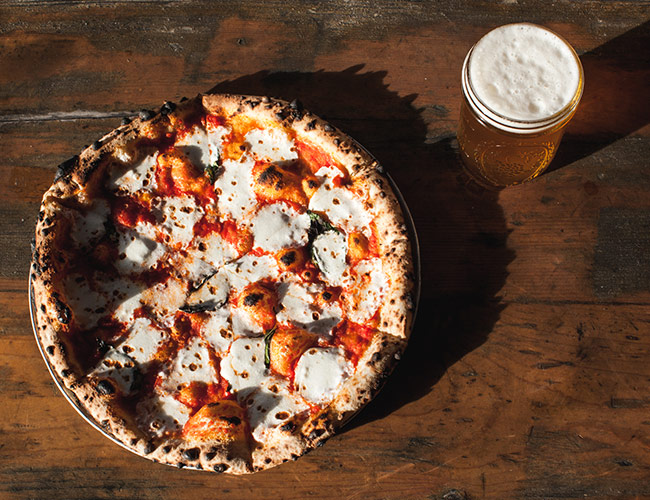 With Sauce: To IPA or Not to IPA
Sauce can be another way to make your pairings. But Wahlquist says this can be tricky.
Typically, pizza comes with either a tomato-based or a white-based sauce (cream, olive oil, etc.).
"There is some talk that tomatoes can be clashing with a hoppy beer," says Wahlquist, which is why Odell Brewing Sloan's Lake has a variety of white pies on the menu as well.
"That acidity of the tomatoes there can really interfere with the hops," says Wahlquist.
And while Wahlquist says an IPA with a tomato-based pizza isn't her favorite, she's still made the combination work.
For a white pie, on the other hand, IPAs sing. "If you wanted a white pie and wanted to drink a beer, then I would do some big IPA, maybe even a double IPA," recommends Wahlquist.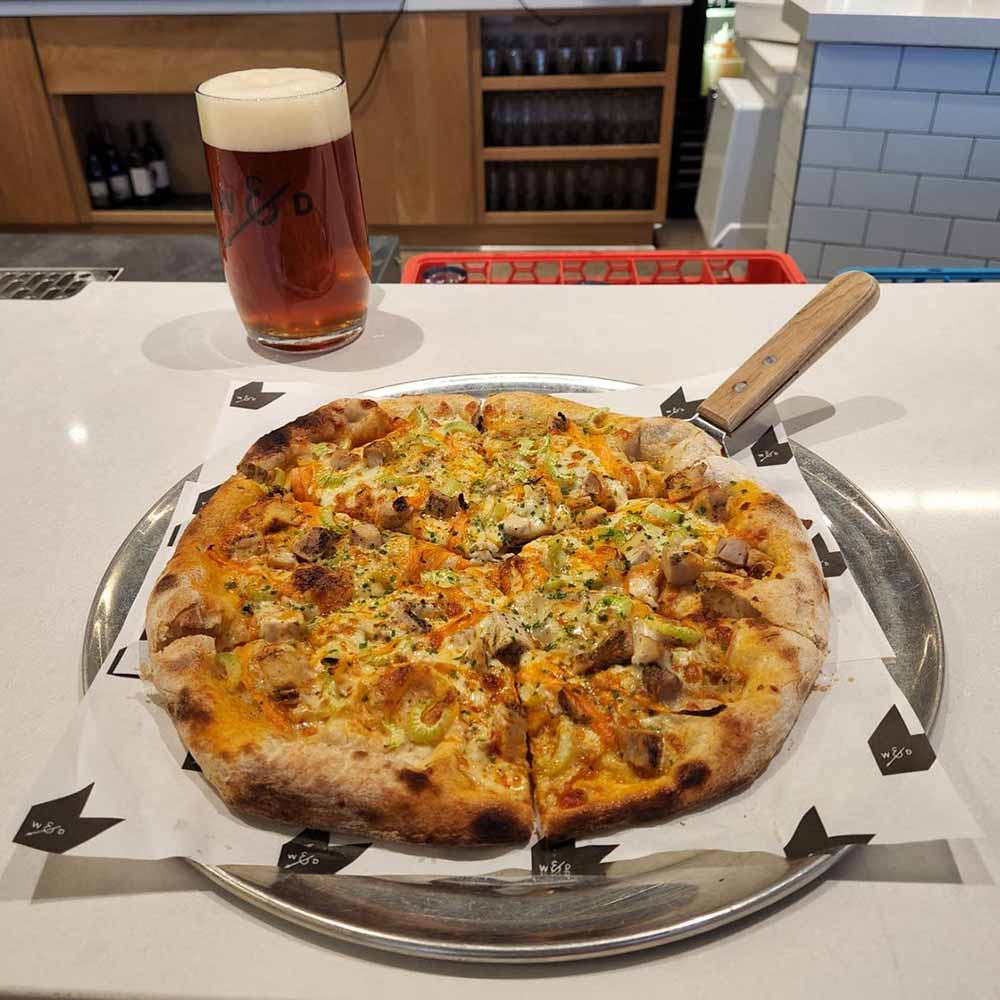 Toppings
The last thing to pay attention to when pairing pizza and beer are the toppings. Obviously, the type of cheese used creates a certain richness that many beer styles could be a great foil for. In fact, pairing beer and cheese could be a guide all on its own (funny, we actually wrote one).
And that's not even mentioning a veritable garden patch of vegetables or farm of meats.
For spicer meats, Taylor recommends an IPA. "I feel like the hops balance that out," he says.
But because there are so many variables involved, you kind of need to go with your gut here.
But to help, we thought it might be best to put together a handy guide pairing some typical pizza slices with preferred styles of beer, according to our experts.
You'll even see below that sometimes for a slice there isn't a unanimous answer, with many types of pizza garnering different answers from our panel.
All this means is you probably need to go out there and experiment with different slices and beers on your own.
But to get you kick started….
Hop Culture's Five Favorite Beer and Pizza Pairings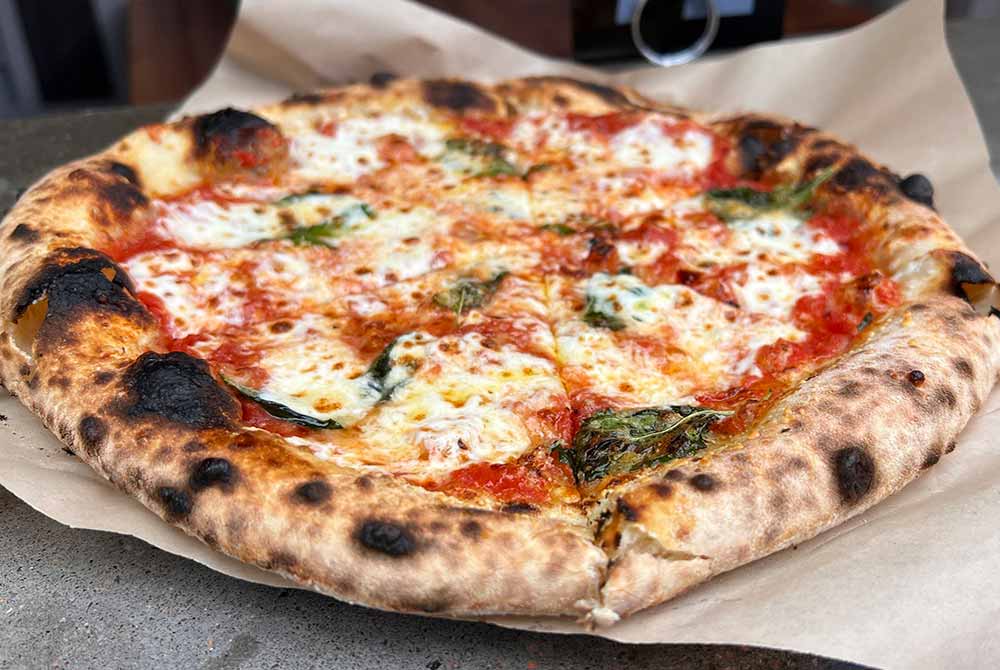 Cheese Pizza
Across the board, a cheese pizza acts almost like a blank slate.
Which kind of means you can go any direction you want here.
But for some guidelines, Wahlquist follows this philosophy: Since a cheese slice is pretty simple, "you could do something pretty dialed up in your glass," she says.
Accordingly, Wahlquist suggested that a fruited sour could be fun here because it "would accentuate the nuances and flavors in the cheese."
And Taylor agrees, "I think sours go really well with cheese pizza."
Chodkowski shares the other side of that coin. Because a cheese slice is basic, you could "pair simple with simple." He recommends a lager.
And Braden agrees. "For me, with cheese pizza, I just want a face of cheese and dough and something to wash it down with." He recommends an approachable style like Fieldwork's Belgian table beer.
Although personally Chodkowski does admit that he likes to crush an IPA with a cheese slice because it's "something hoppier with not too many clashing flavors."
For this pairing, here's the takeaway: A simple slice can stand up to a variety of styles.
Pepperoni Pizza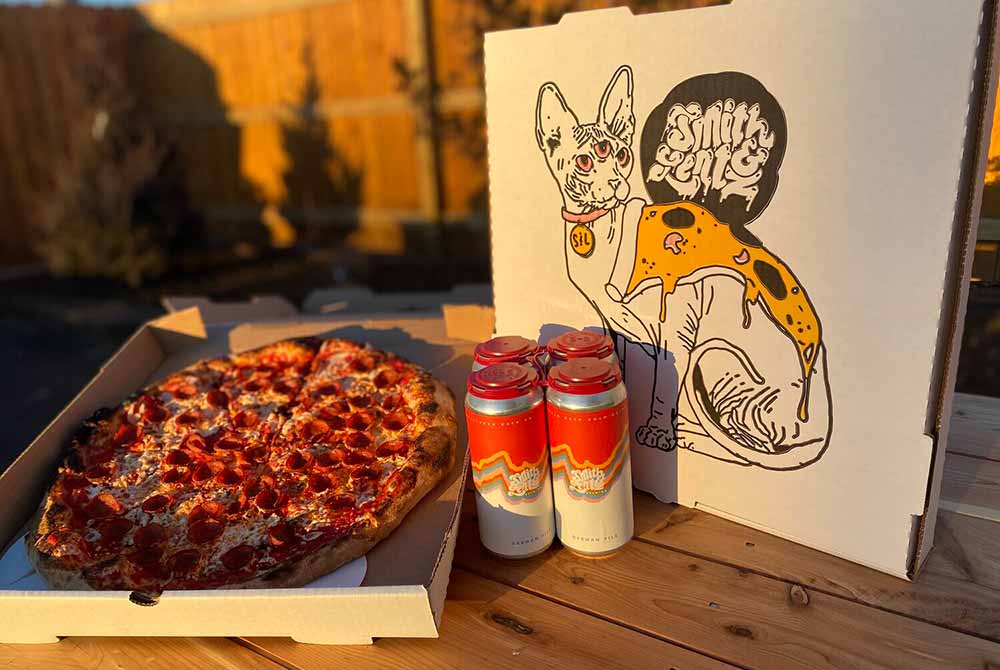 Whereas cheese pizza may be straightforward, pepperoni or other meat-based pies offer up a more complex flavor from rich or richly spiced meats.
Without hesitation Braden says, "It just screams West Coast IPA."
Because this type of pizza requires a big beer style to stand up to and soften those bold, sharp edges.
"Pepperoni or sausage slices you could pair with a farmhouse beer…to cut or complement some of those spices," says Chodkowski.
Similarly, with a richer slice, Wahlquist enjoys a beer with a cleaner profile. For instance, a kölsch, pilsner, or even amber ale. "Something simple, where the pizza accentuates the experience of the beer and the beer accentuates the flavors of the pizza and meats."
In general, an oilier, fattier type of pizza requires either a beer with a lighter, crisper profile to balance or a hoppier one to slice through those bold flavors.
Margherita Pizza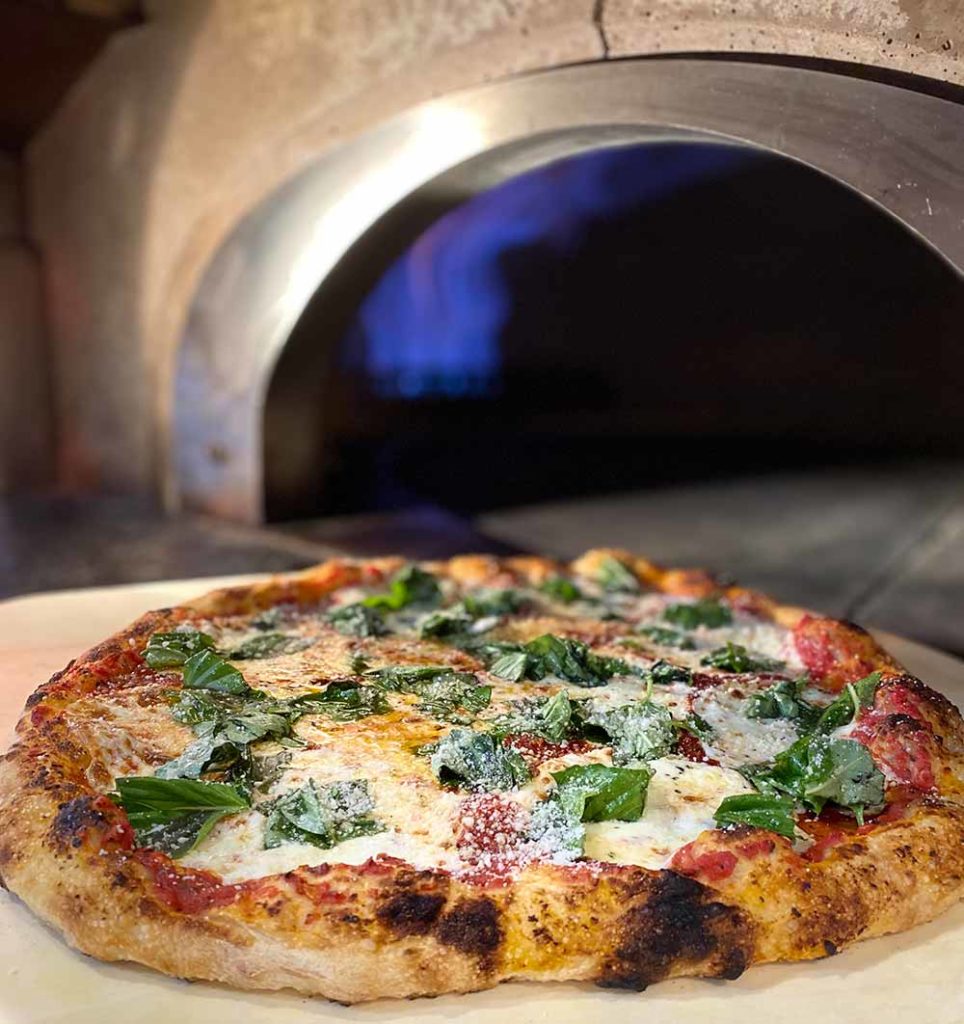 With a Margherita pizza, you only need a few key ingredients—cheese, tomato sauce, and basil.
"That is such a blank slate and perfect pie in my opinion," says Taylor, "It's one of those pizzas where whatever your favorite style of beer…probably goes totally great with a Margherita pizza."
With just a few ingredients, there is very little to hide behind.
"With a traditional Margherita, you just want to taste the sauce, the cheese, and a little bit of basil kick," says Braden. "You want a simple beer for that." For Braden, a lager comes to mind here.
A simple beer for a simple pie. But don't be fooled—because this pizza is so straightforward, many (like my wife), use a Margherita like a litmus test. A pie shop that can nail a Margherita shows the mettle of the chef.
"I feel like a lot of people that order Margherita pizzas are very much connoisseurs of pizza," says Whalquist.
Which is why, when ordering a pizza known for being "pretty amazing for such a simple pie," according to Wahlquist, it requires "beers that are pretty simple too."
She likes to go for a light pale ale, "something with hop character…but something clean and crisp that leaves a bit of nice bitterness, so when you take a bite of pizza, it enhances those flavors."
For the most part, Chodkowski agrees, noting that OMF's blonde ale would be perfect here.
They actually have that beer on tap at a popular pizza spot in Denver called Cart Driver. "It's our crusher beer and pairs nicely with their Margherita pizza," says Chodkowski.
And while he mentions an Italian pils would be excellent with a Neapolitan-style pie as well, perhaps his most interesting recommendation is a fruit beer. "Something a little bit more elevated, some bottle-conditioned mixed-culture beer would be really cool," says Chodkowski.
White Pizza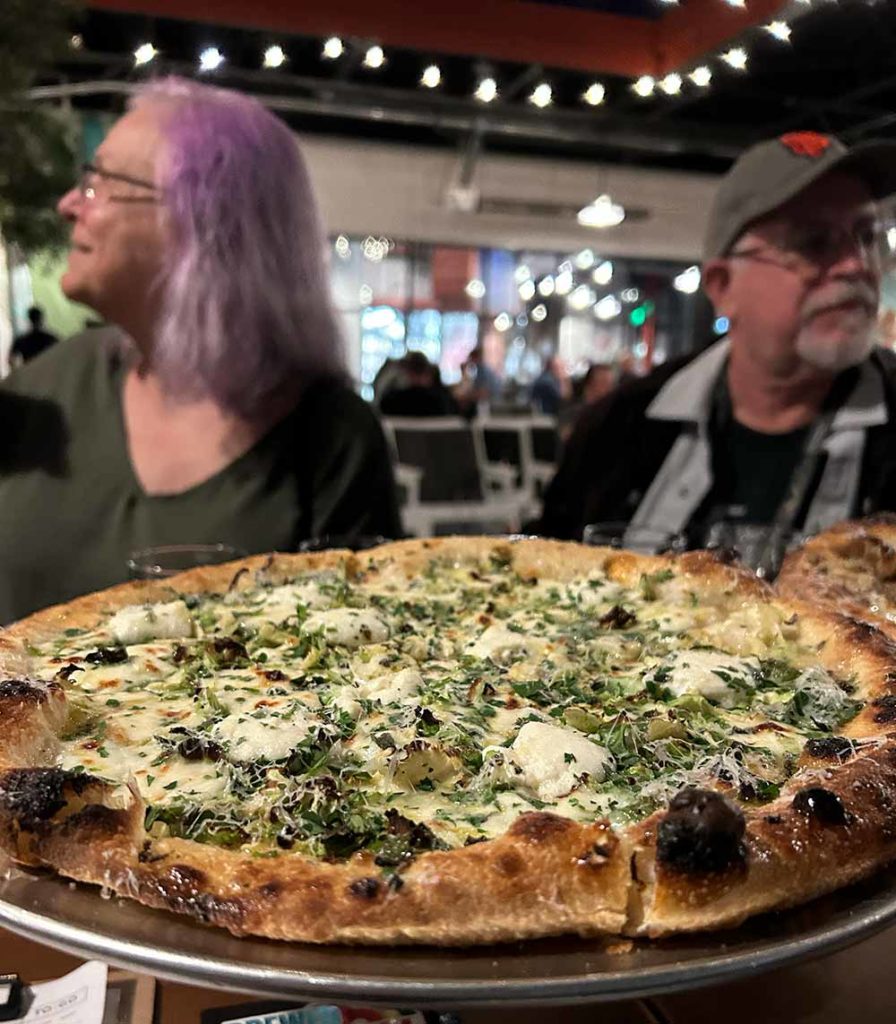 It's that creamy or perhaps olive oil and garlic base that lends itself perfectly to a bigger, hoppier beer.
This is the one pairing where you can up the bitterness in your glass because it's "something you might be getting from the pizza itself, that perceptive bitterness from the hops," says Wahlquist. "[With a hoppy beer,] you'll complete that sensory experience."
At Cart Driver, where OMF actually made a collab pizza-inspired beer with strawberry and basil called Cart Saison, one of their specialities is a white clam pizza.
"That's really bright and acidic-forward, briny and salty too, so a saison is perfect," says Chodkowski. "Those just cut through and are the perfect beer to pair here."
With a creamy white pizza, you can be a little more adventurous and go bolder with hops. While with a brighter, more acidic white pizza you can complement that salinity with a saison.
The idea here is to find elements of a beer style that help cut through the richness of the cream or complement the brightness and acidity of an olive oil.
Taylor suggests Westbound & Down's Mexican lager called The Coloradan to pair with their white pie with green chile sausage, mozzarella, cheddar, carrots, and white sauce.
"The white sauce is a bit more herbaceous so lagers pair well with those herb notes," says Taylor.
Hawaiian Pizza
The curveball of pizzas deserves a bit of a curveball pairing. Canadian bacon and pineapple with cheese and tomato sauce is definitely a polarizing pizza.
There are those who love it love it. And those who hate it.
Regardless, the move here is to find a lighter style. "I instantly went to a light-ABV stout like an Irish-style stout," says Wahlquist. "Something not too big…[where] the roastiness and lightness could be good with that as well."
Remember: It's Just Pizza and Beer, Not Rocket Science!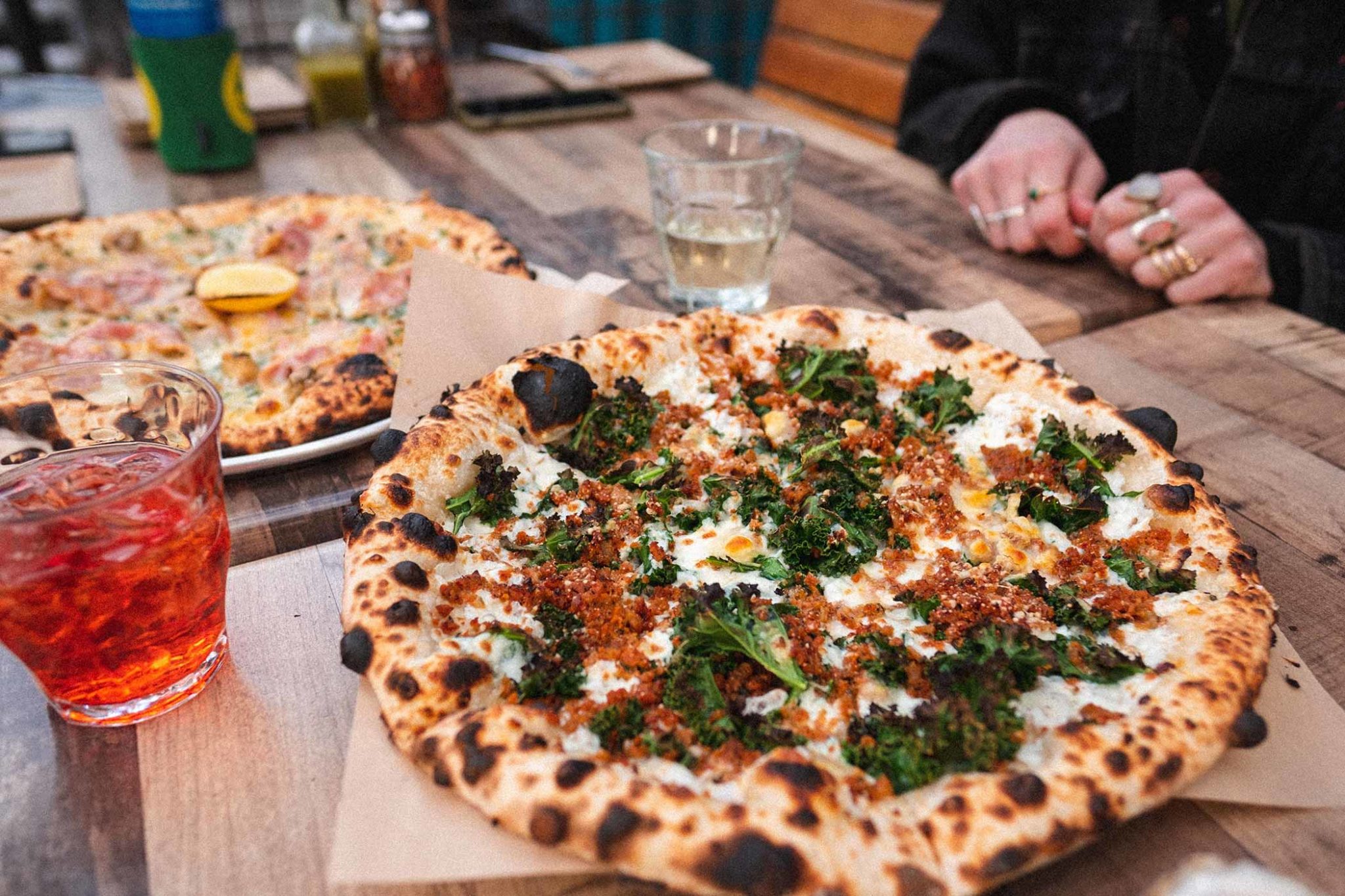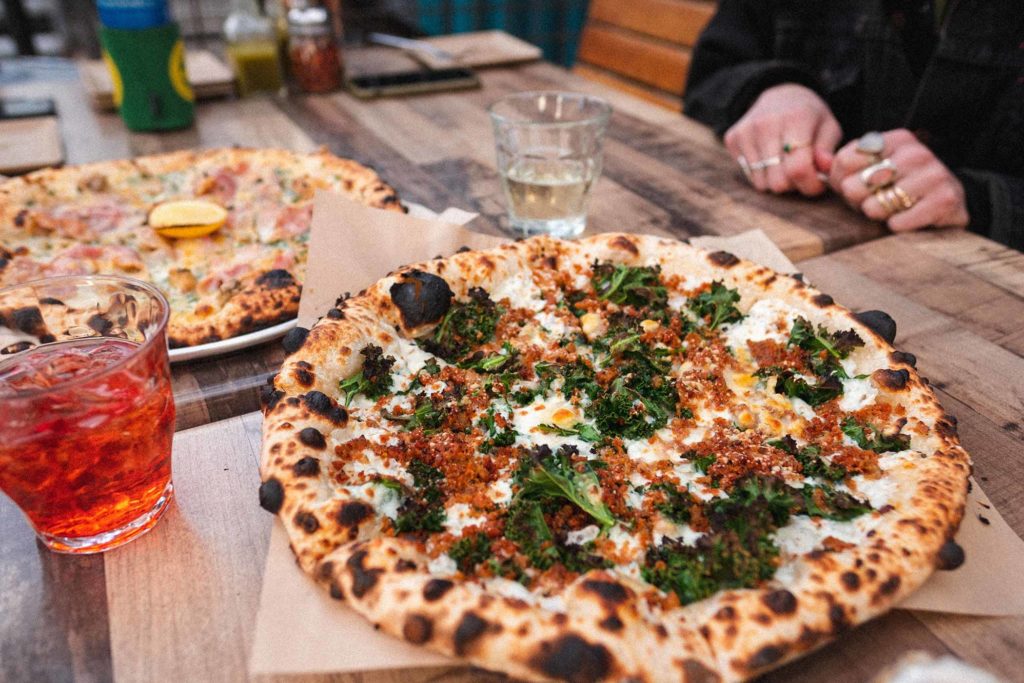 At the end of the day you really can't go wrong with whatever pairing you choose.
If you're living in the land of indecision, Wahlquist says that "something like a pilsner or kölsch go really nicely with most pizzas because they're very light and cleanse the palette."
But drink what you want to drink. And have an open mind. You may even find a combination you hadn't considered before.
"We're pushing the envelop to try to make the best of our craft, but there is a time and place for every level of this combination," says Taylor.
Sometimes for us, even just a Dominos order with a Miller High Life tickles our fancy. "Just think about how many pizzas are going to get ordered for Monday Night Football," laughs Taylor.
In the end pizza and beer are two delicious things that, when melded together, create an unparalleled sensory experience.
"It's a timeless combination," Chodkowski muses. "So honestly, pizza pairs with almost every beer. It's something you don't have to think about too much. Pair whatever beer with whatever pizza and it'll probably be alright. Because pizza is inherently good and so is beer!"