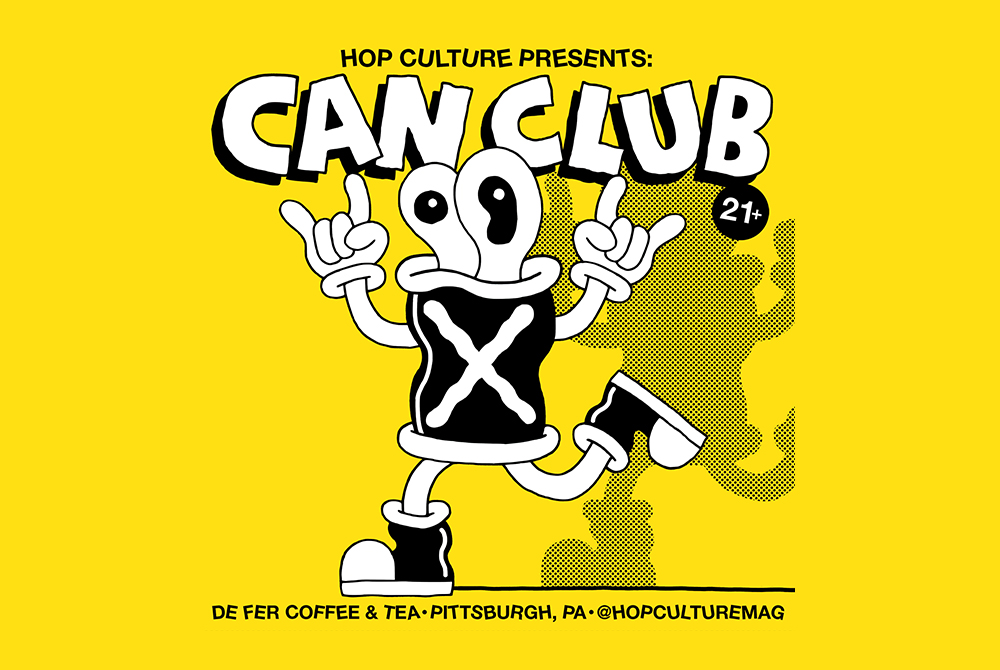 As someone who frequently travels, I've always been frustrated that some of my favorite beers aren't accessible at home. Many times, a popular brewery in another city has enough product to satisfy its own taprooms and maybe send a little extra to festivals, but it's rare to see their beer in new markets.
Today, we announce a plan that will bring exciting new beer to Pittsburgh.
Starting at 12:00 PM EST on Thursday, November 14th, we'll be opening 150 memberships for the Hop Culture Can Club, which will see beer from five of our favorite out-of-market breweries. Club members will pay for all five allotments upfront; each month, they'll be allotted two different four packs from a featured brewery. Pickups will be done at Atelier de Fer in Pittsburgh's Strip District. If you haven't been to de Fer, it's an amazing place to do work or catch up with friends. Owner Matt Marietti and his team put the same care into sourcing their beans, beers, and spirits that our favorite breweries put into finding ingredients for their beers.
Which breweries will be participating? Check out this rocking list below.
Of course, we're sure you have other questions (Memberships are $220 each, which comes out to $22 per four-pack; Yes, we'll have multiple pickup windows for each release; Yes, you'll need to bring your ID each time; No, de Fer can't sell club memberships for only one of the breweries; Yes, you can assign a friend for pickup in case you can't be there) so we've created this ticket page and FAQ. If there's anything we don't answer, please reach out to us at hello@hopculture.com. Otherwise, mark your calendars for when membership opens at 12:00 PM EST on 11/14/19, and we'll see you at de Fer for our Aslin can release!
Liked this article? Sign up for our newsletter to get the best craft beer writing on the web delivered straight to your inbox.