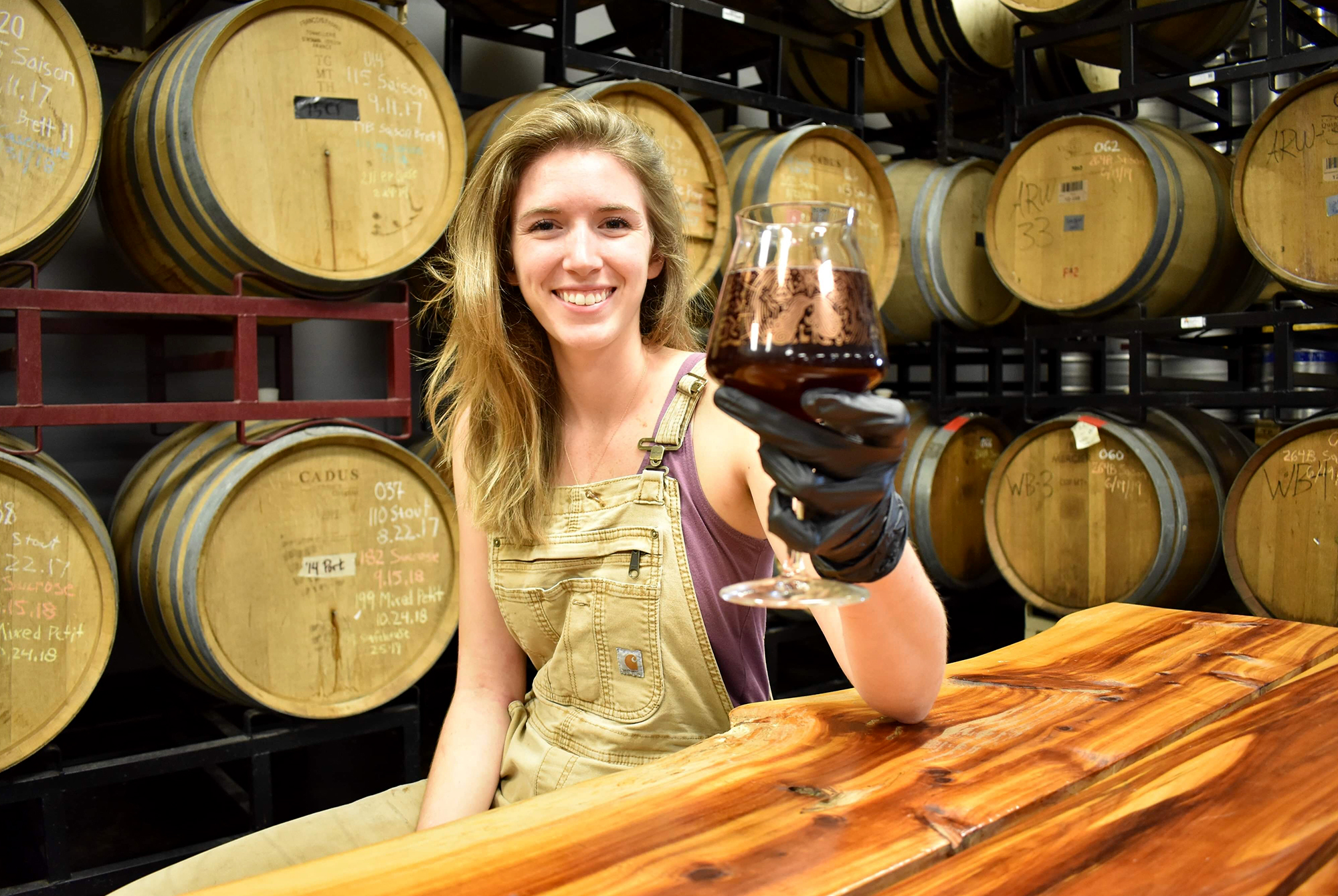 Brewing beer at a brewery named after a mythical bird on a 400-year-old fort and transforming over 100-year-old yeast from a dead general's chest are all in a day's work for Oozlefinch Beers and Blending's new head brewer, Rachel Edwards.
The ambitious 24-year-old took over the head brewing position at the three-year-old brewery located at the historic Fort Monroe in Virginia back in February. In just four months as the top bird, she's introduced innovative ingredients like basil and tangerine to Oozlefinch's beers and will be helping her team launch one of the world's largest digital craft beer festivals, FML 2020.
Her approach seems fitting for Oozlefinch, a brewery started by Russ Tinsley in 2017. Named after a mythical creature, Oozlefinch plays off the legend of Captain H.M Merriam. One night in 1905, Merriam swore he saw a strange, large-eyed bird outside the Fort Monroe Officer's Club. Today Oozlefinch leverages the legend to craft whimsical, fun beer with a heavy focus on sour ales. Now, helmed by its ambitious new head brewer, Oozlefinch stands at the crossroads between the past and the future.
From Burn Wards to Beer: Rachel Edwards Becomes a Brewer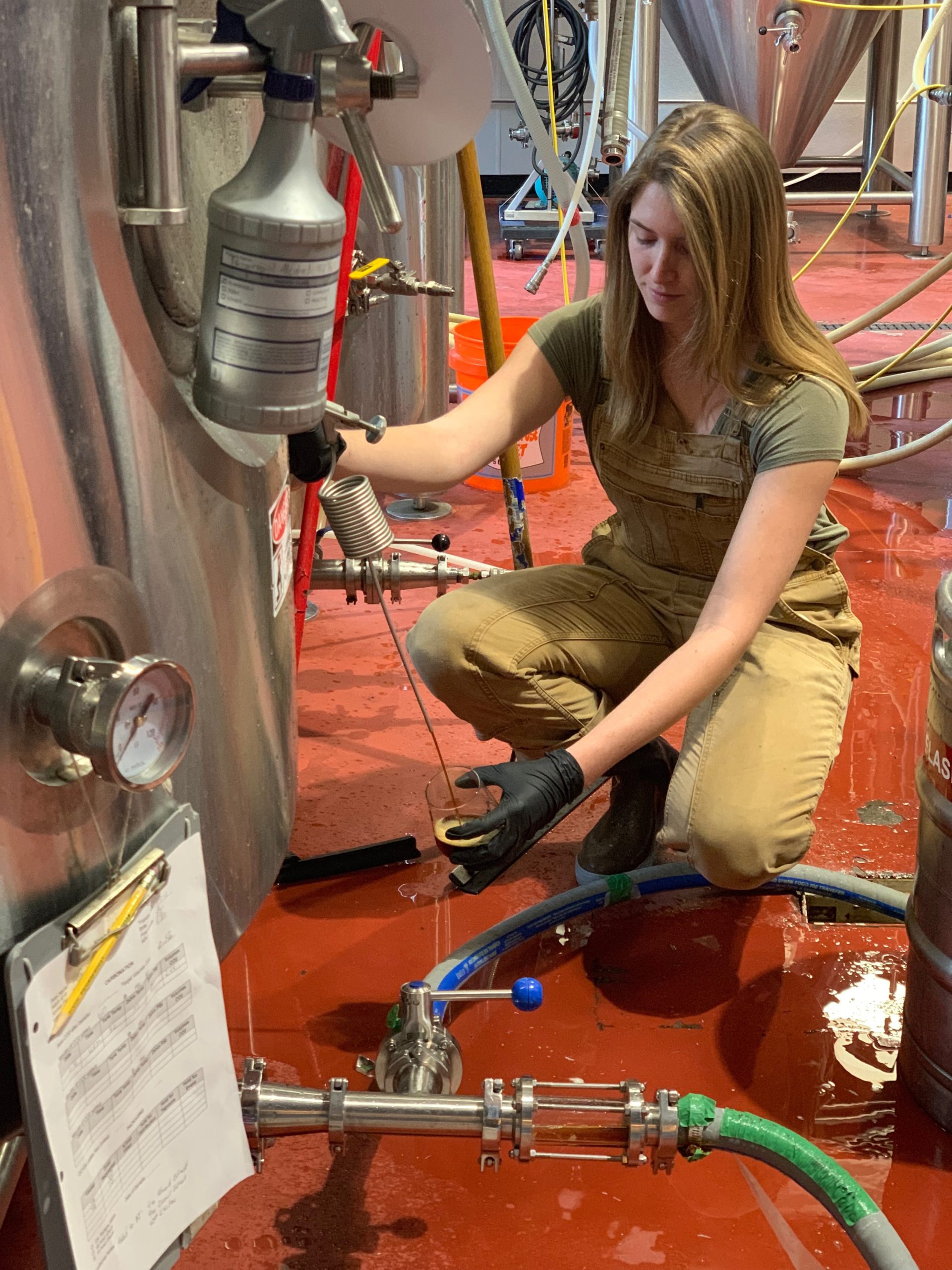 Despite her accolades, hubris is as much myth to Edwards' as the Oozlefinch itself. Soft-spoken and humble, Edward's easy-going personality belies the stark work-ethic and true magic percolating from her fingertips. Perhaps it's just a part of Edwards' true nature, but beer has always been coursing through her veins even before she recognized it.
Like many, Edwards didn't start out dreaming she'd be a brewer. Her path was as circuitous as a creeping hop vine. Edwards' dad worked in distribution for Anheuser-Busch. Practicing loyalty to the brands he sold, her dad primarily drank Busch and Bud Light. Meaning Edward's first exposure to beer? Hint: it wasn't craft. But her dad's tastes changed as Edwards grew older and pretty soon Edwards had her first introduction to craft beer when she drank a Dogfish Head 60 Minute IPA. But even one of the country's most idolized IPAs didn't ignite the spark.
In college at Christopher Newport University (CNU), Edwards studied chemistry with the dream to become a doctor. After spending one summer volunteering in the burn wards, Edwards decided a career change might be necessary.
"I didn't do well with bodily fluids," says Edwards matter-of-factly.
Setting her sights on forensics next she applied for a series of jobs before the summer of her junior year with no luck. It was Edwards' dad who again steered her back to the brewery, helping her land a gig at Mustang Sally Brewing Co. in Chantilly, VA.
"Everything blossomed from there," says Edwards. "I started drinking their craft beer and developing a taste for things that actually tasted good." From small pilot batches to bartending to quality assurance, Edwards learned the fundamentals of brewing science. "I really loved collaborating on something fun that also involved everything I learned in school."
When Edwards went back to school in the fall for her senior year she'd been bitten by the brewing bug. "I called every brewery in the Hampton Roads area around school. Oozlefinch was the first one to say, 'Come on in, bring your resume, and we'll talk about it'," said Edwards.
They hired her the day she brought in her resume.
Rachel Edwards Starts at Oozlefinch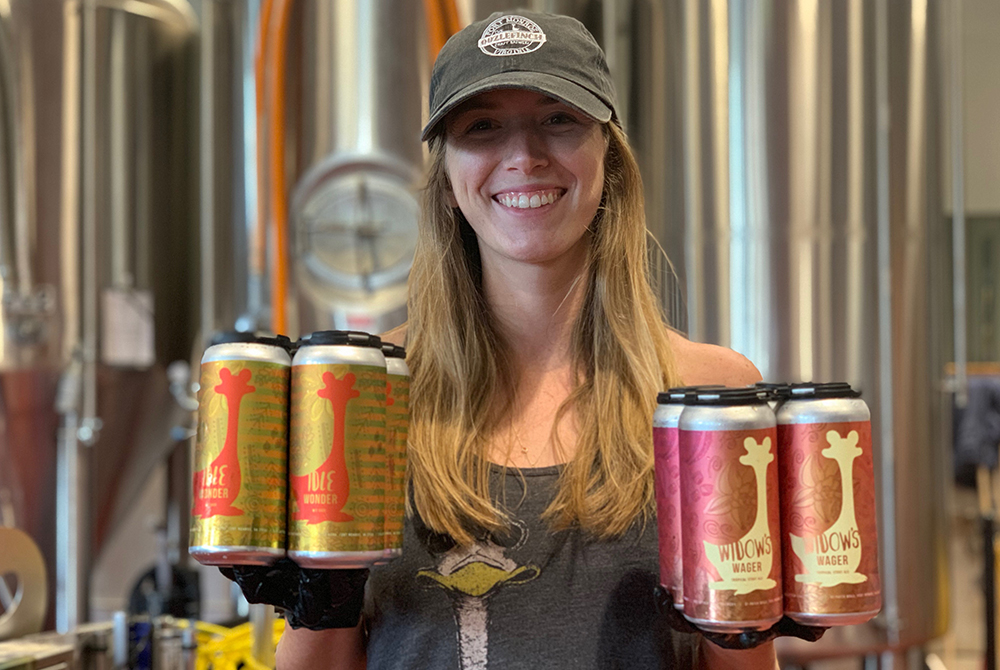 As she was with them essentially from the beginning, Edwards worked in a part-time lab position and volunteered on the production floor washing kegs, cleaning, and–most importantly–learning. Oozlefinch's Head Brewer at the time, Mike Donovan, showed Edwards the ropes.
"Mike was very much into educating yourself, teaching recipe development, and explaining why he did the things he did." Donovan started an ambitious sour program at Oozlefinch and Edwards sat shotgun for the whole wild ride. "He taught me about recipe development, bacteria, and wild yeast. It sparked my interest in actually brewing," said Edwards. "Mike would let me go and pull beer from barrels willy-nilly. I'd taste it, write down notes. I owe a lot of my fundamentals to him."
Edwards progressed quickly, helping to craft recipes for beers like Demure Defiance, her first barrel-aged blend. A mix of saison and dunkelweizen aged in Copper Fox Rye whiskey and Virginia wine barrels, Demure Defiance got a hit of fresh blueberries from Eastern North Carolina after oak aging. "It's my all-time favorite beer we've ever made," said Edwards. "I love any type of mixed-fermentation beer because they're so complex. Having bacteria and wild yeast adds so many more things you can play with. It's a balance of acidity, funk, and body."
Edwards had only scratched the surface of her creativity with Demure Defiance. From the very beginning, Edwards told Oozlefinch founder, Russ Tinsley, and Donovan she had a goal to find something at Fort Monroe to swab and cultivate a wild yeast strain particular to the fort. Edwards contacted the owners of Casemate Museum, which houses historic artifacts from the fort. They let her in to experiment with Major General Benjamin Butler's dining chest.
Cultivating Yeast From Civil War Relics
A major general for the Union Army during the Civil War, General Butler spent a significant amount of time at Fort Monroe. Sifting through his cups, plates, and silverware, which had been preserved in an oxygen-depleted environment for hundreds of years, Edwards swabbed 24 different places on the chest. One came back positive. "Yeast needs oxygen to survive, so it was cool to think maybe something went dormant and could still be revived and brought back to life," said Dr. Frankenstein Edwards.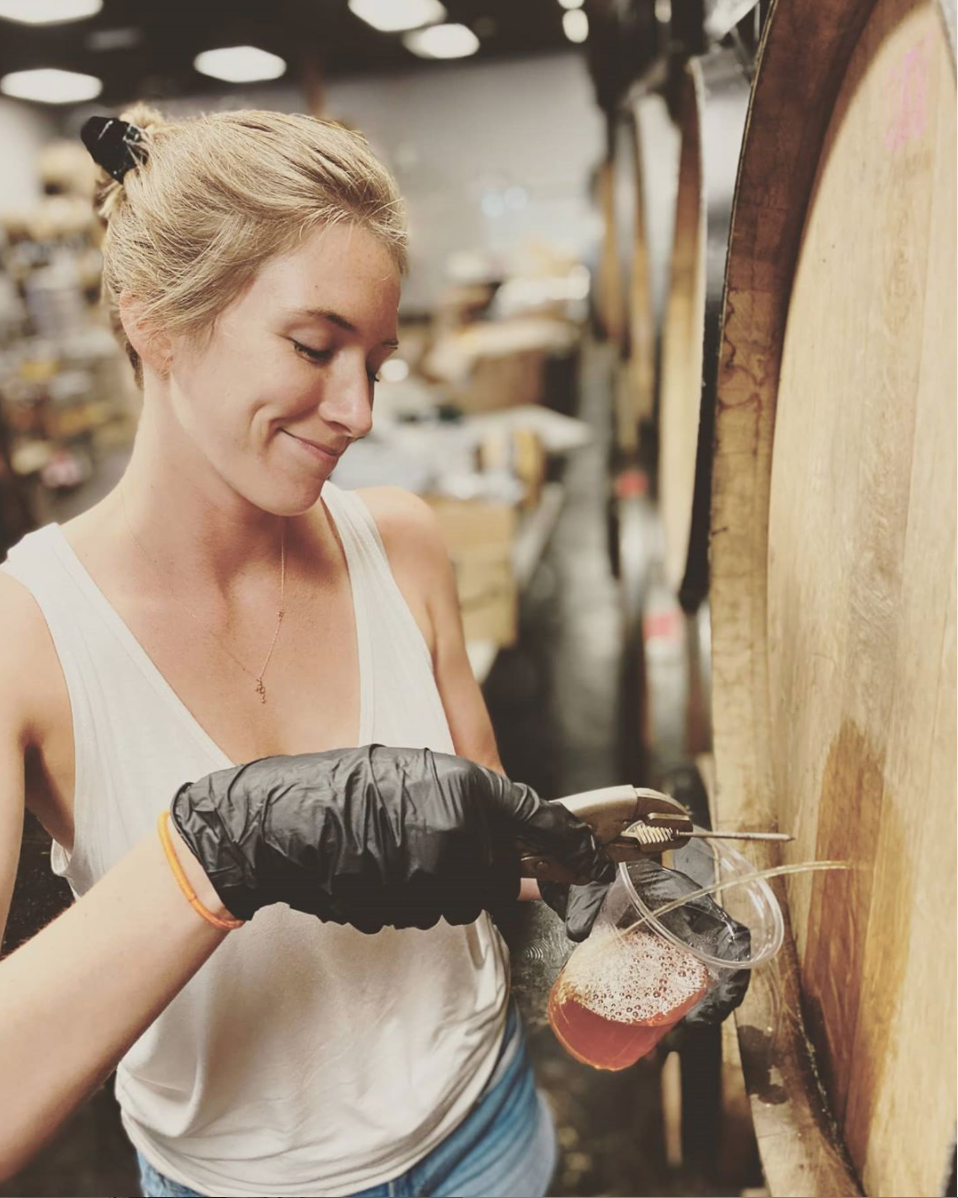 Amazingly the experiment worked. Edwards coaxed the yeast back to life pitching it into a seven-barrel best bitter beer called Spoon Smuggler. Three trials later, Edwards and Donovan had dialed in the exact temperature the yeast liked, pitch rate, and oxygen needed for the yeast to truly thrive. That beer, Innovative Agitator, Edwards brewed as a Belgian Blonde. They even threw some into a round of wine barrels from Prince Michel winery to age.
Edwards' successful experiment showcased her extraordinary growth as a brewer. And she hasn't slowed down. Currently, she's testing out recipes for Crazy Pants, a series of sorbet inspired Berliner Weiss beers. Her latest creation includes basil and tangerine. "Not a lot of brewers use basil because of the potency. It can come out tasting a little Italian-y," says Edwards. "I love it."
Bethany Smith Joins Rachel Edwards at Oozlefinch
Like every other brewery, Oozlefinch has felt the pinch of the effects of COVID-19, but from day one they've continued to brew. "We all had that feeling of what's going to happen," says Edwards. "But, since everything happened, our team has become so much more unified. We all banded together to make sure we didn't go under. That was our biggest goal."
Tinsley actually hired a new brewer, Bethany Smith to join the team as an assistant brewer two and a half months ago right at the apex of the pandemic. The same day Smith had been let go from Wasserhund Brewing Co. in Virginia Beach, VA Tinsley asked her to come in for an interview.
"It was crushing to be furloughed during the pandemic, but to have the opportunity to talk to the owner of a brewery that was my dream place to brew in the same day was the biggest roller coaster ride of my life," says Smith, who started in the craft beer industry by accident when she applied for a job as a busser at Studio Brew in Bristol, VA. Two weeks later the owner promoted her to Assistant Brewer.
In the short time she's been at the Oozlefinch, Smith has hit the ground running. Smith works on every area of production including canning, brewing, and learning the ropes to Oozlefinch's extensive sour program. She has been blown away by Edwards' enthusiasm and eye for detail. "[Edwards] is very very very passionate and takes everything we do seriously. When she's talking to me about beer she'll glow. I think that shows in the quality of the beer she makes," said Smith.
"I can ask any sort of question and if she doesn't have a solid answer she'll immediately look into it and make sure I understand. She's very thorough in every way," said Smith. Where once Edwards was a student she has now become the teacher.
From the Past to the Future
Buoyed by that sense of unity, Tinsley and the Oozlefinch crew created FML 2020, the largest virtual celebration in craft beer, as a way to unite people all across the country for a few precious happy moments enjoying super high-quality beers.
"He wants to be the happiness and light that shines through in something that's not a happy time," says Edwards.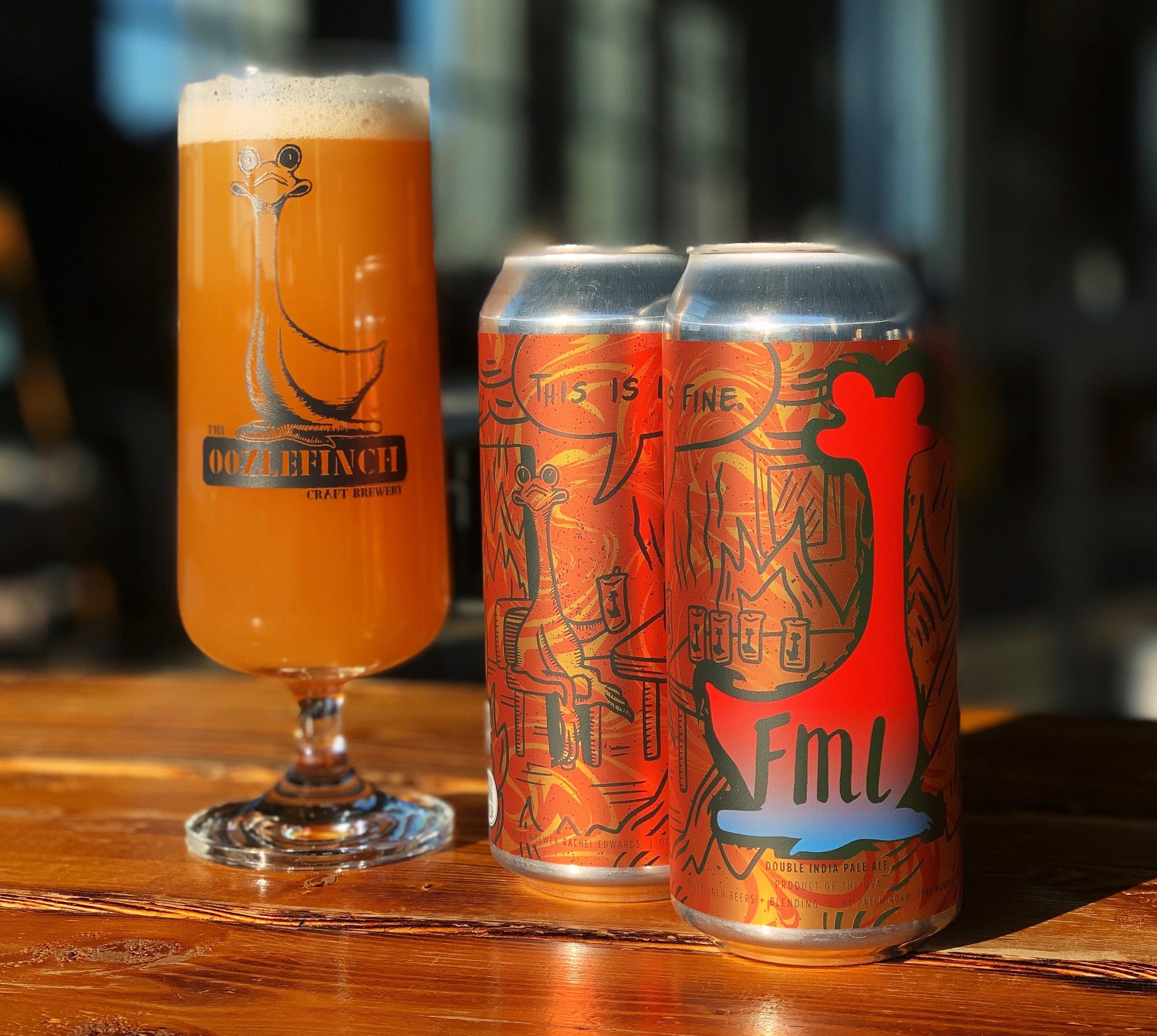 FML 2020 is a chance for people who can't leave the house to see a light at the end of the tunnel. Now more than ever the festival has come to stand for so much more than just craft beer. Oozlefinch will be collaborating with Weathered Souls, most recently in the news for its Black is Beautiful initiative, a project raising awareness to the injustices that many people of color face daily. The collab festival beer will stand for one thing, "It's not about us as individuals. It's about something bigger: unity," says Edwards.
Although situated on a 400-year old fort and showcasing unique beers brewed with hundreds-year-old yeast, Oozlefinch's new dynamic female brewing duo, led by a 24-year-old humble brewing prodigy, and digital festival bringing together people from all over the country to drink elite craft beer, shows that a brewery inspired by the past can be at the forefront of the future of craft beer.
Join us and Oozlefinch for FML Fest 2020. Tickets and VIP Beers Boxes are available now. Click here to get yours.
Liked this article? Sign up for our newsletter to get the best craft beer writing on the web delivered straight to your inbox.