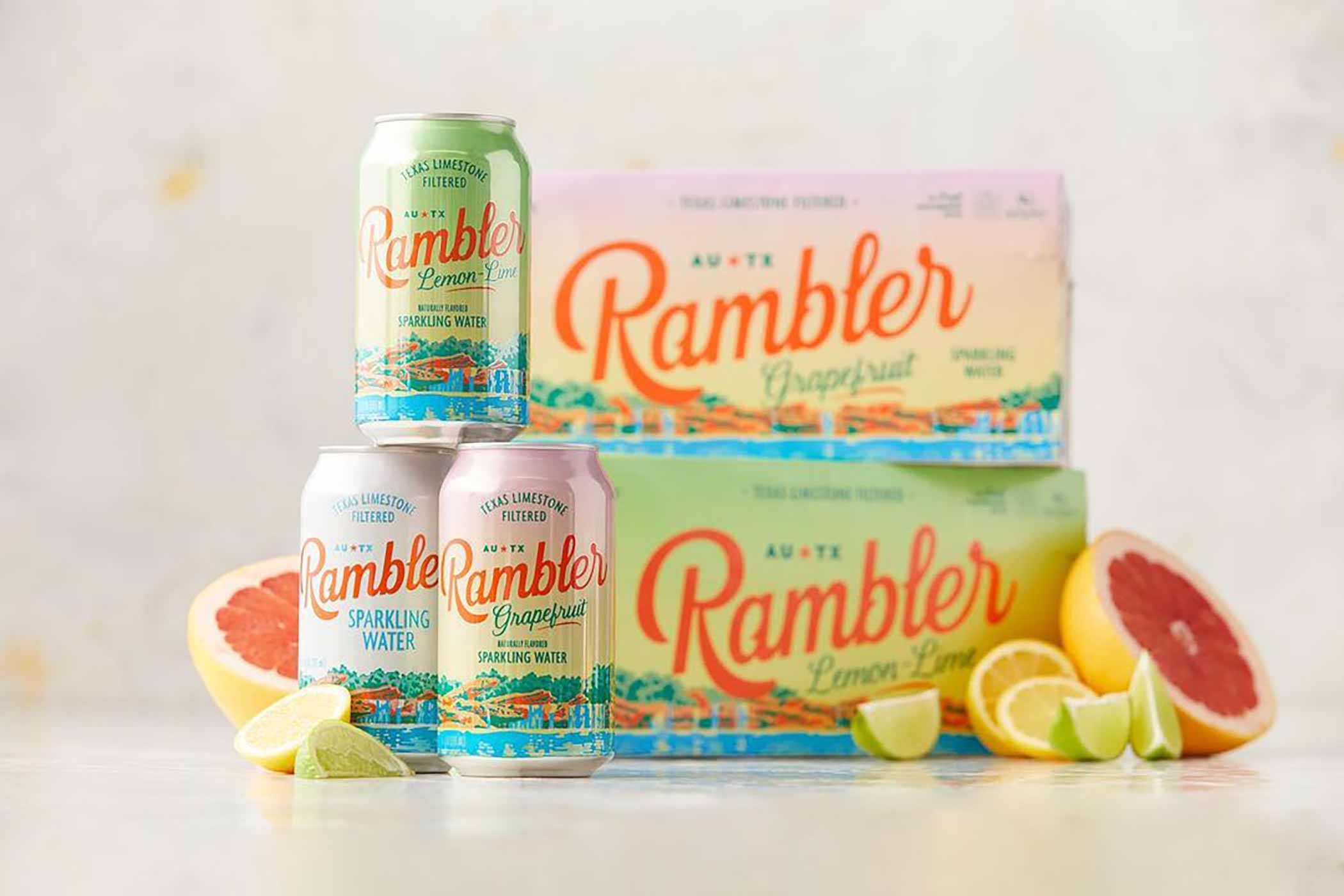 Photography courtesy of Rambler Sparkling Water
Seltzer, sparkling water, bubbly—no matter what you call it, people love their fizzy H2O. And we're not even talking about hard seltzer. Long before hard versions took the industry by storm, folks have enjoyed regular sparkling water. But for many brands, the innovation goes only as far as the flavors.
Now, one Austin-based company is bringing its own unique spin to seltzer.
Rambler Sparkling Water combines a unique proprietary mineral blend with a community-driven give-back program, making their visually stunning product one of the best-tasting and most exciting fizzy waters on the shelf.
Literally, Rambler has the look and feel of an actual beer can. Which is probably why it has become a favorite in breweries around Texas.
After a successful start in Austin, Rambler is poised to be America's tastiest and coolest sparkling water.
What Is Rambler Sparkling Water?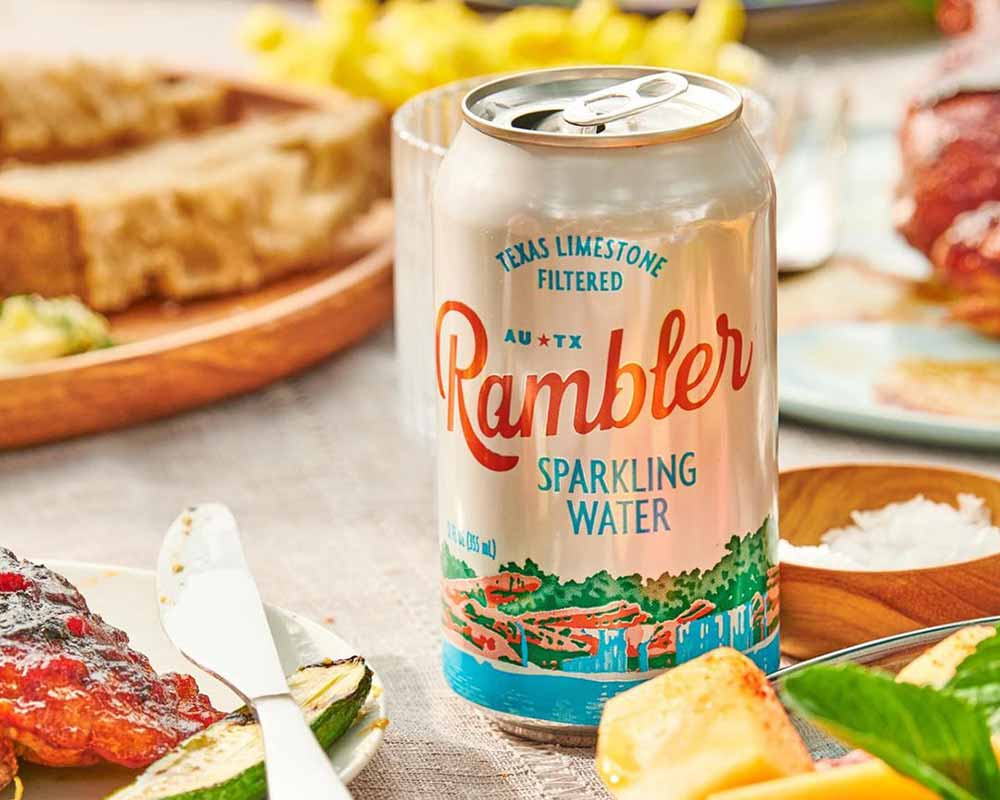 A beverage unlike any other, Rambler Sparkling Water started as an alternative to Topo Chico.
While living in Austin, Co-founders Dave Mead, James Moody, and Jeff Trucksess drank copious amounts of the local sparkling water favorite. "Here in Texas, as it is in most parts of the country, sparkling water is king, and specifically Topo Chico for years has been the drink of choice for Texans and really Austinites," says Mead. "My partners and I recognized years ago that we drank a lot of Topo Chico, but it seemed silly that there wasn't a local alternative."
A product of The Coca-Cola Company, Topo Chico is actually brewed in Mexico.
"We set out to create a sparkling water of our own," says Mead. "Something that was from Austin, that was a sustainable sparkling mineral water, and that had a give-back program."
Those two components plus a unique mineral blend makeup the core of Rambler. And set them apart from others on the shelf.
Rambler Sparkling Water Gives Back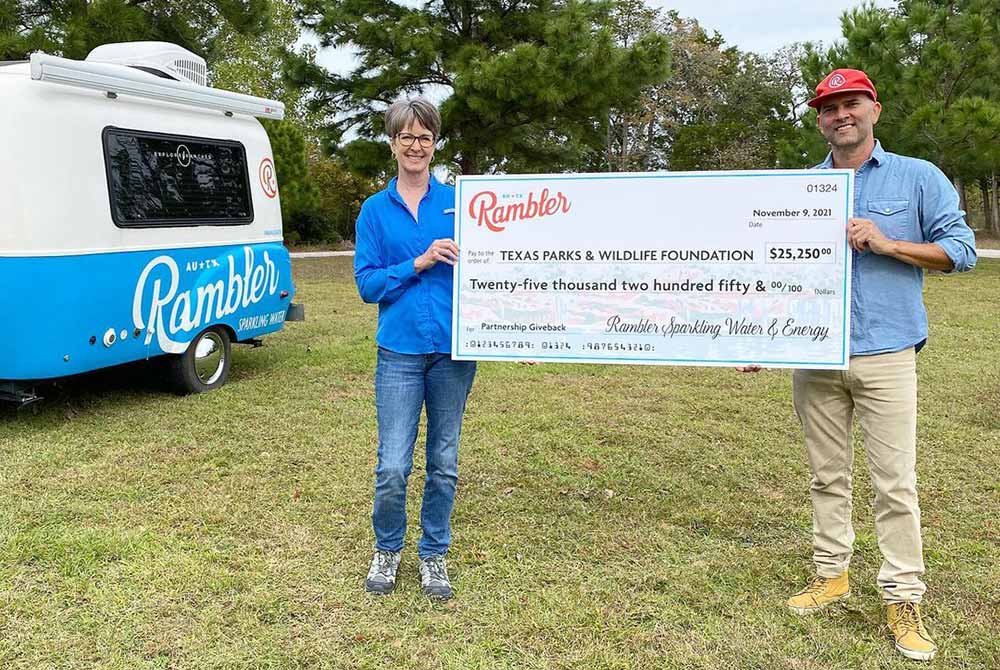 Since the very beginning, supporting conservation and sustainability has been paramount to Mead and his partners.
Rambler is the only sparkling water brand in the country with a give-back program.
Locally, Rambler teamed up with the Texas Parks and Wildlife Foundation (TPWF), donating an annual amount to the organization and including their branding across Rambler products. The trio chose to partner with TPWF because for 30 years, the organization has been on a mission to fund high-impact, meaningful projects that will ensure future generations can enjoy the wild things and wild places in Texas.
As Rambler expands, they want to make sure that folks who drink their sparkling water anywhere from Texas to Washington to Georgia and beyond feel they're leaving a positive footprint on the environment.
For that reason, Rambler partnered with American Rivers, an organization striving to keep the nation's rivers clean and healthy.
Similar to their partnership with TPWF, Rambler will donate annually to the organization and add their logo to their packaging, helping to drive awareness to both of their conservation partners' efforts.
It makes sense that a company dedicated to giving back would put just as much care into developing its unique sparkling water recipe.
Rambler Sparkling Water's Unique Mineral Blend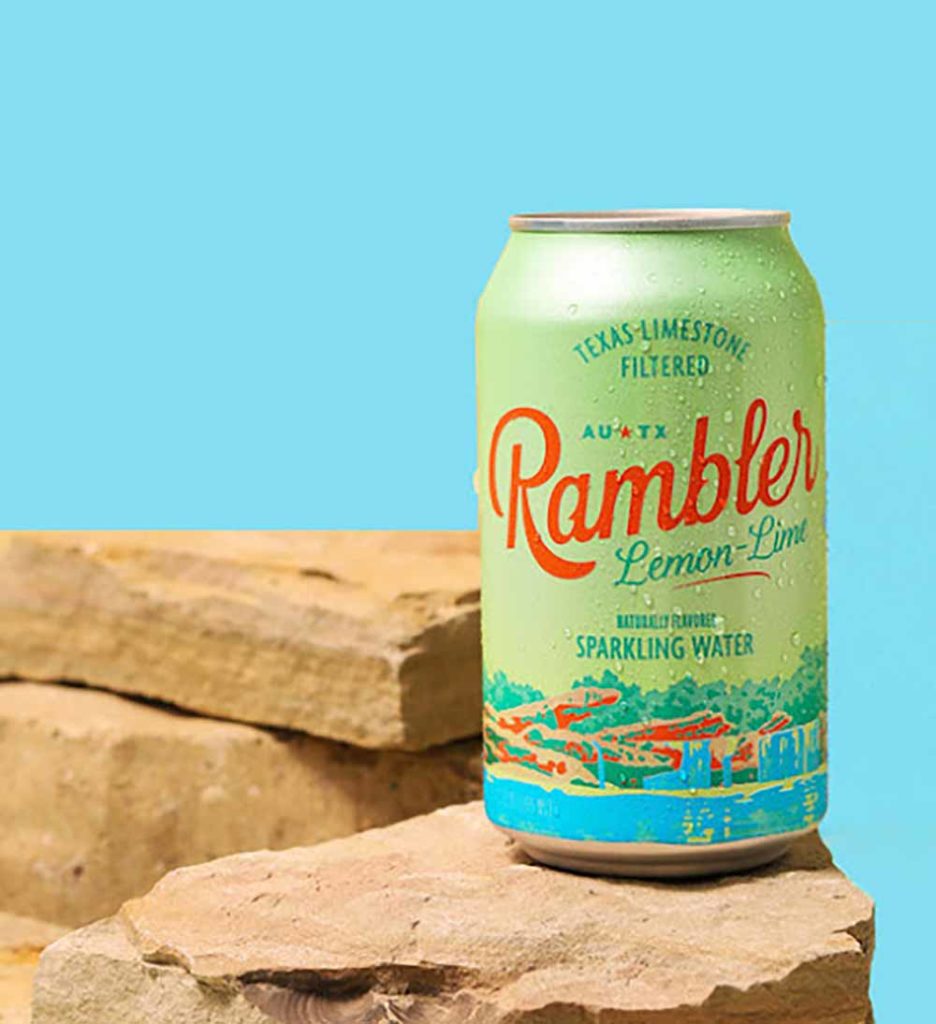 First and foremost, Mead and his partners wanted to create a sparkling water that stood out on the shelf.
"We wanted to make something better than Topo Chico in taste, locally sourced, but sustainable in how we sourced it," says Mead.
Crafting a great-tasting recipe meant hiring a water scientist to develop a proprietary mineral formula and process.
Utilizing municipal water, Rambler sends its H2O through three different proprietary Texas limestone filtration systems and a technique called reverse osmosis. This process strips the water of any impurities and gives Rambler a blank canvas. It's perfect for adding back in its unique mineral blend, which includes calcium, magnesium, and potassium.
This approach has three distinct advantages.
First, it gives Rambler a distinctive flavor and character.
Second, it's sustainable. Using municipal water means Rambler avoids depleting a sensitive water supply.
Lastly, this model helps Rambler scale up. As long as they have access to good, clean, municipal water, they can create the same water anywhere in the country, whether through a co-packer or a brewery like Austin Beerworks.
Rambler Teams Up with Austin Beerworks
When Rambler first launched they wanted to stay local, so they searched for a partner that had the capacity to give life to their sparkling water.
A brewery seemed like the perfect place because it had the capacity and know-how.
"We reached out to Austin Beerworks because they were one of our favorite breweries in town," says Mead. "They have a really great line of beers and we love their branding and their facility."
According to Mead, the trio emailed Austin Beerworks Co-founder Michael Graham and asked: Do you want to help us make water?
"It was a cool team of guys that made a compelling story for the product they envisioned," says Graham. "We had just upgraded infrastructure at the brewery and bought a really nice new canning line, so we had the capacity to help them out."
Right from the start, Rambler Sparkling Water and Austin Beerworks worked hand-in-hand as partners. Graham even helped with the recipe formulation, participating in blind taste tests with different mineral combinations and carbonation levels. "We have a full sensory panel for beer, but it was fun to do with just base waters seeing what variable mineral content and carbonation type and level made the best finished product," says Graham.
In the beginning, Graham thought the partnership would be temporary, but five years later they're still working together.
Currently in Texas, Austin Beerworks handles the filtration of the water and mineral addition. Plus, they help can the seltzer—roughly 1,500 cases per month.
Rambler also works with co-packers in Georgia, Washington, and New York, making water across the country.
The partnership with Austin Beerworks has been so fruitful that Rambler hopes to keep the doors open to other brewery partners in the future.
The Seltzer That Looks Just Like a Beer Can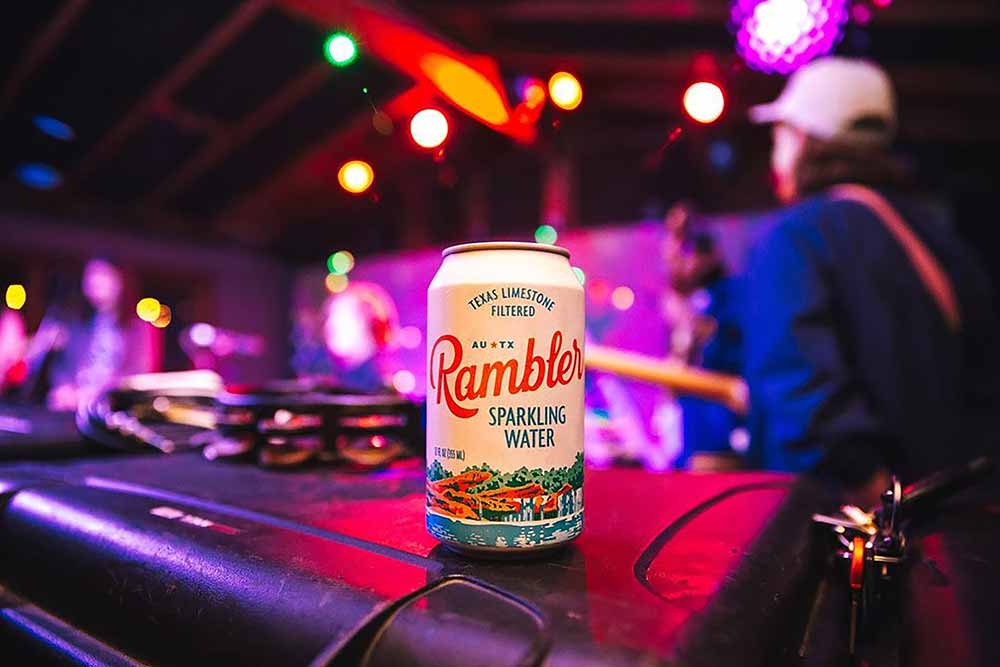 One of the things we love most about Rambler is the look and feel of the packaging. Opting for a can instead of a glass bottle, Rambler can keep their carbon footprint low.
But even beyond the focus on sustainability, the 12-oz can actually looks exactly like a beer can.
And that's very intentional.
"We set out to create a sparkling water that not only was the best tasting sparkling water on the shelf, but something that had a bold retro look and feel," says Mead, who was inspired by vintage beer cans and branding.
It's been an incredibly smart move for Rambler. When cans hit the market, they immediately started selling well in bars and restaurants because people not only loved the taste, but also the look and feel of the cans. According to Mead, a good percentage if not most of the breweries in Austin sell Rambler in their taproom.
"It's a great non-alcoholic option…for our taproom guests, whether people aren't drinking, just taking a break between beers, or bringing kids in, it's one of our more popular taproom offerings," says Graham, who notes that it's a favorite amongst Austin Beerworks employees too.
Overall, for people who are sober or simply want to hydrate in between drinks, holding a can of Rambler makes them feel a part of those typical drinking scenes and environments without actually having to imbibe.
"When you stand around a bar or live music venue with a Rambler in your hand, it feels right," says Mead. "We consider Rambler as the sparkling water that looks like a beer and drinks like a beer."
Tasting Rambler Sparkling Water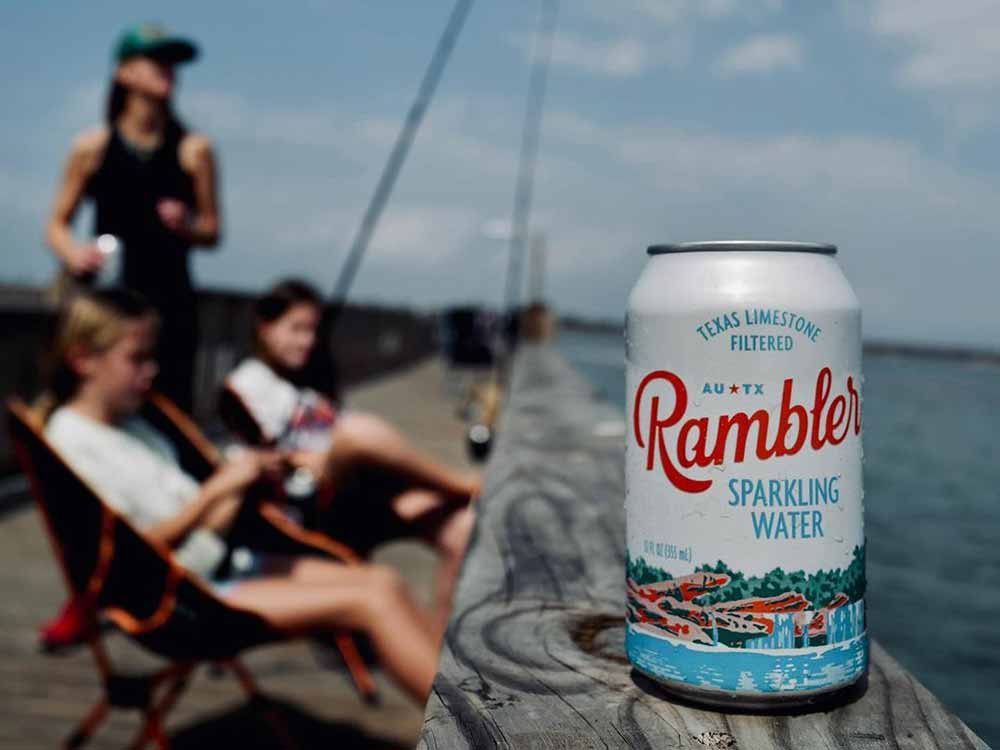 Drinks like a beer is right.
Pop the tab and Rambler whooshes forth with a bright pop of fizz.
Mead and his team spent a good deal of time dialing in the right carbonation level.
"Our smaller bubble is sharp, it's crisp, and with our mineral blend and our perfect carbonation level when it's ice cold there is no better sparkling water on the shelf," says Mead.
We really enjoyed the Rambler Original, but also fell in love with the Lemon-Lime and Grapefruit flavors for just a whisper of citrus.
Another careful consideration, Rambler created flavor by adding oils from the rinds of different fruits. The essence of these fruits makes sure they're not too overpowering.
"I'm biased because I was a part of the initial trials, but I think their water stands up to everything else out there," says Graham. "I would love to see them be as successful as possible as a leading water brand."
Overall, this is an excellent-tasting sparkling water with a unique look and feel that you can feel good about drinking because you're giving back.
"You can drink water from Mexico that's owned by Coca Cola in a heavy glass bottle that doesn't stack in a cooler easily, that you can't take to swimming pools, the beach, or the river, that a small child can't walk around the house with, and that has no give-back program," says Mead. "Or you can drink Rambler, which is made in the United States, is independently owned, and is the only sparkling water with a give-back program."
The choice is yours!
Where to Buy Rambler Sparkling Water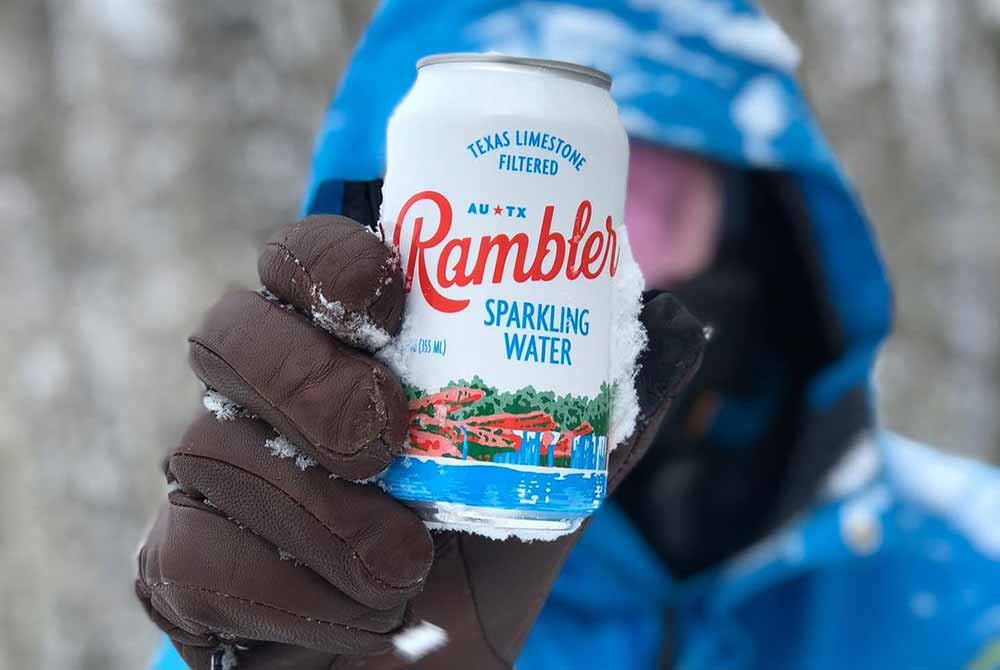 While Rambler is proud to be a brand born and bred in Austin, you can find this sparkling water nationwide.
The best thing to do is visit their Find Rambler page to find the store nearest you that carries Rambler.