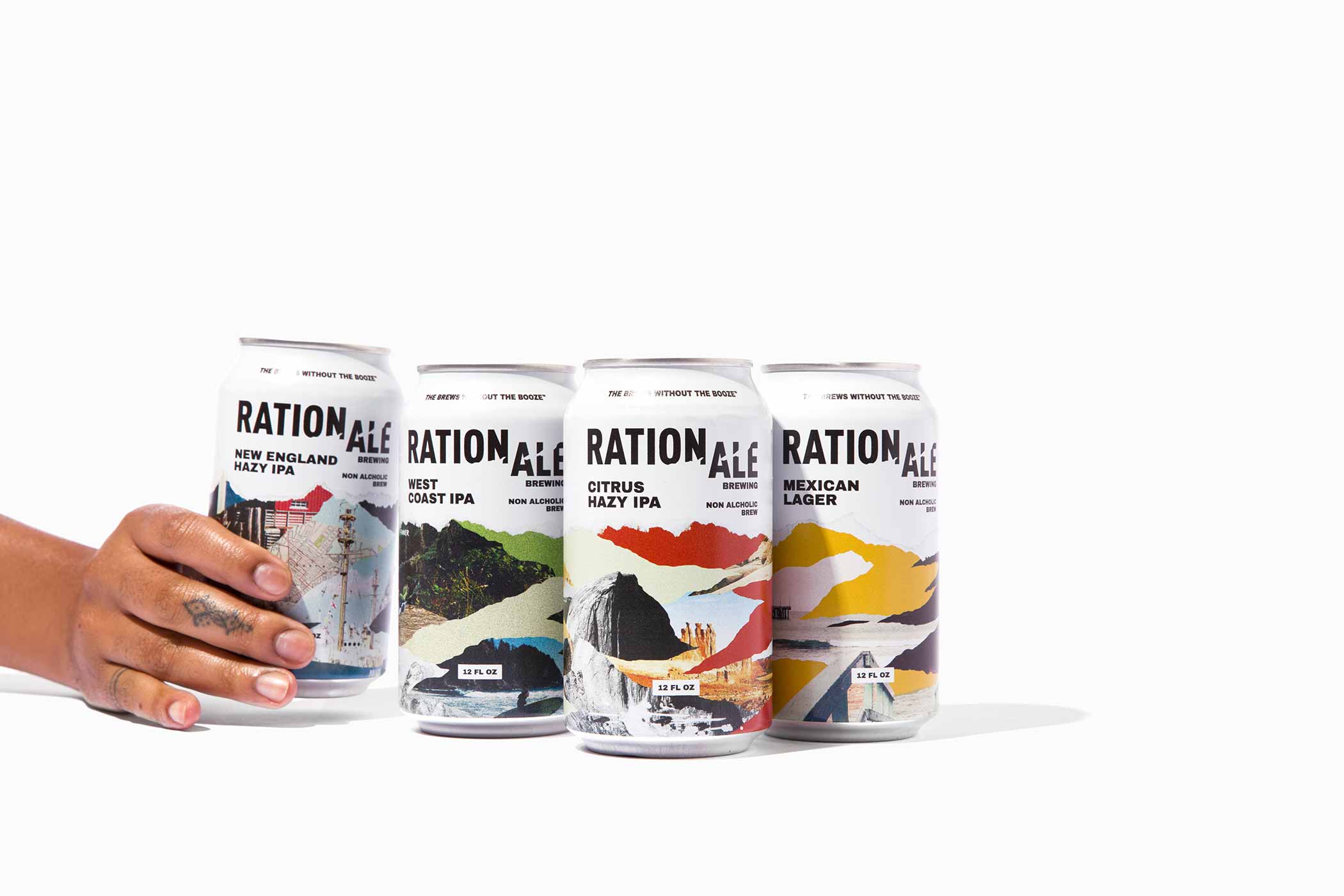 Photography courtesy of RationAle
Editor's Note:
Editor's Note: Sign up to win a FREE RATIONALE 6-PACK HERE
Why do you drink craft beer? Everyone has their own reason. Perhaps you're a hop head and you can't get enough of those dank Pacific Northwest Citra, Simcoe, Cascade, and Centennial hops. Maybe you're on the "I like my beer to taste like beer" bandwagon and drink a lager every day of the week.
Beer has such a powerful way of bringing us all together for moments in our lives, whether that's when celebrating a birthday, during a football game, after a surf session, or simply while eating tacos on a Tuesday night.
And why might you choose not to drink? What's your rationale? Everyone has their own reason. Whether they're sober, sober-curious, looking for a healthier lifestyle, interested in moderation, or so many others.
So shouldn't drinking non-alcoholic beer do the same? Slake our thirst after a hike? Pair up with our pizza? Celebrate those occasions with family and friends?
Well, up until very recently your high-quality, great-tasting non-alcoholic options were pretty limited. You could enjoy sparkling water or soda, but if you wanted something that had that same great craft beer taste without the ABV, you'd be hard pressed to find a can or two to drink.
That's all changing.
Without a doubt, over the last couple of years non-alcoholic brands crafting innovative, craft non-alcoholic beers have carved out their own niche.
RationAle launched just eighteen months ago with one goal in mind: To crush society's rules around drinking by making high-quality, non-alcoholic beer available and accessible for everyone.
It's a mission that personally resonates with founder Jamie Fay, who has a very specific rationale< for brewing non-alcoholic beer.
ENTER TO WIN A FREE RATIONALE 6-PACK HERE
Disrupting Non-Alcoholic Beer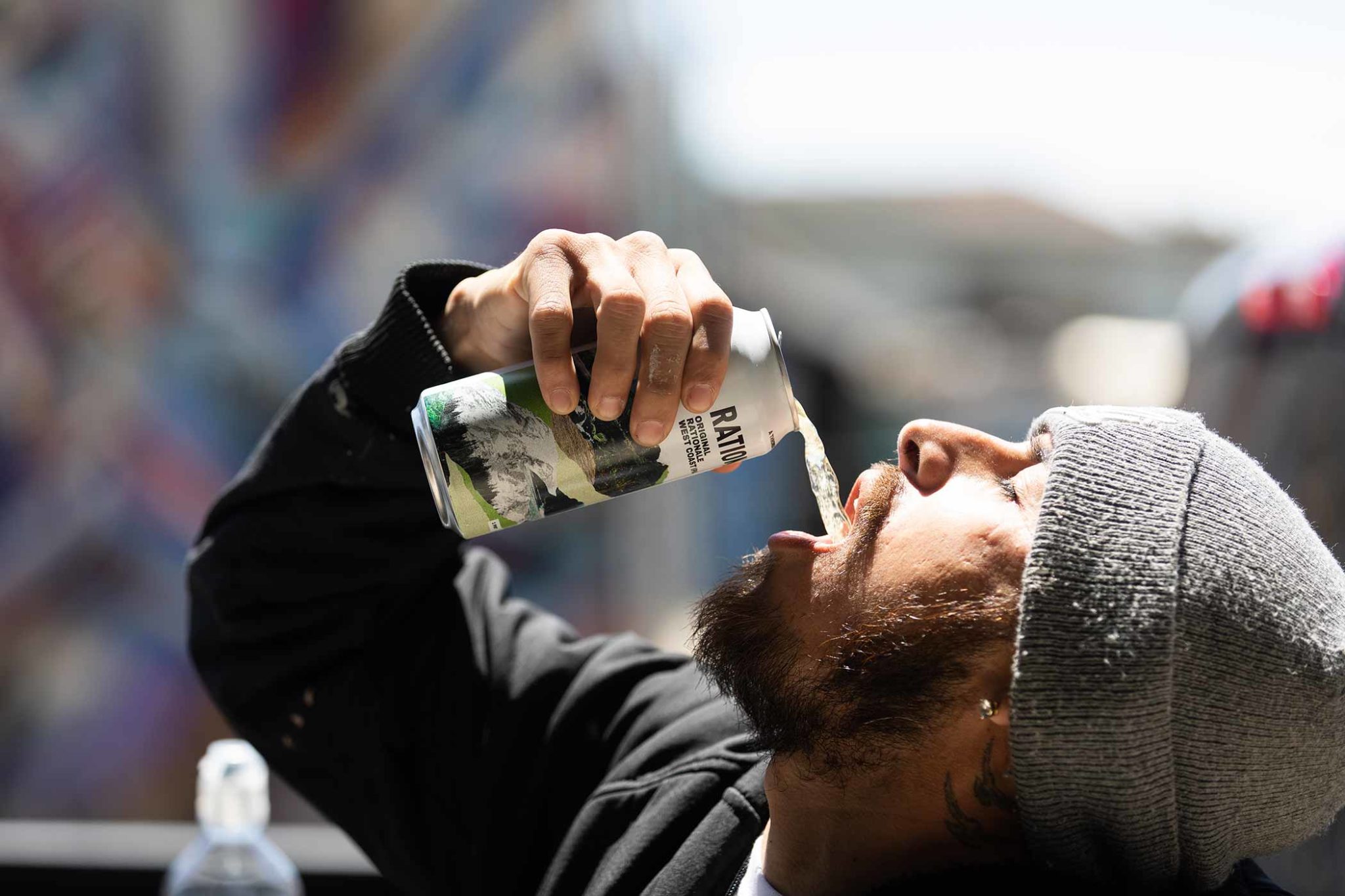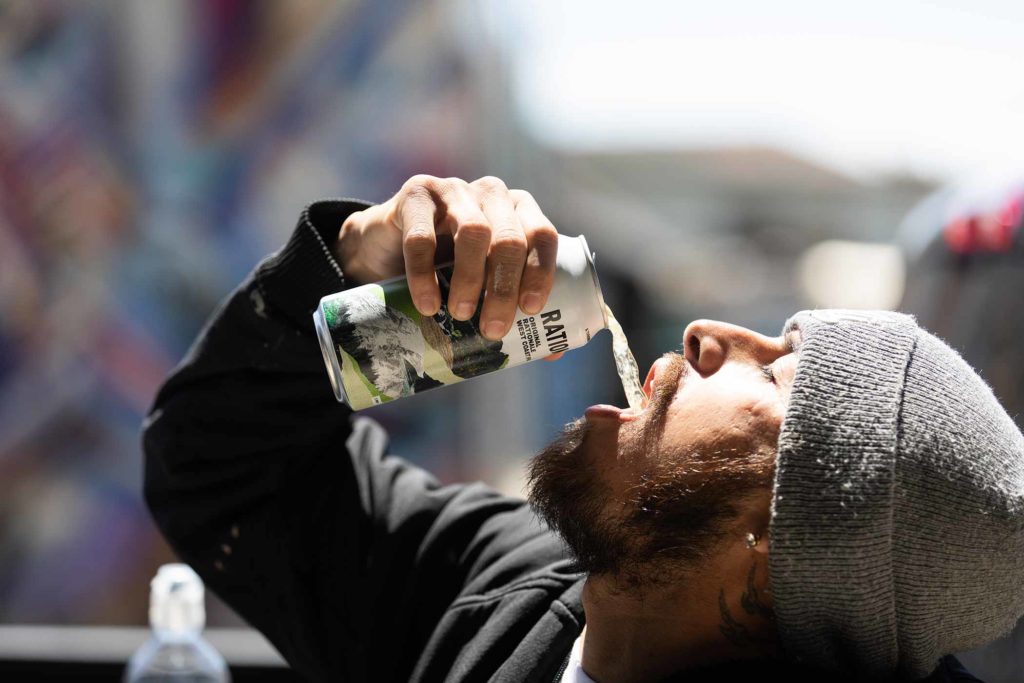 RationAle is here to crush society's drinking rules.
Whereas in the past many non-alcoholic brands or beers targeted sober-curious consumers interested in living a healthier lifestyle, RationAle appeals to the craft and mainstream beer drinker, offering a craft way to drink moderately.
"We're not taking the traditional path of marketing ourselves to a specific consumer ," says Fay. "We're marketing ourselves to the everyday mainstream craft beer consumer"
When it comes to the core non-alcoholic beer consumer, there isn't a "silver bullet." In other words, non-alcoholic beer drinkers choose to reach for NA offerings for various reasons regardless of age or demographic.
Fay uses himself as an example: "There are still times in the year that I'll have one too many beers and the next morning be like damn, I should have been more rational in that moment," he says. "But that's the reality: Habits are changing and you want a brand that's approachable, permissible, and can have an emotional connection with."
He hopes RationAle will play a big role in building out the entire non-alcoholic beer category.
"What I want and aspire for is that collectively all of the new brands help build this category up together," says Fay.
So far, in such a short time, RationAle has soared.
Mostly because the liquid inside the can is just damn delicious.
But also because Fay created RationAle for one specific reason.
What is the Rationale Behind RationAle?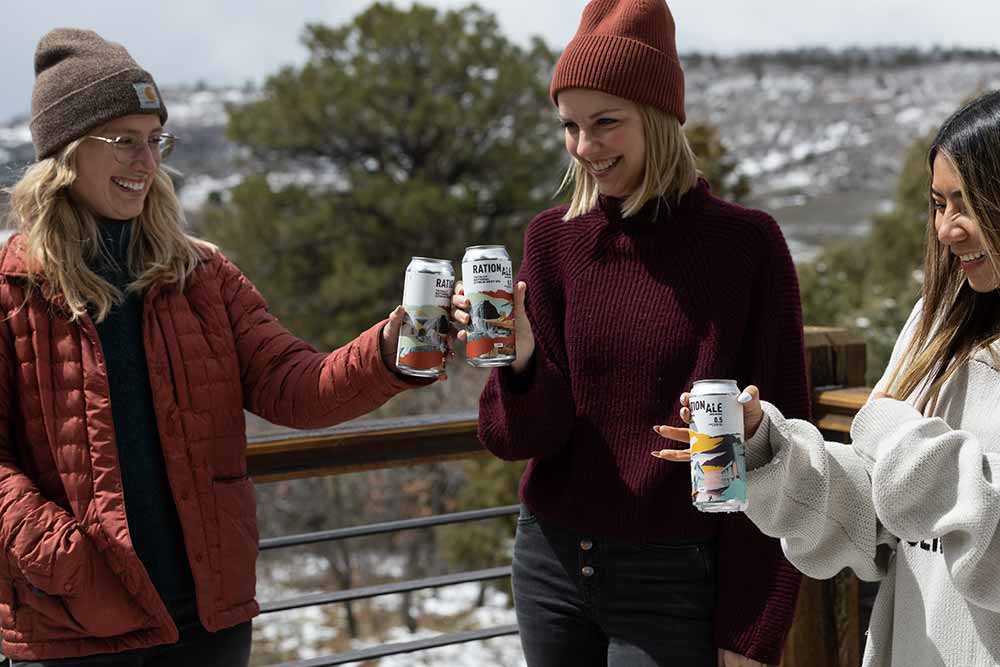 For Fay, whether he knew it or not, beer has always shaped his life.
Before starting RationAle, Fay spent twenty-five years successfully running some pretty big global consumer goods companies.
"But I never felt I had any purpose," says Fay. "I never felt I made any meaningful difference to society."
It wasn't until he took a step back that he started to understand the career choices he'd made.
"When I take a look back at my life personally, the one thing that resonates is that I grew up in a family with a lot of alcoholism," shares Fay. "Alcoholism within my family defined who I became, so I ended up chasing down a life of what I thought I needed to have when in fact I was chasing down a life of not becoming my father."
Fay's father ended up becoming one of the most successful trial lawyers and youngest superior court judges in Canada, but "he lost it all to alcohol and ended up passing away living on welfare in government subsidized housing," says Fay. "I carried that weight and never knew what I was going to do with it for twenty-five years."
Until now.
Perhaps poetically, it was a fatherly conversation with his own sons, Tyler and Carter Fay, that sparked the idea for RationAle.
Making Rational Drinking Decisions
Before Fay's oldest son headed off to the University of Alabama, Fay sat down with him to have a conversation about making rational decisions on how much alcohol he drank and about making rational decisions on who he drank with.
One word kept coming up again and again: rational.
Fay's youngest son joked that it would be a great name for a beer company. "I sort of laughed like you're a smart ass," says Fay. "But then I thought…actually that's a brilliant idea."
In that moment, Fay saw his life experiences with alcoholism and desire to make a meaningful impact collide.
Himself a craft beer drinker, Fay recalls moments enjoying a couple 6-7% ABV hazy IPAs before switching over to something non-alcoholic. But those offerings always included water, soft drinks, or some other beverage.
He realized he personally didn't consume non-alcoholic beer.
And therein, as the bard says, lay the rub.
"If I could find a way to create a high-quality craft beer, build a brand and an emotional connection around it, I could pull more craft beer consumers over to the non-alcoholic beer segment and I could also make a meaningful difference," says Fay.
Making a Difference One Can at a Time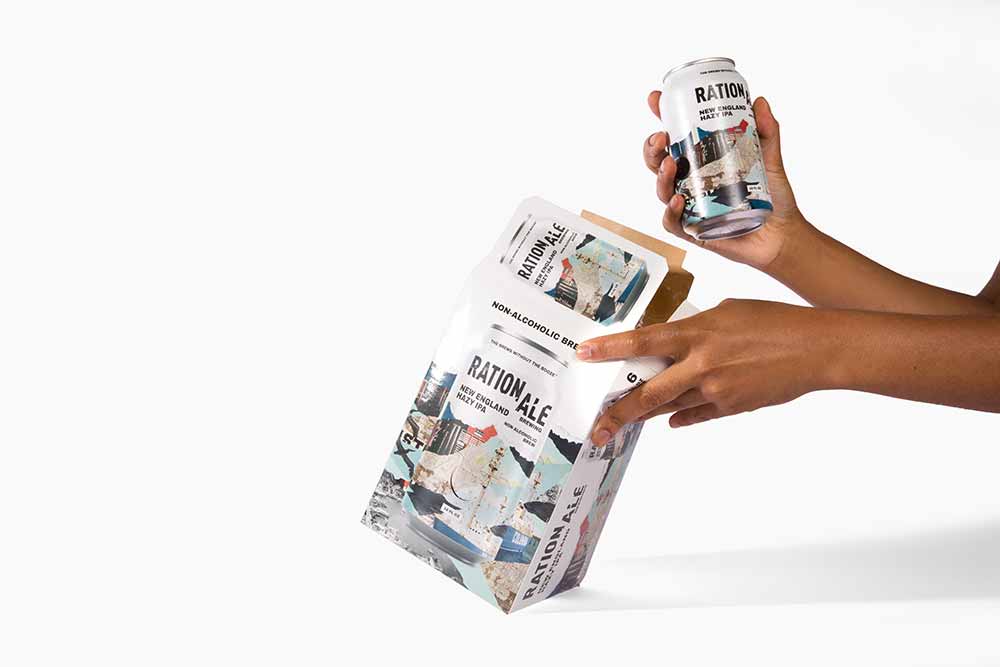 As soon as the pieces fell into place, Fay pounced.
In fact, his sons were so excited about the idea that they trademarked the brand within a matter of twenty-four hours. "This was the universe telling me it's time," says Fay.
He plowed head first into bringing this brand to life.
Within days of making the decision to start RationAle, Fay had connected with a buddy of his, Zach Minard from Tall Tree Designs Company, to create the packaging design and Jess Windell from Maven Consulting to handle the marketing and PR.
He spoke with forty different breweries and brewmasters before landing on one in Sonoma County to contract brew. He signed the brewing contract within thirty days, and within ninety days had product on the market.
Launched in Seaside Market in Cardiff, CA, in September 2021, RationAle grew organically throughout the first several months.
And since that first retail account, the growth has been unstoppable.
RationAle Explodes in Just Eighteen Months
To say the last year and half has been a whirlwind for RationAle is probably an understatement.
It has been all hands on deck.
"It has been just a scrappy, hustling group of friends and family that allowed us to build the brand as quickly as we did," says Fay.
Self distributing for the first year meant delivering cases by hand from pickup trucks and rental cars. Fay partnered up with good friends that own HiTouch Distribution in Southern California to warehouse his brews and also tapped into their fleet of trucks to reach some local natural organic retailers like Erewhon.
Fay's own sons pitched in, running the website and social media, hopping on the canning line, and delivering cases of beer in Southern California over the summer.
And Fay's partner Wendy Pickett, who also has twenty-five years working in consumer goods, helped behind the scenes whether making deliveries to local restaurants or slinging brews at sampling events.
Recently, RationAle announced that Wendy would be joining Fay to co-run the company.
"Honestly without Wendy, some moments I don't know what I would have done," says Fay. "Wendy was not only our first investor but more importantly has been my rock through all of this, so now we're going to be leading this company together, which is frickin' awesome. I'm so stoked!"
Finally after twelve months of hustling, the family's total commitment has paid off with beer distributors across the country picking up the brand. In the last eight weeks, RationAle has signed up with six new beer distributors, giving them complete coverage in CA, AZ, NV, CO, and OR.
"The last eighteen months have been an absolutely exhilarating roller coaster ride," says Fay.
But completely worth it.
As of the first week of December 2022, RationAle has the highest velocity per point of distribution within the retail outlets they reside, and the #3 fastest-growing non-alcoholic brand in the Natural Channel on the West Coast. Overall, RationAle has seen 645% year-over-year dollar growth.
Everything points to RationAle leveraging a category in the U.S. beer industry that's picking up quite a head of steam.
Non-Alcoholic Beer Is Having a Moment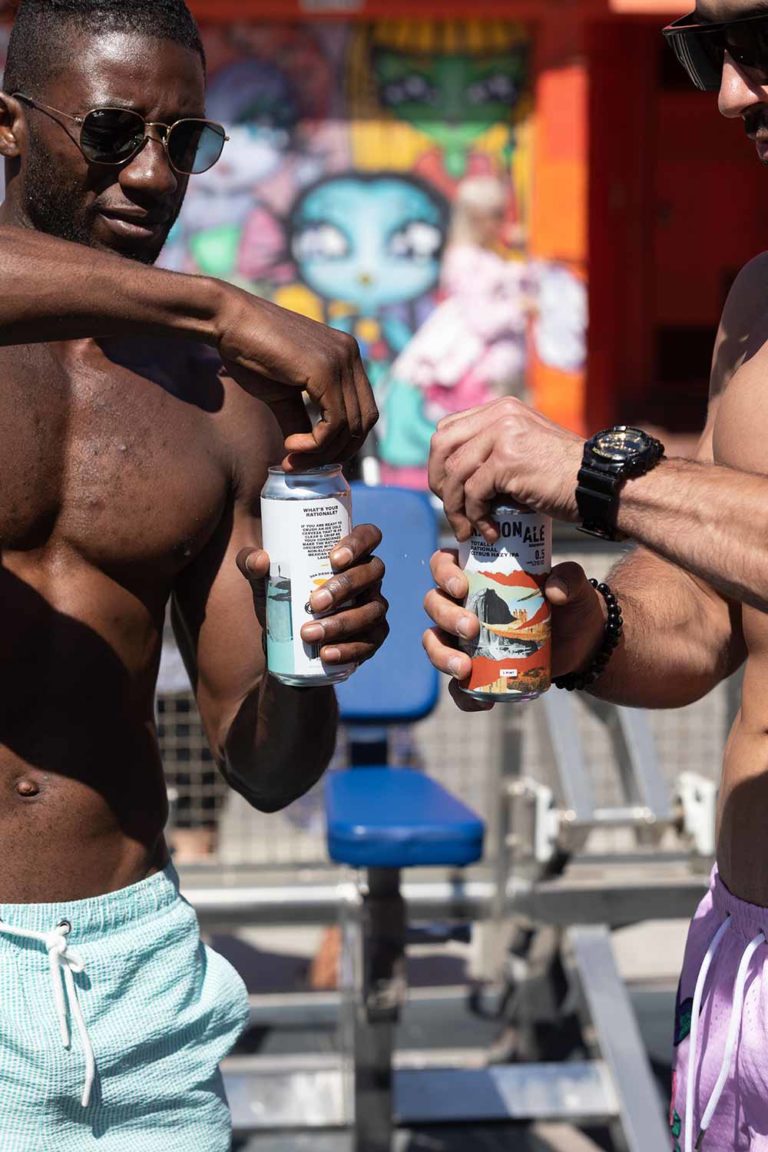 At this point, non-alcoholic beer isn't just another trend. Drizly reports that the share for non-alcoholic beer increased by forty-one percent as of October 2022 with NA sales growing an incredible 200+ percent year over year and the number of NA products in the Drizly catalog increased 70+ percent to 120 offerings.
Without a doubt, the non-alcoholic segment is growing in the U.S. to match a phenomenon that's already commonplace in Europe.
According to Fay, in Europe non-alcoholic beer accounts for ten to fifteen percent of total beer sales depending on the country. Here in the United States, on the other hand, non-alcoholic beer still just accounts for less than one percent of total beer sales.
But the projected growth is strong. Fay says that most other founders in the industry and major beer and beverage companies see the potential of the non-alcoholic beer sector becoming three to five percent of total US beer sales within the next five years.
As a result, more and more American craft breweries are creating their own non-alcoholic beers.
But more importantly, completely non-alcoholic brands such as RationAle are pushing the boundaries of what it means to be a contemporary, craft non-alcoholic beer.
How Do You Brew a Craft Non-Alcoholic Beer?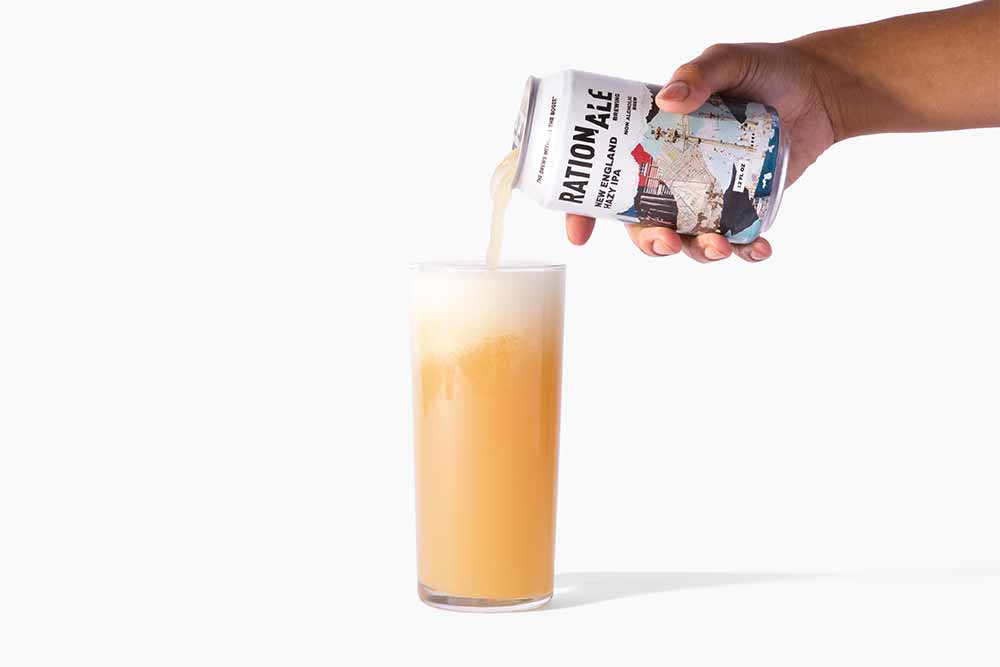 If you take away just one thing here, let it be this: RationAle is a craft, premium non-alcoholic beer.
With RationAle, you're drinking a non-alcoholic beer unlike any other.
And it all starts with the extensive brewing process.
RationAle implements what's called vacuum distillation for all its beers. Essentially, they're actually brewing the beer all the way to around 4-6% ABV, meaning they first make a full-flavored, robust alcoholic version.
"Our beer gets to ferment all the way through—all the flavors, the body of the beer, and even the sugars convert to alcohol," says Fay.
Afterwards, vacuum distillation gently removes the alcohol.
Once fully brewed, the beer goes into a unit where the pressure from the vacuum creates friction and steam.
According to Fay, at that moment, the steam separates the alcohol into another chamber with the steam reintroduced into the beer in the form of water.
But because many of those essential concentrated flavors are in the alcohol, RationAle also reintroduces the alcohol back into the beer up to 0.3% or 0.4% ABV.
And with its IPAs, RationAle goes a step further, dry hopping after dealcoholization to ensure those beers end up with all those essential oils and bitter notes.
The result?
Non-alcoholic beer that tastes like beer…just without the high ABV.
"I'm not focused on chasing down calories," says Fay. "I'm focused on chasing down the highest-quality beer that tastes great, that has an incredible body, and that matches what expectations would be on a regular IPA or lager."
It's why RationAle's Mexican Lager is clean and crisp. Just like a regular lager.
Or why RationAle's IPAs are piney, dank, or citrusy. Just like a regular hazy or West Coast IPA.
Honestly, it's a game changer.
Taste Testing All of RationAle's Beers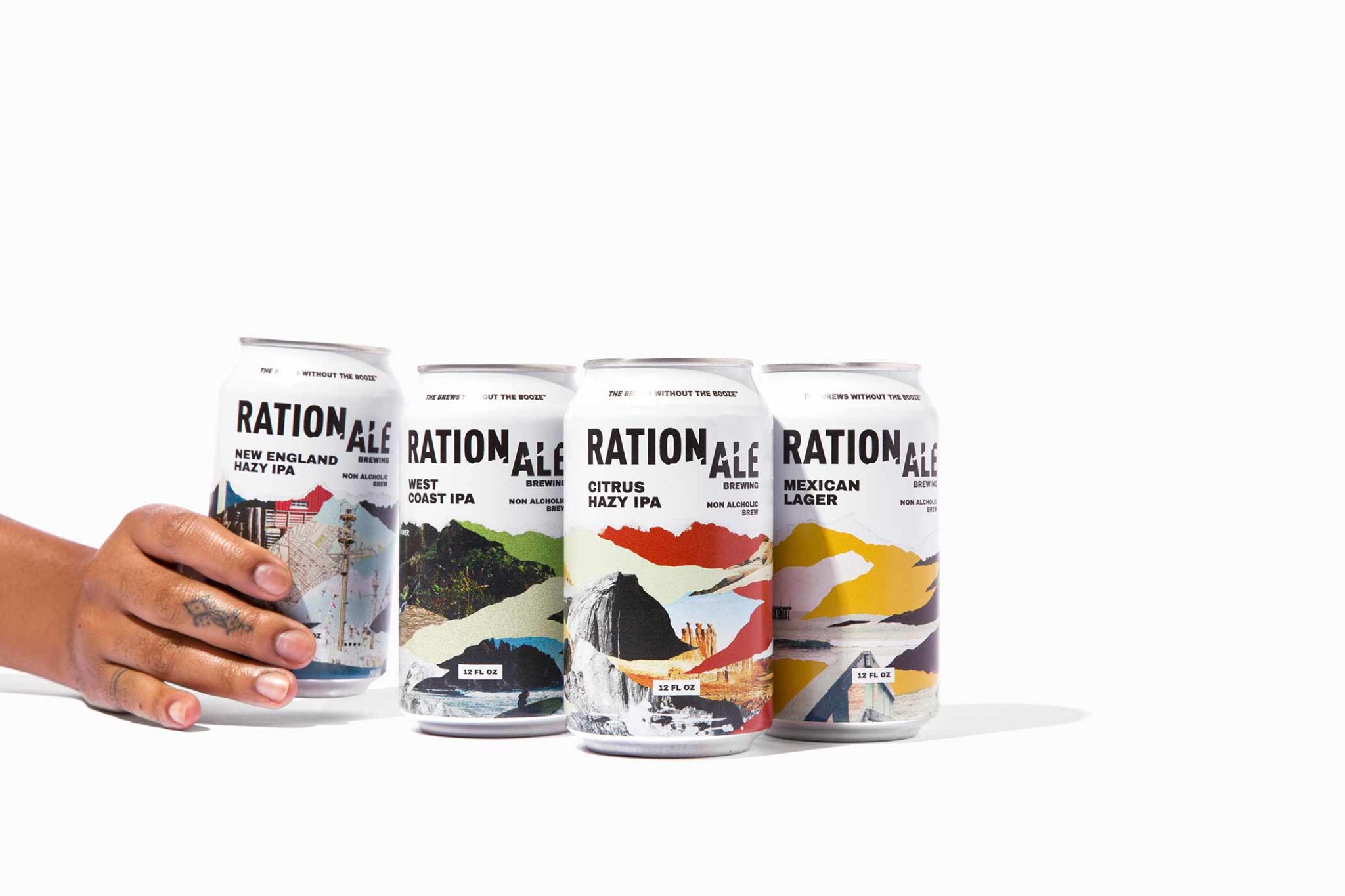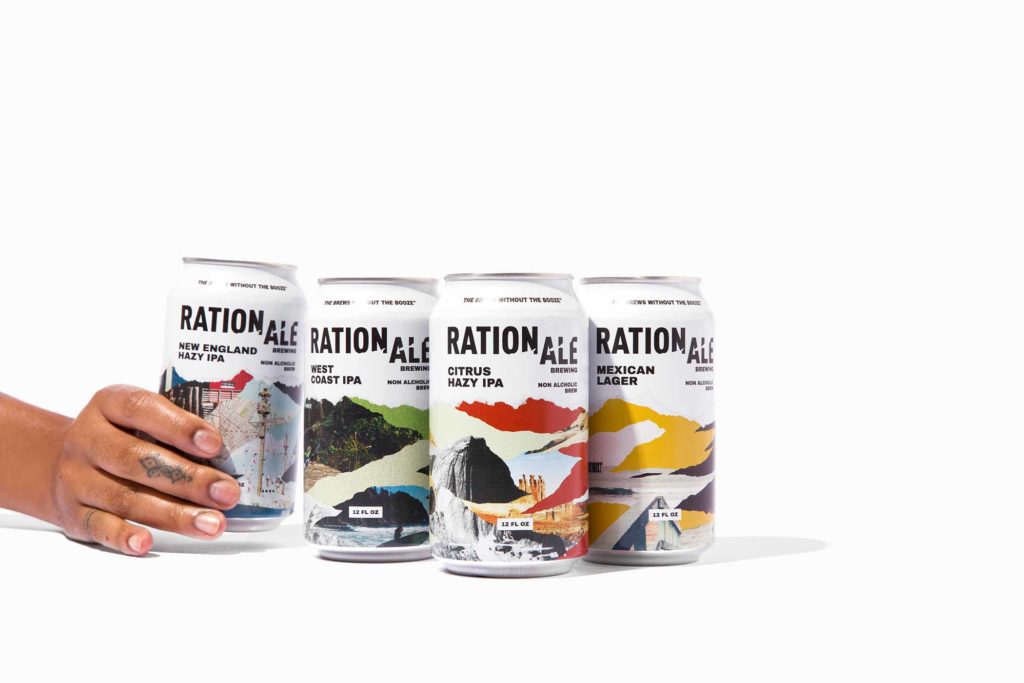 "There is a lot of love, a lot of integrity, and a lot of thought that goes into these beers," says Fay.
And what's so unique about all RationAle's SKUs is that they've evolved over time, changing based on consumer comments.
Fay himself conducted every single sampling event for those first twelve months, listening to folks' feedback. He also tunes into reviews on Untappd and advice from the NA beer community on Facebook.
And of course Fay has listened to his own palate. "My expectations and standards have been so high since the moment we launched that if I'm not going to go buy this beer for a second time, then it's not something we're going to put on the shelves," he says.
Well, we had a chance to try them all and chat with Fay about his favorites.
Citrus Hazy IPA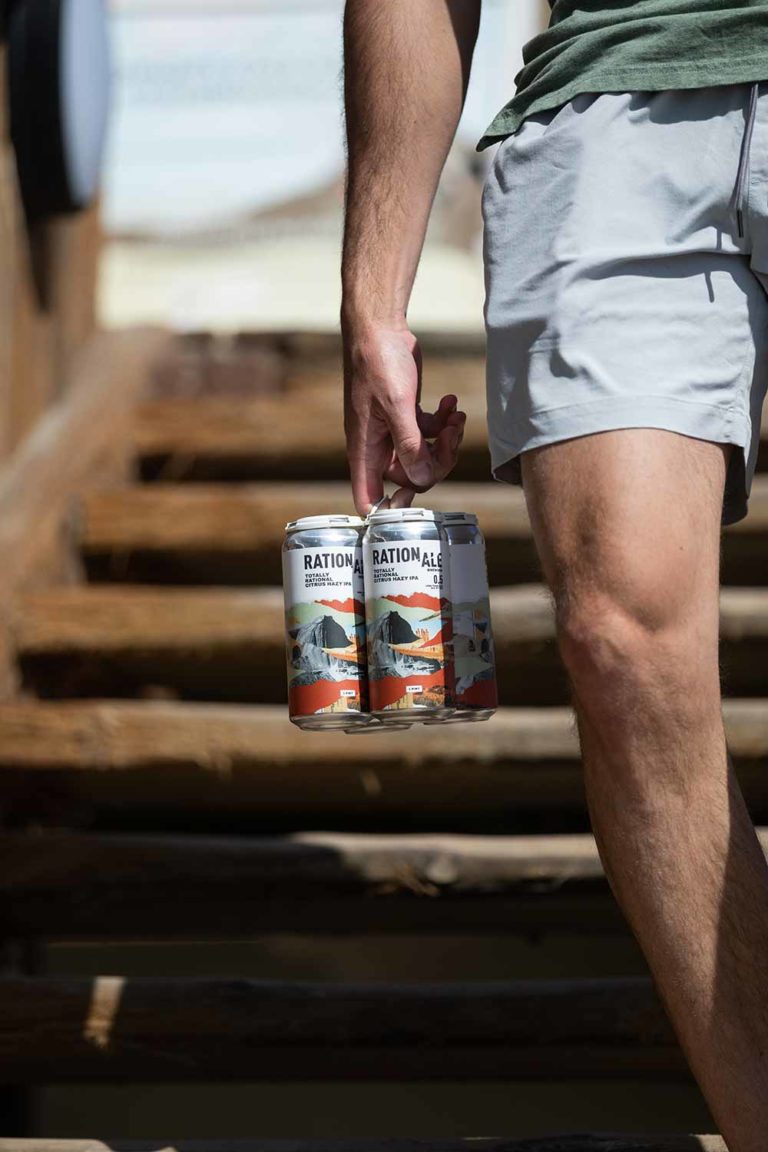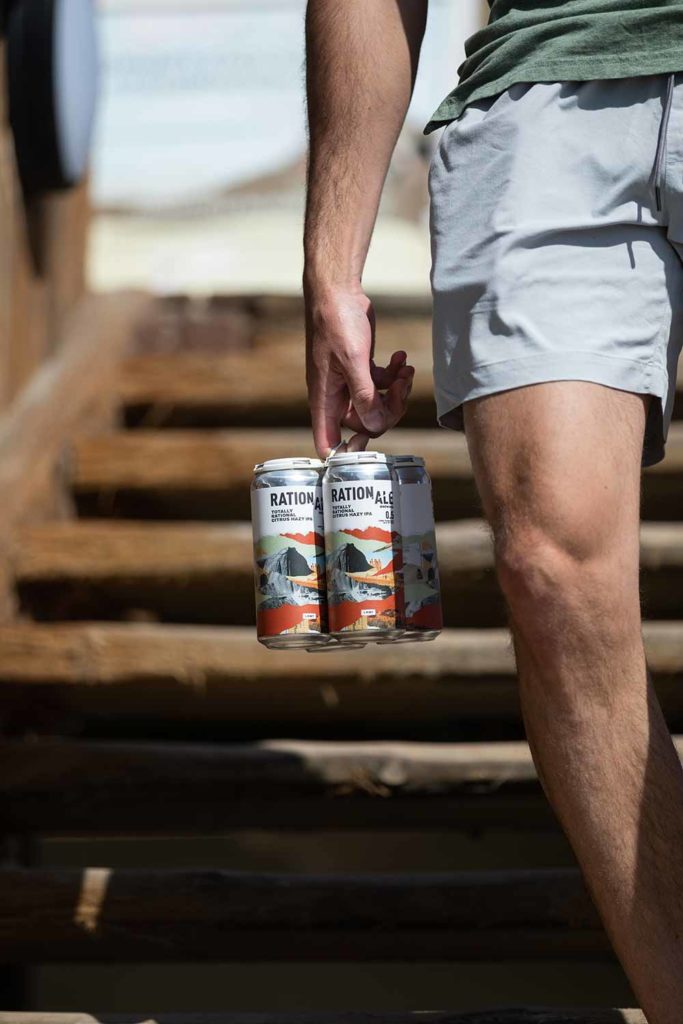 The first beer RationAle launched with in September 2021, Citrus Hazy IPA is meant to mimic a good, high-quality hazy. The idea came to Fay while sitting at Modern Times in Encinitas. "I thought: 'Holy shit, I wonder if I can recreate a Modern Times hazy IPA with that quality where you have the milkiness, the nose, and a mouthful of hops,'" says Fay.
To us? Mission accomplished. This is one juice bomb of a non-alcoholic beer. Pouring turbid AF, the Citrus Hazy IPA immediately hits your nostrils with big bursts of grapefruit, tangerine, and pineapple.
"The goal was to find a way to get all the citrus notes that would come through from a traditional hazy IPA, but also have other notes that blend it out, which is why you end up with some mango and pineapple," says Fay.
Plus, you'll get a twinge of hops on the back end from that post-dealcoholization dry hopping.
But it's not just the flavors and aromas that score here. The body of the beer holds up to an alcoholic hazy. Not an easy task. Full mouthfeel and a bit of a pulpy, malty backbone that you love from a hazy makes it into this can.
"Once you swallow it and breathe out, you have that maltiness of the beer," says Fay.
All in all a great beer to kick off RationAle's portfolio.
Mexican Lager
A non-alcoholic beer that Fay crushed during the summer, especially after a surf session, the Mexican Lager launched next after the surf community in Encinitas pretty much demanded it.
"I love this beer because it's your lawnmower, highly crushable beer," says Fay.
Instead of drinking two or three Pacificos on the beach, you can grab a RationAle Mexican Lager.
Instead of popping the cap on two or three Modelos at the backyard barbecue, you can crush three or four RationAle Mexican Lagers.
Clean, crisp, and crushable like a traditional lager, the Mexican Lager is just the light, refreshing non-alcoholic beer that you want after a hike, hanging at the park, working in the backyard, or drinking alongside tacos.
Fay calls it his "chaser beer."
He explains, "If I'm at the end of the night and [had been drinking] 6% hazy IPAs, I used to always love to flip over to a nice, light, refreshing beer that doesn't have the high alcohol… Now I flip over to a RationAle Mexican Lager."
Fay explains, "the beer consumers palette ranges widely; a perfect example is within our own family. Wendy's go to these days is our West Coast IPA but she also loves the Citrus Hazy IPA while Tyler counts the Mexican Lager as his favorite non-alcoholic beer out of the four.
For all of us, the Mexican Lager this past summer quickly became our favorite out of the four. It's incredibly quenchable and quaffable with that current of a light maltiness underneath. We could absolutely crush this non-alcoholic beer all day long. To us, it's almost like the "Pringles" of non-alcoholic beer: We dare you to try and drink just one.
New England Hazy IPA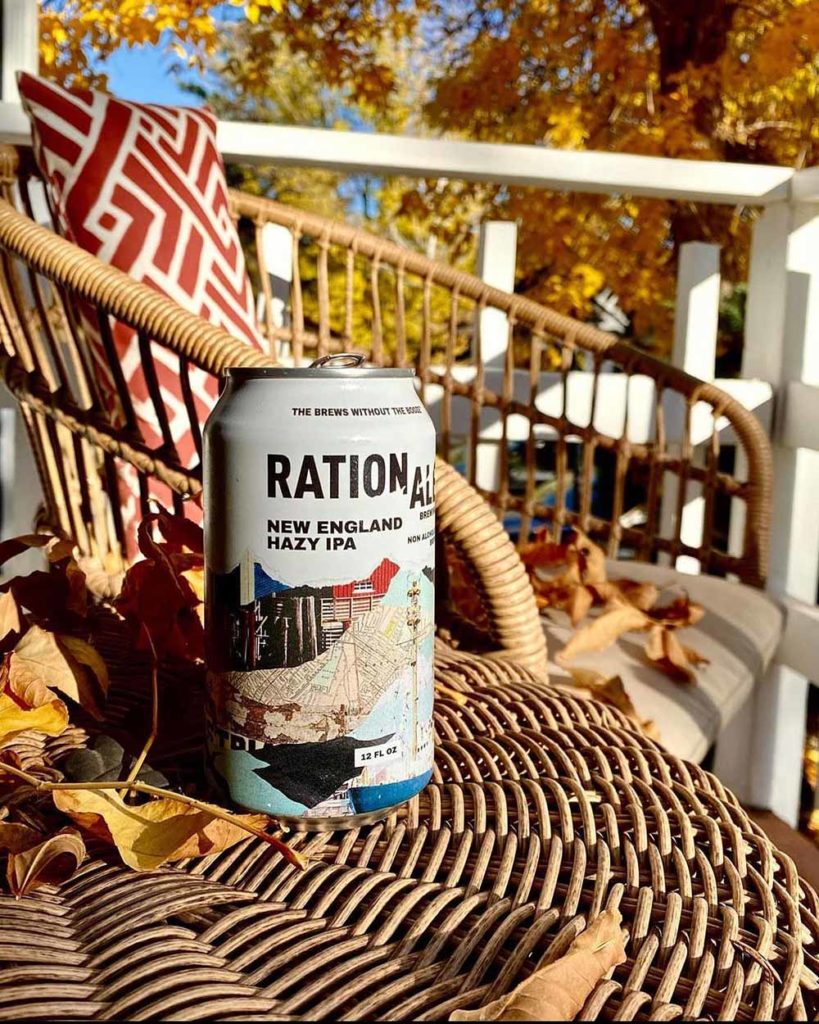 The newest beer in RationAle's arsenal, New England Hazy IPA deployed in May 2022. After testing four different versions, the current New England Hazy IPA assaults your senses with tropical notes.
"Tropical nose on the front, tropical nose on the finish," says Fay. "A small bite of hop, but not too much—I don't want it to be overly bitter—and a nice, creamy milky finish."
Whereas the Citrus Hazy IPA is meant to be a citrus bomb, here the beer will be more "nice, gentle tropical notes," says Fay.
For us, the New England Hazy IPA is definitely lighter on the juiciness and brighter on the hoppiness. We'd say if you're looking for a citrus-y, pulpy explosion then stick with the Citrus Hazy IPA. But if you're in the mode for a more hop-forward hazy, go for this one.
West Coast IPA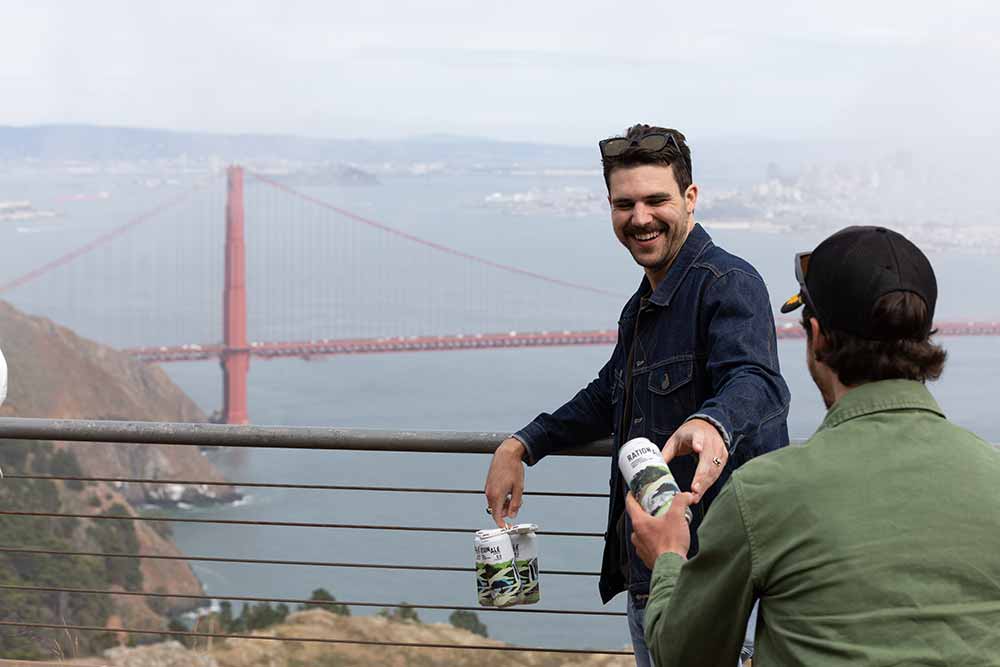 Ask Fay the beer he's most proud of and he'll answer the West Coast IPA.
Launched in February 2022, the West Coast IPA was another beer brewed thanks to feedback from the community. "Everyone kept asking: Will you ever do a West Coast IPA," says Fay.
It took five months and five different batches of beer, but "I will tell you right now, the West Coast IPA that we packaged in December is frickin' off the charts; I flipped out when I tried it because it is so good," says Fay. "It has the nose of a West coast IPA, it has the dankness of a West Coast IPA, and it has the hop structure and finish of a piney…West Coast IPA."
In fact, we loved this beer so much we named this one to our list of "The Best Non-Alcoholic Beers Available in Stores Right Now."
Getting those predominant bright, bold notes characterized by a West Coast style can be difficult in a non-alcoholic beer, but RationAle just nails it.
"It's all about balanced notes of dankness, pine, a small amount of Citra, and a really clean hop finish."
Overall, we'd describe all of RationAle's styles as crushable, but the West Coast IPA really blew us away. Mostly because, this isn't usually a style you can drink more than one or two of without blowing out your palate, but with RationAle's non-alcoholic version, you could crush an entire 6-pack.
Thirsty? Ready to give RationAle a try?
Buy One 6-Pack Get One FREE
If you're ready to crush a couple RationAles, now is the time.
Through the end of January (1/31), RationAle will be running a campaign called Buy Your Friend a Beer (BYFAB).
Incredibly, buy any number of RationAle 6-packs online and RationAle will ship you double the amount for FREE.
"If you order ten 6-packs you'll also get ten free and we'll ship it to you," says Fay.
All you need to do is use code BYFAB at checkout.
"Liquid to lips and cans in hands is the best investment that we can possibly make," says Fay.
"When I sample beer with someone they try it and are like holy shit this is non-alcoholic beer. I can't be in someone's kitchen… but I know that's happened [too] when they open up a 6-pack, pour it for the first time at dinner, look around the table with their friends and family and are like, 'Oh my god, this is non-alcoholic beer!?' I made that impact in the middle of Montana."
GET YOUR FREE 6-PACK HERE WITH CODE BYFAB
What Does the Future Look Like for RationAle?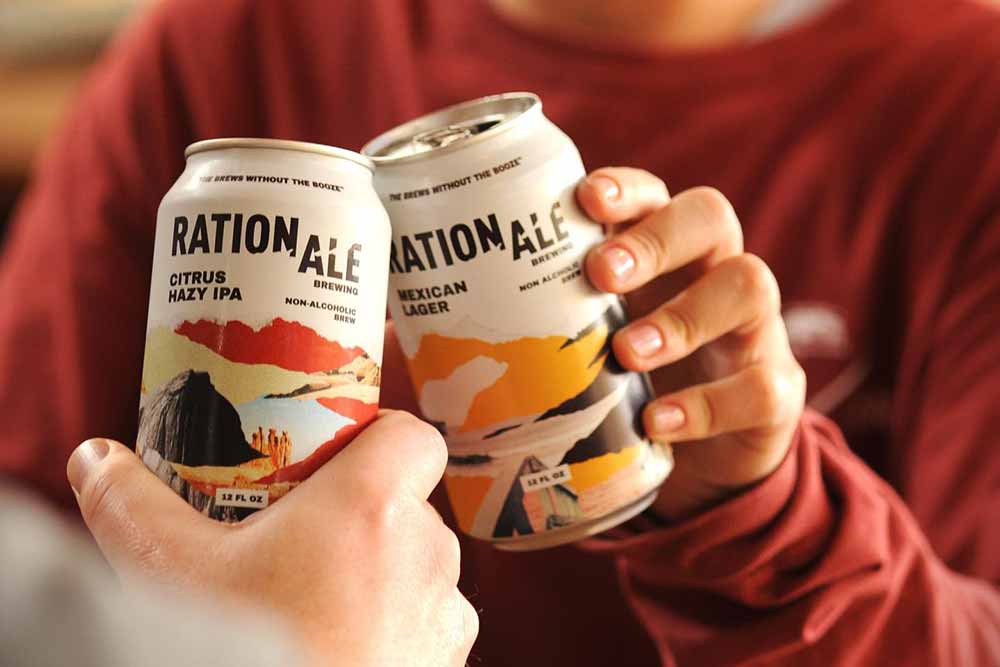 As bright as their West Coast IPA.
Overall, Fay says his objective with RationAle is to help the non-alcoholic beer category continue to strengthen and grow.
"We believe we can be the number one premium non-alcoholic [beer brand]," he says. "At the end of the day for us it's all about moderation. We're expecting consumers to have beer in their fridge along with their non-alcoholic beer."
And that will only happen as RationAle continues to flourish.
Where Can I Buy RationAle Right Now?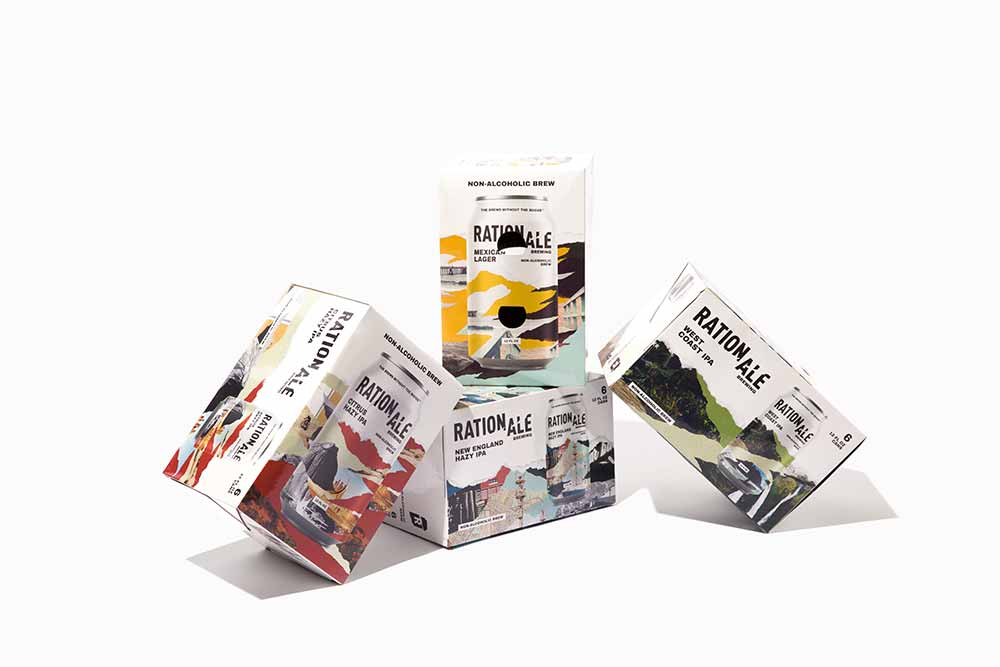 Growth on the West Coast is top of mind for RationAle, penetrating and going as wide as they can with distribution in OR, CA, AZ, NV, and CO.
"We want to go deep," says Fay. "When I look towards 2023 our growth will be unprecedented because of the sheer amount of new distribution matching the demand."
RationAle will also be picking up chain distribution in regional stores as early as April 2023, meaning if you live on the West Coast you can most likely find RationAle at a store near you right now.
Currently, you can find RationAle in on-premise partners throughout CA, OR, NV, CO, and now AZ, including Whole Foods Market, Market of Choice, Erewhon Market, Mollie Stone's, Olivers, Total Wine, and Seaside Market. Use RationAle's Store Locator to find a RationAle beer near you.
RationAle can also ship beer nationwide to your door within two to three days depending on where you are in the country.
And don't forget, if you're really looking for the deal of the New Year, take advantage of RationAle's Buy Your Friend a Beer campaign. From now until the end of January, buy one 6-pack of RationAle and get one free. Yes, seriously! It's all a part of the brewery's goal to encourage mainstream and craft beer consumers to drink in moderation and enjoy doing so with a craft selection.