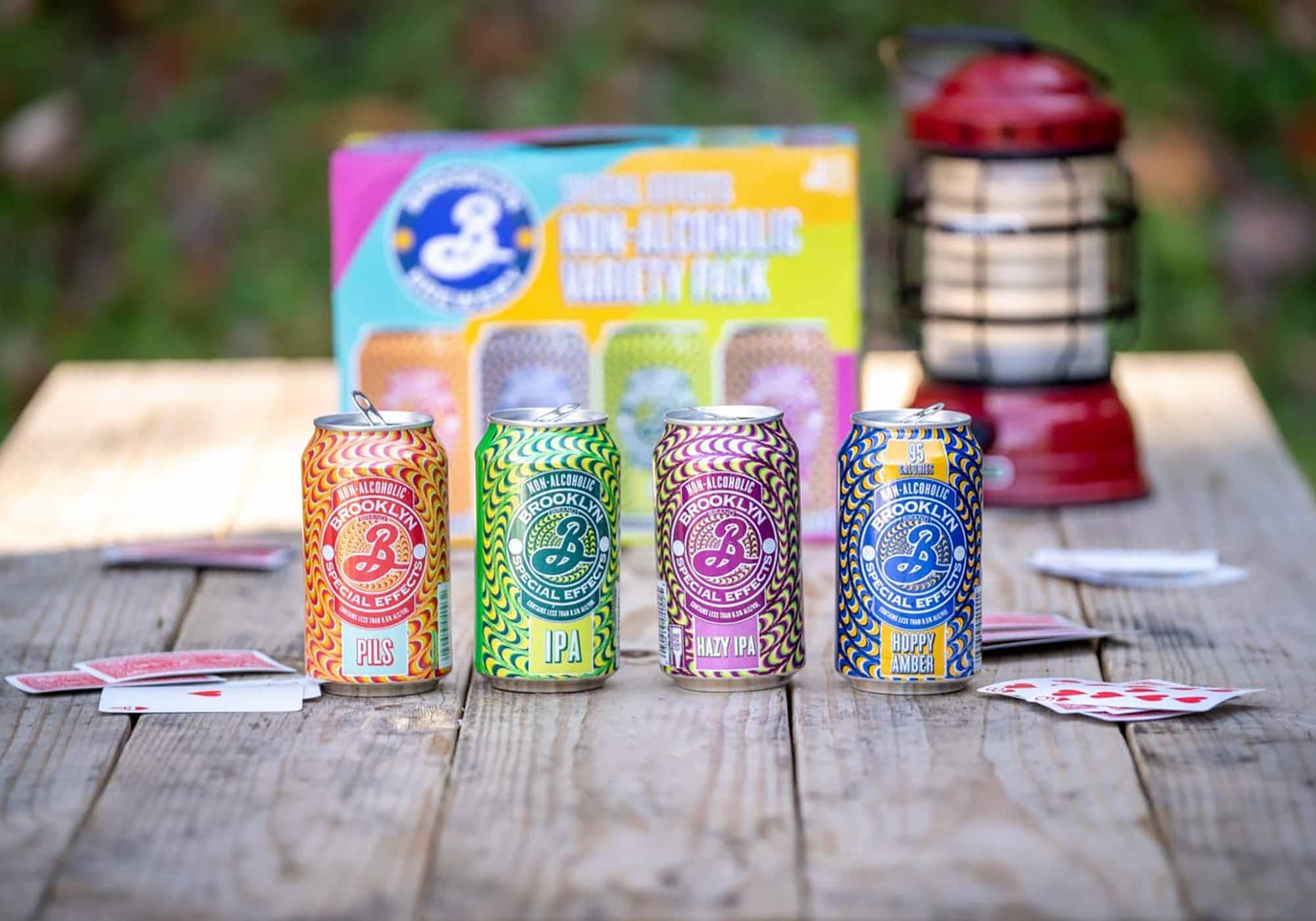 Photography courtesy of Brooklyn Brewery
Many people kick off the new year with Dry January — thirty-one days of abstaining from alcohol. A term first coined by a group in London in 2013, Dry January is a chance for folks to adopt healthier lifestyles. But nowadays, with so many high-quality non-alcoholic brands and beers available, participating in Dry January doesn't necessarily mean you can't drink beer.
Can you imagine a beer without alcohol? Seems almost as crazy as a beer without hops, right? Well, both exist. And now non-alcoholic (NA) beer has become a growing trend in the U.S. and a popular one around the world, with many craft breweries brewing non-alcoholic beer.
According to IWSR, a leading global alcohol industry market research firm, NA beer sales grew over thirty percent in terms of volume in 2020. And Drizly reported in its third annual BevAlc Insights by Drizly Retail Report that non-alcoholic products are up 120 percent on the platform since 2020.
As a result, over the past few years, many craft breweries have added innovative, flavorful NA beers to their portfolios. And entirely non-alcoholic beer brands are emerging in the market.
For instance, major established brands like Brooklyn Brewery, Boston Beer Co., and Dogfish Head have all crafted their own NA beers.
And solely non-alcoholic beer producers such as Athletic Brewing Co. and Rescue Club (one of our best new breweries of the year) are changing the status quo.
We predict this beer trend will continue to grow and that soon Americans will be drinking non-alcoholic beer all year round. Not just for Dry January.
What Is Non-Alcoholic Beer?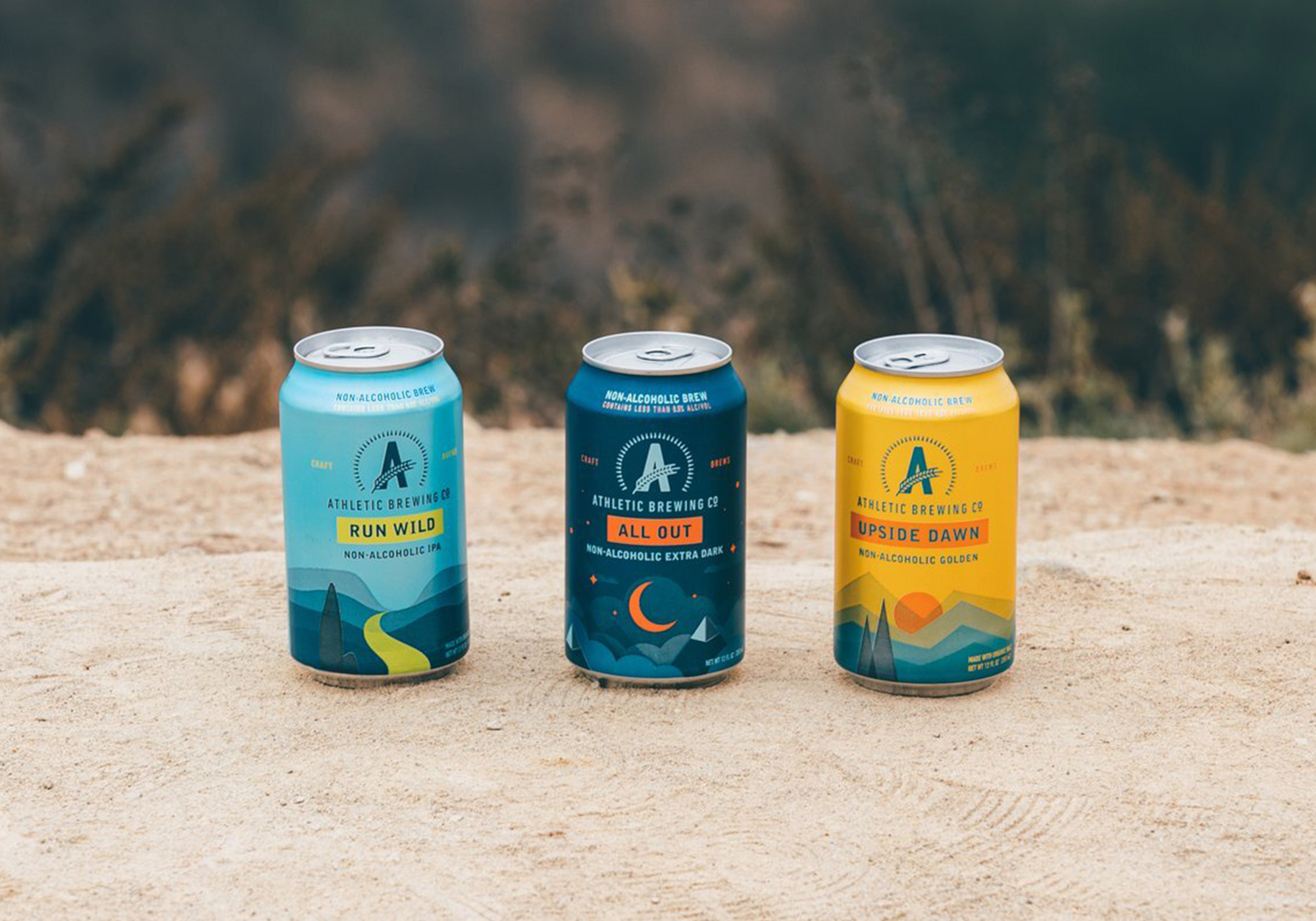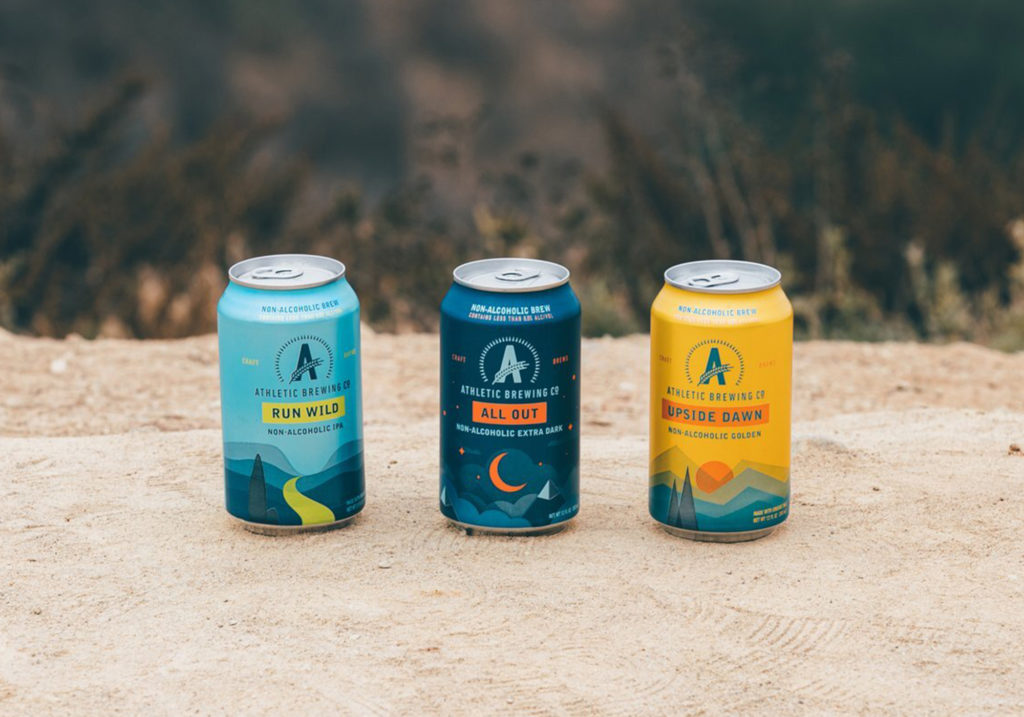 Alcohol-Free beers are those that have 0.0% ABV. But non-alcoholic beers are those that fall under 0.5% ABV. So yes, technically some NA beers can still have a very small percentage of alcohol. But, you'd probably have to drink around nine bottles of alcohol-free beer to equal the ABV kick of a standard beer. And the amount of alcohol in an NA beer is about the same amount that you'd find in an overripe banana.
For that reason, the category has been growing. This is especially true amongst Millennials. Many who seem to be particularly interested in a better-for-you, sober-curious lifestyle.
How Do You Make Non-Alcoholic Beer?
Some breweries have their own proprietary methods for making non-alcoholic beer. Such as Brooklyn Brewery that "uses a process that prevents alcohol from being created in the first place while still allowing many of the flavors we associate with beer to still develop," says Eric Ottoway, CEO at Brooklyn Brewery that developed its own line of non-alcoholic beers called Special Effects after about a year and a half of trials.
Generally though, a brewery starts with an alcoholic beer and then de-alcoholizes it.
This can happen one of a few ways.
Some producers heat uncarbonated beer to its boiling point and allow the alcohol to evaporate. Others use a vacuum to decrease the pressure of an uncarbonated beer, allowing the alcohol to boil at room temperature.
No matter the method, the goal is to create a beer that tastes like beer… just without an alcohol content above 0.5% ABV.
A Quick History of Non-Alcoholic Beer
The history of non-alcoholic beer dates all the way back to medieval Europe. During this time, people brewed low-ABV beers as a way to purify water. Even in limited quantities, the alcohol would kill any bacteria, making this early version of NA beer perfect for workers or farmers who needed clean refreshment during a tough workday.
American macrobreweries first began making "near beer" with the onset of Prohibition, when the U.S. government banned any beer above 0.5% ABV. However, because of the lack of NA technology, most of these beers were mainly bland and flavorless. These early, poor tasting versions gave non-alcoholic beer a bad reputation.
"Non-alcoholic beer was always something that was made with rice and corn, and made with zero thought, zero innovations, and zero marketing," said Bill Shufelt, co-founder of Athletic Brewing Co. in a previous interview with Hop Culture.
Today, many major macro brewery brands such as Heineken, Guinness, and Budweiser brew modern interpretations of non-alcoholic beers. But, we're most excited about the innovative craft beer SKUs coming into the worldwide market.
Why Europeans Love Non-Alcoholic Beer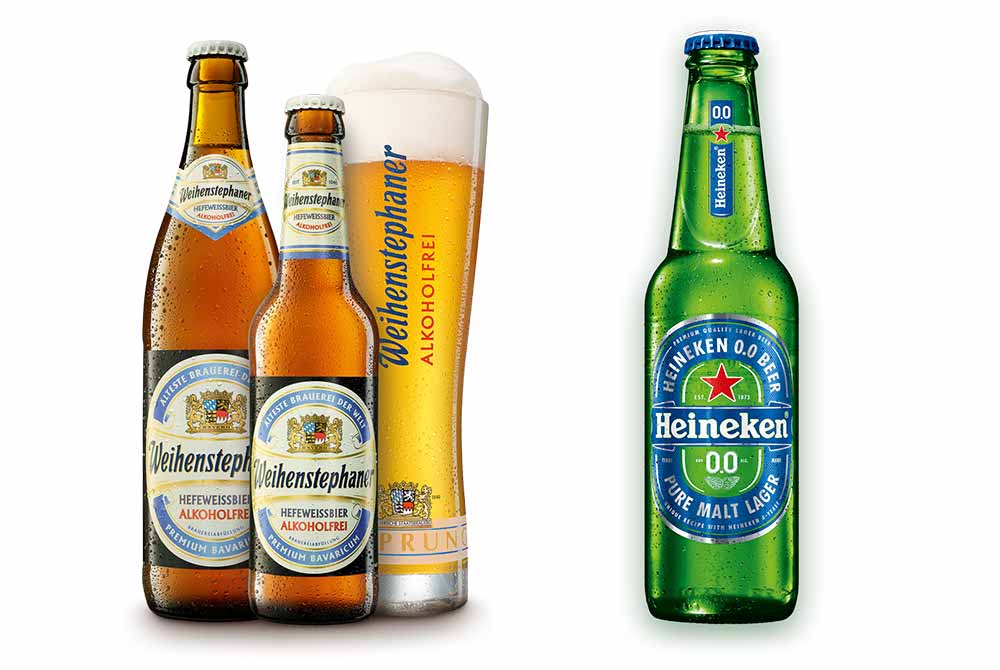 For decades, alcohol-free and non-alcoholic beer has been popular in Europe.
One driving factor behind this trend is tough drunk driving laws. In many European countries, consuming even one beer will put you over the limit. And the penalties for drunk driving are much more severe.
"Europeans have long had much more aggressive drunk driving laws than in the U.S., so people have gotten used to the idea of drinking NA beers when they are in situations where they have to drive," says Ottoway. In fact, Brooklyn Brewery first launched its NA brand in Sweden (their biggest market outside of the U.S.) in 2018 before hitting the States in 2019.
"It's quite common to see colleagues getting together for afterwork drinks, and several of them have NA beers in their hands," says Ottoway.
Additionally, Europe has developed a NA beer culture: Europeans often drink very low-ABV or NA beers with lunch.
"Europeans got used to NA beers being a part of everyday life, and therefore they focused on creating higher quality offerings," says Ottoway. "As the craft beer movement in Europe matured, it was natural for European craft brewers to focus on NA beers as well."
Non-Alcoholic Beer Tops European Brewery Portfolios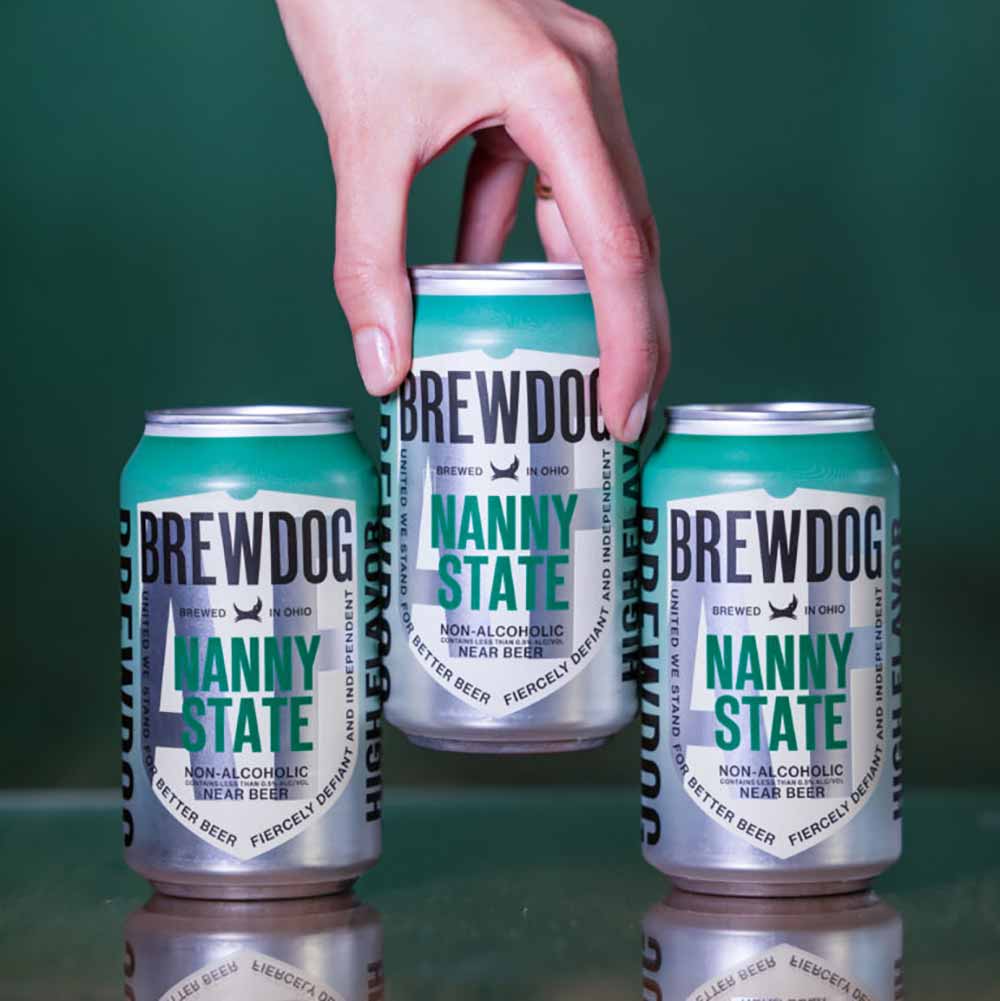 Because of the popularity of NA beers in Europe, European Breweries like Mikkeller and BrewDog have been producing very successful full-bodied, flavorful non-alcoholic beer for years.
BrewDog's Nanny State first came onto the scene more than a decade ago. But at the beginning of 2020 (pre-COVID), the brewery opened an alcohol-free bar in London, England. Additionally, they expanded its line to include Punk AF, Elvis AF, Hazy AF, Wake Up Call, Lost AF, and Ghost Walker — all beers without alcohol.
According to James Hart, Head of Delivery at BrewDog, alcohol-free beers have been the fastest growing category for BrewDog within their range. He predicts that alcohol-free beers will continue to grow.
"In general, COVID-19 has made people think more about their health," says Hart. "Being at home means people can drink at home, but you can't do that every night (although it's tempting) because you'll feel and notice the difference."
Similarly, Mikkeller has been producing in the NA space for seven or eight years now, but noticed that COVID-19 drove more consumers to drink NA beers as a part of a healthy lifestyle.
Mikkeller's best selling SKU is its NA wheat beer Drink'in The Sun, while the category as a whole happens to be its best-selling worldwide, making up close to thirty percent of its annual volume worldwide.
Why Americans Haven't Always Loved Non-Alcoholic Beer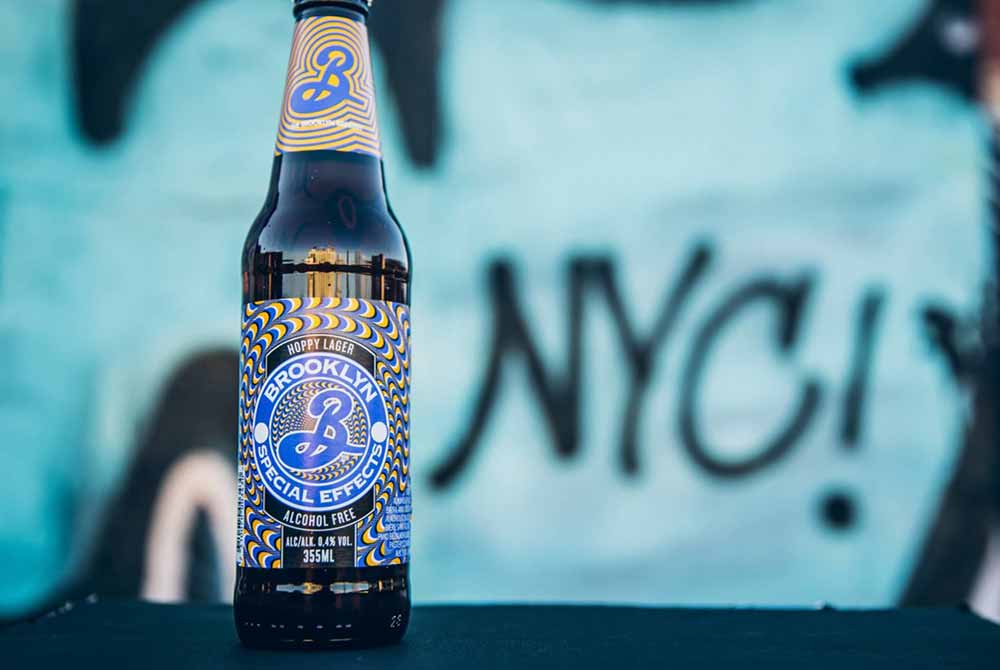 Eric Ottoway at Brooklyn Brewery cites American drinking habits as one reason for the sluggish growth of NA beer.
"Virtually no one drinks at lunch in the U.S., so that's a whole NA beer occasion that's missing here," says Ottoway. "NA beer culture never really developed in the U.S. and therefore brewers never focused on it."
Additionally, because of Prohibition, Americans developed unfriendly associations with alcohol-free drinking.
"There are the decades-old Prohibition-era stigmas," says Shufelt. "Plus, a previous, well-earned reputation for not taking care of quality, and ingredient selection, and not making exciting things."
Now, however, as more and more Millennials crave beverages that are better-for-you, brewers have shifted attention onto non-alcoholic beverages. And they're making some pretty well-thought out, well-crafted, and exciting iterations.
Changing Non-Alcoholic Beer in America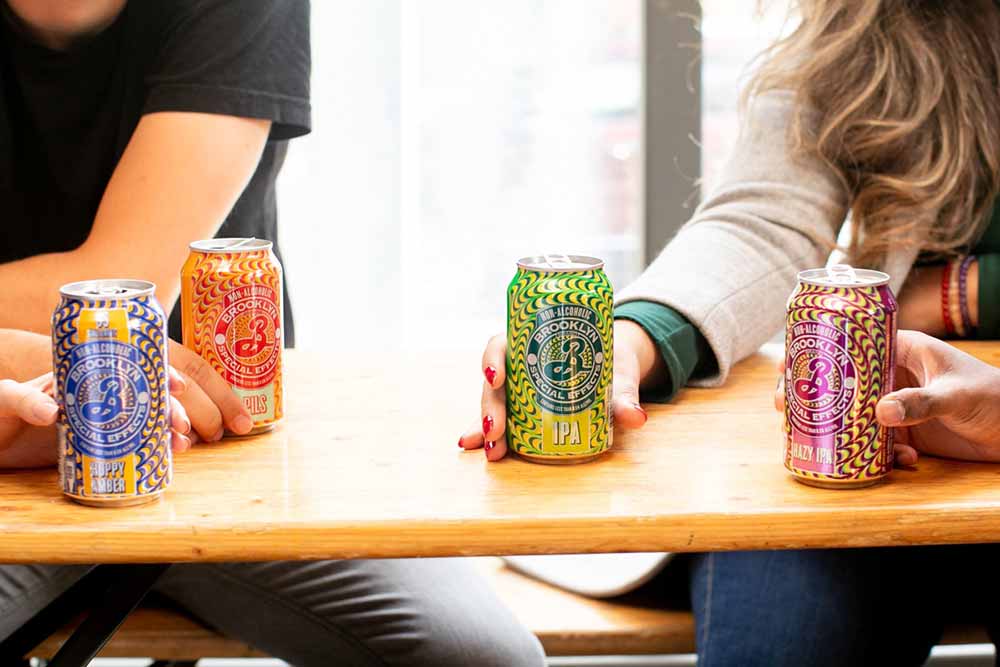 Despite a rocky start, non-alcoholic beer has started to experience a cultural shift in America. This has mostly been driven by Millennials and Gen Z'ers who desire to live a healthier lifestyle.
According to a recent poll from Morning Consult and YouGov, fifteen percent of Americans reported they abstained from alcohol in January 2021. Taking a break from booze in the first month of the year has become known as Dry January, a term first coined by a group in London in 2013.
But overall, even outside of January, Americans have been embracing a "sober-curious" movement. One that includes cutting back on alcohol consumption.
As a result, non-alcoholic beer has become a great way for folks looking to dial back their drinking. Or those aiming for a healthier alternative.
And American brands have noticed, especially those solely dedicated to producing non-alcoholic beer.
Non-Alcoholic Only Breweries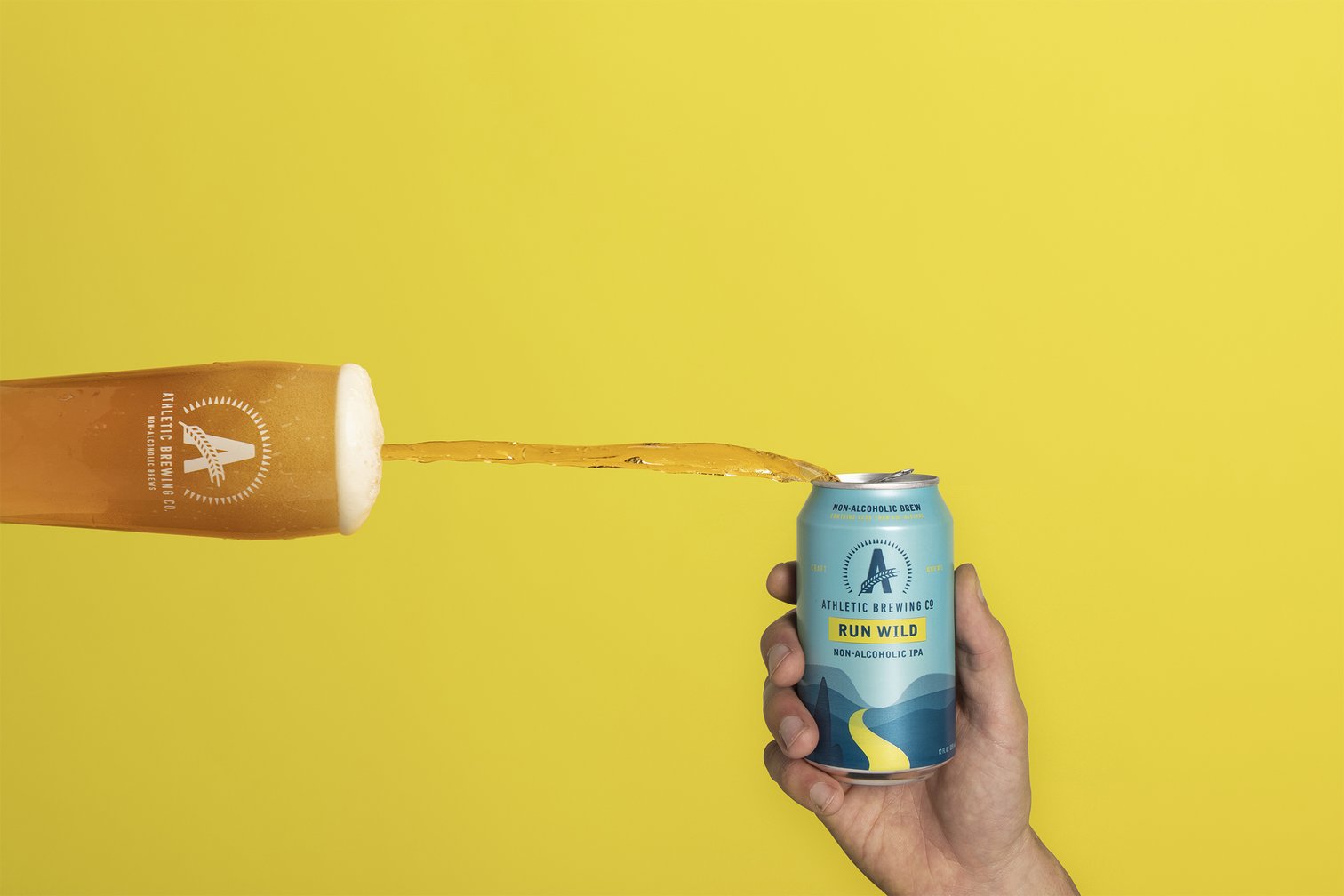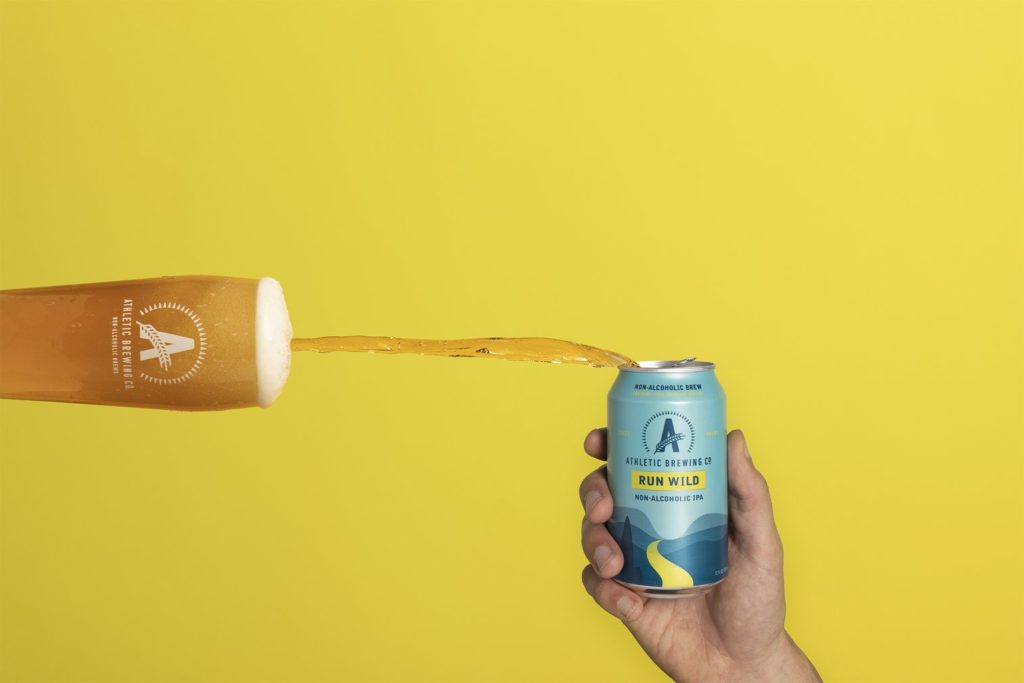 Athletic Brewing Co., one of the most well-known completely NA breweries, has created several award-winning craft non-alcoholic options.
"We wanted to break out of the cycle and make [non-alcoholic] beer something people were super excited about," says Shufelt. "We use almost all organic malts, a great blend of hops, and I also think that there has never been anyone else as talented as John [Walker] and our brewing team focusing on it."
As a result, Athletic Brewing has a diverse lineup of offerings, from its flagship Run Wild IPA to its All Out Stout to more creative one-offs such as Thai IPA with Coconut and Athletic ESB. And they're all alcohol-free.
So far, the response from consumers has been positive.
In fact, last year Athletic Brewing outgrew its 10,000-barrel space in Connecticut, opening a new facility in a former Ballast Point space in San Diego, CA.
Other NA-Only Brands Follow Suit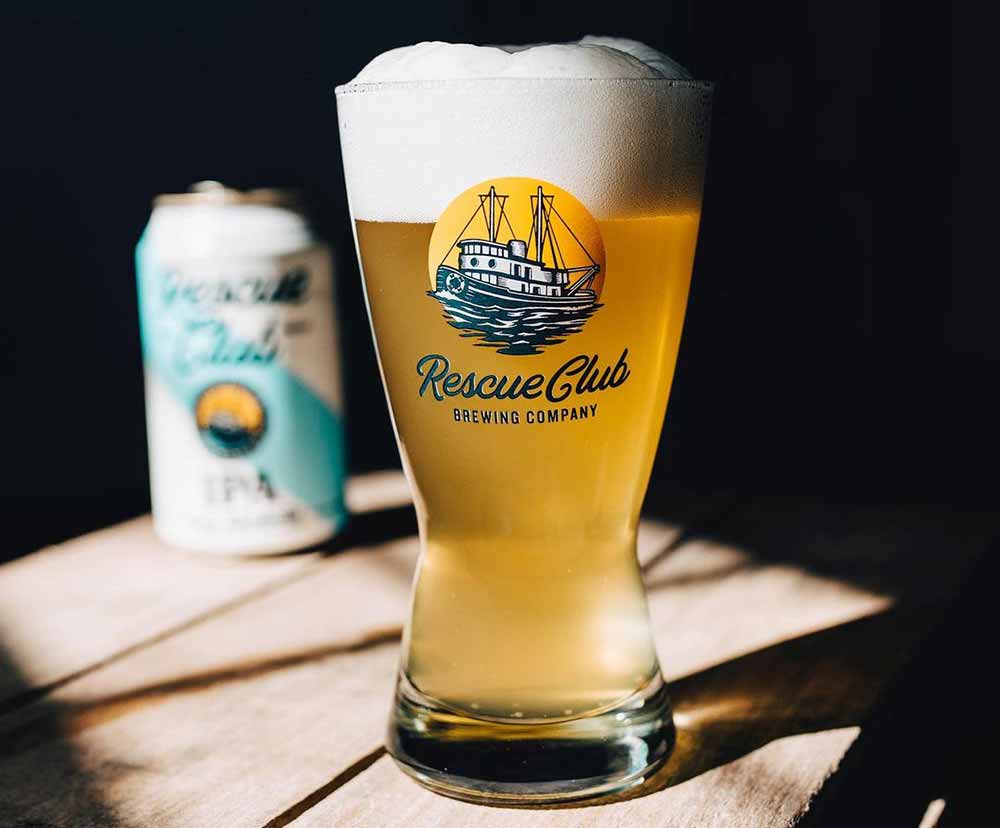 In January 2021, Rescue Club launched as an NA-only brewery. A project between Zero Gravity Craft Brewery in Burlington, VT and former Citizen Cider Co-Founder Kris Nelson, Rescue Club strives to make high-quality, craft non-alcoholic beer.
Launching with a flagship Non-Alcoholic IPA, Rescue Club was "founded with the intention of changing the conversation about non-alcoholic beer."
"We want to chart our own course," says Nelson, current Co-Founder and Director of Sales for Rescue Club. "When people think of the best quality NA IPA, we want to be a part of that conversation."
As a brand, Zero Gravity prides itself on making beer for everyone.
"Our philosophy is, we want everyone to have a reason to come and have a good time with us," says Katie Palatucci, Director of Marketing at Zero Gravity.
With that in mind, the brewery realized they were excluding a part of their community that didn't consume alcohol. But, instead of remedying the problem with a single NA SKU, the team decided to create an entirely new brand.
The magic of Rescue Club's flagship beer is that you can drink one, two, or even three anywhere, at any time of the day, without getting a buzz.
"I call it my Sunday beer," says Palatucci. "I love drinking beer, but I don't like partying on Sundays. With Rescue Club, I can crack one to watch the game, have a couple outdoors with the sun shining in beautiful Vermont, or drink after a workout."
Other notable North American non-alcoholic breweries that have popped-up on the radar include: WellBeing Brewing, Surreal Brewing Company, Partake Brewing, and Bravus Brewing Company.
But more established American brands are also dipping their toes in the NA pool.
Brooklyn Brewery Releases Special Effects Non-Alcoholic Beer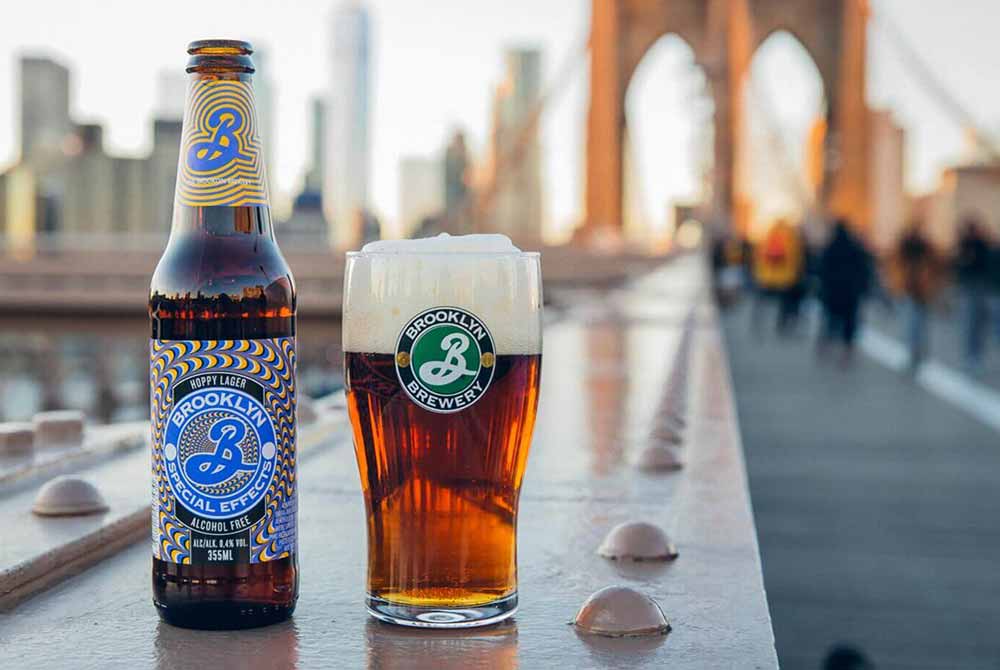 One of the first to release a non-alcoholic line here in the United States, Brooklyn Brewery set the tone for the potential of the NA category.
Ottoway says spending time doing business in Europe while experiencing the normal culture of drinking non-alcoholic beer inspired his team.
"Going to after work drinks with colleagues they would either go home, drop off the car, and meet you for drinks or they would come to the bar with you and drink non-alcoholic beer. And nobody seemed to think that was abnormal," says Ottoway. "We saw an opportunity to give craft beers fans an opportunity to enjoy the taste and flavor they love without the alcohol."
Brooklyn Brewery debuted Special Effects in Sweden on Dec. 1st, 2018. The hoppy lager contained just 0.4% ABV, but huge flavor from a blend of pale, caramel, and dark roasted Munich malts. Plus, an intense hop character from dry-hopping with Mosaic, Citra, and Amarillo hops.
"Our goal is for Special Effects to allow you to do more without having to compromise," says Ottoway. "It used to be that flavor came with alcohol, so enjoying one meant having to deal with the other. That's great for many occasions, but when you don't want alcohol to be part of the equation, we want to give you the opportunity to still enjoy your favorite beverage. Do more, your way, on more occasions. Now, you can have your beer and drink it too."
It's a philosophy other major brands have picked up on.
More Big Craft Breweries Start Brewing Non-Alcoholic Beer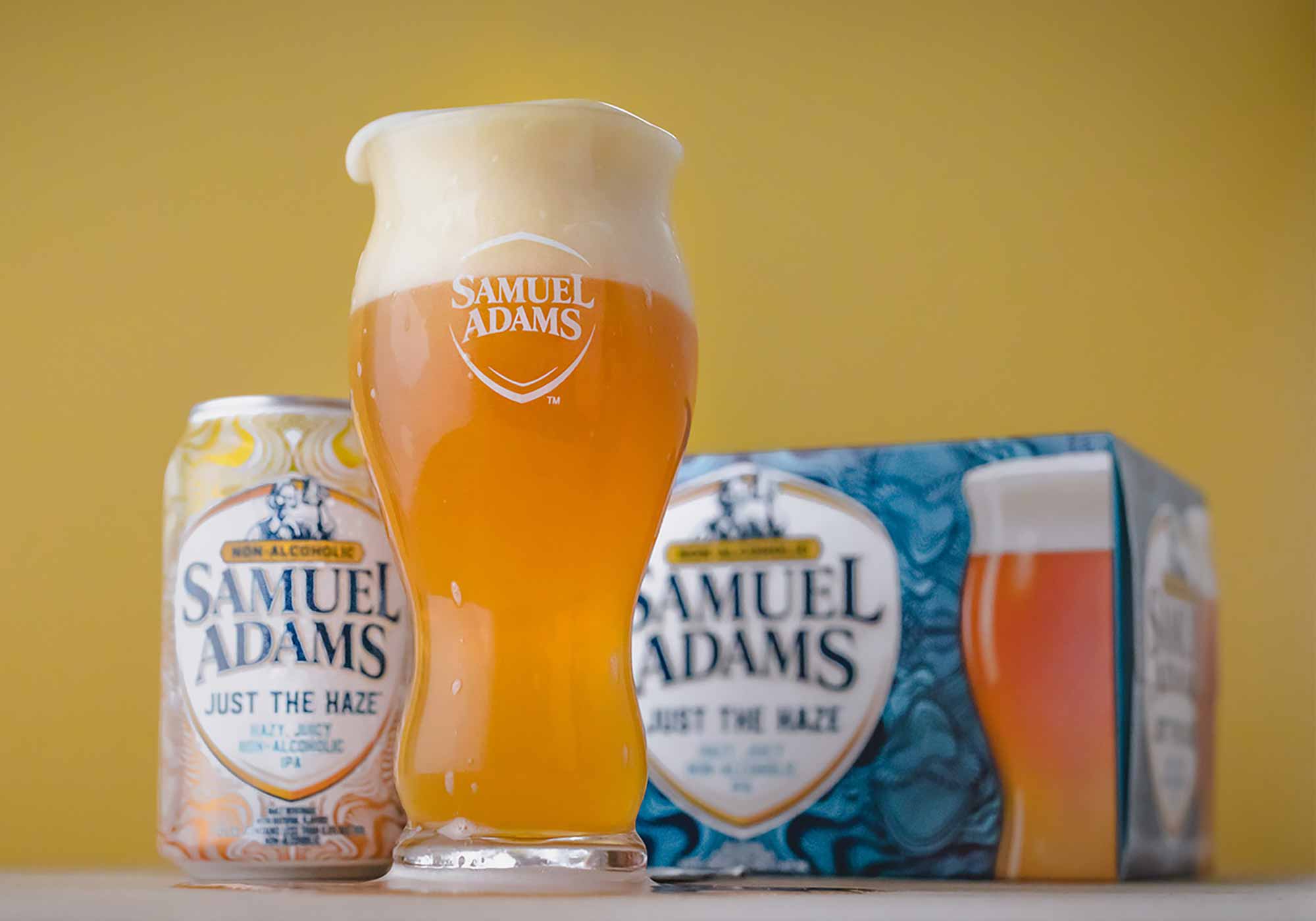 Boston Beer Company launched Samuel Adams NA beer Just The Haze at the end of 2020 after two years of development. The non-alcoholic hazy IPA gives consumers transparency and allows them to drink one or two during the day without feeling guilty.
"We see Just The Haze as fitting into a beer drinker's life as a pacer beer, not sacrificing flavor or experience during a beer drinking occasion," says Jim Koch, founder of Boston Beer Company. "It is a triumph of brewing technology and the brewer's art… We're defying the expectations and preconceived notions that come with yesterday's nonalcoholic beer."
Similarly, last May, Dogfish Head released its non-alcoholic wheat beer, Lemon Quest. Billed as a refreshing, active lifestyle-oriented, non-alcoholic alternative, Lemon Quest has real lemon puree, blueberry juice, acai berries, monk fruit, sea salt, and Hopsteiner Polyphenol-Rich Hop Pellets™. The beer clocks in at only 0.5% ABV and ninety calories per 12oz can.
What Is the Future of Non-Alcoholic Beer?
The future of non-alcoholic beer comes down to one word: innovation.
Breweries focused solely on non-alcoholic beers continue to expand their portfolios. We've seen the styles of NA beer that include hazy IPAs, pale ales, blonde ales, wheat ales, kölschs, stouts, adjunct stouts, porters, and more.
Big breweries are also slowly growing their NA lineups.
So far, Brooklyn Brewery's Special Effects series has experienced success. According to Ottoway, Brooklyn Brewery's NA beers globally are now north of fourteen percent of the brewery's sales.
Based on the growth of Special Effects, Brooklyn Brewery announced two new additions to the series last month: Special Effects Pils and Special Effects Hazy IPA. Both new NA beers will be available alongside Special Effects Hoppy Amber and Special Effects IPA in the new Special Effects Variety Pack.
"We seem to have struck the right note," says Ottoway.
Our Favorite Non-Alcoholic Beers to Try Right Now
Read the entire list of our seventeen best non-alcoholic beers to try right now. But to get you started, here are five of our favorites.
Special Effects Pils – Brooklyn Brewery
Brooklyn, NY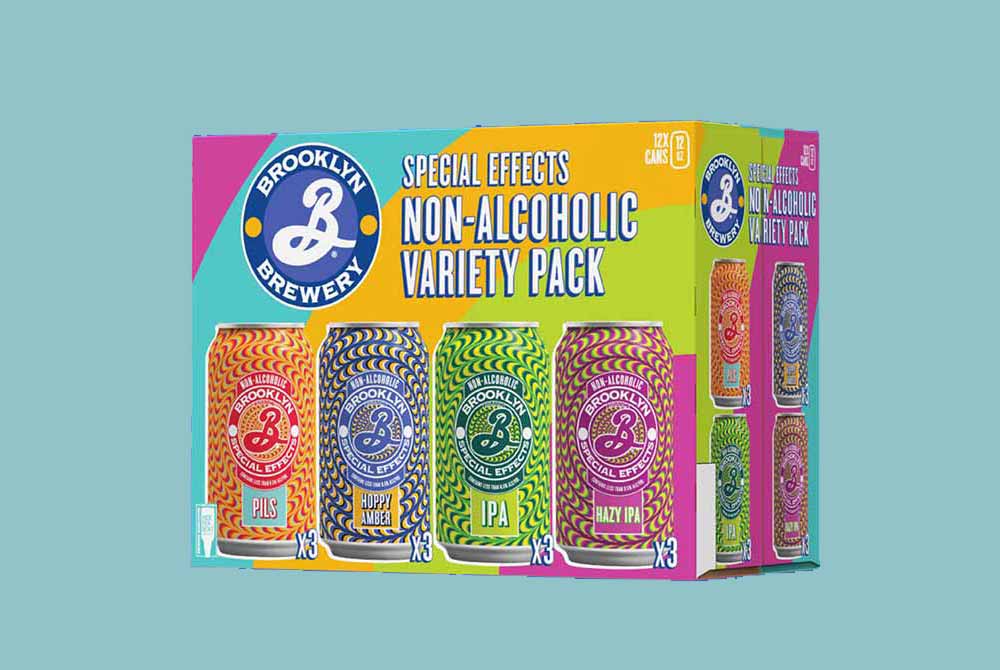 Pilsner – "With Special Effects Pils you'll get aromas of wildflowers and a wisp of toast, with a distinct snappy freshness, and in taste, a refreshing pop of clean hops and gentle honey sweetness," says Ottoway. Special Effects Pils at the moment will only be available in the Special Effects Variety Pack.
All Out Stout — Athletic Brewing Company
Stratford, CT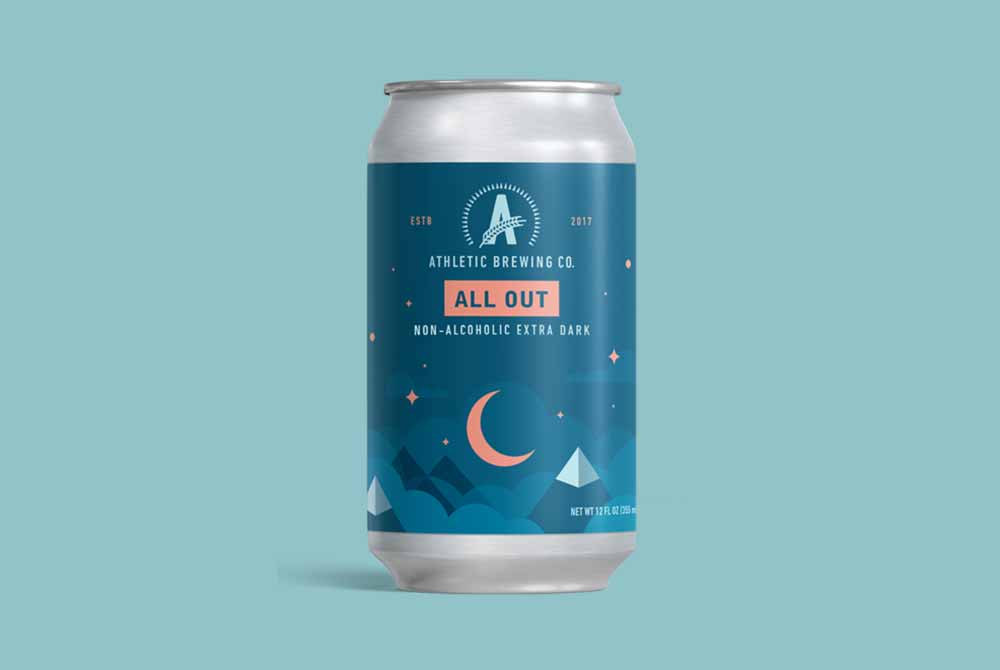 Stout – One of the pioneers of the non-alcoholic beer movement here in the U.S., Athletic Brewing Company is making NA beer cool. This all-NA brewery offers one of the most diverse lineups including everything from standard IPAs to an experimental Thai IPA with coconut. But since we're in winter, we're kicking off our list with the All Out Stout.
Plenty of roasted espresso beans and bittersweet chocolate notes dominate here. This is the type of beer you drink around the fire after a day of skiing. As the brewery writes on its website, "Don't hibernate this winter. Go All Out!"
Samuel Adams Just The Haze — Boston Beer Company
Boston, MA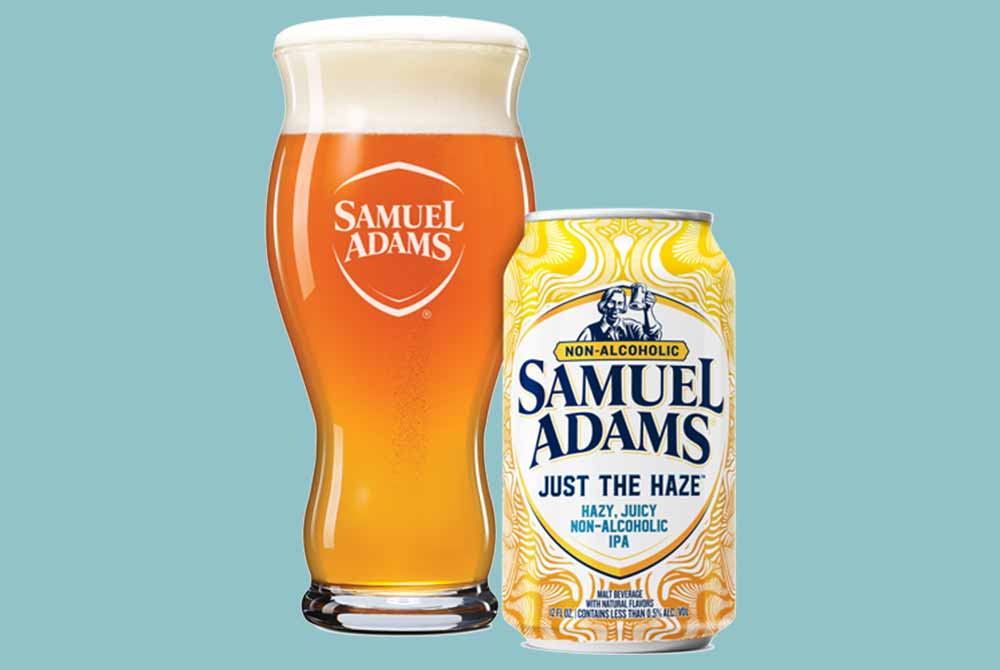 Hazy IPA – Last spring, Boston Beer Company launched Samuel Adams Just The Haze, a juicy, cloudy, hazy non-alcoholic IPA that you should start rotating into your drinking days.
"We're defying the expectations and preconceived notions that come with yesterday's nonalcoholic beer," says Jim Koch, founder of Boston Beer Company. "We see Just The Haze as fitting into a beer drinker's life as a pacer beer, not sacrificing flavor or experience during a beer-drinking occasion."
Citra, Mosaic, Sabro, and Cascade hops give this one an extra squeeze of juice. Expect big, bold hops complemented by perfect punches of citrus fruits.
IPA — Rescue Club Brewing Co.
Burlington, VT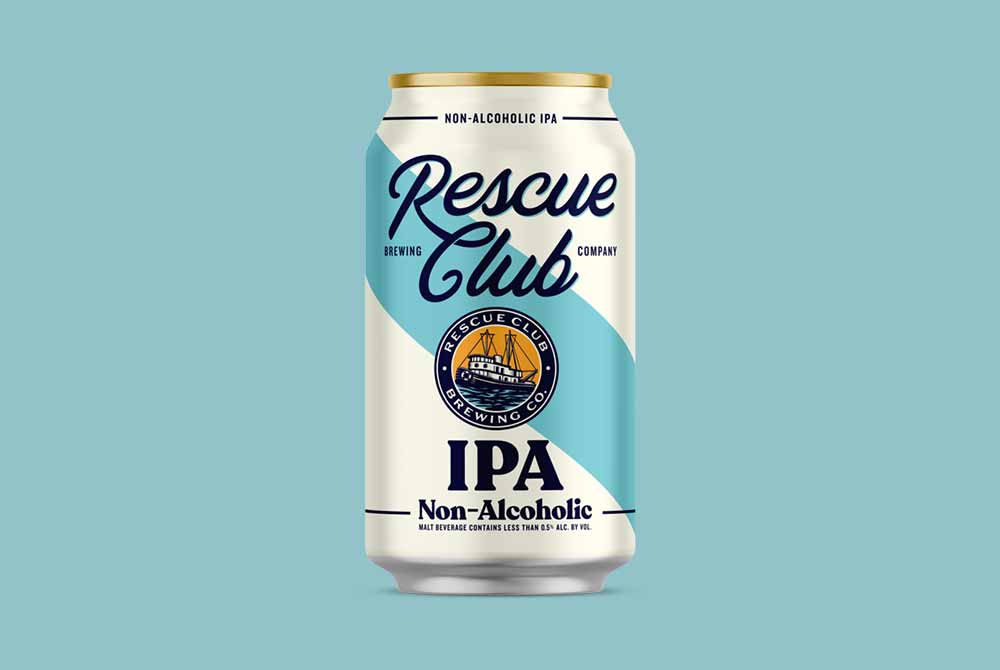 IPA – Rescue Club launched with the mantra, "It's not the alcohol that makes the party, but the people."
So far the brewery has only released a pilsner and an IPA, meaning it's one pretty magical NA IPA. "Being in New England, if you can make that quality IPA without alcohol, that's a beautiful place to be," says Nelson. "It was important we nail this one first and have this be our flagship."
In our opinion, Rescue Club's Non-Alcoholic IPA hits all the right notes without sacrificing flavor. Pouring with a nice, approachable haze, the Non-Alcoholic IPA has a structure just north of a pale ale, but with the bitterness and hop characteristics of an IPA. The beer features Motueka and Citra hops and exudes big, beautiful citrus and tropical fruit notes without tipping the scales on sweetness.
Rescue Club wants to prove that you don't necessarily need alcohol to have a good time. You can still make memories and have fun even with a non-alcoholic beer. So far, they're on the right track.
Breakfast Dark — Bravus Brewing Company
Newport Beach, CA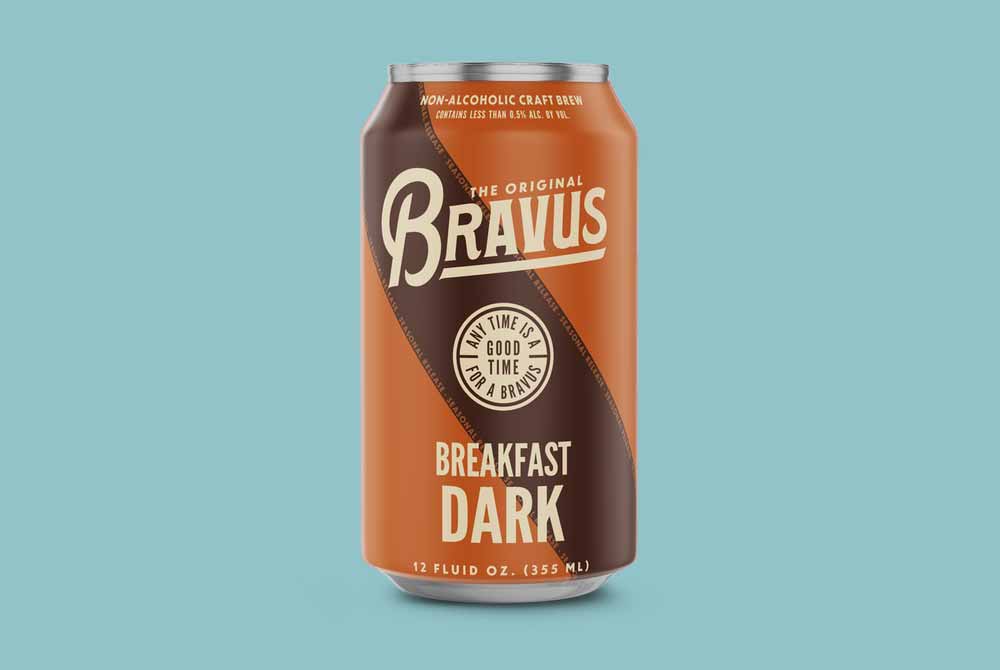 Stout – Bravus Brewing Breakfast Darks makes us happy in so many ways. Brandes takes his award-winning Oatmeal Stout recipe and kicks it up with the additions of coffee, chocolate, and cinnamon.
As a result, Breakfast Dark turns out like the ultimate cup of hot cocoa. Just a touch maltier and a scoosh more caffeinated. A gold winner at the 2020 U.S Open of Beer, Breakfast Dark could be considered the breakfast of champions in a can.
And at only 0.5% ABV, you could probably enjoy one in the morning!