Photography courtesy of @athleticbrewing | Athletic Brewing Co.
At this point, non-alcoholic beer isn't just another trend. In 2021, the non-alcoholic beer market in the United States recorded a revenue of nearly five billion U.S. dollars. And the non-alcoholic beer industry generated 25.28 billion U.S. dollars in revenue globally, according to Statista.
And Drizly reports that the share for non-alcoholic beer increased by forty-one percent as of the end of October 2022 with NA sales growing an incredible 200+ percent year over year and the number of NA products offered increasing +70 percent to 120 in the Drizly catalog.
Without a doubt, the non-alcoholic segment is growing in the U.S. to match a phenomenon that's already commonplace in Europe.
More and more American craft breweries are creating their own non-alcoholic beers. Also NA brands such as Athletic and RationAle (one of our "11 Best Breweries to Watch in 2023 and a 2022 Brewbound Pitch Slam Competition finalist) are dominating the marketplace.
Have you seen the headlines lately?
"RationAle Brewing Encourages a 'Wet January,' Fueled by Free Six-Packs of its Non-Alcoholic Craft Beer to Moderate Your Boozing in the New Year"
"Keurig Dr Pepper Invests $50 Million in Athletic Brewing Company, Takes Minority Stake in Non-Alc Beer Maker"
"Athletic Brewing to Invest 7 Figures in Media Behind 'Give Dry a Try' Campaign This January"
The Non-alcoholic beer segment deserves and demands your attention.
So during Dry January, or as RationAle is calling it, "Wet January," we're giving NA beer its due.
Below you'll find a ranking of our favorite non-alcoholic beers you can find in a store near you.
Hop Culture's Picks for the 10 Best Double IPAs Available in Most Stores Right Now
Athletic Brewing Co. Wit's Peak
Stratford, CT
Witbier – When it comes to non-alcoholic beer in the United States, Athletic Brewing is king, president, and pop culture icon. In just around five years, Athletic has gone from producing 12,000 cases in 2018 to over 1.4 million in 2021, making it the twenty-seventh largest craft brewery in the U.S. (Brewers Association), won over forty awards, and drove thirty-nine percent of the total non-alcohol beer category growth, according to a press release.
This past summer, the NA brewery announced the opening of a new facility in Connecticut that will be the largest non-alcoholic beer making facility in the world, capable of producing six million cases annually.
Athletic Brewing has sent me several packages of non-alcoholic beer this year. And while I've enjoyed everything from the traditional Run Wild IPA and Upside Dawn Golden to the more experimental First Ride extra dark with coffee and Superfood Swell IPA, I have to say that my favorite has been Wit's Peak.
Considered a non-alcoholic witbier, Wit's Peak features huge bursts of citrus and coriander for a light-bodied beer that went well after a workout, with anything I made for dinner, or even during a marathon writing streak.
But truly, any Athletic beer is going to hit the mark.
Currently, Athletic ships to every state except for Michigan, South Carolina, Nebraska, Kansas, Idaho, Mississippi, and Georgia due to state regulations. You can also find Athletic in on- and off-premise retail establishments in more than forty states in addition to availability in Australia, Canada, and the United Kingdom. Use Athletic's Where to Find Us page to locate an Athletic beer near you.
RationAle West Coast IPA
San Diego, CA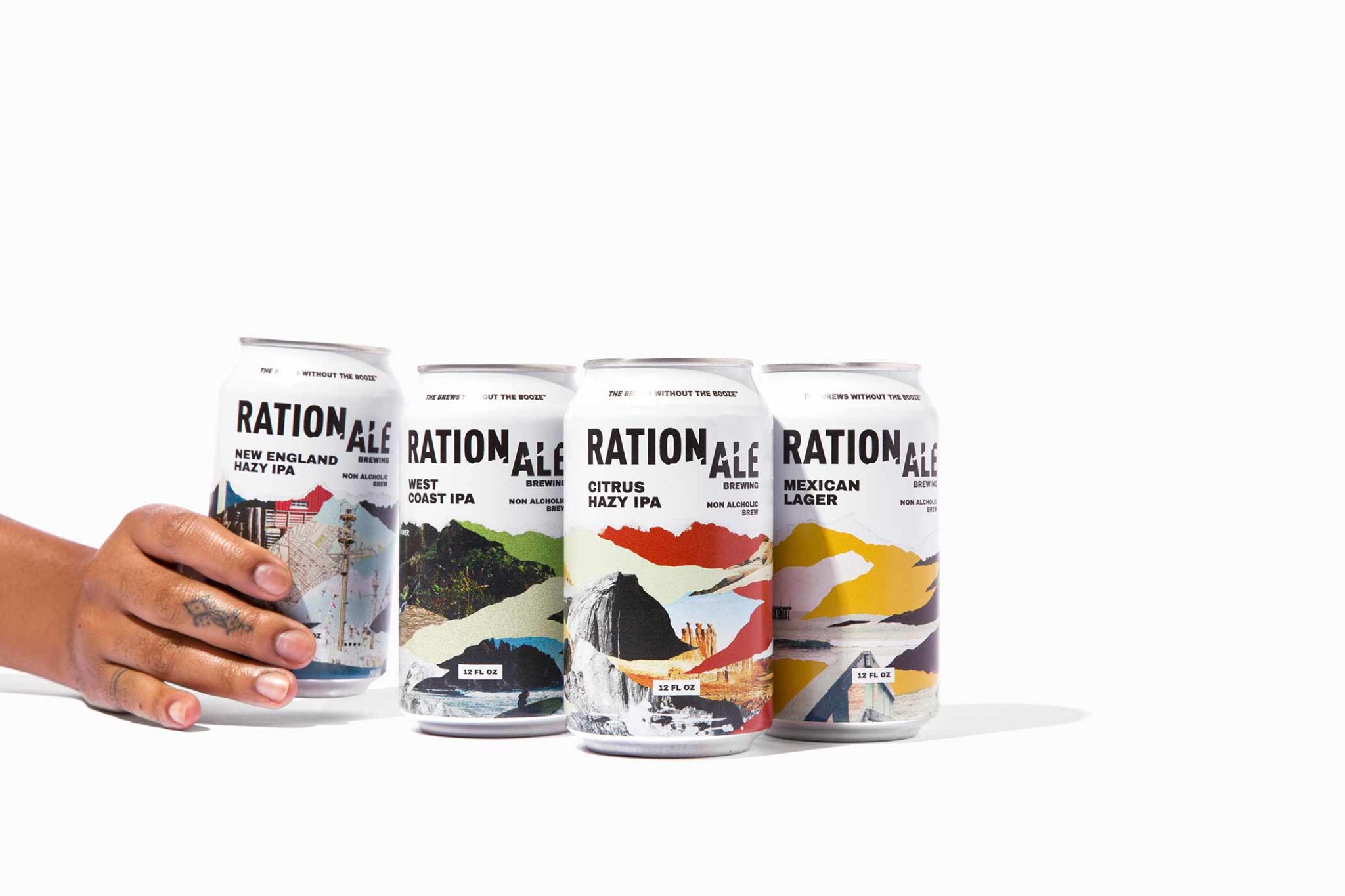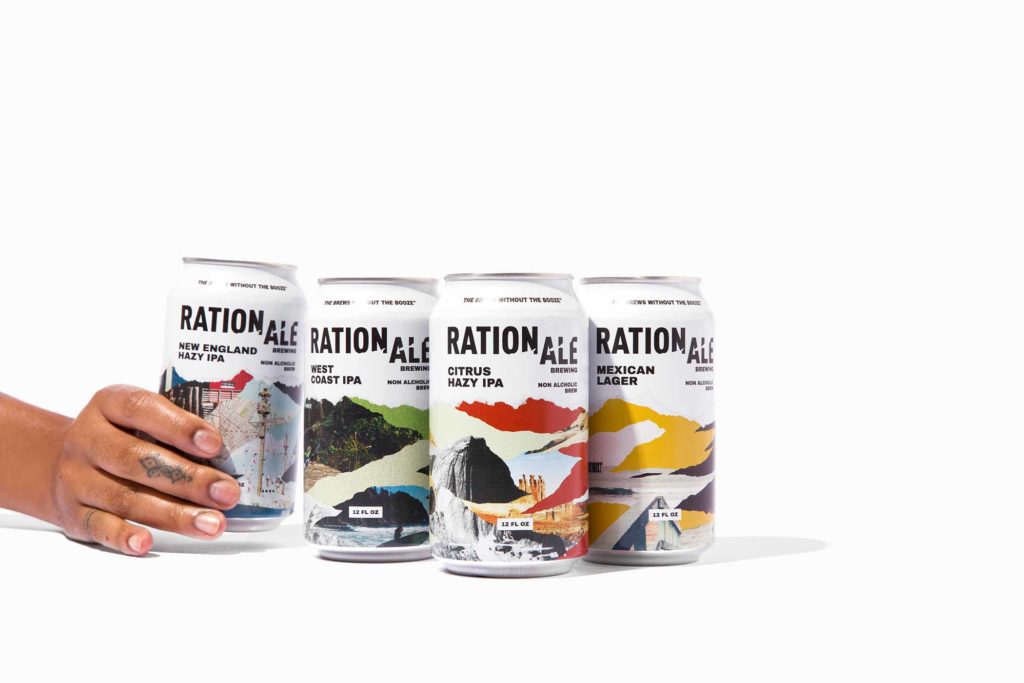 West Coast IPA – A finalist in the 2022 Brewbound Live Pitch Slam competition, RationAle does one thing really well: non-alcoholic beer.
RationAle Founder Jamie Fay started an NA beer brand after talking with his sons about a healthy drinking lifestyle.
One word kept coming up: rational.
Today, RationAle features four styles of non-alcoholic beer. For instance, a Citrus Hazy IPA, Mexican Lager, West Coast IPA, and New England Hazy IPA.
We've had the chance to try three out of the four styles. While each brims with flavor, a smooth mouthfeel, and a crisp finish, we particularly enjoyed the West Coast IPA.
Which tracks considering it's the non-alcoholic beer Fay is most proud of. It took five different batches and five months to nail this recipe. But the work has paid off.
"I will tell you right now the West Coast IPA that we packaged in December is frickn' off the charts; I flipped out when I tried it because it is so good," says Fay. "It has the nose of a West coast IPA, it has the dankness of a West Coast IPA, and it has the hop structure and finish of a piney…West Coast IPA.
Getting those predominant bright, bold notes characterized by a West Coast style can be difficult in a non-alcoholic beer, but RationAle just nails it.
"It's all about balanced notes of dankness, pine, a small amount of Citra, and a really clean hop finish," says Fay.
Overall, we'd describe all of RationAle's styles as crushable and quaffable, but the West Coast IPA really blew us away. Mostly because, this isn't usually a style you can drink more than one or two of without blowing out your palate, but with RationAle's non-alcoholic version, you could crush an entire 6-pack.
Aided by partnerships with Karl Strauss Brewing Company, Breakthru Beverage Group, Bigfoot Beverages, and Maletis Beverage, RationAle has grown quickly since entering the market in 2021.
Currently, you can find RationAle in on-premise partners throughout California, Arizona, Nevada, Colorado, and now Oregon, including Whole Foods Market, Erewhon Market, Mollie Stone's, Olivers, Lassen's, and Seaside Market. Use RationAle's Store Locator to locate a RationAle beer near you.
But if you're really looking for the deal of the new year take advantage of RationAle's By Your Friend a Beer campaign. From now until the end of January, buy one six pack of RationAle and get one free. Yes, seriously! It's all a part of the brewery's goal to encourage mainstream and craft beer consumers to drink in moderation and enjoy doing so with a craft selection.
GET YOUR FREE SIX PACK HERE WITH CODE BYFAB
Two Roads Non-Alcoholic Juicy IPA
Stratford, CT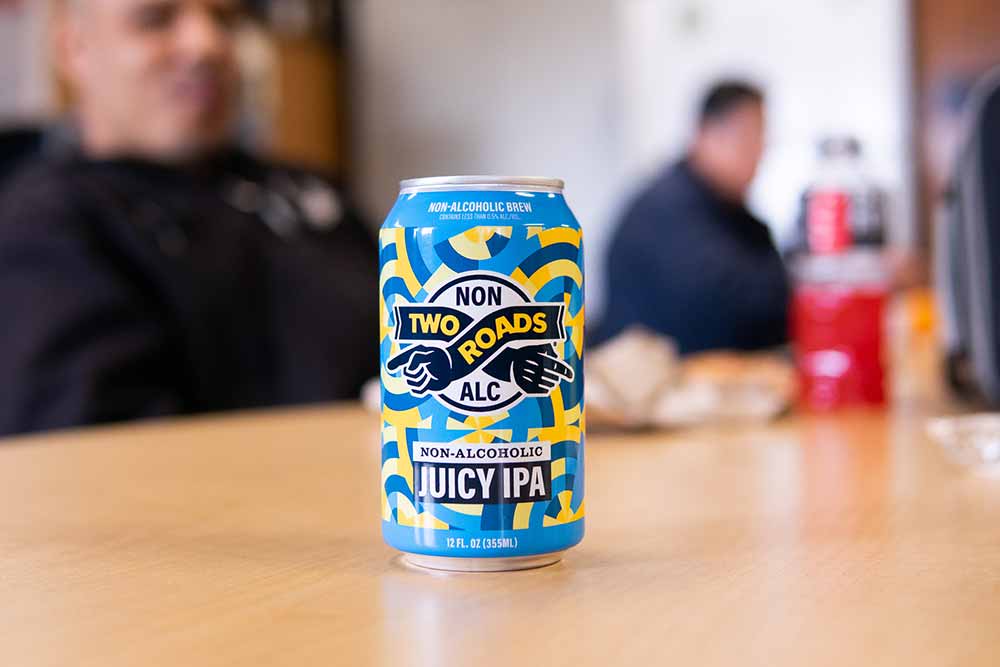 Hazy – Launched in April 2022, Two Roads Non-Alcoholic Juicy IPA hits only seventy calories on the road less traveled. Following Two Roads' ethos for innovative, unique beers, this non-alcoholic version brims with juice. Bolstered by the brainwaves of Two Roads Master Brewer Phil Markowski, Two Roads' line of non-alcoholic beers gets the same attention as all other Two Roads beers.
It's that dedication from such a talented brewer that sets Two Roads' version apart.
In a press release, Markowski noted that, "developing an NA beer has been one of the more interesting challenges in my brewing career. We'd already built a successful line of traditional, juicy IPAs, including Two Juicy, one of the most highly rated beers of this style, so the bar was set high in terms of nailing an NA. After about 18 months of trial and error, I love where we've arrived. We have a flavorful, authentic-tasting juicy IPA that is non-alcoholic but drinks like any of our other traditional juicy IPA products."
Well, we'd say mission accomplished, Phil!
We kind of consider this the non-alcoholic beer all brewers love. And you will too.
Two Roads currently distributes in twelve states including CO, CT, DE, MA, ME, NH, NJ, NY, PA, RI, VT, and VA and the UK. Use Two Roads Product Finder page to nab a Non-Alc Juicy IPA in your neighborhood.
Southern Grist Brewing Co. Company Pils
Nashville, TN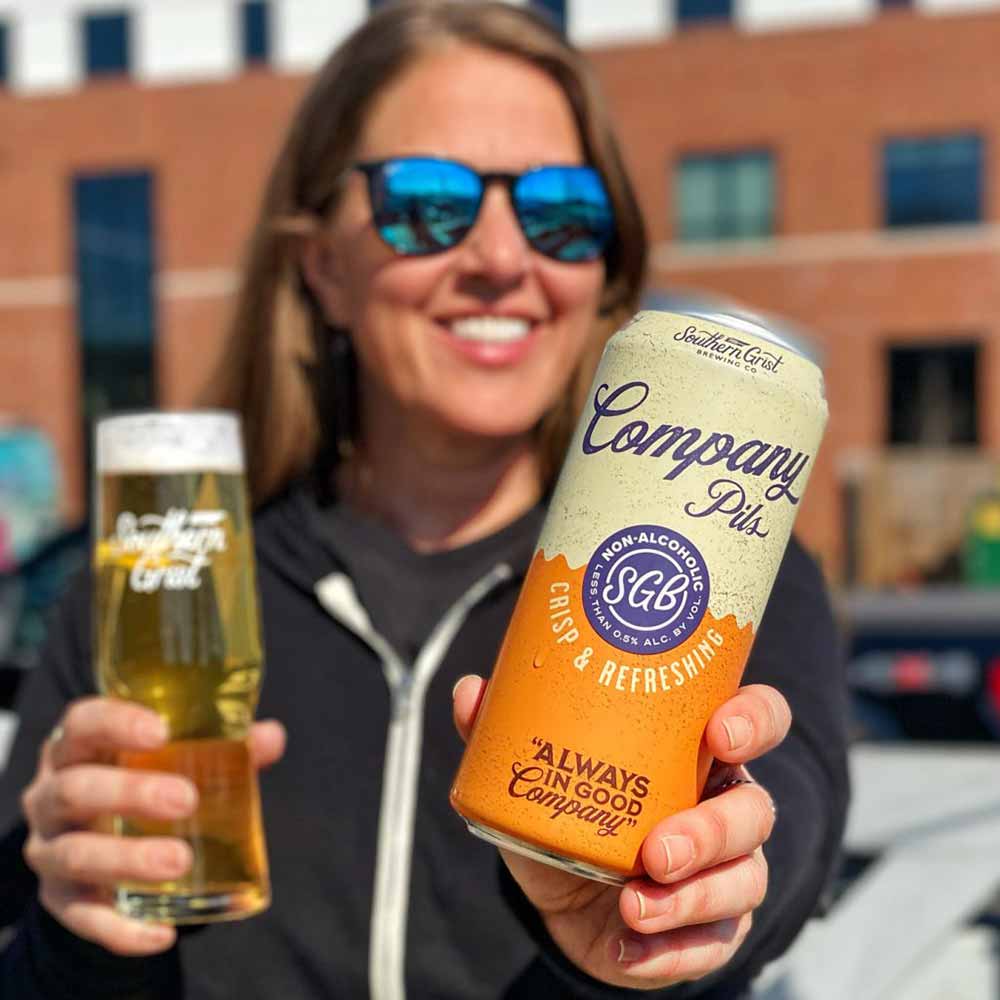 Pilsner – Last April, Southern Grist released Nashville's first-ever line of non-alcoholic beers. The brewery, known for its Southern hospitality and inventive beers, kept the same boundary-pushing approach to its Non-alcoholic beers.
"We recognized we could apply the same distinct approach to the non-alcoholic sector without abandoning our brand. We knew that with our experimental and unique approach to brewing, producing brews, we'd be up for the challenge," says Jared Welsh, co-owner and production manager at Southern Grist.
Starting with a non-alcoholic fruited sour called Parallel, Southern Grist expanded to include Company Pils and Beacon Juicy IPA.
And while Parallel is fantastic, even winning the Bronze Award for Non-Alcoholic Beer at the 2022 World Beer Cup, we're really digging their Company Pils.
Hopped with Mandarina Bavaria and Crystal hops, Company Pils drinks like a great lager, crisp, refreshing, and clean.
Look, you know we love lagers. So finding a quality NA version is right up our alley.
Plus, you can ship the Company Pils right to your door in all of the lower forty-eight states.
Have Southern Grist's Company Pils shipped to your door here.
Best Day Brewing Kölsch
Sausalito, CA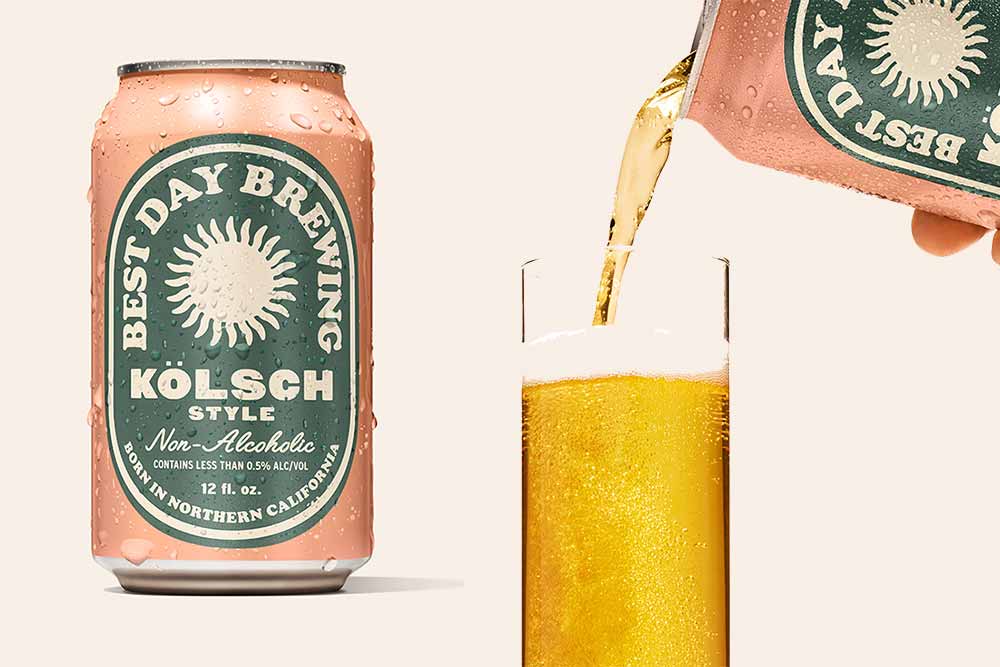 Kölsch – Best Day is another completely non-alcoholic-dedicated brand. Inspired by the ethos "Best Day Yet," this NA brewery crafts a lineup of three very tasty NA beers, including a kölsch, West Coast IPA, and hazy IPA.
This is a non-alcoholic beer made for people who like to get outdoors, do things, hit the trailhead, climb the mountain, shred the gnar, catch that wave… We think you get the idea.
Personally, we favor the kölsch. Can you tell that we like lagers? Super crushable, easy drinking, and thirst quenching, Best Day's kölsch features a combination of Cologne and Pilsner malts along with Hallertau hops for a traditional take on a classic German beer. Just without the alcohol.
Currently, you can find Best Day in retailers in seven states including California, Oregon, Washington, Colorado, Idaho, Texas, and Minnesota. You can also buy Best Day online and have it shipped anywhere in the U.S., except for Georgia, Michigan, Mississippi, Kansas, Idaho, and Nebraska due to state regulations. Shop online here or contact Best Day here with your zip code to find a retailer in your area.
Samuel Adams Just The Haze
Boston, MA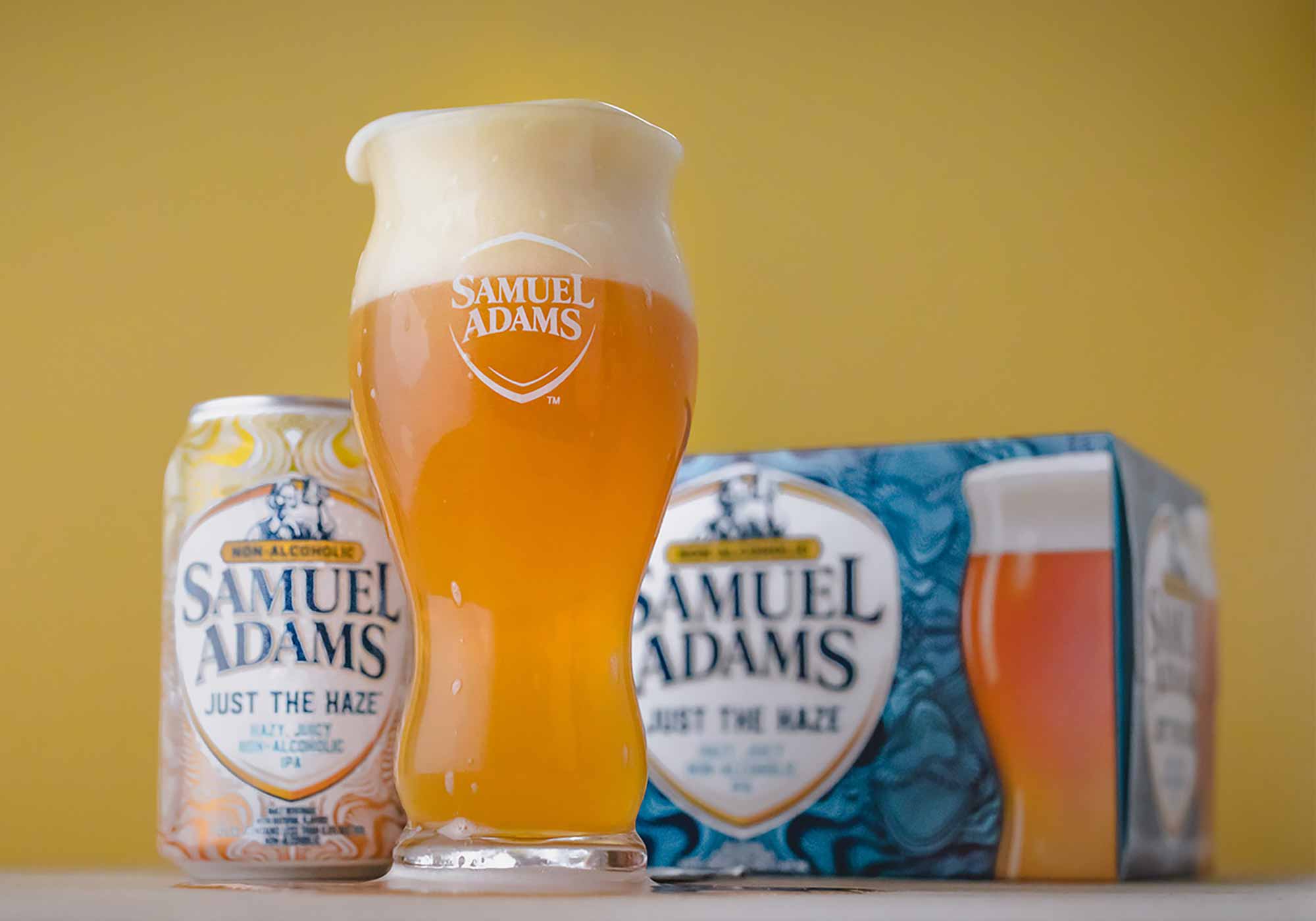 Hazy IPA – In spring 2021, Boston Beer Company launched Samuel Adams Just The Haze, a juicy, cloudy, hazy non-alcoholic IPA that you should start rotating into your drinking days.
"We're defying the expectations and preconceived notions that come with yesterday's non-alcoholic beer," says Jim Koch, founder of Boston Beer Company. "We see Just The Haze as fitting into a beer drinker's life as a pacer beer, not sacrificing flavor or experience during a beer-drinking occasion."
Citra, Mosaic, Sabro, and Cascade hops give this one an extra squeeze of juice. Expect big, bold hops complemented by perfect punches of citrus fruits.

And if you need a little more incentive, Just the Haze picked up a Gold in the Non-Alcohol Beer category at the 2022 Great American Beer Festival (GABF) Awards Ceremony.
You can find Samuel Adams' Just the Haze nationwide. Find one near you here.
Brooklyn Brewery Special Effects Hoppy Amber
Brooklyn, NY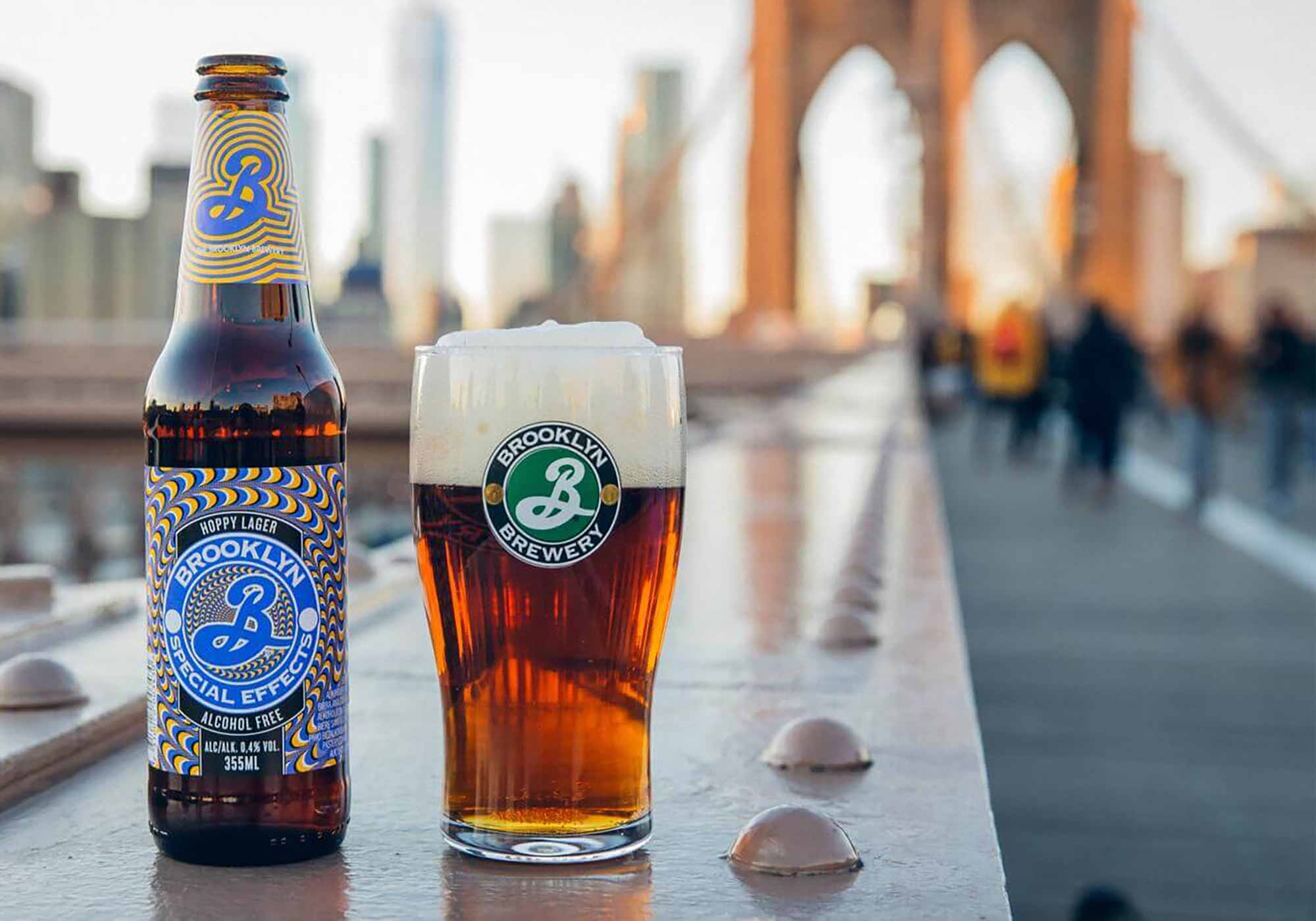 Amber Lager – A bit ahead of the trend here in America, Brooklyn Brewery launched its line of non-alcoholic beers a few years ago with its Hoppy Amber. And while the Brooklyn-based brewery expanded its line to include a pilsner and a hazy IPA last year, we have to say that we love the original.
The award-winning hoppy lager was the first NA beer brewed by Brooklyn Brewery. Pale, caramel, and dark roasted Munich malts give a toasted-bread base that pairs wonderfully with dry-hopping from Mosaic, Citra, and Amarillo hops.
It's a full-bodied, full-flavored beer without the ABV and therein, as the beer bard says, lies the special effect!
All of Brooklyn Brewery's Special Effects beers can be bought directly from their Online Store and shipped to anywhere in the United States.
Dogfish Head Lemon Quest
Milton, DE
Wheat Beer – Dogfish Head joined Brooklyn Brewery and Samuel Adams as major breweries launching NA lines in the past few years. "The biggest trend we are seeing right now is the increase in popularity of 'better-for-you' offerings," says Sam Calagione, founder of Dogfish Head, in a Beverage Dynamics article. "In the last five years, we have seen more and more craft beer lovers—especially those Millennial drinkers—searching for lighter, more sessionable products that seamlessly fit into their active lifestyles."
With that in mind, the 0.5% ABV wheat beer called Lemon Quest gets a dose of lemon puree, blueberry juice, acai berries, monk fruit, and sea salt for a beer best for anyone with an active agenda. This delicious wheat-based non-alcoholic beer pops on all levels. Bright, acidic, and tiny tart notes balance with a beautiful malt foundation. As Dogfish Head's first foray into NA beers, Lemon Quest is the perfect pick-me-up for anyone's low-ABV lifestyle.
You can find Dogfish Head Lemon Quest nationwide. Use Dogfish Head's Fish Finder to locate a Lemon Quest near you.
Lagunitas IPNA
Petaluma, CA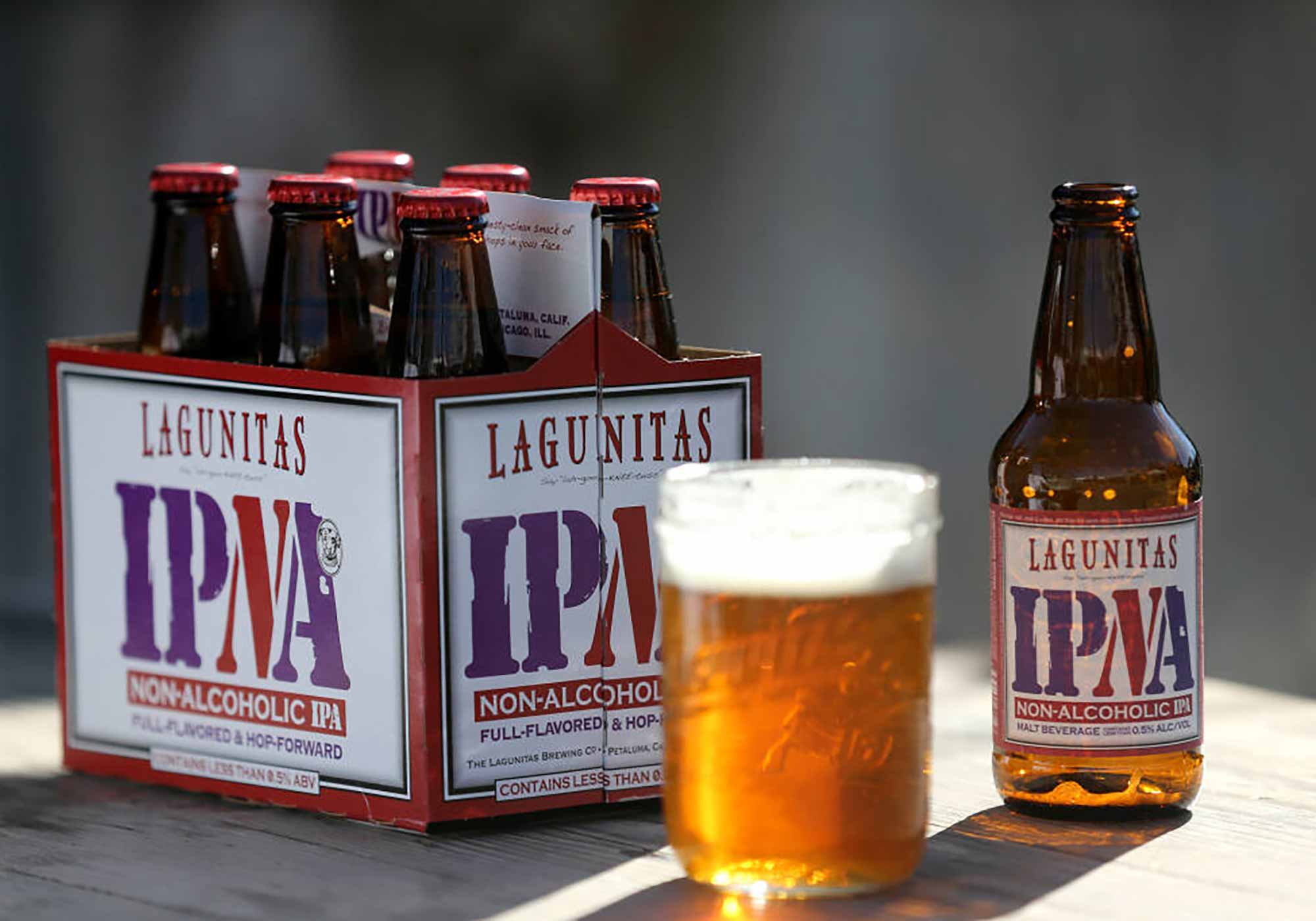 IPA – We all know Lagunitas launched one of the most revolutionary IPAs in American craft beer history in 1995. But Lagunitas also broke boundaries by rolling out Lagunitas IPNA in late 2020. The non-alcoholic version of the brewery's iconic IPA includes Mosaic, Citra, and Columbus hops along with Alberta barley and English crystal malt.
Lagunitas took its time to dial in its non-alcoholic beers, developing the recipe for this one for over a year. This means a flavorful but lighter version of its regular IPA. Expect a very citrusy, piney, resiny, version that clocks in at less than 100 calories and under 0.5% ABV.
You can find Lagunitas IPNA nationwide. Use Lagunitas Brew Finder to locate an IPNA near you.
Surreal Brewing Company Natural Bridges Kölsch
Campbell, CA
Kölsch – Another style we don't often see in the NA category, this kölsch from the award-winning Surreal Brewing Company kills it with a subtle malt backbone and light tropical notes from the hops. A tribute to Natural Bridges State Park, a marine protected reserve in Santa Cruz, this beer won an award for the Best N/A Pale Beer in the World at the 2019 World Beer Awards.
Currently, you can find Surreal through multiple retailers including Whole Foods, Walmart, Hy-Vee Stores, and Total Wine Nationwide. Use Surreal's Find A Store Near You page to locate a Surreal beer near you.
Rick's Near Beer Hazy
Austin, TX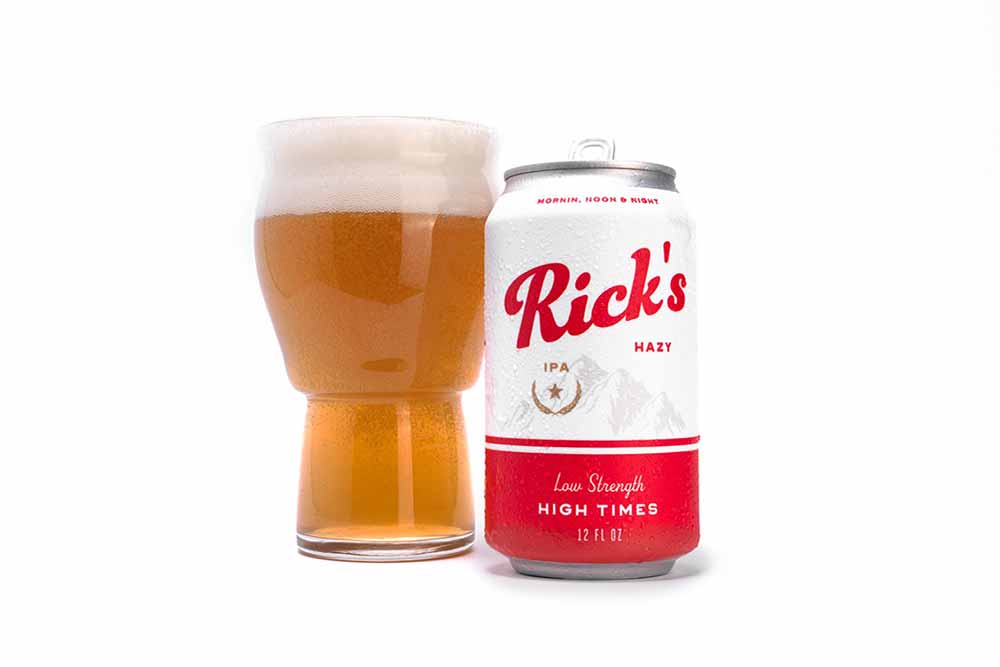 Hazy – "Low Strength, High Times." That's the slogan plastered on every Rick's can that pretty much says it all. Brewed to keep the good times rolling, Rick's Hazy includes top-not ingredients. Such as premium malted barley, flaked wheat, Rocky Mountain water, and heaps of Pacific Northwest hops All contribute to an NA hazy that's clean, hoppy, and very juicy.
Perhaps the newest of all the non-alcoholic-only breweries out there, Rick's Near Beer launched just this past December. Helmed by Certified Cicerone Josh Hare, who also started Hops & Grain Brewing and Pint & Plow Brewing, Rick's Near Beer certainly benefits from someone with a wealth of experience in the industry.
"We're brewing a lineup of beers that can be enjoyed morning, noon, and night," says Hare in a press release. "Rick's Hazy is for every beer lover, whether you're celebrating the New Year with a resolution to cut back on your alcohol intake, or you're looking for a delicious beer to enjoy during happy hour before a commute home after work."
You can find Rick's Near Beer online shipping nationwide here and in retail stores throughout Texas in early 2023.
Honorable Mention
Community Beer Company Nada Non-Alcoholic IPA
Dallas, TX
IPA – This one gets an honorable mention because you can only find it in craft beer stores and bars around Dallas.
Non-alcoholic beers like this one caught our eye because it picked up a Bronze medal in the Non-Alcohol Beer category at the 2022 GABF Awards Ceremony.
Released in spring 2022, Nada comes chock full of Mosaic, Sabro, and Simcoe hops. This non-alcoholic take on an IPA is juicy, flavorful, and pretty damn delicious.
"We're talking no regrets, no guilt, de Nada!" writes Community Beer on its website.
Find out more about where you can get Nada here.