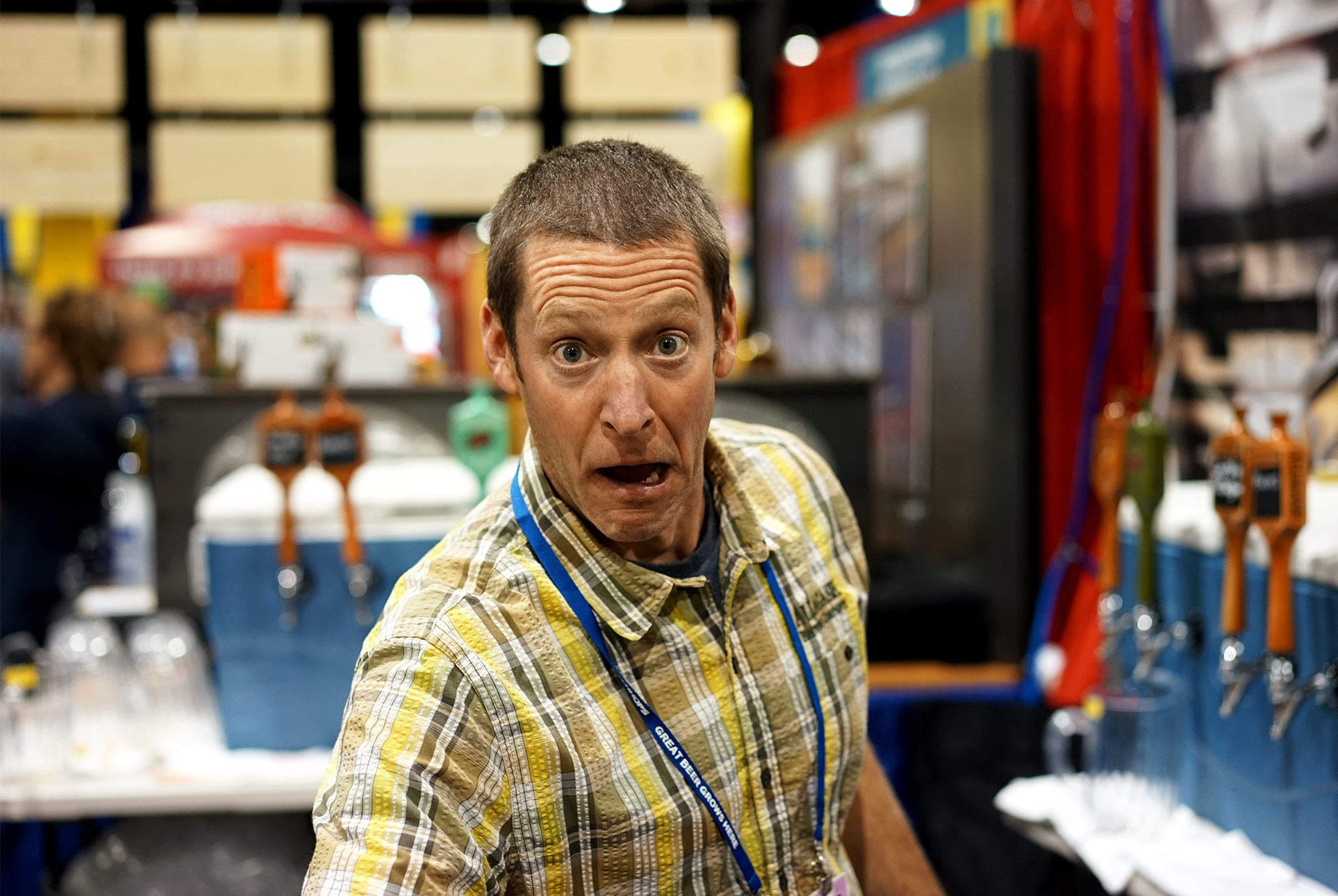 Allagash Brewmaster, Jason Perkins, at this year's GABF
Photography by JTS
When looking over the 2017 Great American Beer Fest entry field and subsequent winners, there's a lot to sort through. For one, the field is huge, but not necessarily stacked. The most coveted and hyped breweries tend to skip the event, preferring to rake in their money through IG followers and can release lines. This leaves a few dozen standouts, and a few hundred unknown breweries trying to bring home a medal and make a name for themselves outside of their taproom loyalists.
With this in mind, what exactly can be gleaned from the biggest award ceremony in American brewing? Take for instance, the Imperial India Pale Ale category. Is it more notable that Danville Brewing, an months-old upstart California brewery took Bronze behind the well-known Ballast Point and Knee Deep Brewing, or that the non-craft Ballast Point won Gold, even with Great Notion and Melvin in the room. (For the record, Manta Ray is worth anyone's time.) What about Night Shift, who has been battling, with varying degrees of success, an increasingly competitive hoppy beer scene in Boston. They showed up and took Silver in the Saison category. The Everett-based brewery has always had a wide section of beer in their massive taproom; maybe 2018 is the year their non-hoppy beers start gathering significant national recognition?
The complete list of winners can be found here. There's much to digest, but I've pointed out five of the more interesting takeaways from the 2017 GABF.
1. Melvin Brewing Co. continues the hype train. Ahead of their expansion into the NYC and California Bay Area markets, scheduled for early 2018, Melvin's Hubert MPA took home Gold for American-Style Strong Pale Ale, Wet Hop Melvin took home Gold for Fresh or Wet Hop Ale, and the brewery itself took home Brewery Group of the Year.
2. Casa Agria Specialty Ales shows up, hard. Located a quick 90 minutes by car west of L.A., Casa Agria hit the scene in 2015 and has been quietly producing hit after hit. This year, their El Sur took home Gold for the Belgian-Style Lambic or Sour Ale, beating out Side Project and Mraz, two heavy hitters with a lot of experience churning out quality brews in this style.
3. Headlands Brewing Co. turns things around.
After launching in 2013 as a gypsy brewers with three beers, one of them a not-a-well-reviewed DIPA, Headlands surprised the field with their newest beer: Wolfback Ridge IPA. Taking Silver, and sandwiched between two noteable, hop-loving breweries, Melvin and Breakside, Headlands officially became yet another brewery to watch out for near San Francisco.
4. On Tour is growing momentum. The less-than-one-year-old, Chicago-based brewery took home Gold and Silver in the Bock and German-Style Doppelbock or Eisbock categories respectively, as well as Very Small Brewing Company of the Year. The brewery offers a wide section of beers; let's see if they find their niche as they grow.
5. The South can add Carolina Bauernhaus to its repertoire. There's a dearth of great beer in the South, but with Carolina Bauernhaus beating out the masters at Black Project to take home Gold in the Experimental Beers category, there's hope yet for South Carolina's beer scene. That is, if you want to drink more than just Westbrook and COAST.