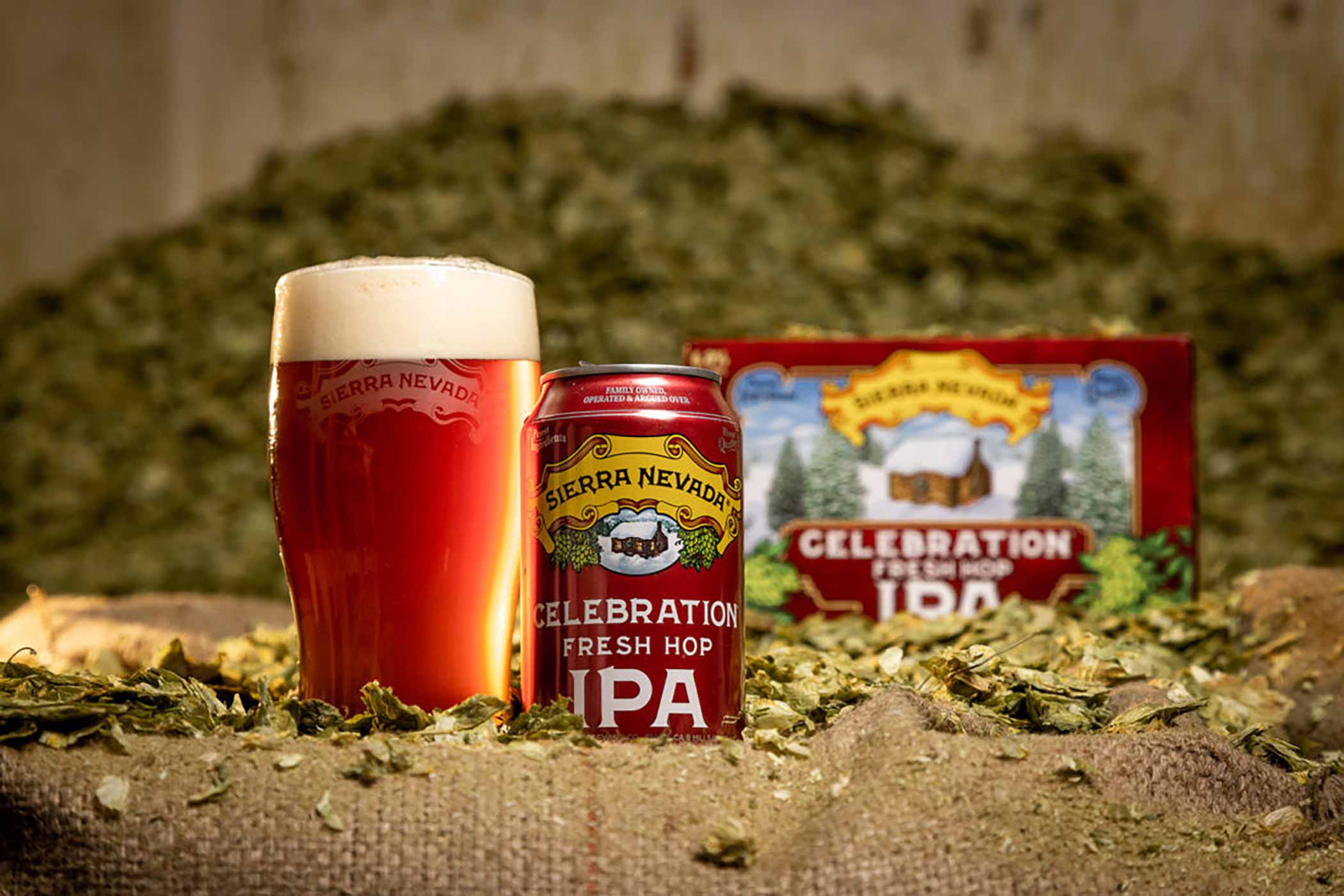 Sierra Nevada Celebration Fresh Hop IPA | Photography courtesy of Sierra Nevada Brewing Company
Editor's Note:
This is a paid, sponsored post presented by our friends at Sierra Nevada.
For most brewers, heading to hop harvest means one thing: locking down lots for the year. And yes, that is certainly true at Sierra Nevada. But for one of the most iconic breweries in the country, hop harvest also means something a little extra special. It's the time of year when the brewery picks not just any hops, but als essential Cascade and Centennial lots for its Celebration Ale, one of the most unique Christmas beers of all time.
"It's on the minds of everybody going in for hop selection," says Sierra Nevada Product Manager Terence Sullivan, who has been brewing Celebration Ale for twenty-eight-and-a-half years. "We're not only buying for the entire year, but we're buying for Celebration Ale."
Essentially, picking Cascade and Centennial hops for Celebration Ale is the very first hop selection trip of the year for the brewery.
That's the cache this American IPA has not only at Sierra Nevada, but also across the country.
Unlike other Christmas ales that feature spices or fruit, Celebration Ale at its core is a beer all about hops.
A Quick History of Celebration Ale
Inspired by Anchor's iconic Christmas Ale, Sierra Nevada Founder Ken Grossman wanted to make his own holiday tradition.
But he wanted to brew his holiday beer with a bit of a twist. One focused just on the perfection of hops.
"These were the new IPAs that set the category on fire," says Isaiah Mangold, head innovation brewer at Sierra Nevada. "They were very exciting beers that really kicked you off and reinvigorated your passion for brewing because these were passion project beers."
Today, brewing Celebration Ale has become what Sullivan calls "a right of passage" for any Sierra Nevada brewer.
Mangold recounts that as a new brewer coming to Sierra Nevada twenty-two years ago, learning how to brew Celebration Ale for the first time "re-emphasized everything I stood for as a brewer," he says. "Through hop selection, brewing, primary fermentation, dry hopping, secondary fermentation, every step of the way feeds your passion, feeds your soul to that first pint you have in the pub."
Likewise, Sullivan has an almost mind and body connection to Celebration Ale, brewing his first in 1994. "Recently someone told me they'd never forget the first Celebration Ale they had in the winter of '94," says Sullivan. "I probably had my hands in making that first Celebration Ale they ever drank; that's really special!"
Mangold continues, "I know for a fact I had my hands in that beer is a living legacy."
And Celebration Ale is nothing if not a legacy, a passion, a celebration of brewing in America, a celebration of IPAs and….
A Celebration of Hops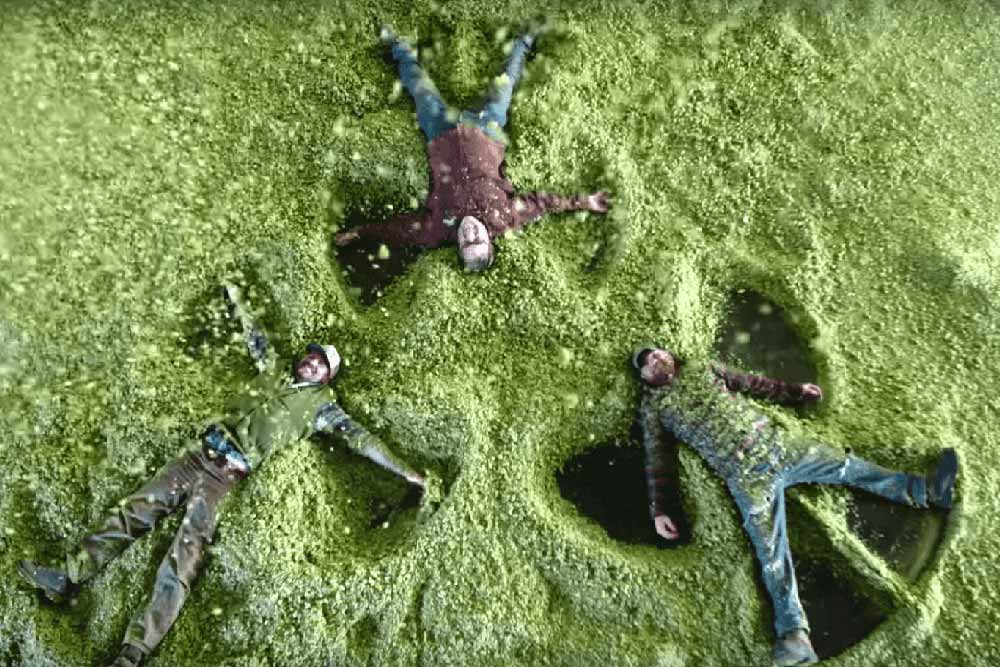 Considered a fresh hop beer, Celebration Ale includes a dry hop of whole-cone Centennial and Cascade hops picked at the peak of freshness and delivered to Sierra Nevada's Chico brewery in California in two to three days and to the Mills River location in North Carolina within five to seven days.
"The idea is: I'm rubbing these hops that will literally go into a truck and meet us the same time we get home from Yakima and get to brew with them," says Sullivan. "It's kind of magical to me because you have this anticipation of getting back to the brewery and brewing with these hops."
Which is why Grossman specifically chose Cascade and Centennial.
"Everything about the way we originally crafted Celebration was to really emphasize early harvest hops of the year," says Mangold. "That's why we use Centennial and Cascade in Celebration, because they are the first ones we're picking."
And also because each holds a special place in Grossman's heart.
Obviously, Cascade became the backbone for Sierra Nevada's now-iconic Pale Ale. "As Ken started homebrewing and enjoying hops…he was seeking those out," explains Sullivan. "Cascade is one he fell in love with…he liked the citrus-forward and piney notes."
And although Sullivan couldn't pinpoint how Grossman wandered onto Centennial, he had his own personal story to share.
"Centennial to me is the kicker in Celebration Ale," says Sullivan. "That hop to me is very floral, very rose forward."
Sullivan recounts how, when he was a kid growing up in houses with rose gardens, his mom would ask him to go out and pick roses to bring back into the house. "She would send us out and say, 'Go pick me some nice roses to bring into the house,'" says Sullivan. "To me, [Centennial] sparks a sensory note of my childhood… That's what I look for in Celebration Ale, that citrus pine note with a floral rose backbone to it."
Meaning finding the best Cascade and Centennial lot each year is crucial.
Picking the Very Best for the Very Best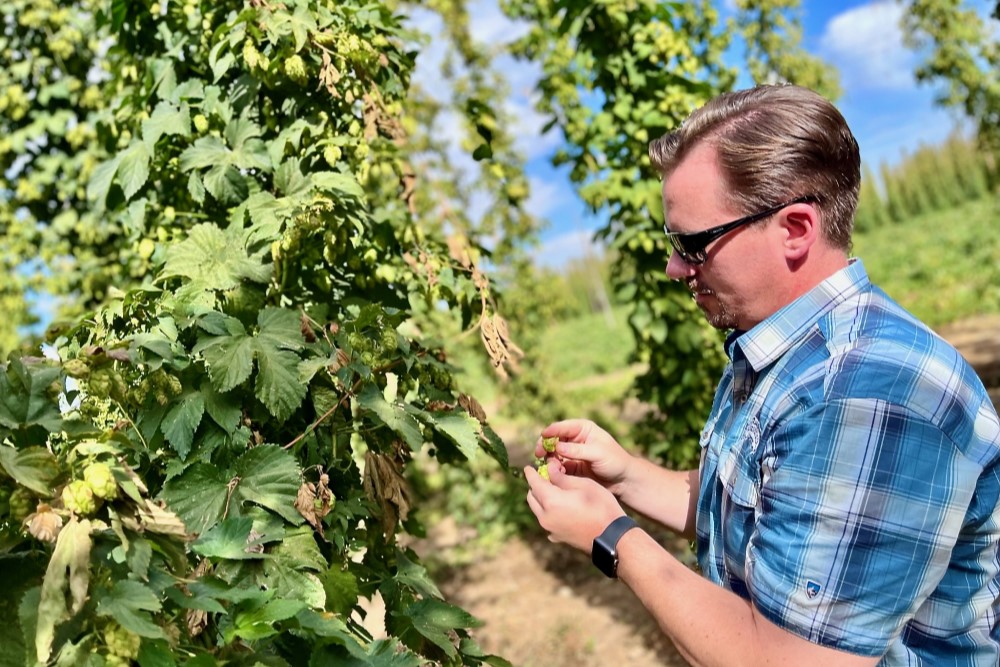 Considered the premier spot in Washington for Cascade, Moxee is where Sierra Nevada seeks out its hops for Celebration Ale.
As Sullivan tells it, "We'll go into a conference room with samples of bales for us to rub…and take 25,000 pounds of this and 40,000 pounds of that and make up our blend…for the year."
All told this year, Sierra Nevada will brew roughly 40,000 barrels of Celebration Ale with about 80,000 pounds of hops split equally between Cascade and Centennial that comes out to about 400 bales of total whole-cone hops. Sierra Nevada doesn't dry hop with T-90 pellets or Cryo or anything like that. They use 100 percent whole-cone hops.
Which means as soon as the hops are picked, the brewery is on the clock.
How Do the Hops Get From Bine to Brew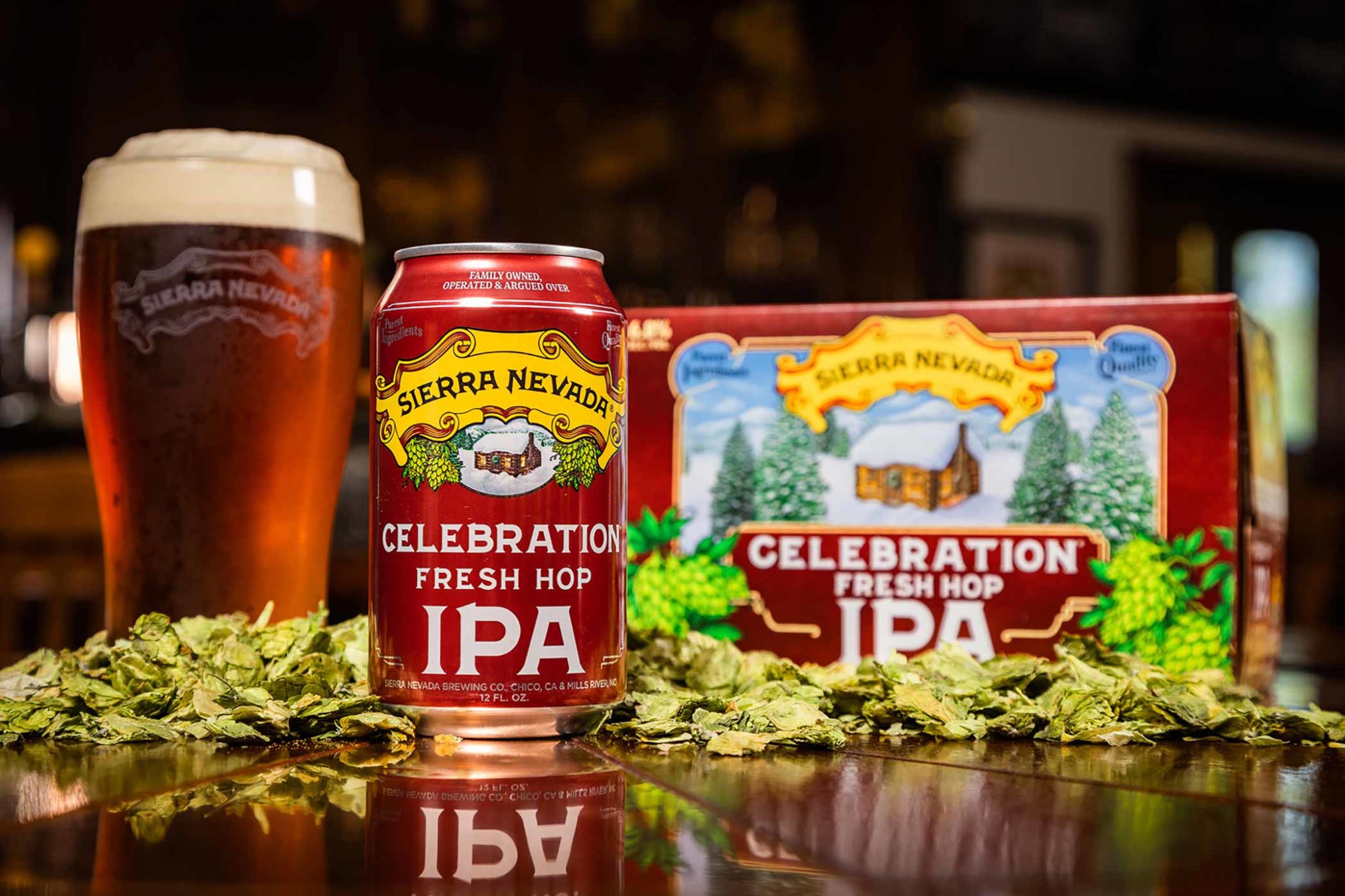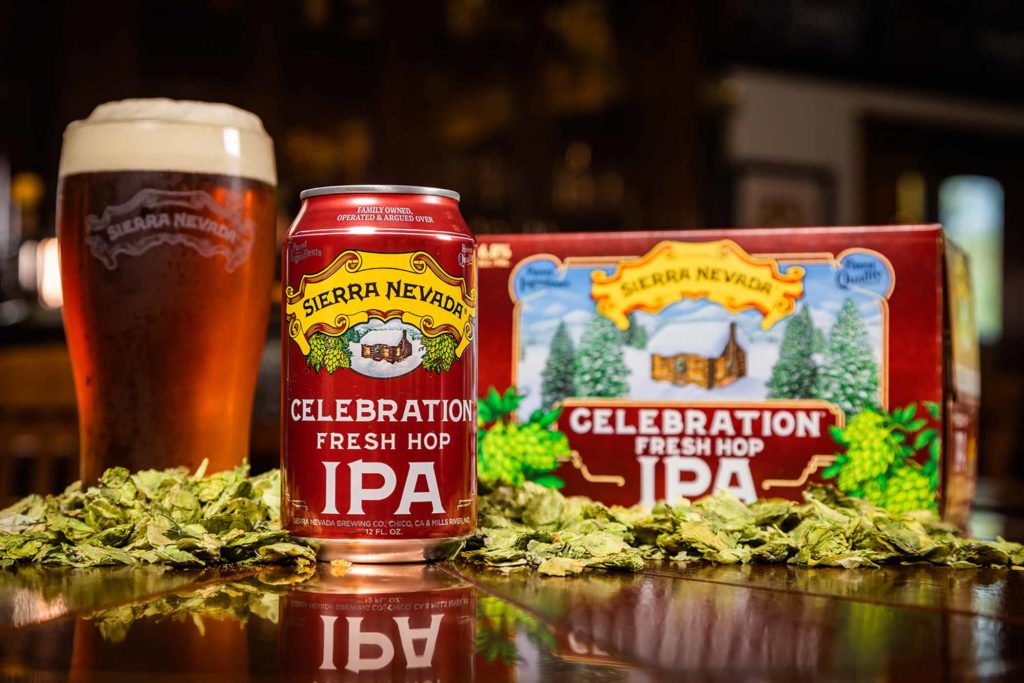 Historically, the team goes up to the Yakima Valley on a Monday or Tuesday at the end of August, picks their hops, and loads them up on trucks heading to Chico and Mills River.
By Labor Day weekend, the team starts brewing Celebration Ale.
A batch will spend about two to three days in primary fermentation before getting transferred to a secondary tank for the whole-cone dry hop with Cascade and Centennial.
For that, the brewing team drops what Sullivan calls "big giant tea bags of hops" into the beer. Then it's a waiting game, letting the beer cool down to taste off the tank (around day fourteen) before filtering (around day fourteen to sixteen) and tasting again right off filtration, "which is as fresh as you'll ever have it," laughs Sullivan.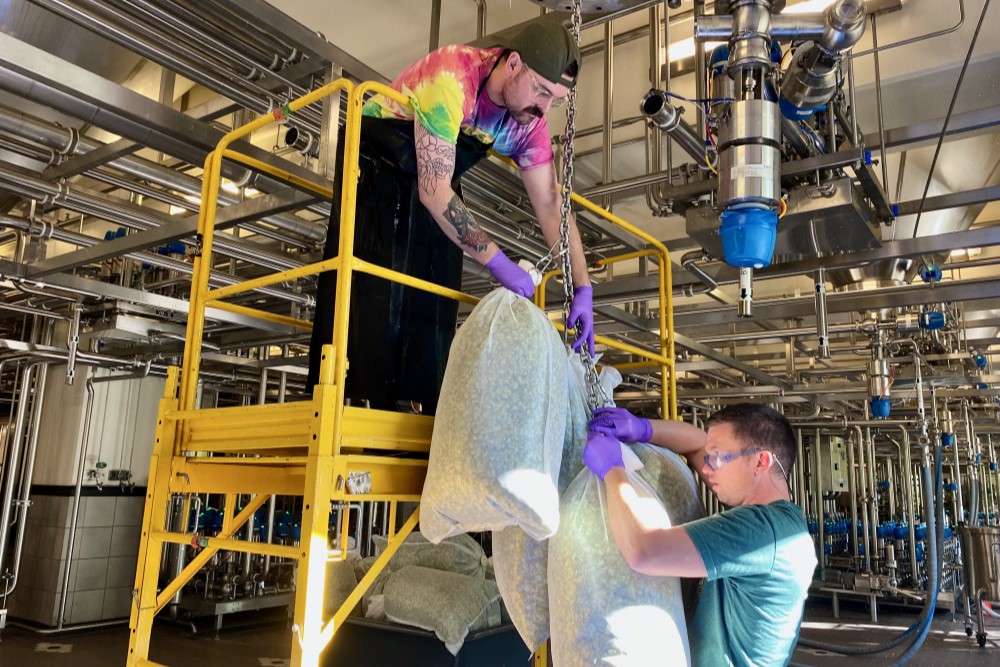 After filtering, Sierra Nevada bottle and can conditions 100 percent of Celebration, meaning they add sugar and yeast back to the brite beer tank in a controlled sixty-degree-Fahrenheit warehouse for secondary fermentation in the package. Another ten to fourteen days to get that final CO2 content in the packaged beer and the finished product finally goes out for delivery.
"We taste it day ten, give it a thumbs up, and it goes out on the truck," says Sullivan.
All in all, Sullivan says brewing Celebration Ale takes roughly twenty-eight days. "That anticipation and having it on tap next door or taking a 6-pack home, you realize how much effort goes into making it," says Sullivan. "To me that's what makes Celebration Ale so special every single year."
So, Why Is Celebration a Christmas Ale?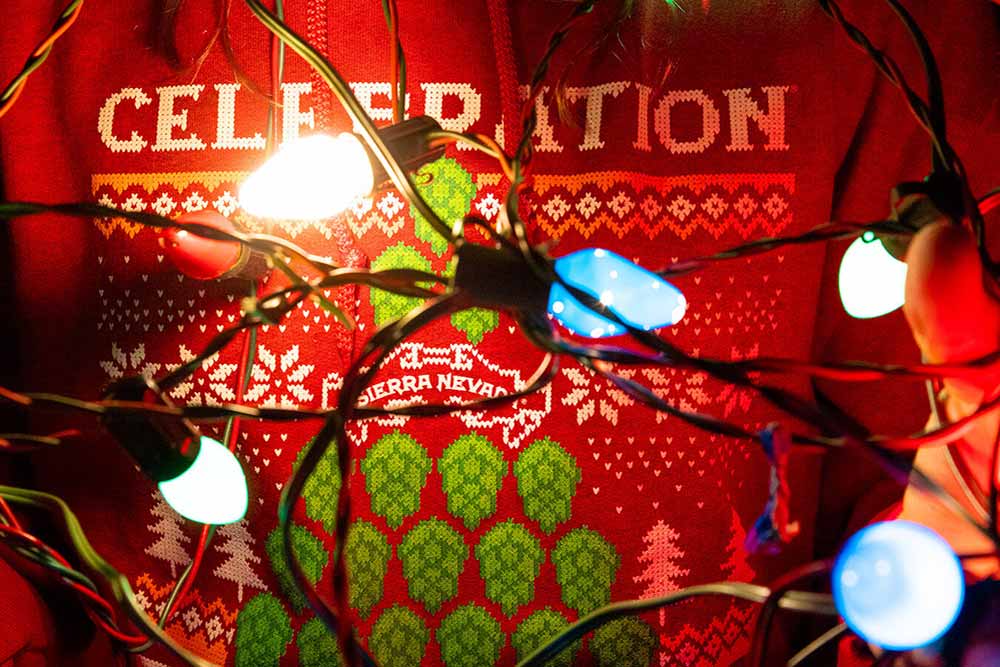 Well, for Sullivan his answer might be a little bit different than most. Even before working for Sierra Nevada, Sullivan says he used to seek out Celebration Ale to take and drink in the parking lot before Grateful Dead concerts, when they would play New Year's Eve shows in December.
Since working for the brewery, Celebration Ale has taken on a new meaning for him, but the seasonality of it can't be understated.
It's kind of like a turning of the seasons. The time of year when "it's cooler evening, rainy, drizly," he says. "Celebration Ale is on the shelves and we start thinking about Thanksgiving, Christmas, the holiday season, and lining up vacations."
And for Sierra Nevada fans, fall cannot come early enough.
"It's a coveted brand that even our pub regulars ask: When is it coming out?" laughs Sullivan. Despite knowing that Celebration Ale always comes out every year during the second week of October, devoted fans can just never seem to remember the right timeframe. Or perhaps they just hope that Christmas comes a bit early this year.
Because once Celebration Ale is on…oh, it's on.
"I don't know if everyone feels the same way as I do, but when Celebration comes out and on in our pub, that's my go-to beer until I know it's gone on January 1st," says Sullivan.
Which probably adds to its cult-like following, the fact that you can only get it on draft and in package for about three months out of the year.
When the ball drops and you ring in the new year, Celebration Ale drops out of the market too.
You have to drink this Christmas beer while it's fresh during the holidays, so good thing it's a beer built for winter and celebrating, especially around family dinner tables.
"It embodies the holidays, and what we do in the holidays is celebrate, whatever it is that you celebrate," says Mangold. "Celebration is a universal term. It's exactly what I get when having a pint of Celebration Ale with a coworker or family or bringing it to a celebratory event… It embodies that celebration of happiness, passion, togetherness, and community."
Plus, the bright red label probably doesn't hurt along with the bright red beer in the glass.
Tasting Through This Year's Celebration Ale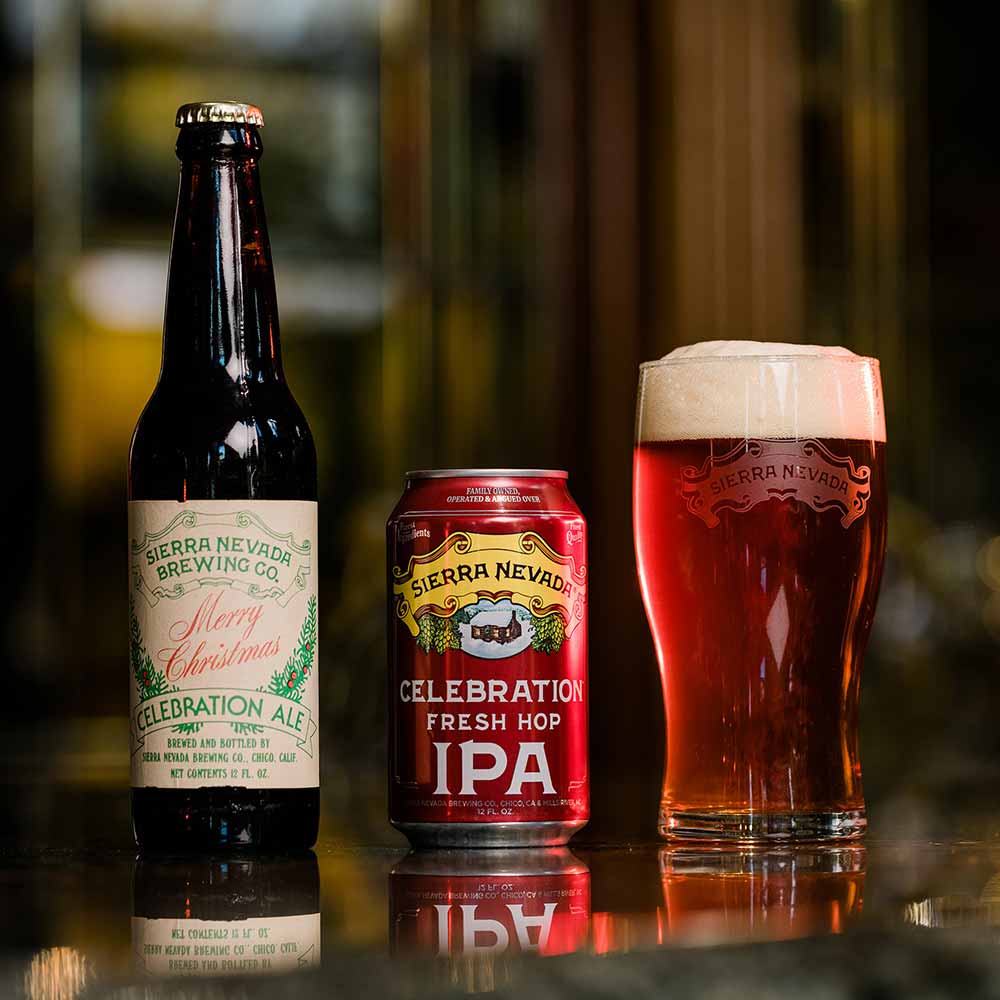 Pouring out a beautiful ruby red color, Celebration Ale almost looks exactly like an ornament you'd hang on the tree or a candle you'd place in the Kinara (candleholder) for Kwanzaa (red candles represent one of the colors of the Pan-African flag along with the struggles of the past).
Not an easy color to hit in beer, red really represents the holidays. "Visually it's an absolutely striking beer," says Mangold.
And the hue stands out in contrast to the pillowy white head. "To me one of the real standouts is the foam," says Sulivan. "It performs great in a pint glass. The lacing you get from Celebration Ale is so inviting and it's such a pretty beer in any type of glass."
Along with the striking color, Celebration Ale will hit you in the nose with citrus, pine, and that aforementioned rose characteristic, "but you get a little backbone of caramel, toffee notes too," says Sullivan, courtesy of the caramel malts Sierra Nevada uses in the recipe.
And here's where things get interesting.
Both Sullivan and Mangold consider Celebration "one of the first true West Coast IPAs that was ever made," says Sullivan. But some jestingly disagree.
Those like Russian River Brewing Company Co-Founder Vinnie Cilurzo, who playfully argues that West Coast IPAs do not include caramel malt and color. "Vinnie always gives us s*** because we use C-60 caramel malt because why would you ever do that [in a West Coast IPA]" laughs Sullivan. "But he loves Celebration Ale; he just likes to bust our chops."
And the malt is crucial in Celebration Ale. It softens the edges on what could be an overly bitter beer. "It reminds me of a lot of really great salsas," says Sullivan. "The flavor is not overly aggressive, but there is a nice sharp bitterness…not over the top, but just the right amount of bitterness that makes you want to come back for another sip and another sip."
Because on the palate, Celebration Ale truly shines like a highly polished ornament. "Celebration is so perfectly balanced that even though it's aggressively hopped, it has that little caramel, raisin note from the specialty malt that plays so well," says Mangold. "They're just in perfect harmony."
Whether you're pairing the beer with Thanksgiving dinner or a simple night around the campfire.
"I've had people ask me: What would you pair this with?" says Mangold. "I'm like: life!" The beer just simply goes with any occasion…any celebration."
Even more impressive considering at the end of the day Celebration Ale is actually a fairly simple recipe. It's just two kinds of malt—pale and caramel—and two kinds of signature hops—Cascade and Centennial.
That and "a lot of love that makes Celebration Ale finish the way it does," says Sullivan with a smile.
Where Can I Find Celebration Ale?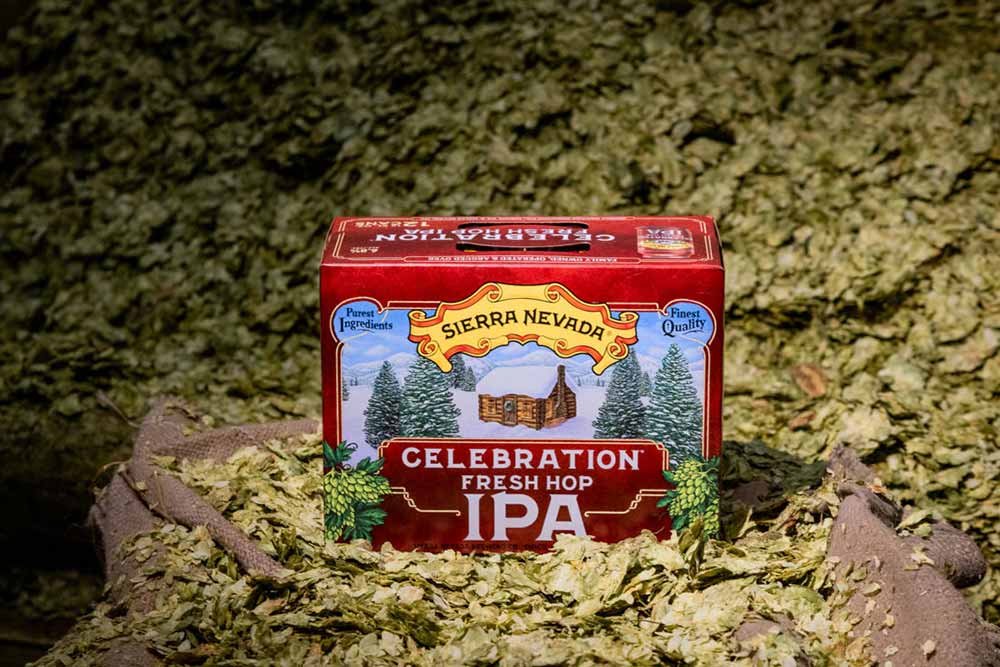 The first draft, cans, and bottles of Celebration Ale in 2022 have already dropped. You can find the beer in draft, 6-pack 12oz bottles, 12-pack 12oz bottles, 24-pack 12oz bottles, 6-pack 12oz cans, and 12-pack 12oz cans across all of Sierra Nevada's distribution footprint.