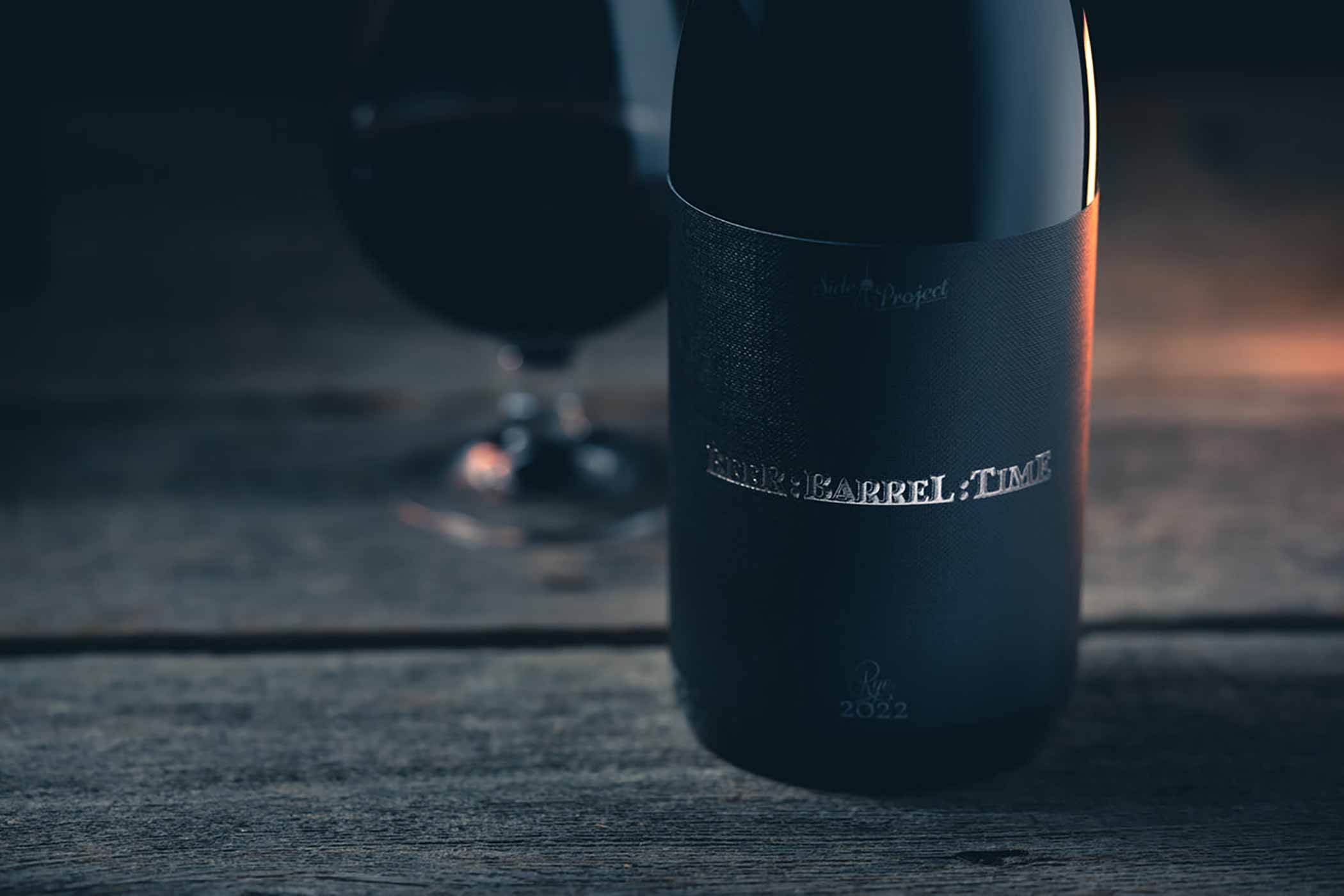 Photography courtesy of Side Project Brewing
Updated on November 3, 2022
The fact that we've felt the need to update this piece for the past few years should be a big sign to you that stouts are one of the most popular beer styles across the globe.
In fact, according to data collected by Untappd in 2021, imperial/double stouts were the seventh most checked-in style of the year with just shy of two million check-ins.
And while we certainly love these boozier, often barrel-aged, sometimes adjunct stouts, it's hard for us to deny the cornucopia of stouts that exist.
We have lighter, roastier dry Irish stouts…
Super creamy, velvety, luxurious oatmeal stouts…
Funky, crazy, wacky pastry stouts…
Caffeine-spiked coffee stouts…
And of course barrel-aged beauties that showcase every single spirit on the planet from tequila to whiskey to bourbon barrels.
And even those that are more mainstream that you can probably find at a store down the street!
Oh, how we shout from the rooftops for stouts. And none so more loudly than on International Stout Day, celebrated every year on the first Thursday in November.
While we can't possibly keep up on all the incredible versions coming from well-known breweries like North Park, Fremont, Horus, Barreled Souls, Bottle Logic, The Bruery, Perennial, Angry Chair, Cycle, Revolution, Side Project, and so many more, we can do our best to get out there, sacrifice our livers to try a few for you, and ponder why we didn't start writing this list the day after International Stout Day last year.
As always, this is just our list of favorites, from iconic versions to modern interpretations we've tried over the course of the year. Having said that, please keep in mind this is not a definitive list of the best stouts in the country. But rather a take on the stouts we want to drink to celebrate the holiday.
Sure, there will be some big names here, but you also might find ones you've never heard of. And that's our goal! At the very least, this lineup will give you a few stouts to try in all of their wondrous forms on this revered holiday.
If you have your own favorite stouts that you'd love for us to know about, drop us a line on @hopculturemag or grace@hopculture.com. We'd love to hear about them.
Happy International Stout Day!
First, a Super Quick History of International Stout Day
Founded by Erin Peters, known as The Beer Goddess, in Southern California in 2011, International Stout Day has grown into a worldwide phenomenon.
An award-winning journalist who covered the travel and the beer scene on her website thebeergoddess.com and through publications such as Good Sam and RV Magazine, Peters passed away from ovarian cancer earlier this year.
Her legacy will live on in International Stout Day. So this year especially, let's raise a glass and toast to the very person who started this iconic holiday celebrating one of our favorite styles in all its glorious forms: the stout.
Second, A Quick History of the Stout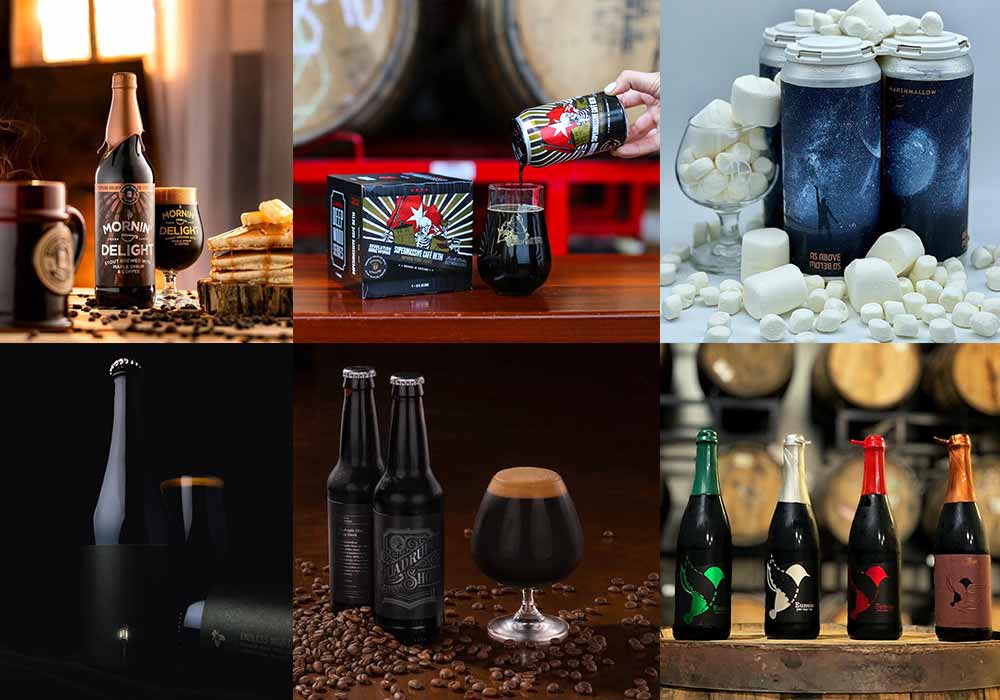 Surprisingly, this is a style with modest roots. Originating from porters in 18th century London, stouts were considered a premium version of its roasty, toasty cousin.
In early English brewing culture, premium beers were equated with a higher ABV. For instance, a brewery would have brewed a lower-ABV pale ale alongside an "extreme" pale clocking in at 8% or 9% ABV. Brewers did the same with darker beers, with the higher-ABV version eventually becoming known as a "stout porter." What's important is that English brewers often marketed "stout porter" as their best product.
Eventually, the beer style grew beyond England to the Baltic countries and Russia. These exported versions earned the name "extra stout" porter. As the story goes, Czarina Catherine the Great, the empress of Russia from 1762 to 1796 (and the country's longest-ruling female leader!), thoroughly enjoyed these brownest and strongest of English beers and helped them gain popularity.
More recently, in America, Goose Island brewmaster Greg Hall elevated the style when he had the brilliant idea to age Goose Island's one-thousandth batch of beer in a bourbon barrel in 1992. As the country's first bourbon barrel-aged beer, Bourbon County Brand Stout changed beer forever.
Since then brewers have continued to innovate.
So whether you want to drink the famous Perennial Abraxas or The Bruery Black Tuesday…
…try something new from Moksa or Pulpit Rock…
…or just simply kick back with an expertly poured Guinness (preferably from a pub in Dublin), there is no wrong way to celebrate International Stout Day.
But here's what we're drinking.
Hop Culture's Picks for the Top 22 Stouts to Drink on International Stout Day
The Classics
These are the time-tested, world-renowned stouts that keep revving the engine of stout drinkers. When you see a list of best stouts, these are probably the versions to expect to end up here.
Accordingly, we have given them their due…
Barrel-Aged Abraxas (2022)
Perennial Artisan Ales — St. Louis, MO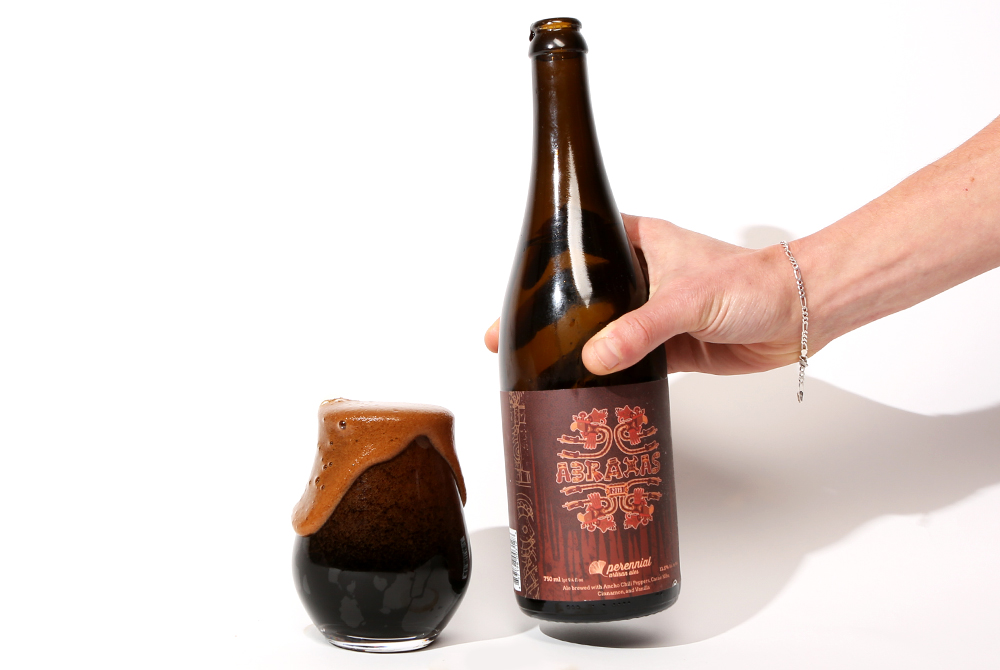 Imperial / Double Stout – Limited, that's the name of the game with Barrel-Aged Abraxas, which is why it's one of the rarest beers in the country. So if you get your hands on the iconic imperial BA stout with ancho chilies, cinnamon, cacao nibs, and vanilla beans from the St. Louis, MO, brewery, you're in for a treat.
Pouring deep brown with a thick head, Abraxas has a complex body with a delicious lingering roastiness. Perennial describes Abraxas as "brewed with unique ingredients intended to challenge and excite the palate." Another reason why Hop Culture's blind tasting of over thirty stouts found this one to be the best.
Perennial went pretty crazy in 2022. Here's a breakdown of the barrels Abraxas took a nap in this year:
25% Old Forester, aged 16 months
17% Heaven Hill Rye, aged 32 months
17% Heaven Hill Bourbon, aged 22 months, previously held maple syrup
17% Sazerac, aged 21 months
8% Old Fitzgerald, aged 22 months
8% Blanton's, aged 22 months
8% Weller, aged 22 months
This stout has always been and will continue to be just an absolute beast.
Black Tuesday (2022)
The Bruery — Placentia, CA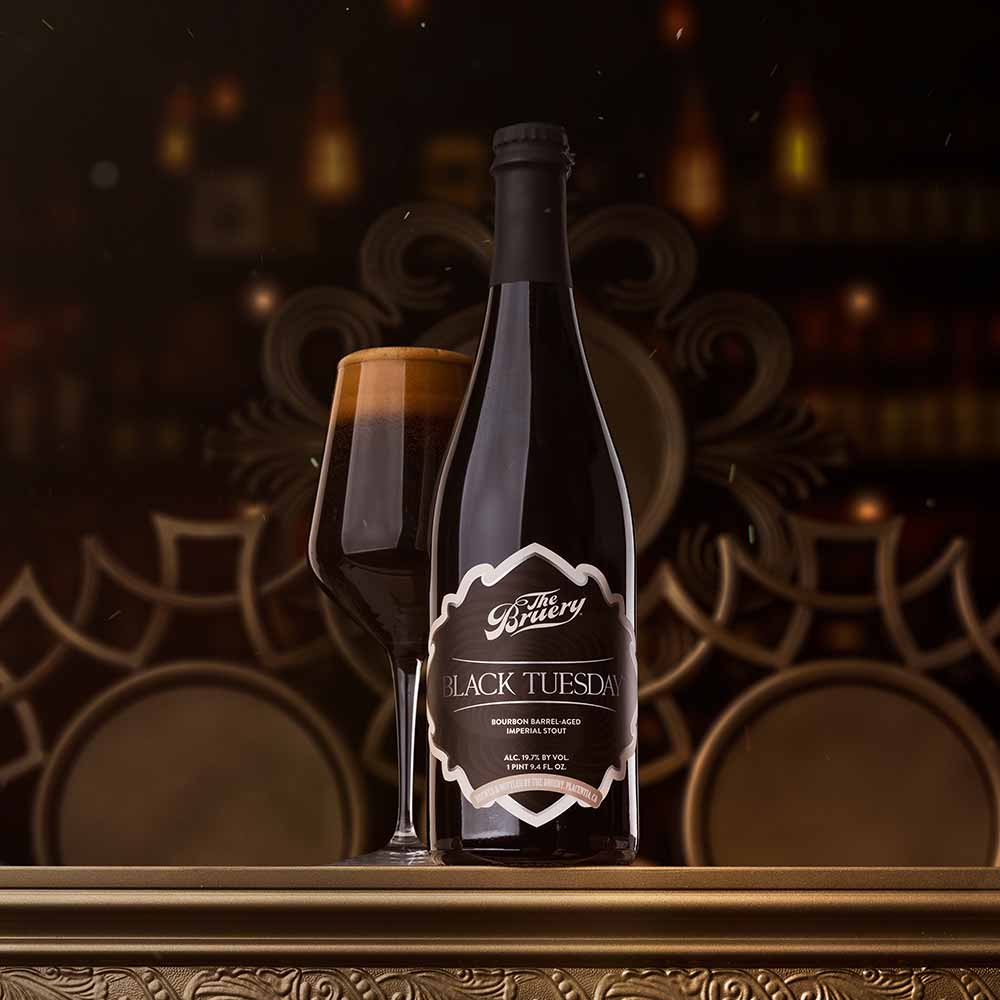 Imperial / Double Stout – Now a barrel-aged behemoth in the craft beer community, Black Tuesday started out as a disaster. When first brewed in 2008, everything that could go wrong with this beer did: faulty equipment, burned brewers, and a limited amount of bottles. So understandably The Bruery stuck this persnickety beer into bourbon barrels for fifteen months.
The beer that came out became a legend. That year BeerAdvocate rated it 99 out of 100 and beer geeks across the country started trading the limited-edition release. Now, The Bruery releases the beer annually to rave fanfare. This year's launch went live on Oct. 24th, 2022.
Lucky for us, The Bruery sent us a treasure trove of beers around the release.
This year's Black Tuesday (2022) registered a 19.7% ABV on our personal Ricther scale, shaking us to our core. "Elegantly innovative and uniquely complex, Black Tuesday has come to be synonymous with the cream of the crop when it comes to barrel-aged imperial stouts," writes The Bruery on its website.
We whole-heartedly agree.
Like years past, we found the 2022 Black Tuesday to pour midnight black and hit the palette with a rush of bruleed sugar followed by some warm vanilla and dark chocolate notes picked up in the bourbon barrels.
Overall, this is a super complex, layered beer that has stood the test of Tuesday and time for a reason.
We'll gladly drink Black Tuesday every International Stout Day from here on out.
Hunahpu's Imperial Stout (2022)
Cigar City Brewing — Tampa, FL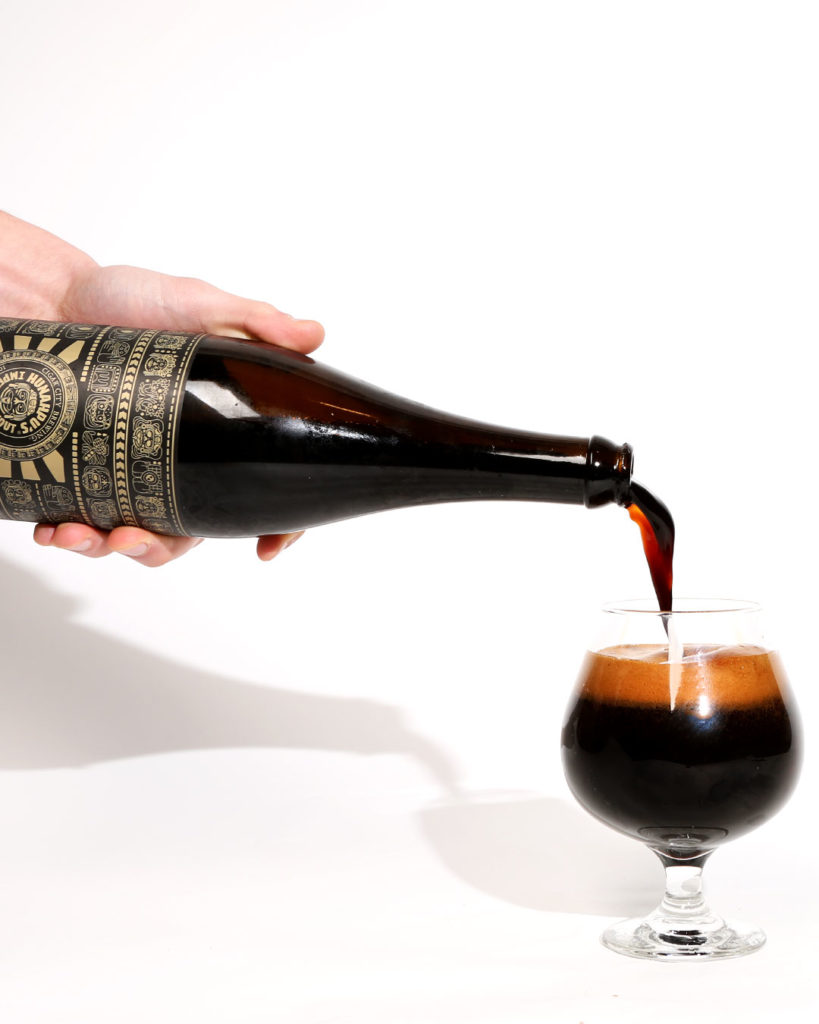 Imperial / Double Stout – Originally released by Cigar City in 2010, Hunahpu's Imperial Stout shook the industry with its depth of flavor. A stout base received a dose of cinnamon, vanilla, cacao nibs, and chili peppers for an eye-opening, sensory-overload of a stout.
This year, Cigar City continues its innovation by exclusively releasing Hunahpu's Imperial Stout in 16oz cans for the first time.
Despite the new packaging format, Hunahpu continues to prove why this is one of the most ridiculously great-tasting stouts of all time.
Mean Old Tom
Maine Beer Company — Freeport, ME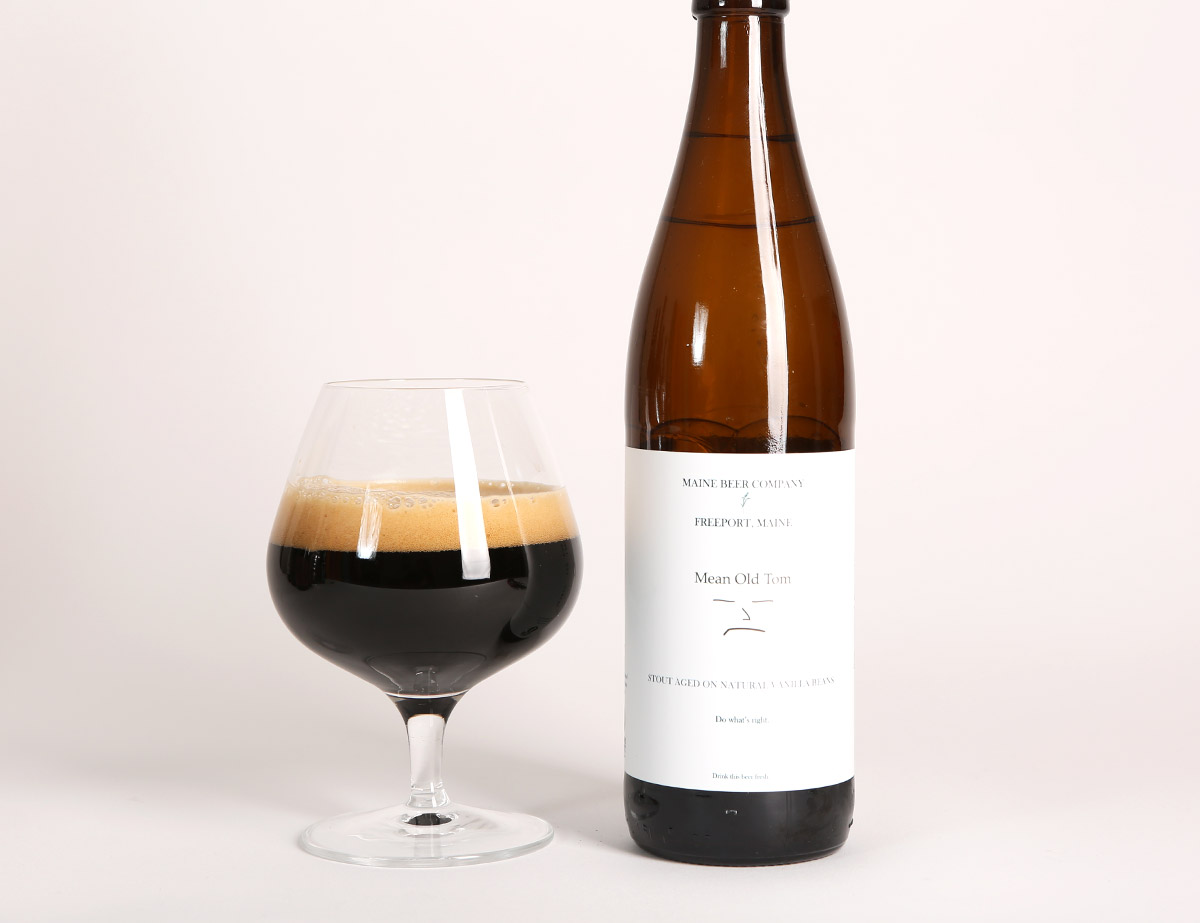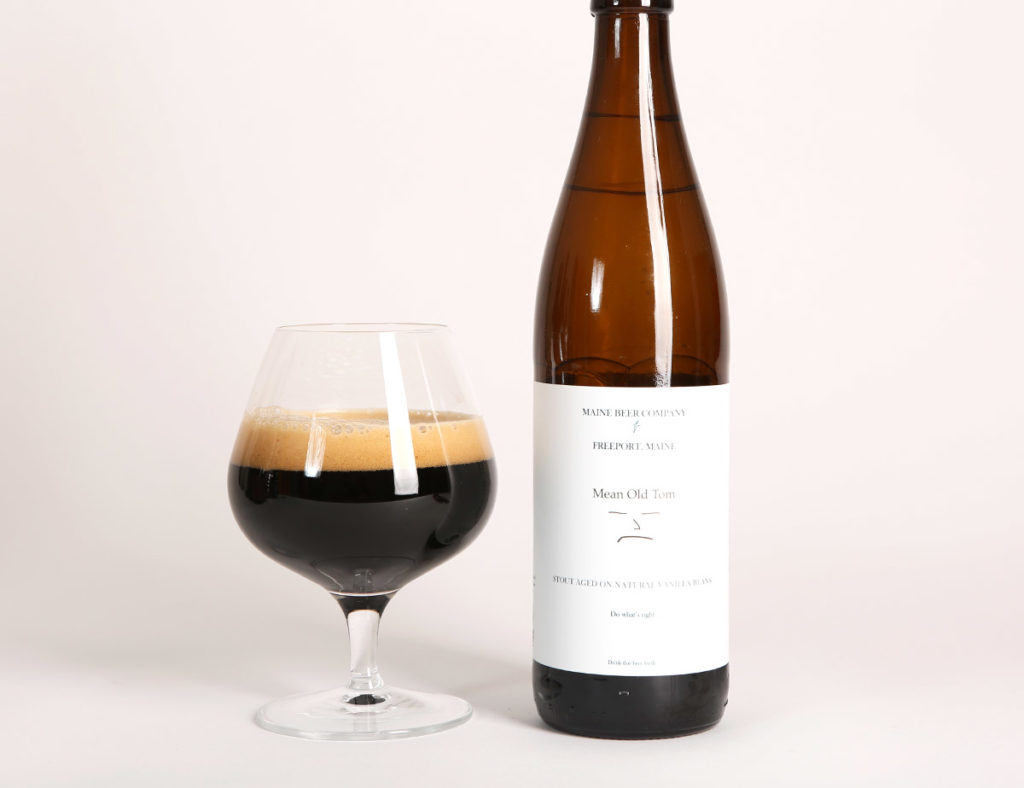 American Stout – Brewed in honor of an actual uncle Tom, who had a "spirit for fast cars, tough motorcycles, and mean smiles," Mean Old Tom from Maine Beer Co. is a relatively simple stout. It's aged on vanilla beans—and that's about it. MOT is a low-alcohol, slightly sweet, roasty stout. This beer is appreciated for the easy-drinking quality and the low ABV.
It's not as big or flashy as some of the other stouts on this list, but this is just one of the most solid, classic, consistent versions of an American stout you'll find anywhere.
Bomb! (2022)
Prairie Artisan Ales — Krebs, OK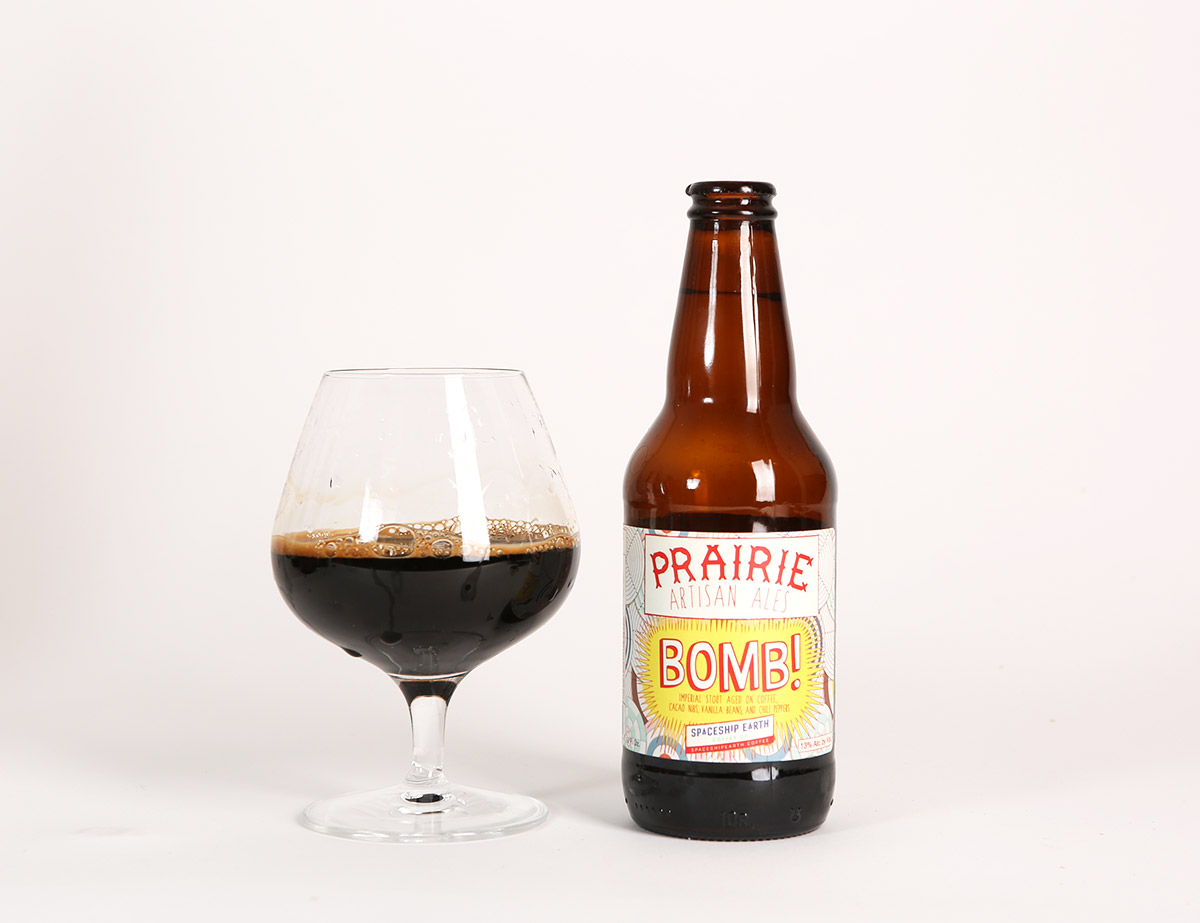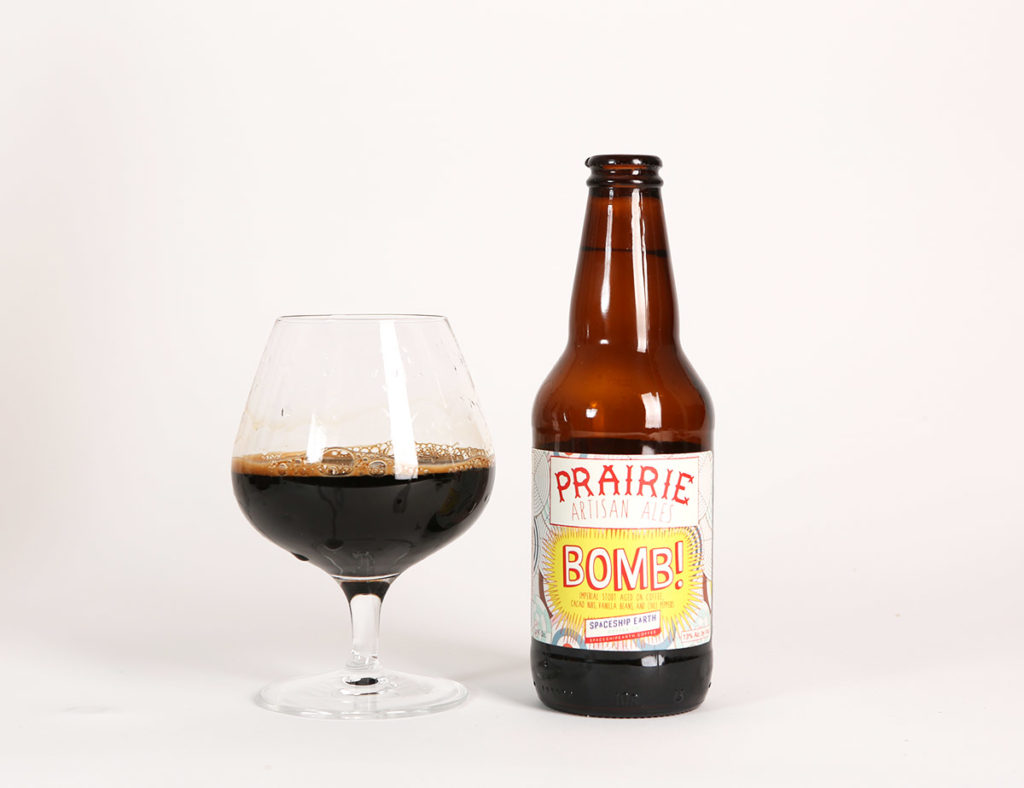 Imperial / Double Stout – This one brings the boom. A classic, Bomb! from Prairie Artisan Ales is a double coffee stout with espresso beans from Spaceship Earth Coffee, cacao nibs, whole vanilla beans, and toasted ancho chili peppers.
But Bomb! has also spawned several variants, including Barrel-Aged, Birthday, and various collab editions. However, with the original it's all about the combination of spicy and bittersweet punching through this explosive stout.
As the brewery writes on its website, "If you only try one beer from Prairie Artisan Ales in your life, we hope it's this one."
Deth's Tar (2022)
Revolution Brewing Company – Chicago, IL
Imperial / Double Oatmeal Stout – This selection from Revolution's Deep Wood series is brewed with English specialty malts for a chocolatey profile. But it's the flaked and malted oats that contribute to the profile-defining silky mouthfeel of this iconic oatmeal stout. American oak barrel-aging for one year contributes layers of complexity with ample vanilla, toasted coconut, and caramel.
Revolution Head Brewer Jim Cibak developed this standard-setting oatmeal stout to actually build out Revolution's barrel-aging program.
Accordingly, this barrel-aged or imperial oatmeal stout does pick up additional character from napping in barrels for a minimum of eight months, but up to two or three years.
The first thing you'll notice when pouring out Deth's Tar is a striking dark hue from the roasted barley and black malt. "There is very little astringency from the dark malt, just a jet black color with a tan head that's nice and creamy from the oat malt," says Cibak.
When you go to smell the beer, Cibak says you'll "pick up those deep notes of roast and the barrel character, vanilla, caramel, almost toasted marshmallow."
Carrying through to the sip, Deth's Tar hits these complex roasted, almost coffee-like notes. All combine for a beer that's wise beyond its years. "We're trying to create a very smooth, velvety texture with a beer clocking in the 14-14.5% ABV range but that drinks like it's 10-11.5% ABV beer," says Cibak. "You'll know strong beer, no question there, but wanted a smooth pleasant drinking experience."
For one of the most iconic variations of an American oatmeal stout, Revolution's Deth's Tar is a must try.
Imperial Stout (2022)
Stone Brewing Co. — Escondido, CA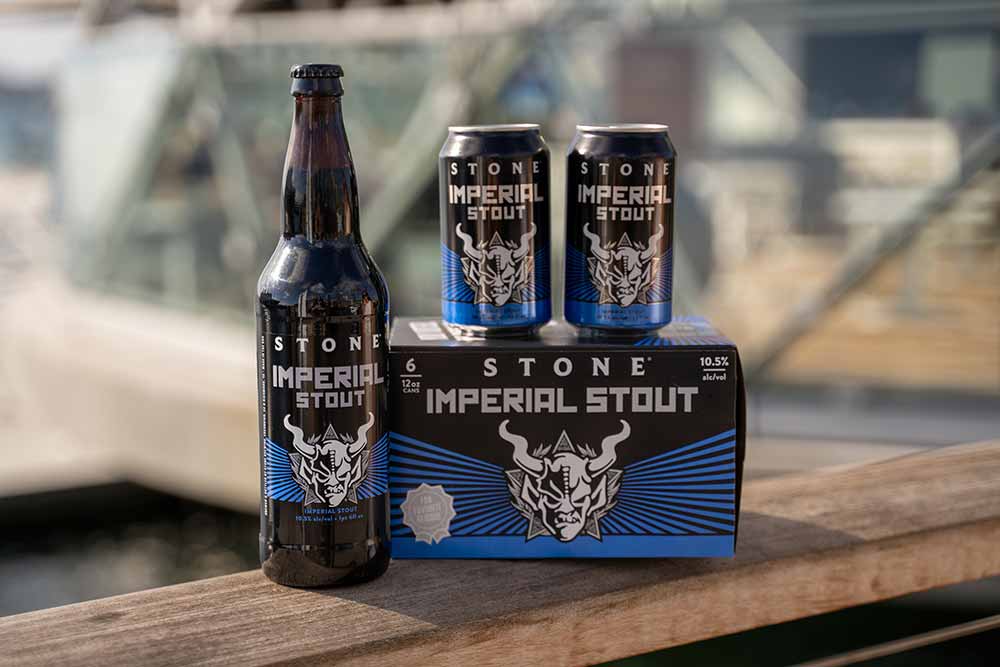 Imperial Stout – Actually making it's return as a re-brewed fan favorite, the legendary Stone Imperial Stout has come roaring back to life with epic intensity.
First brewed twenty-two years ago, Stone Imperial Stout is not only a fan favorite but also a brewery favorite. "I've been brewing at Stone for nearly twenty years and Stone Imperial Stout is, hands down, one of our greatest beers," says Jeremy Moynier, Sr. Manager of Brewing & Innovation in a press release. "It's such a perfect balance of flavors. I wasn't surprised when our fans voted this one into our 2022 Fan Favorites Series. I was right there with them hoping to enjoy it again!"
Flavorwise, expect big hugs of dark chocolate balanced out by subtle kisses of coffee, brown sugar, and even some darker berries.
Kalamazoo Stout
Bell's Brewery – Comstock, MI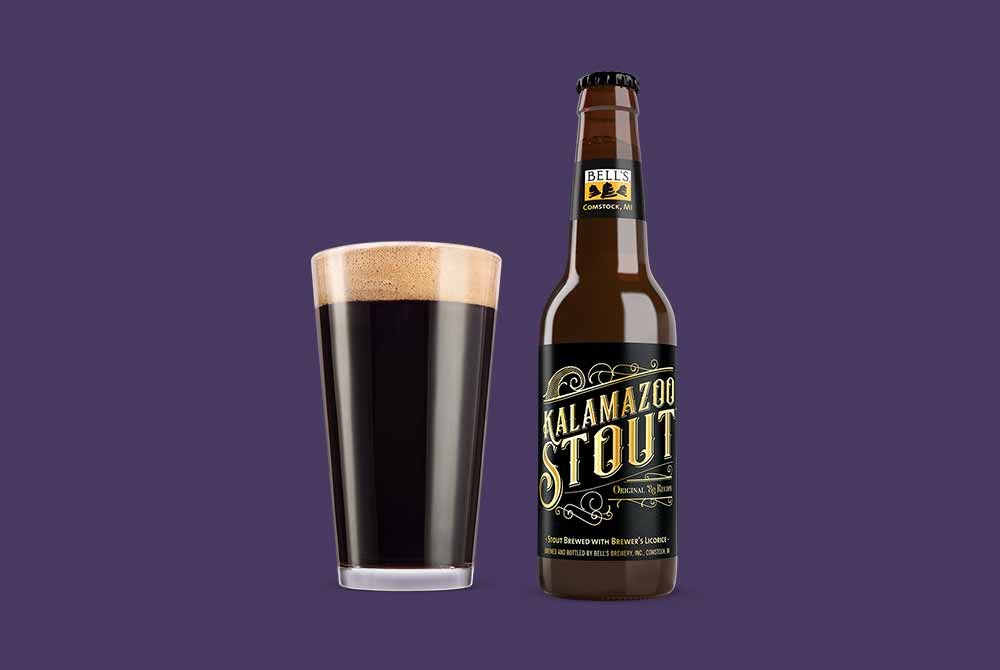 American Stout – An American stout from one of America's most revered breweries, Kalamazoo Stout takes us back to the city where it all began for Bell's: Kalamazoo, MI. One of the brewery's most classic recipes offers notes of freshly ground coffee and rich dark chocolate for a true-to-style representation of a stout.
Again, this is just a stout that has stood the test of time and should be in your stout rotation.
Dragon's Milk
New Holland Brewing – Holland, MI
Imperial Stout – Brewing close to 50,000 barrels of beer in 2020, New Holland currently stands as the largest independent craft brewer in Michigan (thanks to the sale of Bell's Brewery to Australian beer company Lion). It's a huge achievement for co-founders Brett VanderKamp and Jason Spaulding (now with Brewery Vivant), who turned their homebrewing hobby into a profession in 1997.
Perhaps the brewery's most well-known creation, Dragon's Milk earned a cult-like status for its decadent versions of a stout. First hitting shelves in 2001, this bourbon barrel-aged stout series takes its name from the "potent ales and elixirs worthy of celebration," writes New Holland on Dragon's Milk's own website.
That's right—Dragon's Milk became so popular over the years that the brewery made its own website just for this brand. And while New Holland annually releases creative variations such as Dragon's Milk Reserve Orange Chocolate, we're sticking with the original here. Mostly because the variations are often limited runs with less availability.
Over the years, the original Dragon's Milk has become one of the most recognizable barrel-aged stouts in the country. With distribution in forty-four states, it's also one of the most accessible.
Guinness Draught
Guinness — Dublin, Ireland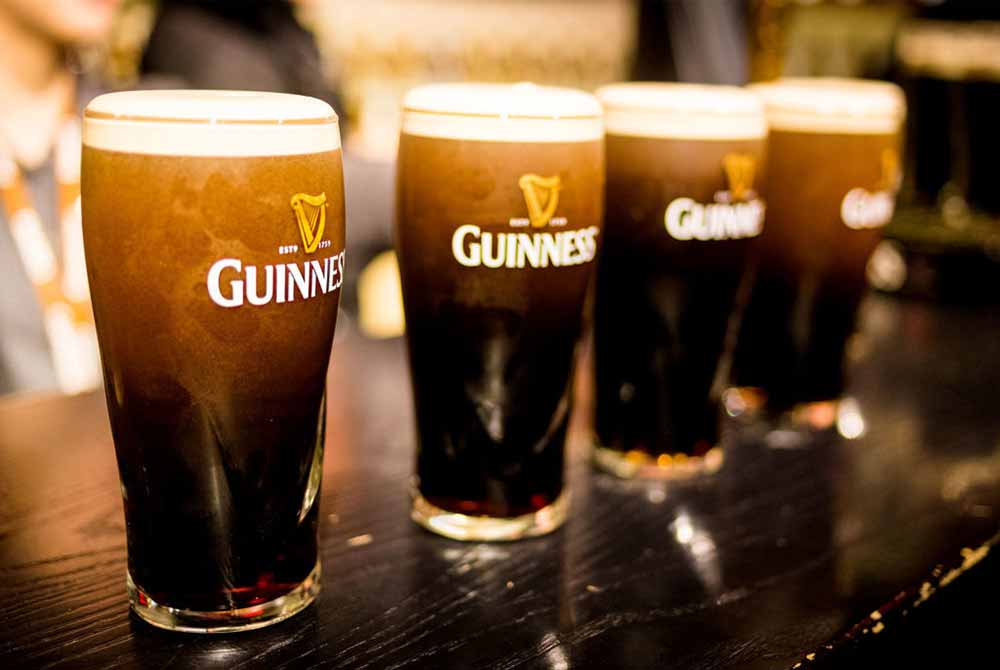 Irish Dry Stout – Hell yes, a Guinness belongs on this list. First of all, this is one of the world's most iconic breweries and it has an absolutely crazy history. Second, this is the quintessential nitrogenated Irish dry stout first made in Dublin almost 260 years ago. You won't find anything crazy in this beer. There aren't any cookies. No coconut, vanilla, fruits, or nuts. This is just a creamy, roasty, chocolatey beer that gets its flavor from the foundations of beer: water, malts, hops, and yeast. For a historic representation of a stout, Guinness is a must.
And you should preferably, at least one time in your life, drink one in Dublin!
The Crazy New Kids on the Block
Plain and simple these are just some of the stouts we tried that blew us away this year.
Bourbon Barrel Aged Dark Star
Fremont Brewing — Seattle, WA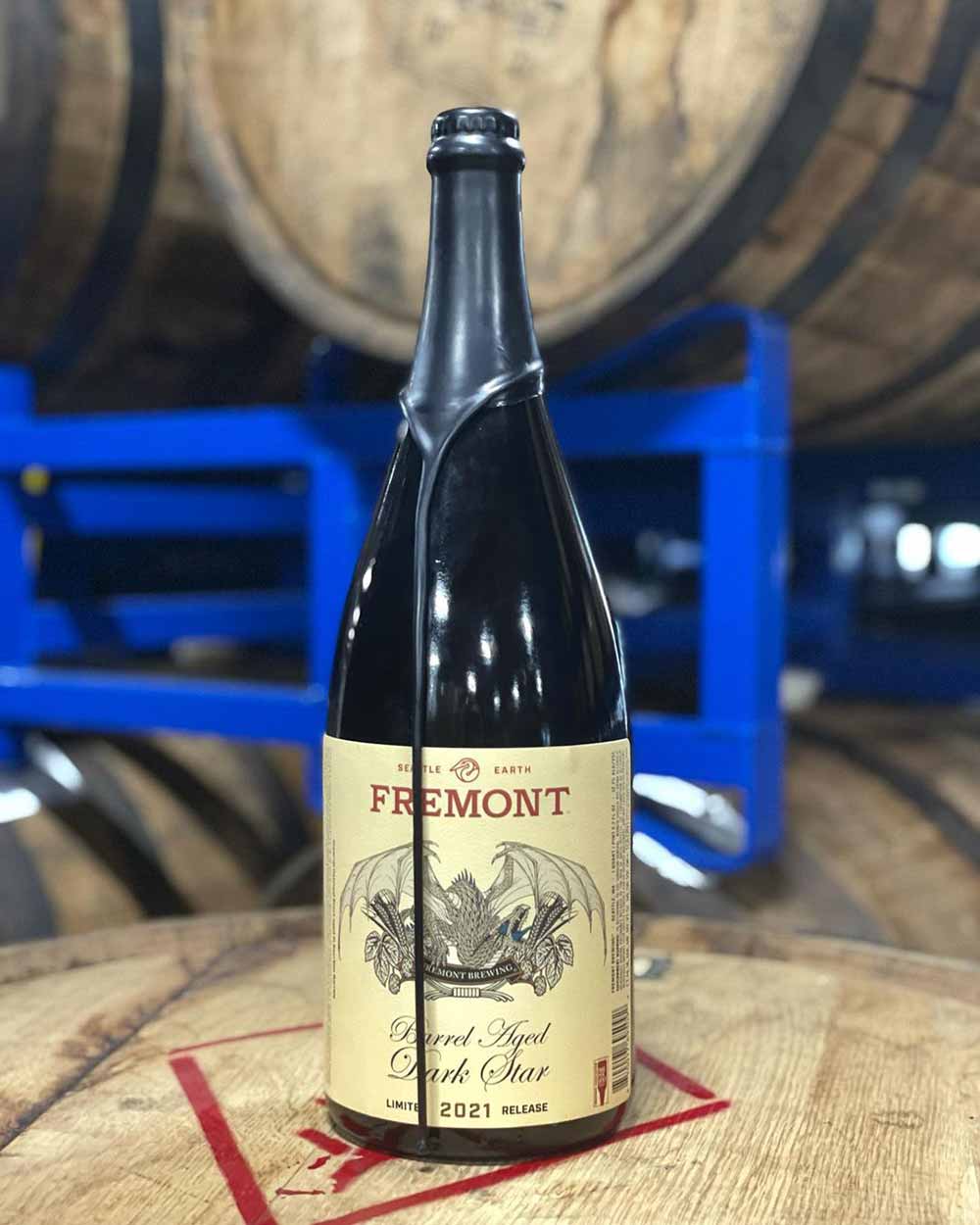 Imperial/Double Oatmeal Stout – For an award-winning version of an oatmeal stout, you cannot go wrong with any of Fremont's iterations.
But if he had to pick just one, Fremont Brewer and Owner Matt Lincecum waxes poetic on Bourbon Barrel Aged Dark Star (BBADS). "To me it's just one of those beers we've done over all these years that I can go back to over and over and over again and it still tastes good," says Lincecum. "It's withstood the test of time."
For this beer, Fremont actually specially brews a higher-ABV version of its original Dark Star. He then ages it in American white oak bourbon barrels for a minimum of twelve months. But sometimes up to twenty-four to thirty-six months.
What you get from that time in the barrels is a beer fully rounded and mellowed out.
"The oats provide that smoothness to the experience that I'd describe as a sphere [where] all the little hard edges, all the little things that catch skin, have been rubbed off and are really nice," says Lincecum." It's something very comforting to enjoy and satisfying that I haven't gotten bored of."
Thanks to the flaked oats, Carafa, and chocolate malt, expect a bit of roast, a bit of chocolate, and a bit of sweetness. The American white oak barrels impart tannic qualities along with a "beautiful caramel, kind of coconut from the bourbon, and vanilla from the oak," says Lincecum.
All combine for one incredible drinking experience that's all too easy to drink until you realize its 14% ABV.
Medianoche Reserve 2022
WeldWerks Brewing Co. — Greeley, CO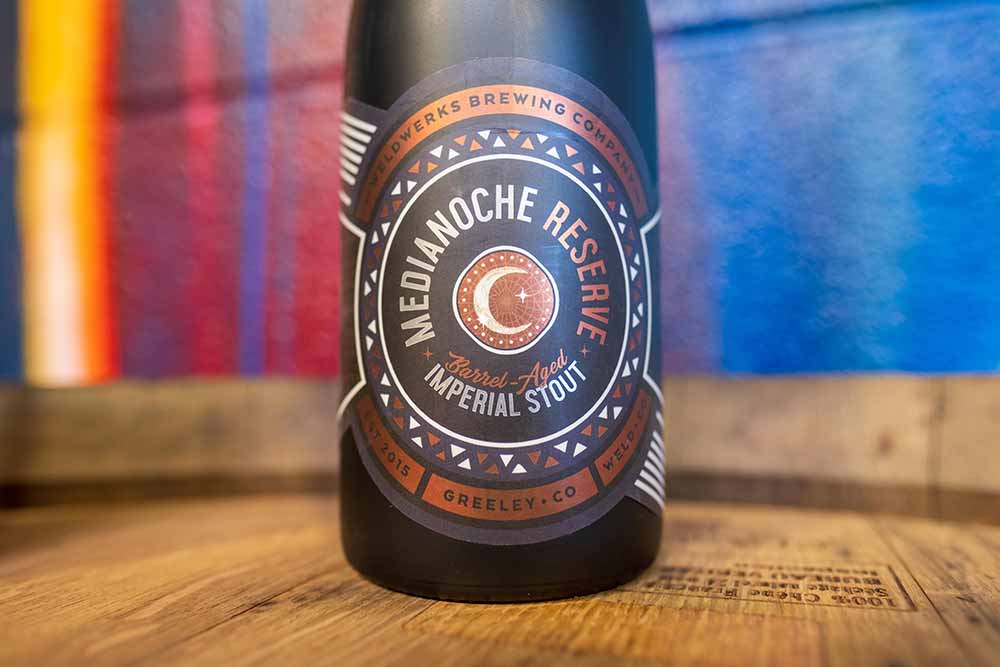 Imperial / Double Pastry Stout – Medianoche has become a bit of a calling for WeldWerks, sending droves of fans to the brewery to enjoy each year's new release. In 2022, WeldWerks blended a variety of imperial stouts including a twenty-one- to thirty-month base in freshly emptied nineteen-year Elijah Craig bourbon barrels, fifteen-year Sazerac Rye whiskey barrels, thirteen-year William Heavenhill bourbon barrels, and ten-year Forester Birthday Bourbon barrels. 🤯
In addition to the blending, Medianoche Reserve 2022 spent time melding with toasted coconut, raw coconut, vanilla beans, and roasted cacao nibs and husks.
All the time, care, and dedication imparted this beer with delicate but punchy flavor. Each layer builds upon the next in a harmonious cacophony of piquancy and gusto.
This is a truly special beer deserving of a truly special holiday to sit down and sip on it.
Snug
Garage Project — Wellington City, Wellington, New Zealand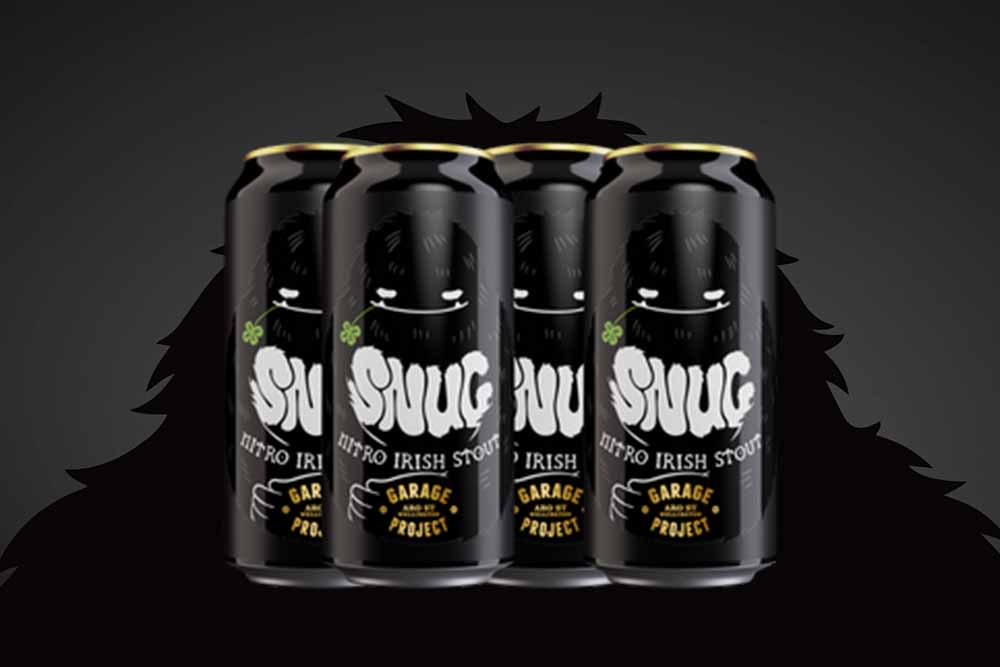 Dry Irish Stout – A beloved dry Irish stout from this New Zealand-based brewery, Snug gets a dose of nitro in the can for a super creamy, dreamy pour. As it says on the brewery's Untappd page, "Just give it a couple of shakes, crack the lid, pour vigorously into a glass, and sit back with a grin while a cascade of tiny nitrogen bubbles slowly rises to form a creamy head atop this silky smooth, pitch black stout. Sláinte."
Stress Dream
The Eighth State Brewing — Greenville, SC, x Fidens Brewing Co. — Colonie, NY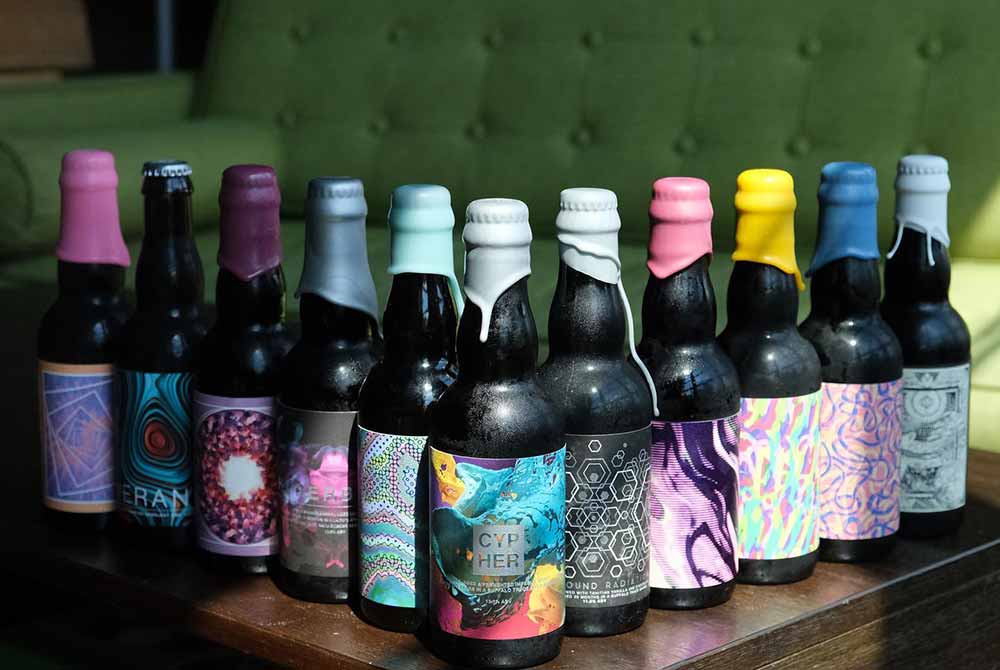 Oatmeal Stout – Stress Dream represents the vanguard of stouts.
"Imagine you're a child, you're at an ice cream shop and they're like, 'what do you want?'" says The Eighth State Brewing Founder Cameron Owen. "I want vanilla ice cream, strawberry ice cream, and then chocolate ice cream with sprinkles on it, a caramel drizzle, a chocolate drizzle, and maybe some cherries. Picture yourself in that moment as a child sitting outside on a hot summer day and being in that moment."
That's Stress Dream.
Yes, it's an oatmeal stout at its core, but it's so much more. It's a memory. Built on the idea of a Neapolitan sundae, Stress Dream includes caramel, cacao nibs, multiple types of vanilla beans, marshmallow, and strawberries. "It's everything you would want in a little waffle cone sundae," says Owen.
The silky mouthfeel from the oats perfectly complements that experience of dipping your spoon into a luxurious ice cream sundae.
"Having this smooth ride with pops of chocolate, caramel, strawberry and building a profile throughout you drinking it rather than just one dimensional is really important to us," says Owen.
It's just a f***ing delicious beer that lights up our memory and brings out the kid in all of us.
Earl
Hill Farmstead Brewery — Greensboro, VT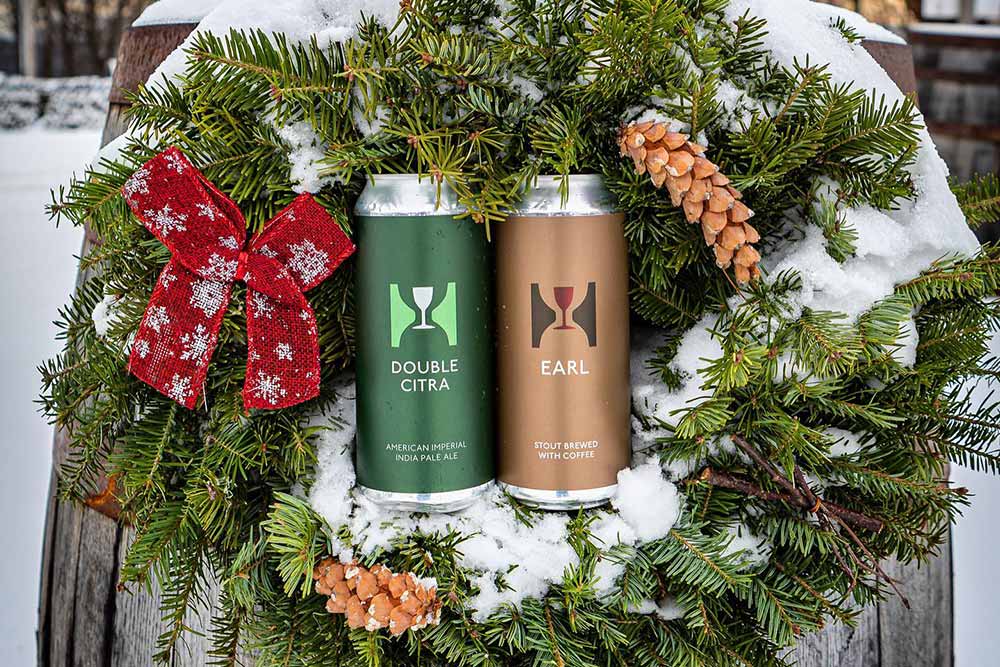 Coffee Stout – Named after Shaun Hill's grandfather's brother, Earl is an homage beer. Featuring American malted barley, flaked oats, English roasted malts, American hops, and even Guatemalan coffee, Earl really resonates as an American interpretation of an English classic.
"A silhouette of coffee and malt—an embodiment of complexity and drinkability, this is the ale that I dream to have shared with Earl," writes Hill Farmstead in the beer's Untappd description.
We think that pretty much says it all.
Bourbon Barrel-Aged Bananversary (2022) Edition
Other Half Brewing Co. — Brooklyn, NY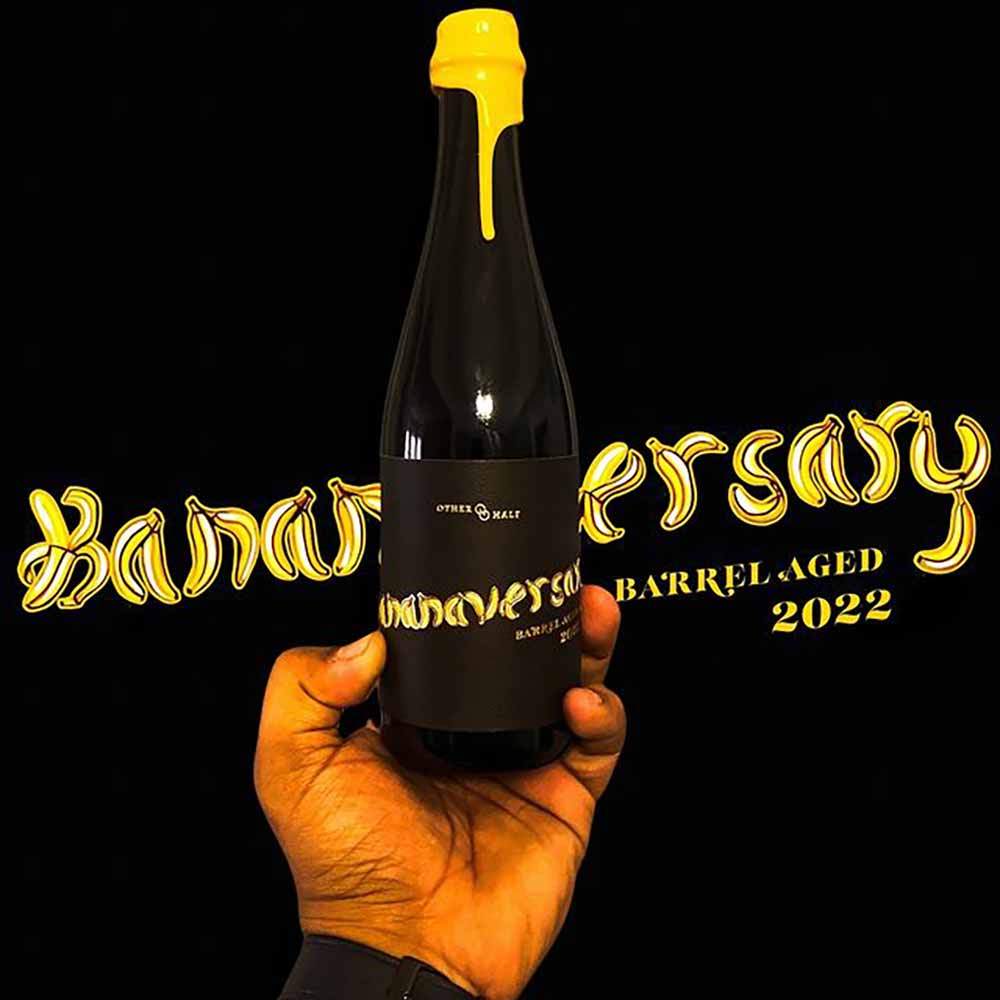 Imperial / Double Pastry Stout – Other Half considers this one like tropical banana bread in a bottle. This year's edition of Bananaversary sat for a year in barrels on top of Thai bananas, coconut, toasted coconut, vanilla, and Macadamia nuts. Clocking in at 15.4% ABV, Bourbon Barrel-Aged Bananaversary (2022) somehow magically makes bananas in beer not only taste good, but also taste so good that this beer ranked as the number one imperial/double pastry stout on the Untappd app in 2022.
Beer : Barrel : Time (Rye 2022)
Side Project Brewing – St. Louis, MO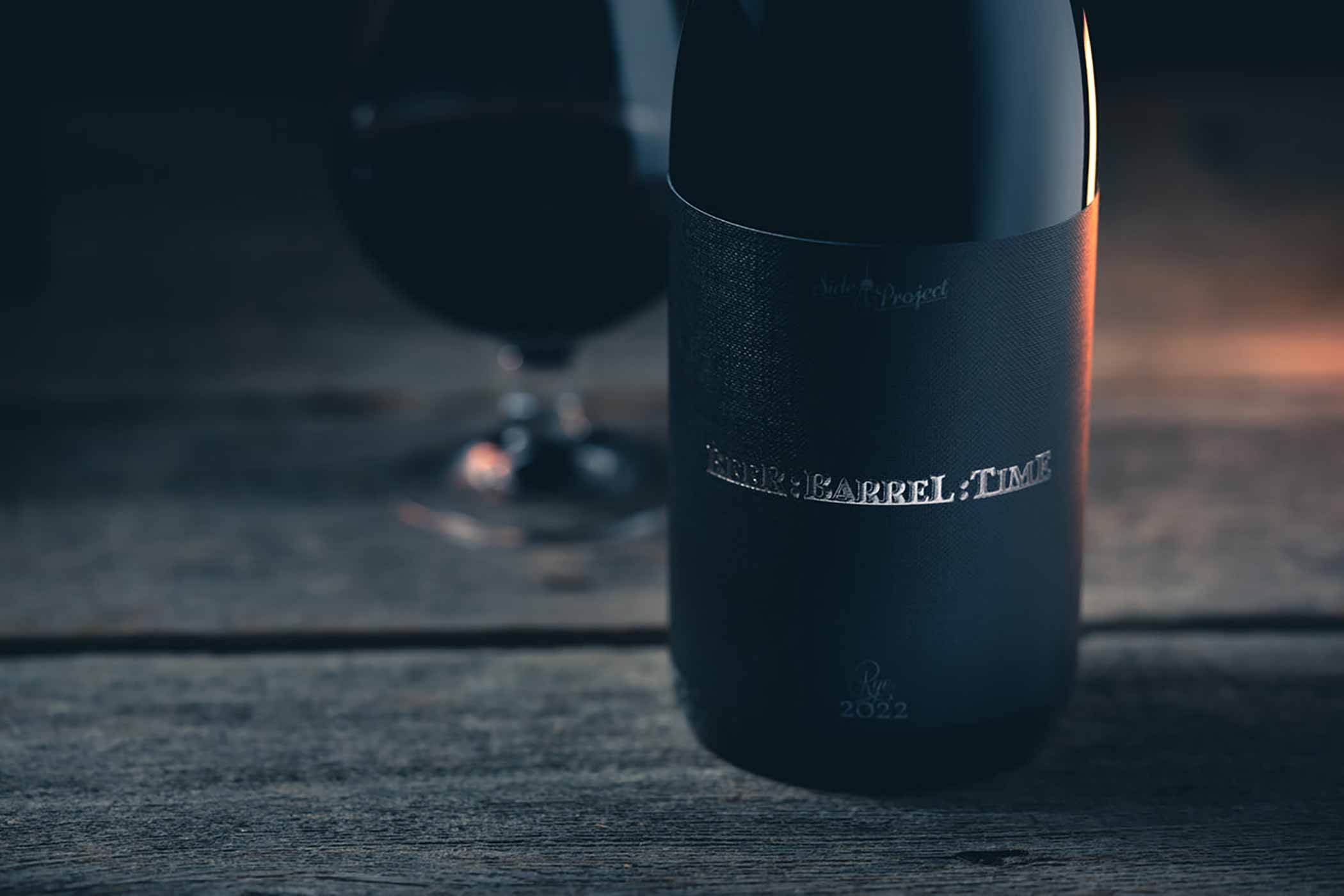 Imperial / Double Stout – Here's a fact for you: Beer : Barrel : Time (Rye 2022) is the highest-rated beer on Untappd in 2022. Not just the highest-rated stout. Not just the highest-rated imperial/double stout. The highest-rated beer of the year. Earning an almost diabolical 4.82 on Untappd, Beer : Barrel : Time (Rye 2022) shines because it does exactly what it says.
It's a beer in a barrel that becomes extraordinary with time.
Side Project blended two different recipes, brewed three different times, finished in three different barrels for eighteen to forty-two months including Willet five-year rye barrels, Willett four-year rye barrels, and StliL630 rye barrels.
More than that, Side Project started planning for this beer two years ago when they kept part of the Beer : Barrel : Time 2020 release to be featured in this year's blend.
It's the layering and the aging that makes this beer unlike any other on the planet.
Blessed
Anchorage Brewing Company — Anchorage, AK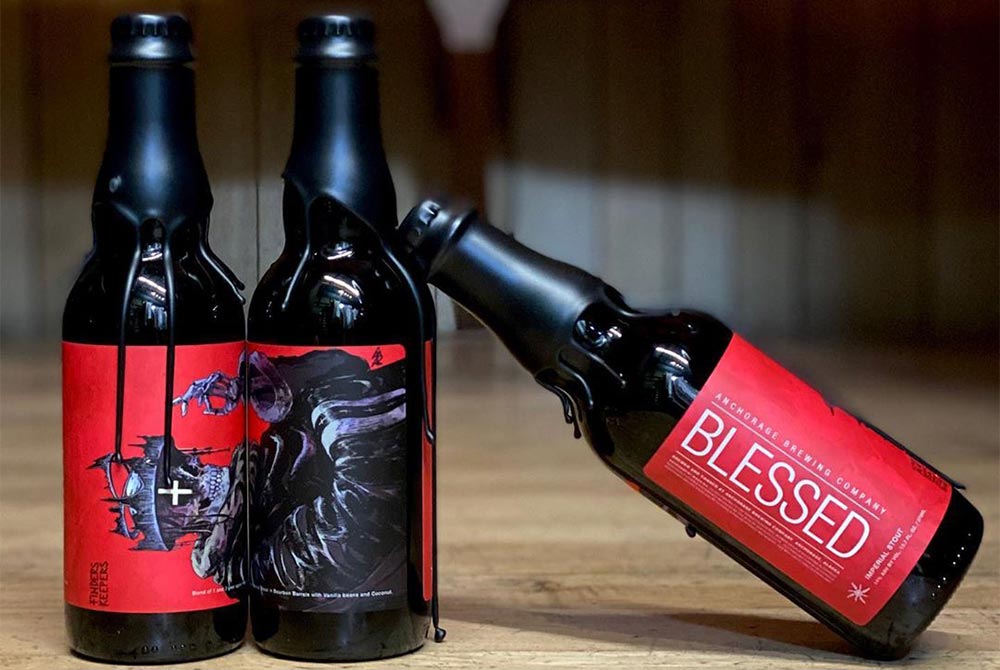 Imperial / Double Stout – Blessed, an aged imperial stout brewed with Madagascar vanilla beans and thousands of pounds of coconut, blends a one-year aged and three-year aged beer from a mixture of Willet and Woodford Reserve Double Oak Barrels. Brewed with actual toasted coconut and vanilla, Blessed marked the first time Anchorage Brewing Co. Founder and Brewer Gabe Fletcher ever put adjuncts in his beer.
"I've been pondering brewing adjunct beers for a while, but just couldn't figure out a way to get the large amount of ingredients I wanted into the beer," says Fletcher in a previous article for Hop Culture. "After plenty of research and advice, Fletcher finally found a solution. He ended up purchasing his own infuser.
"It's a 10-barrel tank that has screens on the bottom and all these racking arms in it. You can essentially purge the thing with CO2, fill the [tank] with coconut and X adjunct, and recirculate it. You press it out and keep doing that until you get the flavor you're looking for," says Fletcher. Bingo! Huge flavor.
Fletcher actually first discovered the idea of the infuser from none other than his good friend Cory King, owner and brewer of the aforementioned Side Project Brewing in St. Louis, MO.
"I've always wanted to use coconut, but it's hard to get that flavor into beer in a big way," says Fletcher. "I can't say how much toasted coconut [I used], but let's just say it was hundreds and hundreds of pounds."
Additionally, Anchorage spent $36,000 on Madagascar vanilla beans to complement the tropical fruit. "There are no fake ingredients in this beer. Everything is real," says Fletcher. Blessed showcases Fletcher's dedication to his craft and painstakingly conscientious approach to brewing.
This is a beer that tastes like German chocolate cake—decadent chocolate, oozing caramel, and tons of toasted coconut.
Midnight Abundance
Moksa Brewing Co. — Rocklin, CA, x WeldWerks Brewing Co. — Greeley, CO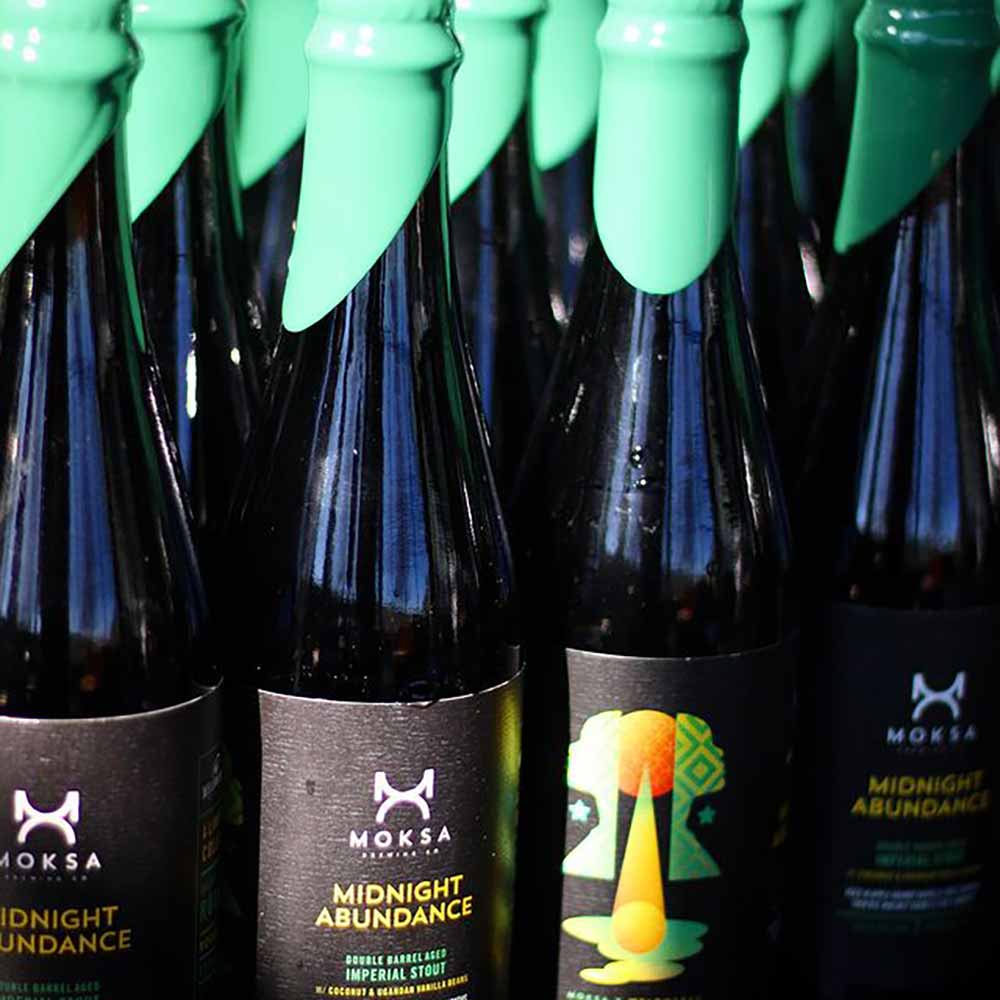 Imperial / Double Pastry Stout – Moksa's award-winning stout program has produced some pretty stunning ones. In fact, just last month, Moksa picked up an award at the Great American Beer Festival (GABF) for Thiccccest Nibs, a barrel-aged imperial stout with cacao husks, cocoa butter, vanilla, and cacao nibs.
But we're highlighting a different beer today—Moksa's collab with WeldWerks called Midnight Abundance.
And here's why: this beer boiled with double the amount of grains for a total of twenty-eight hours, sat in apple brandy barrels for twenty-two months, spent an additional fifteen months in Thomas H. Handy Rye whiskey barrels, and conditioned on one pound per gallon of coconut and half a pound per barrel of Congolese vanilla beans.
Umm, yeah, we don't really think there is anything else we need to say.
This is a boozy, doozy (18% ABV) helluva collab that just slays.
Oh Joy
Pulpit Rock Brewing Company — Decorah, IA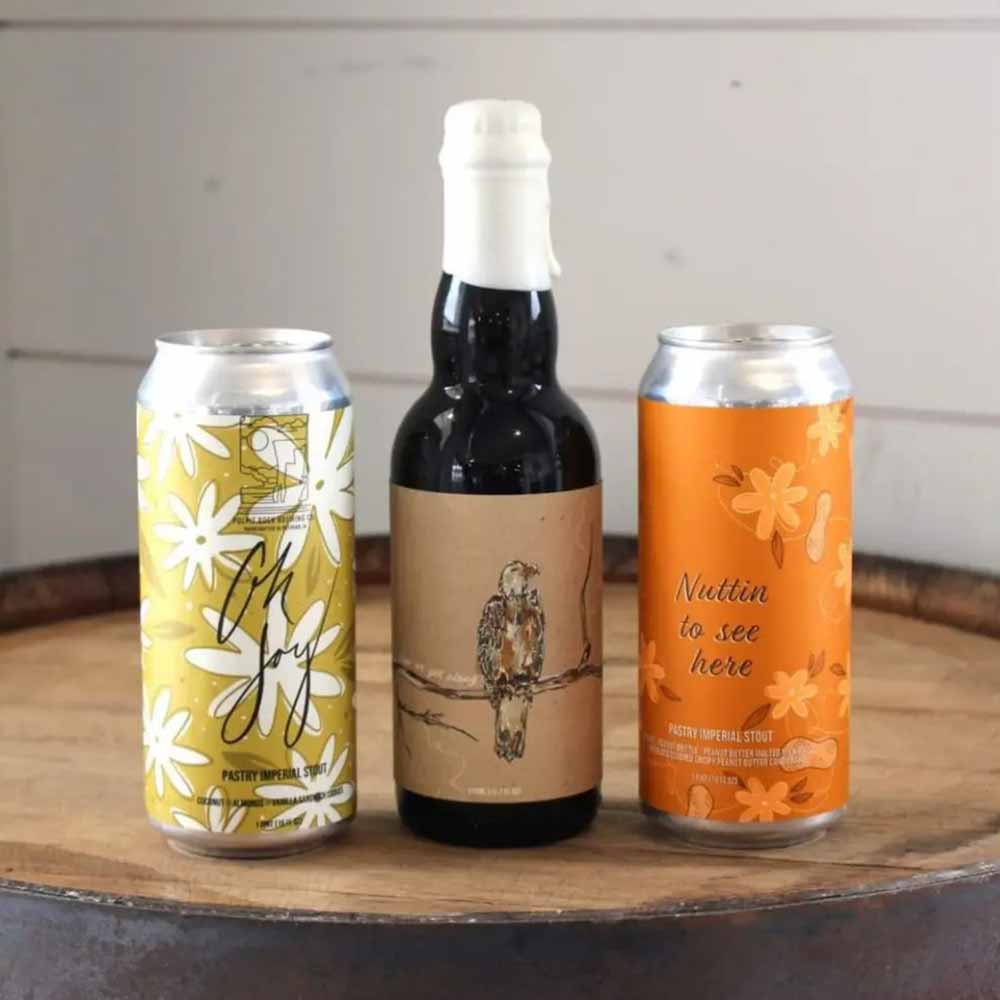 Imperial/Double Pastry Stout – Currently, the second highest-rated imperial/double pastry stout on Untappd in 2022, Oh Joy brings tons of joy to stout fans. Showcasing some familiar pastry stout flavors such as toasted coconut and roasted almonds, Pulpit Rock's version also has a surprise ingredient—vanilla sandwich cookies.
Oh Joy is a pastry stout at its absolute best—11.1% ABV of decadence, indulgence, and sweetness.
Continuous Ignition (2022)
Bottle Logic Brewing — Anaheim, CA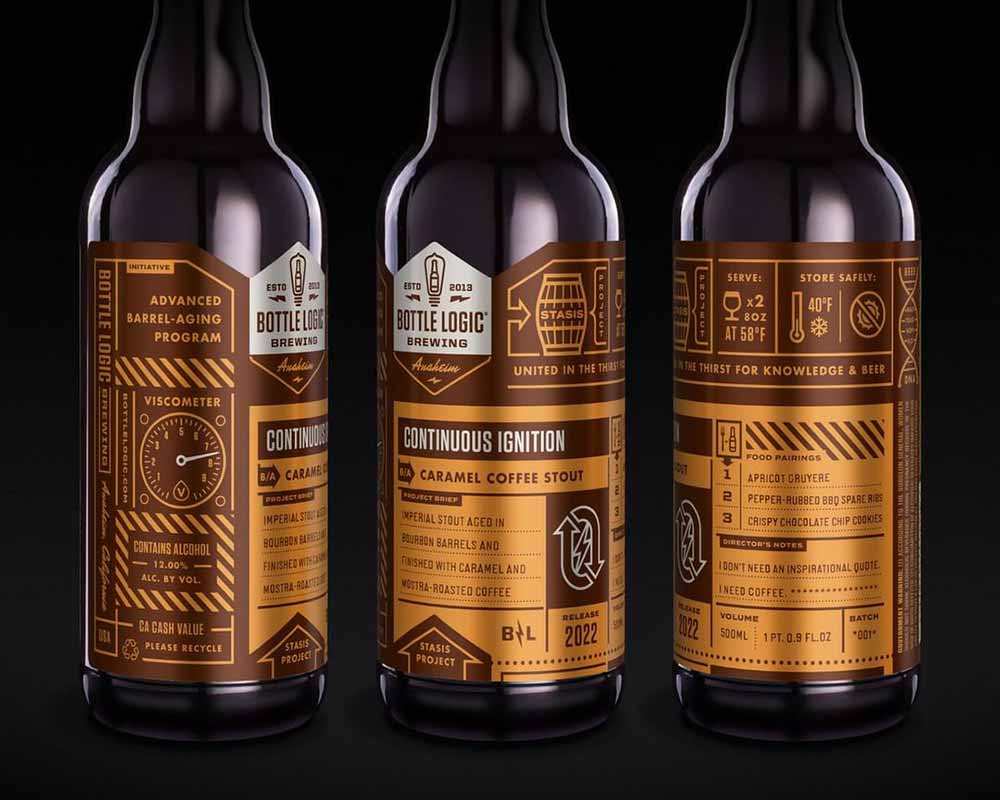 Imperial/Double Coffee Stout – Bottle Logic considers Continuous Ignition (2022) "an exercise in blending." Built on the idea that as humans we all need a steady drip of caffeine to get us through the day, Continuous Ignition blends a double- and single-mash rye imperial stout aged in Four Roses, Heaven Hill, Bernheim, Henry McKenna, and Old Fitzgerald barrels.
Oh, but that's not all. The beer gets fuel injected with a blend of Vietnam Lotus and Guatemala Santa Rosa beans.
The result is a bourbon barrel-aged coffee caramel rye imperial stout hitting north of 12% ABV that's kind of like a Snickers Bar dipped in a cup of morning joe—chocolatey, caramely, nutty, and toasty. All spiked with a nice dose of coffee.
Whams Above Whams Below
Mortalis Brewing Company – Avon, NY, x Prison City Pub & Brewery — Auburn, NY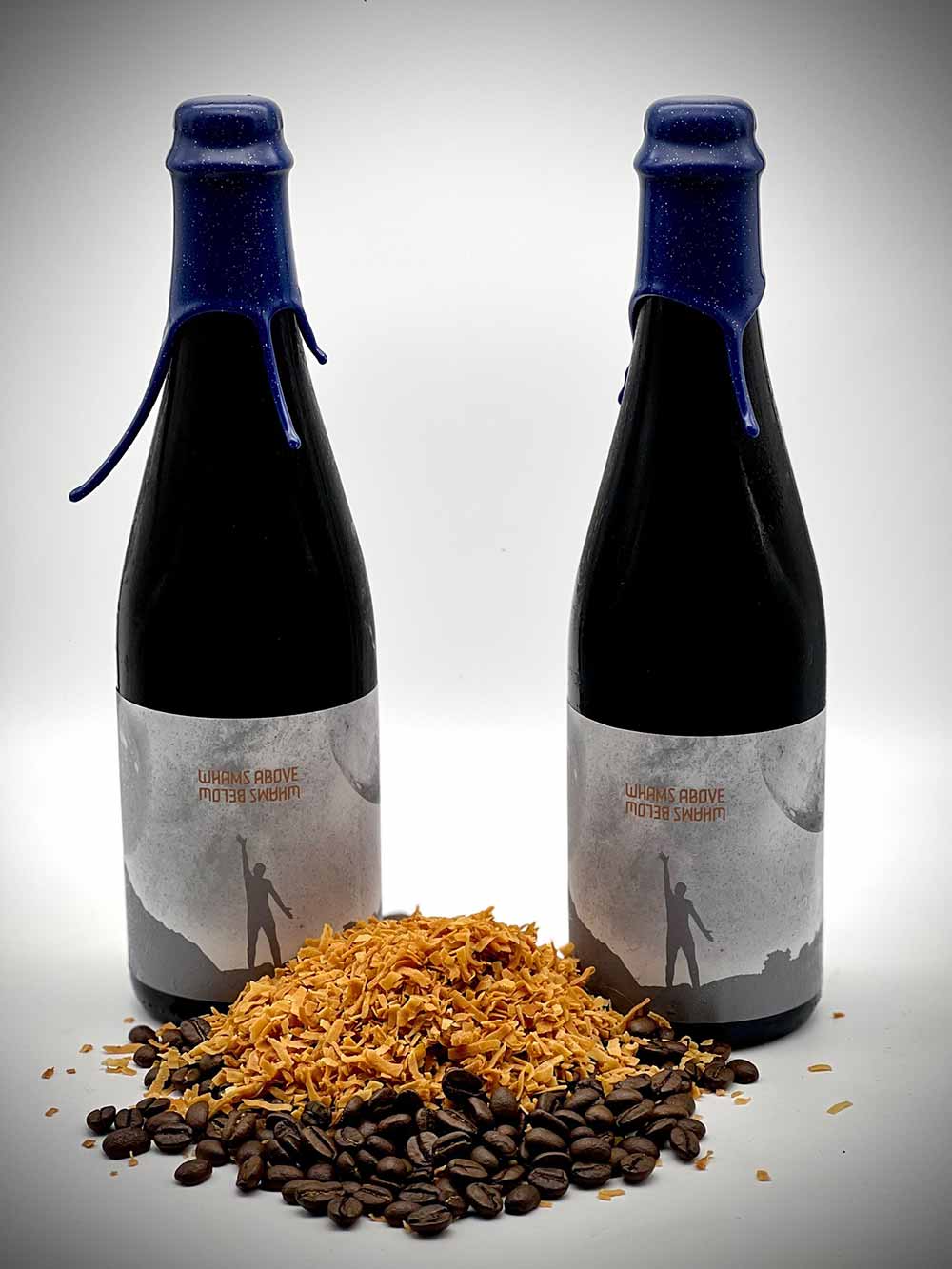 Imperial/Double Coffee Stout – A collaboration with Prison City Pub and Brewery, Whams Above Whams Below combines Mortalis' As Above beer with Prison City's Wham Whams.
An imperial coffee stout conditioned on coffee, toasted coconut, and Tahitian vanilla, Whams Above Whams Below is just an all-around explosion of extravagance that almost seems to teeter on the point of too much.
And yet, as much as we start jumping with the strong coffee, the creamy vanilla and chocolate reigns us in. And as much as we indulge with rum booziness, the pecans and coconut bring us back down to earth. This is an incredibly balanced beer at 10% ABV that simply wows.