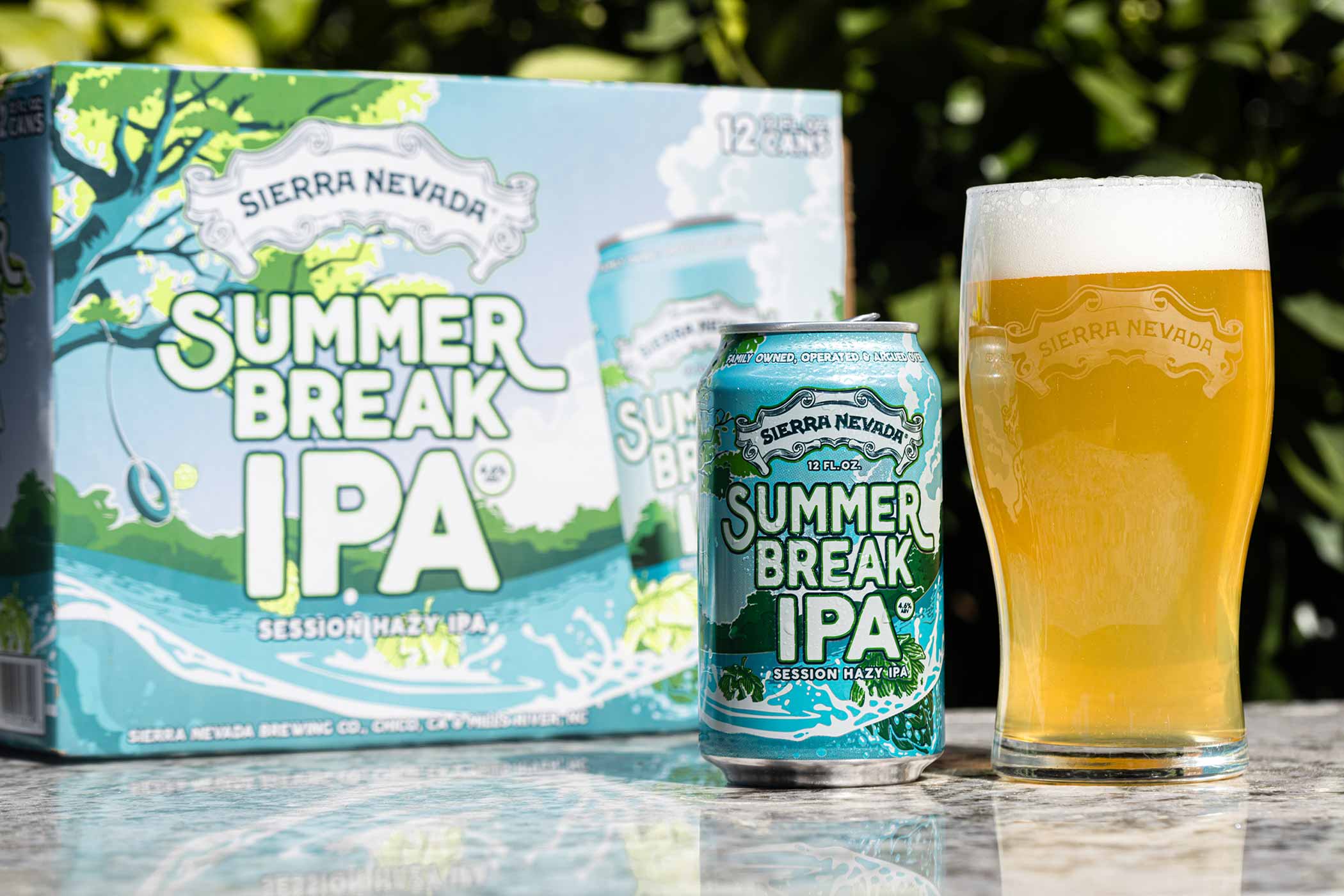 Photography courtesy of Sierra Nevada
Editor's Note:
This is a paid, sponsored post presented by our friends at Sierra Nevada.
We know spring just bloomed, but c'mon this season really just signifies that summer is on the horizon. And we all know summer reigns as the season supreme. Three long months full of splashing around in the ocean, cannonballing into the pool, building sand castles on the beach, biking through our national parks, running through the flower-filled meadows, grilling on the deck, and day-drinking with all of our friends.
Summer calls for beers that sustain us through these long sun-filled hours. Light, sessionable ones that we can comfortably enjoy two, three, or even four of throughout the day without sacrificing flavor.
Sierra Nevada's new summer seasonal, a session hazy IPA called Summer Break, does exactly that.
Bursting with juiciness, but only hitting 4.6% ABV, the beer made such a splash when it first hit shelves last summer that it's back in 2022.
Now it is more flavorful and more balanced than ever.
With Summer Break, Sierra Nevada is yelling C-A-N-N-O-N-B-A-L-L at the top of their lungs.
And we're one hundred percent ready to jump in with them.
Schools Out for Summer Break
Last April, Sierra Nevada made waves when it released Summer Break for the first time.
A different take on a hazy IPA, Summer Break falls into the sessionable category. Or those beers typically lower than 5% ABV that you can comfortably drink a few of without needing to take a long nap.
What could be better during the hot months of summer than a sessionable hazy IPA?
Replacing the brewery's former summer seasonal, a Czech style lager called Summerfest, Summer Break filled a customer need.
"What we found is that with the combination of that really full-flavor, creamy mouth feel, juicy hop character, and that low ABV, people seem to like it particularly in the summer," says Scott Jennings, innovation brewmaster at Sierra Nevada. "There will always be demand for IPAs, just really hop-forward beers, but there is also a demand for lower ABV, so [Summer Break] came from trying to meet that expectation that people want something full and satisfying and flavorful, but without the 7% ABV."
Just think of all the social drinking situations of summer where you want to comfortably drink all day: pool parties, weekends fishing at the cabin, Fourth of July barbecues, Labor Day cookouts, campouts in the backyard.
"You're out biking, you're out hiking, you don't want to get a buzz on, you just want flavor," says Jennings.
The list goes on and on!
Summer Break is like the ultimate warmer weather beer: light on the ABV, but heavy on the hops.
A Cannonball of Hops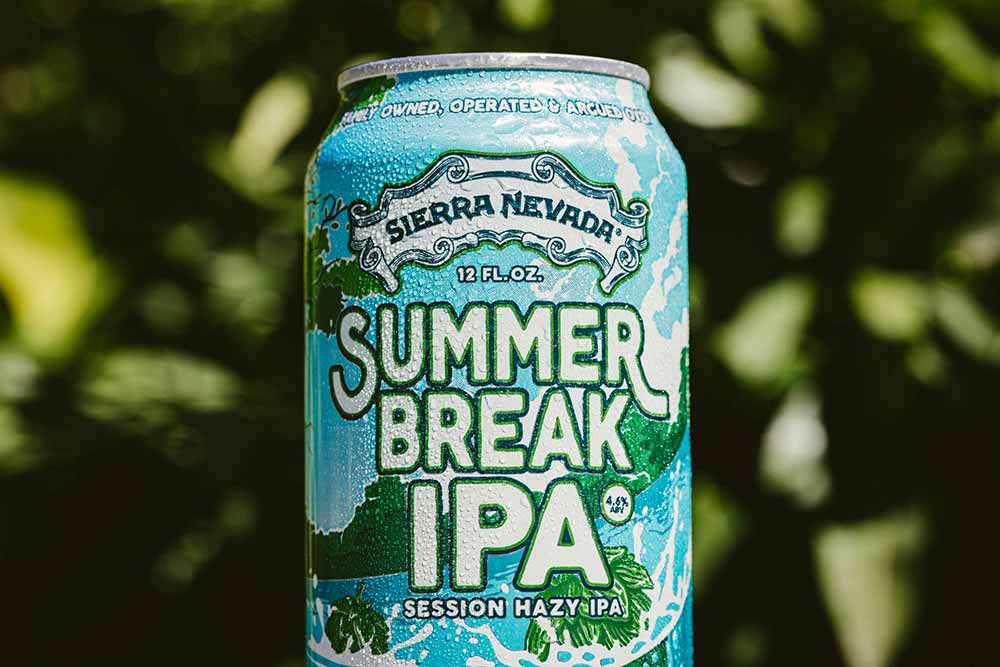 Check out the hops invited to the Summer Break pool party: Amarillo, Chinook, Comet, Mosaic, Simco, and Strisselspalt.
Those are some heavy hitters.
And each plays their part harmoniously.
For instance, Strisselspalt, a hop notable for its extremely low alpha acid content. "That's useful for us because the International Bittering Units (IBUs) are not that high," says Jennings, who notes he adds that hop addition first in the brewhouse. "Strisselspalt at low alpha allows us to put a pretty good amount in there and not overdo our IBU target. It helps us achieve that balance."
The rest of the hop bouquet in this session hazy plays an important role in developing flavor.
"It's not a West Coast style, so we don't want a lot of piney dankness," says Jennings. "We had to create a blend that gives us complexity on the one hand and sticks with that juicy, citrus, tropical impression."
Afterall, that's the goal of Summer Break: to deliver big cannonball bursts of juice that hit you with refreshing wave after wave.
Executing the 10.0 Dive: Finding the Perfect Balance Between High Flavor, Low ABV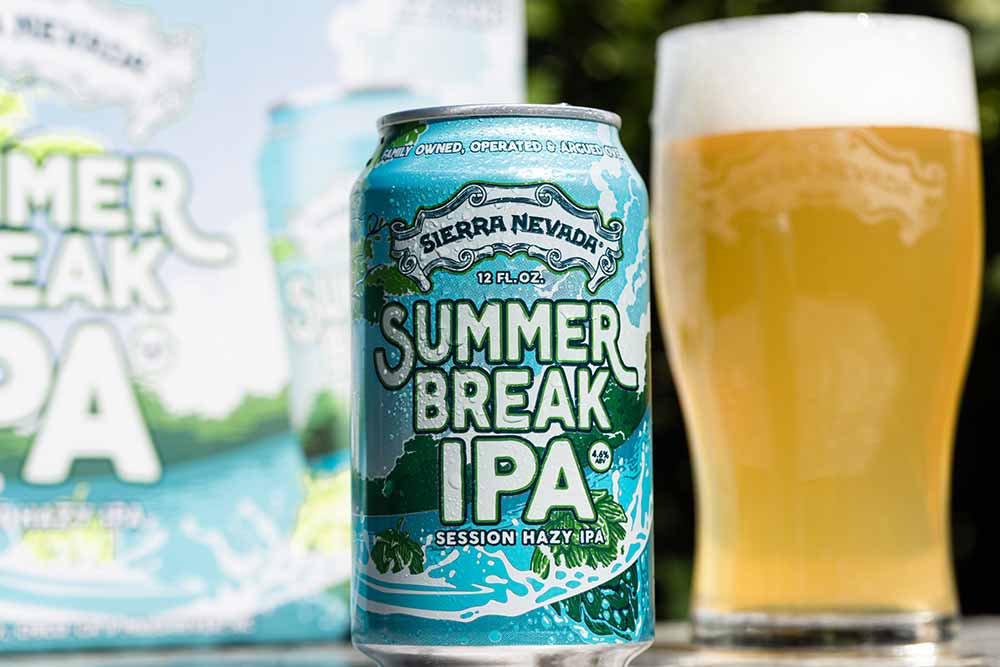 A break from some of the heavier hazies on the market, Summer Break dives in at 4.6% ABV.
The low alcohol content is a crucial part of this session hazy.
But achieving that lower alcohol content, while keeping the flavor high, is a tricky task (just ask any non-alcoholic beer brands).
"The funny thing about the alcohol content of beer is that you don't really think about it too much, but the contribution to mouthfeel and body that the alcohol just by itself gives beer is not to be underestimated," says Jennings. "It is very impactful. When you take the alcohol level down, you have to compensate in other ways otherwise the beer just feels empty."
According to Jennings, Sierra Nevada spent at least six months developing the recipe for Summer Break. Jennings and his team made a half dozen versions before they settled on the perfect recipe that achieved that essential balance.
So far, the extra work paid off.
Summer Break wowed fans last year when it hit shelves for the first time.
The Verdict on Summer Break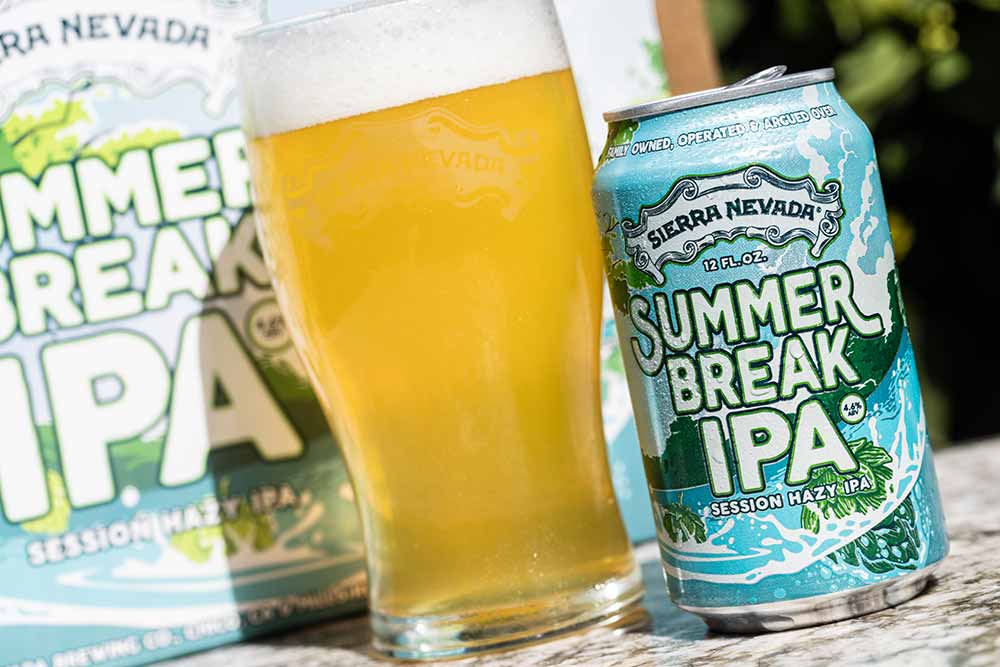 Hops are the star in Summer Break. And you'll notice that as soon as you pop the tab.
"You're going to find hop aroma immediately after opening the can," says Jennings "I always like to say please pour it in a glass if you can…because the aromas will be all the more impactful."
Although Jennings concedes that if you're out on the trail or drinking on the beach, you'll still enjoy Summer Break straight from the can.
But if you can pour it out you'll be treated to big pops of juicy citrus. "More grapefruit than orange or lemon, but you might get a little hint of orange," says Jennings. "Behind that you'll have some tropical notes. Maybe a hint of mango or impression of passion fruit."
That fruitiness follows on the first sip buoyed by a luxurious mouthfeel.
"It is full, but also crisp, which sounds like an oxymoron," laughs Jennings. "You get a very creamy, silky impression generated from the oats and wheat in the grain bill. But Summer Break finishes very clean and balanced.
"The bitterness isn't too high that it lingers or has a real sharpness and it's not so low that the beer finishes sweet and cloying," says Jennings. "It has that balance at that level of conundrum: Gosh this is crisp, but wow, it's full, too."
Overall, Summer Break is the perfect beer to ease you into the season and keep you drinking all summer long.
But that's just one take.
Jennings wants to encourage all of you to share what you think of Summer Break. "Honestly, a lot of what we do is based on the feedback from the fans," says Jennings. "If people have a minute to reach out, let us know what you think!"
You can drop the brewery a line here.
Where Can I Find Summer Break?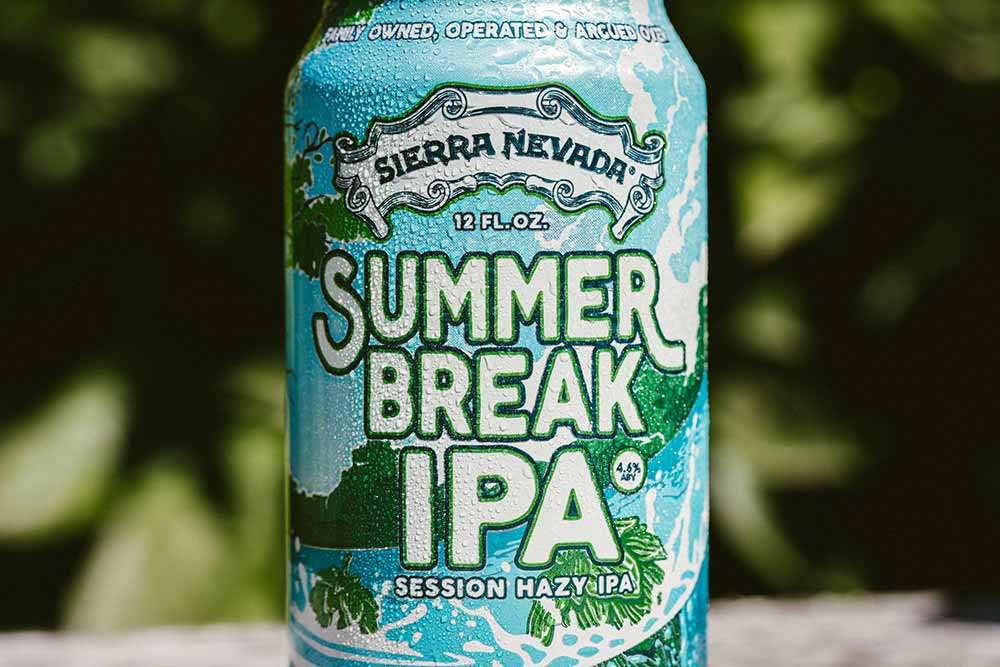 Summer Break is available in 12-oz cans in 6-packs and 12-packs along with on draft. You can find the season hazy IPA across Sierra Nevada's entire national distribution footprint.
So what are you waiting for? Go jump into summer with Summer Break!