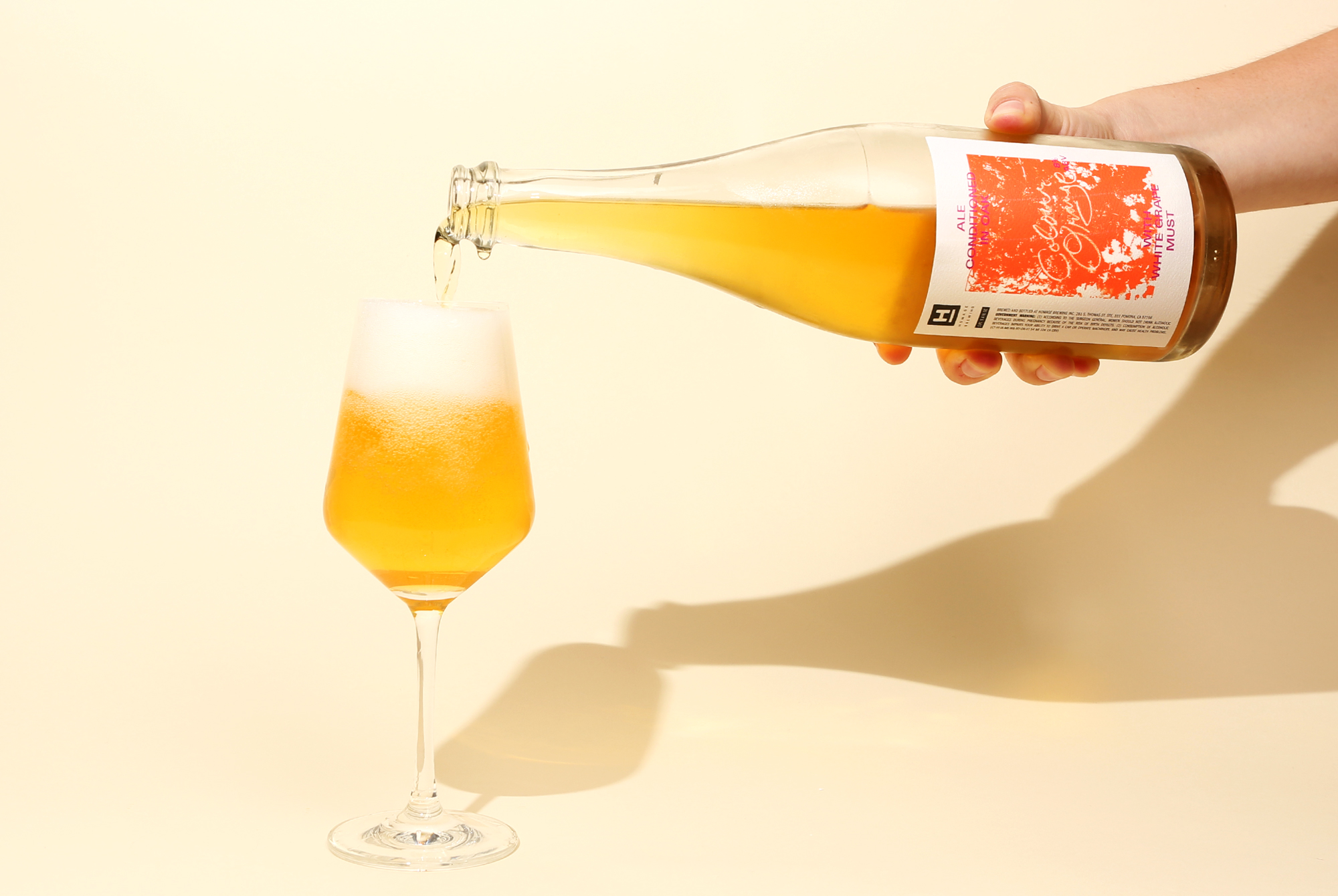 Photography by John A. Paradiso
The day after Hop Culture threw the Juicy Brews Beach Party Craft Beer Festival in San Pedro, California, I hopped on a train to Pomona. The quiet city is about as far east as you can go from the ocean while staying within Los Angeles County. For years, I'd been enamored of Pomona's Homage Brewing, envying the chic, stylish taproom and enjoying founder Matt Garcia's soft, progressive beers from afar. This was my chance to finally spend some quality time with Garcia, pick his brain on how he combines the progressive flavors of sour beer and natural wine, and enjoy the beautiful city of Pomona.
Before making the trip to California, Garcia and I had been going back and forth over text about his newest passion project: reinterpreting natural wine in craft beer. He was inspired by the commitment to low intervention, the evocative flavor, and–as a design geek–the aesthetic quality of juicy, fruit-forward pet nats and vibrant skin-contact whites (also known as "orange" wines).
It was fitting, then, that Marissa A. Ross, Bon Appetit's Wine Editor, joined us at Homage Brewing to spend the day drinking and chatting about beer and natural wine.
What Is Homage Brewing?
Founded in Pomona, California in 2016 by husband and wife team Matt and Lauren Garcia, Homage Brewing specializes in Belgian-inspired mixed-culture and wild ales. They also brew some damn fine IPAs, lagers, and stouts. But I'd argue that the creativity and variety afforded by saisons and sour beers are Homage's bread and butter. That being said, they're not content resting on tradition. The Garcias want to bring something new to the table.
"If we can't add something new to the conversation with a beer style or process, why make it?" Matt asks.
This ethos manifests in beers like Chat Flou, Homage's highly regarded interpretation of a Pêche. Or Wild Pink Robots, a wine-barrel aged wild ale brewed with strawberries.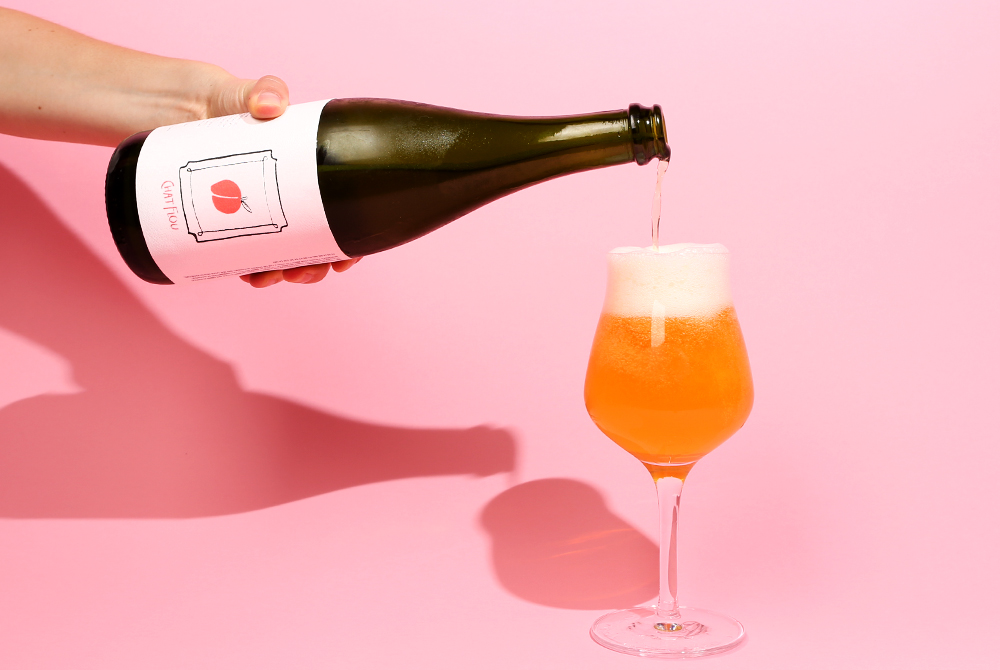 Homage isn't reinventing the wheel with these beers. But, like The Referend, Ale Apothecary, or Primitive, Homage brews Old World beer in its own voice.
Nearly as important as the liquid itself is a focus on aesthetics. Take one look at Homage's merch and labels and you'll realize that art and design play an important role in the brewery's story.
In my opinion, Homage is special. Not because the Garcias make modern Belgian-inspired beers–there are plenty of exceptional breweries doing the same. But the Garcias are interesting individuals, and their beers are the sum of their passions. Their latest? Natural wine.
Homage Brewing: Where Sour Beer Meets Natural Wine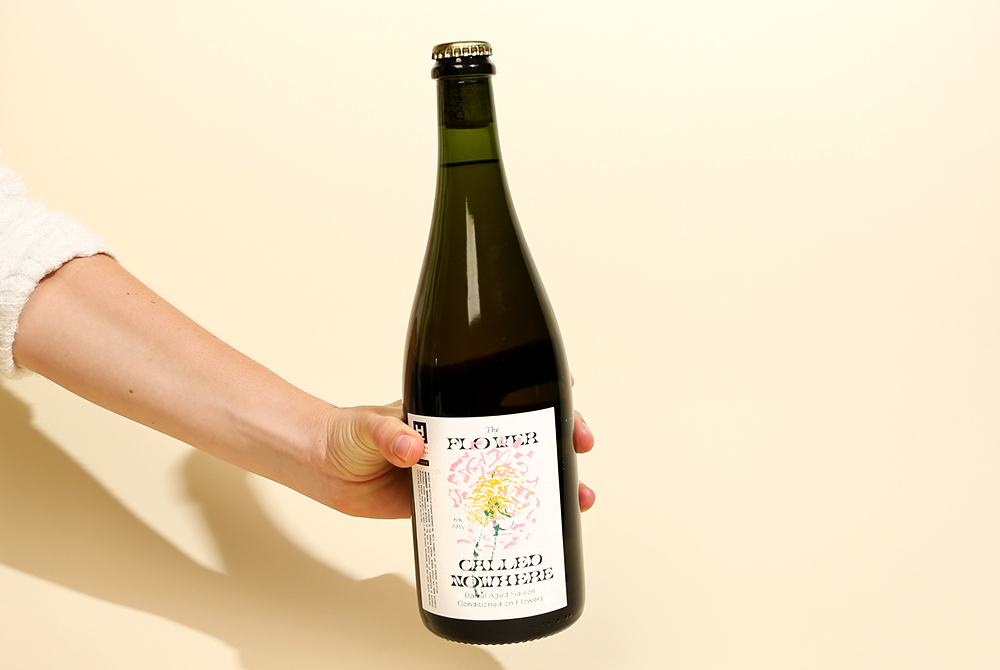 Garcia is passionate about learning. He started homebrewing because, as a bartender Yard House and a beverage director at Congregation, he wanted to educate himself on the process of beer.
That's why he initially reached out to Marissa Ross and other experts in natural wine. He had sampled a handful of skin-contact whites and naturally carbonated reds. And he was blown away. The zippy acidity, refreshing quality, and vibrant fruit flavors were exactly what he sought in saisons. But instead of hops, barley, and water, these wines just had grape juice.
After becoming familiar with the processes, tools, and hallmarks of natural winemakers–low intervention, natural fermentation, and expressive flavors–he saw an instant connection to beer.
"This is just lambic," he shares with a laugh. He continues, saying, "I like everything in the fermented world. And I want to learn about it. There were such hard lines between beer, wine, cider, kombucha. Sure, the ingredients are different, but they're all fermented beverages. Why can't we blur those lines?"
Blending The Lines Of Fermentation With Colour Orange
Colour Orange was Homage's first intentional nod to the world of natural wine. I say "intentional" because Garcia, along with Homage head brewer Jeremiah Bignell, have previously made beers with wine industry staples like barrels, blending techniques, and grapes. But Colour Orange was definitely deliberate.
With Colour Orange, Garcia set about trying to find the middle ground between beer and natural wine. Specifically, he sought to recreate the eye-catching colors of "orange wine."
Using a thousand pounds of Paso Robles Sauvignon Blanc grapes and learning about skin-contact fermentation from Ross, Garcia and Bignell combined white wine grape must with a blend of Homage Saisons.
Garcia is quick to clarify that he doesn't consider Colour Orange a "hybrid."
"It doesn't accurately describe what we're trying to accomplish with our ales," he writes in a pamphlet that accompanied the Colour Orange release. "We are still incorporating traditional and nontraditional techniques utilized by winemakers, Belgian brewers, and cidermakers."
How Is Colour Orange?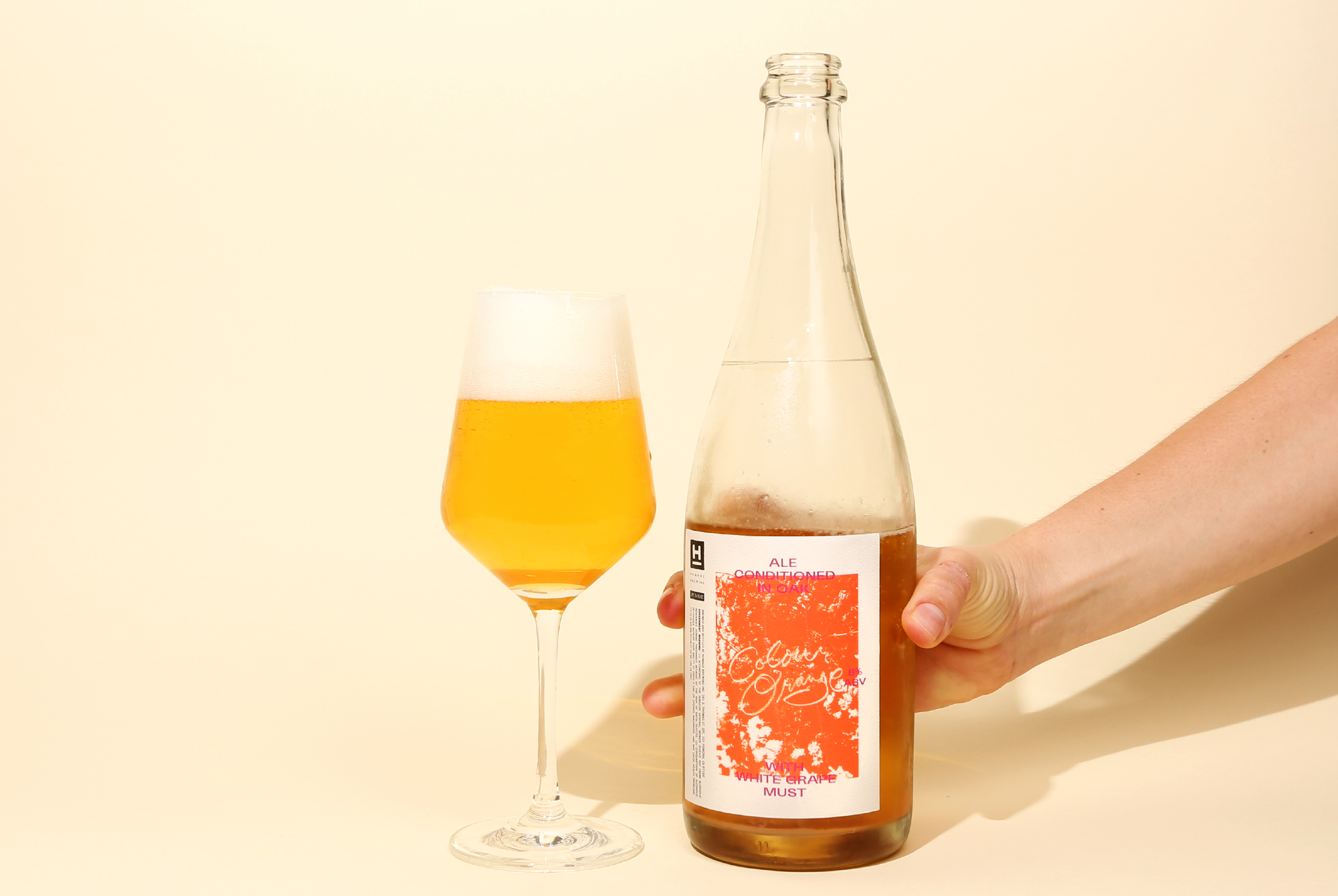 Fantastic.
The clear glass bottle highlights the stunning Gatorade orange color. You pop it open, go for a sniff, and you're met by a field of daisies that beckon you to lie down. You can practically see the farm stand in the distance.
Upon first sip, you find prominent fruit flavors. Grapes, sure. But also apricot, grapefruit, pear. A gentle but present acidity prickles your tongue and pulls you in for another drink. Seriously. It's all there.
The Colour Orange is a blend of red wine barrel-aged saisons brewed with aged hops and re-fermented on Sauvignon Blanc grape must. If you're into this kind of thing, you've likely seen similar descriptions for other beers. Again, this isn't necessarily revolutionary. But, Garcia fully committed to the process.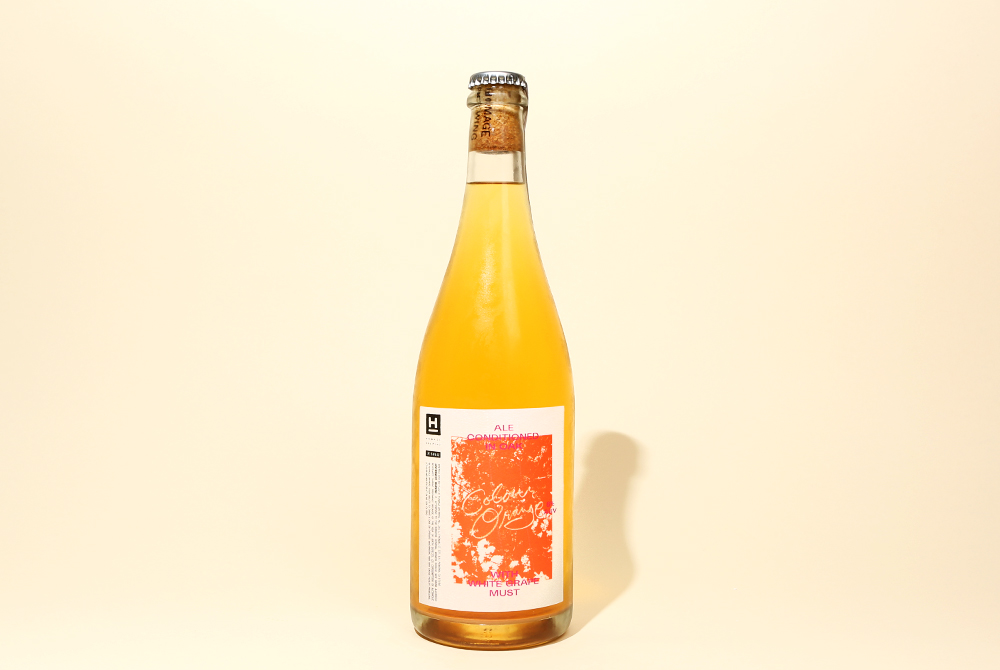 Taking notes from the incredible natural wines he buys at the stellar Los Angeles wine shop Psychic Wines, Garcia and Bignell pressed a thousand pounds of Sauvignon Blanc grapes and used a "skin contact partial fermentation, spontaneously fermenting the juice using native wild yeast from the grape skins."
Then, they blended and aged base saisons before adding the grape must to the Saison blend. Finally, after fermenting for six weeks, Colour Orange was bottled and conditioned for over a year before it was released.
Craft Beer, Natural Wine, And The Future Of Fermentation
Garcia had invited Marissa Ross to the brewery because he was proud of his product and wanted to show it off to someone who appreciates quality fermented beverages. But he also wanted to keep learning.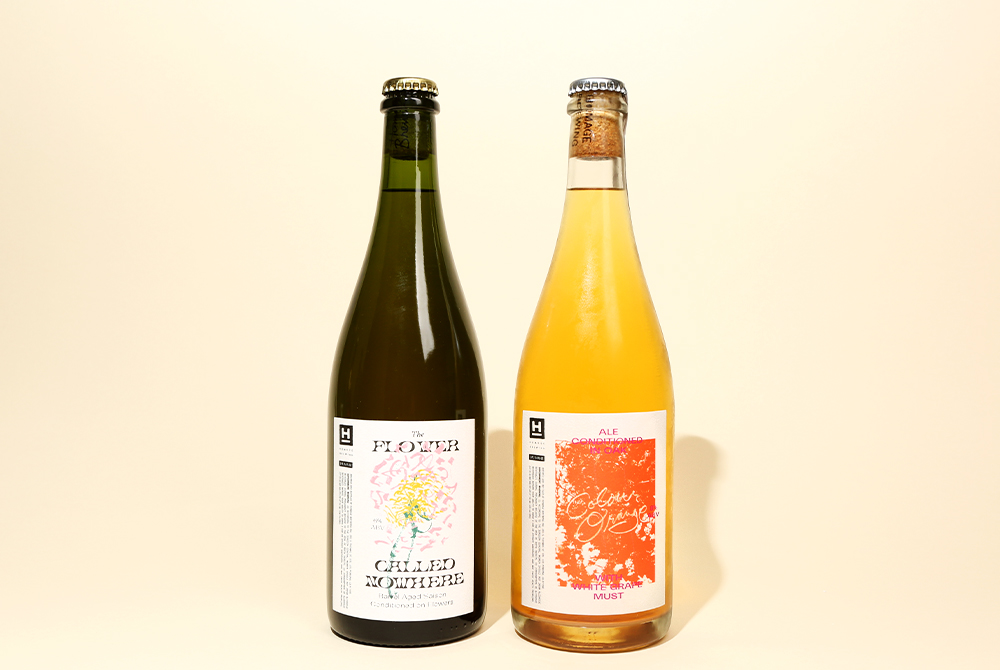 That day at Homage Brewing quickly became an education session, with Ross explaining more of the world of natural wine to Garcia. Similarly, he gave us an education in beer. After we tried Colour Orange, Garcia poured a Cantillon lambic, demonstrating that the low-intervention, spontaneous fermentation methods of natural wine have a rich history in beer.
"I think we're closer to wine or cider than most people care to think about," he said.
There's a common dialogue between beer and wine that starts with the means of production and ends with different terminology.
For instance, flavor descriptors in beer tend to be more scientific while wine drinkers often describe the sensations of taste. Watching Garcia and Ross talk was like watching a conversation between two people who understood each others' languages, but spoke in their native tongue. Ross would say "Volatile Acidity." Garcia would respond with "Acetic Acid." Ross would say "Mousiness." Garcia would answer with "THP."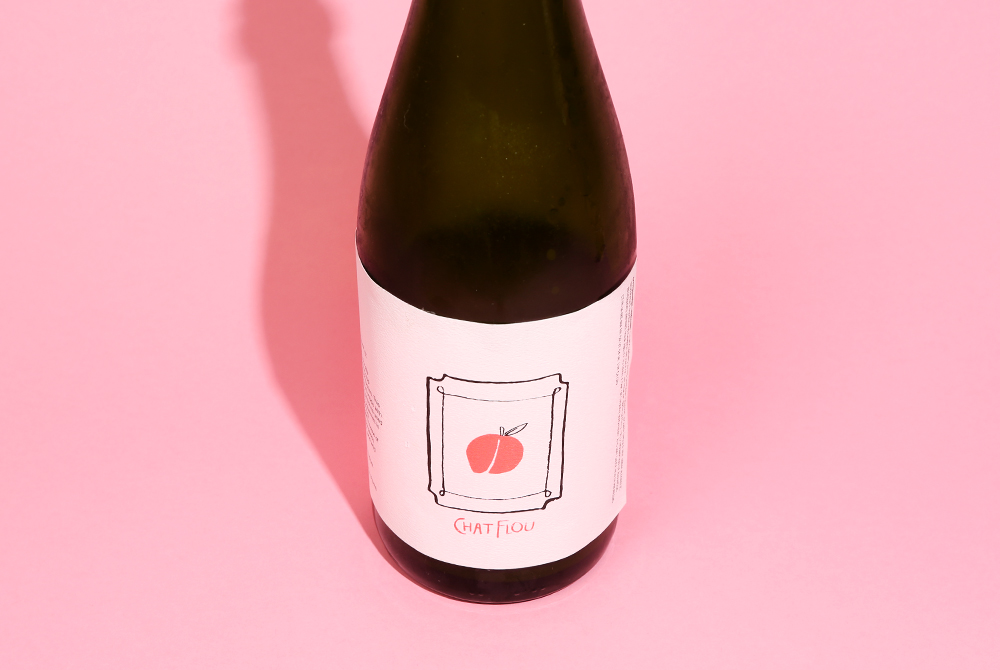 Semantics aside, Garcia was keen to soak in the recent history of natural wine and better understand how winemakers could achieve such complexity in flavor and minimal acidity in a product. He'd first found an answer in saison. But, he knew that natural wine could dovetail neatly with the Belgian beers he adored.
"Winemakers and mixed-fermentation makers have so much to learn from each other," Garcia said. "If we can somehow bring these similarities to light, I think it opens up a whole new point of view."
Liked this article? Sign up for our newsletter to get the best craft beer writing on the web delivered straight to your inbox.