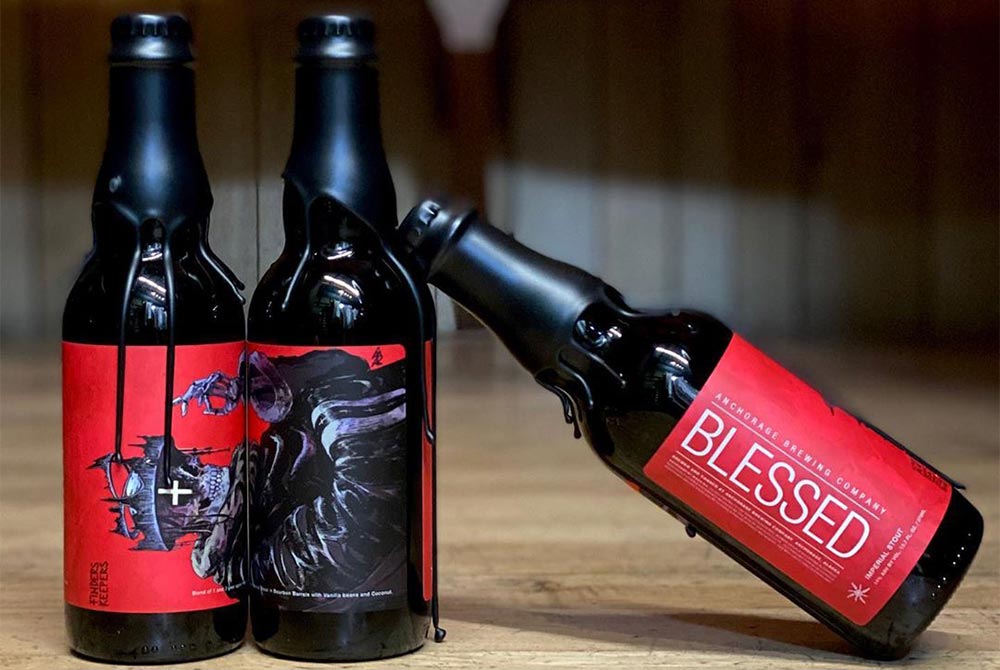 Photography courtesy of Anchorage Brewing Co.
Editor's Note:
This is a paid, sponsored post presented by Tavour.
A land teeming with salmon, moose, caribou, bears, bison, and puffins.
A land larger than any other state in the union.
The land that calls dog mushing the official state sport and hosts the world's largest sporting event and Last Great Race on Earth®, the Iditarod.
Alaska, the Last Frontier is known for many things. But, it's rarely a state known for its beer.
Yet, there amongst 17 of the highest peaks in America, about 100,000 glaciers, the largest national forest in the country (Tongass), some places that don't see the sun for over two months, and the only state capital inaccessible by road, one brewery quietly makes some of the best beer in the country. Just don't give a moose any of that fantastic beer because it's technically illegal.
What is Anchorage Brewing Co.?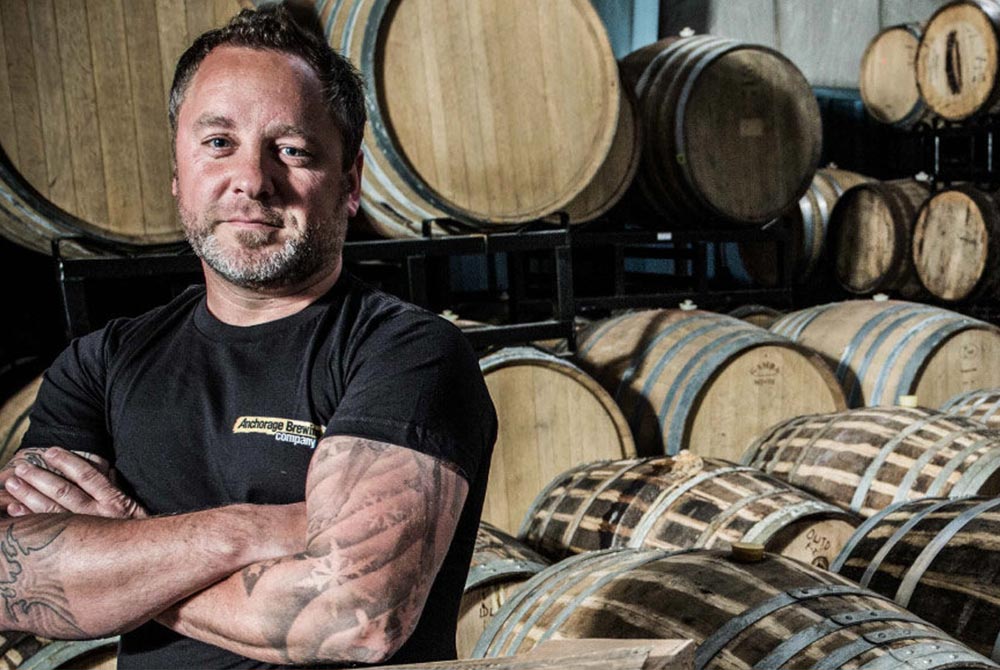 Gabe Fletcher, founder and brewer of Anchorage Brewing Co., came up with the crazy idea to start a brewery while working as the head brewer at Midnight Sun Brewing Co. in Anchorage, AK.
Fletcher spent more than 13 years at the brewery perfecting his craft and planning out the steps to open a business he could call his own. Finally in 2010, Fletcher took the plunge. Reaching out to his connections in the Anchorage beer scene, Fletcher struck a deal with Gary Klopfer, the owner of Anchorage's Snow Goose Restaurant and Sleeping Lady Brewing Co. Fletcher rented the brewhouse to make his wort and leveraged the space downstairs underneath the restaurant to ferment and age his beer in oak barrels. In 2011 Fletcher released his first Anchorage Brewing Co. beer.
Turns out Fletcher's meticulous attention to detail and brewing expertise combined to make some pretty amazing beer. The brewery took off, eventually moving to its own brick and mortar in 2014. Today, the brewery lives by the motto that, "they have an unwavering commitment to making the world more interesting by taking extreme steps to produce some of the most unique beers ever made."
With close to 1,400 miles separating Alaska from the rest of the 48 states, it used to be difficult to find Fletcher's beer in states across the "mainland" U.S. In fact, one of the only ways to currently try his special barrel-fermented beers, short of hopping on a plane and flying to Anchorage, is through the beer delivery service, Tavour.
How to Get Anchorage Brewing Co. Beer
For just over two years now Fletcher has been partnering with the Washington-based company that ships beer from over 650 breweries across the country and right to your front door.
Meghan Packard, Vice President at Tavour first found Anchorage back in 2015. "They were all over tops lists of breweries around the country, super exclusive, and making incredible beer," says Packard. "I contacted Gabe ALL the time and NEVER heard back."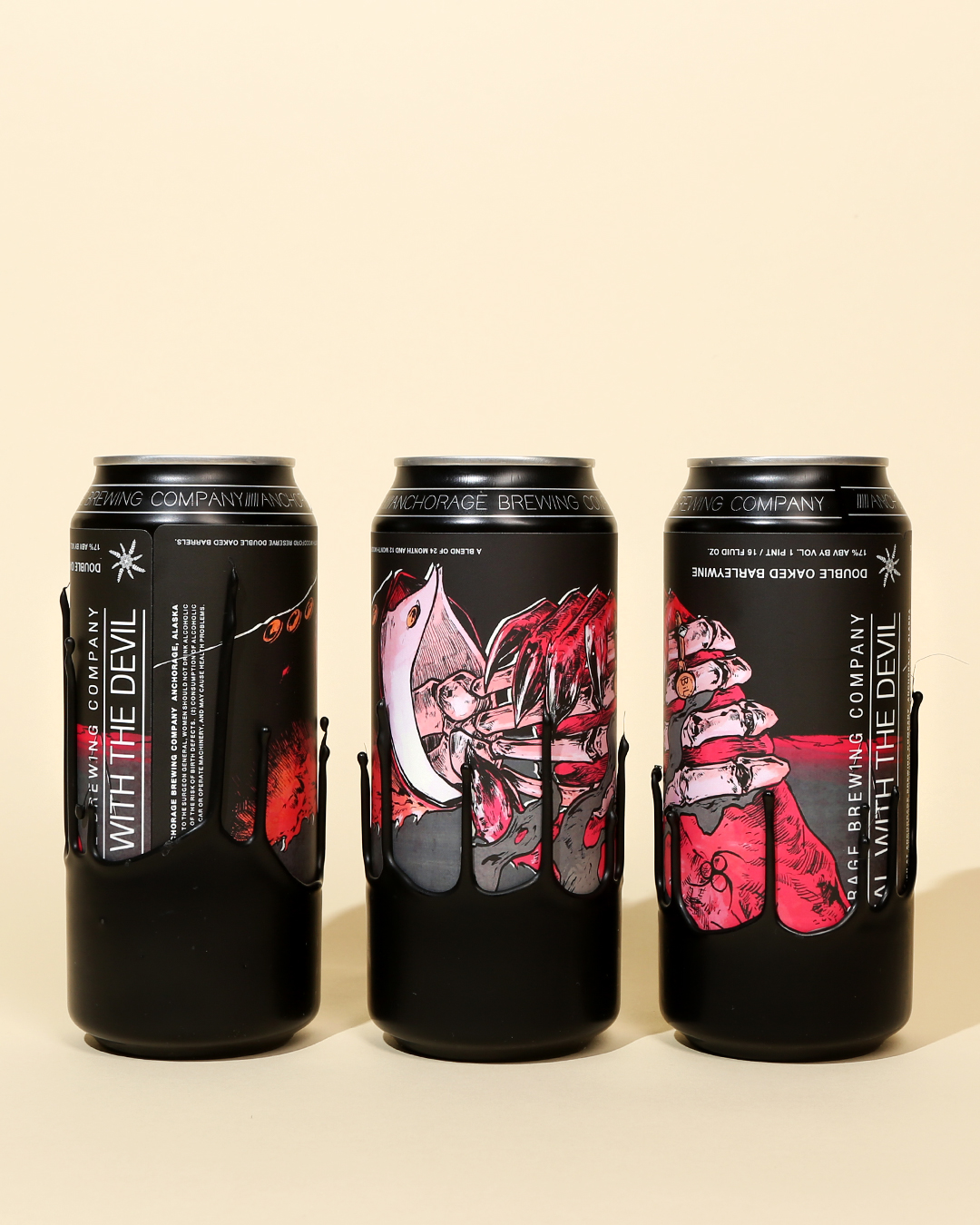 Finally, during the 2017 Craft Brewers Conference (CBC) the two met in the hotel lobby. "He was super shy, didn't say much, but wanted to give me a shot," says Packard. "I promised I would take care of him and asked him to trust me."
Fletcher felt hesitant to work with Tavour at first.
Anchorage Brewing Co. Delivers Beer Through Tavour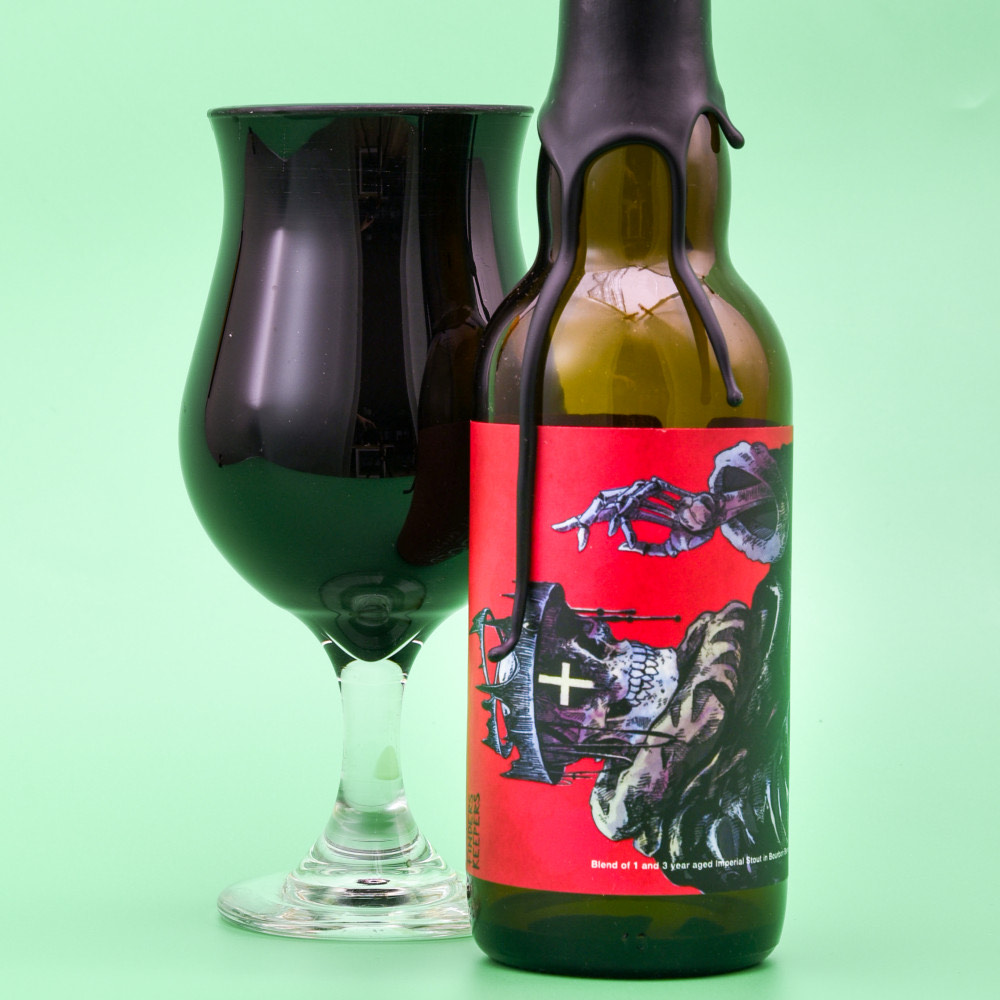 "I was a little apprehensive because we're protective about how we sell beer. I liked the idea of shipping direct to consumers, but I wasn't sure how much Tavour would be able to [sell]," says Fletcher. "Turns out it's a lot!"
Tavour has become the number one way for Anchorage to sell beer outside of their tasting room.
And during a pandemic that forced Anchorage to close their taproom doors just like everyone for a while, Tavour has been crucial.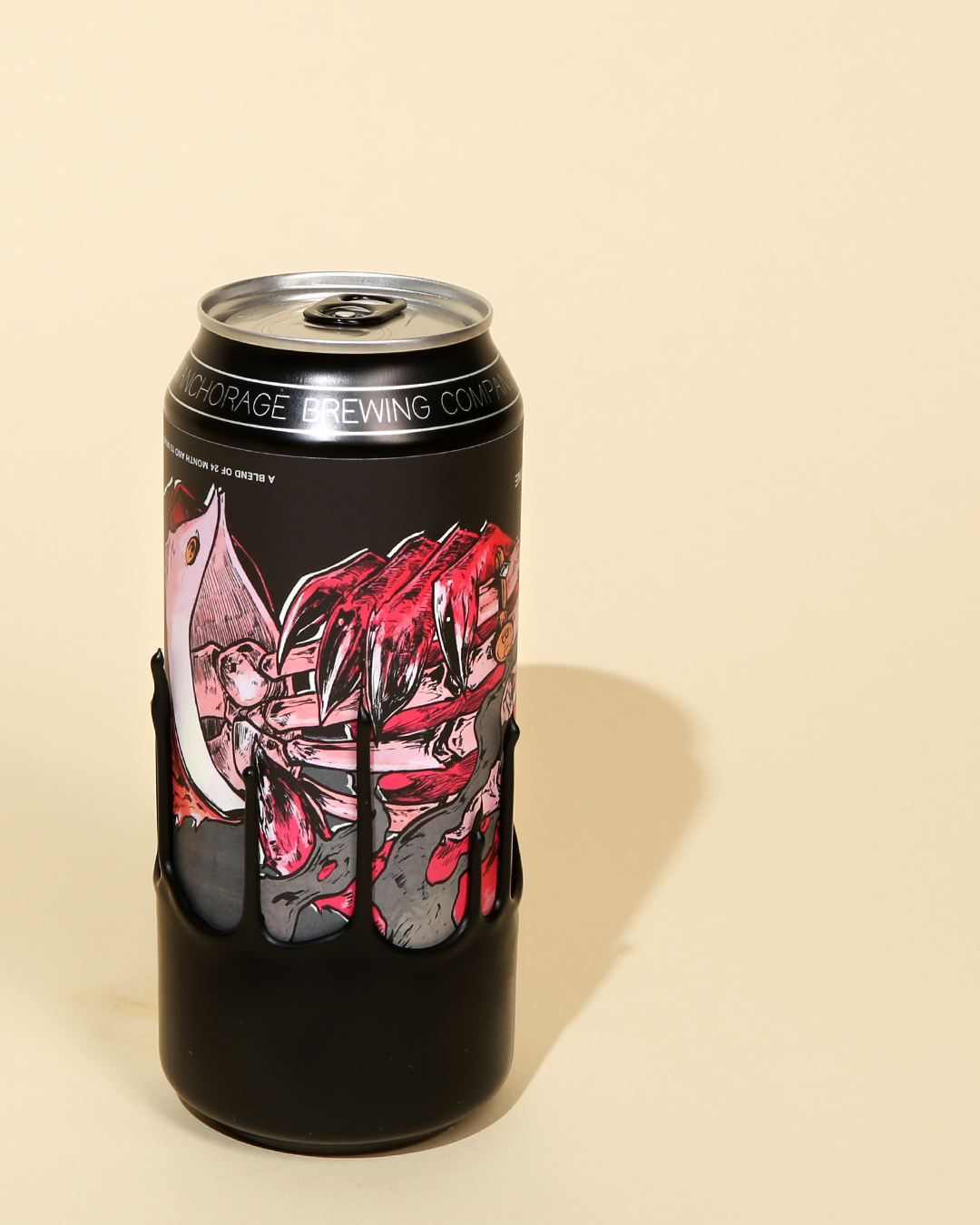 Anchorage's hyper exclusive release of Deal with the Devil, a 17.3% barleywine aged in Woodford Reserve Double Oaked Bourbon barrels and brewed with Galaxy hops, flooded Tavour's platform back in April with hundreds of fans looking to buy the hyped beer.
Following that success, Anchorage and Tavour will be teaming up once again to bring a rarity down to the lower 48. In fact, this launch will be the highest number of one beer that Tavour has ever brought onto the app. "We're sending 650 cases," says Fletcher, that's nearly 8,000 bottles.
"Our number one goal is to always help breweries grow, so there's no question that I'm going to pick up Blessed," says Packard. "Not only to support [Fletcher's] business, but also to give the consumers what they want."
The Story behind Anchorage Brewing Co. Blessed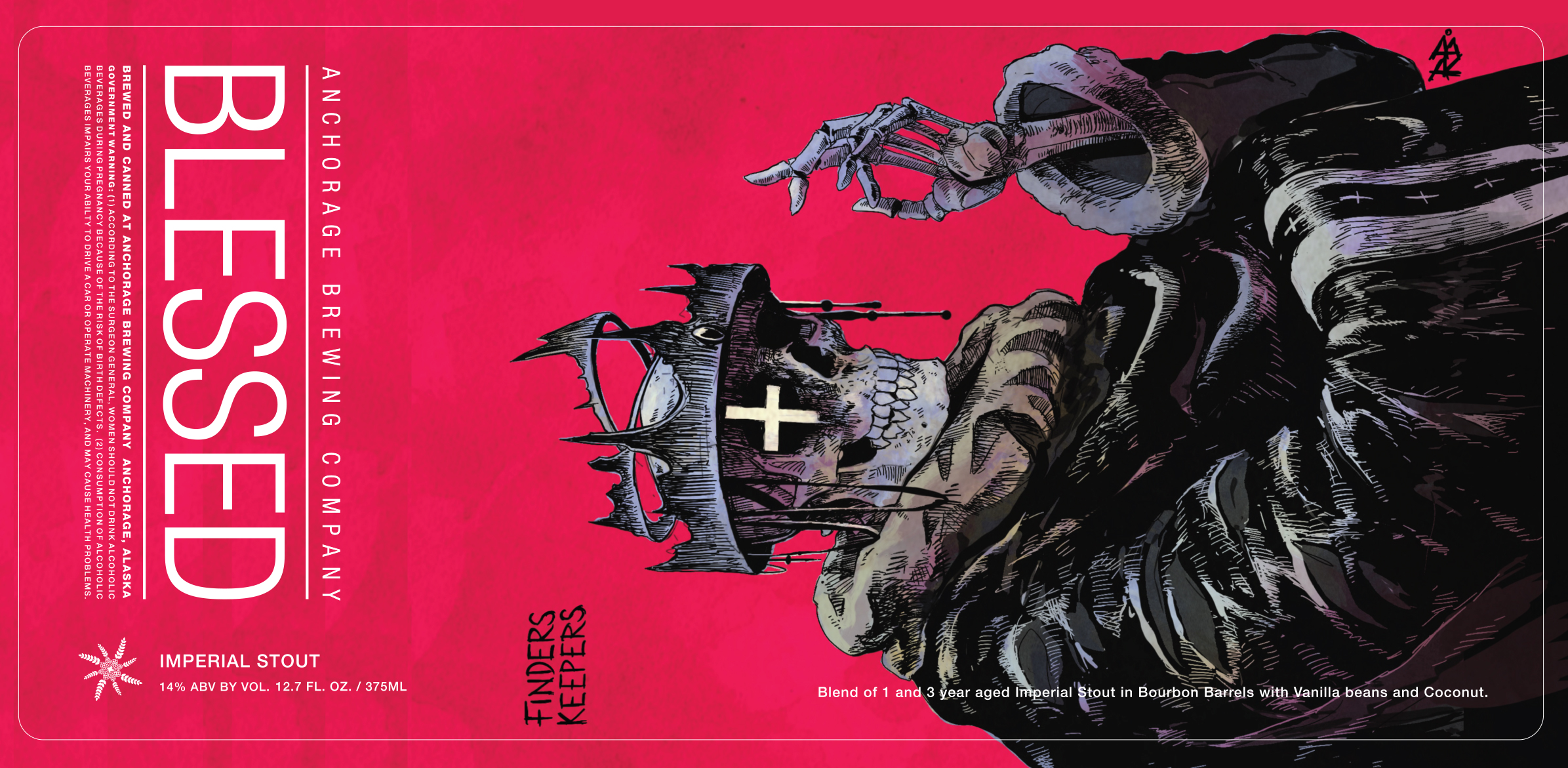 Blessed, an aged Imperial stout brewed with Madagascar vanilla beans and thousands of pounds of coconut, blends a one-year aged and three-year aged beer from a mixture of Willet and Woodford Reserve Double Oak Barrels. Brewed with actual toasted coconut and vanilla, Blessed marks the first time Fletcher has ever put adjuncts in his beer.
"I've been pondering brewing adjunct beers for a while, but just couldn't figure out a way to get the large amount of ingredients I wanted into the beer," says Fletcher. After plenty of research and advice, Fletcher finally found a solution. He ended up purchasing his own infuser.
"It's a 10-barrel tank that has screens on the bottom and all these racking arms in it. You can essentially purge the thing with CO2, fill the [tank] with coconut and X adjunct, and recirculate it. You press it out and keep doing that until you get the flavor you're looking for," says Fletcher. Bingo! Huge flavor.
Fletcher actually first discovered the idea of the infuser from his good friend Cory King, owner and brewer of Side Project Brewing in Maplewood, MO. "He sent me photos of one he retrofitted and made. I took ideas from Cory's and came up with some of my own," says Fletcher, who contracted the apparatus from a company called Marks Design & Metalworks. The brewery equipment business had been talking about adding this type of gear to the production schedule. But it just hadn't gotten around to it yet. The infuser they custom made for Anchorage became its first.
With the equipment in place to achieve Fletcher's vision for an adjunct beer, he attacked brewing Blessed.
"I've always wanted to use coconut, but it's hard to get that flavor into beer in a big way," says Fletcher. "I can't say how much toasted coconut [I used] but let's just say it was hundreds and hundreds of pounds."
Additionally, Anchorage spent $36,000 on Madagascar vanilla beans to complement the tropical fruit. "There are no fake ingredients in this beer. Everything is real," says Fletcher. Blessed showcases Fletcher's dedication to his craft and painstakingly conscientious approach to brewing.
"The standards with which [Gabe] holds himself are uncanny," says Packard. "When I first stepped into the brewery I couldn't believe my eyes (and then I remembered where I was). It was Gabe's brewery. It was clean, it smelled incredible, and did I mention it was clean? There wasn't a can out of place or a tool not hung up. He's meticulous with the process."
Anchorage Brewing Co. Blessed Hits Tavour
In the three years that Fletcher and Tavour have partnered together, Packard says Anchorage has yet to let any of the fans down.
But, as the saying goes, the proof is in the pudding. Or, in this case, the German cake and waffle cone.
"The beer is insane," says Fletcher. "It honestly smells more like a dessert than a beer. Think of a waffle cone with notes of slightly burnt caramel and German chocolate cake. I've never tasted anything like it. It's really wild."
Tavour will be releasing the beer at certain times to various regions today and then to all Tavour users tomorrow.
After the Blessed release Fletcher has no plans to slow down over the summer. Anchorage will celebrate its 10th anniversary this June with the release of a 10-year anniversary beer called Ten Years. A blend of different vintages of Imperial stouts and barleywines finished off with vanilla, coconut, cocoa nibs, and cinnamon, "[This one] is more like a kitchen sink beer," says Fletcher. Another beer in the works, The Sacrifice is a big stout more like an aged porter that Fletcher fermented in Foeders and will be finishing with just coconut.
Whether experimenting with adjunct stouts or churning out barrel-aged beauties, Fletcher has set the standard for beer from the Last Frontier and for the foreseeable future Tavour will be bringing Anchorage's elite liquid on the long journey to your doorstep.
Stay tuned for more releases between these two beer behemoths.
This is a paid, sponsored post presented by Tavour.
Liked this article? Sign up for our newsletter to get the best craft beer writing on the web delivered straight to your inbox.