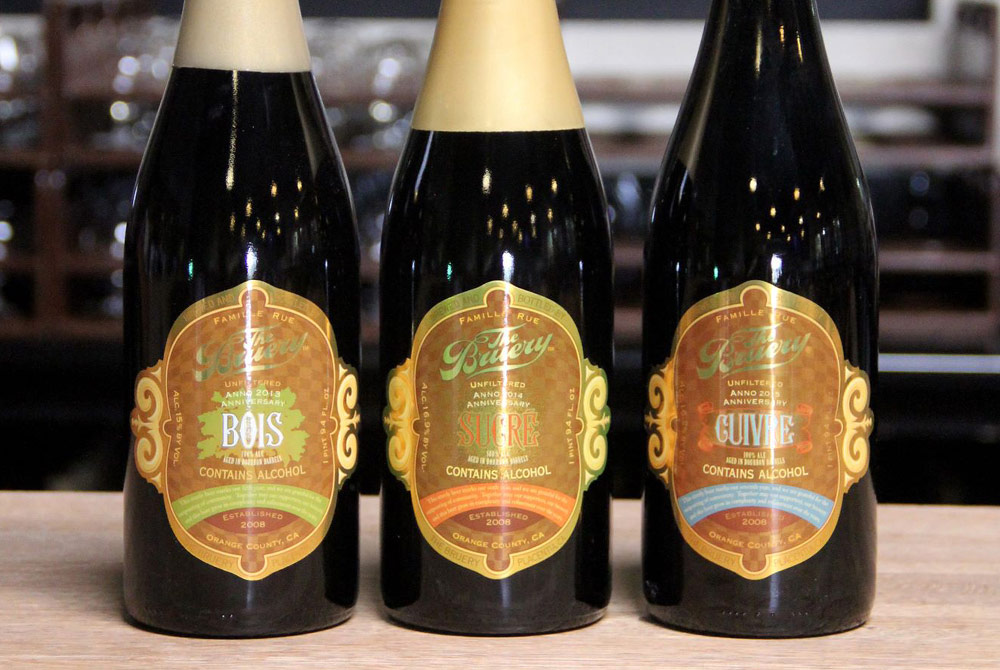 Anniversary Beers from The Bruery
You've been running your brewery for about 11 months and you want to celebrate your beer baby's first birthday. How best to ring in the next year of its life and growth in the independent beer world? With an anniversary beer, of course; it's the brewery analog to a birthday cake. Not that you couldn't bake a cake or throw a party, but if you do, you'll still want beer on the table.
But once you answer that first question, you walk right into a bigger, far more abstract question: What kind of beer do you make? What ingredients do you use? What does your hop bill look like? Your malt bill? How do you use beer to tell your brewery's story without losing the thread? That's a greater challenge than simply making beer when making beer is your livelihood. Pushing the boundaries of beer–as well as your own creativity–is the soul of independent brewing.
Take Malden, MA's Idle Hands Craft Ales: They model their anniversary beers on the traditional gifts for wedding anniversaries—paper, cotton, leather, fruit, and flowers. You get the idea. "Sometimes it's difficult to match up those materials to the concept of the beer," admits founder and head brewer Christopher Tkach. Some beers, unsurprisingly, are easier to make than others. Wood manifested as a smoked Helles lager for Idle Hands' 5th anniversary. Makes perfect sense, right? (Tkach cites this as one of his favorite beers and points out that it birthed Helga, now a part of their lineup.)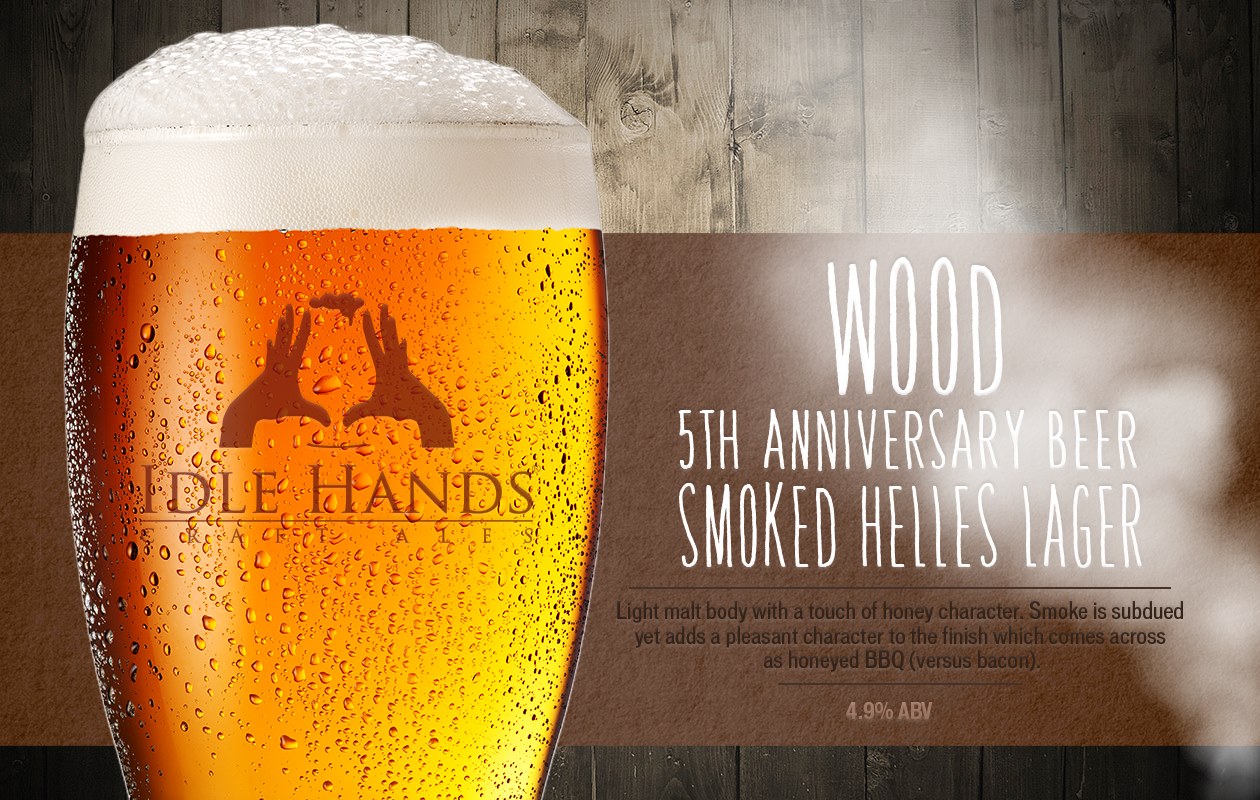 But, this is year seven for Idle Hands, which means wool. When life gives you wool, you make an IPL with New Zealand hops—Nelson Sauvin and Motueka. (Last year was iron, Earth's most common element. Try puzzling that one out yourself.) For Tkach, the process is, to some degree, like following a breadcrumb trail. "It can be frustrating at times," he says with a laugh, recalling the struggle to turn iron into alcohol. "I'm like, 'Yeah, how are we going to do this?'"
With Wool, the 7th Anniversary officially on the books, he relishes anniversary beers as a brain-teaser all the same. "I think that's going to become harder and harder as the years progress," he acknowledges, "but we'll always try to do something conceptual with that name."
Tkach drew inspiration for Idle Hands' anniversary series from Orange County's The Bruery. "I think The Bruery may have started doing this at one point in time," he notes. "So I kind of got the idea from that, just using [the wedding anniversary gifts] as the naming sequence of things instead of doing something that's numeric." The similarities between Idle Hands' anniversary beers and The Bruery's anniversary beers end with the shared naming convention, though, reaffirming the creative component of the exercise: It's so conceptual that two breweries at the same starting place can arrive at completely different conclusions.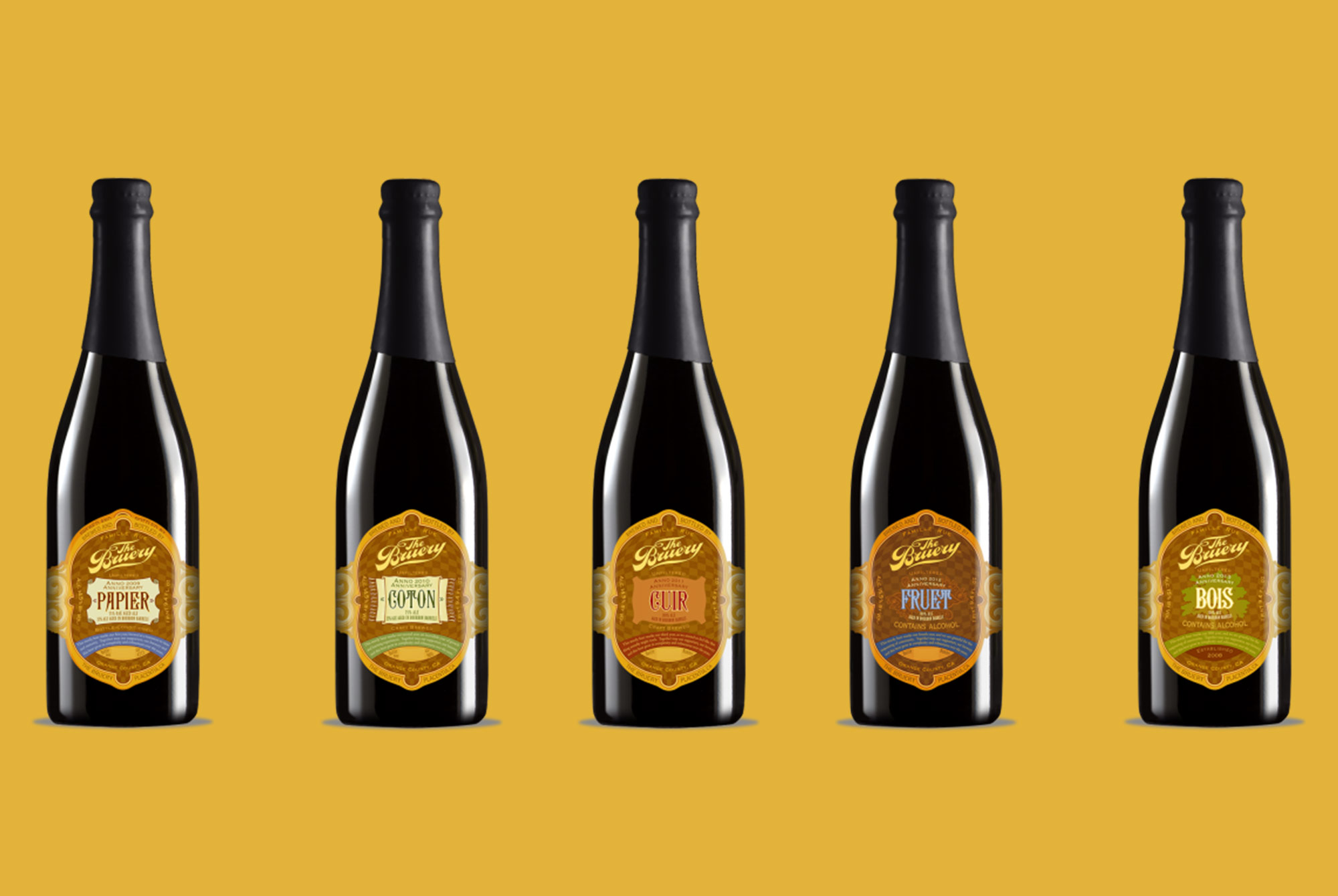 "Technically," says Andrew Bell, The Bruery's Innovation manager, on their anniversary beers, "they are not really all that different year to year, but rather an evolution." Anni, the internal name for The Bruery's anniversary beverage, is an Old Ale ("16.3% this year," Bell clarifies) fermented with their house Belgian yeast strain and barrel-aged; according to Bell, between 15% and 20% of the blend each year is solera barrel-aged with elements that date all the way back to their first Anniversary Beer. "Since year four," Bell expounds, "the public . . . distributed Anniversary release has been 100% Bourbon Barrel Aged," including that solera component. (For reference: Solera aging is time and labor intensive, a process not for the faint of heart, but that's another story altogether.)
While The Bruery uses the same wedding conceit as Idle Hands—sticking to the French names, papier, coton, cuir, fruet, bois, sucre, cuivre, poterie, saule and, for their 10th year, Etain—their philosophy to brewing anniversary beer is about honoring their past. "Any anniversary beer needs to speak to the nature and history of whatever brewery is producing it," Bell says. "For us, barrels are a huge part of who we are as a brewery, and the solera component really ties us back to our roots."
"Roots" can refer to any number of things: The first beer your company ever brewed, or perhaps a personal anecdote. Norwood, MA's Castle Island Brewing Co. traces its roots to winter, the season in which it first opened its doors back in 2015. If you've never been to the Boston area in December, it's cold. That time of year, Bostonians hibernate, and if you love independent beer, a hop-forward beverage probably won't be your first choice. You'll reach for a dark beer, a porter or a stout. You'll likely be wearing pajamas. You might be under a blanket.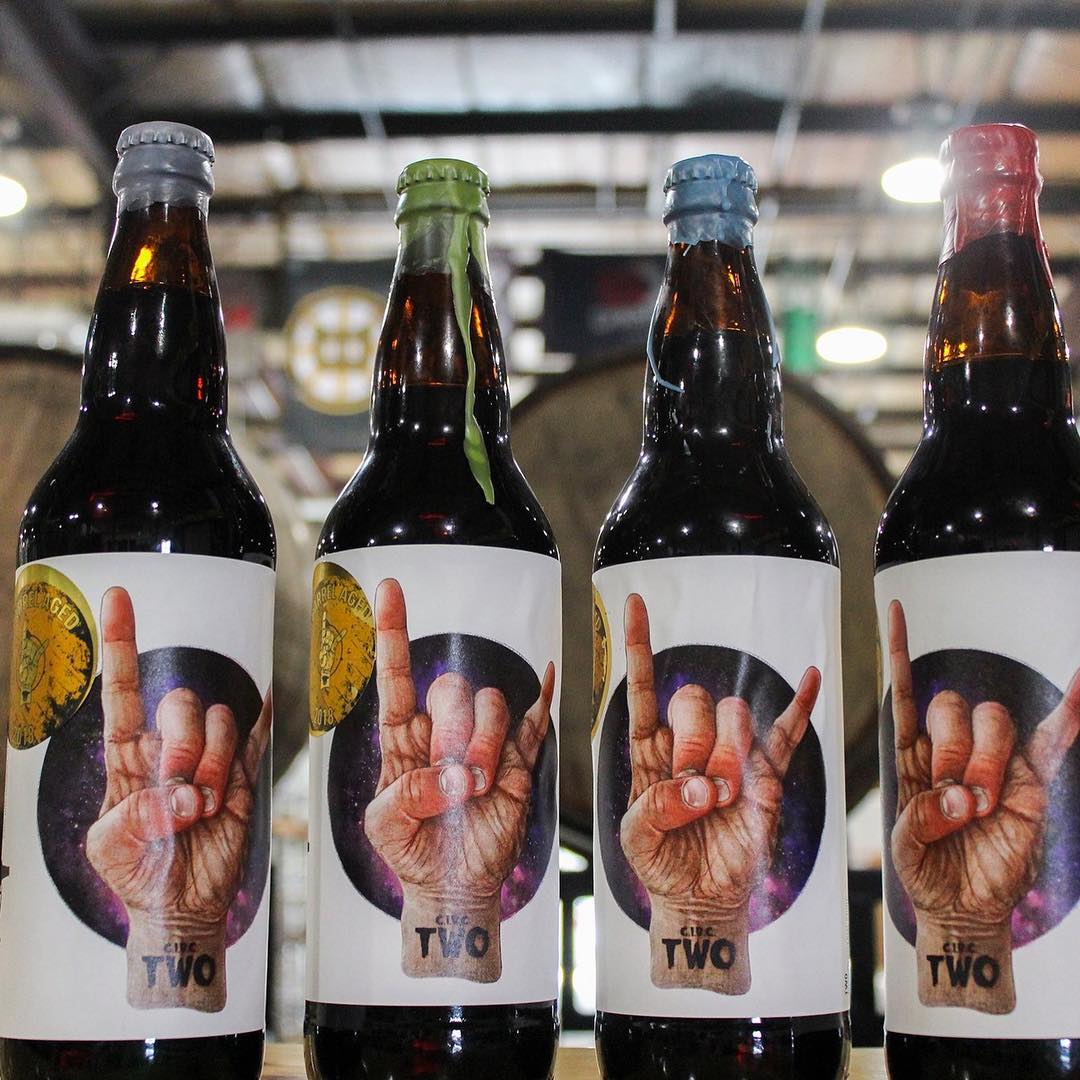 That's the concept behind Castle Island's anniversary beer, given only a straightforward numeric title: "One," "Two," "Three." "We felt that a big, velvety Russian Imperial Stout would be the perfect companion to have in hand during a festive holiday celebration or a cozy night by the fire," says head brewer Matt DeLuca. "Every year we can look forward to brewing this giant beer in the brewhouse then package for immediate celebration and consumption." And it is quite the beastly brew: A Russian Imperial Stout clocking in at 11.5% ABV. Interestingly, DeLuca treats the style as a canvas: While the name changes based on their years in operation, "the recipe stays the same."
What differentiates One from Two is all in the details. Castle Island barrel-ages the base beer; this way, as DeLuca puts it, "we have the ability to stretch out its flavor capabilities by getting creative with what wood we want to throw the beer onto to enjoy the following year and beyond." Apart from the wood character imparted by the barrel, Castle Island's anniversary beers have played around with flavors ranging from Mexican chocolate to coffee. (They release non-barrel aged variants of the stout, but if you can have the barrel aged version, why wouldn't you? It's delicious.)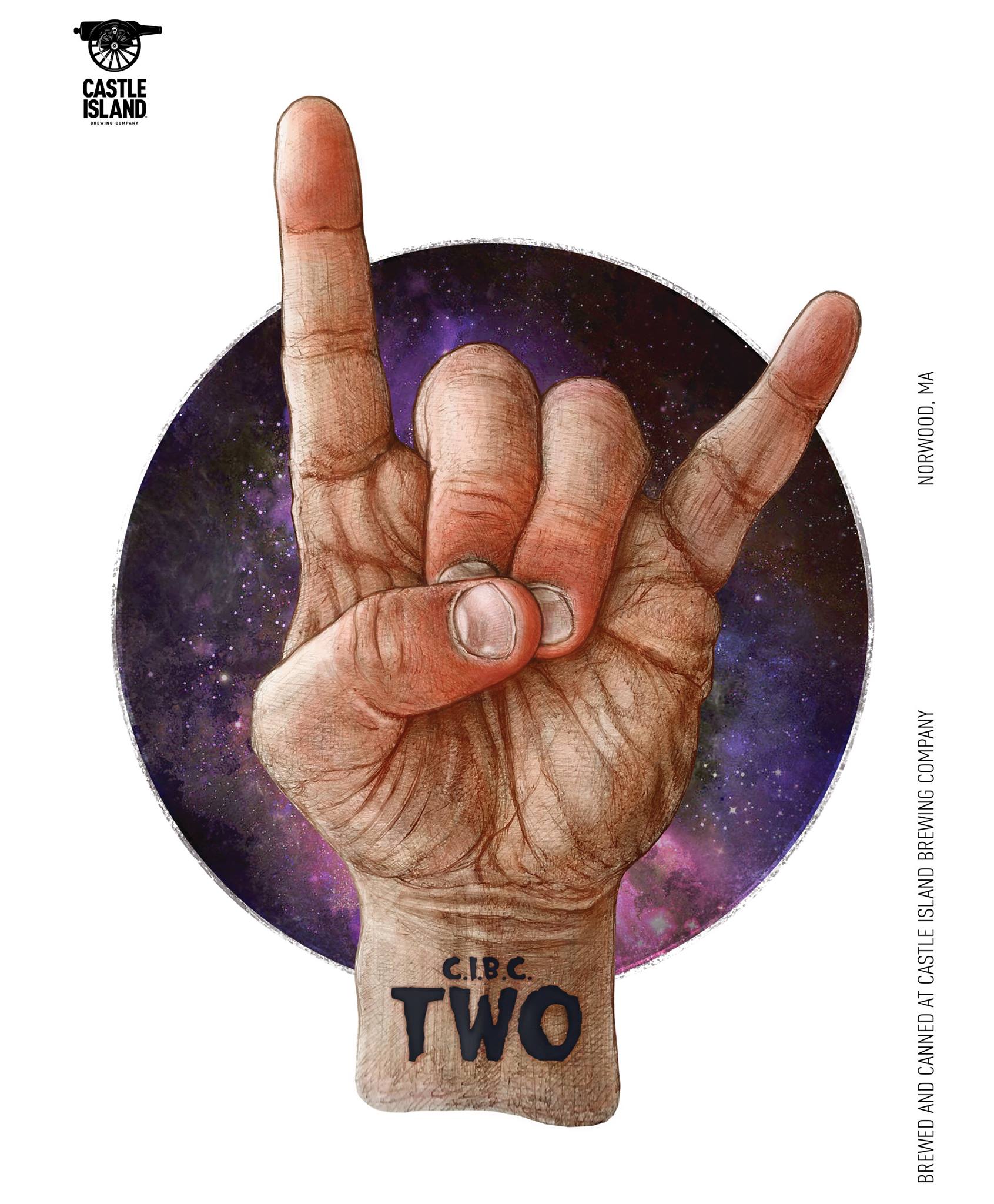 Not every brewery bothers with anniversary releases. If you're a smaller outfit just starting out, likely you can't devote the time and energy necessary to produce that beer; if you're a giant in the industry, you may feel the endeavor isn't worth the effort. But there's so much breweries can say about themselves just by reflecting on identity, and thinking about who they are, where they come from, and where they're going. Is the anniversary niche essential to a brewery's brand? Maybe not. But the breweries who dig into that niche are the breweries who will make the most profound statements about their individuality.
Liked this article? Sign up for our newsletter to get the best craft beer writing on the web delivered straight to your inbox.