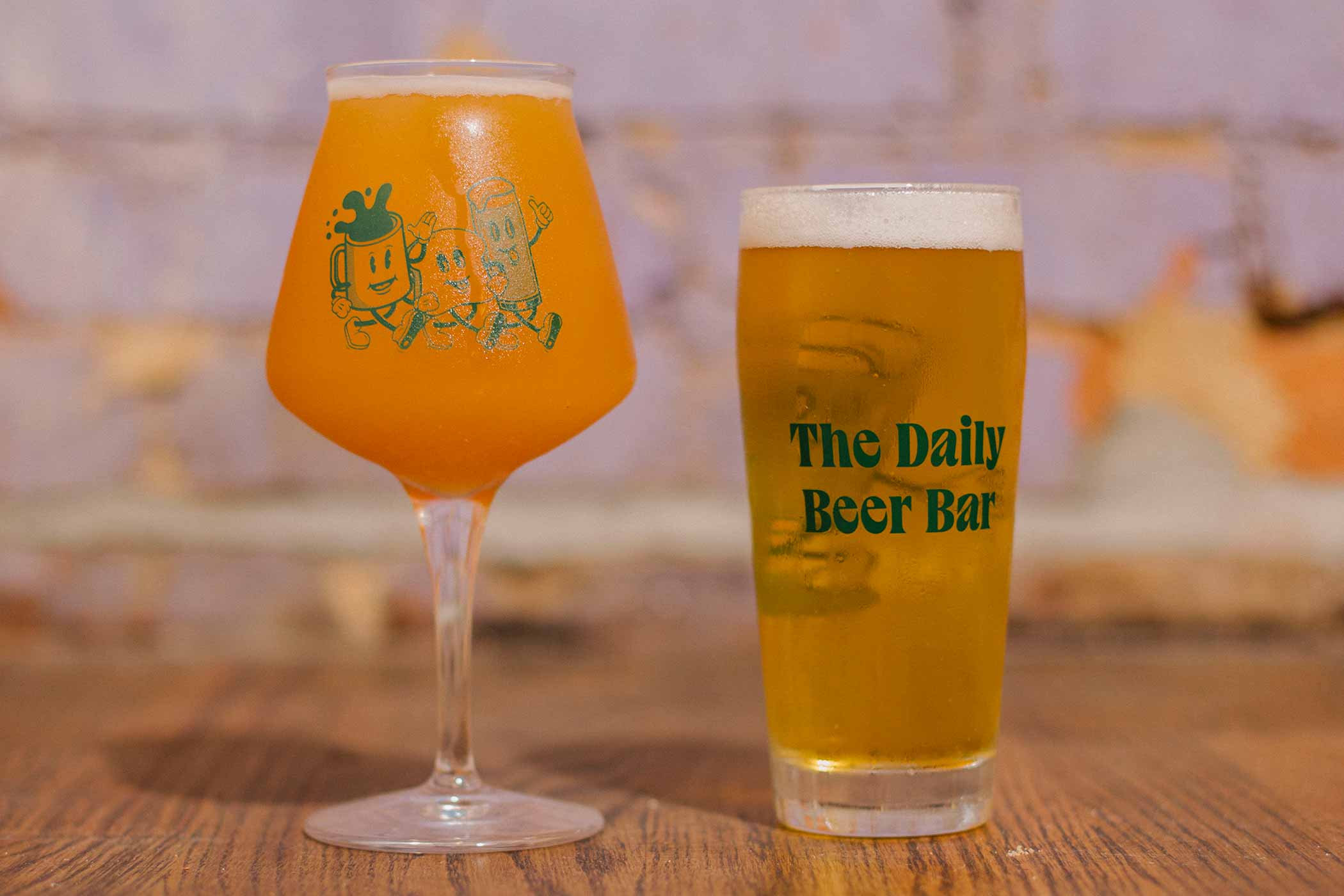 Photography courtesy of The Daily Beer Bar
When one of our favorite people on the planet tells us about his plans to open up his own craft beer bar serving "Cold Drinks, Hot Sandwiches, and Good Vibes," we get pretty excited. That's right, folks. Former Hop Culture Managing Editor John Paradiso and his business and life partner Rosa Paradiso cut the ribbon on The Daily Beer Bar on December 10, 2022.
Touted as an all-day cafe, "The Daily" serves coffee in the morning, sandwiches, salads, and snacks throughout the day, along with craft beer, natural wine, and non-alcoholic drinks out of an old industrial brick building in downtown Durham that used to house a beloved jazz club called Talk of the Town.
In just a short amount of time, The Daily is already becoming one of the best hidden-gem places to drink in Durham, NC.
Mostly because in The Daily, you'll see the same flair and attention to craft that John used to build Hop Culture into one of the best beer publications in the country. (And yes, we're biased).
Only at The Daily, instead of just drinking in words, you can actually sit at one of the naturally lit tables, enjoy a pint of excellent craft beer or mug of coffee, and lose yourself in the day.
From Beer Writer to Bar Owner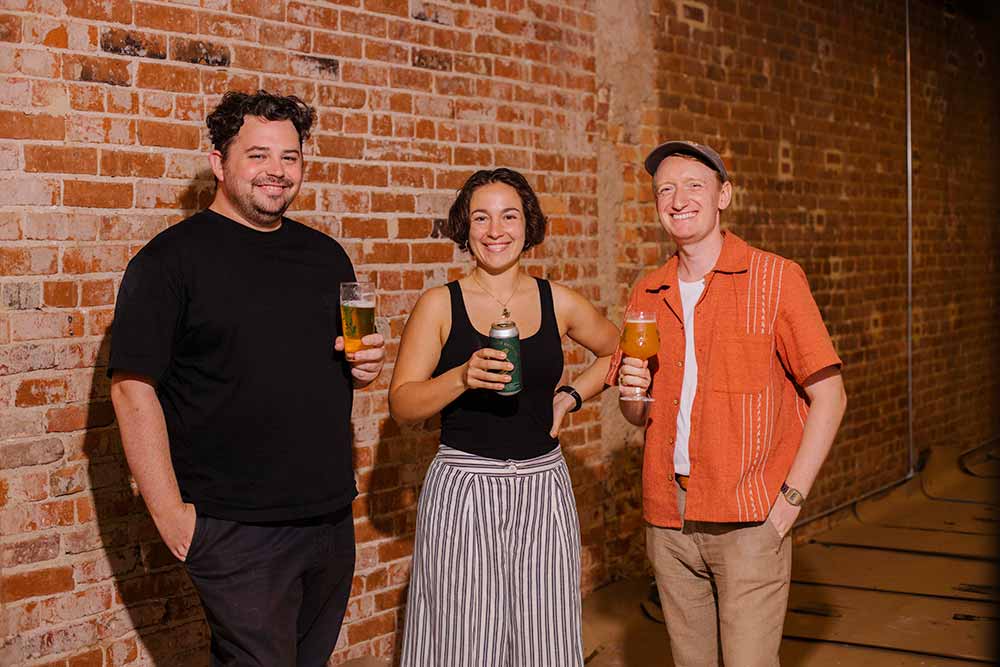 Beer has always been on John's mind. Joining Hop Culture in 2017, John spent three years building the magazine into one of the juiciest craft beer publications in the country. He eventually moved on, becoming the managing editor at Cool Material, where he wrote about everything from the hottest shoes to the coolest whiskies.
For this whole time though, John always had an idea in the back of his mind: to open up a bar.
A place he could call his own, where he could manifest all his favorite craft things into one place. And not just beer. Coffee, food, music—it all had to harmoniously come together for people to enjoy.
"John has been talking about this for many many years," jokes Rosa, currently a full-time Ph.D. student at UNC. "He had this running note in his phone with ideas for his future bar for many years."
Rosa explains that everywhere the two went he'd add ideas to the note.
In November 2020, John got a little taste of running and opening a bar when Hop Culture launched a bar pop-up called Fir Junction in Pittsburgh.
Although the pop-up didn't last, John's dream did.
But until recently, this fictional bar was just that: a figment of John's imagination and a bunch of scribbles on a phone.
Eventually, Rosa got tired of John just fantasizing and never doing.
Last August, at the dinner table with friends one night, Rosa decided to just drop the fake news. "I told everyone he was opening a bar," she says. "He rolled with it, so clearly he was ready to go."
Pretty soon after, the two wrote a business plan and began looking at spaces.
Talk of the Town in Durham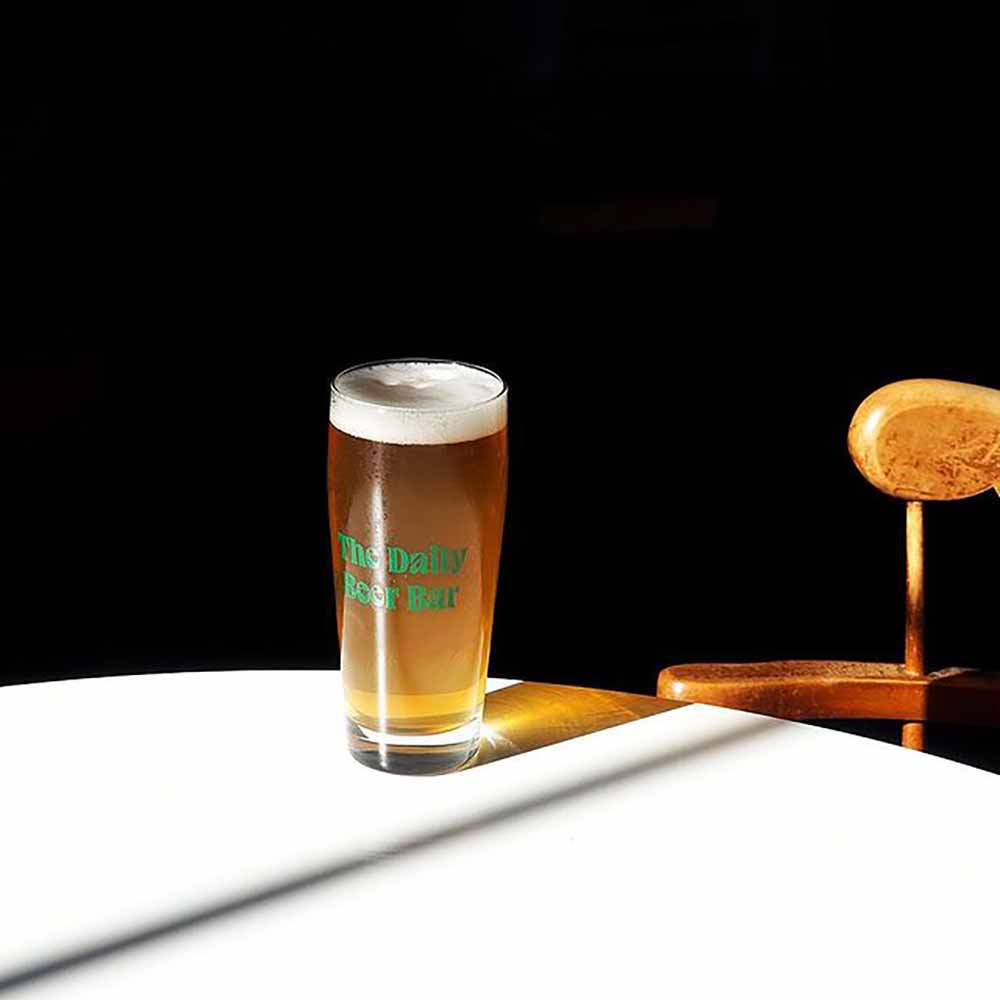 If you can't tell by now, John had a clear vision for The Daily. And with Rosa still getting her degree at UNC and the couple living in Durham, downtown seemed like the perfect place to look.
"Durham has a rich history as an industrial city, especially downtown where we love the food and drink scene," says John. "I had my heart set on what I envisioned as a classic Durham space: brick building with lots of industrial features."
What they found surprised even them.
The Daily now sits in the former Talk of the Town, a renowned local jazz club that's sat vacant for eight years.
"It's part of the downtown fabric and we've heard from people who are long-time Durham folks that it was a great spot and are excited to see something new go in," says John. "It's cool to see an old building with great character and nice history hopefully get more life in it."
Right in the heart of downtown Durham and with a soulful legacy, the space spoke to John and Rosa from the very beginning. "Even when we first saw the space empty, it very much felt like this was the space that was going to work for us," says John.
The focal point? A huge glass facade at the front and one window at the back that both let in a ton of light.
It's sort of old-brick-industrial vibe meets hunky-dory-cool cafe.
"I've been using words like light, bright, airy, and comfortable," says John. "The industrial classic Durham look has a richness and darkness, but contrasting with lighter touches… For both of us it contrasts the cool-vibey atmosphere of industrial Durham with some brightness."
Such as bright yellow chairs that Rosa found and fun, colorful artwork from different breweries.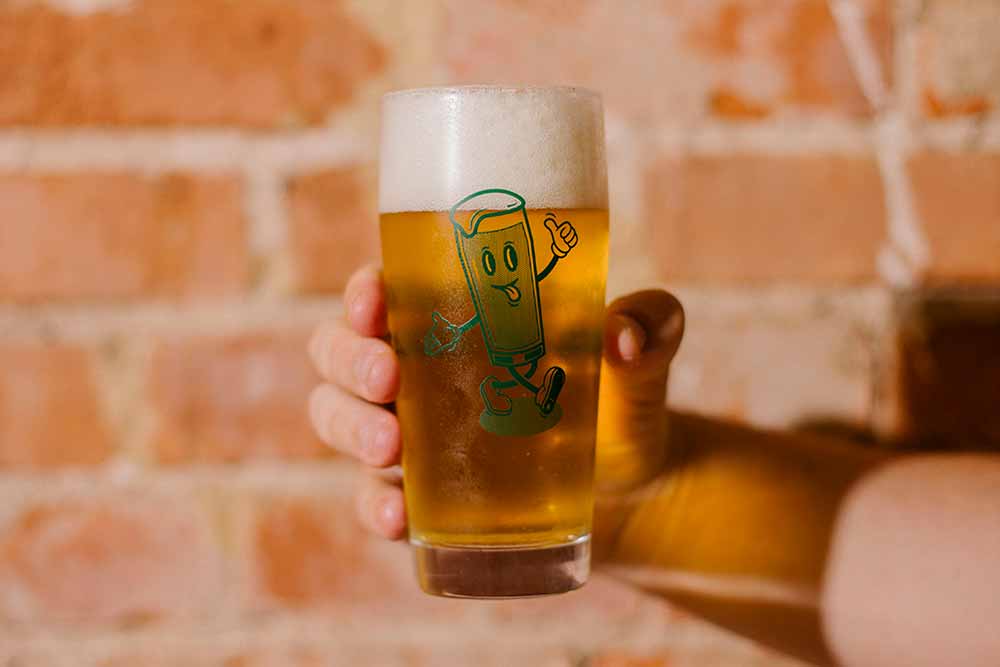 Everywhere throughout The Daily you can see those thoughtful yet playful touches. Especially in the artwork.
Designed by Erik Raines, who John also met through Hop Culture, The Daily's graphics have an almost Steamboat Willie or Looney Tunes vibe to them. "It's a playful throwback," says John. "Maybe a little bit of nostalgia."
Think of The Daily almost like your favorite taproom (with its exposed brick, quirky prints, and tons of natural light), but just add in an all-day menu and craft coffee and beverage program.
Everything you see at The Daily is there for a reason. Everything you eat has been well-thought out. And, of course, everything you drink has been hand picked.
Simplicity, Intentionality, Craft Coffee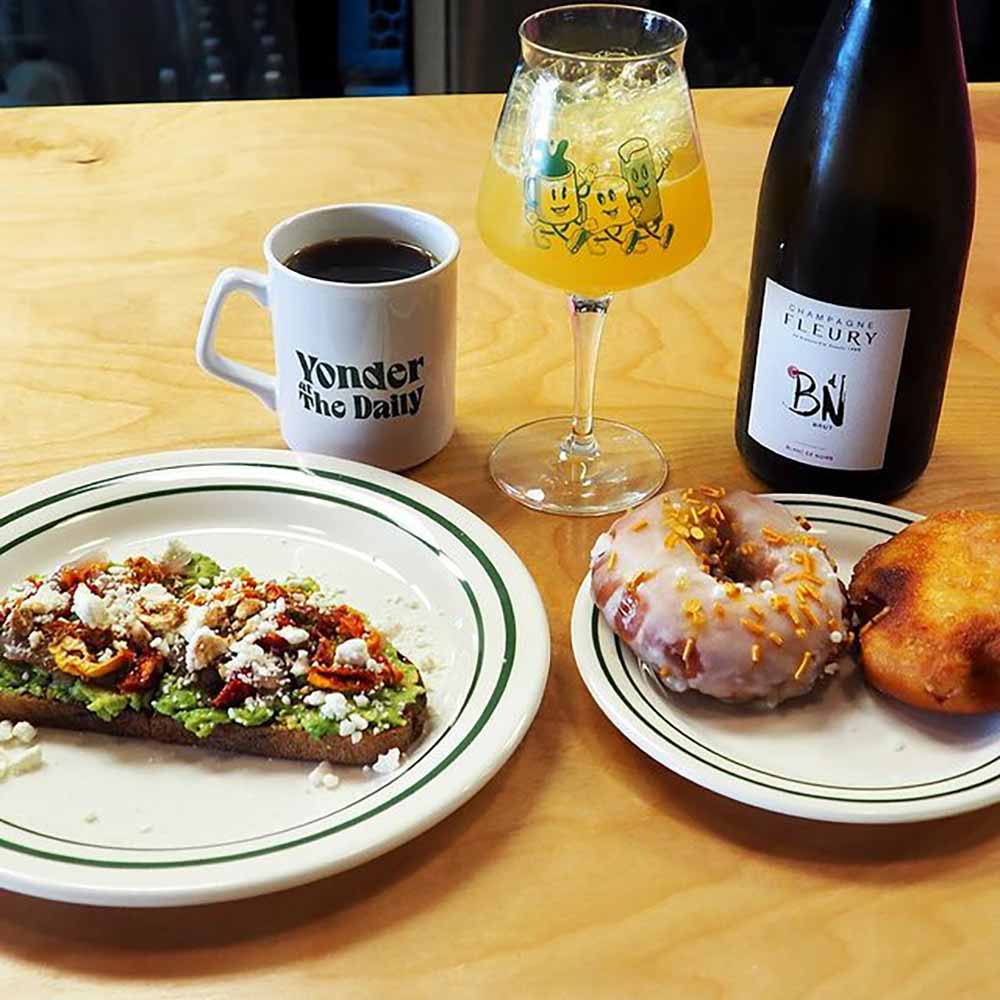 Simplicity and intentionality are keywords at The Daily.
Plus, a little bit of fun. All influenced by John's own experiences in the beer industry.
For coffee, that means partnering with Caleb Durham from Yonder Coffee, who John met at an event at Ancillary Fermentation. Yonder Coffee functions as both a coffee subscription service (of which John has been a subscriber for a couple years) and an importer, selling coffee to roasters in the area.
Under Durham's expertise, The Daily will feature a curated list that showcases exciting craft producers that aren't necessarily readily available in the Triangle area. "Caleb has a wealth of coffee knowledge," says John. "I trust his judgment and love these roasters."
Currently, you'll find Parlor Coffee from Brooklyn, NY, HEX Coffee Roasters from Charlotte, NC, Passenger Coffee from Lancaster, PA, and a rotating monthly feature from The Barn in Berlin, Germany.
"The bottom line is to serve a product that is simple and good but not over complicated," says John. "We're focusing on good producers making simple, good products."
Simplicity, Intentionality, Craft Beer and Bites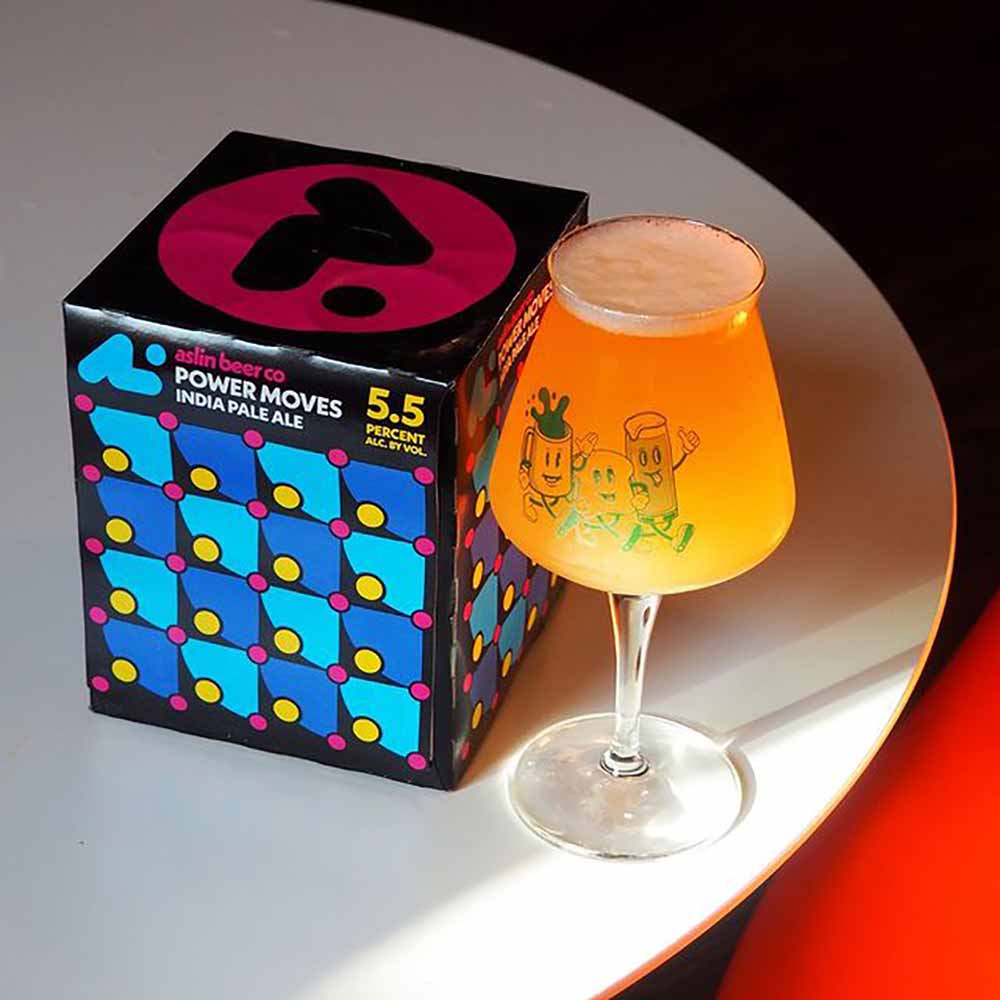 Of course, with a background in beer you can bet that The Daily will serve a well-curated taplist.
Again, Paradiso says the focus here is intentionality. "We want to show breweries that aren't readily available that we've had a chance to meet and know as individuals and can speak to why they are so great other than just the liquid itself," he says. "Telling the story of these producers is as important as serving really good beer."
Expect beer from folks Paradiso has met during his journeys with Hop Culture, such as Twin Elephant, Halfway Crooks, Flying Machine, Zilicoah, Trophy, and Bond Brothers, to name a few.
On the current tap list, for example, you'll find a hefeweizen from Good Word Brewing called Isabella (one of our "Top 10 Beers We Drank in February" last year), a kölsch from Halfway Crooks, and a hazy from Aslin, among many others.
"We're trying to find that balance between some of our favorite local and state breweries, breweries close to us and elsewhere in North Carolina with some of our favorite producers around the country and the world," says John. "It can't just be a tap list of all my best friends…We have to serve beer we really believe in."
And the same approach applies to the food.
That means dishes like the "Hummus & Bread" with a recipe Rosa has been making at home, including Za'atar from a local Lebanese company based in North Carolina. Or a snack board featuring artisanal cheese sourced by the local Durham Co-op Market. Or a simple fig jam, goat cheese, and arugula sandwich John says his mom used to make and expects to be a crowd favorite.
"In general, it's a really fun, well-balanced sandwich that has sweetness, richness, and creaminess," says John. "A lot of people don't know what to expect when they bite into it!"
A sandwich named after John himself, called the "Paradiso," sparked a bit of controversy since Rosa doesn't currently have her own menu item. "It's a good name!" she says jokingly.
According to John, there will very likely be a NA mocktail called "The Rosa" in the future.
Living the 'Daily' Dream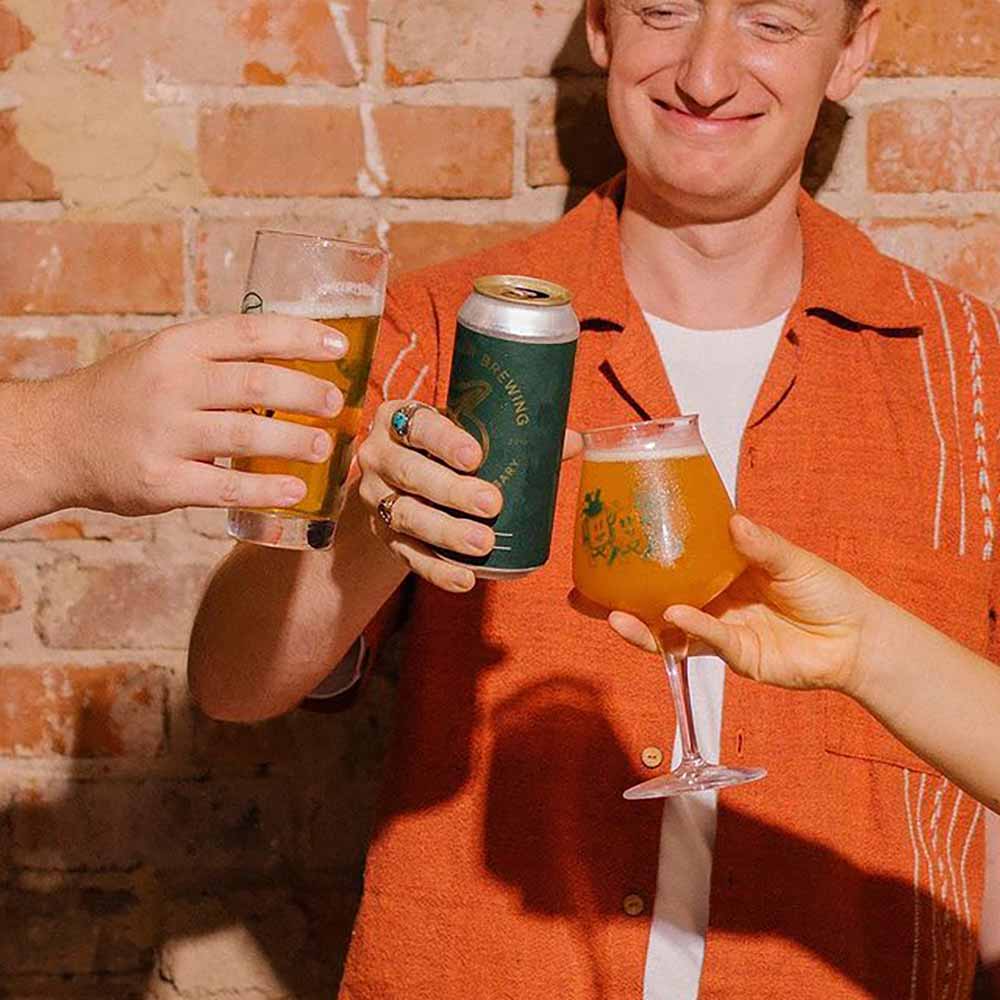 Overall, The Daily hopes to almost poetically bridge that gap between past and present. To pay homage to a town-favorite jazz club, while opening its doors to welcome in new fans everyday.
Afterall, it's right in the name.
The Daily is supposed to be somewhere you can go on the regular. A place to grab coffee and a pastry in the morning, do a little work, grab a sandwich in the afternoon, and then meet up with your friends at night for a snack board and a few beers.
"It's an easy name to throw around, but still for people familiar with us it will be really fun," says John, who notes the name's loose ties to a "daily" paper are a nice reference to his own journalism background. "Part of what I want from the atmosphere, the vibe of the space, is for you to feel comfortable and something you're familiar with."
This is just the kind of place we can imagine ourselves staying in all day. Never wanting to leave for fear of missing out on a moment that makes us smile.
"It's pretty surreal," he says. "There are moments randomly where it does catch me by surprise: Is this something we're really doing? Am I actually opening a bar? This is something I've only dreamt of, so I'm really excited about it."