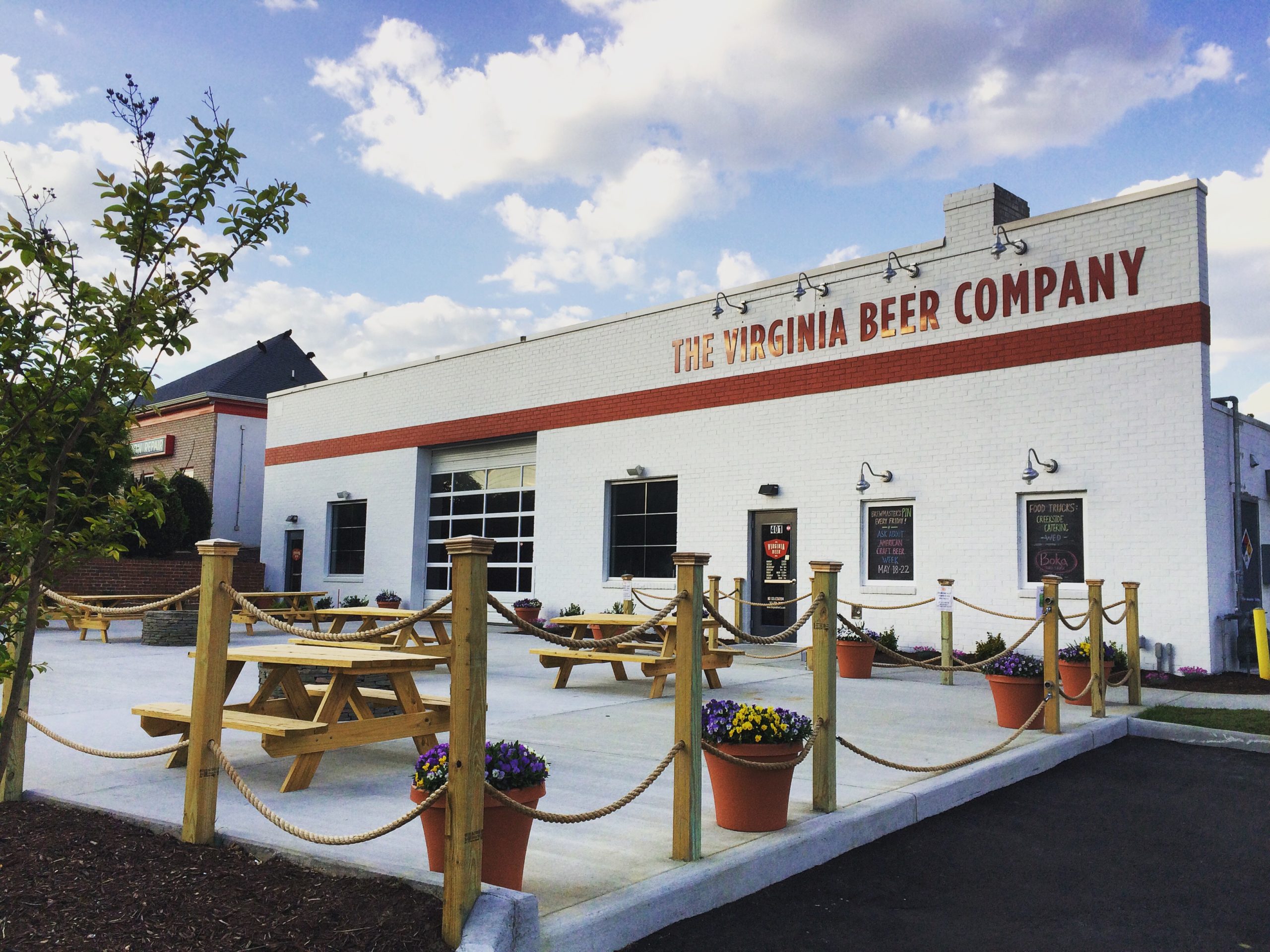 Photography courtesy of The Virginia Beer Co.
What did you do the year after you turned 21? Most people might answer that they spent the night (and probably the rest of their first 12 months of legal drinking age) slamming shots and drinking copious amounts of light lagers. But ask Chris Smith, co-founder of The Virginia Beer Company in Williamsburg, Virginia and he'll tell you a different story.
A student at The College of William & Mary, he frequented the Green Leafe Cafe. "It was the only craft beer spot in town at the time," says Smith, who with his college friend and future business partner Robby Willey would spend that year exploring and learning about craft beer through the draft list at the town pub.
Craft beer piqued the duo's interest. But, neither officially pursued beer as a career at the time. In fact, it wouldn't be until almost half a decade later that the two friends would join forces to start a brewery.
Now, with The Virginia Beer Company on the cusp of its five-year anniversary, which officially lands on March 26th every year, there is plenty to reflect on and celebrate.
In five years Virginia Beer Co. has grown its production fivefold, brewing over 300 recipes on their 30-bbl brewing and 5-bbl pilot system, been named as one of BeerAdvocate's Top 34 new breweries in 2016, and most recently been awarded US Champion Brewery in 2020 by Beer52, a United Kingdom-based craft beer subscription service.
Despite all these accolades, the brewery remains humble, consistently returning to three core words in its tagline you'll see pop up across all of its branding: Beer · People · Purpose.
While the message seems simple, it's the absolute driving force of the brewery, shaped by the journey of both Smith and Willey to follow their passion in a city they love.
From Finance to Freedom: The Backstory of The Virginia Beer Company
After graduating from The College of William & Mary, Smith moved from small-town Williamsburg to the big-time New York City, NY, to pursue a career in finance at JPMorgan Chase.
He hated it.
"I'll never forget that day [I arrived in New York], July 13th, 2007, because from day one it wasn't for me," says Smith. "That culture, that life, the way people treated each other, the profit motive, all of that didn't speak to me."
Although Smith stayed in New York for five years, he spent as much of his free time as possible visiting breweries with Willey.
"The dichotomy of [my job] making rich people even more rich versus going to craft breweries, where it was all about community, the team, and the people that work with you….to me was so black and white," says Smith. "I didn't like what I was doing and I liked everything I saw [at breweries]."
Finally deciding to follow that passion, Smith quit his job in the fall of 2012 and drove back to Williamsburg with plans to open his own brewery with Willey.
Taking the plunge terrified and excited Smith.
And, task number one didn't ease his nerves. Finding a space for the brewery seemed simple on paper, but proved to be one of the pair's most difficult roadblocks.
Smith expected to find a spot for the brewery right away and be open in the Spring of 2014.
Instead, after spending over 12 months pursuing several separate deals on potential sites, each fell through.
"If I hadn't quit my job it would have been pretty easy to throw in the towel," says Smith. "But I was accountable. I had told everyone around me what I was planning to do, so it pushed me. Although, I was terrified the whole time."
Finally, in August 2014 Smith and Jonathan Newman, the brewmaster Smith & Willey had already hired from SweetWater Brewing Co., walked into 401 Second Street.
From Phones to Pints
Built in 1960 by the C&P Telephone company, the 10,000 sq. ft. warehouse had the look and feel of a potential brewery. Smith & Newman felt it immediately. "We walked right in and said 'Oh it's a brewery, this is perfect'," Smith reminisces of the time-warped building. It was a big open building sporting old industrial floors with high ceilings and a trench drain running down the middle.
Actually an eyesore on that stretch of land, the planning commission hated the property, but where one man saw trash, they saw treasure.
A history major in college, Smith became fascinated with Williamsburg's past. But, not the lore that draws most people to the historical town. Tourists often visit Williamsburg, the first capital of Colonial Virginia in the 17th century, to learn about colonial America and the American Revolutionary War. But, it's the 1950s and 60s in Williamsburg that fascinated Smith because no one ever talked about that time period. For him, to take a decrepit building built during a forgotten time in history and revitalize it became a romantic reality.
The Virginia Beer Company closed on the space a couple days before Christmas in 2014.
"I came back to Williamsburg because I love it. I love the people and the place," says Smith. "I like to think [the brewery] became a catalyst for the area, revitalizing the old neighborhood."
He's right. Five years later the brewery has become a beacon for the community, a place of acceptance and tolerance, a taproom with roots in raising money for organizations all over town, and a business that above all values three things: Beer, people, and purpose.
Beer · People · Purpose
Three little words that have huge meaning for The Virginia Beer Company.
The Virginia Beer Company officially opened its doors on March 26th, 2016. And, from the very beginning, the brewery took off.
"It was go go go at first," says Luci Legaspi, Taproom Manager and Business Developer at The Virginia Beer Co., and a part of the original core team that opened the brewery.
An army brat, Legaspi lived all over the world including countries like Japan before her family settled in Williamsburg while she was in high school. She never left, eventually making her way to the beer industry working for Alewerks Brewing Co.
Legaspi first met Smith and Willey in 2014, continuously running into them at local beer festivals, tap takeovers, and other events. "Robby and I immediately bonded because somehow we were always wearing the same outfit when we would see each other in the world," laughs Legaspi, citing a Save the Ales t-shirt and a standard Dickies work shirt and khaki shorts as some of their similar outfits. Beyond the clothes, the three bonded over their love of beer and the Williamsburg community.
When Virginia Beer Co.'s opening became imminent in 2016, Legaspi reached out telling them she loved how much the two cared about the community and asking how she could be a part of what they were creating.
"The joke is they checked yes on the love letter," says Legaspi, who was specifically tasked with opening and running the taproom.
After those first few hectic months, the management team finally had a chance at a company retreat to stop and think "What are we all about? The slogan came naturally after that," says Legaspi.
Beer.
"I always lead with beer," says Smith, who notes that there is so much competition out there that focusing on the quality of the beer immediately became a core part of the business.
Legaspi describes the brewery's approach as taking traditional styles and brewing the best possible version of that style, but at the same time paying attention to what people like now.
For example, her two favorite beers are Free Verse, the brewery's flagship IPA, along with Fresh Powder, a signature seasonal DIPA that comes out every February featuring 100 percent Citra hops. "It's gorgeous and amazing," says Legaspi.
"Our brewing style is, in one word, varied," says Smith. "We brew a bit of everything…We like the idea that we can compete with the best when it comes to hazy IPAs, pilsners, and barrel-aged stouts, and yet still offer esoteric beers like traditional English milds."
Quality is another word that both Legasi and Smith mentioned.
"Either it's great or it's down the drain," says Smith. A sentiment Newman and the brewery's veteran production team champion daily with investments in equipment like a CIP system, machinery like a custom built canning line, and a fully built out in-house lab.
While the team agrees that brewing high-quality beer is important, the foundation of the brewery comes from the next two words:
People and purpose.
"For me, the very central part of who we are starts with us," says Legaspi.
Smith especially takes the people part of the brewery's tagline to heart.
"I come from a corporate background where out of 200,000 employees I was just a number – J964259. It wasn't about personal growth. It was about making money," says Smith. "From day one, [Willey] and I talked about how we wanted to treat our people."
The two have worked with the Virginia Beer Co. management team to create an environment where people enjoy coming to work and are treated with respect.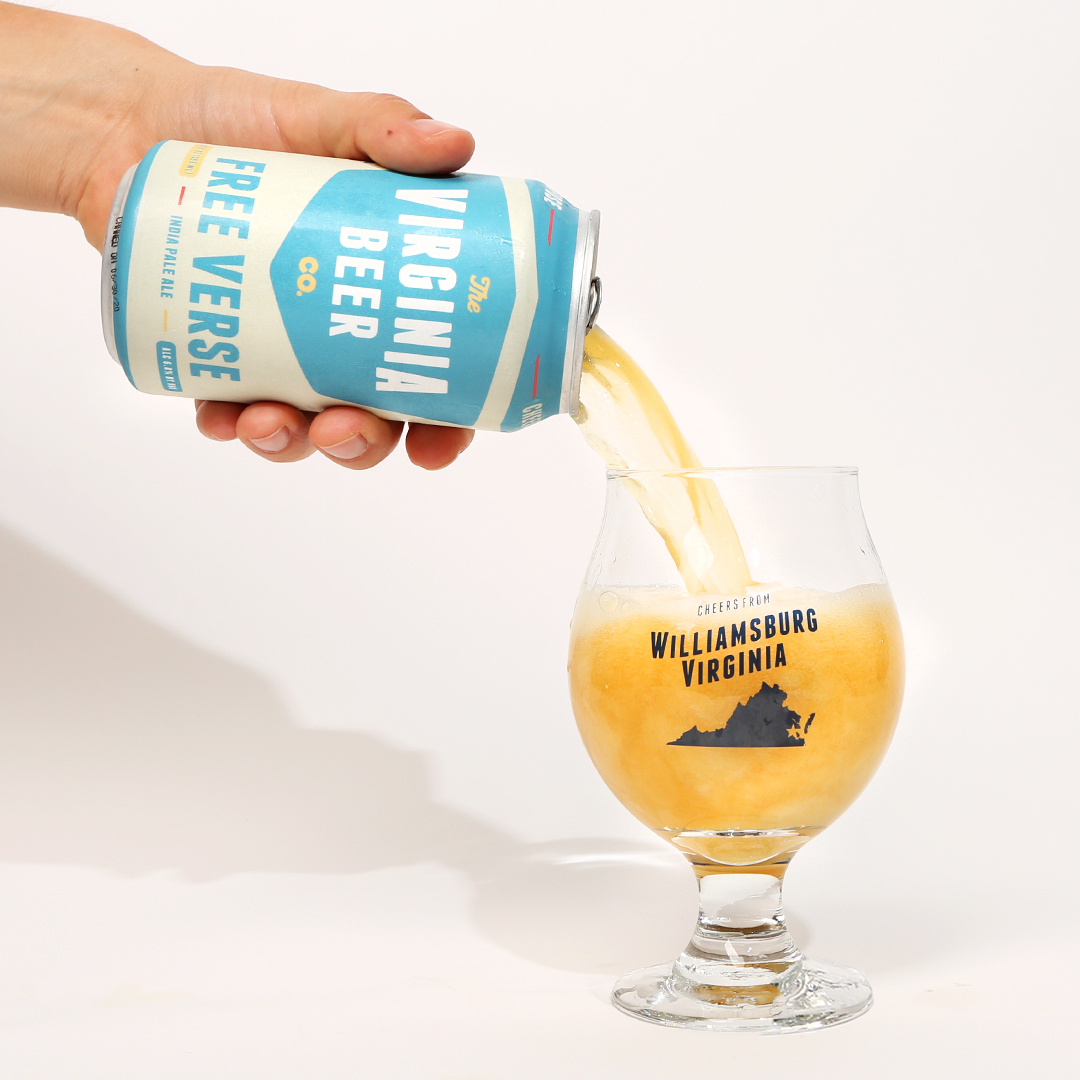 It's a mission so entrenched in Virginia Beer Co.'s DNA that when the COVID-19 pandemic hit the United States forcing the closure of taprooms and breweries across the country in March of 2020, literally a mere week before the brewery's fourth anniversary, Smith and Willey made the decision that they would find a way to keep every single member of the team on staff.
How? First, the brewery stepped up their can releases. But second, they set the team working on a complete overhaul of the taproom, devising projects from putting fresh finishes on all the tables and chairs to erecting a new wooden stage platform for future performances and building fixtures to stringing lights in the 2,000 sq ft beer garden.
As it became apparent that the global pandemic would last longer than two or three weeks the projects expanded. Smith and Willey, along with Legaspi and Newman, set the team on replacing the entire brewery floor with a foundation more adept to wear and tear. And, more and more brewery refurbishing and improvement tasks have followed.
"I take huge pride that every single person on the taproom staff has been working here for more than a year and a half, which is nuts in the service industry. It speaks to cultivating people that make sure we do have purpose," says Legaspi.
In fact, every member of Virginia Beer Co.'s management team (including Smith, Willey, Newman, Legaspi, and Director of Sales Michael Rhodes) has been with the brewery since (or before) its grand opening in 2016. Building a core team has trickled down into the entire business and out into the community. The people of Williamsburg love Virginia Beer Co.
"I did a delivery one day and a guy gave me $100 to pass on to the team," says Smith, who mentions that large tips like this became somewhat routine during lockdown as the people of Williamsburg offered what they could for support. "Seeing that there are good people out there was pretty special."
In return Smith says that in 2020, despite a global pandemic, the brewery raised the most money in its history for charities in Williamsburg. They had the opportunity to support organizations like the Williamsburg House of Mercy, which took over handling all of the food bank duties in the area after another food bank closed due to COVID. They also made contributions to Media Mentors whose mission is to provide youth in "The 757" (Hampton Roads area of Virginia) with tools, education, and platforms to create and own their narratives. And, brewed their own version of Black is Beautiful, a collaboration beer and movement started by Weathered Souls Brewing Co. bringing awareness to the injustices people of color face daily and raising funds for police brutality reform.
To top it off Smith says their next passion project will be exploring starting The Virginia Beer Company's own 501(c)(3) and "really amping up that side of what we do, making it as central to the mission as anything else. That's in our future. We talk about it all the time; now we just have to execute it."
All in all, for five years The Virginia Beer Company has become a pillar of Williamsburg, revitalizing the area, fostering a place of tolerance and acceptance, and cultivating a community that not only enjoys fantastic beer, but beyond that respects its people and its purpose.
And, the magic of Virginia Beer Co. hasn't just been felt at home in Virginia, but across the world.
From Williamsburg to the World
One of the most unique parts of Virginia Beer Co. is its approach to sending beer overseas.
Distributing full-time in Japan, South Korea, the UK, the Netherlands, France, and with one-time drops in New Zealand, Virginia Beer Co. has developed a robust presence across Asia and Europe.
The philosophy stemmed from Smith's own upbringing and family history. Smith's grandfather emigrated from Armenia to England and started his own small business buying and selling fine carpets and rugs.
The family company grew, eventually opening warehouses in Germany and Switzerland. Although the company finally ceased operating about seven years ago, Smith says most of his family still lives overseas. He has three brothers living in Germany, England, and West Africa, respectively, along with family spread across the UK, Spain, and Switzerland.
When working for JPMorgan Chase, Smith himself had counterparts in Geneva, Switzerland and often traveled to Europe for business.
With all that in mind, "I always knew I wanted to bring an international component to [Virginia Beer Co]. Even though we built a local community brewery, [distributing overseas] is a differentiator. Not a lot of people do it, so it adds a little bit of flair and fun."
Smith says it has become another of his passion projects. Logistically, navigating the rules and regulations hasn't been too challenging, but the real key has been finding a great importing partner in each foreign country. And, it's been important that the Commonwealth of Virginia has been a supporter from the very beginning, often bringing importers from other countries to meet with Smith and the team at the brewery and offering money to help with traveling and marketing.
Since first sending beer overseas, The Virginia Department of Agriculture & Consumer Services has awarded the Virginia Beer Co. multiple State Trade Expansion Program (STEP) Grants, sending Smith and Willey to the Craft Beer Rising and BrewLDN festivals in London for three years and the American Craft Beer Experience in Tokyo in 2019.
Additionally, the brewery became a member of the Virginia Economic Development Partnership's Regional Export Program in 2019, giving them assistance to export marketing and development. The brewery is also a member of the Brewers Association's Export Development Program (EDP), meaning they can participate in international competitions.
So far, the beer has been well received. In 2019 Virginia Beer Co. won awards for its Elbow Patches Oatmeal Stout at the Australian International Beer Awards and the Brussels Beer Challenge, and its Saving Daylight Citrus Wheat nabbed gold at the International Beer Cup in Japan.
And, sending beer around the world actually helped Virginia Beer Co. during COVID-19 because different countries were faring better at different times. Virginia Beer Co. quadrupled its international exports in 2020 with Smith sending their biggest order to Japan last summer and fall 2020 and working with Beer52, a United Kingdom-based craft beer cultivation and subscription organization serving thousands of international brews throughout the UK.
"What better partner can you have during a pandemic?" asks Smith.
And Beer52 agreed, naming Virginia Beer Co. its "U.S. Champion Brewery" of 2020.
Despite the expansion overseas, Virginia Beer Co. has continued to grow at home, too, beginning distribution in New York City and across Western and Eastern Virginia over the past couple of years.
All in all with Virginia Beer Co.'s 5th anniversary approaching this weekend there is plenty to celebrate.
Virginia Beer Co.'s Waypost Weekend, Celebrating Five Years
On March 26th, 2021 Virginia Beer Co. will officially count its five-year anniversary.
"I remember the first anniversary party I planned," said Legaspi. " I told my whole family to come celebrate and they waffled. Once I told them this is the biggest feat of my career, they all showed up," laughs Legaspi.
Originally named Waypost Weekend, the brewery expanded its anniversary celebrations to Waypost Week in the proceeding years, but kept the focal point on the release of its eponymous anniversary beer Waypost. A 10.4% Imperial Stout, Waypost has grown over the years to include a myriad of variants. The creative offerings have changed every year as Virginia Beer Co. began focusing on elevating beer concepts. For example, this year's Cherry Cordial Waypost strives to not just highlight cherry, but to match the flavors of the dessert. It's not just a cherry Imperial stout, but a full concept confection.
This year's 2021 Waypost variant line up includes:
Waypost Neat – aged in Bourbon barrels
Coconut Praline Waypost – aged with coconut and pecans in Bourbon barrels
Cherry Cordial Waypost – aged in cherry brandy barrels with cacao nibs
Kentucky Vanilla Waypost – aged in vanilla and bourbon barrels
Additionally, Virginia Beer Co. creates variants of its flagship IPA, Free Verse and releases them on the Saturday of its anniversary week during what has become known as Freeversary.
This year's 2021 Freeversary variant line up includes:
Triple Free Verse – a 10% ABV version of Free Verse loaded with Azacca & Chinook hops released on 3/12
Blood Orange Free Verse – a fruited version of their tropical, unfiltered, juicy flagship IPA releasing on 3/26
Pineapple Free Verse – a fruited version of their tropical, unfiltered, juicy flagship IPA releasing on 3/26
Wild Free Verse – the brewery's favorite IPA fermented with brettanomyces, releasing in May
If you're in the area and looking to snag any of these fantastic beers keep an eye on Virginia Beer Co.'s Instagram page for all the up-to-date release information.
Half a Decade Down, Half a Decade Ahead for The Virginia Beer Company
Founded in 1632 as a Middle Plantation between the James and York rivers, the city of Williamsburg, Virginia is a historical place, serving as the colonial capital and Britain's largest settlement in the New World.
In fact, the name Williamsburg is a direct reference to honoring England's reigning monarch at the time, King William III, and the city followed suit becoming the capital of the Virginia Colony in 1699.
Although the capital officially moved to Richmond during the American Revolutionary War, Williamsburg is still recognized as the paragon of colonial living at the time.
Today, Colonial Williamsburg is the "world's largest living history museum," attracting thousands looking for a peek into life during the 18th century in America.
But, the city has become so much more than just its centuries-old history. And, much like Colonial Williamsburg serves as an epitome of the past, Virginia Beer Co. has become a symbol of the future, revitalizing the community and giving it a new sense of identity.
Although five years isn't exactly the same as three hundred years, reaching half a decade means that Smith is at a unique nexus to look back on what he, Willey, Newman, Legaspi, and the entire team have accomplished and push ahead with visions of what's to come.
"At a decade…as long as we're still focused on impacting the people and our community and if we're still treating our people the right way, they'll treat our customers, vendors, distributors, suppliers, everyone the right way — it all flows from there and there will be success at the end of the day," says Smith.
Beer. People. Purpose.
Three words that have led to five years of success in the past and hopefully another five years of milestones for Virginia Beer Co. in the future.
This is a paid, sponsored post presented by The Virginia Beer Company.
Liked this article? Sign up for our newsletter to get the best craft beer writing on the web delivered straight to your inbox.